Riotous Perennials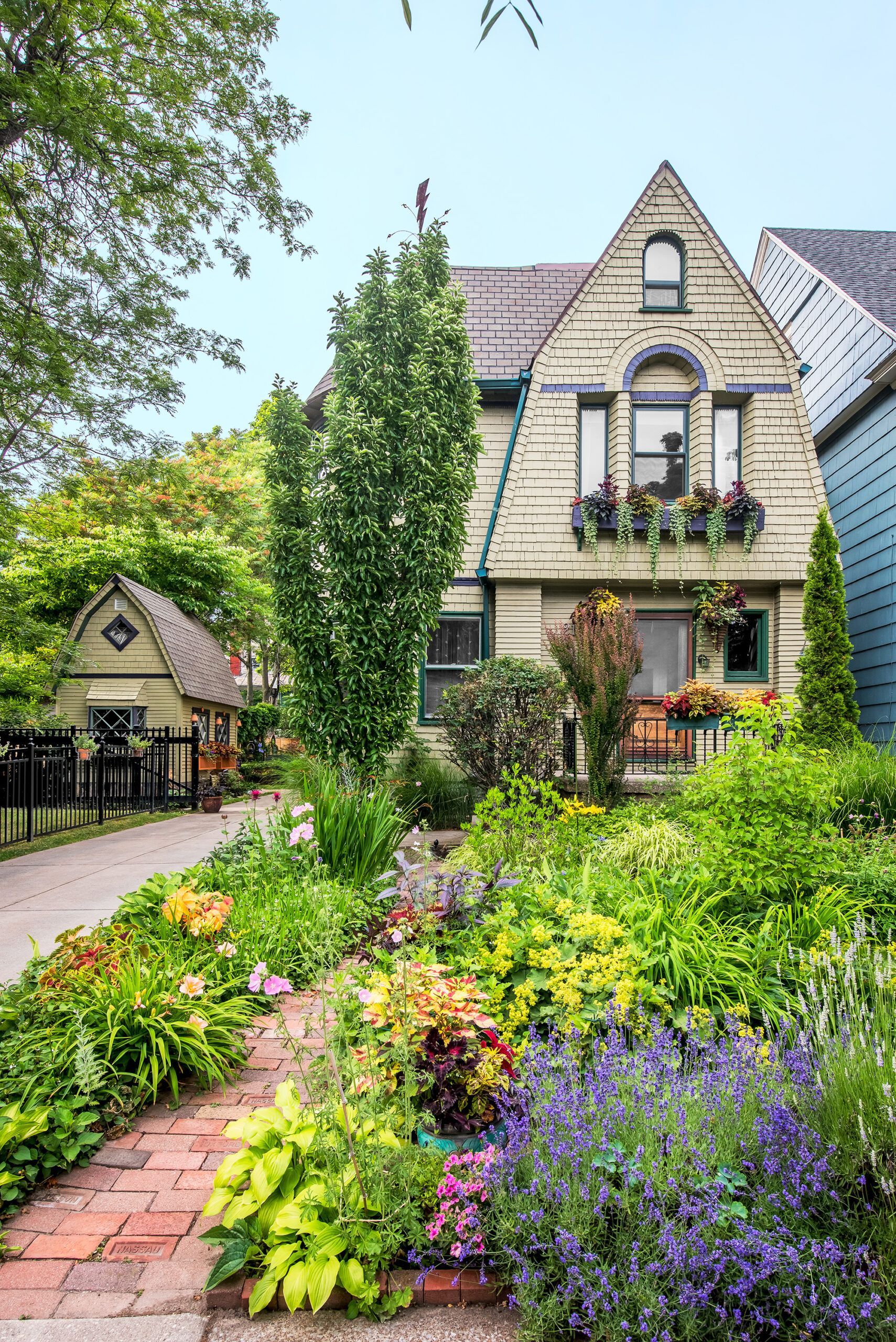 With its flower-filled English country front garden, brick paths, arched windows, and flower boxes dripping with vines, this Buffalo, New York, home has enough storybook charm to fill a children's book. But a glimpse of the lightning-bolt finial crowning the front turret is the first clue that this garden scene is less Peter Rabbit, more Harry Potter meets Alice in Wonderland.
Shown: The character of the 1897 house is enhanced by riotous perennial beds out front and a matching shed. The yard was just a tree, some lawn, and a few shrubs when the owners moved in 16 years ago.
Lightning Finial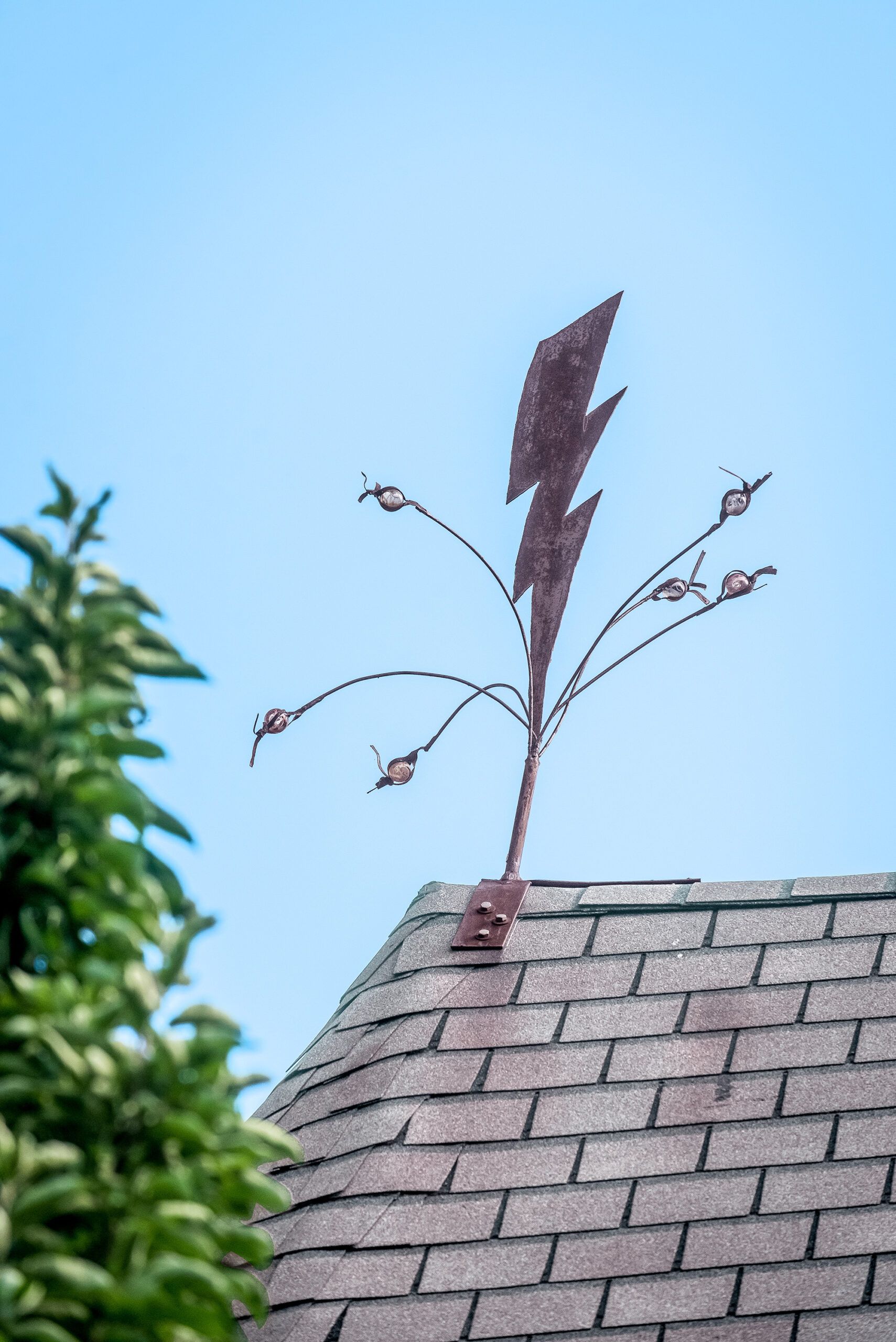 Commissioned from a local sculptor, the lightning bolt looks a lot like the scar on Harry's forehead. Walk into the garden, and you'll see the address posted on the garden shed is 215¾—the house number plus a reference to Platform 9¾, where Harry takes the train to his wizarding world. A skinny planting strip featuring odd-looking specimens such as sensitive plant (Mimosa pudica), which has leaves that curl up when touched, sits below a sign proclaiming the botanical oddities as THE HARRY POTTER GARDEN. And, evoking the play-ing-card characters in Alice's wonderland, diamond shapes are everywhere—in paving, latticework, espaliers, even the potting shed windows and shutters.
Shown: the lightning-bolt finial
Fish Fountain
But in the real world, gardens like this one don't just happen with the wave of a wand or a nibble on a mushroom. They take time and toil, as well as someone with an eye for design and unflagging creativity—someone like Jim Charlier. The graphic designer loves to spend frigid winter weekends scheming and sketching new features for the garden, then heads outside to make them happen as soon as the weather warms. His wife, Leslie, keeps it all looking fresh, tirelessly weeding and deadheading. "We like to joke that Jim is the gardener, and I am the groundskeeper," she says good-naturedly.
Shown: a fish-shaped scupper made into a fountain
Moravian Stars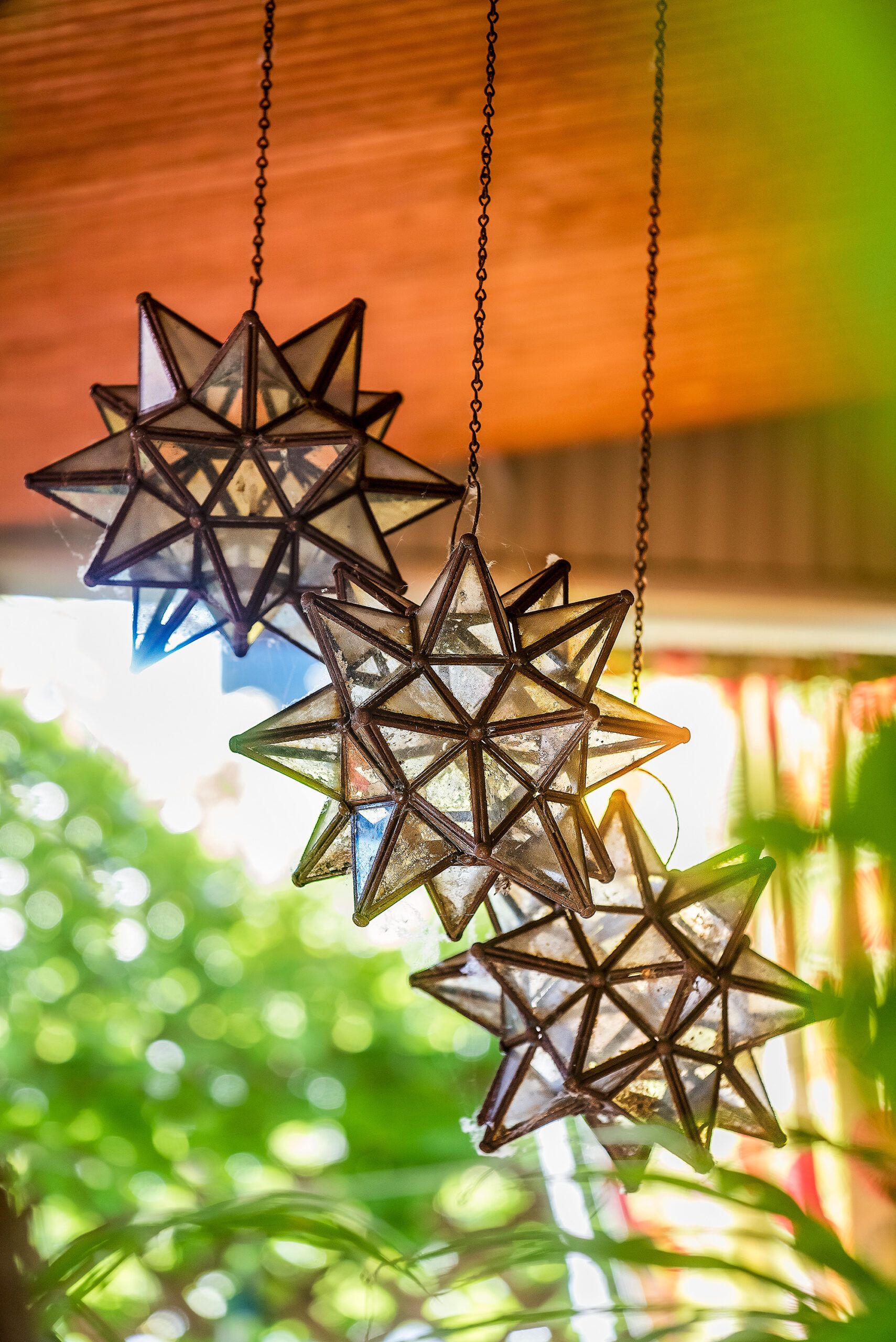 At their previous home, the pair had opened their yard to visitors during Garden Walk Buffalo, an event that now draws an estimated 65,000 people each summer. Jim, who stayed in town after attending college there, went on the tour the year it began, in 1995. "Half the yards I went into, I thought, 'My garden is better than this,'" he recalls. "So the next year, we put our garden on the tour." Then the organizing committee asked him to design a poster and a map, and he got hooked, eventually serving as the organization's chairman for seven years. "People here are just so friendly—freakishly friendly," he says, clearly pleased. When the Charliers moved into this house, 16 years ago, they were eager to put it on the tour too. Only problem, Leslie says, was that "the yard was just a tree, some grass, and a few shrubs."
Shown: a trio of Moravian star lights seen through a window
Charming Shed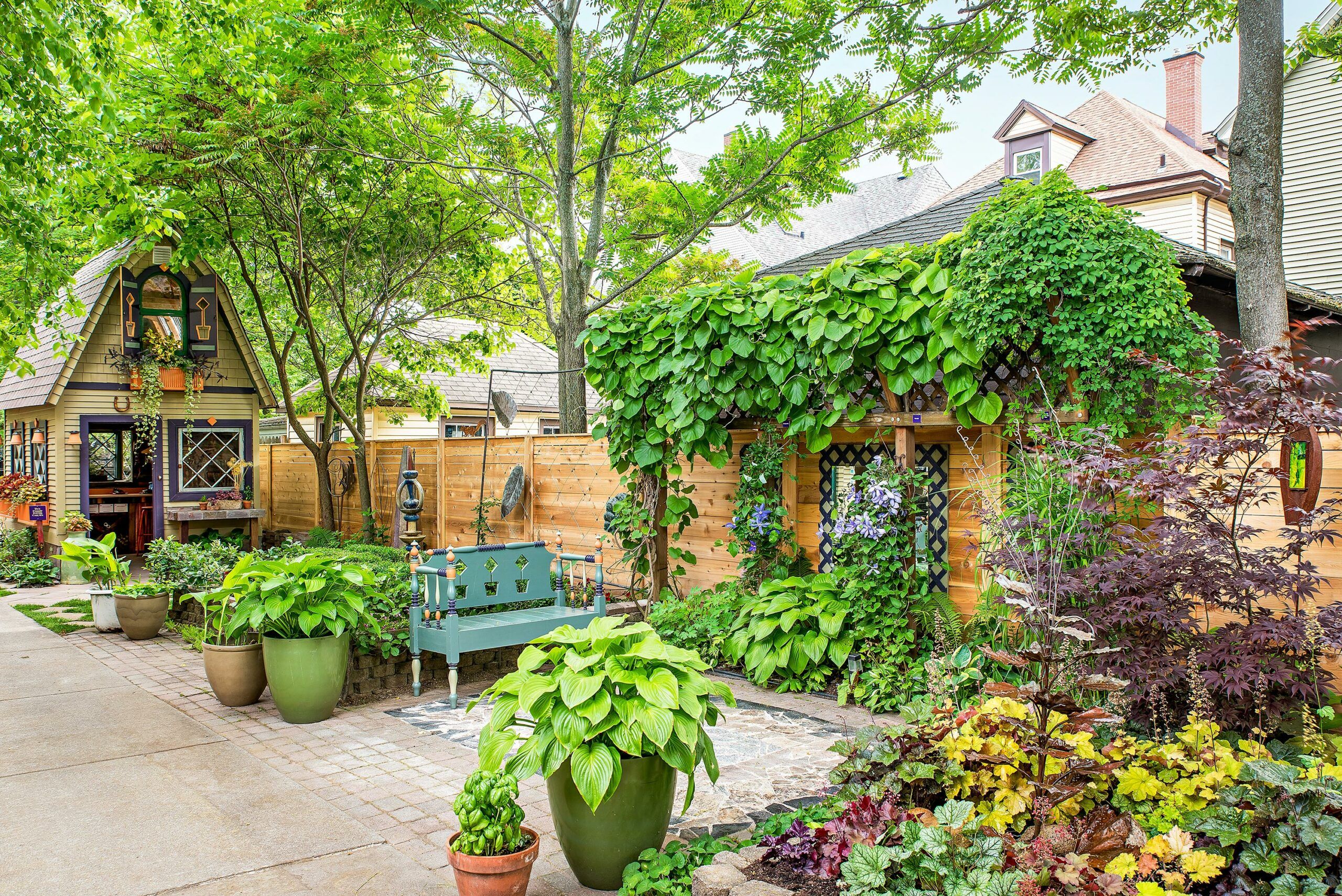 That first summer, Jim ripped out part of the front lawn and planted perennials. "Having grown up with a suburban yard, where every waking moment we were mowing or raking, I just wanted to get rid of the grass," he says, as though he likes to laze about. Another early project, outsourced to pros, was installing a new roof on the 1897 house. It had a tiny finial on the highest peak, but Jim wanted something more dramatic. So, riffing on the idea of a lightning rod, he commissioned the lightning bolt.
Shown: Hugging the driveway on one side and a board fence on the other, the new potting shed adds privacy from the street and a charming focal point. Just beyond it, a bench defines one edge of a courtyard paved with marble and granite to look like a carpet. Alongside it stand a vine-covered arbor, lattice sections hung with mirrors, and a planting bed of coralbells (Heuchera sanguinea) surrounding a homemade copper heuchera fountain.
Leslie and Jim Charlier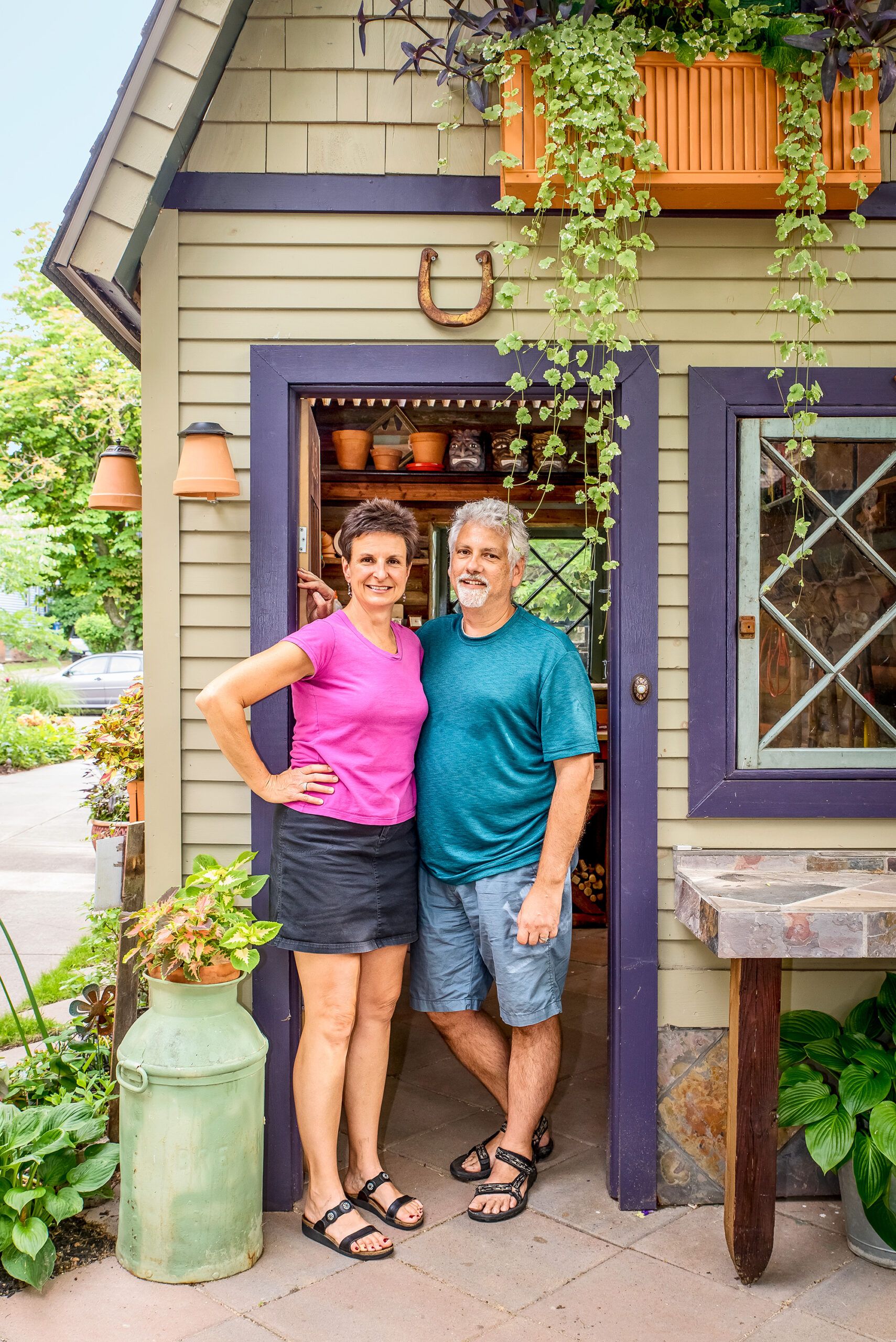 The lot is tiny, as showcase gardens go, just 50 feet wide by 116 feet deep, with a driveway that bisects it lengthwise. But within two years of moving there, the Charliers were back on the garden tour. Each year since, they have added one new feature: a deck, a kitchen garden, an arbor. When their daughter, Margaux, was 6, Jim wanted a way to interest her in gardening and hit on the idea of planting a Harry Potter garden. They shopped for the oddest-looking plants they could find and labeled them in ways that would delight children who had read the books. A pencil plant (Euphorbia tirucallii) became Gillyweed, described as "slimy grayish-green rat tails." Redbud (Cercis canadensis) became hornbeam, the ideal wood for making wands.
Shown: Leslie and Jim Charlier by the shed door
Checkerboard Pavers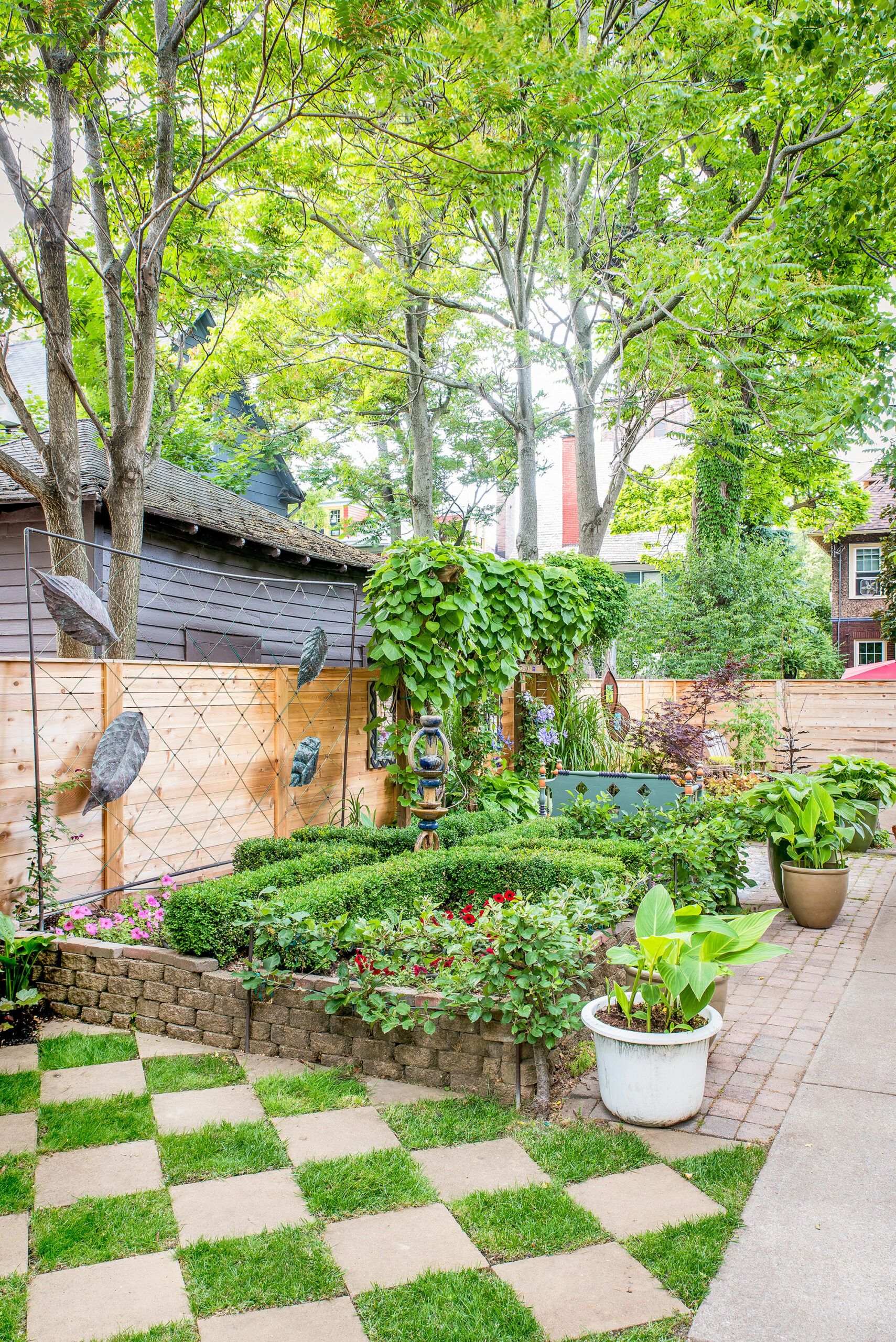 The tagline on Jim's blog—"I like gardens, I like design, I like to travel, and I like to share"—hints at another reason for the magic in this garden. Since Leslie works as a flight attendant, the Charliers can fly anywhere for practically nothing. Away from home, they always tour gardens, and they keep their eyes out for features to adapt once they return.
Shown: A tidy checker­board of concrete pavers and grass leads to the kitchen garden, divided into quadrants by clipped boxwood hedges, with a knee-high dwarf-apple-tree espalier fence in front. The formal elements maintain a tidy look, even as plants expand with lush growth as the season progresses.
Mardi-Gras Shed Colors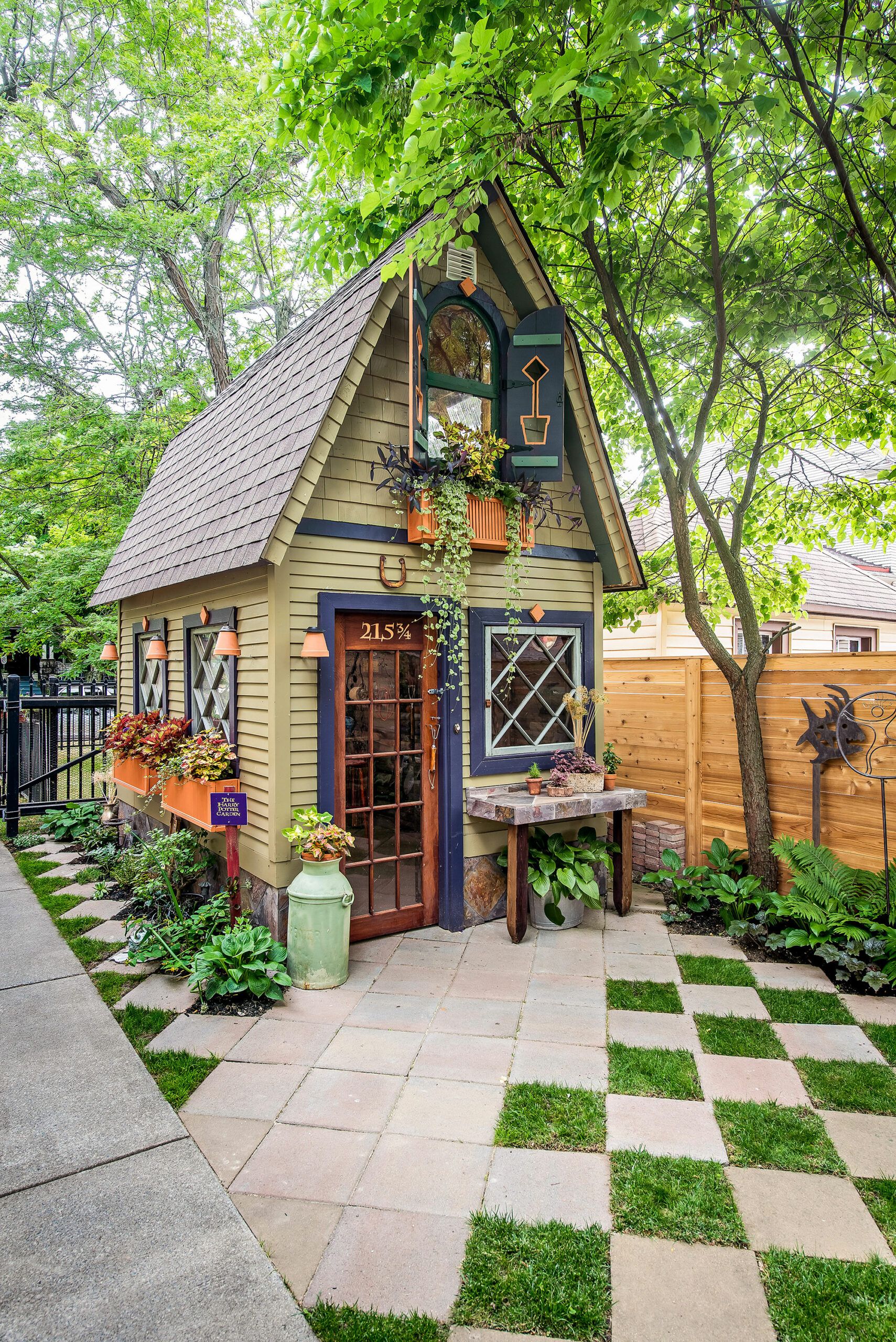 The columnar apple trees in the front and back gardens, which have very short branches hugging a central trunk, were something they first spotted in Italian orchards in the Dolomites. The kitchen garden grew out of a trip to France, where they became enchanted with the cross-shape gardens at monasteries; a visit to Monet's garden in Giverny inspired the knee-high fence of espaliered apple trees. Checkerboard paving—alternating squares of concrete and grass—has similar roots. "We saw it in France, and then I did my own cheaper version," Jim says.
Shown: on the shed, paint matched to the color of the terra-cotta pot sconces serves as a lively accent in the Mardi Gras color scheme. Jim built the potting bench with leftover slate tile arranged to emphasize the garden's diamond theme.
Lively Shed Walls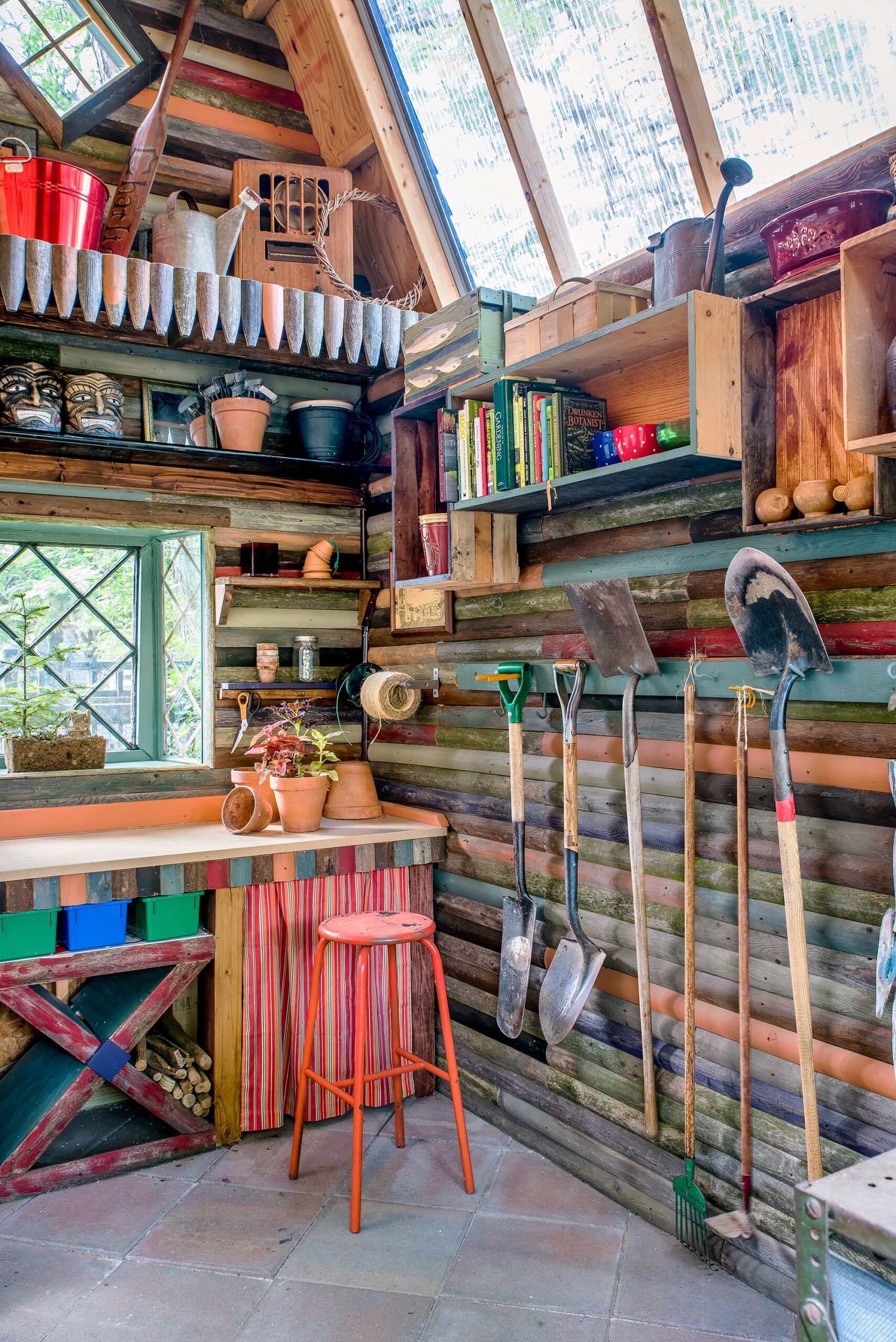 The dominant design motif in the garden—diamonds—came from a visit to a Niagara Falls garden, on the Canadian side. It was the year Jim's project was building lattice to shape a pear tree espalier. "I was looking for a pattern," he says. "Diamonds were the easiest to rig up." Later, he wanted to build an arbor and bought wood lattice from Home Depot that had square openings. "I was playing around and thought, 'Oh, I should angle it into diamonds.' It went from there. The next time I had to make a decision: 'Oh, a diamond, that's easy!'"
Shown: inside, leftover paint enlivens walls made from salvaged fence pickets and shelves made from other salvaged wood.
The Harry Potter Garden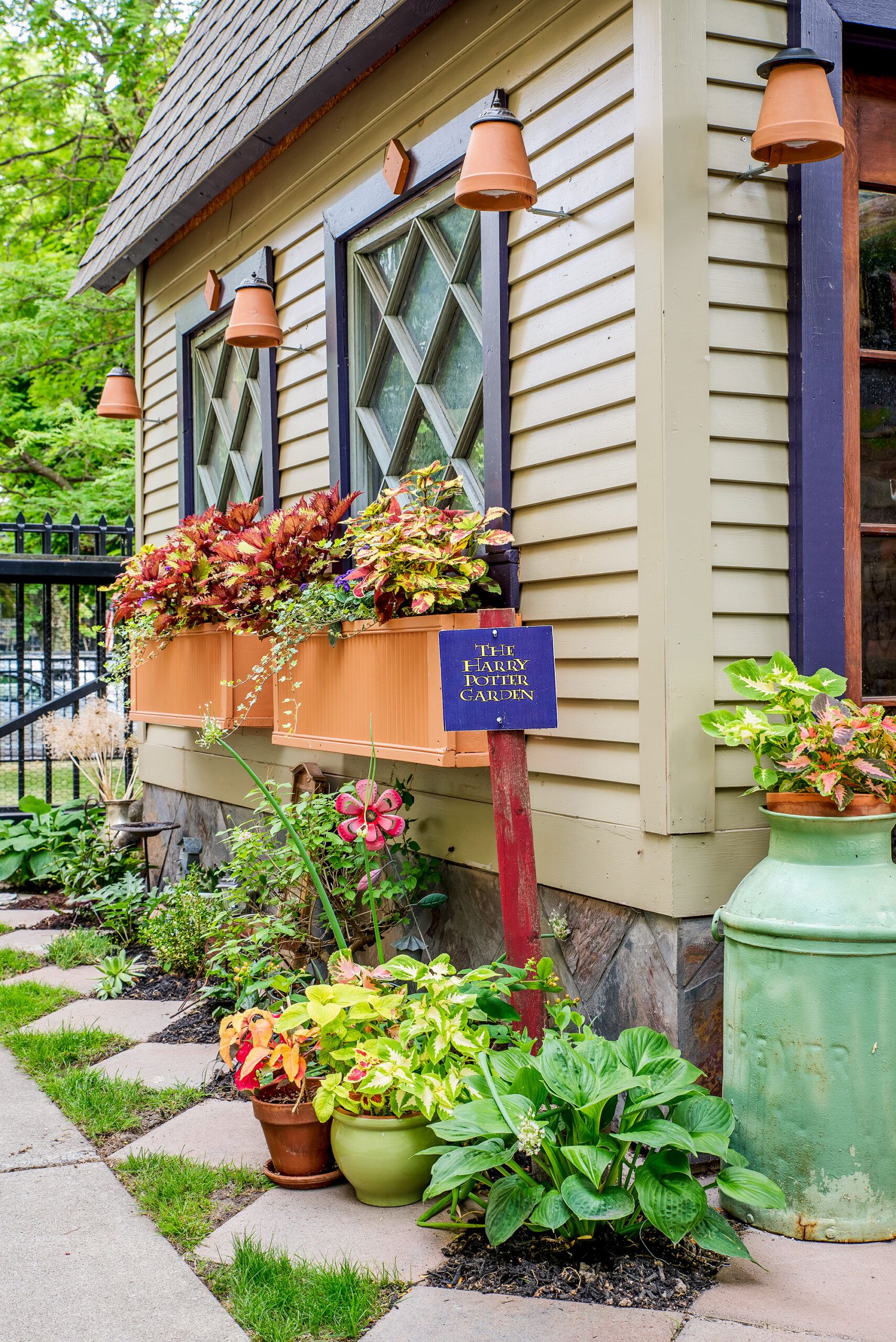 The Charliers' most challenging project, by far, was the potting shed, which made its debut last summer, replacing a forlorn play structure they inherited with the house. Three years ago, Leslie asked Jim what they should do with the space, and they settled on a small building to house the wheelbarrows, potting soil, overwintering plants, and other garden necessities that were taking over their garage.
Shown: The Harry Potter Garden, a remnant of a much larger one that the family had when their daughter was young, hugs a wall below window-box planters made from old bifold doors.
Plenty of Planters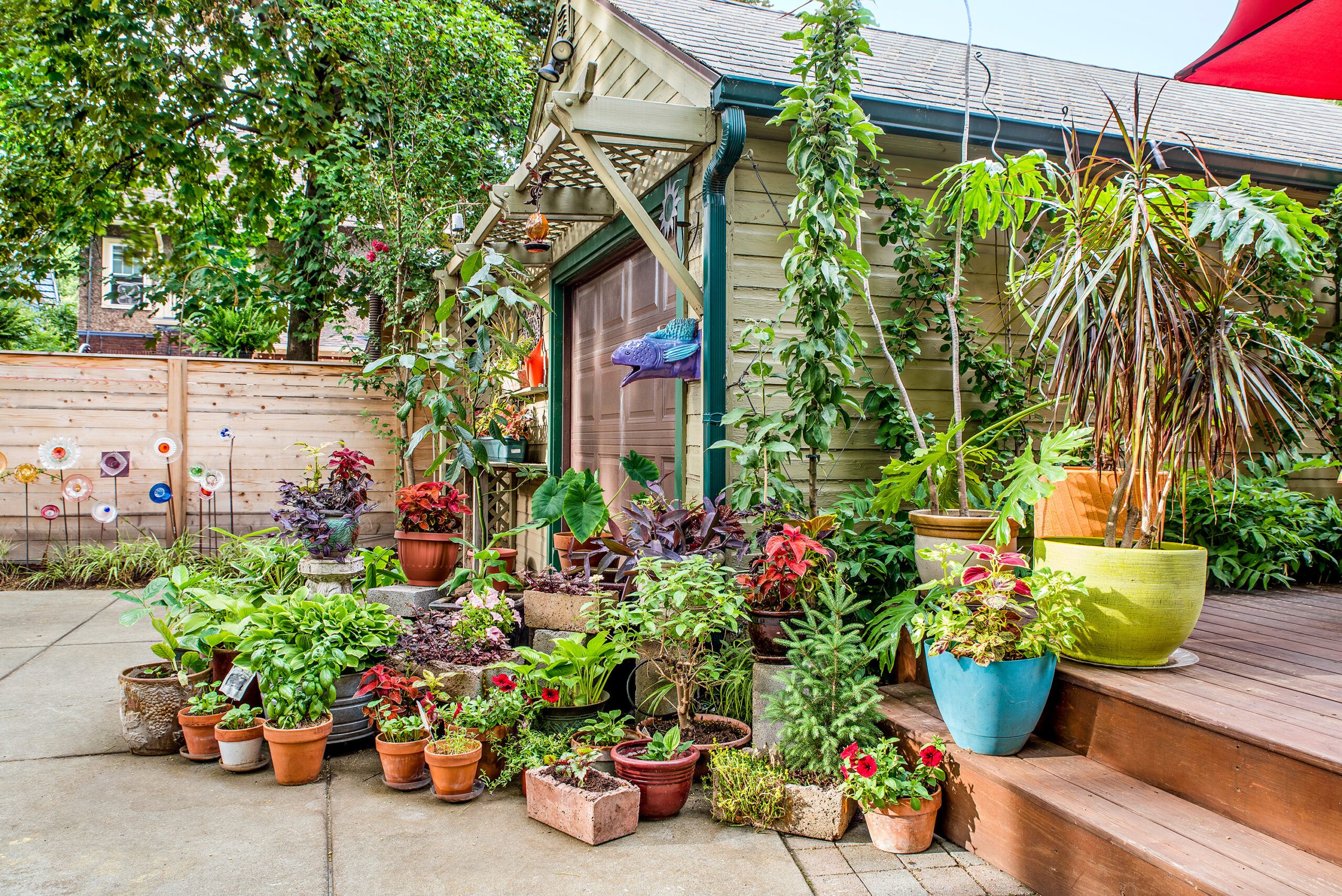 They wanted the shed to match the style of the house, and it had to be small enough to fit on one side of the driveway. The plan they settled on called for an 8-by-12 footprint, well under the 144 square feet that triggers the need for a building permit in Buffalo. Jim's graphic design skills came in handy as he sketched various designs. He re-created the drawing they liked best on his computer. Using Adobe Illustrator, he worked out proportions and calculated amounts. Then he was ready to cut wood and pound nails, and built it all on his own, with occasional ladder-holding help from Leslie and Margaux, now 19.
Shown: potted plants, many of which overwinter in the potting shed, soften the transition between the garage and the dining deck. Jim made some of the hypertufa planters himself.
Vines on a Wire
Inveterate upcyclers, they incorporated castoffs, often from their house. Besides reusing the original diamond-paned windows, Jim built window boxes from old louvered closet doors, and repurposed a shelving unit and a glass-panel interior door that were stockpiled in the garage when they moved in.
Shown: a metalwork lattice—an architectural remnant from a local building—coaxes a black-eyed Susan vine (Thunbergia alata) to grow up a back wall of the house.
Diamonds in the Garden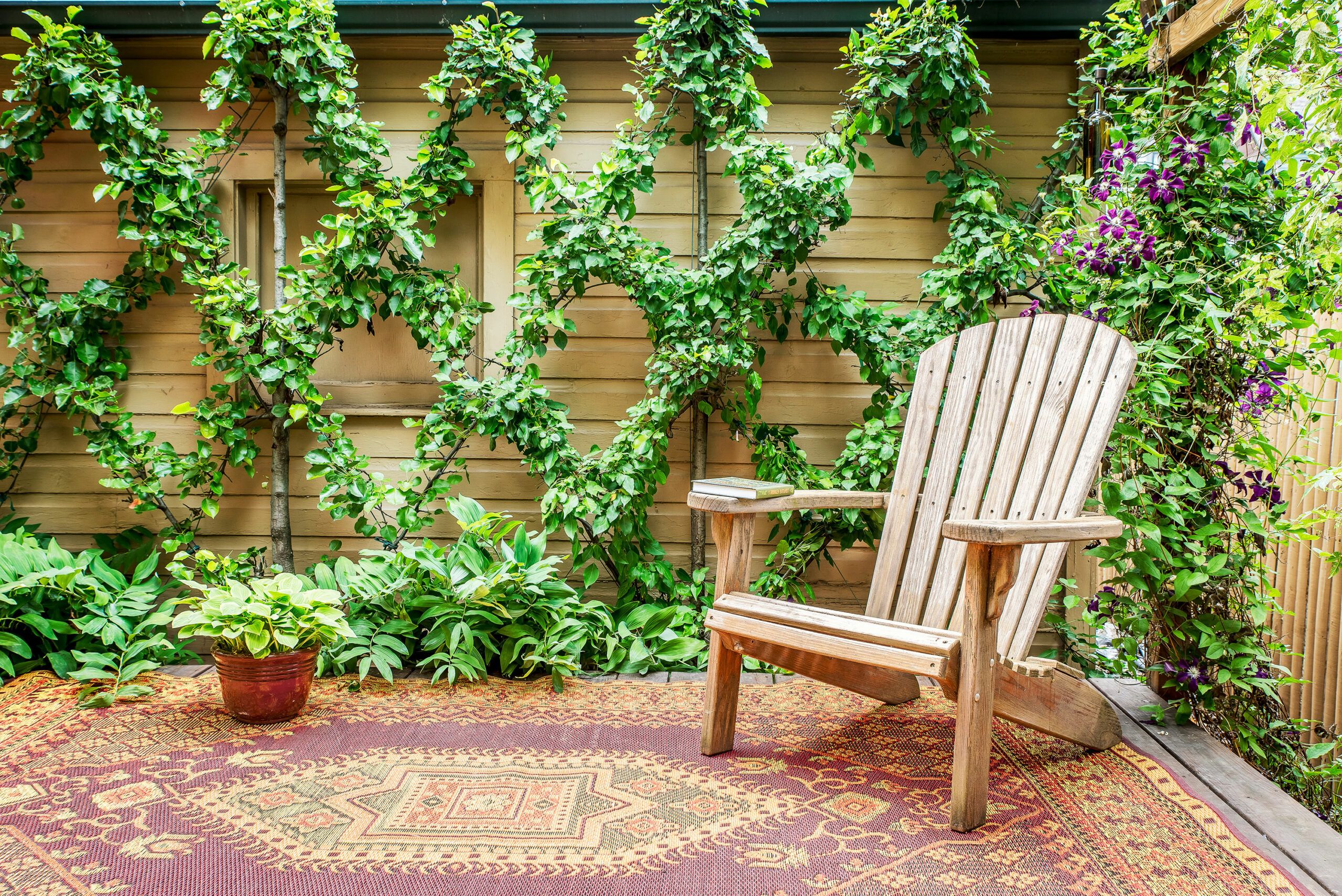 Jim painted the outside of the shed to match the house: willow green on the body (picked by the previous owners), plus the purple and dark green that the Charliers added. The shed got two additional colors—blue-green and terra-cotta—which Jim says creates a "Mardi Gras look" that he likes.
Shown: the diamond-pattern pear-tree espalier, which kicked off the garden's ubiquitous motif, camouflages the side of the garage that borders the deck. A rug made from recycled soda bottles fares well outdoors all summer and cleans up with a hose.
Rug: Mad Mats
Long Island Bricks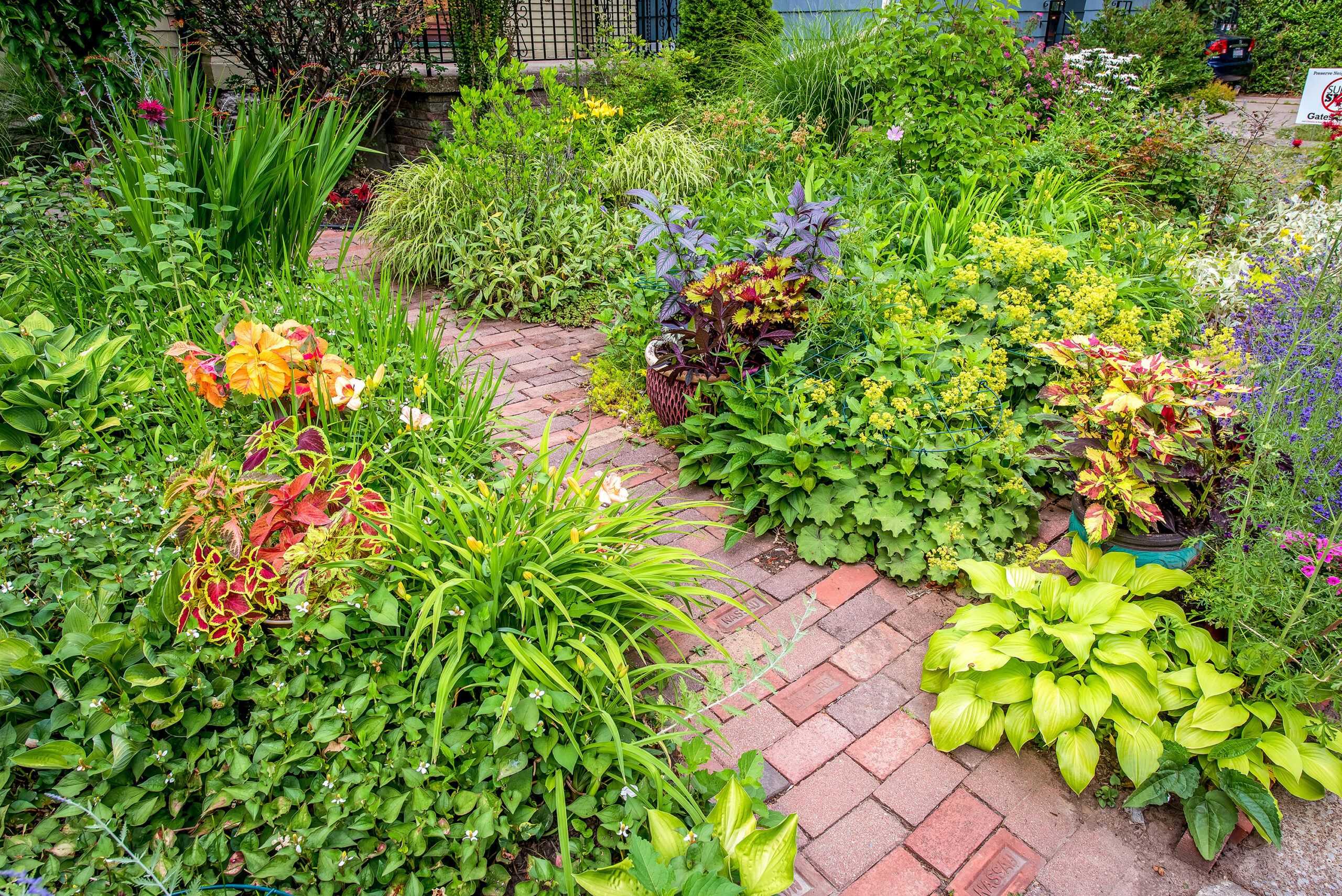 Inside, Jim lined the shed with salvaged fence pickets dressed up with all the different cans of paint that were left over from projects around the house. He nailed them up horizontally as interior paneling, creating a crazy quilt of colors that's perfect for a building that the family now refers to as the Harry Potter-ish Shed.
Shown: some of the bricks in the front path are stamped NASSAU or SUFFOLK, presumably because the former owners who collected them once lived on Long Island. Planters filled with coleus add color to beds with minimal maintenance.
Low-Maintenance Window Boxes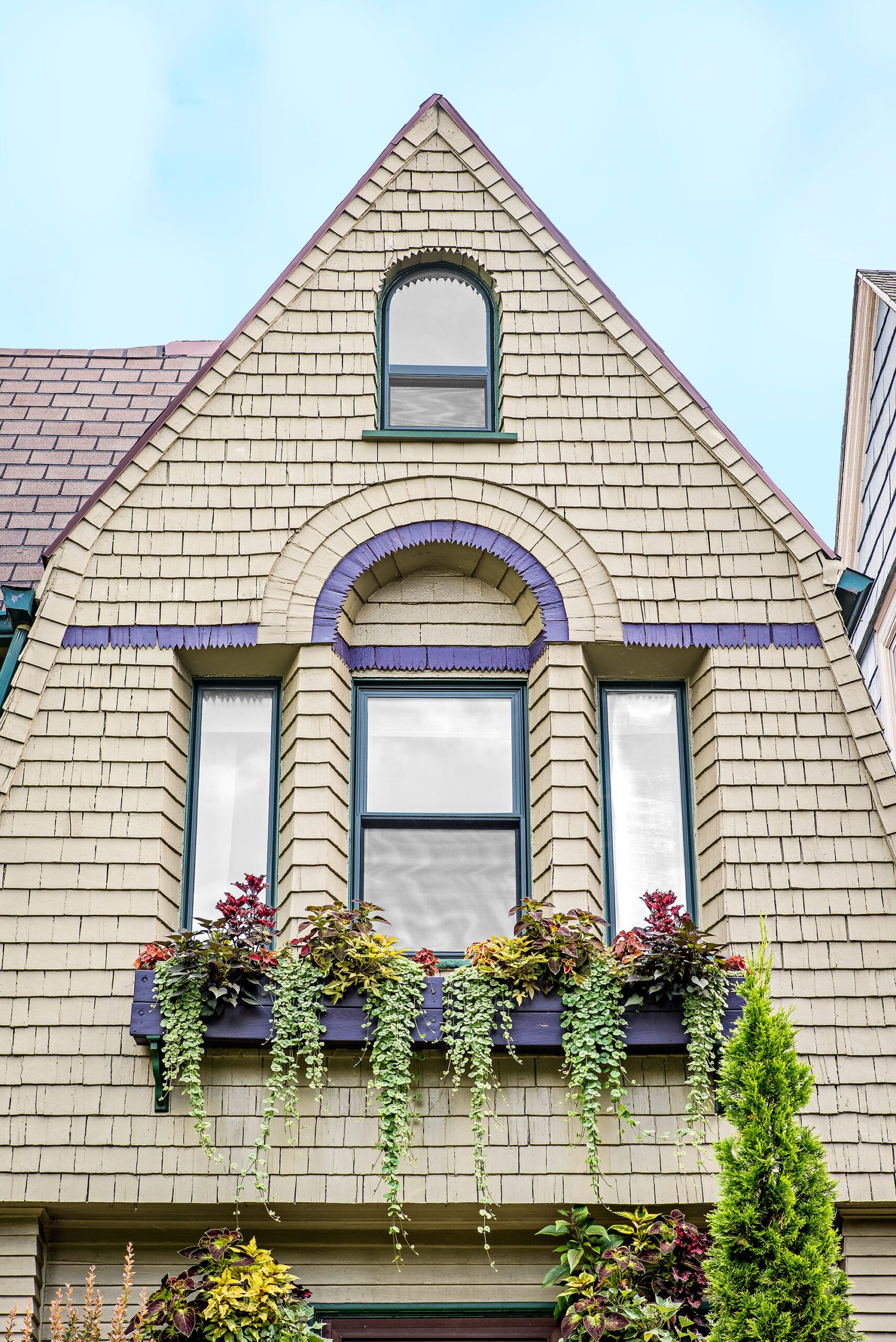 Last winter, Jim was back in his basement workshop, designing and building the next new feature for this summer's garden walk, which takes place on July 29 and 30. He rigged a rain chain and terra-cotta pots into a fountain, his fourth; others feature a fish-shaped scupper (a kind of water spout), a collection of hand-thrown ceramic pieces threaded onto a pipe, and an assemblage of copper roof flashing and copper tubing that Jim cut and shaped into heuchera leaves and stems—a design inspired by a fountain they had seen at the RHS Chelsea Flower Show in London. Having another fountain will be great, Jim says. "One splashes, one tinkles, one blurps. This will sound more like falling water."
Shown: colorful coleus and draping Variegated Creeping Charlie add color to window boxes without the need for constant deadheading.
Plant Tapestry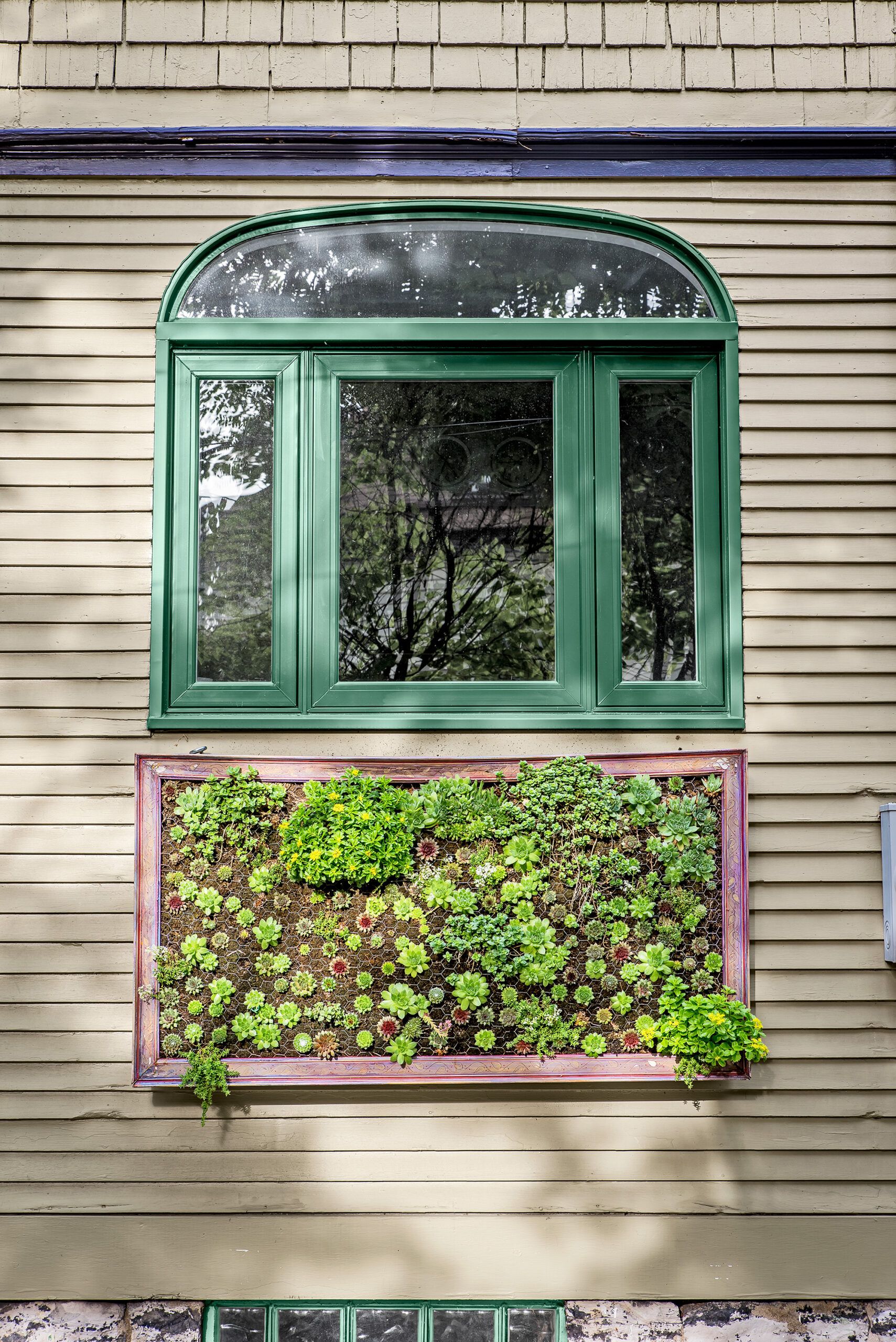 To a visitor's eye, the garden looks complete, though it's "probably at the 75 percent level," Leslie says. Jim's still dreaming about a few more fountains. And the kitchen garden is due for rethinking, she adds, because the area is too shady for most vegetables. "Every time Jim wants a new project, I think, 'Oh, no, now what?" Leslie says. "But we'll eventually run out of space."
Shown: a 3-by-5-foot tapestry of sedums and other succulents hangs in a vertical planter on the driveway side of the house, below the kitchen window. To help them weather Buffalo's freezing winters, Jim covers them with burlap during the coldest months.
Garden Bed-Bench
Jim made this garden bench from Leslie's grandmother's childhood bed, which they had stored in their basement for 15 years. The granite and marble "carpet" was his entry in a local stone company's contest to see who could come up with the best use for scrap stone. He used the $500 gift certificate he won to buy a solid-surface countertop for the garden shed.
Bifold Planters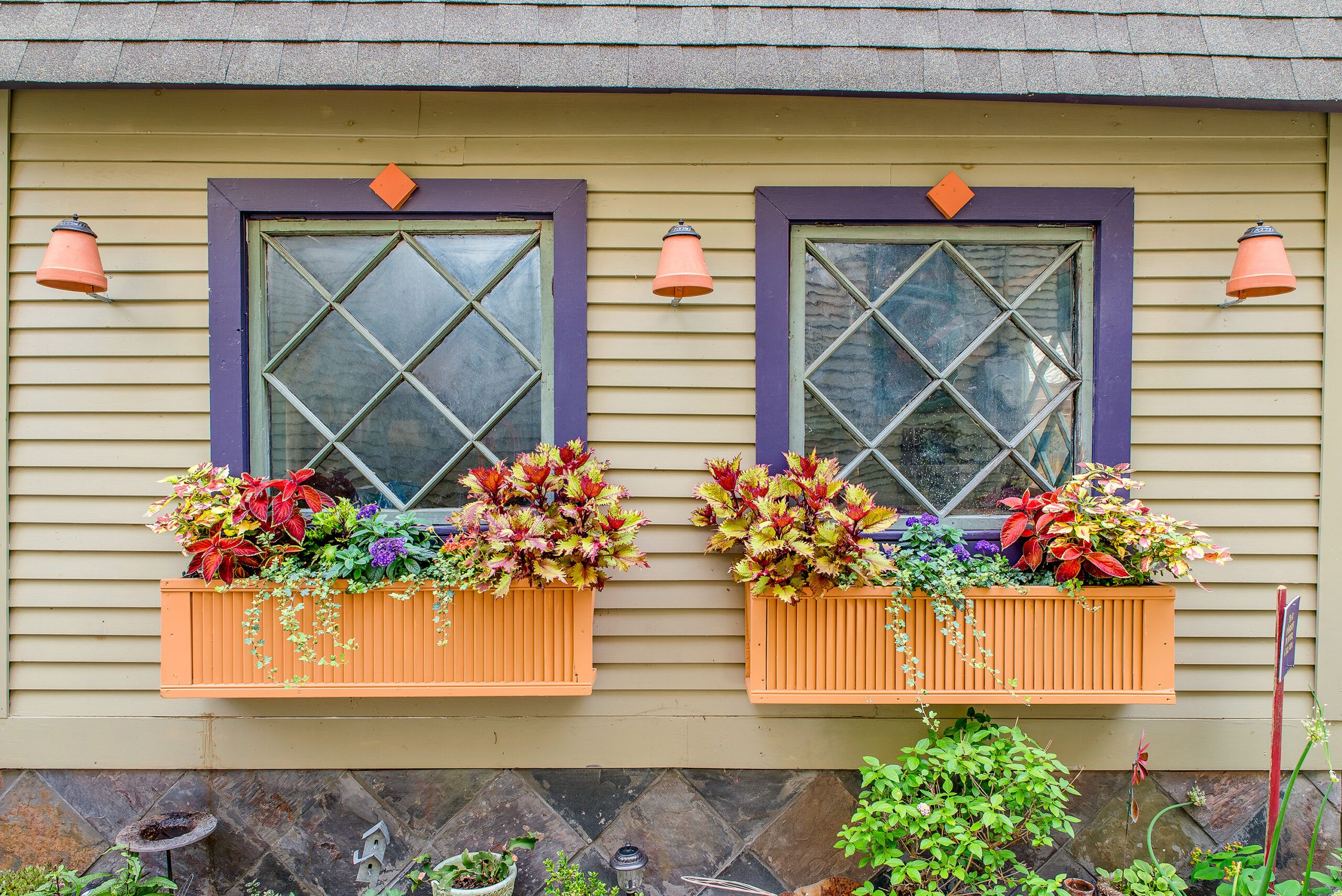 Jim made the shed's window-box planters from cast-off louvered bifold doors, lined with plastic sheeting.
Flowers of Glass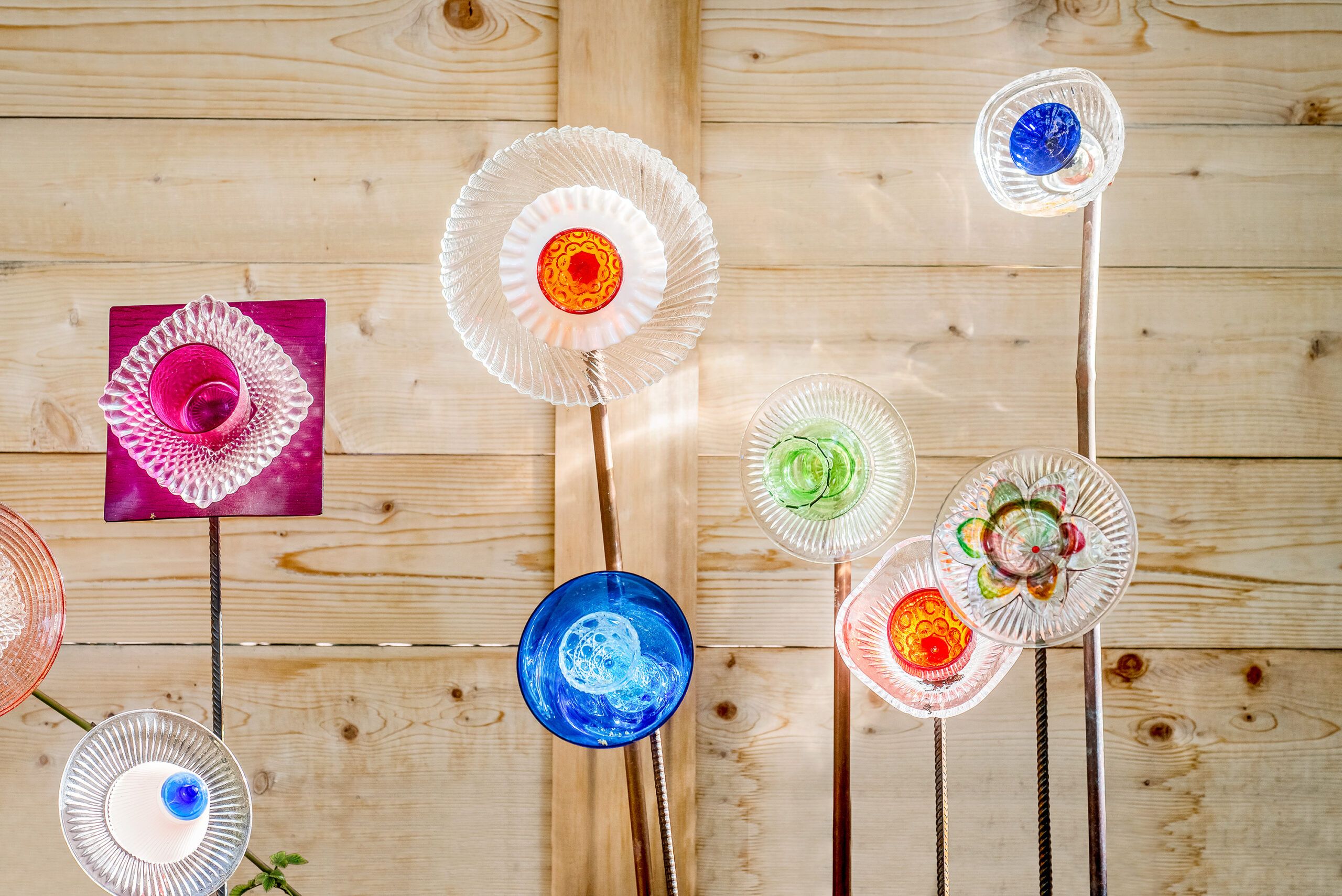 Jim believes every garden should find a place for art. One of his planting beds features a stand of blown-glass flowers made by a friend.
Glass Flowers: ArtGlassAndMore
Small Diamonds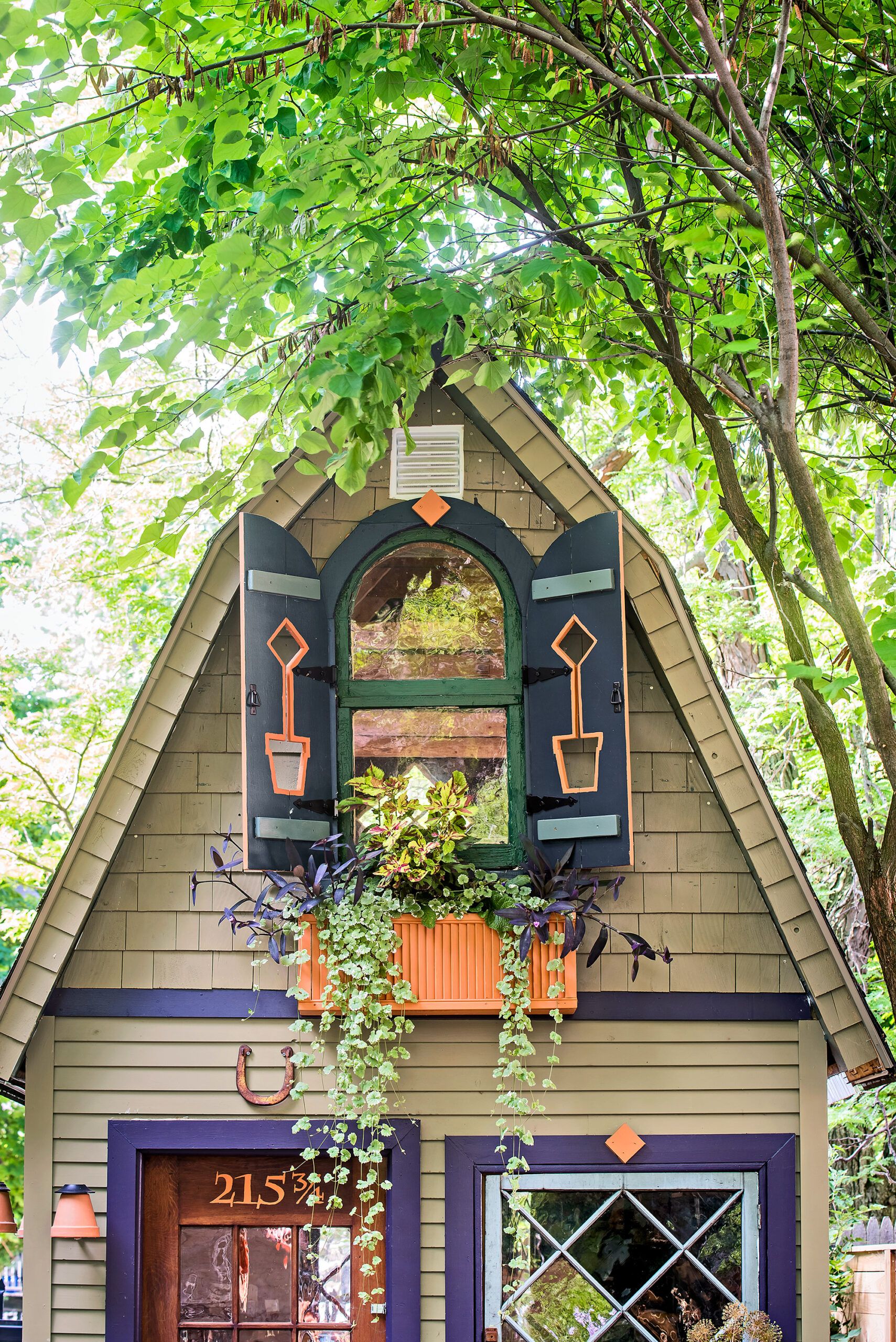 Small diamonds decorate the shed window casings and serve as topiary shapes for the plant pots cut out of the shutters.
A Rakish Handle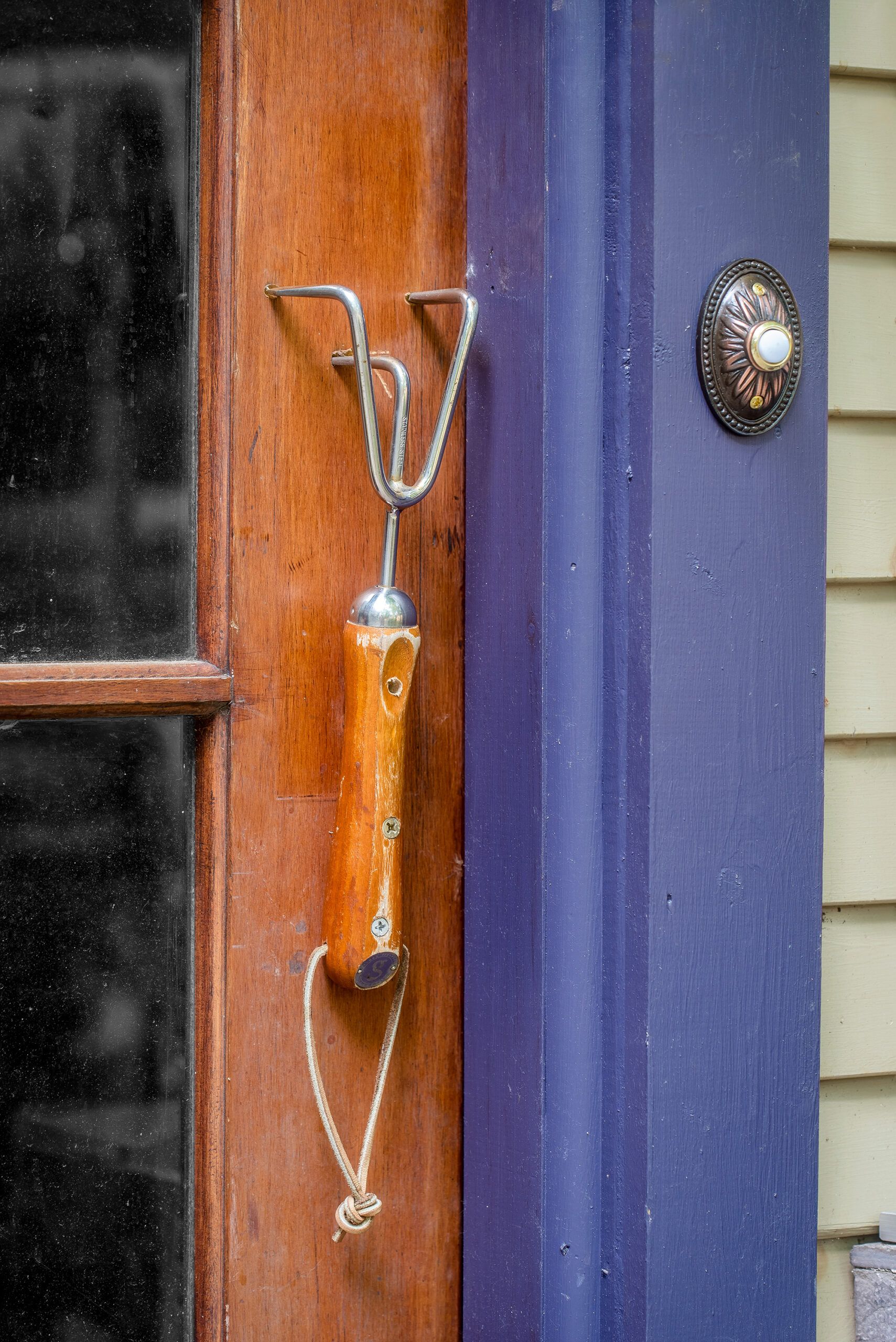 A like-new hand rake became a handle for the shed door (the doorbell is purely decorative).
The Plan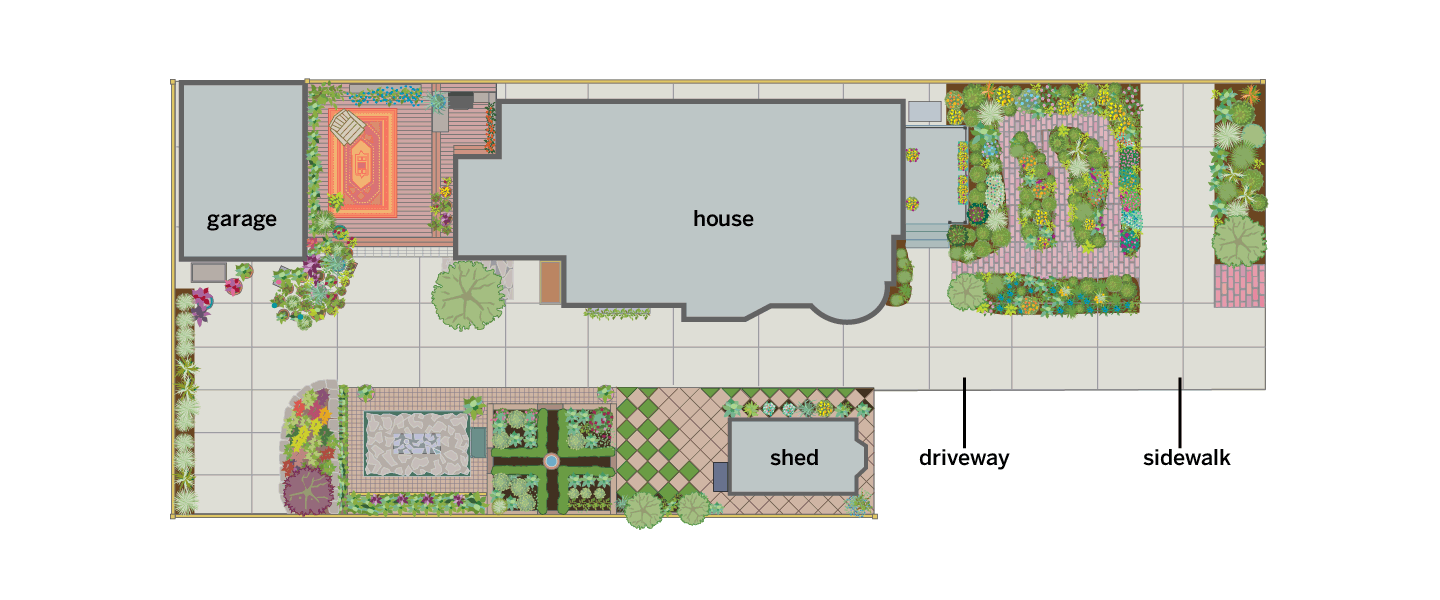 A concrete driveway leading to a garage at the back of the 50-by-116-foot property divides the narrow lot nearly in half. But rather than undercutting the ambience of the garden, the paved strip serves as an inviting, spacious path for visitors. A deck tucked between the house and the garage provides an outdoor dining area on the right. On the left are the garden shed, a checkerboard transition to the kitchen garden, and a sitting area.