Create Mystery With a Gate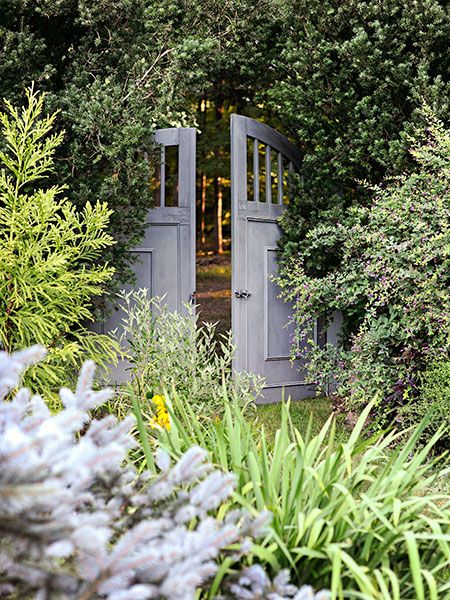 The sprawling Connecticut garden of landscape designer Wesley Rouse is a series of rooms with walls, hallways, and sometimes even a magical roof of vines. He keeps each room distinct from the next by using structures like this gate to separate them; its only purpose is to literally stop you for a moment as you transition from the bright, landscaped areas of his garden into the dimly lit, mossy woods beyond. Bring this idea into your own garden, no matter its size, by closing off a section behind a screen, a lattice wall, or even a pair of tall curtains hung from a tree.
Ground a White Border With Silver and Gray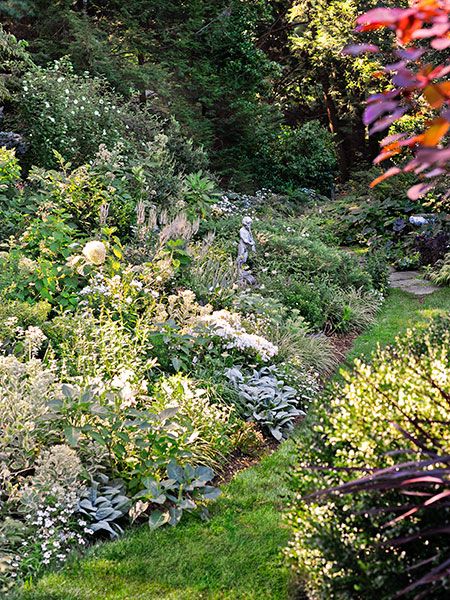 Garden designers often layer plants with silvery leaves into white-flowering beds for much-needed contrast; Rouse goes one better, adding a small iron statue in a metallic blue-gray to this white and silver border. Here, spires of white Culver's root (Veronicastrum virginicum), 'Snowhill' hydrangea, and white shrub roses stand out against a gleaming foil of silver-toned variegated grass (Carex), sedum, and lamb's ear.
Frame a View With Fence Panels and Posts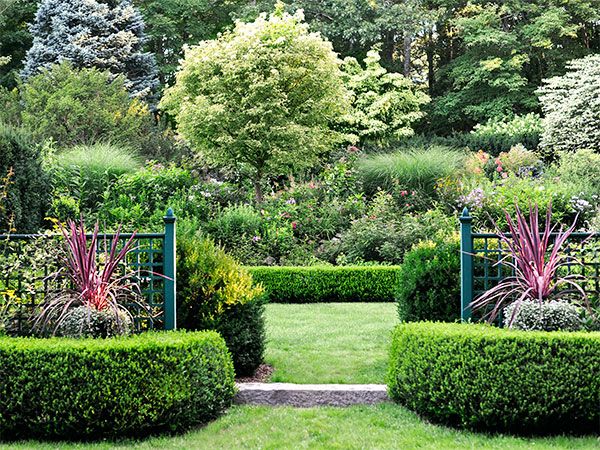 Open lattice panels flank a vista of the formal garden and trees in the distance. Their airy structure and deep blue hue create enclosure without obscuring the view. Low boxwood hedges also lead to the entry, their curving shapes offering a soft counterpoint to the geometry of the wood panels. In another bit of sleight of hand, Rouse distinguished this space by raising the grade by about a foot, clearly signaling the transition from one area in the garden to another. Fronting the lattice are a pair of pots planted with a dramatic combination of sword-leafed 'Pink Spike' phormium, shimmering 'Silver Falls' dichondra, and frothy 'Morning Light' maiden grass in subtle colors.
Break up a Border With a Shapely Urn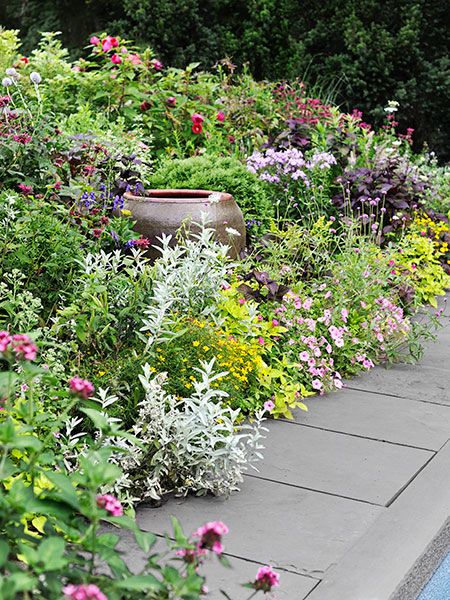 Spectacular garden borders can be almost overwhelming, with so much going on that you can't take it all in. At the other end of the spectrum, a border might be lots of bare earth with a few new plants in need of time to fill in. In both instances, a wedged-in container works magic. It can interrupt the eye as it scans the mass to say, "Stop, look at me" or serve as a sculptural focal point that distracts from sadder spots. When adding a container to a border, place a paving stone or a few inches of crushed gravel on top of soil that's been tamped down, to ensure proper drainage and help prevent the pot from sinking. Here, Rouse snuggled an urn, glazed in earthy colors that complement the nearby plants, into a dazzling border of mixed pink and purple perennials.
Offer Respite With a Bench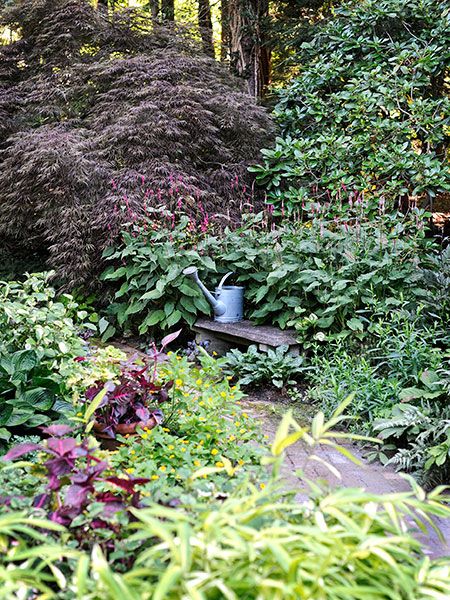 Benches are among the hardest-working decorative elements in the garden because they're both sculptural and functional. Rouse gives extra thought to where he places a bench and selects the material from which it is made to complement the mood of the garden. Here, he tucked a weathered stone bench just off the beaten path of his shade garden as a welcome surprise to anyone who ventures by. The bench's stone is similar in color to the bricks used to create the path.
Surprise and Delight With Perfectly Sized Pieces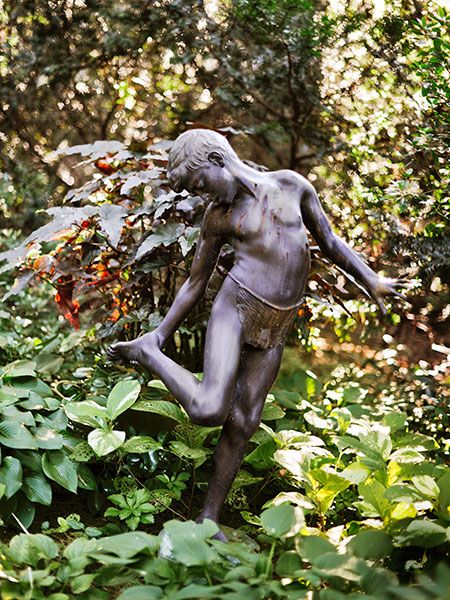 Most people choose garden ornaments that are too small for their site. Rouse suggests cutting a piece of cardboard to the height and width of a piece and placing it in different locations until you find the perfect spot. He chose this foot-tall iron statue for its bronze tones, which blend into a shady garden bed filled with dwarf azalea, hosta, and hepatica.
Add 3D Focal Points With Fountains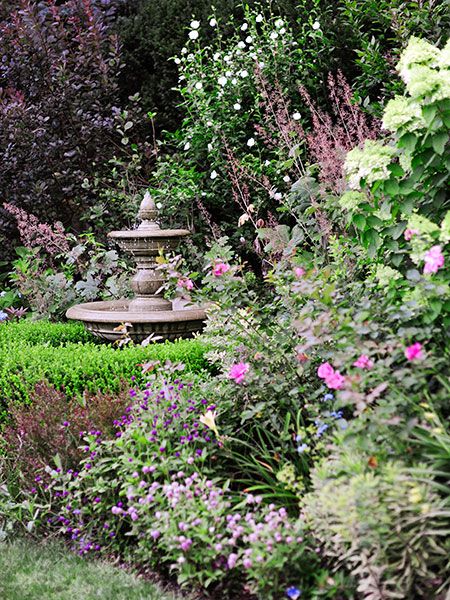 Fountains look best with negative space around them to spotlight their shape. Rouse sites his in long borders to provide a three-dimensional focal point and add height and mass—and for the sound, which draws visitors like bees to honey. This tiered cast-stone fountain's pointed finial plays up the flowering panicles of the 'Tardiva' hydrangea in the background, and its reddish hue echoes the plume poppy behind it.
Play it Safe With a Sundial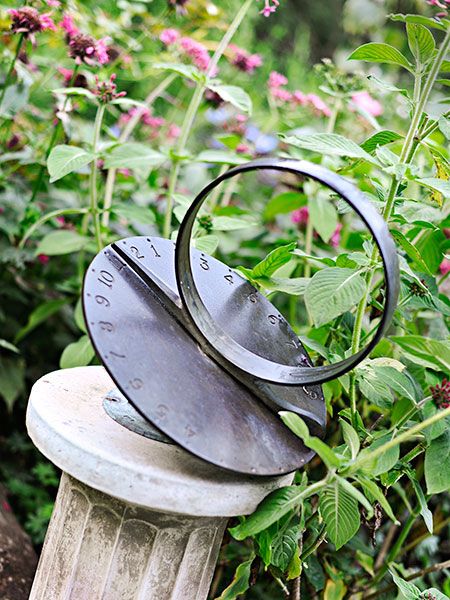 If you don't love statues and fountains but you want to bring art into your garden, try a sundial. Simple in form and with a storied history, sundials work in urban, rustic, and contemporary gardens. This metal one has a modern design, but set on a fluted concrete pedestal, it isn't such a departure from the garden's more traditional decorative elements.
Create Contrast With Statues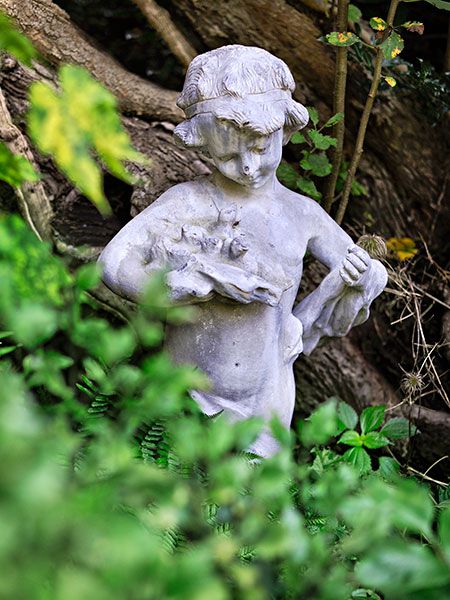 Statues can be especially striking when they contrast with their surroundings, as the smooth surface and delicate look of this concrete maiden does with the rough woody texture of nearby tree trunks.
Make an Entrance With a Container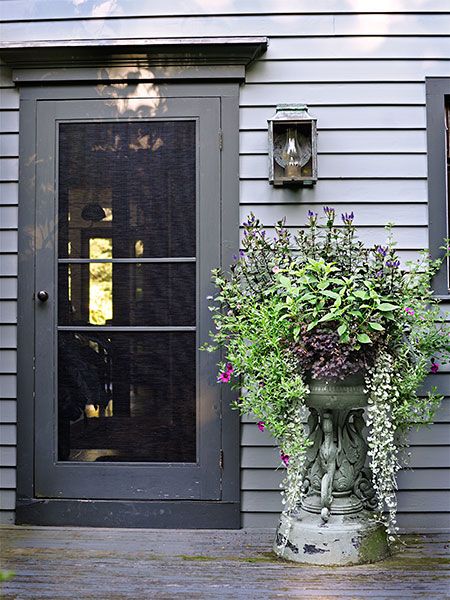 The front door is an ideal place to showcase a spectacular container, such as this one with a swan-figure pedestal. Rouse chose this pot and the tall plantings to balance the height of the door and fill the space between it and the nearby window. Cascading 'Silver Falls' dichondra and Calitunia (a cross between a petunia and a calibrachoa) highlight the rich colors of compact 'Autumn Glow' hebe and burgundy oxalis.
Punctuate a Pathway With a Pot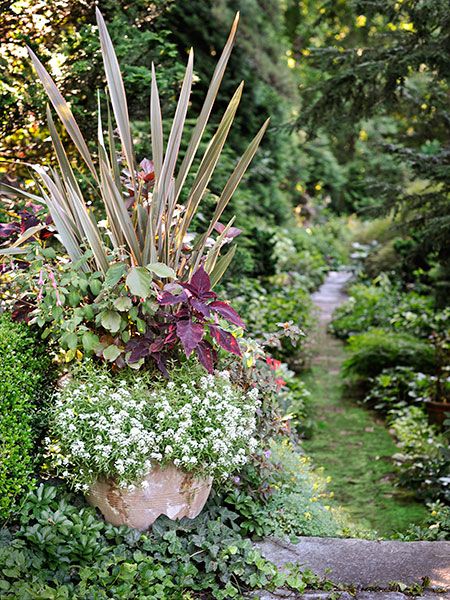 "Bigger is better" is Rouse's advice when selecting a pot—not just for creating pleasing scale but also to give plants plenty of room to stretch their roots and grow. As a general rule, the pot should be about one-third to one-half the height of the planting at maturity. Here, Rouse combines dramatically spiky New Zealand flax with fuchsia, coleus, and sweet alyssum.
Elevate a Container on a Wall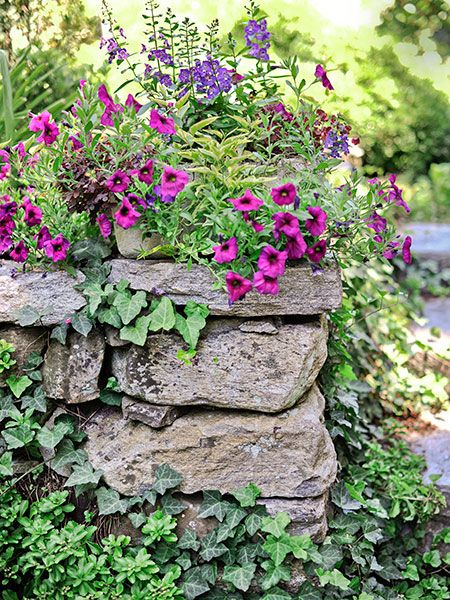 Elevating a container and placing it where visitors might brush past brings its vibrant mix of colors and shapes into focus. Here, a rustic stacked-stone wall provides a perfect shelf for a rectangular planter overflowing with Calitunia, coleus, and angelonia.
Round out a Corner With a Well-Placed Container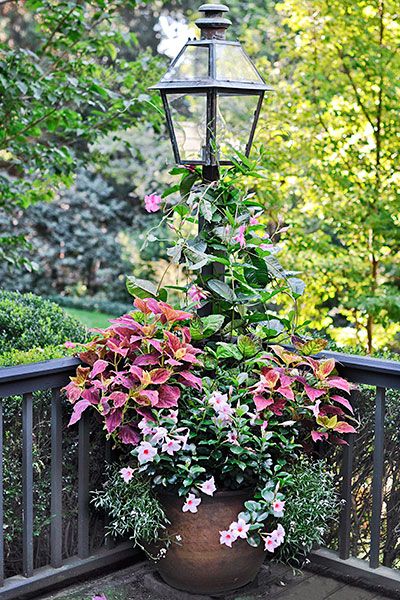 Rouse muted the hard vertical line of this deck-mounted lamppost and "erased" the dark corner by placing a container in front of it. Annual pink 'Alice du Pont' mandevilla scrambles up the post; 'Morning Mist' coleus adds volume, and pink dipladenia and 'Snow Princess' alyssum cascade over the pot edges.