Choose a cold-hardy container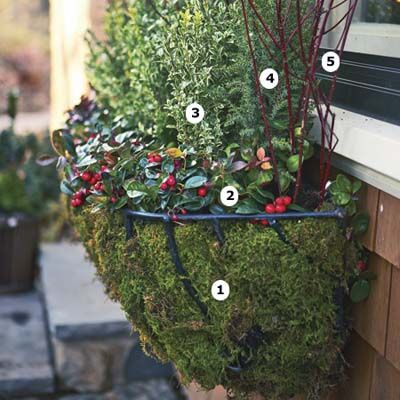 With the right pots, cold-tolerant plants, colorful twigs, and evergreen boughs, you can put together great-looking containers that will last till the weather warms and even beyond. Here's how, courtesy of This Old House landscape contractor Roger Cook.
Water expands about 9 percent as it turns to ice, so even a one-time freeze can crack containers made of terra-cotta or other brittle, moisture-absorbing materials. Metal, plastic, and fiberglass are safe choices. Some ceramic containers can withstand a freeze, if they've been fired at high temperatures. And while standard concrete might break, concrete mixed with polymers stands up better. Wooden planters weather pretty well, too.
Roger lines wire window boxes with sheet moss, which adds color while holding back soil. Eco-friendly coir mats, made from coconut husks, do the job equally well. Here, sheet moss forms a base for the bright red berries and shiny leaves of wintergreen (Gaultheria procumbens). Taller variegated boxwood (1), miniature juniper (Juniperus communis 'Compressa') (2), and redtwig dogwood branches (Cornus sericea) (3) line the back of the wire window box.
Cold-friendly container combinations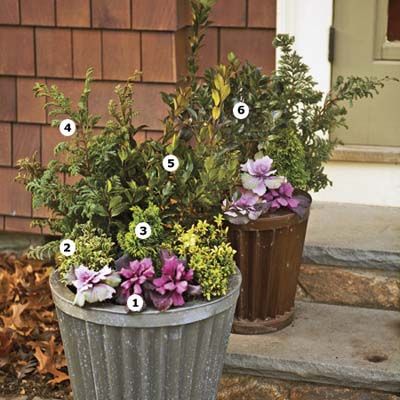 A metal container sets off rosettes of ornamental kale (1), variegated boxwood (Buxus sempervirens 'Variegata') (2), and yellow-green dwarf hinoki cypress (Chamaecyparis obtusa 'Nana Aurea') (3). Feathery sawara false cypress (Chamaecyparis pisifera 'Boulevard') (4) and shiny-leaved common boxwood (Buxus sempervirens 'Graham Blandy') (5) serve as the backdrop. Many of these plants also team up nicely with blue holly (Ilex x meserveae 'Blue Maid') (6).
More cold-friendly container combinations
Blue Alberta spruce (Picea glauca 'Sanders Blue') (1) towers over sawara false cypress (2), Japanese rush (Acorus gramineus 'Ogon') (3), and creeping juniper (Juniperus horizontalis 'Bar Harbor') (4) in pots flanking a door.
Plant with the coming seasons in mind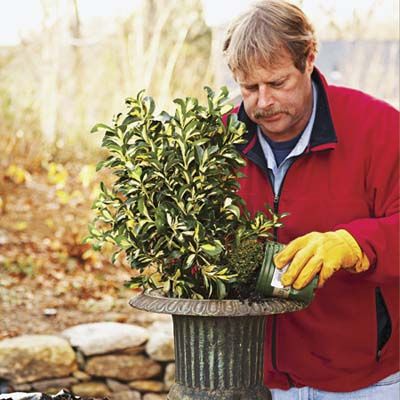 If you're starting a container planting from scratch, Roger recommends covering drain holes with a piece of a broken terra-cotta pot, then adding a little gravel and some landscape fabric to ensure good drainage before you fill in with potting soil. In milder climates or where the plants will be left in pots year-round, mix in some aged compost before you plant, then top with mulch to keep soil moist.
Because Roger usually replaces wintertime displays with colorful annuals in the spring, he doesn't add any soil amendments in the fall or even worry about loosening up the soil more than needed to fit in the roots. He also doesn't bother to loosen tangled root balls because the plants won't do any growing over the winter. As he says, "They're just going to sit there and look pretty." He is careful, however, to leave enough space above the soil line for 3 or 4 inches of mulch (he likes aged pine bark). Thick mulch insulates the roots and protects them from drying out if they are popped out of the soil during a hard freeze.
Use an antidesiccant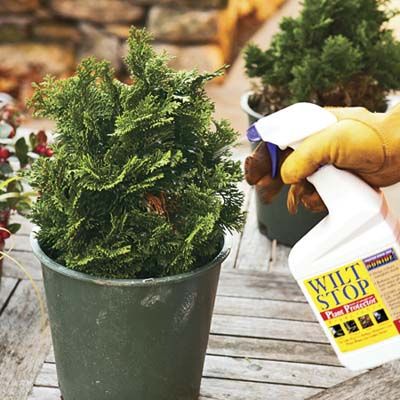 To keep greenery looking fresh all season even if the roots are frozen or you're using cut branches, spray foliage with an antidesiccant. Roger likes one made from pine tree resin. Since the film gradually weathers away, he usually reapplies it once during the winter. In milder climates, antidesiccant sprays are only needed for cut branches.
Monitor the weather and water as needed.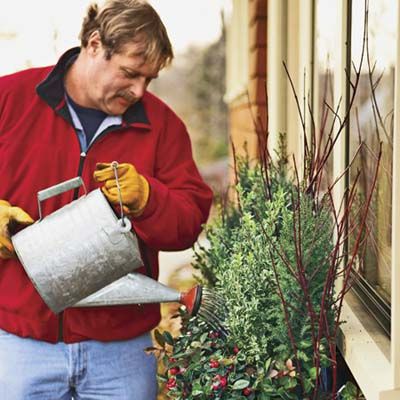 As long as daytime temperatures remain above freezing, poke a finger down into the soil occasionally and water as needed. Be careful if the temperature plummets, though; you don't want to water if it's just going to turn to ice. Once your finger hits hard, frozen soil, relax. There's nothing left to do but enjoy your handiwork.
Picking the plants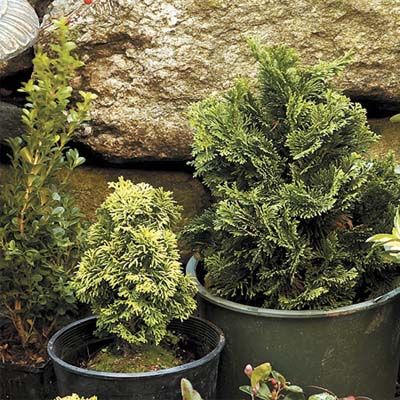 Small conifers, or needled evergreens, work particularly well in planters. You can find ones that form balls, cones, and columns, as well as varieties that trail—an especially useful habit in composing a container. The needles offer variety, too, from soft-textured cypresses.
Miniature conifers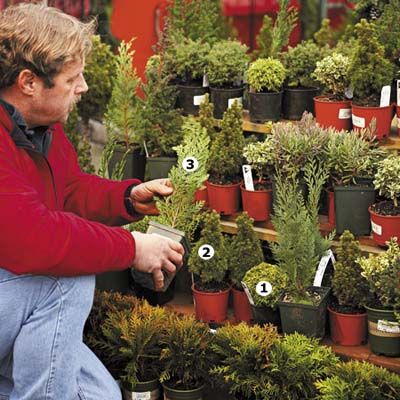 Roger shops for miniature conifers, which come in balls (1), cones (2), and columns (3) that are sized right for containers.
Rugged junipers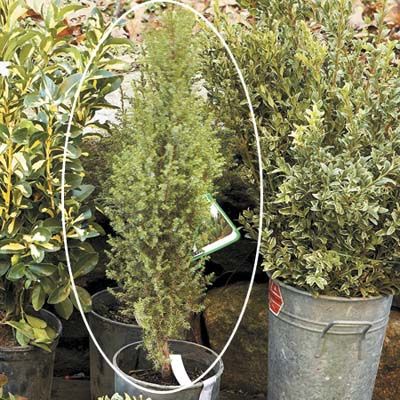 Roger also plants rugged junipers (circled), in a range of greens as well as golds, reds, and silvers. Miniature conifers grow less than 1 inch a year and top out at about 1 foot; dwarf conifers grow 1 to 6 inches a year, winding up 1 to 6 feet tall. Roger uses spruces and false cypresses that fare well in cold climates like that of his native New England.
Other evergreens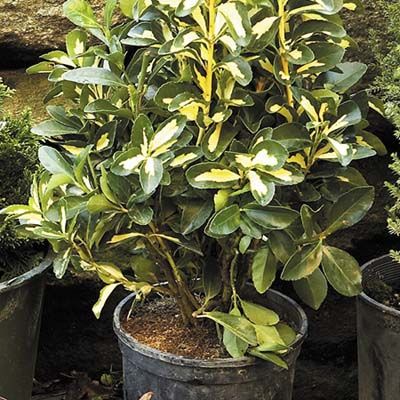 Roger likes to mix evergreens with variegated foliage into his containers, too. Among his favorites are Euonymus japonicus 'Golden Maiden', which has glossy green leaves splashed with yellow.
Dwarf hinoki cypress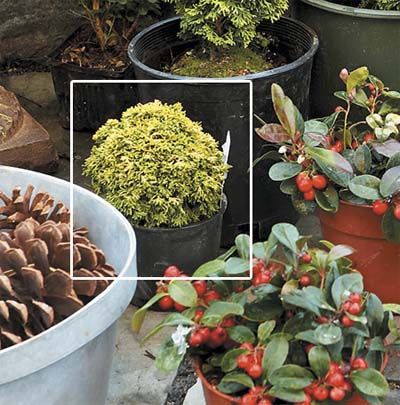 Roger also likes dwarf hinoki cypress (Chamaecyparis obtusa) 'Golden Sprite', with yellow tips on green foliage.
Variegated boxwood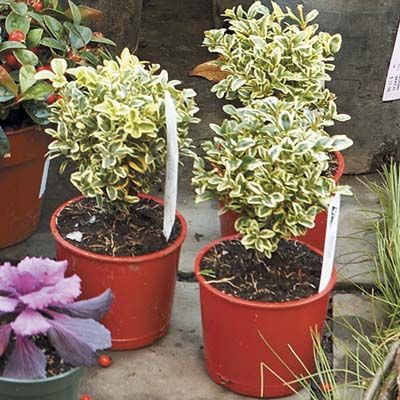 Variegated boxwood (Buxus sempervirens 'Variegata') leaves are outlined in white.
All-green evergreens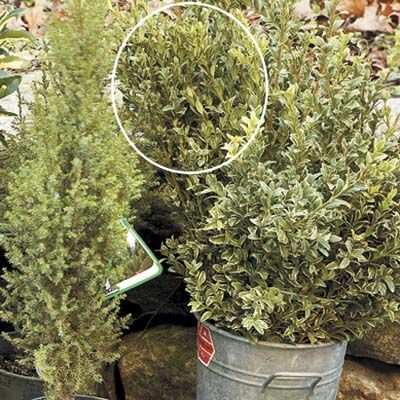 For all-green evergreens, good choices include Korean boxwood (circled), many hollies, and yews.
Wintergreen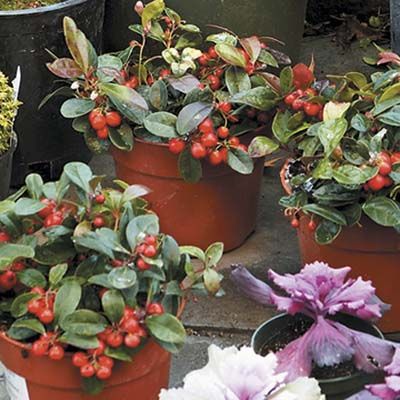 Wintergreen (Gaultheria procumbens) adds the bright note of red berries. Roger often selects plants in the fall with an eye to what he wants to add to his perennial beds in the spring, when he readies the planters for summer annuals. Transplanting from containers into the garden is a thrifty, time-efficient way to build and expand a landscape.
Hardy bloomers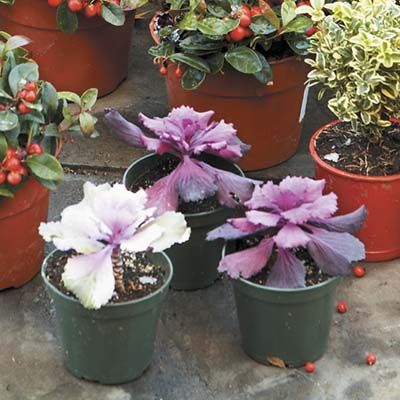 Ornamental kale (shown in foreground), a flowerlike broccoli relative that has frilly leaves splashed with various combinations of pink, cream, and green, does well nearly everywhere through early winter, though below-zero temperatures will do it in. In milder climates, there are several winter-flowering plants to choose from, including pansies, Iceland poppies, primroses, and hellebores, also known as Christmas roses. Ask your local nursery for recommendations.
Twigs and branches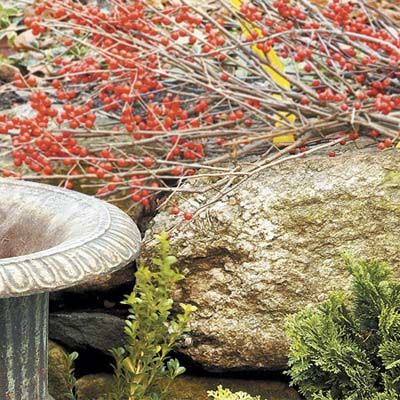 To add a few exclamation points to containers, tuck in branches such as curly pussy willow (Salix caprea 'Kilmarnock'); ones with colorful bark, such as redtwig dogwood (Cornus sericea); types with red fruit, such as American winterberry (Ilex verticillata).
Twigs and branches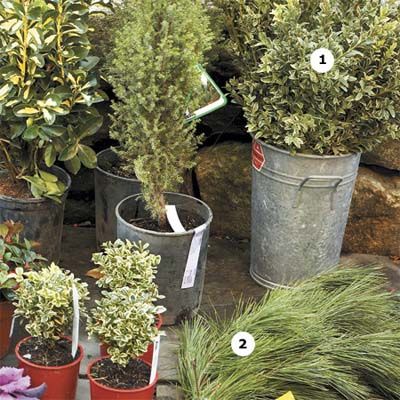 Also good are cuttings of small-leaved Euonymus japonicus 'Microphyllus Butterscotch' (1) or soft-needled white pine (2).