Say It With Flowers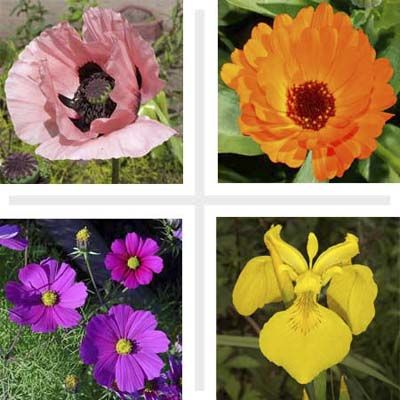 Nothing beats fresh-cut flower arrangements. But, forget having expensive floral arrangements delivered. Instead, gift fast-growing plants—or start your very own cutting flower garden—and there'll be no shortage of hand-tied backyard bouquets this season. Aside from saving your money on pro arrangements, many vase-ready growers are low maintenance and drought tolerant. Some even draw butterflies and birds, while others deter pests. Not a harvester? These fast-growing flowers are also great for filling bare spots in the garden left by winter. Talk about a gift that keeps on giving!
Pot marigold
Calendula officinalis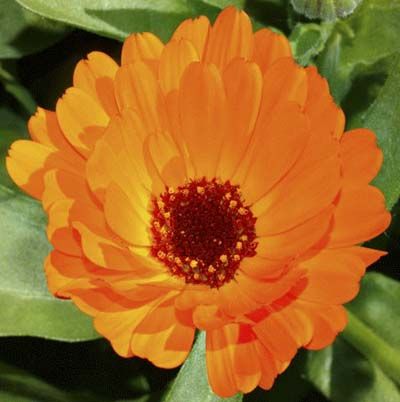 This annual can grow to about 30 inches and features bright green foliage, sturdy stems, and 3-inch blooms. It's available in a range of citrusy colors, from light yellow to bright orange, some with dark centers and others with centers that match the bloom. USDA Zones 4-11
TOH Tip: Like French marigolds, these can be planted in vegetable gardens to deter pests. Unlike French marigolds, this plant is effective at relieving certain insect stings. Its leaves can also be used in stews.
Cosmos
Cosmos bipinnatus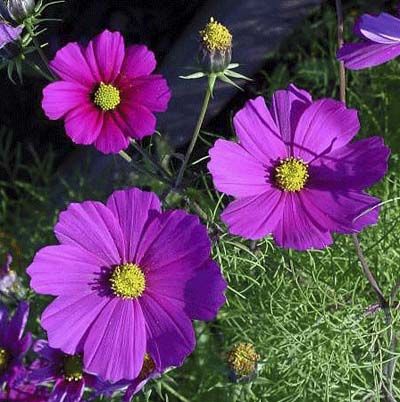 These long-stemmed garden annuals can grow up to six feet tall, thriving in even poor soil. They feature fine, sprig-like foliage and blooms that are up to three inches across. They're available in reds, whites, pinks, and purples and are a favorite in butterfly gardens. USDA Zones 5-10
TOH Tip: Don't use large doses of fertilizer on this, as it will suppress blooms.
Mexican sunflower
Tithonia rotundiflora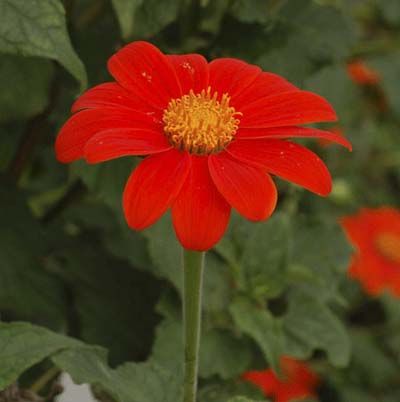 These annuals can grow up to 6 feet with 3-inch, bright red-orange blooms. They feature deep green, coarse foliage and multiple stems per plant. Mexican sunflowers can complete two generations in a single summer, attracting butterflies and skippers to your garden in the process. Give this plant some room: a single planting can grow into a 4-foot-wide cluster. USDA Zones 4-10
TOH Tip: Flower stems are hollow and fragile. To prevent accidental bends and breaks when cutting, use an especially sharp tool.
Yellow flag
Iris pseudacorus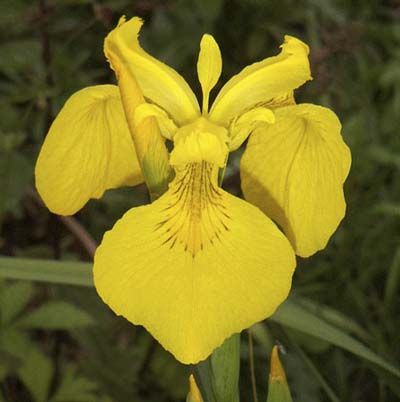 This perennial features gray-green sword-shaped leaves and large yellow blooms that can measure up to 4 inches across. They can grow as tall as 4 feet and can feature four or more early spring-blooms on each stalk. Yellow flag could spread in a wetland area, but those grown in dry areas will likely be smaller and spread less. USDA Zones 4-9
TOH Tip: Check with a local garden center professional before planting this, as the plant may be considered invasive in some areas.
Black-eyed Susan
Rudbeckia fulgida var. sullivantii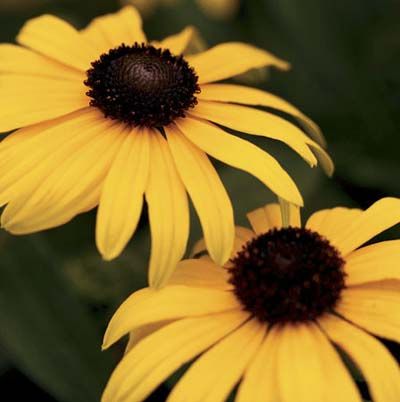 This perennial can grow to 3 feet and features numerous blooms atop branched stems. The plant features lance-shaped, deep green leaves. Blooms measure about 3 inches across. Plants spread and form large clumps, with up to 20 bright flowers per plant. These will bloom all summer long, and cutting will encourage new blooms. Black-eyed Susan is also a deer repellant. USDA Zones 3-9
TOH Tip: You can divide clumps in early fall to get more bloom for your buck from season to season.
Snapdragon
Antirrhinum majus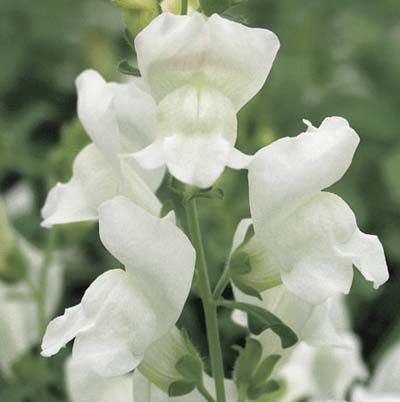 This annual can grow from about 8 inches to 3 feet, depending on variety. Snapdragons feature small tubular blooms in a range of colors. They're available in hundreds of cultivars and in just about every color except true blue and black. USDA Zones 4-11
TOH Tip: Snapdragons don't care for heat; plant in the winter in zones 9-11
Purple coneflower
Echinacea purpurea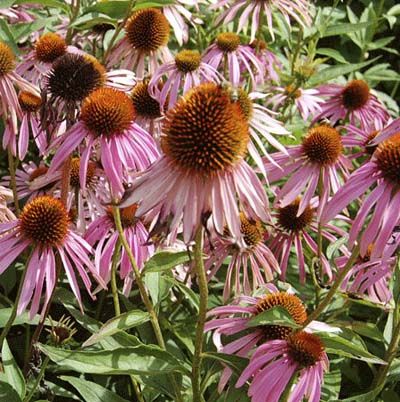 This perennial can grow into clumps 3 feet tall and 3 feet wide. Blossoms can measure up to 3 inches across and plants feature dark green, coarse foliage. Large purplish-brown centers are skirted by lavender to purple petals. This plant will draw butterflies all summer, is drought-tolerant, and pest and disease resistant. USDA Zone 3-9
TOH Tip: This is the plant immunity-boosting that Echinacea is derived from. You can pick and dry these to add to a tea recipe.
Marigold
Tagetes spp.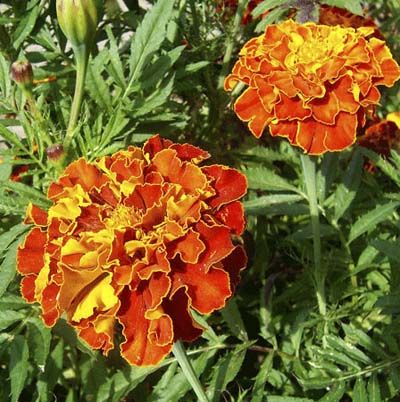 There are hundreds of marigold varieties to choose from; French marigolds (Tagetes patula, shown here) can grow to 12 inches with 2 inch blooms. Other varieties can grow up to 3 feet and have 3 inch blooms. The dense, continuously-blooming flowers are available in yellows, oranges, and bronze shades and feature dark green foliage. USDA Zones 9-11
TOH Tip: Consider planting these in your vegetable garden, as they deter a number of pests. Similarly, nasturitum can be planted around vegetable gardens as "aphid lures," drawing the pests to them instead of vegetable plants
Poppy
Papaver somniferum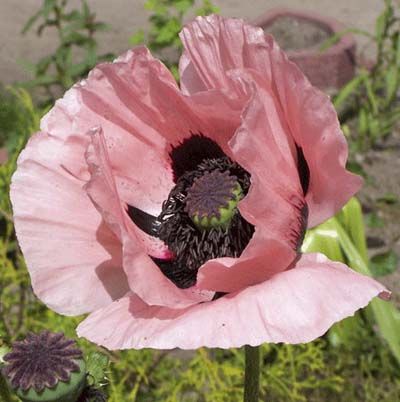 Though the scarlet variety of this upright annual is best known, poppies come in over 70 varieties and a range of colors including white, pink, and mauve. Flowers can grow up to 4 feet and feature blue-green foliage. The bowl-shaped blooms can measure up to 4 inches across. USDA Zones 7-10
TOH Tip: Poppies should be cut just before flowers open. You can prolong the life of cut flowers by cauterizing stems; just hold the tip of each stem in the flame of a candle for a few seconds, then place in water.
Horsemint
Monarda punctata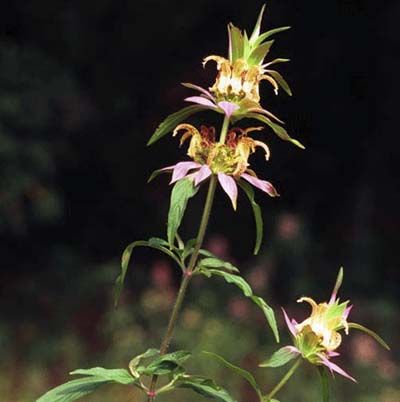 This multi-branched perennial can grow to 4 feet. It features lance-shaped leaves and up to seven small pink to lavender bracts and pale yellow flowers per branch. Horsemint attracts butterflies to the garden and makes great filler for cut arrangements. USDA Zones 5-10
TOH Tip: This plant's foliage has the aroma of oregano and can be dried for homemade air fresheners.
Indigo Spires sage
Salvia 'Indigo Spires'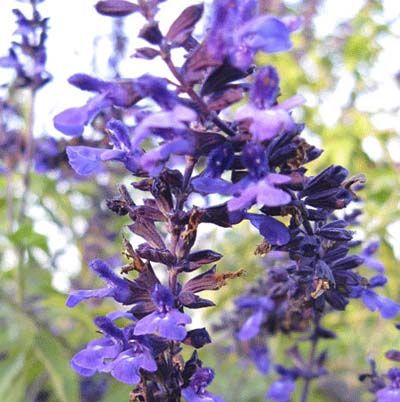 This perennial butterfly magnet can grow up to 5 feet tall and into clusters spanning 5 feet wide or more. They feature small blue-violet blooms along about a foot of its length and long, coarsely-toothed foliage. USDA Zones 7-11
TOH Tip: In the garden these may need regular pruning, as they tend to grow until they fall under their own weight. This habit, of course, makes them all the more appropriate for your cutting garden.
Calliopsis
Coreopsis tinctoria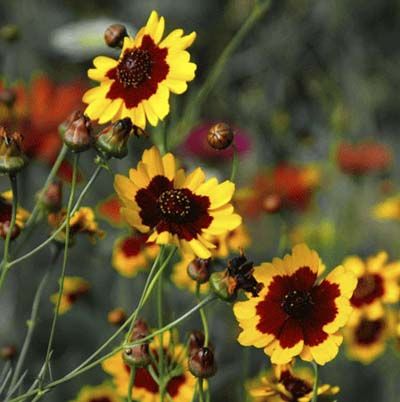 Add interest to floral arrangements with this wildflower. The annual coreopsis can grow to 4 feet with flowers that measure about 2 inches across. Each stem features multiple branches and blooms, purple center discs with bright yellow-tipped petals. The drought-tolerant plant will bloom through autumn, drawing birds and butterflies to the garden. USDA Zones 4-10
TOH Tip: Deadhead regularly for successive flowering between cutting for indoor arrangements. Cut these when flowers are almost fully opened.
Mums
Chrysanthemum hybrids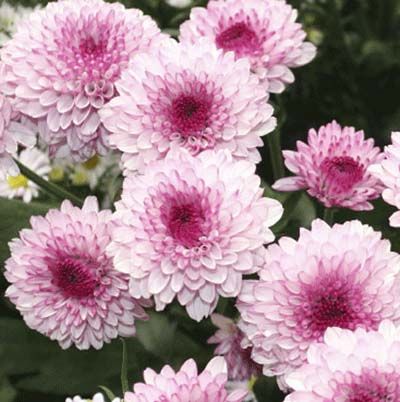 Mums are available in a variety of bloom shapes, including the Pompons shown here. Colors range from burgundy to oranges to lavenders and pinks to white. Some varieties are low and spreading while others can grow up to 5 feet. The easy-care plants aren't prone to disease and are widely, consistently available. USDA Zones 5-9
TOH Tip:Since mums are durable, readily available plants, consider planting in all of its forms, including ball-shaped pompons, the spider variety with long tubular petals, the spoon variety with interesting spoon-shaped petals, and colorful daisy-like single varieties, among others.
Purpletop verbena
Verbena bonariensis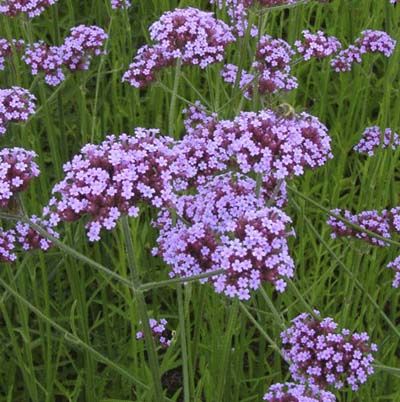 This perennial (grown as an annual in colder climes) features quarter-inch purple flowers atop stiff, coarse stems. It can grow to about 6 feet and into clumps about 3 feet wide. It'll bloom all summer long and is fairly drought-tolerant. USDA Zones 7-11
TOH Tip: If you want to encourage branching, pinch the first shoots in the spring.
Nasturtium
Tropaeolum speciosum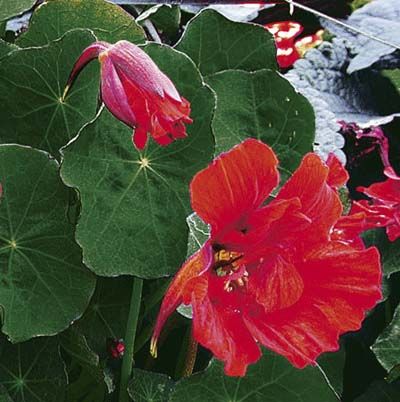 This cultivar of Tropaeolum majus features large, round leaves with blooms that measure 2 inches across. It thrives in poor soil growing to about a foot tall; heavy watering will result in lots of foliage and little to no blooms. Nasturtium's non-toxic nature, large seeds, and rapid growth make it a great starter plant for kids to arrange and gift themselves. It also draws hummingbirds. USDA Zones 4-11
TOH Tip: This plant is edible. It has a peppery taste and can be used in salads.