Add Character to Your Landscape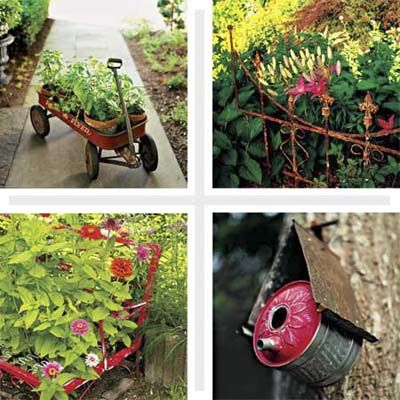 Growing flowers isn't the only way to add color and interest to outdoor spaces. You can also personalize your green acres with character-filled items scavenged from flea markets, thrift shops, even your own garage. An old iron headboard, for instance, can stand in as a trellis for climbing vines. Mismatched interior doors can be hinged together to serve as walls for a movable open-air room. Read on for more creative ideas for turning vintage castoffs into garden ornaments. Here are 11 inspirational ideas to help see your old things in a brand new light.
Spring Stakes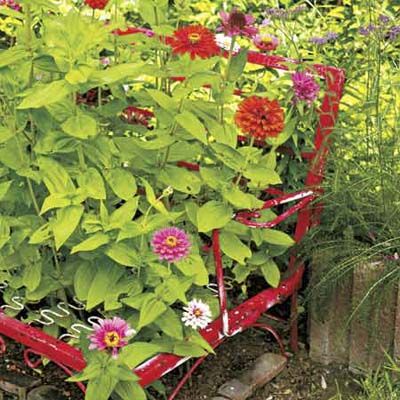 Hold top-heavy flowers, such as these zinnias, upright within the zigzagging springs of old metal patio furniture. Anything with spaces through which flowers can grow will work—even a wire basket with large mesh.
Herb Garden Trolley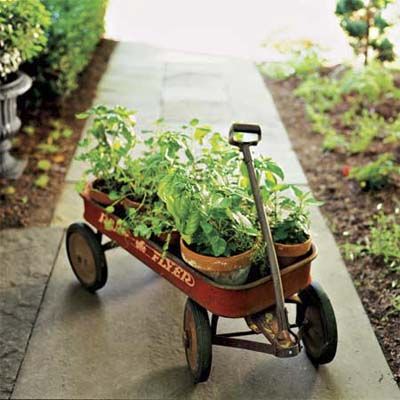 Corral potted herbs in a worn wheelbarrow or wagon, such as this Radio Flyer, so that you can easily move them to catch the sun or sidle up to the BBQ.
Rustic Edging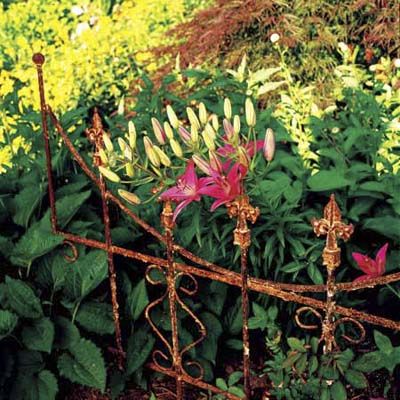 Root iron fence sections deep in the soil, as was done here, to provide a boundary for a patch of lilies. You can also create a border with fragments of an old stone cornice.
Metalwork Birdhouse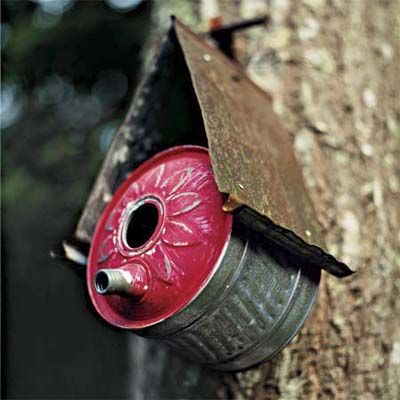 Welcome nesters with a handmade house. The spout on this oilcan makes a perfect perch. Another draw: a birdbath made from a salvaged pedestal sink.
Funnel Container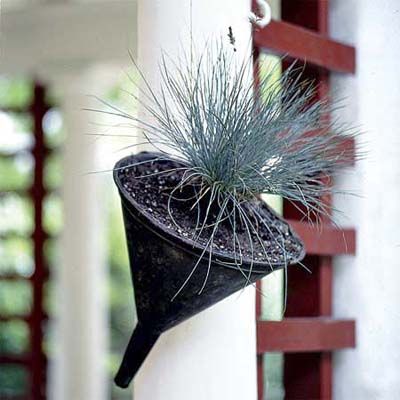 Search the tool shed for shapely items to suspend from twine. Here, a metal funnel—a natural because it has built-in drainage—cradles a tuft of ornamental grass. Other good candidates for hanging planters are tin watering cans and loop-handle buckets. Drill small holes in the bottom and place pea gravel inside to keep soil from spilling out.
Chimney-Pot Pedestal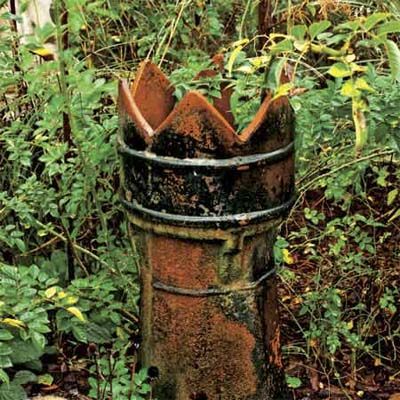 Focus attention on a prized plant by placing it in the crown of a terra-cotta chimney pot, such as this salvaged octagonal one. You can also convert one to serve as a dramatic landscape uplight by placing it over a low-voltage fixture.
Flower Barrel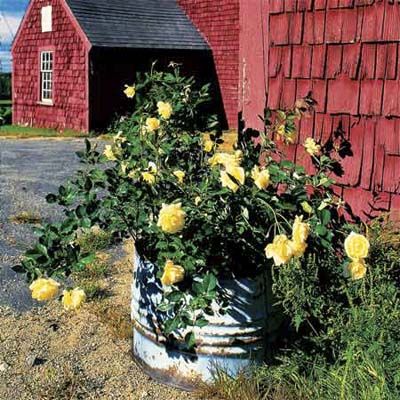 Turn an old open-top steel oil drum, preferably with a colorful painted finish like this one, into a handsome planter. Get it for free from your auto mechanic, and use a degreaser, such as Krud Kutter, to clean out the inside. Once all traces of oil are gone, you can also use drums to catch rainwater for garden irrigation.
Buggy-Turned-Planting Box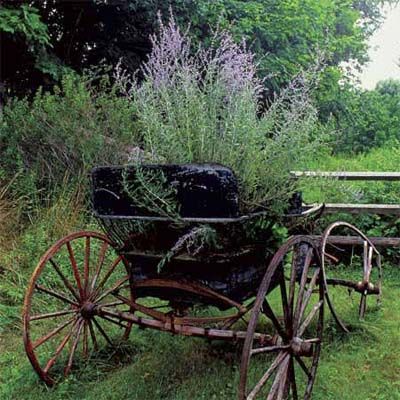 Use a rusted wreck, like this broken-down carriage or a vintage tractor, as a focal point in the garden, drawing visitors to far corners that might otherwise go ignored. An old bicycle will also do the trick. Just sink its wheels halfway into the ground for stability and fill its market basket with herbs or flowers.
Window-Frame Trellis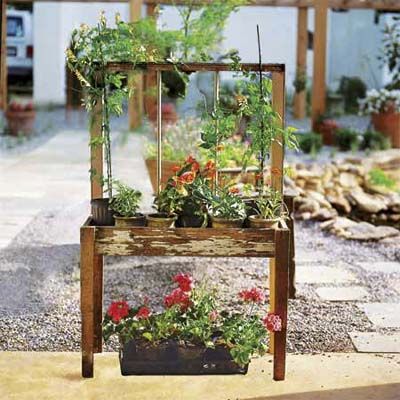 Turn an old window that's missing its glass into a support for climbing vines. Here, a single sash is attached to an elevated planter made from scrap wood. As an alternative to a window, use a Windsor-style chair with vertical spindles in the backrest. Place potted plants on the seat and train tendrils around the spindles.
Toy Planter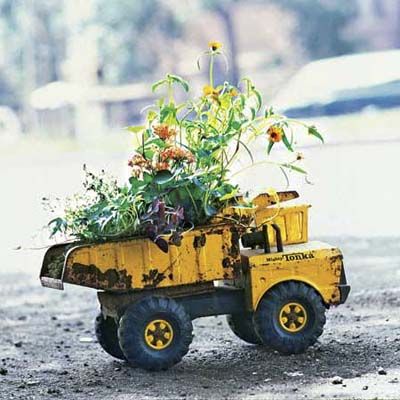 Give your kid's castoff a new life in the garden. Choose toys that'll weather well and ones with dirt-friendly containers, like this Tonka metal dump truck. Another idea: Use a tricycle seat as a pedestal for a box of blooms.
Iron Sculpture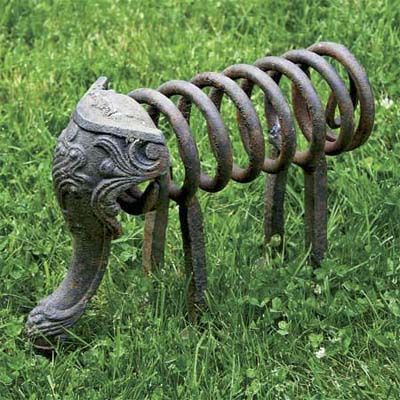 Create an ornament out of odds and ends from the salvage yard. Here, a Victorian-era cast-iron bathtub foot forms the head of an elephant; its legs are railroad-tie spikes and its body is a steel coil. Search the term ironwork on yelp.com for a pro to weld the parts for you.