Garden Rooms and More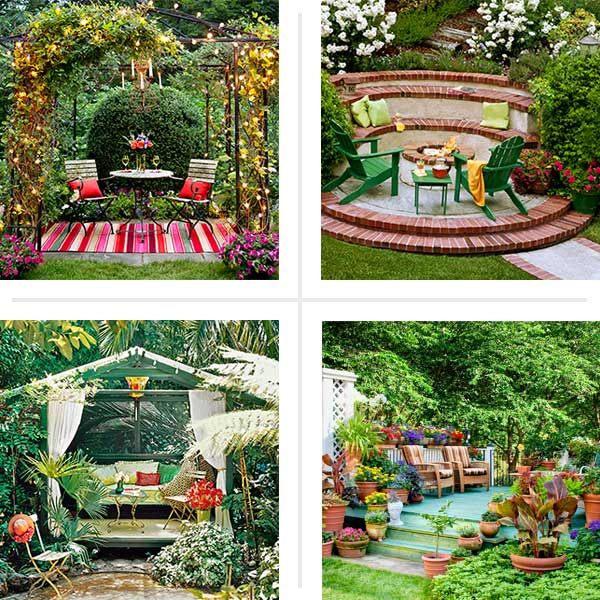 Tuck chairs under an arbor or place a pavilion at the end of a winding path. Read on for ways to make an outdoor space feel like a real destination.
1. Go for Filigreed Flair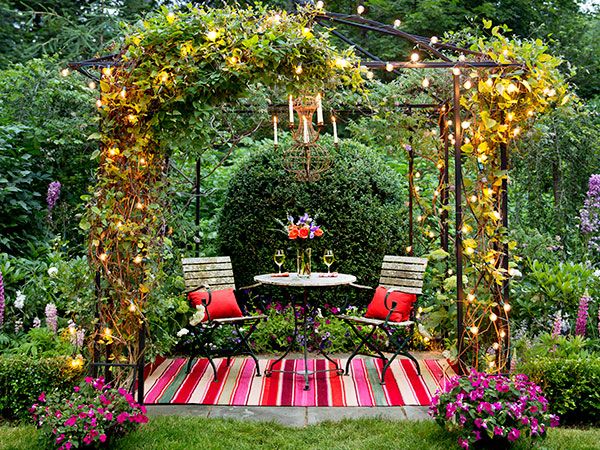 An ornate metal structure evokes a Victorian-era English country garden and offers a romantic prefab option for a backyard room.
Similar to shown: Lattice Pavilion made of powder-coated steel in a hammered-bronze finish, about $1,800; Garden.com
2. Opt for Solar Mood Lights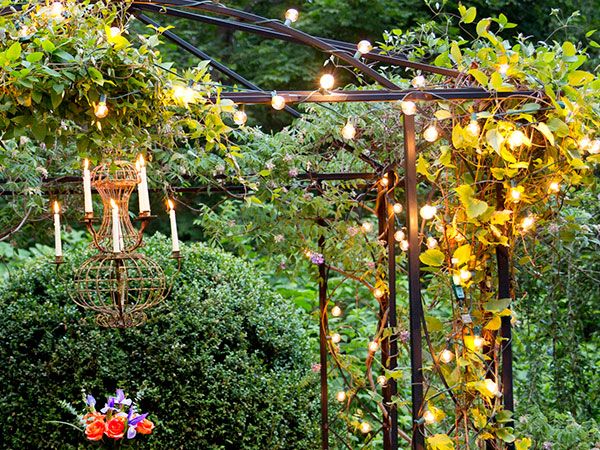 Strands of bulbs powered by the sun are an easy way to light up a far-flung garden room. A solar panel staked in the ground harvests enough energy for 6 to 8 hours of illumination. Add a candle chandelier to enhance the mood. Solar String Lights with 200 bulbs, about $40; Plow and Hearth. Wrought Iron 6 Arm Candle Chandelier with Bird Cage, about $40; Amazon.com
3. Unfurl a Rug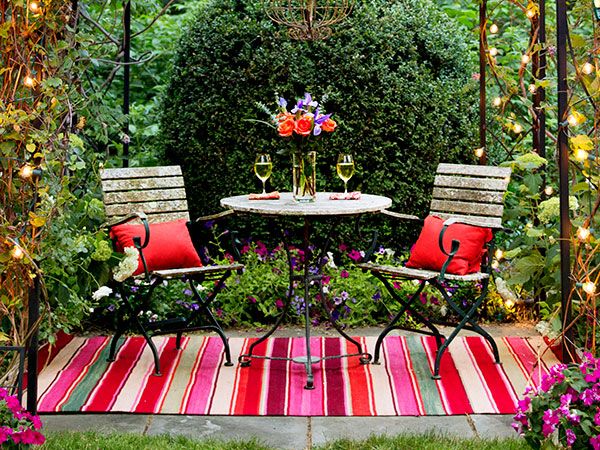 An outdoor rug can cover a worn or unremarkable surface while also adding warmth, color, and an indoor touch. This rug echoes the vibrant hues of the annual blooms nearby.
Similar to shown: Koko Company Melange 6-by-8-foot Indoor/Outdoor Floor Mat in Tutti Frutti Red Mix, about $100; Hayneedle.com
4. Follow the Natural Contours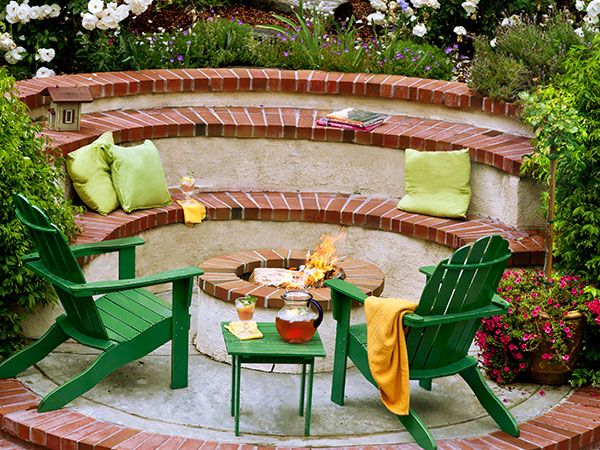 By working with the landscape rather than fighting it with an earthmover, you can turn a flaw into a design element. Here, a steep rise presented an opportunity for an intimate patio buttressed by a multilevel sitting wall. Watch a video on how to build your own round patio ringed by a sitting wall.
5. Create a Focal Point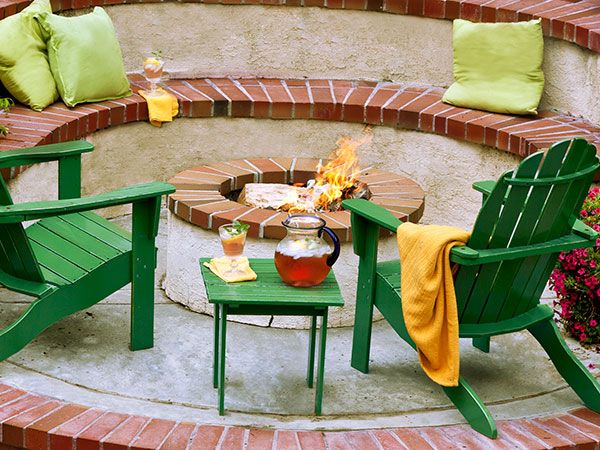 A single standout feature, such as this built-in fire pit, provides a central spot around which to arrange furniture and orient views. Find a step-by-step for building your own fire pit.
6. Encourage a Journey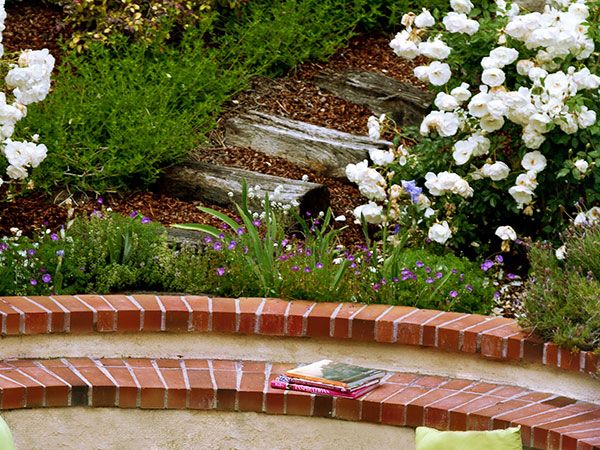 A winding path holds the promise of undiscovered vistas and nooks. The mulch trail with split-log steps above this sitting wall, for example, invites an exploration of the garden. To make a similar version, use flexible plastic edging for borders and buy mulch by the yard—your town may offer it for free—and have it delivered by truck.
7. Raise It Up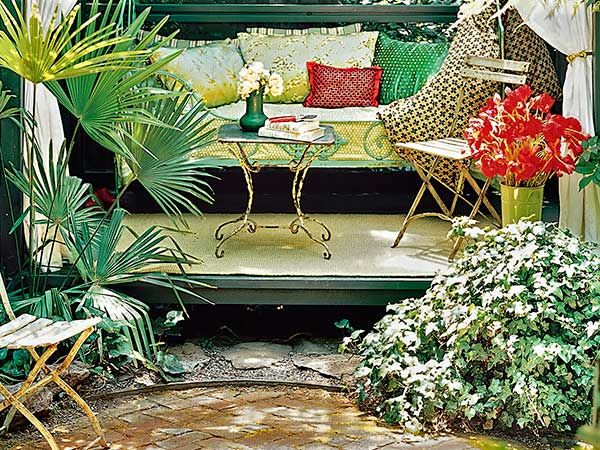 A DIY platform made of pressure-treated pine slats helps protect against rot and termite damage while giving a structure a more prominent, multilevel look. It also keeps pooling water away from the floor and furnishings. Top Choice #2 Prime Pressure Treated Lumber in 8-foot lengths, about $4 each; Lowe's
8. Erect See-Through Walls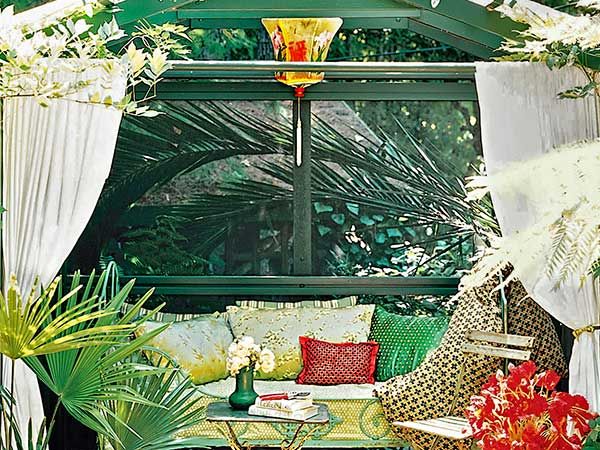 Screens on the back and sides and gauzy drapes framing the front offer the feeling of an enclosure without blocking views or breezes.
Similar to shown: Indoor/Outdoor Grommet Drape in Natural, from $50 per panel; Pottery Barn
9. Stay Dry in a Downpour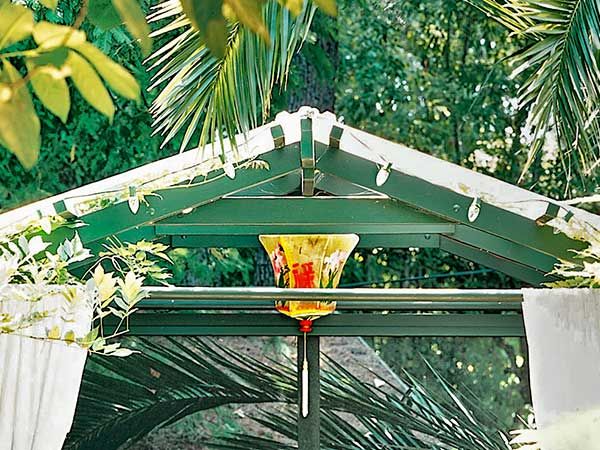 A porous pavilion roof is of little help during a shower. Here, clear plastic panels overlay the rafters, offering a respite from the rain while still allowing sunlight to filter in. Suntuf 26-inch by 12-foot Clear Polycarbonate Roofing Panels, about $32 each; The Home Depot
10. Hang a Flameless Lantern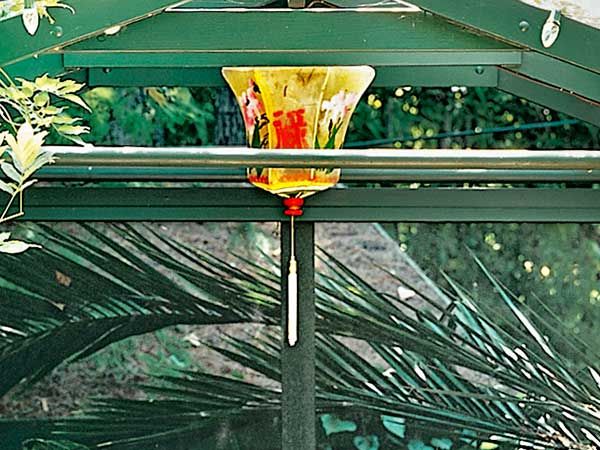 Chinese candle lanterns are a fun way to create ambience but can be a fire hazard. Battery-powered LED candles and lightpacks offer safe alternatives.
Similar to shown: 14-inch Gold Yellow Traditional Nylon Chinese Lantern with Tassel, about $5, and 16 LED Hanging Battery Terminal for Lantern, about $4; PaperLanternStore.com
11. Border With Pots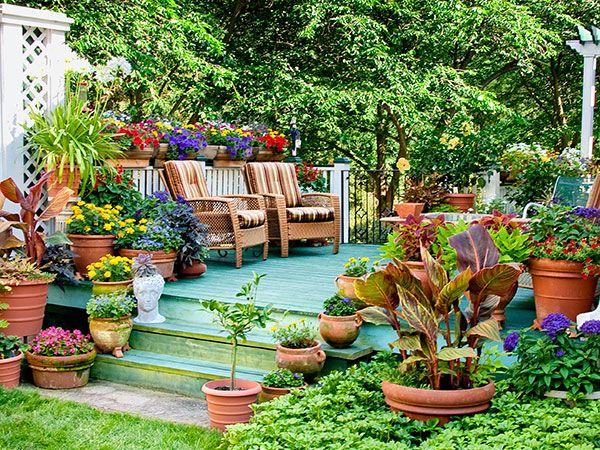 Containers can serve as low walls around a garden room. Vary the sizes for a more dynamic look, with a few standout specimens in large containers and bright flowering plants in small- to medium-size pots that are easier to move around. Consider a matched trio in graduated sizes, such as the Three-Piece Textured Planter Set by Zingz & Thingz, about $70; Wayfair.com.
12. Inject Color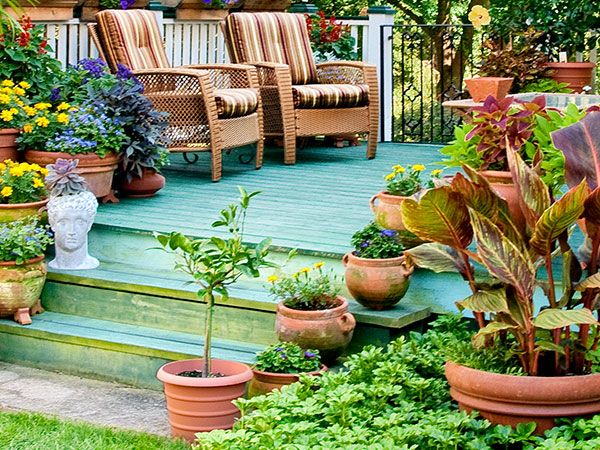 Revitalize a worn platform with a therapeutic stain for aged wood while brightening it with a garden-friendly azure hue. We like Rust-Oleum's Restore 10X Advanced Resurfacer, in Blue Sky, about $25 per gallon; Rustoleum.com for stores.
13. Dress Up Railings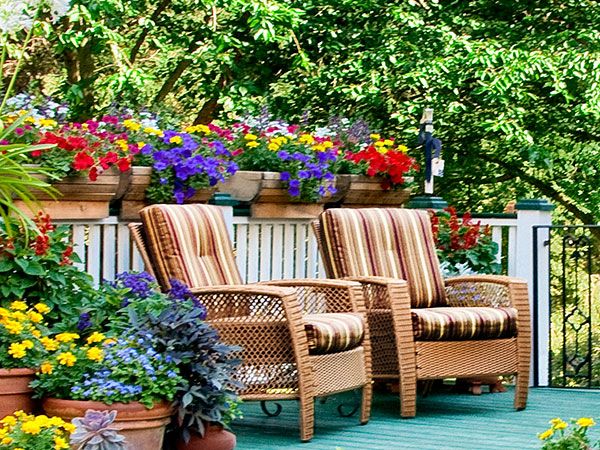 Planter boxes that hook onto deck or porch railings bring cheery blooms to eye level. Choose from two types: planters with brackets that sling over the rail and ones like these that clip onto the top. The 28-inch Rounded Cedar Deck Rail Planter (about $50; Hooks and Lattice) will help get you growing in no time.