Blue Fescue (Festuca glauca)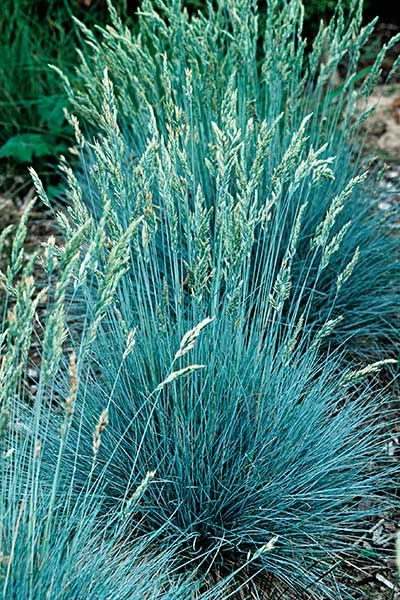 This evergreen ornamental grass, like 'Blaufuchs' (shown), produces clumps of finely textured light-blue leaves topped in summer with buff-colored seed heads. Grows up to 12 inches tall and 10 inches wide. Drought and salt tolerant, it prefers sun but handles some shade.
Zones 4–8
Yarrow (Achillea)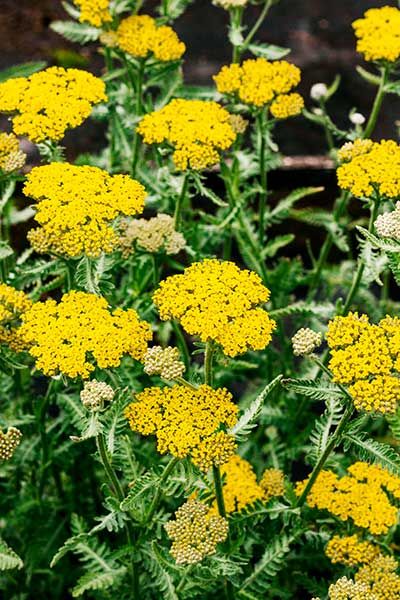 While this carefree perennial can reach 8 feet high, woolly yarrow (A. tomentosa) has a ground-hugging habit with bright yellow flowers that grow to 10 inches tall. For more height, 'Moonshine' (shown) grows 2 feet high with similar blooms. Yarrows like dry to medium-damp soil; full sun.
Zones 3–8
'Moonbeam' Coreopsis (C. verticillata 'Moonbeam') – not pictured
Butter-yellow daisy-like flowers from June through August. Most coreopsis varieties self-seed, but 'Moonbeam' (shown) is sterile, so you won't find plants sprouting on the other edge of your sidewalk. Grows up to 2 feet tall and wide.
Zones 3–9
Sweet Woodruff (Galium odoratum)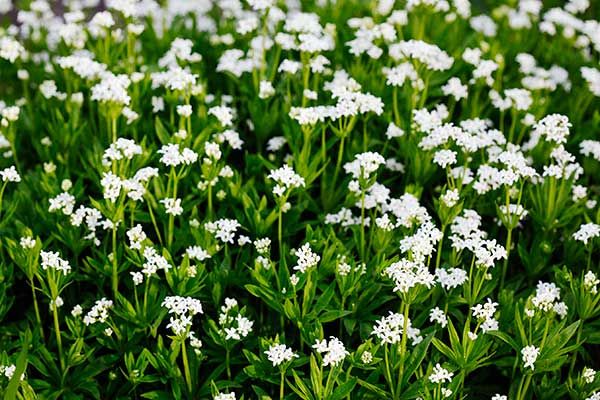 Tiny white flowers on this species (shown) pop up among lush green leaves from April through May. Sweet woodruff spreads by runners, so a planting strip with built-in edging is a perfect location. Good to use under trees— even black walnuts, where few groundcovers grow. Grows up to 12 inches tall and wide.
Zones 4–8
Beardtongue (Penstemon)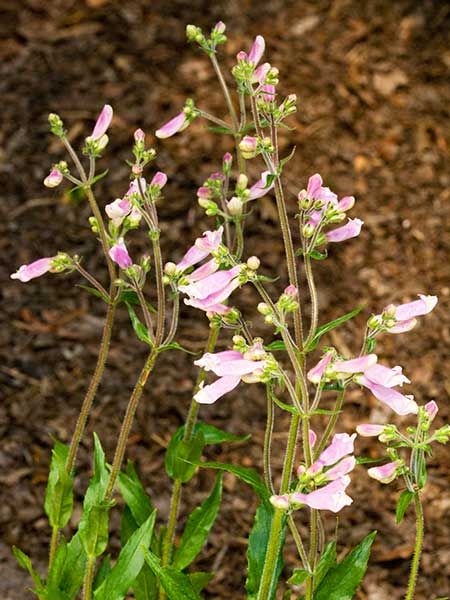 This plant group offers great versatility: mat-forming P. caespitosu has lilac-like flowers over bright-green leaves that reach a few inches tall and wide. P. canescens (shown) blooms with pink to dark-violet tubular flowers and grows up to 3 feet tall and 1½ feet wide. Penstemons thrive in sun and do well with medium to dry soil.
Zones 3–9, depending on the type
Lavender Cotton (Santolina chamaecyparissus)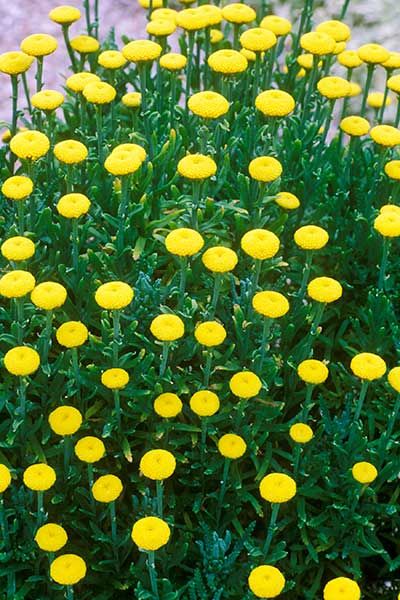 From the Mediterranean, this aromatic shrub has gray-green leaves and button-like yellow flowers, which can be cut once blooms fade for another flush of color. Not for humid climates—it thrives where summers are hot, dry, and sunny. Grows up to 2 feet tall and 3 feet wide, but some cultivars, like 'Small Ness' (shown), reach only 20 inches tall
Zones 6–9
Sage (Salvia)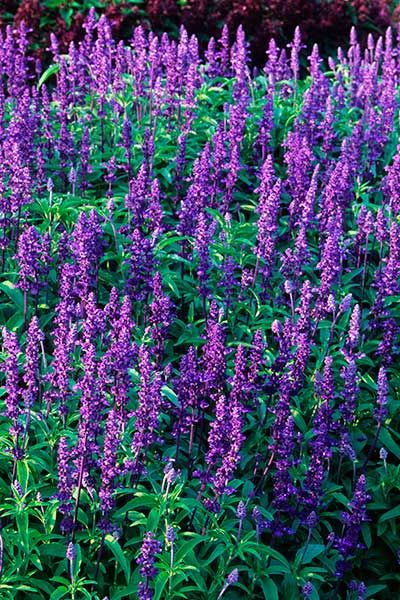 Garden centers typically stock many varieties of sage, including shrub and perennial forms suitable for hellstrips. Flowers are blue, white, red, or purple, like S. farinacea 'Victoria' (shown). Many sages stay under 18 inches and can be coaxed to bloom through October if you cut back plants after the first wave. Likes sun and thrives with little water.
Zones vary by variety.
Pussy-toes (Antennaria)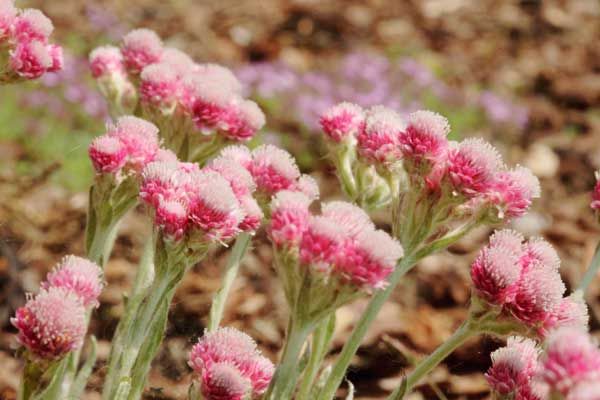 Named for its fuzzy blossoms, which resemble a cat's paw, this groundcover forms a short mat of green leaves topped by white flowers from April throughJune. Grows up to 16 inches tall and 18 inches wide. A. dioica 'Rotes Wunder' (shown) is a red-blooming variety that prefers dry to medium-damp soil, full sun to partial shade.
Zones 5–9
Creeping Juniper (Juniperus horizontalis)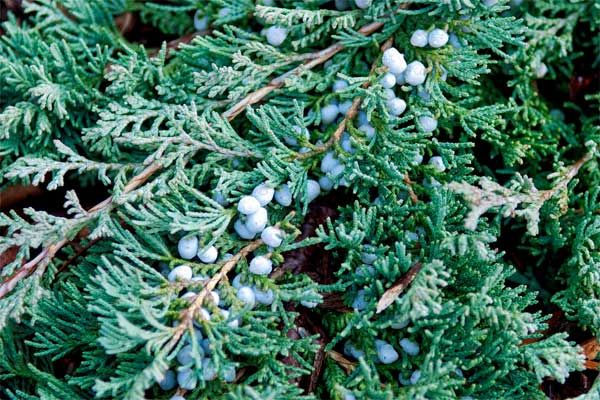 This tough evergreen comes in varieties with dark-green to chartreuse to almost blue-green needles, so you can fill a planting strip with a single color or a tapestry. Most are salt tolerant, deer resistant, and sunloving. The female 'Glauca' variety (shown) turns reddish purple in winter and has berry-like cones. Grows up to 12 inches tall and 8 feet wide.
Zones 3–9
Kalm's St. John's Wort (Hypericum kalmianum)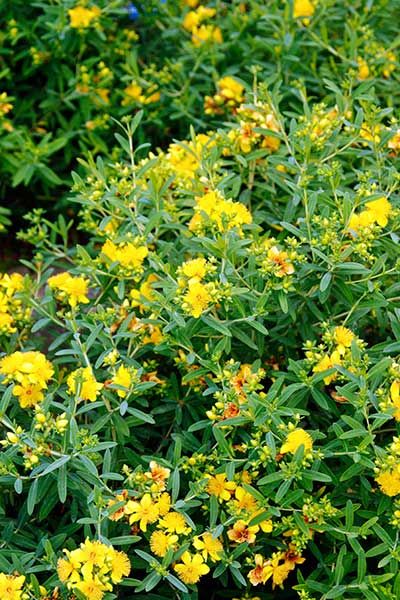 This native North American shrub survives both drought and flooding and is a colorful solution for a hellstrip rain garden. The species (shown) forms a dense pack of bluish foliage dotted with large clusters of feathery gold flowers in summer. The 'Blue Velvet' cultivar has deeper blue foliage. Grows up to 3 feet tall and wide.
Zones 4–9