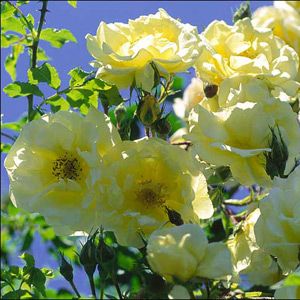 Rosarian Mike Lowe sells everything from hybrid shrubs to old English varieties at his Nashua, New Hampshire nursery Lowe's Roses. Take a tour of his own two-acre property, though, and it becomes clear that he favors roses with a climbing habit. The landscape is divided into half a dozen "garden rooms," formed by the placement of stone walls, wood fences, arbors, and a greenhouse, most of which cascade with blooming roses each spring. These vinelike roses give the space a colorful and natural appearance, as if even the architectural features had grown up from the ground. "I get changing views through the seasons—bare canes and red hips against granite or wood in fall, dark green foliage when the blooms have past, and, of course, the profusion of bright red, pink, yellow, and white flowers when they're at their peak," says the 40-year veteran of rose growing.
Vining roses come in two primary types: climbers and ramblers. Both categories contain dozens of varieties that will trail along fences, clamber up trellises, encircle lampposts, and cover weathered sheds. And though rosarians don't always agree on which roses belong in which classification, each group tends to have its own characteristics. Climbing roses generally grow to a height of 8 to 10 feet, which is ideal for most structures, and flower at least twice from early summer into fall; some new varieties bloom continuously throughout the growing season.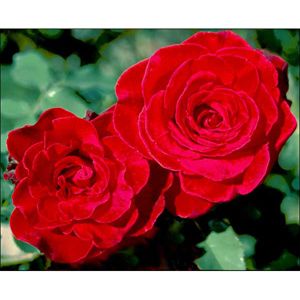 Creating a Support System
Ramblers can grow to a vigorous 15 to 25 feet tall and typically bloom just once a year. Still, despite their shorter bloom duration and sometimes unwieldy growing habit, ramblers are worth planting where you've got the space, says Larry Parton, a rose grower for 25 years and owner of the Northland Rosarium in Spokane, Washington. Not only will they grow taller and cover more area than climbers, they flower much more profusely, unfolding a spectacular show for three to six weeks in spring (the cooler the weather, the longer they'll stay in bloom). Like rhododendrons and azaleas, roses that bloom just once mark the seasons, arriving in splendor, giving joy to the heart, and then going away—only to be awaited and welcomed once more a year hence. "They also tend to be hardier and more disease-resistant than those that bloom all season," adds Parton.
No roses cling to a surface on their own, though, and some need more support than others. Climbing roses must be tied up to keep them from blowing or falling over. And while ramblers tend to grow thickly and heavily enough to stay put once they're established, tying them in place for the first couple of years is the best way to train them over a structure. In either case, "you want to immobilize three or four primary canes," says Parton. To do so, he uses plastic garden tape that can be found at any nursery. This is strong and flexible, so it's unlikely to damage canes even in a hard wind. Twine also works but is less forgiving, and the natural fibers can decompose in a year or two. "Don't use wire," he warns—it can bite into rose canes and kill them. Tie the tape or twine tightly to the support, then loosely to the canes. If necessary, you can place hooks into wood or even masonry substrates and tie the canes to those. (When it comes time to repaint a wall or fence, simply lift off the cane and lay it on the ground.)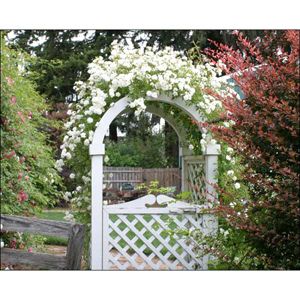 Choosing & Caring for Your Roses
Unless routinely pruned, ramblers can quickly develop into a tangled mass, enveloping a fence or arbor altogether. Climbers are more restrained, but still benefit from annual trimming to maintain a pleasing shape and encourage blooming. Every spring, Lowe dons his leather gloves and heads out with some sharp pruners to work on his ramblers and climbers. "Don't be timid. Roses are tough and grow back fast," Parton says. "Save the main canes, then do what looks good. If you let climbers get too tall too fast, the blooms will gather at the top, and you'll have bare parts at the bottom. Keep it more compact, and it will fill out at the bottom and can still get very tall over time." At the same time, Lowe cautions against cutting too much new growth on any rose. "They bloom first on old wood, then on recent growth, so if you remove too much new wood, you'll shorten the bloom duration," he explains. Always cut above a bud that points to the outside of the bush; this prevents new canes from growing into the middle.
Beyond pruning and watering, both ramblers and climbers will thrive with little maintenance, so long as you select a variety that's appropriate to your climate—and that doesn't just mean your hardiness zone. For example, a lot of roses that grow fine in the Southeast won't make it in the Southwest, says Parton. He advises calling local rose nurseries or rose societies to learn what varieties do best in your area. "Rosarians love to talk about roses," he adds with a laugh. They can help you pick an appropriate rose with your preferred color, flower type, fragrance, growth habit, size, and duration of blooms.
All roses have one overriding characteristic, however: "They need sunlight to bloom," Parton says. That means at least six to eight hours of sun on a clear day. This is an almost absolute rule; roses don't flower in shade. And roses are meant to bloom—foliage, however lush and green, is secondary.
With that in mind, you should match a plant's mature size to the structure you want it to cover. "Some modern climbers grow only six to seven feet," Parton says. That's ideal for fences and lampposts, but may not make it to the top of a tall arbor, pergola, or trellis.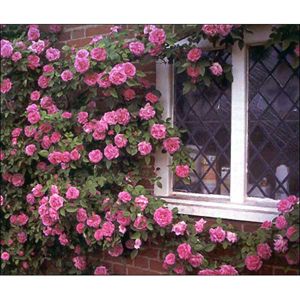 Grafted vs. Ungrafted
Most rose plants are grafted—that is, a cutting or bud from the desired variety is joined to a hardy, mature rootstock (a plant's underground part) of another variety. This gives the rose a head start. In their first year, grafted roses grow bigger and bloom better than ungrafted roses, because they come with an already established root system. But roses grown on their own rootstock will catch up by the second or third season (when both types will reach mature size), and they have a distinct advantage: "They never send out suckers," Lowe explains. Suckers are attempts by the roots to sprout their own, usually inferior, stems and flowers—which can overwhelm the more valuable variety on top. This is much like buying a Golden Delicious apple tree, only to find that the roots send up crab apple shoots every spring.
Both Lowe and Parton recommend buying ungrafted roses whenever possible, but "if you do buy a grafted rose, be sure to get a grade 1 or 11⁄2 plant," Lowe says. Grafted roses are graded based on the number of vigorous canes: the best is a number 1, which has three or more 18-inch canes; number 11⁄2 has two 15-inch canes, and number 2 has two 12-inch canes. The number should be listed on the label or a sign hanging above the plants. "Some people think they can buy a grade 2 and nurture it into a grade 1 plant, but you can't," says Parton. "If you buy a 2, it will stay that forever."
Getting even a top-quality climbing or rambling rose started will require more effort than is necessary for many other vines, but the payoff—masses of wondrous flowers—is tremendous, says Lowe. Not only will they provide vertical interest (and a privacy screen) in a garden or on a house's facade, these exuberant bloomers add a heart-stopping grace note to the landscape.
Where to Find It
24062 NE Riverside Drive
St. Paul, Oregon 97137
(503) 538-1576
6 Sheffield Road
Nashua, NH 03062
(603) 888-2214