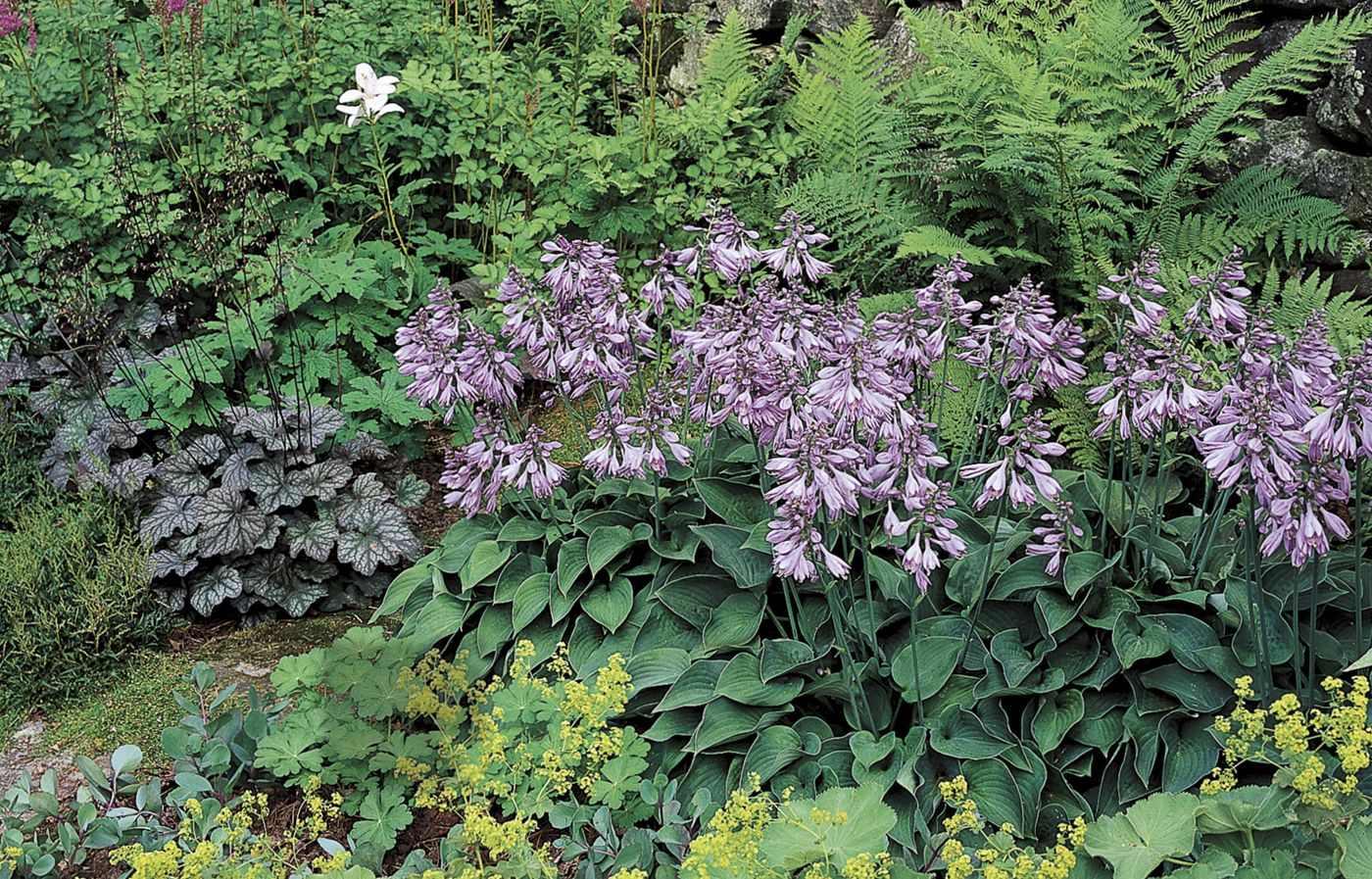 Wherever you have a house, and trees growing near it, you have a yard that's at least partially in shade. A definite plus when you're seeking refuge during a high-noon summer barbecue. Not so much of an advantage when you're trying to create a beautiful landscape. After all, the aisles of the average garden center are filled with sun-loving perennials—and just a handful of run-of-the-mill groundcovers (think ivy and pachysandra) to cloak shady spots. But, says This Old House landscape contractor Roger Cook, "it's not difficult to find interesting plants for shade. You just have to do your homework and find ones that are suited to your particular low-light conditions."
That means quantifying how much sun your site does get. In general, if it receives three to five hours of morning sun each day, that's considered partial shade; two hours or less each day is full shade. Soil conditions also determine which plants will thrive. If you can mold a fistful of loamy soil into a ball that holds its shape, it's moist, which is just right for most shade-loving plants. If it breaks into powdery clumps, it's dry—typical under trees with extremely dense foliage and tenacious roots—and you'll need to find plants that can tolerate that type of soil.
Though plenty of shade plants bear ornamental flowers, often their real beauty lies in their drama-tic foliage. Leaf colors may range from chartreuse to blue-green to purple. Yellow-gold and silver -foliage can bring the botanical equivalent of sunlight and moonlight to shady planting beds.
Keep in mind, too, that you can turn the deep shade created by trees into partial shade by limbing up or thinning branches, or by removing some specimens altogether. Also, shade beneath deciduous trees isn't the same year-round, so woodland plants and flowering bulbs that bloom in spring are often able to take advantage of more of the sun's rays before limbs have leafed out.
On the following pages are some standout shade plants to try—they might just turn low-light areas into the highlight of your landscape.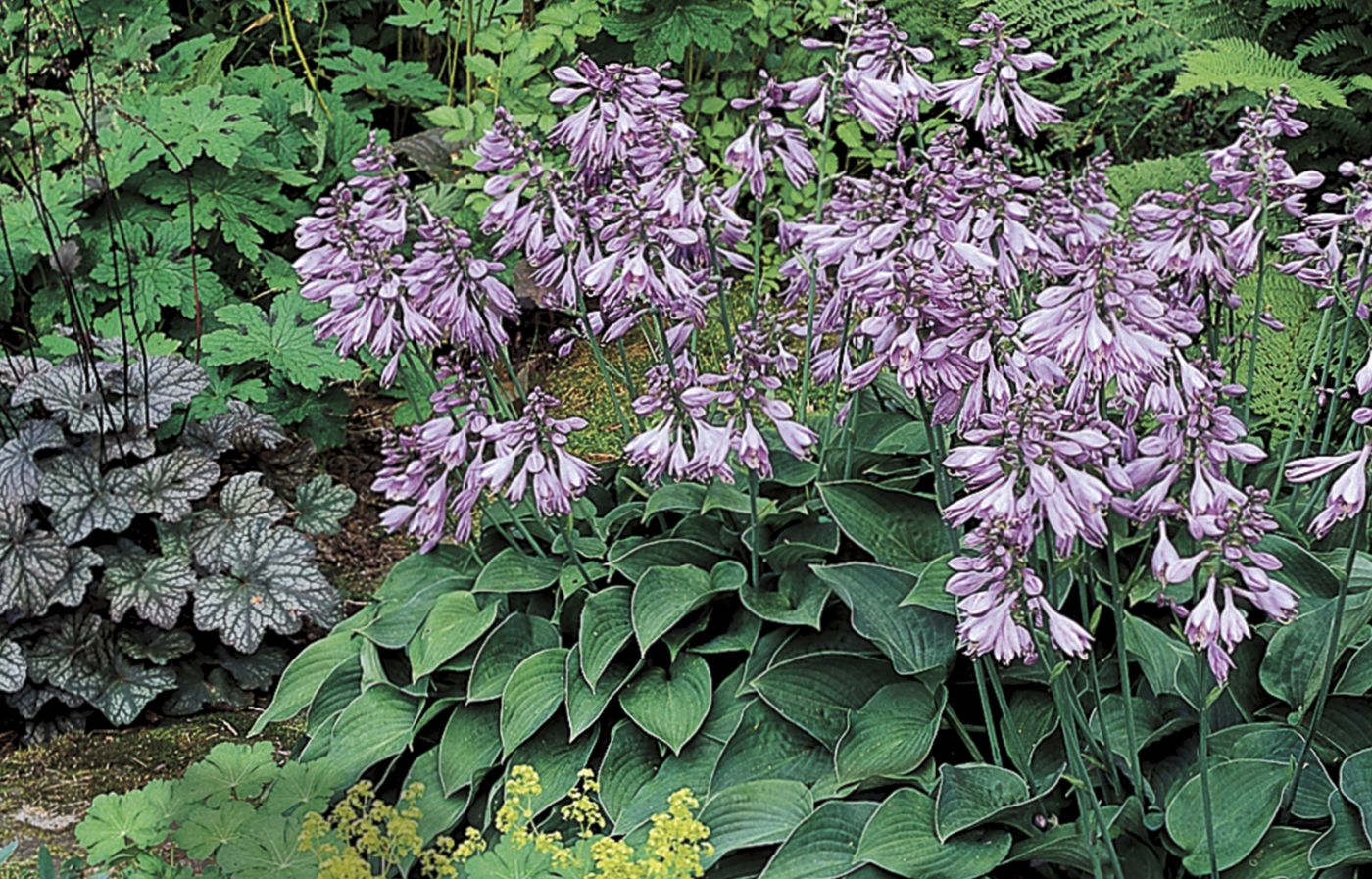 Partial Shade Plant
Plenty of vibrant perennials do well where morning sun shines from three to five hours a day.
Astilbe or False spirea (Astilbe) Feathery red, pink or white plumes flower from fernlike dark green or copper tinged foliage in early summer; grows 1 to 3 feet tall; hardy to -10° F.
Bleeding heart (Dicentra spectabilis) Fernlike leaves send up stems that bloom in mid-spring with heart-shaped pink or red flowers; grows to 3 feet tall; hardy to -20° F.
Columbine (Aquilegia) Three-lobed, trumpet-shaped blue, white, lavender, red, or yellow flower bloom in early spring; clustered, segmented leaves; grows up to 2 feet tall; hardy to -20° F.
Coral bells (Heuchera) Evergreen purple-bronze leaves send up slender stems that bloom with tiny white, pink, or coral bell-shaped flowers mid-spring to early summer; grows 12 t0 18 inches tall; hardy to -10° F.
European wild ginger (Asarum europaeum) Curled, round evergreen leaves make for a glossy groundcover; grows 3 inches tall; hardy to -20° F.
Hakone grass (Hakonechloa macra) A mounding ornamental grass with narrow, arching, variegated, or golden leaves; grows 12 to 18 inches tall; hardy to -10° F.
Impatiens (Impatiens walleriana hybrids) Single or double flowers in red, pink, purple, or white bloom summer to early fall on waxy green foliage; grows 2 to 3 feet tall; annual in frost-prone areas; hardy above 40° F.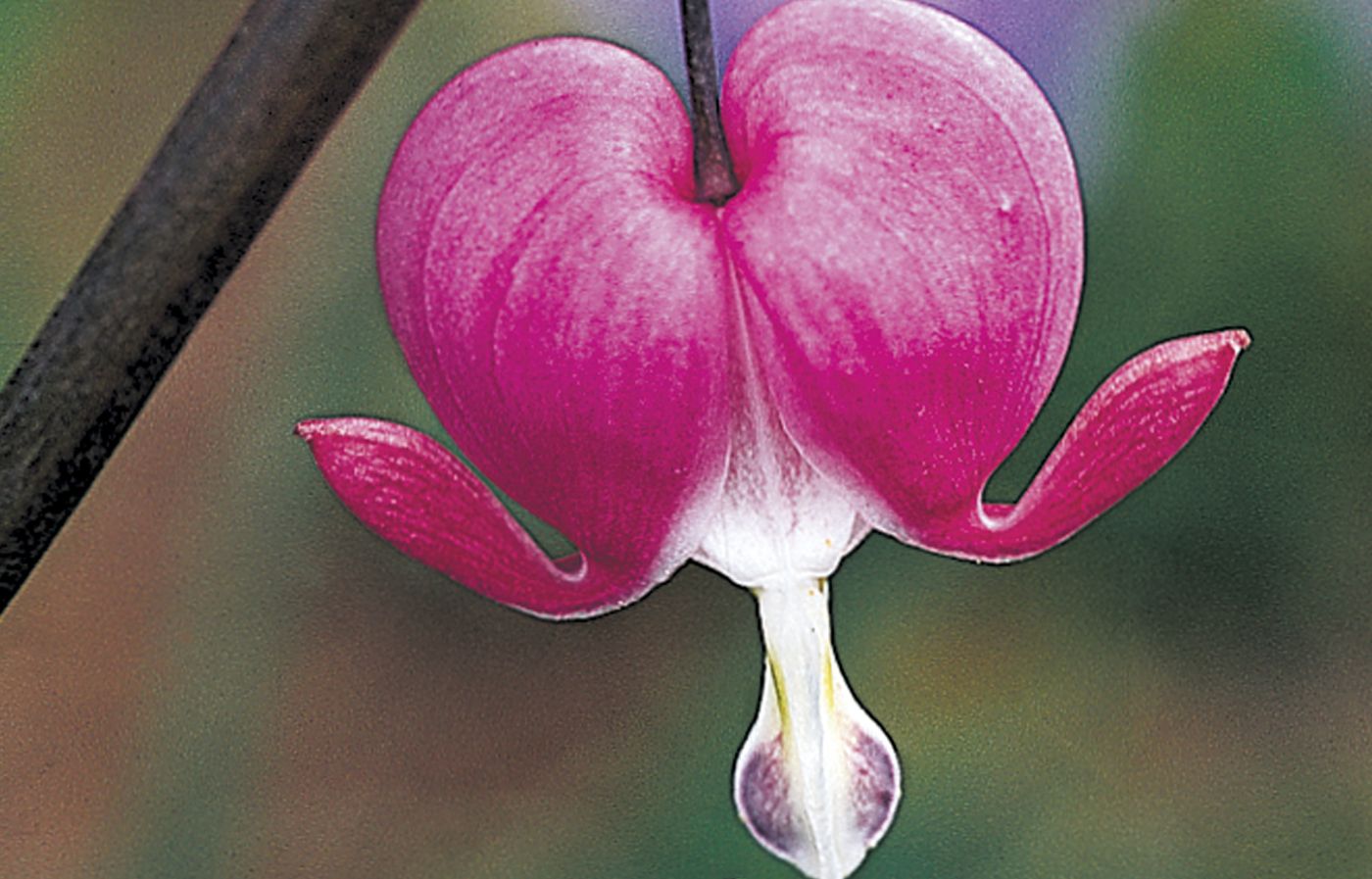 More Partial Shade Plants
Indian pink (Spigelia marilandica) Tiny star-shaped yellow and red flowers open in spring on broad green foliage; grows up to 2 feet tall; hardy to 10° F.
Leadwort (Ceratostigma plumbaginoides) Clusters of true-blue star-shaped bloom shoot up in late summer and often last until the first frost; tolerates dry soil; grow 8 to 10 inches all; hardy to 0° F.
Pulmonaria or Lungwort (Pulmonaria hybrids) Good groundcover with green or silver-spotted leaves that bear delicate clusters of purple or blue bell-shaped blooms in mid-to-late spring; grows 8 to 10 inches tall; hardy to -10° F.
Snowdrop (Anemone nemorosa) In late spring, small, star-shaped white flowers emerge from three-lobed green leaves; grows to 12 inches tall; hardy to -20° F.
Spider lily (Lycoris albiflora) Delicate long, white petals emerge from bell-shaped blooms atop lobed foliage in spring; grown from bulbs, best planted among low-growing ground covers; grows 18 inches tall; hardy to 20° F.
Spotted geranium (Geranium maculatum) Deeply lobed light green and yellow leaves sprout with small purplish blue flowers in midsummer; grows to 12 inches tall; hardy to -20° F.
Tuberous begonia (Begonia tuberhybrida) Large pendulous or frilled summer flowers in various colors bloom on serrated green foliage; grows 12 to 18 inches tall; best treated as an annual in all climates.
TIP
Learn by example. To find out what grows best in your area, visit a botanical garden (visit garden.org for near you). Many have demonstration shade gardens that serve as a teaching tool.
Note: Even within species, hardiness ratings for particular cultivars may vary.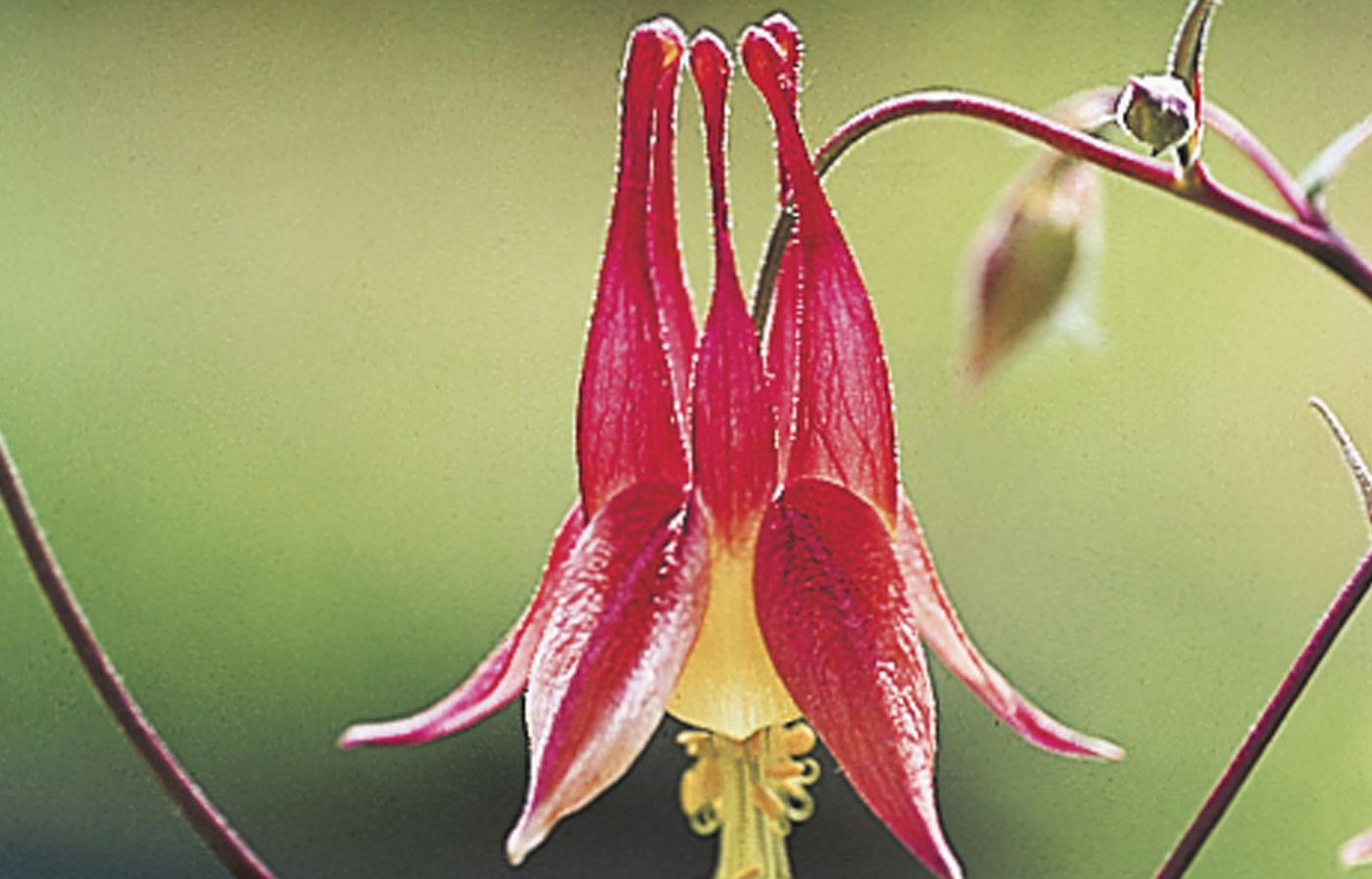 Full Shade Plants
Areas that see sun for two hours or less per day benefit from vigorous perennials that like moisture-retentive soil.
Allegheny foamflower (Tiarella cordifolia) In mid-spring, dense white flower spires grow up from base of heart-shaped leaves that turn red in fall; grows 8 to 12 inches tall; hardy to -30° F.
Barrenwort (Epimedium grandiflorum) Bunches of light-green heart-shaped leaves cover the ground in early spring; grows to 11 inches tall; hardy to -20° F.
Bugleweed (Ajuga reptans) This slow growing groundcover weaves a dense carpet of purple-and-green heart shaped leaves; grows to 4 inches tall; tolerates dry soil; hardy to -30° F.
Cinnamon fern (Osmunda cinnamomea) sends up reddish-brown stalks, which unfold into green fronds up to 3 feet tall; hardy to -20° F. Maidenhair fern (Asplenium trichomanes) has fine foliage that reaches just 5 inches high; hardy to -10° F. Ostrich fern (Matteuccia struthiopteris) which can soar up to 5 feet tall, is one of many low-light ferns that produces clumps of arching green fronds from spring ill frost; hardy to -30° F.
Dwarf crested iris (Iris cristata) Long, sword-shaped leaves bloom in spring with white, blue, or purple flowers; grows 6 inches tall; hardy to -20° F.
Dwarf periwinkle (Vinca minor) Glossy evergreen groundcover bears blue flowers in spring; tolerates dry soil; grows 6 to 12 inches tall; hardy to -20° F.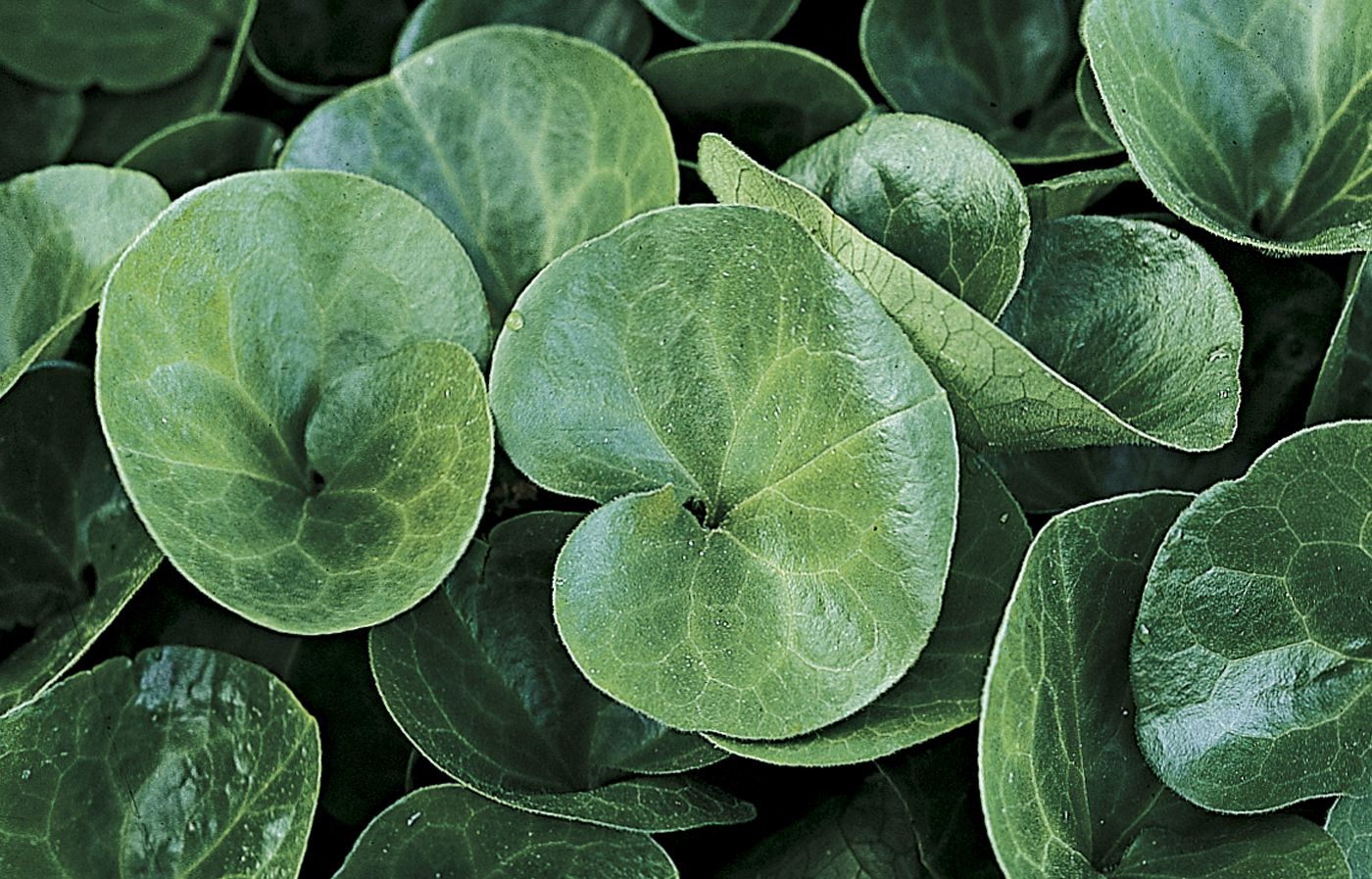 More Full Shade Plants
Great blue lobelia (Lobelia siphilitica) Small, two-lipped deep-blue flowers bloom from midsummer to early fall on clumps of emerald leaves; good near streams and ponds; grows 2 to 3 feet tall; hardy to -20° F.
Hosta or plantain lily (Hosta) Grown mostly for their broad, shiny green or variegated foliage, some also bloom with small funnel-shaped white or lavender flowers on long stems in mid-to-late summer; grows 8 to 18 inches tall; hardy to -30° F.
Johnny jump-up (Viola labradorica) Violet and gold blooms flank pointed dark-green foliage in spring; tolerates dry soil; grows 2 to 6 feet tall; hardy to -303° F.
Lenten rose (Helleborus x hybridus) Clusters of white, pink, yellow, plum, or red star-shaped blooms with gold centers bloom in early spring; grows 12 to 18 inches tall; hardy to 0° F.
Spotted dead nettle (Lamium maculatum) Pink bells emerge amid deeply lobed green leaves in late spring to early summer; grows to 6 inches tall; hardy to -20° F.
St. Johnswort (Hypericum calycinum) In midsummer to early fall, small yellow flowers with showy pollen bloom in clusters above fine green foliage; grows 1 to 4 feet tall; hardy to 0° F.
Woodland phlox (Phlox divaricata) Attractive groundcover that blooms in spring with fragrant lavender flowers; grows 8 to 12 inches tall; hardy to -30° F.
TIP
Try recreating the natural habitat of woodland plants. You can mimic the leaf litter found on the forest floor by enriching your soil with a mix of shredded leaves and compost, then topping it with a thick layer of bark mulch.