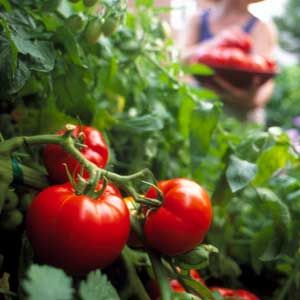 Tomatoes are the most popular crop for backyard gardens—about 90 percent of vegetable gardeners grow them. Even folks who don't have vegetable gardens grow tomatoes. A half-dozen plants thriving in pots on a sunny deck can supply a family of four with a summer of good eating. Follow these gardening guidelines for your best crop yet.
Picking the Right Type
There are countless varieties of tomatoes available, each of which differs from the others in taste, the size, shape and ripening time of the fruit, as well as in the plant's disease resistance.
To get an idea of what's out there, check out print and online seed catalogs. Two good sources are
Totally Tomatoes and
Tomato Growers Supply Company; both feature hundreds of varieties.
Local nurseries offer an ever-expanding array of tomatoes. You'll find the newest disease-resistant hybrids alongside some of the old-fashioned favorites, such as 'Brandywine', prized for luscious taste.
When deciding what to grow, choose varieties proven to perform well in your area. Talk to neighbors and check with your extension service to learn the local favorites. And, if you're a novice grower, choose at least a few varieties designated as All-America Selections winners. This nonprofit group tests new varieties all across the country and awards only those with outstanding growth and flavor. Their logo appears with plant descriptions in most catalogs.
It's always a good idea to experiment with a few plants of several varieties to determine the ideal tomatoes for your garden and taste buds. What's more, growing different varieties is an insurance policy of sorts — a disease that strikes one variety might not harm the others. These are the qualities to consider when selecting tomatoes for your garden.
Growth forms. Tomatoes are classified as either determinate or indeterminate. Determinate, or bush, varieties grow to a set height (from 18 to 36 in.) and then form tomatoes at the ends of their branches. All fruits ripen during a concentrated period, usually within four to six weeks — good if you cook vats of tomato sauce. These plants don't necessarily need staking, and the true dwarf varieties among them, such as 'Patio' and 'Tiny Tim', fit perfectly in pots.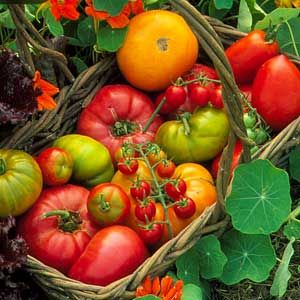 Indeterminate plants grow, blossom and fruit all through the season, but they have fewer mature tomatoes at any one time. Plants reach 3 to 6 ft. or more and need staking so they don't sprawl on the ground.
There's a subgroup called semideterminate. Among them, varieties such as 'Bush Big Boy' and 'Husky Gold' are more compact than indeterminate plants, but they will produce full-size tomatoes until frost. Choose indeterminate and semideterminate varieties if you want a long, continuous harvest.
Days to maturity. Seed catalogs and plant labels usually list the approximate days to maturity from the time of transplanting. You can use this number as a guide for choosing early, midseason and late varieties. If you live where summers are short, growing early-maturing varieties (52 to 65 days) gives you the best shot at an abundant harvest before frost kills the plants. If you have a long, sunny growing season, you can probably grow most any variety, including the beefsteak types that yield huge tomatoes. They typically require 80 days or more to ripen. In general, late-maturing varieties give larger, more flavorful fruit than short-
season varieties.
Disease resistance. The initials V, F, N, T and A after a variety name indicate the variety is resistant to certain diseases or tolerates a common tomato problem: verticillium wilt (V), fusarium wilt (F), nematodes (N), tobacco mosaic virus (T) and alternaria (A). 'Celebrity' (VFNTA) is an example of a variety with outstanding disease resistance. Grow at least a few plants with built-in disease resistance to be on the safe side.
• • •Q: Fruit or vegetable?
A: Botanically speaking, tomatoes are a fruit, the ripened ovary of a seed plant. But in 1893, the U.S. Supreme Court ruled that tomatoes are a vegetable, not a fruit.
Growing Basics
•Start with healthy plants. Whether homegrown or store-bought, plants should be short and stocky (6 to 10 in. tall). Avoid plants with blossoms or fruit. You'll pay more for plants in individual 4-in. pots, but they usually have larger root systems than those growing in cell packs. As a result, they will grow faster after transplanting.
•Choose the right site. Tomatoes grow best in full sun (at least 8 hours daily) and well-drained soil rich in organic matter. Work a couple inches of compost or decomposed manure into the upper 6 in. of soil prior to planting. If a soil test shows the pH is below 6.0, apply lime.
•Plant right. Set plants in the garden after the danger of frost and when the soil temperatures are above 60°F. (Experienced gardeners sometimes plant earlier and shelter plants to protect them from cold and frost.)
Space plants 1 1/2 to 3 ft. apart (closer for determinate varieties, which spread less). Wide spacing assures good air circulation, which discourages diseases.
Plant seedlings in the ground deeper than they were growing in their pots so the lowest leaves are just above the soil level. Roots will grow along the length of the buried stem, resulting in stronger plants. And, don't forget to water freshly planted seedlings.
Most experts recommend fertilizing at planting time. But go easy on the fertilizer. In this case, less is best because too much nitrogen fertilizer results in vigorous vines with few tomatoes. The recommendation from Clemson University Extension is fairly standard: Pour about 1 pint of starter solution (2 tbs. of 10-10-10 or 5-10-5 fertilizer per gallon of water) around each plant.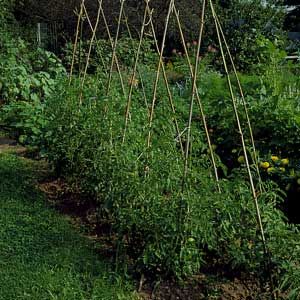 •Support plants. Stake or cage indeterminate plants (which develop long stems) at the time of transplanting. This keeps vines and tomatoes off the ground so the fruits will be larger, cleaner and less apt to rot. Supported plants are also easier to care for and tomatoes are easier to harvest. Many ingenious systems for supporting plants have been devised. To view a sampling from simple to elaborate, read the University of Missouri guide,
Pruning and Training Tomatoes.
The most common method is to support each plant with a single sturdy stake, 6 to 8 ft. tall and at least 1 in. thick. Drive the stake into the ground, about 4 in. from the plant. As the plant grows, attach its stems to the stake using commercial tomato ties, strips of soft fabric or old panty hose. Leave a little slack around the stems. The general idea with staking is to limit the vines to a couple of main stems, which requires regular pruning. Supporting tomatoes in wire cylinders or cages is also popular. This method requires more work initially, but there's no need to prune or train the plant.
Don't waste your money on cheap commercial cages; they're too small, and they break apart easily and topple over. Instead, buy extra-large cages or make your own from concrete reinforcing wire or galvanized wire mesh. Make sure the holes are large enough to get your hand through to harvest tomatoes without damaging them. You'll need about 3 ft. of material for every 1 ft. diameter of cage. Aim for a cage 24 to 30 in. dia., and hook the ends together. (If you're using several cages, make each one successively smaller by a couple of inches so you can nest them inside each other for easy storage.)
Place the cages around the plants, and anchor them with stakes driven into the ground on one or two sides. Or, remove the bottom cross wires on the cage, and push the prongs into the soil for support.
•Give them TLC. Tomatoes aren't one of those crops you can plant and forget. Check soil moisture and give plants 1 to 1 1/2 in. of water weekly, if not supplied by rain. Try not to splash water on leaves.
About a month after planting—once the soil has really warmed up—apply a3- to 4-in. layer of organic mulch, such as weed-free straw. If you mulch too soon, the soil will stay cool, delaying the harvest.
If plants are staked, regularly pinch off the small suckers that sprout between the leafy branches and main stems. Don't cut—a knife can spread disease.
Give all plants a boost during the growing season by applying a 5-10-5 or 5-10-10 fertilizer according to package directions. The best times to fertilize are when fruits are about golf ball?size and again when the first tomatoes are ripe.
And speaking of ripe, pick tomatoes when they are firm and fully colored. Taste one while it's still warm from the sun and you'll know why tomatoes rank No. 1 with home gardeners.
• • •Q: Stuck with leggy plants?
A: Short, stocky plants are best for transplanting, but if you have no choice but to plant seedlings that are tall and leggy, try this trench-planting method: Remove the lower leaves of the plant, leaving the top leaf cluster of four to five leaves. Then lay the plant on its side in a trench and cover the roots and bare stem with about 3 in. of soil. Gently firm the soil and water. Roots will grow along the buried stem.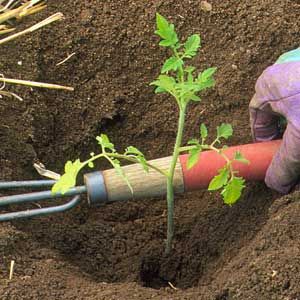 Numbers to Know
Getting started: Start seeds indoors six to eight weeks before the average last frost date. Or purchase stocky, nonfruiting nursery seedlings just before planting.
Soil type: Optimum pH range is 6.0 to 6.8. Plant in well-drained soil rich in organic matter.
Ideal temperature: 70° to 80°F, daytime; 60° to 70°F, nighttime.
Light: Eight hours of full sun daily (some afternoon shade in very
hot climates).
Planting: Space transplants 1 1/2 to 3 ft. apart.
Fertilizing: Apply a 2-in. layer of well-rotted cow manure to soil before you plant. At planting time apply a complete fertilizer (5-10-10 or 5-10-5); repeat when fruits are about 1 in. dia. and again when first fruits are ripe.
Watering: Maintain consistent soil moisture; 1 to 1 1/2 in. each week.
Mulching: Apply 3 to 4 in. of organic mulch about four weeks after
transplanting.
Harvesting: Pick tomatoes when they are firm and fully colored.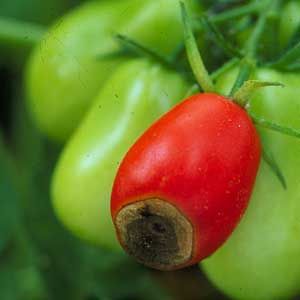 Maintenance
Listed below are some of the most common tomato maladies and what you can do about them. Consult your local extension service for help diagnosing these and other problems. Also check out Insect and Disease Problems of Tomatoes, an online guide from Texas A&M University.
Blossom-end rot first appears as a light-tan spot turning to a dark-brown sunken area at the bottom (blossom end) of the tomato. It affects both green and ripe tomatoes, and is most often caused by a fluctuating moisture supply that results in a lack of calcium in the plant.
Solution: Water regularly. Don't overfertilize with nitrogen. Plants supported by cages tend to be less susceptible to blossom-end rot than staked plants.
Sunscald first appears as light, shiny blistered areas that eventually rot. It develops when tomatoes are suddenly or continually exposed to direct sunlight. The problem is most common on plants that lose a lot of foliage either by excessive pruning or from disease.
Solution: In very hot, sunny locations plant determinate varieties with dense foliage or grow indeterminate tomatoes in cages without pruning them. Prevent diseases as
described under "Blights and Leaf Spots".
Cracking around the stem end and along the sides of ripening tomatoes often results from rapid fruit growth, often caused by a quick change in soil moisture,
especially when wet weather follows a dry spell. Too much nitrogen in the soil also contributes to the problem.
Solution: Select varieties that are less prone to cracking, such as 'Early Girl', 'Jet Star', 'Roma' and 'Sweet Million'. Keep the soil evenly moist with regular watering and mulch. Don't overfertilize.
Fusarium and verticillium wilts are diseases caused by soil-borne fungi. The lower leaves on diseased plants turn yellow, wilt and die. Plants die prematurely.
Solution: Plant resistant varieties (indicated by the letters F and V after the variety name). Remove and destroy infected plants. Rotate plants annually. Or, grow plants in a commercial pasteurized potting mix in sterile containers.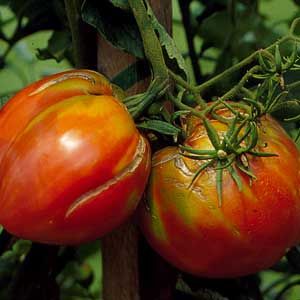 Tomato hornworms
are well-camouflaged 4-in.-long green caterpillars. They devour tomatoes, leaves and stems.
Solution: Hand-pick and destroy them. Or, spray the nontoxic bacterial control Bacillus thuringiensis (sold as BT and Dipel, among others) when hornworms are small. If you find a hornworm with clusters of small white cocoons on its back, leave it alone. The cocoons belong to a small parasitic wasp that kills the worm.
Blights and leaf spots are fungal diseases that first impact the lower leaves; they get brown spots, turn yellow and eventually die. These diseases slowly spread through plants and kill them.
Solution: Mulch plants to prevent water from splashing the disease spores from the ground onto the leaves. Clean up and destroy all diseased plants. Rotate crops annually. In regions where disease problems are severe, spray the plants with a preventive fungicide, as directed by your extension service or informed nursery staff.
Even with all the potential tomato problems, if you choose varieties carefully and take some basic precautions, you will have plenty of tomatoes to enjoy and extras to share with neighbors this summer.• • •Q: Does touch therapy work on tomato plants?
A: Cornell University researchers have found that gently stroking tomato seedlings occasionally produces short, stocky plants that are more desirable for transplanting. Start stroking when plants are 2 1/2 in. tall and continue until transplanting.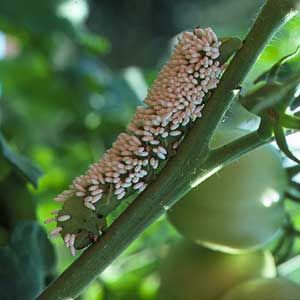 Where to Find It
Become a Tomato Tester:
If you like the idea of test-growing tomatoes and sharing what you learn with gardeners everywhere, check out the Internet Tomato Gang. Members of this Atlanta-based noncommercial club receive seeds for trials and have access to gardening experts and up-to-date gardening information.
All-America Selections
1311 Butterfield Rd.
Suite 310
Downers Grove, IL 60515-5605
630/963-0770
Gardener's Supply Company
128 Intervale Rd.
Burlington, VT 05401
800/863-1700
Tomato spirals.
Tomato Growers Supply Company
Box 2237
Fort Myers, FL 33902
888/478-7333
Totally Tomatoes
Box 1626
Augusta, GA 30903-1626
803/663-0016