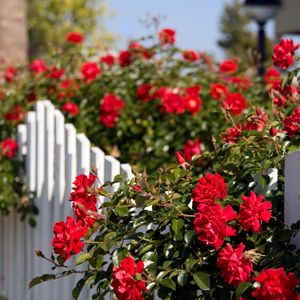 Maybe you think you know roses—those long-stemmed, full-petaled beauties that need a lot of coddling to keep disease at bay. Well, it's time to rethink the rose's high-maintenance reputation. In the last 10 years or so, the familiar "hybrid tea" varieties have been giving way to tough, easy-to-grow, repeat-flowering, shrub-type roses that can play a versatile role in the landscape. These new varieties—along with some old garden standbys—are taking their rightful place in flower borders and containers, as hedges, and even as groundcovers. And they are making the most of their moment in the sun, providing the longest season of color of any flowering shrub you can grow.
Major Flowers, Minimal Fuss
Known as landscape roses, these plants are "free-blooming," meaning that with proper care, they flower continuously from spring to fall. There will be some downtime when the plant has few or no blooms, but it won't last long. These roses are also vigorous and easy to care for, with excellent disease resistance. Most yield cuttings without complaint, though landscape roses generally bear flowers in large clusters and have fewer petals than hybrid teas. Disease resistance is probably the most important criterion for a landscape rose. The "big three" diseases—black spot, rust, and powdery mildew—can devastate roses, defoliating and deforming them. The frequency and severity of rose diseases vary from region to region and season to season, depending on the climate and the weather. Black spot, the scourge of many gardeners in the eastern U.S., thrives in hot, humid, rainy weather. Powdery mildew likes the warm days and cool, humid nights common in spring and all season long in many coastal areas. Rust likes it mild and moist. Disease resistance is also relative. Under ideal conditions even the most resistant varieties may experience some disease. But, as a whole, landscape roses thrive with little or nopreventative or curative treatments.
Best Bets Coast to Coast
Though some old roses have many of these characteristics, it's mostly modern roses (defined as those introduced after 1867) that consistently provide maximum blooms with a minimum of care. Following are the three basic categories of landscape roses, with suggested varieties that have proven reliable across the United States. Continue your research on the Web and in rose catalogs or books to find additional information on a variety's size, shape, proper spacing, and exact flower color and character. Keep in mind that plant size will vary depending on your climate. In areas with mild winters and long growing seasons, roses often grow much larger than the sizes given in catalogs. Roses can be riotously colorful, too, so choose carefully to make sure the ones you select blend well with the overall colors of your home and landscape (for guidance, check out Help Me Find Roses.)
True shrubs. This is a catchall class of roses that groups together plants varying considerably in size and shape. Shrub roses can be used as informal hedges and work well in flower borders. Many are sold as part of a branded series of varieties, differing in flower color and sometimes plant habit. At the head of this bunch are the Knock Out roses, which in a matter of just a few years have become some of the most popular roses grown. Other excellent series include Carefree and Flower Carpet roses. Meidiland roses also include many excellent shrub roses, but most are quite vigorous and best for large areas where they can spread. For the coldest regions, select very hardy cultivars such as the Buck roses, the Explorer series (named after famous explorers), and the Morden (or Parkland) series, many of which have survived temperatures below minus 30 degrees F.
Among individual varieties, look for the exceptional 'Home Run' (red) and 'Sally Holmes' (white). Also consider 'Belinda's Dream' (pink), one of the first roses to receive Texas A&M University's "Earth Kind" designation for its excellent disease resistance (more information is available at Earth Kind Roses).
Polyanthas and floribundas. These upright or rounded plants are the most prolific bloomers in the rose family. Polyanthas are old-fashioned varieties (only a few are still widely grown) that reach 2 to 3 feet tall with large clusters of very small, 1-inch-wide flowers. Floribundas are a modern cross of these with larger-flowering hybrid teas. The resulting rose plants generally grow 3 to 5 feet high with large clusters of bigger blooms. Hardiness varies, but most need protection if ­temperatures fall below 10 degrees F. Excellent varieties include 'Betty ­Prior' (pink), 'Class Act' (white), 'Iceberg' (white), 'Easy Going' (golden yellow), 'Europeana' (red), 'Livin' Easy' (apricot-orange), 'Playboy' (orange, scarlet, or ­yellow), 'Playgirl' (pink), 'Sarabande' (orange-red), 'Sunsprite' (yellow), and 'The Fairy' (light pink).
Groundcovers. These are low-growing, sprawling roses, many of which are quite vigorous and best planted in large areas. More restrained types for smaller areas in­clude 'Red Cascade' and the Blanket series from Jackson & Perkins. Flower Carpet roses can also be used as groundcovers. Groundcover roses are best planted in holes made in landscape fabric that is then covered with organic mulch to prevent weeds. They grow from 2 to 5 feet high, depending on the variety; hardiness varies.
A Little Caring and Feeding
Even roses dubbed "easy care" need some tending to. All roses grow best with 6 to 8 hours of full sun. Less than that and you'll have fewer flowers, leggier plants, and more disease. While some roses are listed as shade-tolerant, few will be worth growing with less than 4 hours of direct sun. Varieties that perform best with less sun are usually those with fewer petals, such as the 'Iceberg' floribunda and the 'Carefree Wonder' shrub rose.
Roses also need one to two deep waterings a week during warm, dry weather. Drip irrigation is ideal because it keeps the foliage dry, discouraging disease. To keep them blooming, most varieties should be fed every four to six weeks with a high-nitrogen fertilizer. Since most landscape roses are hardy, they don't require winter protection. In the coldest areas, choose hardy varieties grown on their own roots (not budded to another rootstock). These roses also don't need intricate pruning. Simply cutting back plants by half to two-thirds in late winter and thinning crowded canes will keep them compact and under control. Then you can sit back, relax, and enjoy the colorful summer show.