This bath stand is compact enough to fit in virtually any bathroom and can be especially handy beside the tub for easy access to shower items.
Be sure to use materials that can withstand the moisture in a bathroom; solid wood, rust-proof fasteners, and a water-resistant finish ensure this unit will last. The stand is not limited to bathroom use only; supplement any space with this extra storage solution. Add paint or stain for your desired finish.
Steps for building a three-tiered bath stand:
Step 1: Make the shelf frames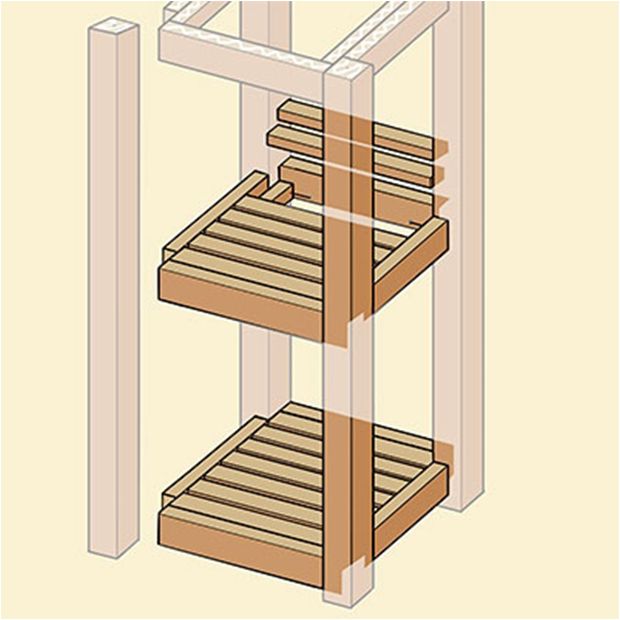 Glue and screw a cleat to each of six apron pieces, flush along one edge, with the apron centered between the ends of the cleat.
Glue and clamp the other six aprons to the ends of the cleats to form the frames for all three shelves, and create a notch at each corner to fit against a leg.
When the glue dries, glue slats to the cleats on two of the frames, using tile spacers to maintain consistent gaps.
Step 2: Attach the legs
Mark the locations for the bottom and middle shelves on the legs.
Place two legs on the table, apply glue to the notches on one shelf, stand it up between the legs at its marks, and clamp everything tight.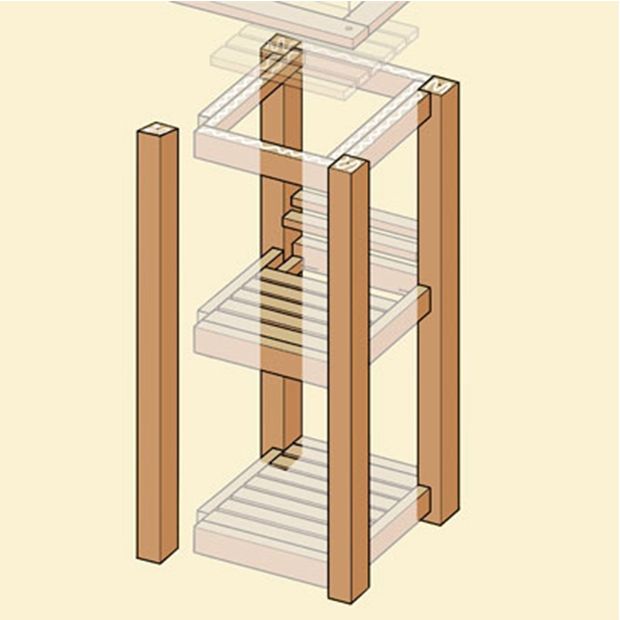 Working from the underside of the shelf, drill a pilot hole through the cleat and into each leg, then drive a trim-head screw into each pilot hole.
Glue and screw the next shelf to the legs at its pair of marks.
When the glue dries, attach the shelves to the other two legs in the same way.
Step 3: Assemble the Top Shelf
Flip the top shelf frame upside down and attach it flush with the tops of the legs.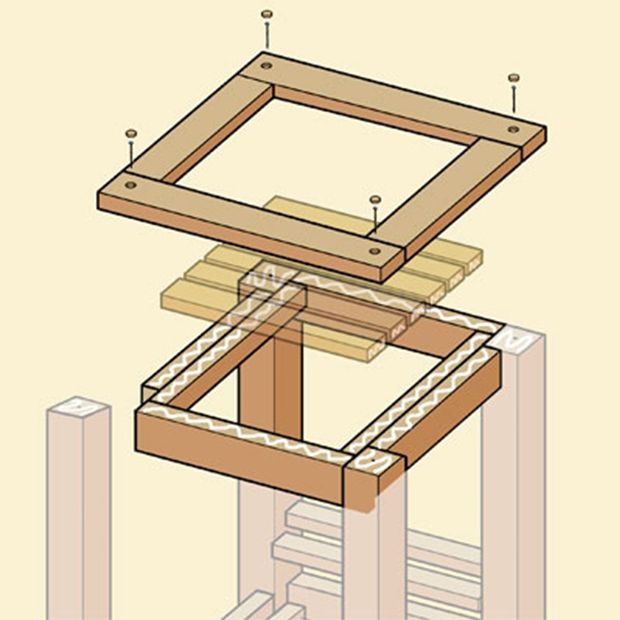 Next, glue together the pieces to make the face frame, which covers the tops of the legs and surrounds the slats.

When the frame is dry, line up its corners with the corners of the legs. Use a combination countersink bit to drill pilot holes and bore recesses for plugs through the frame and into the legs.
Glue the frame to the legs and aprons, and drive in deck screws. Now glue the slats to the cleats. Space the slats evenly, but leave no space between them and the frame.

Glue wood plugs over the face-frame screws and sand them flush. Finish the piece with oil or wax.
---
Materials:
Tools: