In colder climates, heating accounts for about one-third of a homeowner's annual utility bill, which is why many are seeking thriftier ways to stay toasty. Freestanding pellet stoves and inserts that fit inside an existing fireplace are an increasingly popular solution. They look like traditional wood stoves but operate more like a modern furnace.
Pellet Stoves: Are They Worth It?
You need only fill the stove's hopper with pellets made from compacted sawdust, set its thermostat, sit back, and get cozy. A mechanical auger deposits the pellets into a burn pot, where they are incinerated at such a high temperature that they create no vent-clogging creosote and very little ash or emissions, which keeps both indoor and outdoor air cleaner.
The best part is that they are about twice as efficient at warming your home as older wood stoves that have not been certified by the Environmental Protection Agency (EPA) and are vastly more efficient than fireplaces.
Depending on your home's size and layout, a pellet stove could supplement the current heating system or be used as the sole source. And, despite its workhorse reputation, pellet stoves come in a variety of designs to complement any interior style.
Read on for This Old House's expert advice on buying, installing, and firing up one of these energy-wise heaters.
How Much Do Pellet Stoves and Inserts Cost?
About $1,000 to $5,000 for a pellet stove or an insert, depending on style, size, and heat output, plus another $300 or so for the vent pipe or chimney liner.
DIY or hire a pro?
Unless you're comfortable cutting holes in your house for the venting, leave installation to the pros. Pipes can run horizontally out an exterior wall, vertically through the roof, or up the chimney if adding an insert. Expect to pay $250 to $1,000, depending on the complexity of the job.
How much cleanup?
Pellet stoves create a tiny fraction of the ash produced by an older wood-burning stove or fireplace, so cleaning is much less frequent. If used daily, empty the ash pan once a week.
Are there government incentives to buy them?
Several states offer property- or income-tax rebates; some, such as New York, don't charge sales tax on pellets. Check with your state's department of energy for details.
How Do Pellet Stoves Work?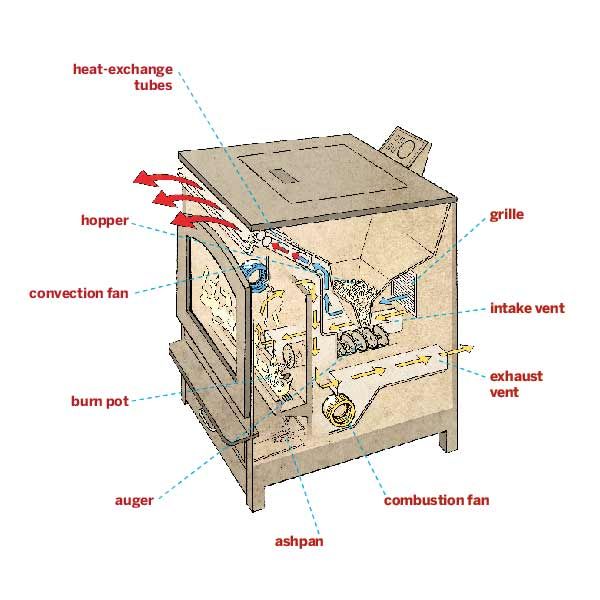 Pellets are automatically fed from a storage hopper into a burn pot, creating a constant flame that needs no tending.
Heat-exchange tubes: Send air heated by fire into room.
Hopper: Stores pellets to be burned.
Convection fan: Circulates air through heat-exchange tubes and into room.
Burn pot: Holds pellets for combustion.
Auger: Feeds pellets from hopper to burn pot, where they are ignited.
Ash pan: Collects remains of unburned pellets.
Grille: Allows room air to be pulled in by convection fan.
Intake vent: Pulls outside air into burn pot.
Exhaust vent: Takes away combustion gases
Combustion fan: Pulls in outdoor air and exhausts gases.
Pellet Stoves vs. Wood Stoves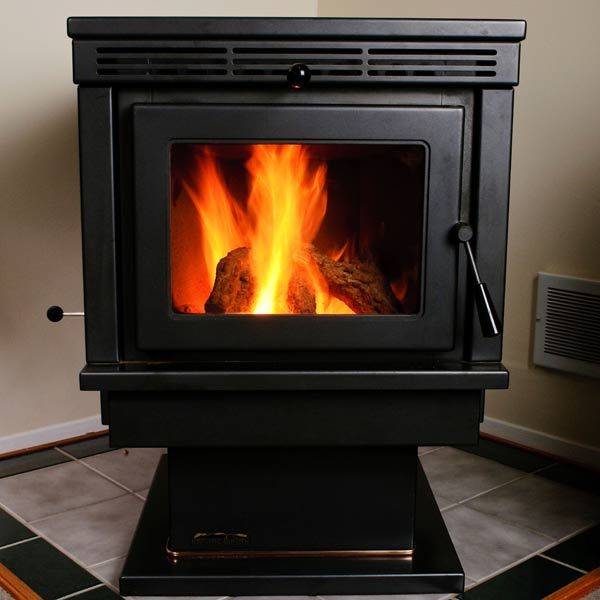 The biggest difference between a pellet stove and its main competitor, a wood stove, is that, inside, the pellet stove is a high-tech device with a circuit board, a thermostat, and fans—all of which work together to heat your space efficiently. Here are the other key differences between the two.
Efficiency
Pellet: Sixty to 80 percent of fuel is converted to heat for your home.
Wood: Thirty to 80 percent (high end is for EPA-certified stoves made after 1990).
Maintenance
Pellet: High-quality pellets limit ash pan cleaning to once a week or less. Scrape the burn pot weekly to remove combustion residue and unburned pellets. Clean and inspect vents at the outset of heating season.
Wood: Remove ash every one to three days. Clean the chimney and inspect the stove and the door gasket at outset of heating season.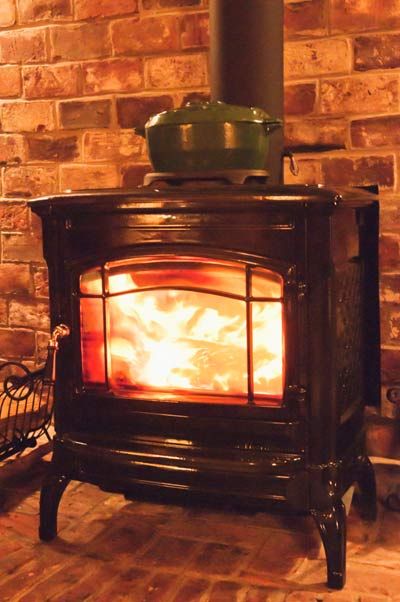 Venting options
Pellet: Very little smoke; exhaust is drafted outside with a fan through a horizontal or vertical vent pipe.
Wood: A passive system requiring a vertical chimney so that smoke can rise and flow outside.
Fuel availability
Pellet: Find 40-pound bags of pellets at home centers and hardware and grocery stores in cold climates. Dealers will also deliver pellets by the ton.
Wood: You may be able to harvest your own hardwood, but it must be properly seasoned. It's also sold by the bundle at stores or by the cord from tree-care pros.
Fuel storage
Pellet: Bags of pellets should be kept indoors to guard against moisture infiltration.
Wood: Wood can be stacked outside under cover and away from the house to prevent damage from termites.
What Is a Pellet?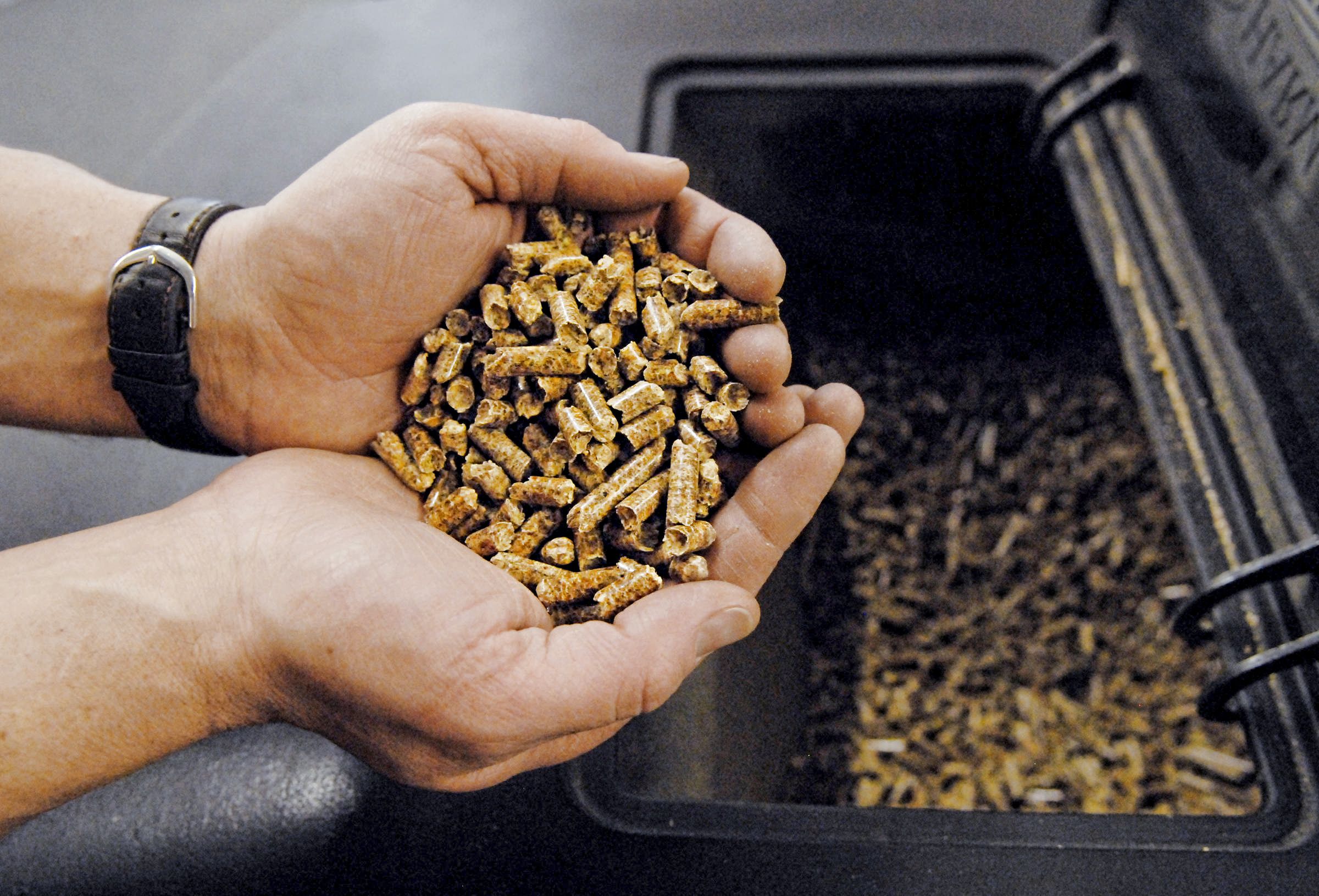 It's a small pill made of wood waste, mostly sawdust. Pellets have a low moisture content, 5 to 10 percent, compared with 20 percent for seasoned firewood. In some regions, you may find pellets made of switchgrass or cornstalks. Corn kernels can also be used in lieu of pellets.
What Size Stove to Buy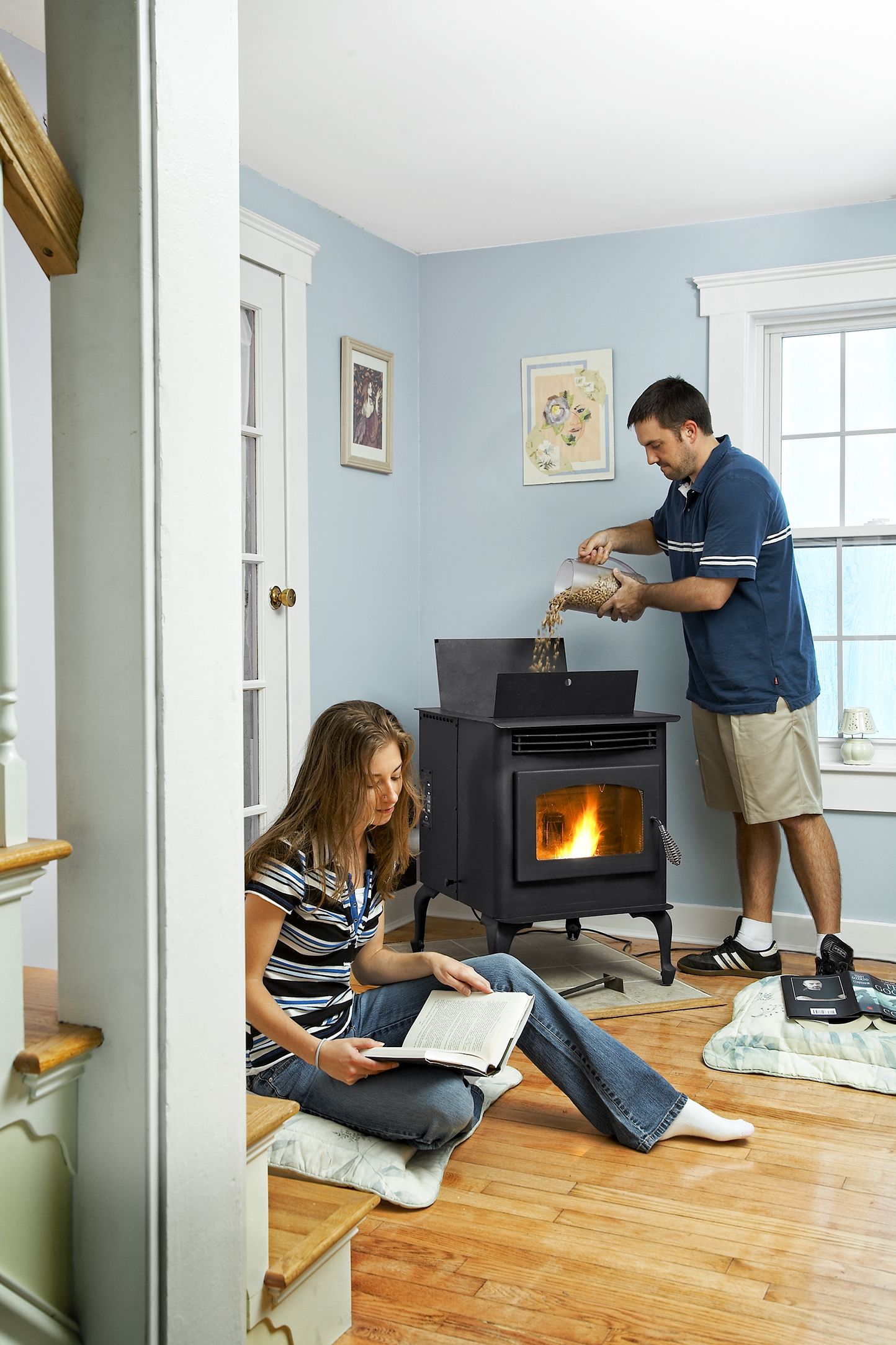 Performance is affected by your home's layout, insulation, and regional climate, but generally 5,000 Btus of fire power will heat 200 square feet. For a precise match for your space, have a dealer visit your home and recommend a model.
Just keep in mind that the warmth from your stove will be concentrated in rooms closest to where it's installed. If used for supplemental heat, one trick is to put the stove near a furnace return vent and run the furnace fan to circulate the warm air throughout your home. A ceiling fan with its blades turning in reverse can also help distribute warmed air.
Cost Comparison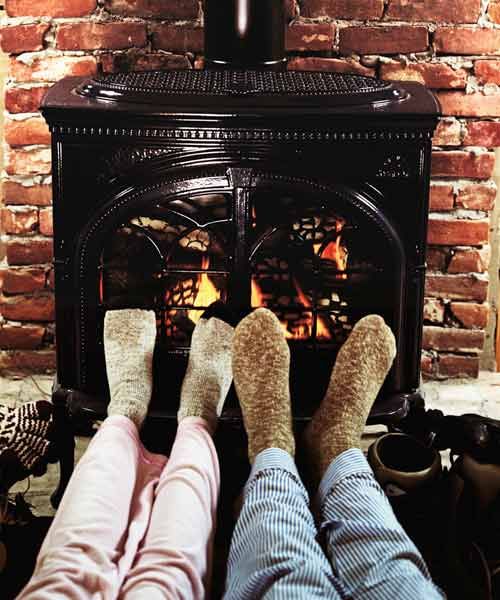 As the sole heater for a 2,000-square-foot home in a cold climate, expect to spend $3,000 to buy and install the new stove, plus $980 for four tons of pellets. The time it takes for the stove to pay itself off depends on your current heating fuel.
Oil – Runs $1,857 per winter, or $877 more than pellets. You can break even in about four years.
Electricity – Costs about $2,306 a year, or $1,326 more than pellets. Expect a return on your investment in year three.
Natural gas – This fuel is cheaper, at $623 annually, but if you're currently using a fireplace or an older wood stove for supplementary heat, you will save in the long run by switching to pellets.
Where to Put a Pellet Stove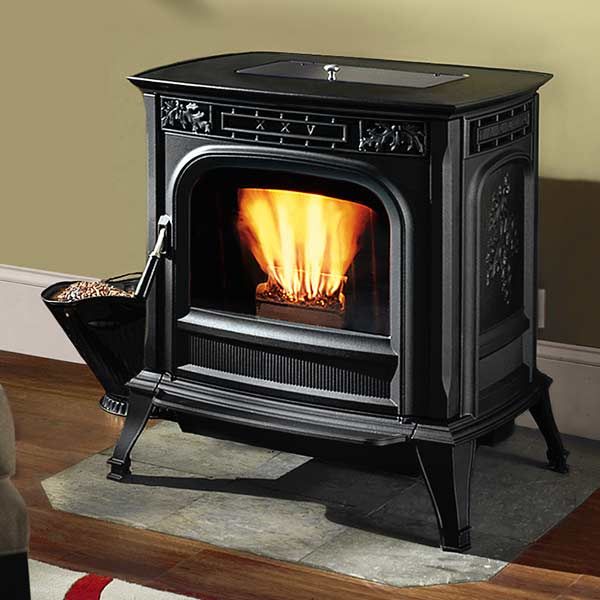 Freestanding pellet stoves, such as this Harman XXV model, have a minimal footprint in a room. They can typically be placed 1 to 3 inches from the back wall and 6 to 7 inches from sidewalls.
Safe clearances
Because of the heat they generate, pellet stoves should be at least 36 inches from furniture and draperies and placed out of the main foot-traffic areas, especially in households with small children.
Venting
The exhaust pipe, which can go straight out an exterior wall or up through the roof or chimney, must be tightly sealed to prevent flue gases from entering the home. A second intake line provides outside air for combustion.
Power supply
Almost all pellet stoves require a nearby outlet to run the fans, thermostat, and circuit board. If the stove is your sole heater, consider adding a battery backup (about $300) in case your electricity goes out.
Floor protection
Pellet stoves must rest on a noncombustible surface, such as stone or ceramic tile, to guard against errant embers. A pad should extend 6 inches beyond the door.
Fireplace Pellet Stove Insert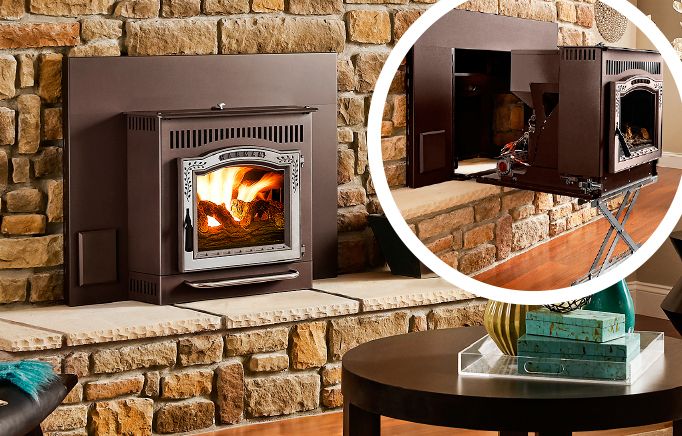 A traditional fireplace looks great, but it's a poor heat generator. Most of the flame's warmth, plus warmed air from the rest of your house, goes right up the chimney.
To transform your hearth into an efficient heater, you can fit the firebox with a pellet-stove insert, such as the Harman P35i model shown at left. A dealer can help you find a unit and a metal surround to best fit your hearth's dimensions. But because a metal liner must be fitted inside the chimney for ventilation, installation is best left to a chimney specialist. This work may also need to be approved by a municipal inspector before the stove can be operated.
Pellet Stove Styles
You can get both freestanding stoves and inserts for an existing fireplace to complement both traditional and contemporary interior spaces. Here are some of our favorites.
Lopi Leyden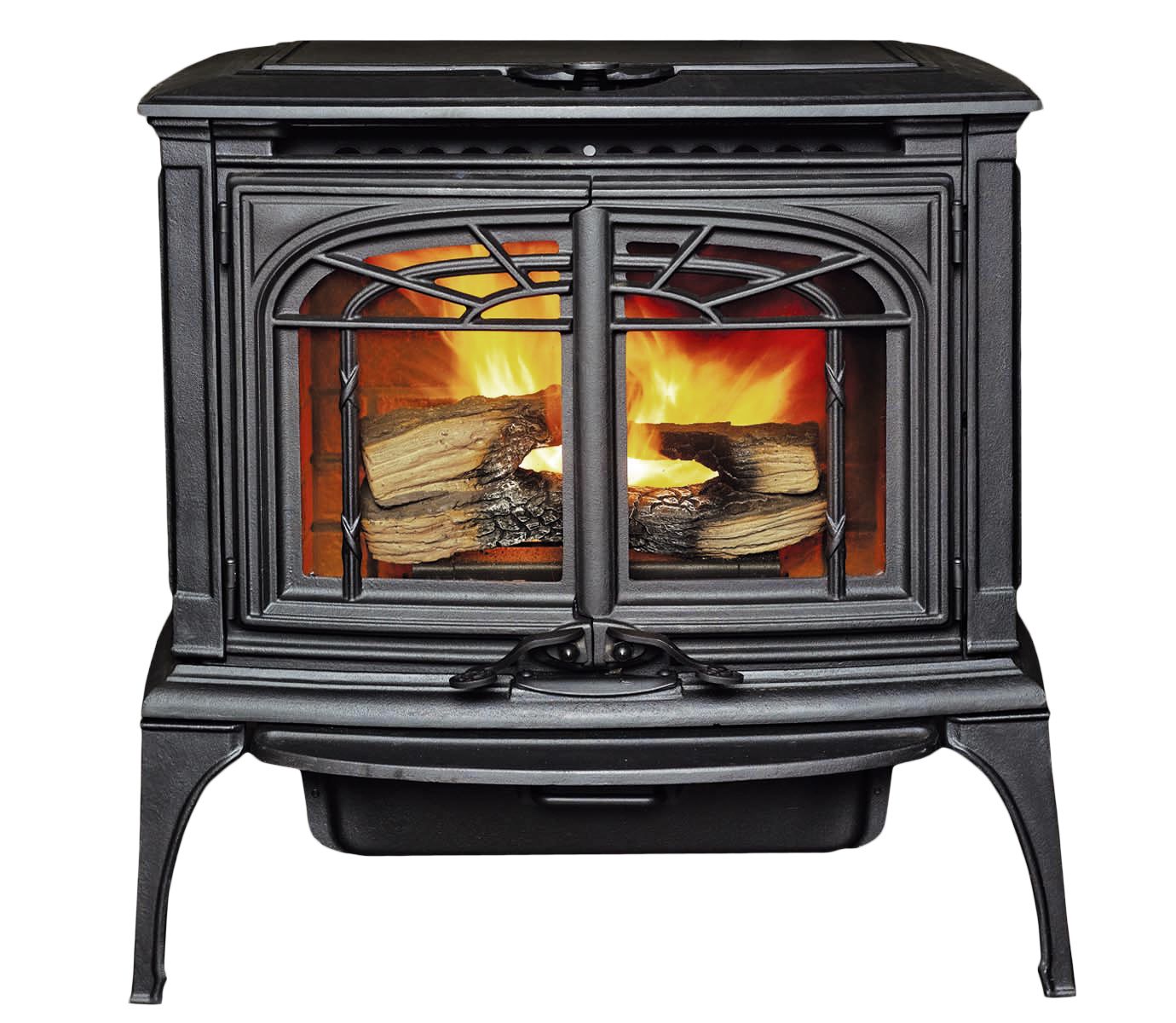 This vintage-look stove has a large firebox relative to its medium-size frame. The ash pan is fitted with drawer glides to ease cleanup.
About $3,700 for this 45,000-Btu model, in matte black only; lopistoves.com
Harman Accentra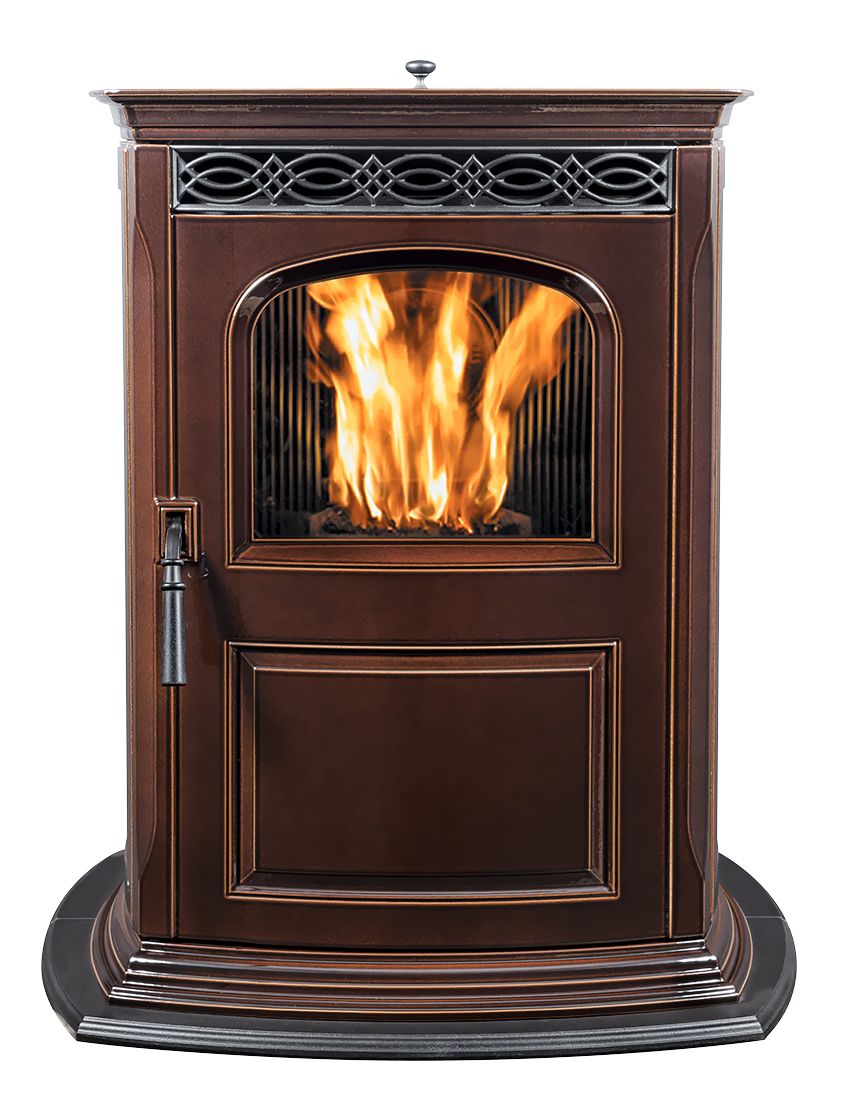 The 40,000-Btu stove has a 50-pound hopper capacity and an ash pan large enough to burn a ton of pellets before it needs to be emptied.
About $3,600, in matte black or gloss brown; harmanstoves.com
Enviro Empress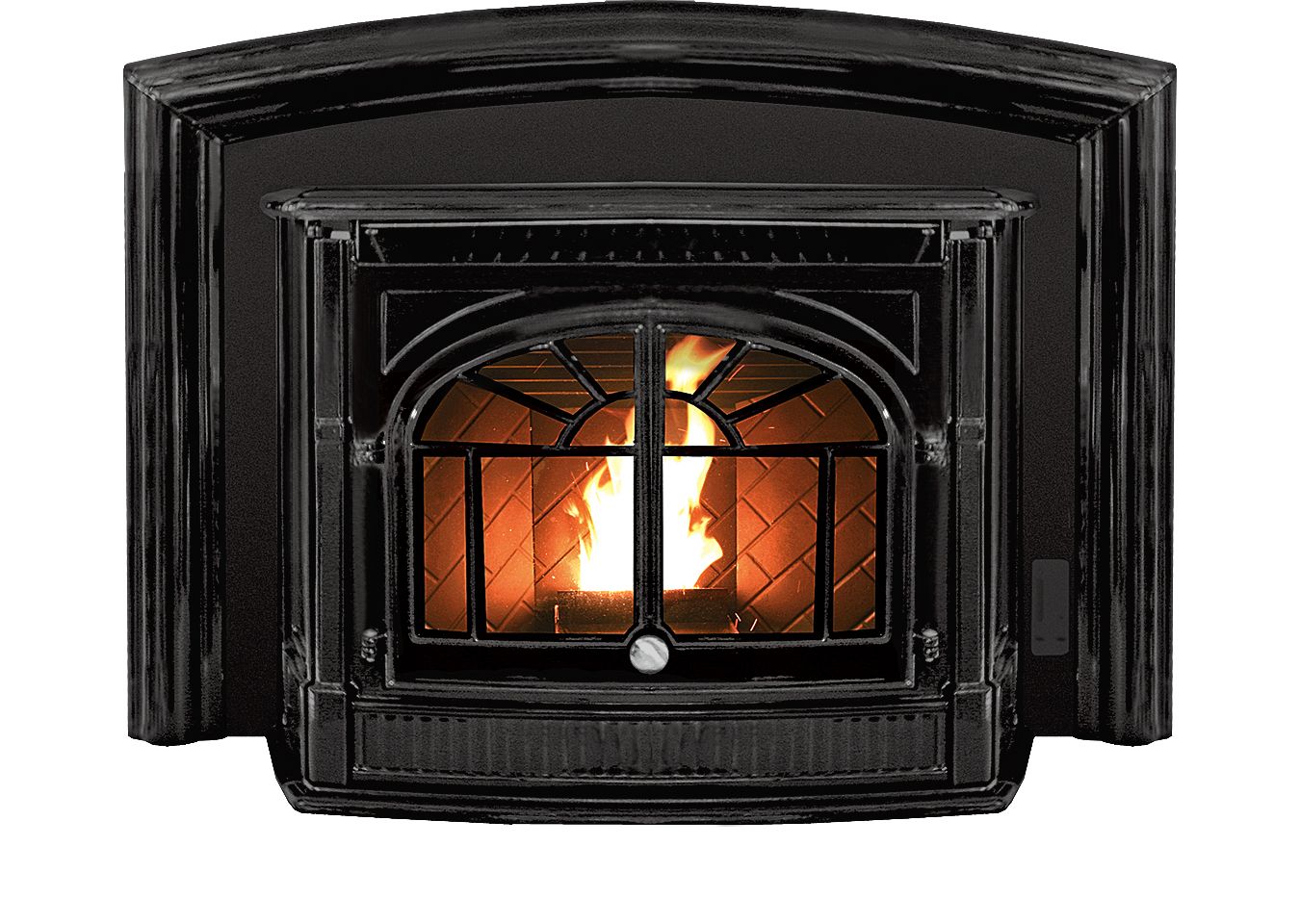 The cast-iron insert, which extends only 9 inches into the hearth, has a 55-pound hopper capacity and a classical arched surround.
About $2,800 for this 34,000-Btu model, in gloss black, white, or brown; enviro.com
HearthStone Manchester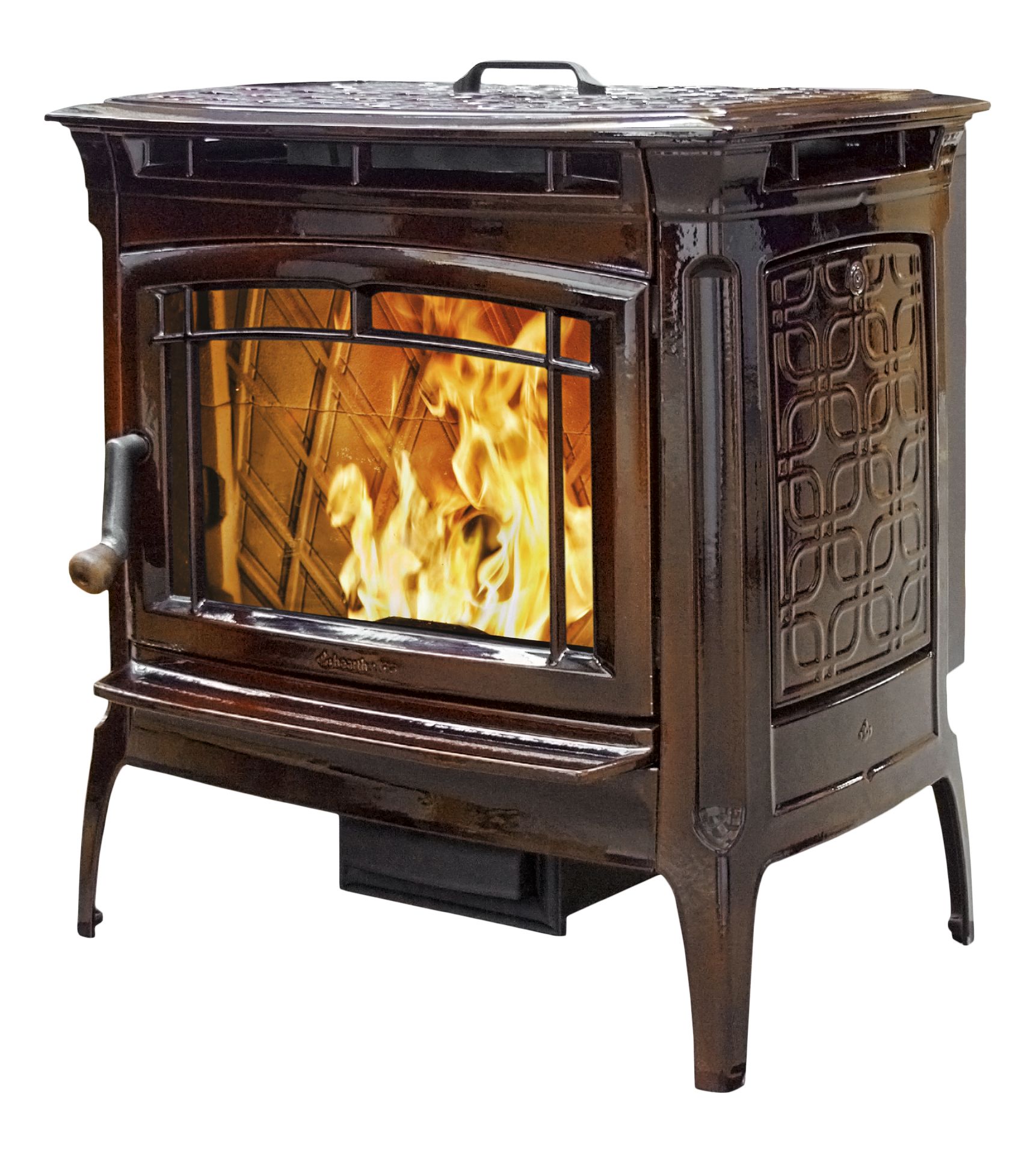 This souped-up stove has a large glass door, a 60-pound hopper capacity, and automatic cleaning cycles that minimize upkeep.
About $4,600 for this 51,000-Btu model in gloss brown, or $4,300 in gloss black; hearthstonestoves.com
Thelin Gnome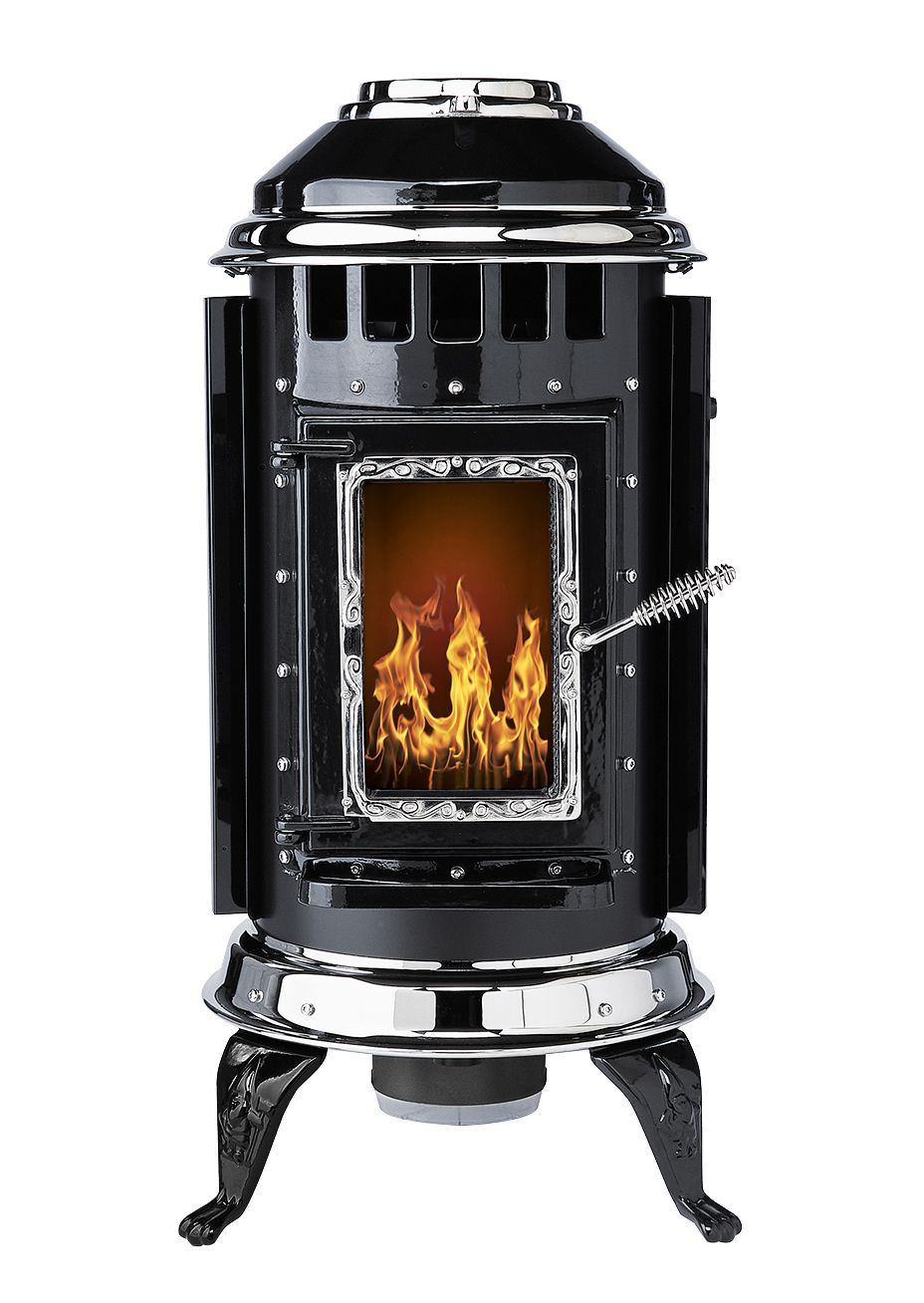 This diminutive 34-inch heater resembles an old potbellied wood stove. Its size and 27,000-Btu output make it ideal for small spaces.
Starts at $2,490, in matte black, gloss black, or gloss cream; thelinco.com
Lennox Bella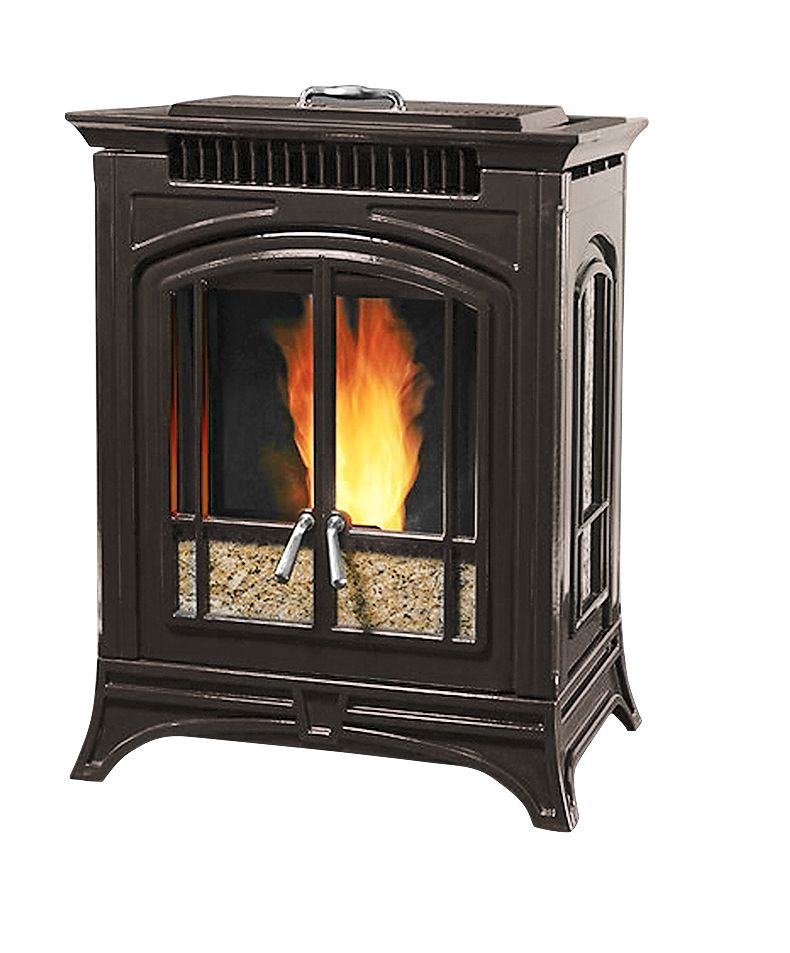 The unit has an LCD panel to monitor the stove's operation, and a whisper-quiet combustion fan and auger motor.
About $4,300 for this 43,000-Btu model, in gloss black or brown; lennoxhearthproducts.com
How to Identify Pellet Quality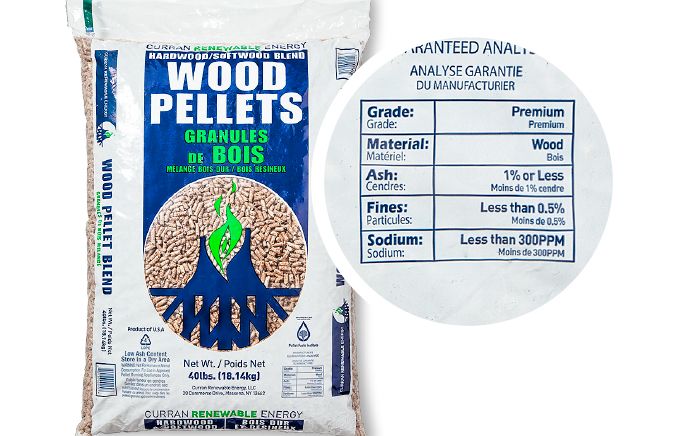 The Pellet Fuels Institute has two grades for pellets: premium, which is usually made of only wood, and standard, which contains some bark. Premium pellets are marginally more expensive than standard—about $5.50 for a 40-pound bag—but they produce less ash.
Another indicator of quality is the amount of fines, or dust, at the bottom of the bag; there should be less than 0.5 percent, which works out to half a cup. Any more dust can create fused ash chunks, called clinkers, that block airflow into the stove. The last variable is sodium content; pellets should have fewer than 300 parts per million (ppm) to ensure an efficient burn.
Pellet Stove Accessories
You don't need tools to tend the fire, but a few choice accessories can improve the look and function of your pellet stove.
Log set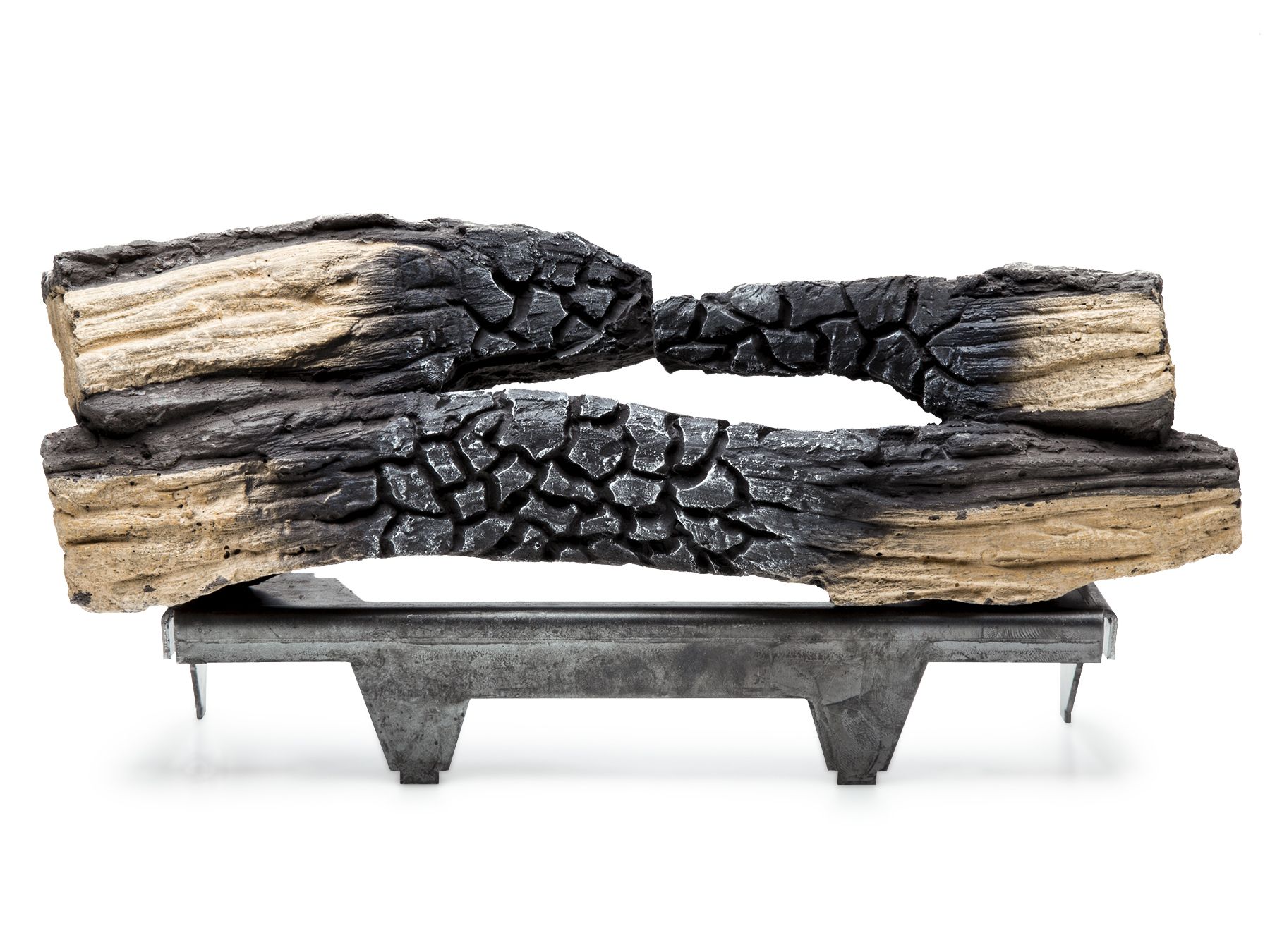 Get the look of a wood-burning fire by arranging ceramic logs around the pellet burn pot. These logs are from Lopi, but most other stove manufacturers design sets for their units, too.
About $85; lopistoves.com
Steamer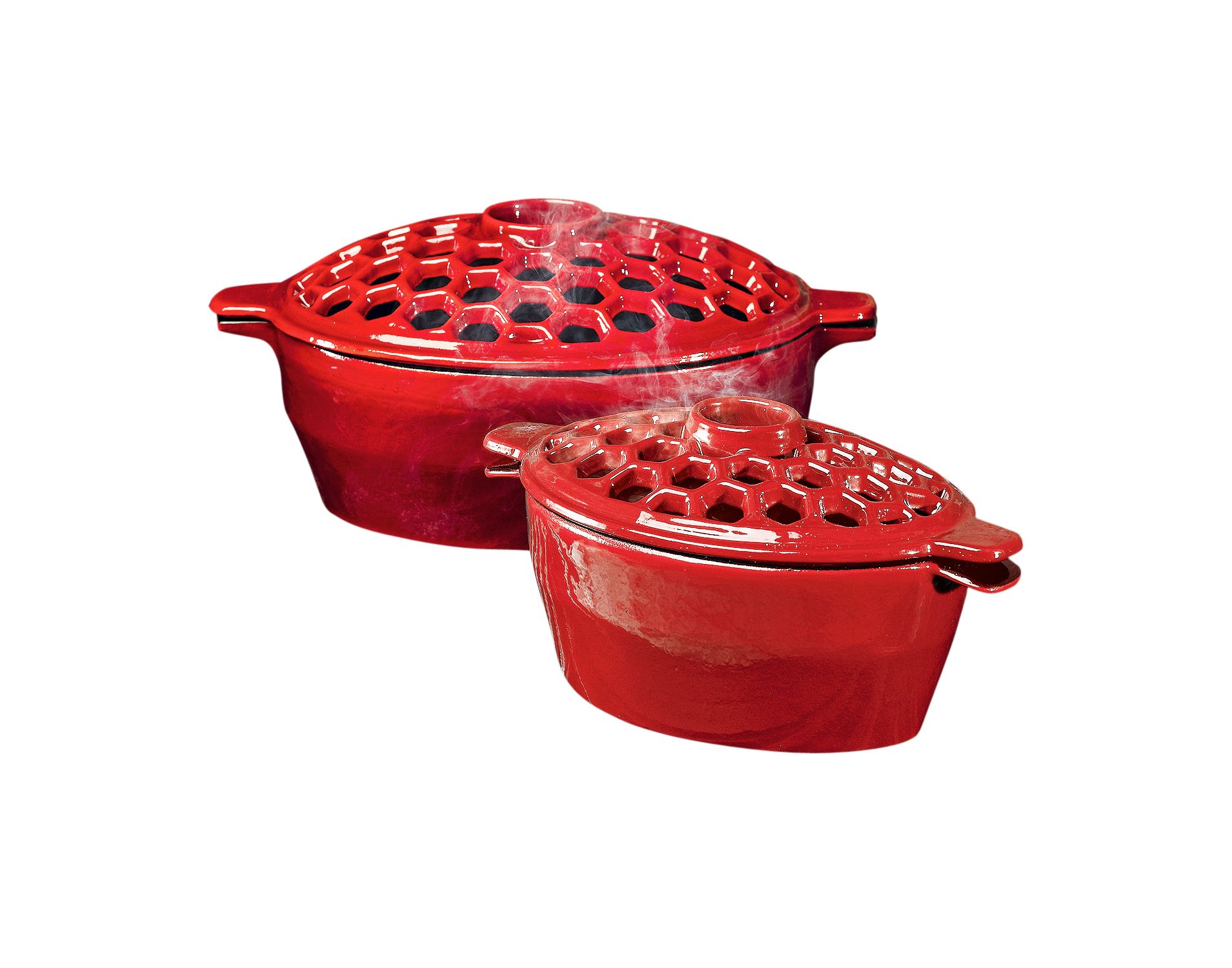 Give the air much-needed moisture with a steamer pot. These lattice-style cast-iron ones with a red enamel finish also add a pop of color to your stove.
About $40 (small) and $60 (large); plowhearth.com
Scuttle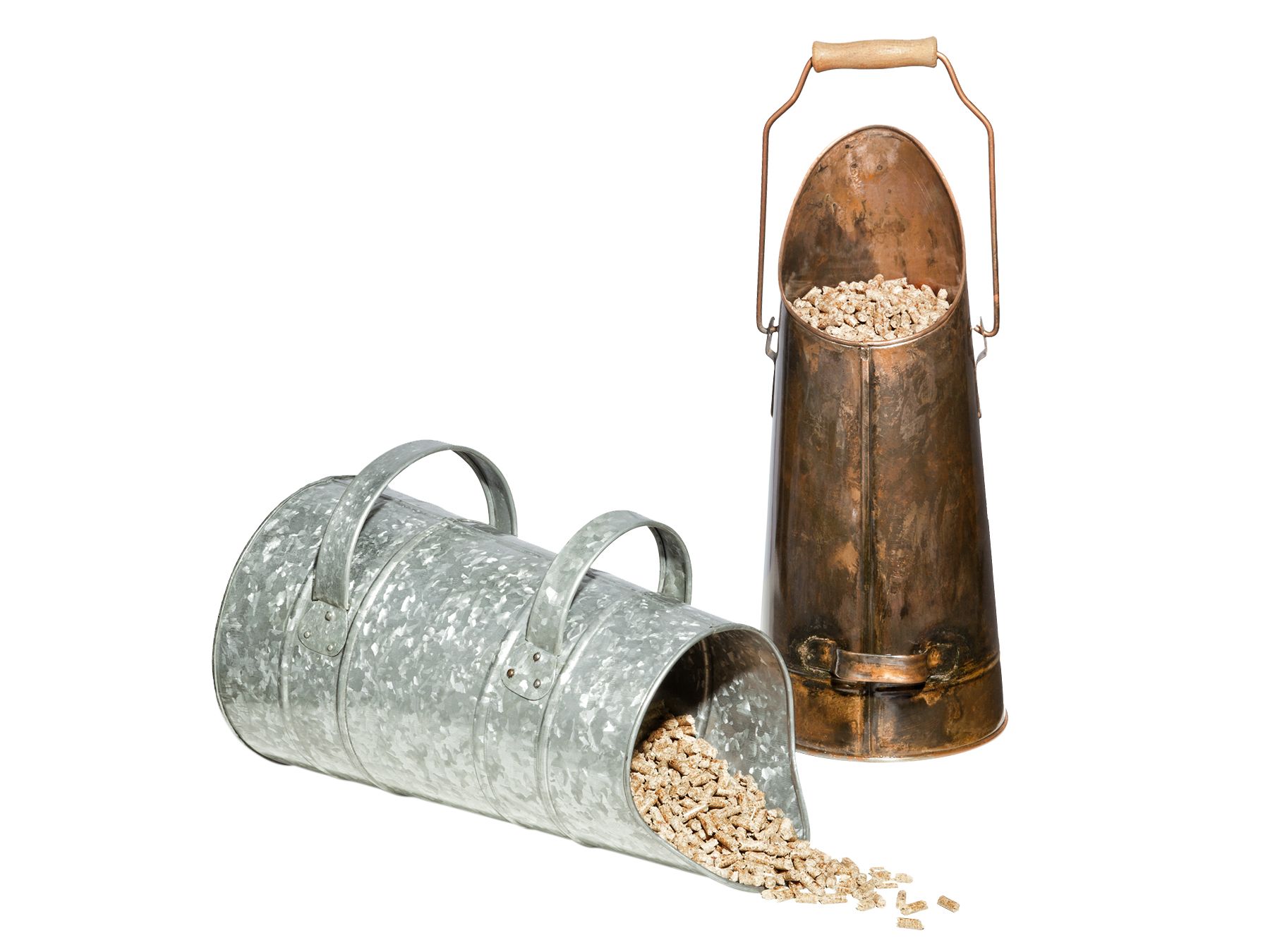 Far more charming than a plastic bag beside your stove, these old-timey coal scuttles have a spout and double handles that make it a cinch to pour pellets into the hopper.
About $40 for galvanized steel and $35 for copper plate; woodlanddirect.com
Prefab Pad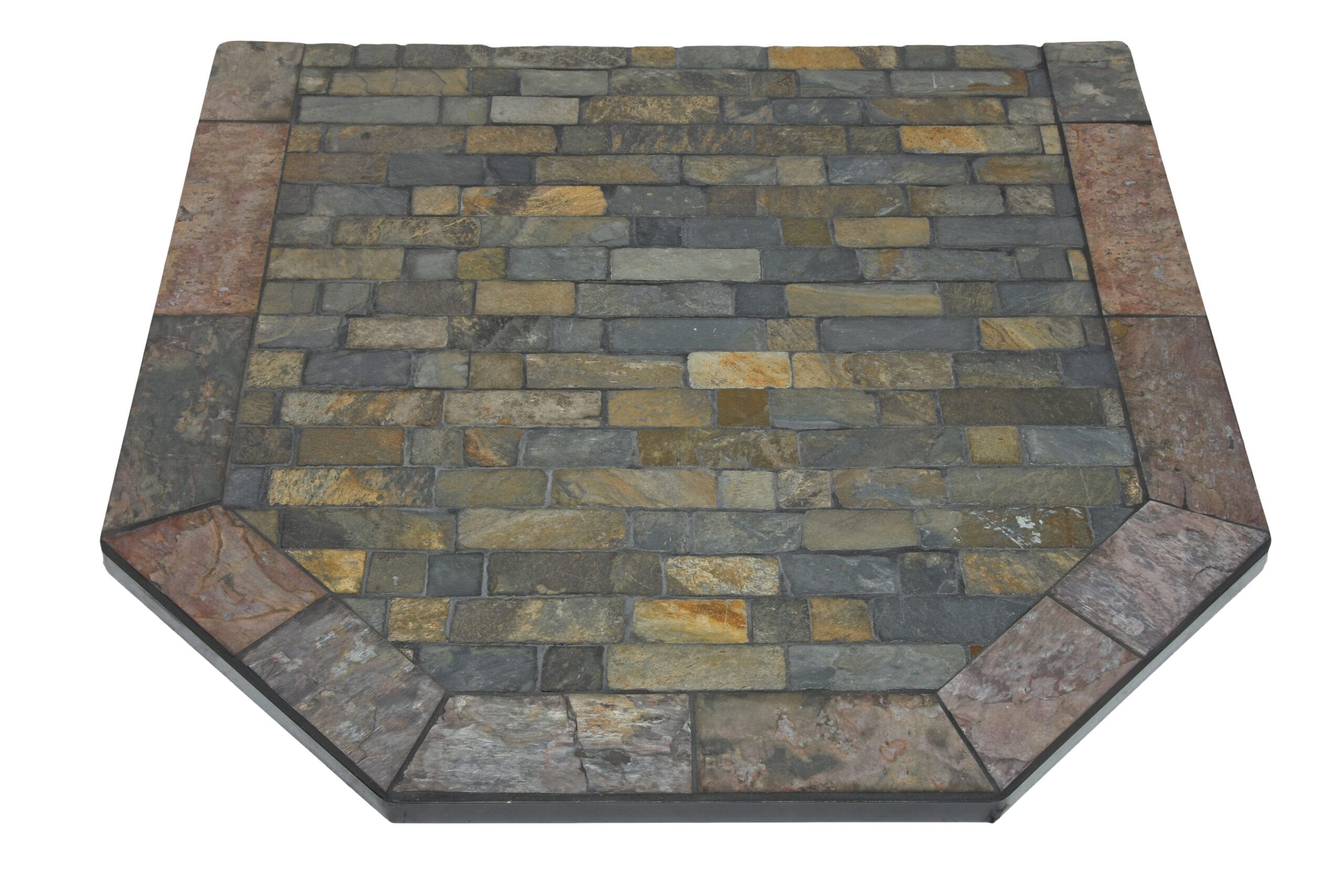 Build your own or choose from a variety of pre-made pads in a material and pattern to suit your style. We love this western flagstone one with a running-bond design.
Starting at $346; diamondhearths.com
Remote Control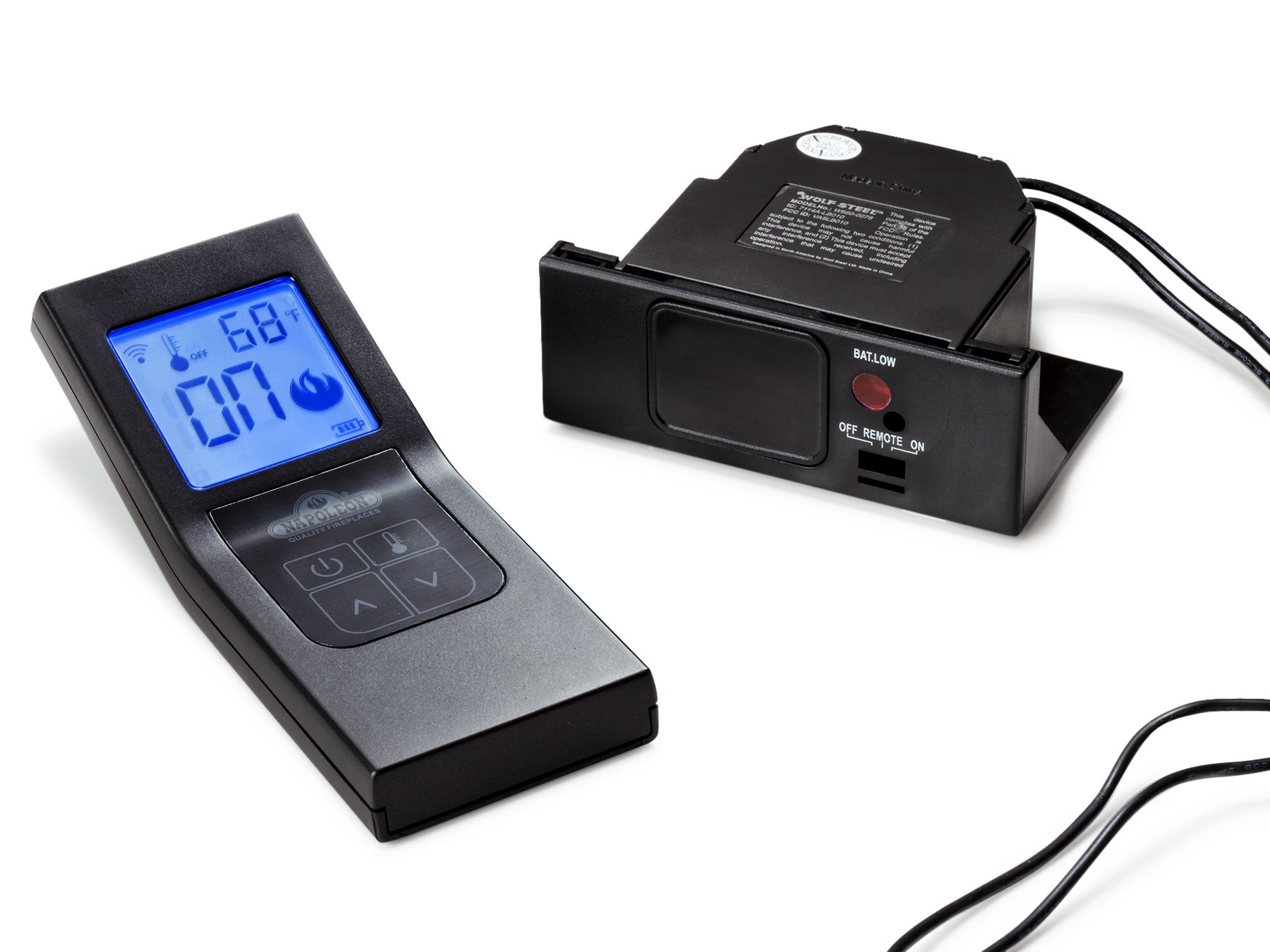 When paired with a transmitter that monitors stove and room temperatures, a remote lets you adjust heat output from your armchair. This model works only with Napoleon stoves, but most manufacturers offer a similar setup.
About $140; napoleonfireplaces.com