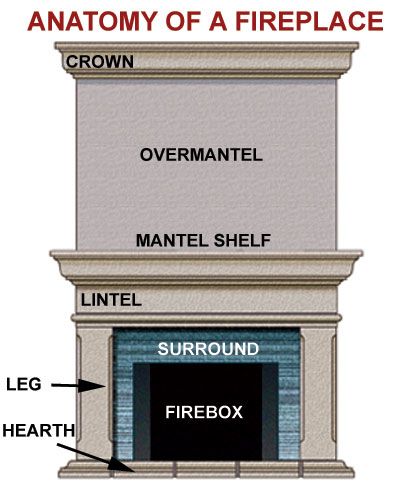 The design of the mantel—the decorative frame around the stone or brick surrounding the firebox—should harmonize with the style of your house. In a traditional setting, it might have additional woodwork, called an overmantel, above the shelf (see "Anatomy of Fireplace," left). But if your home was built or remodeled after World War II, the fireplace may have simple brickwork and a skinny, plain mantel. This gives you a blank slate to select a look you like—as long as it fits the size of the room. Then you can choose from three replacement options.
A custom design
You'll get the most design flexibility in a wood mantel that's built to your specs—a job that costs anywhere from $2,000 to $5,000. There are specialty shops that do the work, or, if you're undertaking a large renovation, your carpenter might be able to do the job. They either work from an architect's drawings or create something that matches the existing woodwork with input from the homeowner, says Stewart Junge, the finish carpenter on This Old House's Manchester, Mass., project. In either case, they'll usually take care of the installation as well.
A salvaged antique
If period authenticity is your goal, an antique mantel is often a good way to go. Some large salvage yards stock hundreds of wood mantels (and some stone ones) that were taken from buildings slated for razing or gutting. Many have hand-carved detailing, which can make their $750 to $3,000 price tag seem a bargain. Expect to pay another $500 to $1,000 to have someone install it, though, and the labor costs can grow if the unit isn't an exact fit for your fireplace.
Older mantels are generally narrower than what modern fireboxes — and fire codes—require. "Sometimes we can rework an old wood mantel by adding accent pieces to make it larger or by trimming the head or legs a bit to make it smaller," says TOH general contractor Tom Silva. "But we can't alter it too much because the proportions are important. You're always better off if you can find a mantel that closely fits the opening." To make sure a mantel will fit, shop with the measurements of your firebox in hand.
A prefab mantel
If time and budget are a concern, prefabricated mantels are the easiest way to go. Whether wood or masonry, they're available in a wide variety of materials and well-proportioned styles, from traditional to contemporary. Home centers and lumberyards often sell them, starting at about $300 for a simple painted poplar mantel and going up to $2,000 for a mahogany or oak one with intricate woodwork. For the widest variety of choices, check the Internet, where dozens of specialty shops sell stock mantels in a number of standard sizes. Some will even customize their offerings to fit your needs. They range in cost from $300 to $5,000, depending on the material, size, and design complexity you choose.
Prefab wood mantels typically arrive in three or four pieces. Some units, called adjustable mantels, come as three flat, plain pieces that can be trimmed up to 3 inches and then finished with decorative details such as medallions, plinth blocks, and dentil moldings. A painted wood mantel is the easiest to install. It may need to be shimmed till it's plumb and level; then it's fastened to the wall studs with countersunk screws. Small gaps around the perimeter can be filled in with caulk and painted. If a wood mantel is clear finished, the job is much less forgiving. Since you can't caulk perimeter gaps attractively, the mantel may need to be scribed and shaped to fit tightly against the wall, and a leg may have to be shortened to compensate for an uneven floor.
When it comes to prefab stone mantels, prices vary considerably. At the high end are imported hand-carved marble and limestone models for $8,000 to $20,000. A much less costly option — $500 to $5,000—is a cast-stone mantel, which is molded from portland cement and crushed stone and/or a fine sand. Most cast-stone mantels arrive in three or four solid pieces (each of which can weigh hundreds of pounds) and are installed with screws or masonry ties. Some companies mold hollow one-piece mantels from fiberglass-reinforced concrete with a stonelike finish; these units are similar in weight to wood and cost about the same as cast stone. Installing even prefab masonry mantels is tricky, though, because there's no tolerance for error. Assembling the pieces and trimming them to fit properly against uneven walls and floors is best left to a professional.
Changing the Hearth and Surround
A less-than-inspired hearth and surround can easily be removed and replaced with something more appealing. If you replace your mantel, consider upgrading the facing masonry, too. A formal mantel should have a formal tile or stone surround to match.
Fire codes state that the surround must be 6 or more inches—depending on the thickness of the mantel—from the firebox. In addition, the hearth must extend 16 to 20 inches in front of the firebox, and 8 to 12 inches on either side, depending on the size of the firebox opening. It must be made of a noncombustible material, whether ceramic tile, stone, cast stone, or even plaster. Stone is a popular option, particularly black Zimbabwe granite, which looks a lot like traditional slate but doesn't scratch as easily or show soot.
Replacing the surround and hearth—including materials and removal of the old surfaces—runs the gamut from about $1,500 for tile to $2,500 for pricier stone. If you want to tackle the job yourself, the simplest solution is to first pry off the mantel. Then, leave the existing surround in place (if it's in good condition) and set new masonry slabs or tiles to it on a layer of thinset over the existing masonry, slightly overlapping the inside perimeter of the firebox. (For step-by-step instructions, see Fireplace Facelift) To remove the old hearth, you can rent a demolition hammer with a chisel to chip away the existing stone or tile and mortar, leaving the concrete base and firebox floor intact. To make the hearth sit flush with the floor, you may have to build up the base with an additional layer of concrete. Then lay the masonry or tile hearth pieces with thinset, spacers, and mortar, as needed.
Converting to Gas
Many homeowners are switching to gas, for environmental reasons or simple convenience. Installing a gas burner in the firebox means you'll never have to shovel ashes, haul wood, or clean soot again. If you choose a vent-free model, it can also save the expense of refurbishing a chimney that's not working.
Today's gas inserts look more like real fires with yellow flames flickering over stackable logs (in your choice of wood species) sitting above a bed of faux embers or glowing coals set in an iron basket. With gas, though, the fire starts with the touch of a remote control, which also adjusts the flame size. Inserts typically cost $400 to $1,800 and burn either natural gas or propane, which a plumber brings to the firebox using flexible copper tubing at an additional cost of a few hundred dollars. You can vent the exhaust up the old flue—the draft of which yields the most authentic-looking flames—or select a vent-free option, which works with the damper closed and burns more efficiently. (Check local building and fire-safety codes for restrictions on vent-free fireplaces.)