From behind-the-walls waterproofing solutions to decorative drains and profiles, here's a closer look at the tile installation and finishing products we used at our modern Farmhouse in Fairfield County.
Modern master bath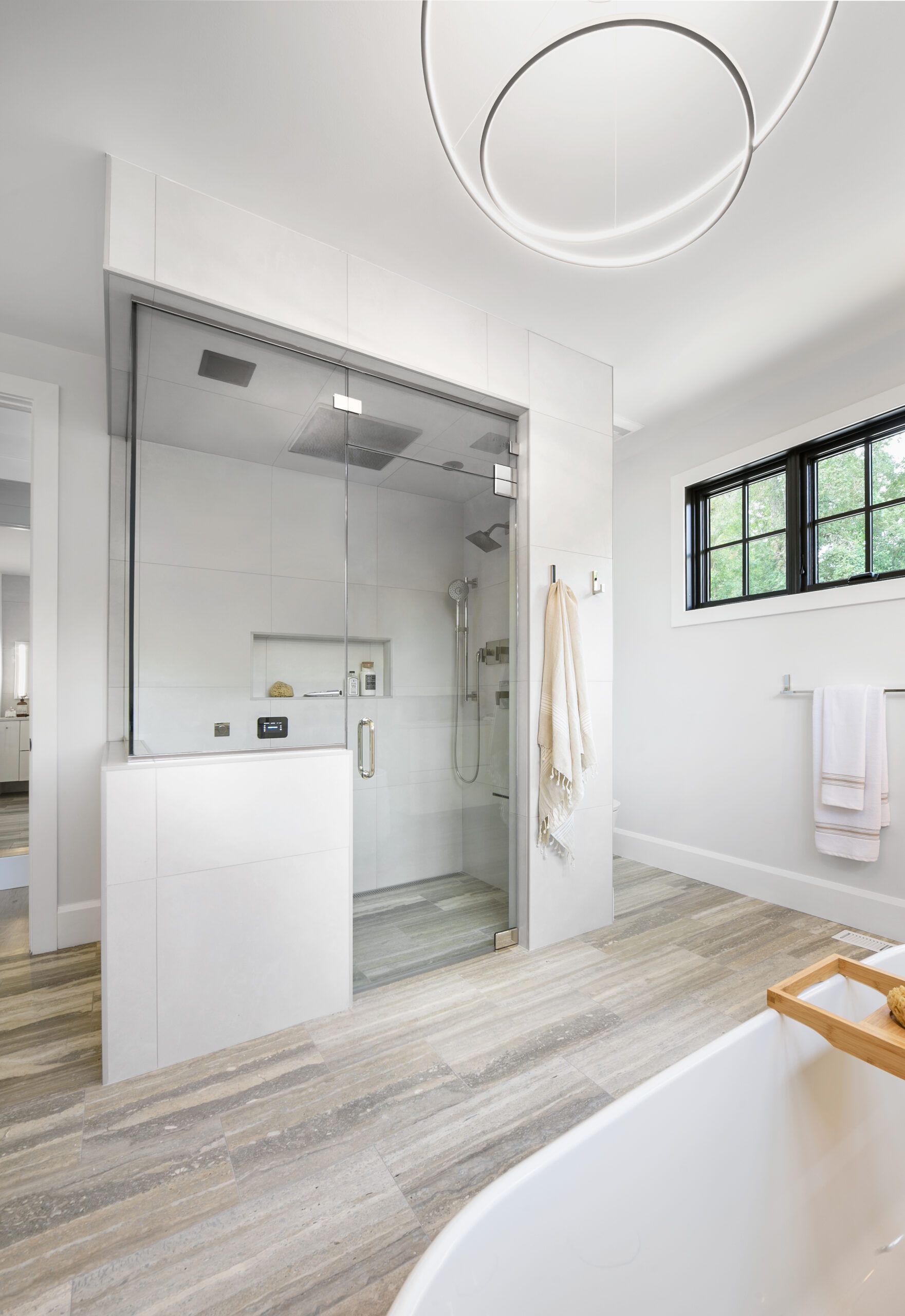 The dreamy master bath was designed with a personal spa in mind—a soothing neutral palette, abundant light, a freestanding soaking tub, and a fully appointed steam shower perfect for unwinding. Electric floor warming throughout the space means there's no stepping out onto a chilly tile floor.
Floor Warming: Schluter-DITRA-HEAT Electric Floor Warming
Built-in bench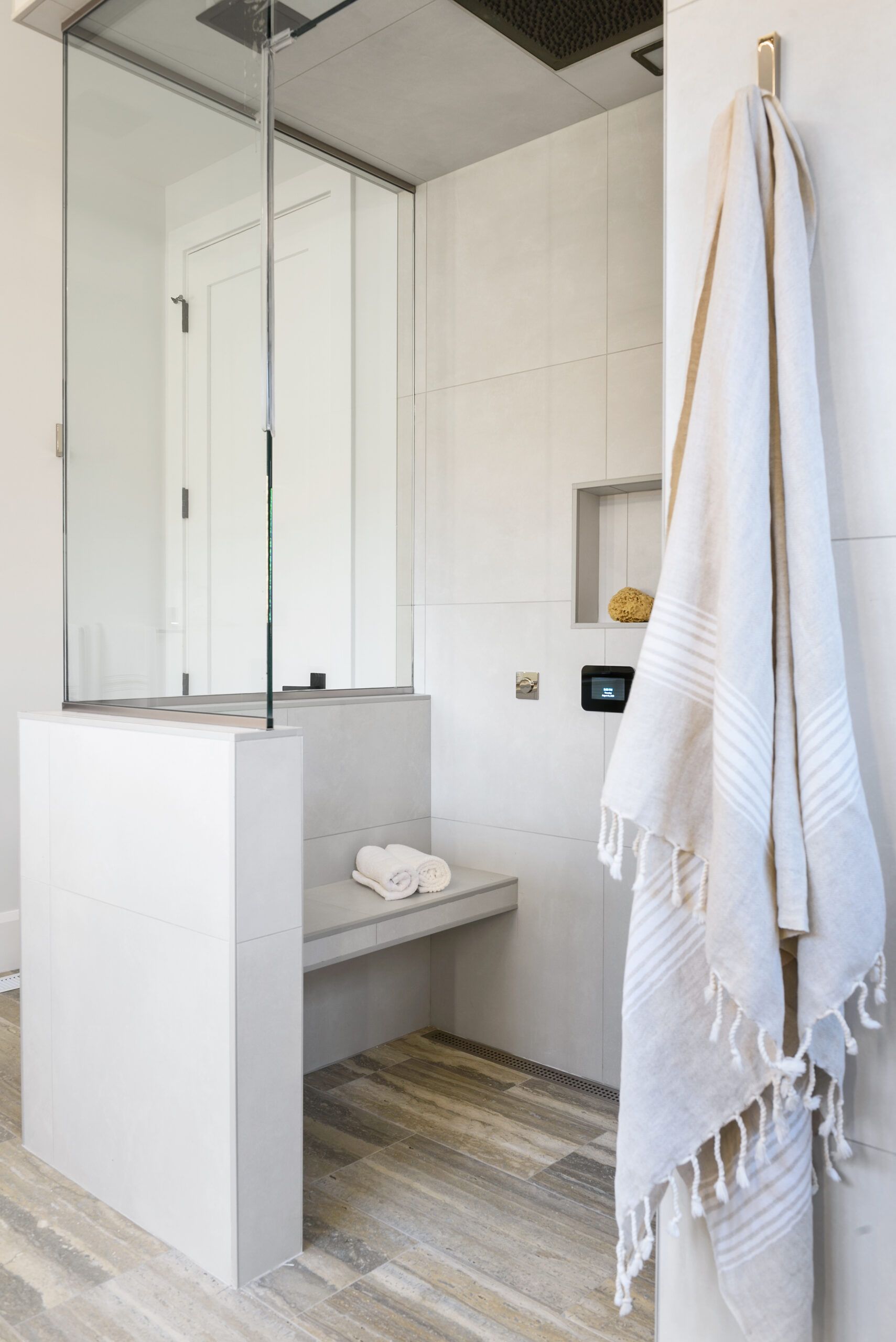 A floating bench is a perfect place to sit back, relax, and breathe in the healing benefits of steam. This bench is constructed from KERDI-BOARD, an ideal substrate for creating shower benches that are waterproof and ready for tile. Simple to cut and easy to work with, KERDI-BOARD can be easily customized to fit your bench size and design specifications. Learn how, here.
Wall and Floating Bench Substrate: Schluter®-KERDI-BOARD
Edging Profile: Schluter®- JOLLY Edging Profile in Greige
Shower Niche: Schluter®- KERDI-BOARD-SN Shower Niche
Accessory shelf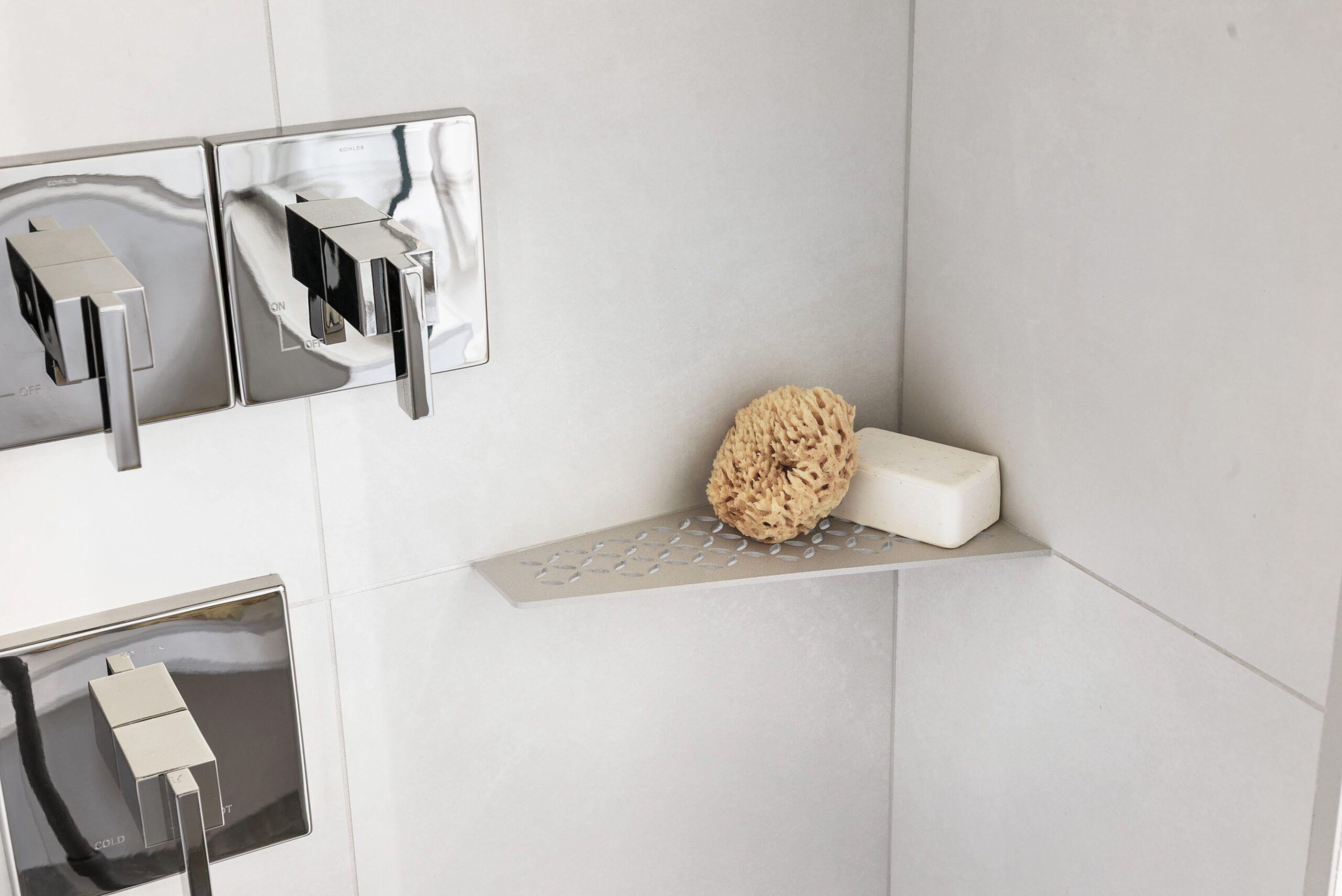 A quadrilateral decorative shelf with a floral design creates a convenient place for soaps and accessories. The perforated design allows water to pass through instead of pooling. Designed for tile walls, installation is easy as the shelf simply integrates into the joint pattern.
Shelf: Schluter®-SHELF-E Quadrilateral Shower Shelf, Floral Design in Greige
Linear drain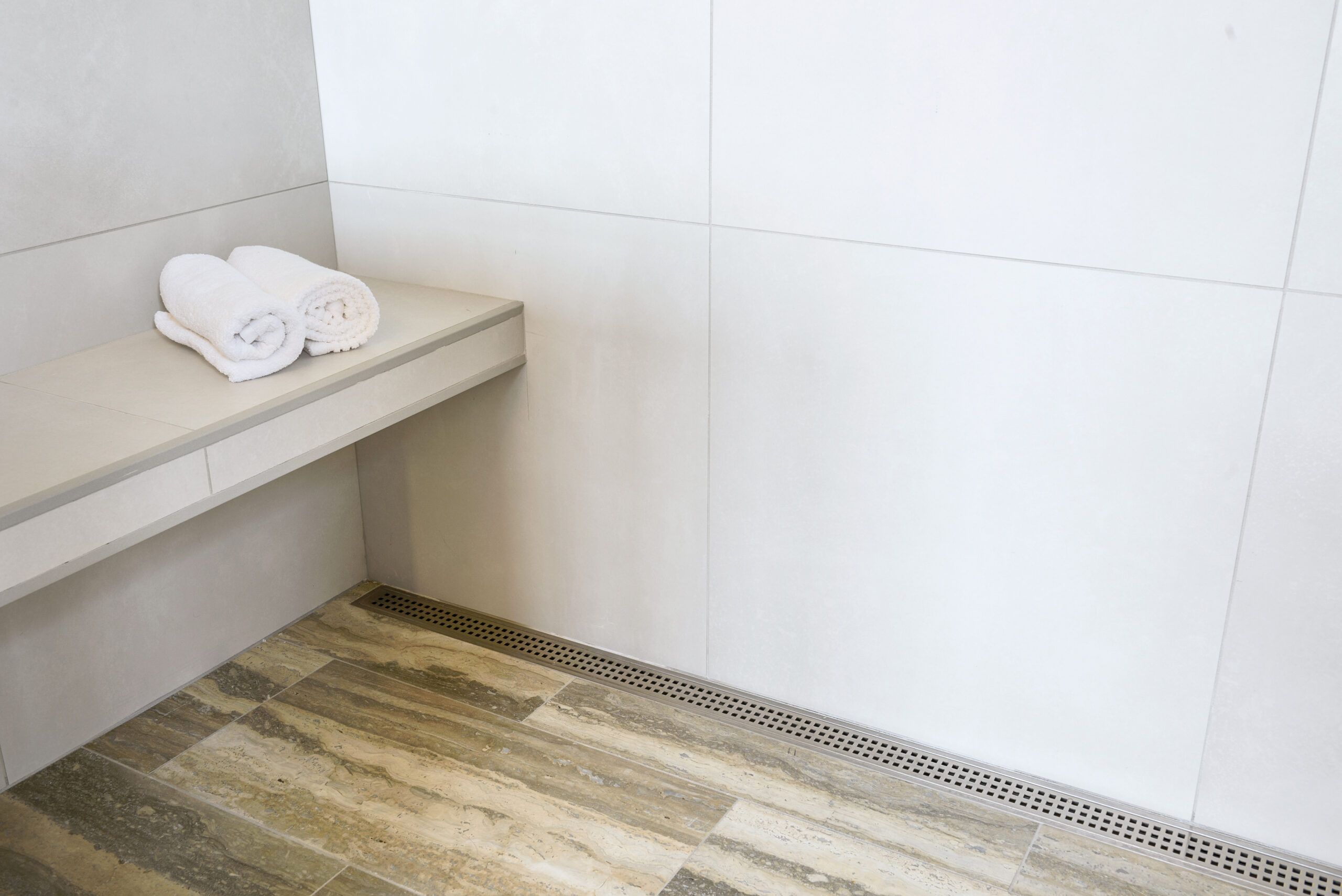 A low-profile linear drain with perforated grate is perfect for curbless, open-concept spaces, as it can be installed adjacent to walls or at intermediate locations in showers, wet rooms, and other applications that require waterproofing and drainage.
Drain: Schluter®-KERDI-LINE Linear Drain with Perforated Grate
Edging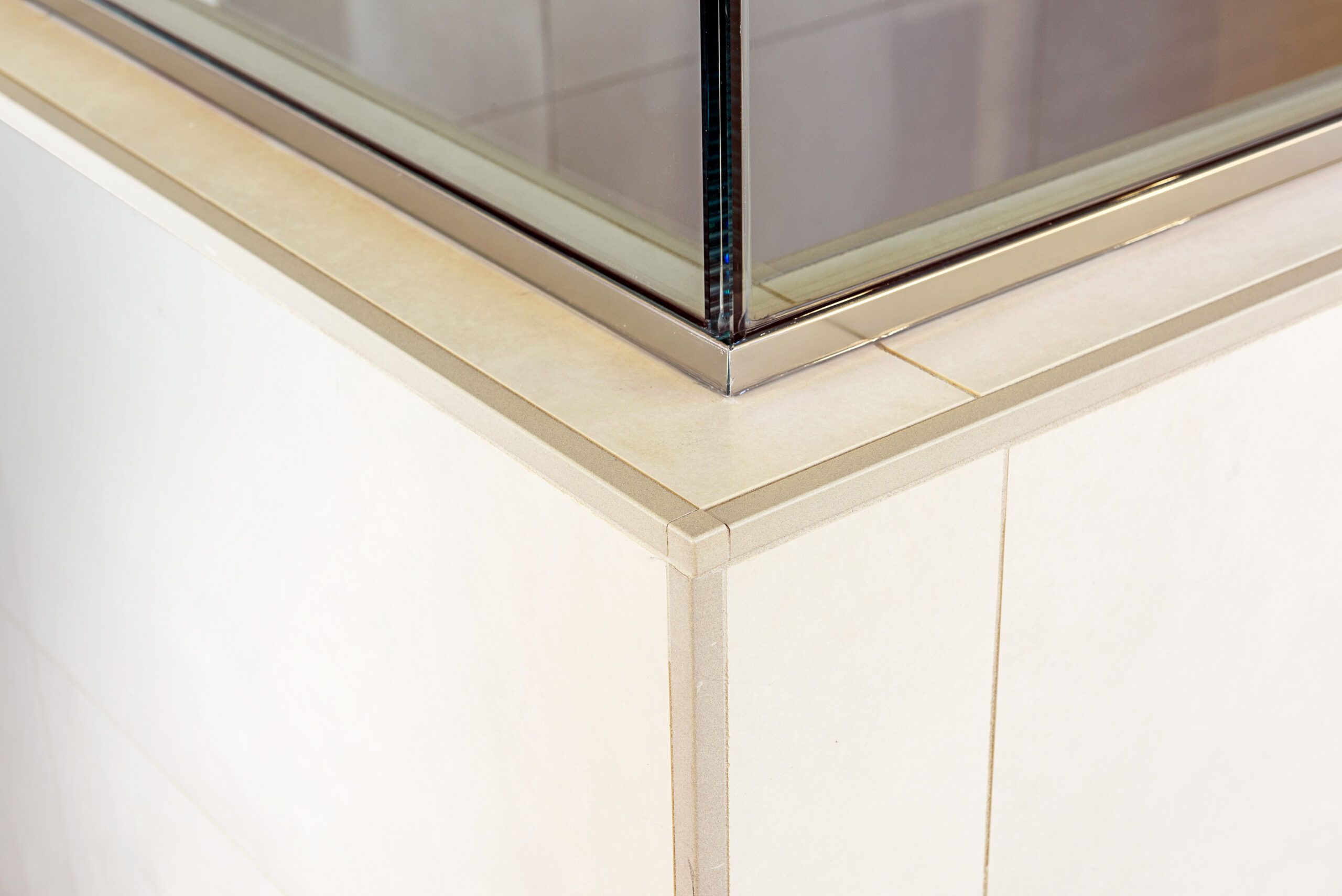 Schluter®-QUADEC is a finishing and edge-protection profile for the outside corners of tiled surfaces. It features a trapezoid-perforated anchoring leg that is secured in the mortar bond coat beneath the tile and a reveal that forms a square outer corner along the surface edge. In addition to its decorative effect, edging profile protects tile edges from cracking and chipping.
Edging Profiles: Schluter®-QUADEC Edging Profile in Greige
Stylish guest shower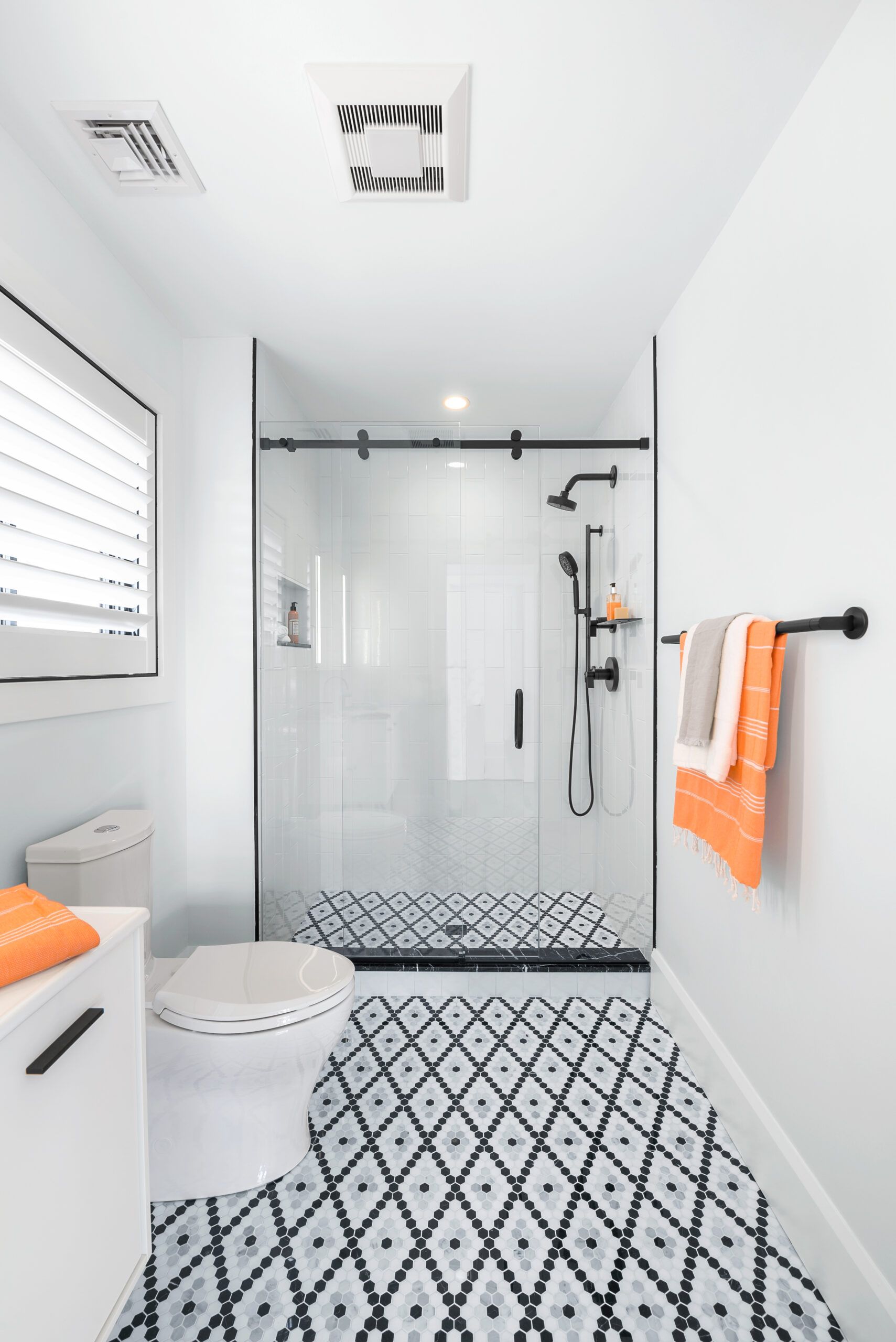 An amply sized guest shower is given a retro-chic look thanks to a sleek black-and-white palette. A matte black edging profile clearly defines the shower stall, and creates a unique frame surrounding the window for added interest.
Edging Profile: Schluter®-JOLLY Edging Profile in Matte Black and White
Finishing touches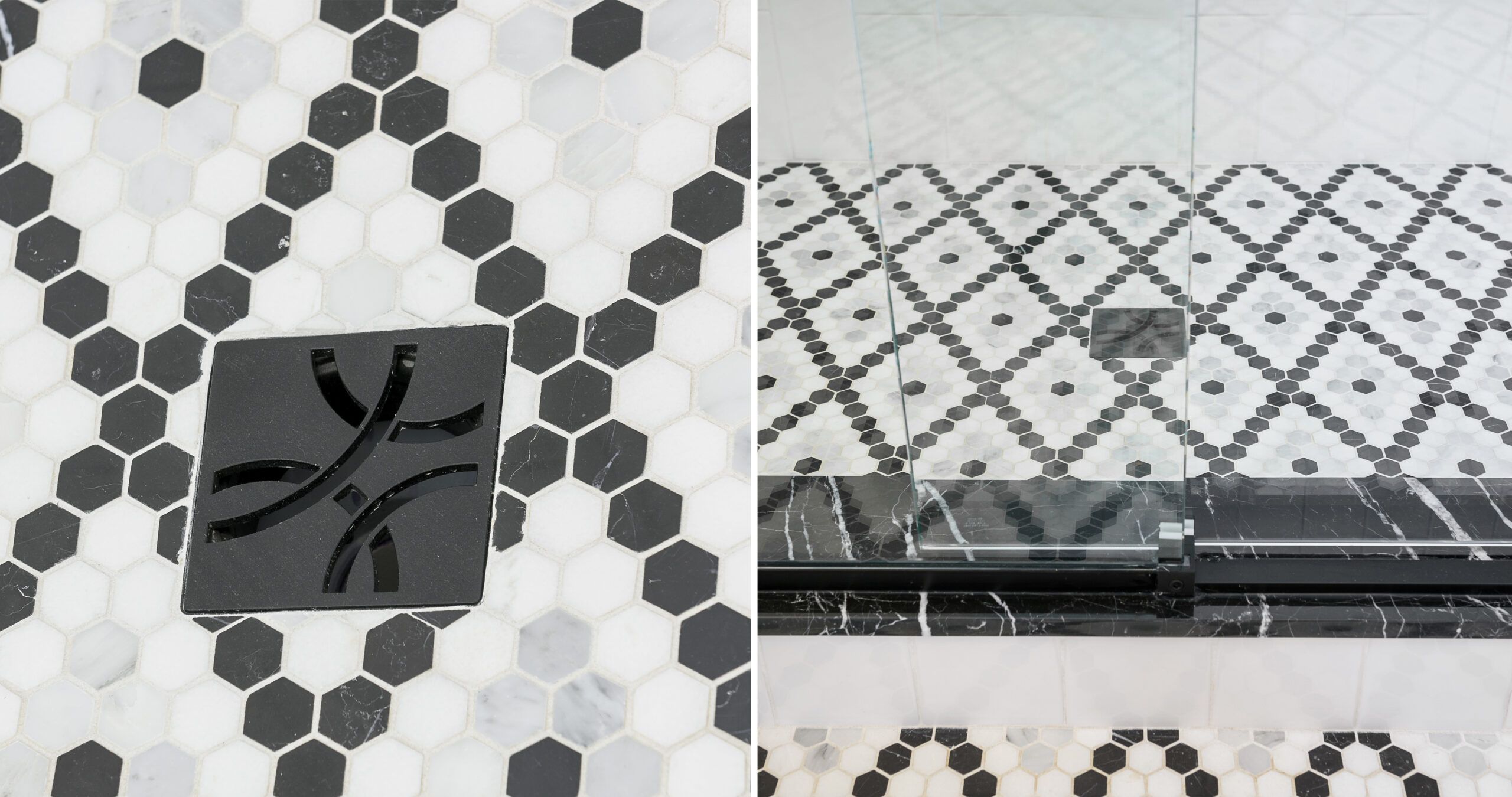 Left: This Schluter-KERDI-DRAIN decorative grate is available in a variety of finishes and designs to match any style bath; shown here in Matte Black, Curve Design, it adds a pop of personality to the shower floor.
Right: A prefabricated shower curb saves plenty of time and labor over installing a traditional curb, arriving tile-ready and leaving only the sealing of joints and corners to complete waterproofing. Learn how to install one, here.
Shower Floor: Schluter®-KERDI-SHOWER-T Prefabricated Shower Tray for Point Drains
Drain Grate: Schluter®-KERDI-DRAIN Grate, Curve Design in Matte Black
Shower Curb: Schluter®-KERDI-BOARD-SC Shower Curb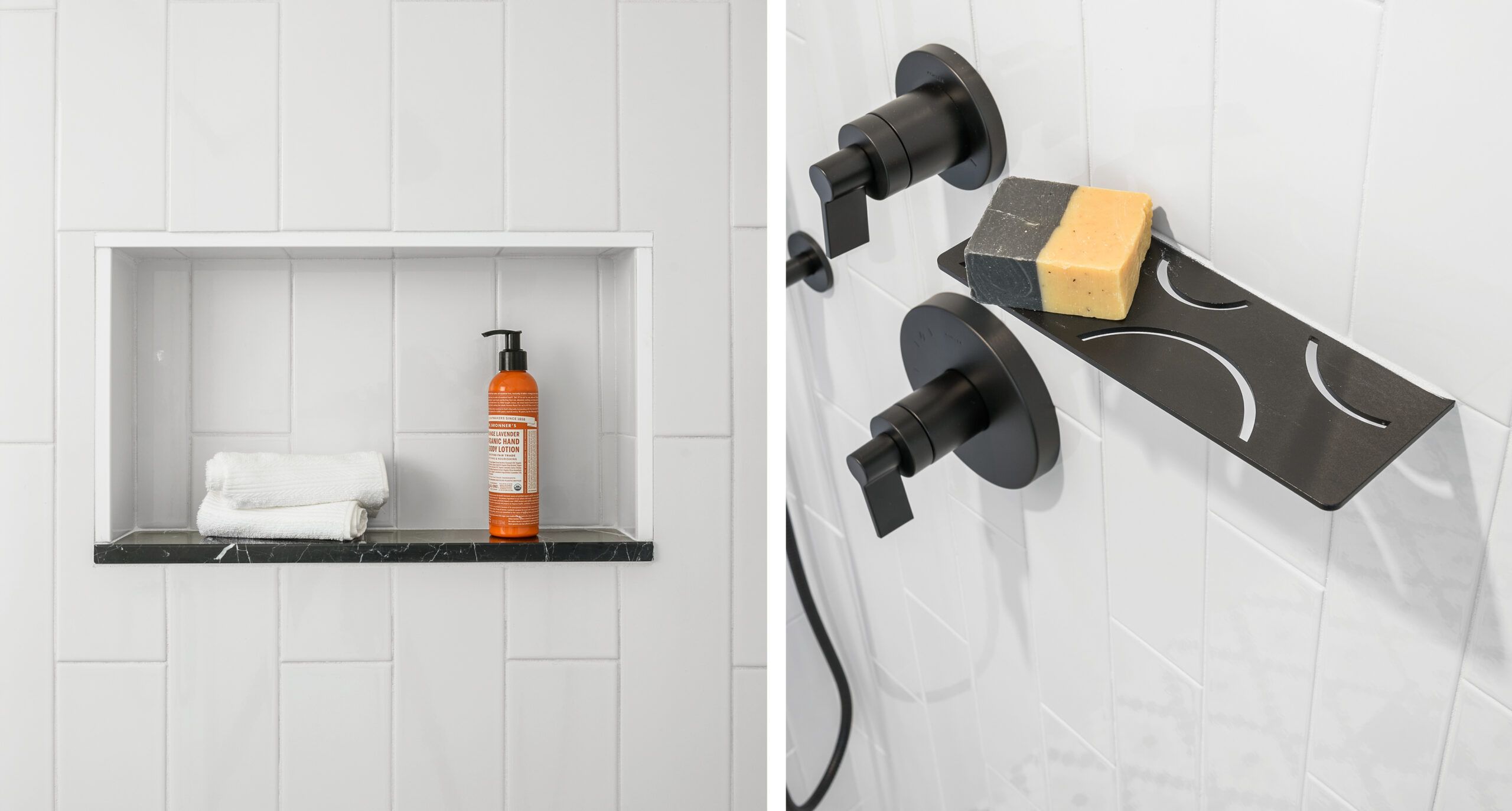 Left: A prefabricated shower niche creates a handy spot for bottles and scrubs. The Schluter-KERDI-BOARD-SN niche is fully sealed, quick to install, and features sealed inside corners for effective waterproofing. For a finished look, the niche is framed with Schluter® profiles. Learn how to tile a niche, here.
Right: A stylish matte black rectangular shelf is easily installed without drilling, thanks to two trapezoid-perforated anchoring legs that integrate into the tiles. The curved pattern matches that of the decorative drain for a cohesive look.
Niche: Schluter®-KERDI-BOARD-SN Shower Niche
Edging Profile: Schluter®-JOLLY Edging Profile in White
Shelf: Schluter®-SHELF-W Rectangular Wall Shelf, Curve Design in Matte Black
Gorgeous guest bath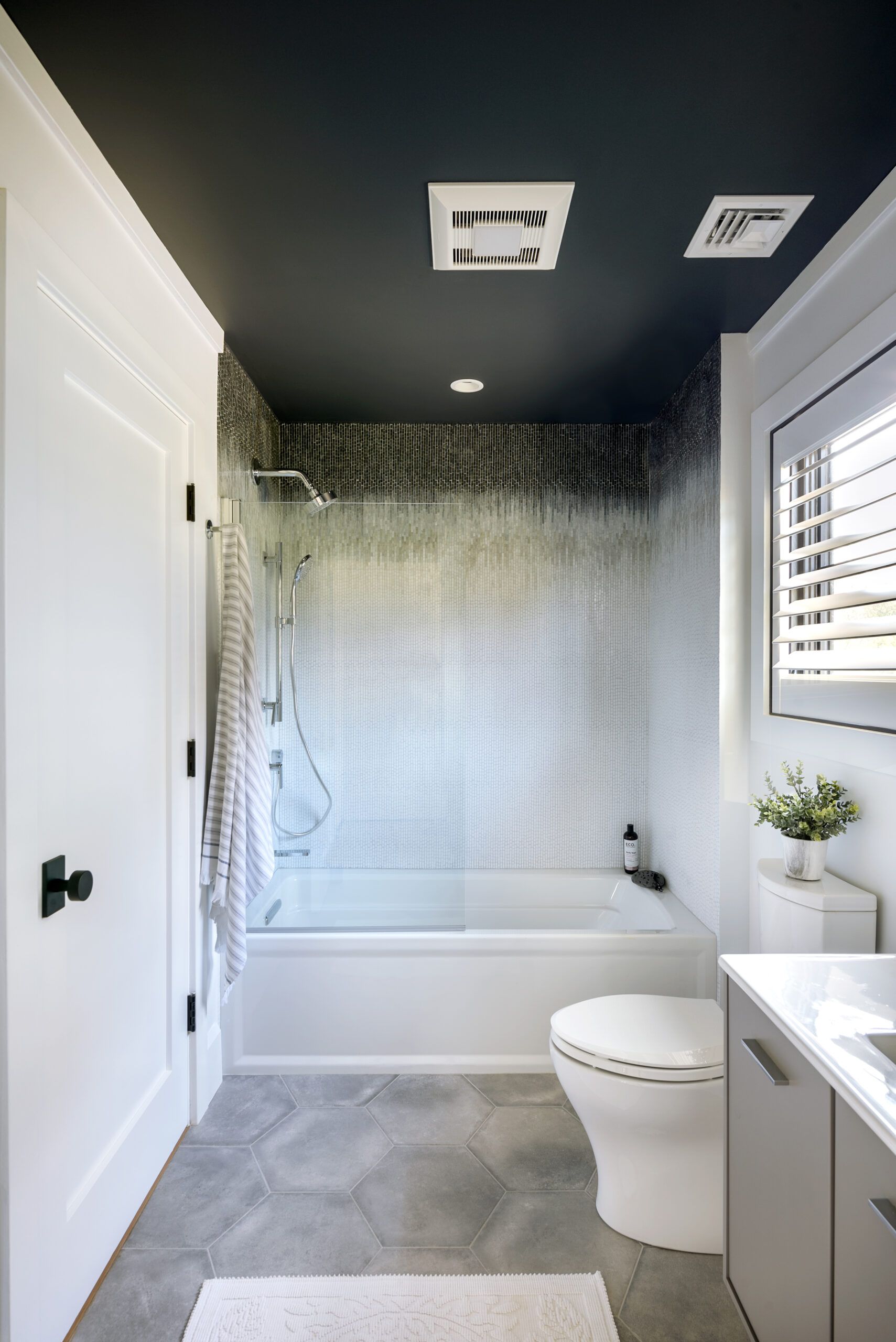 The guest bath features large format hexagonal tiles underfoot, and tiny ombré mosaic tiles on the tub walls. Each type of tile requires a special installation for a foolproof finish.
Underneath the floor tile, Schluter®-DITRA serves as an uncoupling layer, waterproofing membrane, and vapor management layer. This unique structure allows for in-plane movement—in other words, it uncouples the substrate from the tile so they can move independently, effectively neutralizing the differential stresses between the substrate and the tile and eliminating the major cause of cracking.
The tub wall tile is supported by Schluter®-KERDI-BOARD Building Panels. Available in eight different thicknesses, KERDI-BOARD allows you to quickly and easily build tile-ready elements in showers, bathtub surrounds and platforms, countertops, vanities, shelving, and more. Tiles can be installed directly over KERDI-BOARD using the thinset method.
Convenient changing spot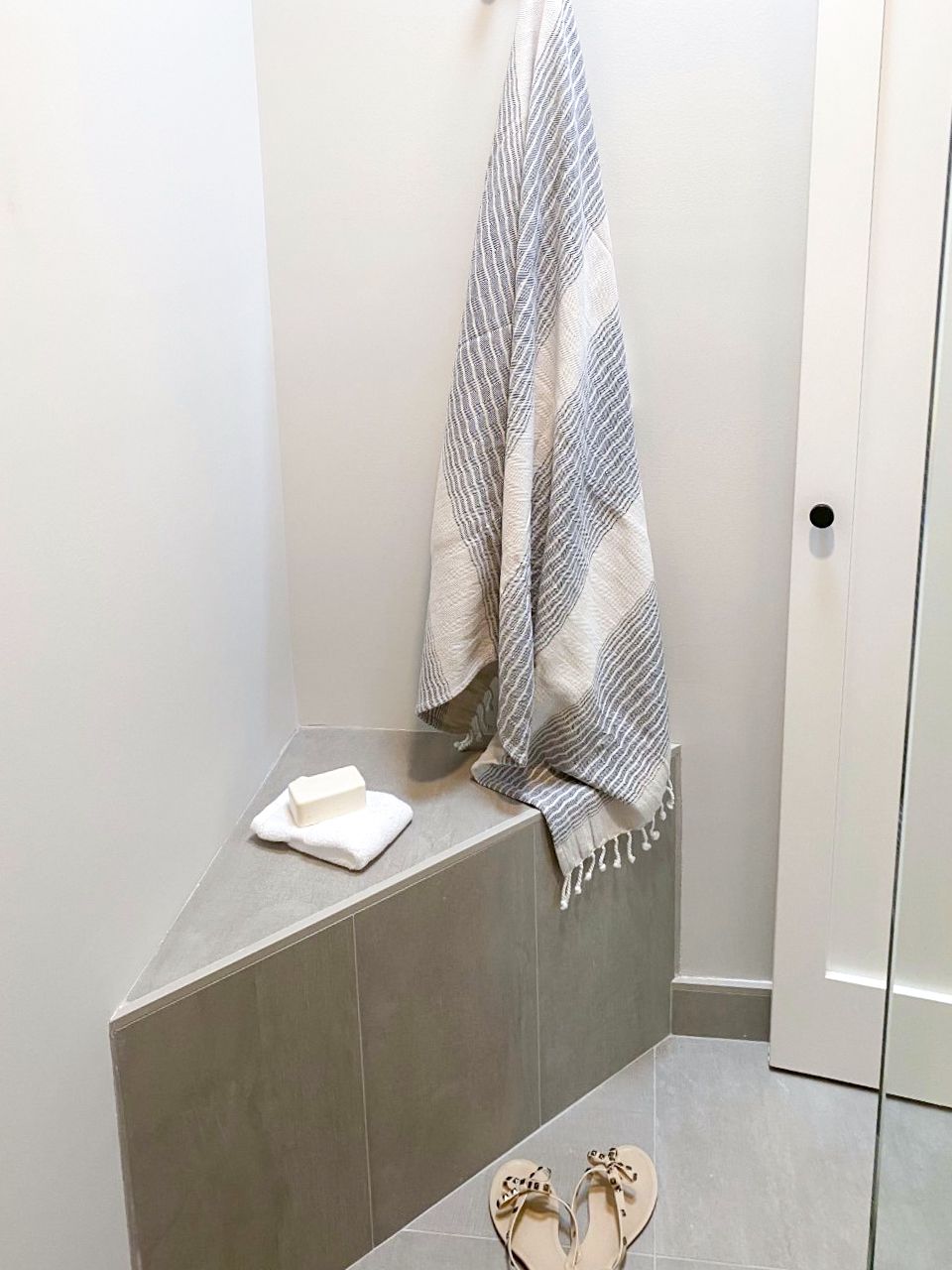 A preformed bench made of lightweight, stable, and load-bearing Schluter KERDI-BOARD creates a place for guests to sit and change before and after taking a dip in the pool.
Bench: Schluter®-KERDI-BOARD-SB Preformed Shower Bench
Edging Profile: Schluter®-QUADEC Edging Profile in Greige
A closer look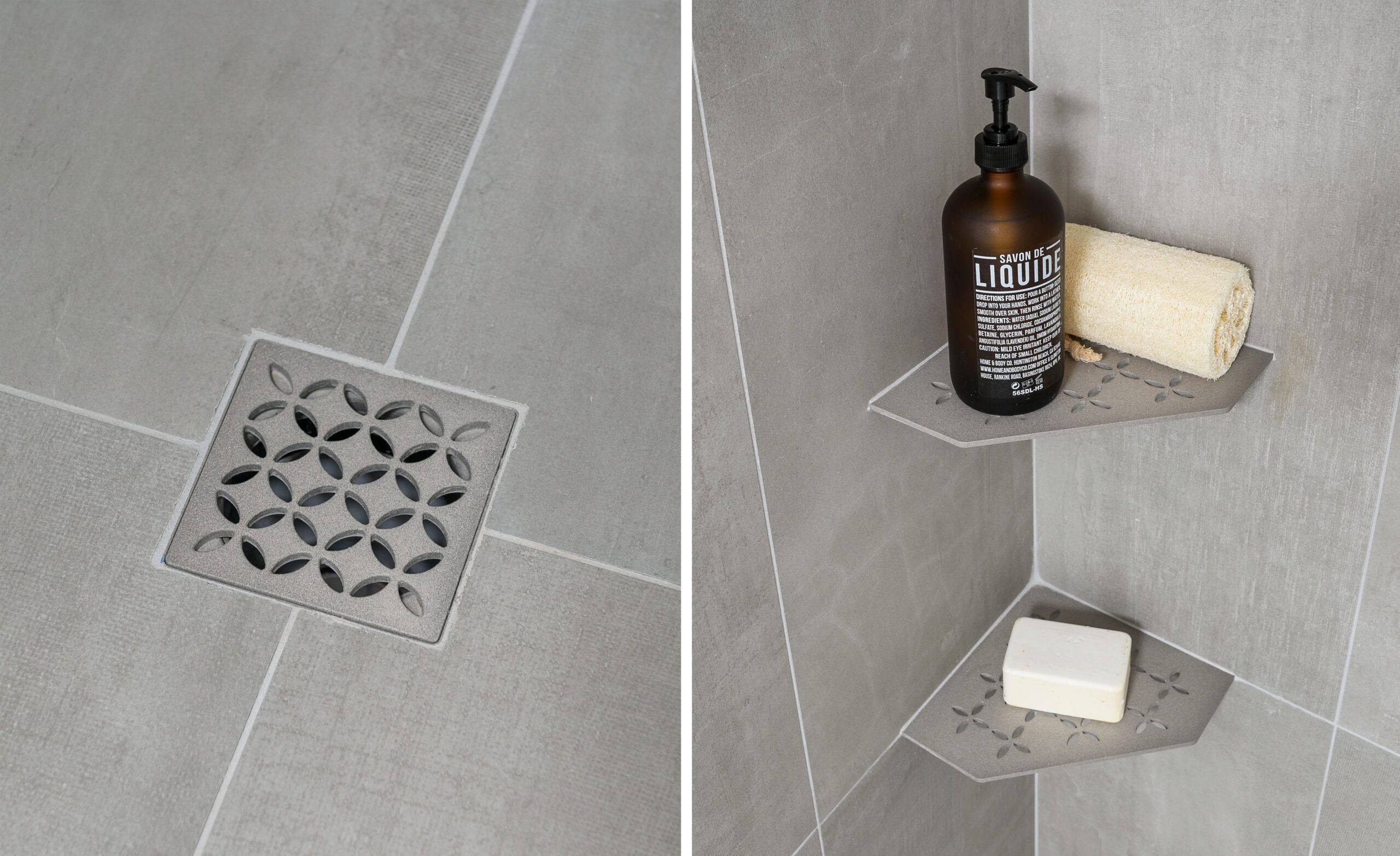 Left: The ground-floor "pool bath" is conveniently located just inside the entrance from the yard. The shower here features a modern cement-look tile on the walls and floor, with an integrated floral-patterned decorative grate.
Right: Pentagonal shelves are suitable for corner installations and available in three different shapes and a variety of patterns; here the floral pattern echoes that of the drain grate. They're made with tabs 3/32 inch (2 mm) thick, which allow for installation with the tile or in retrofit applications. Learn how easy it is to install Schluter shelves, here.
Drain Grate: Schluter®-KERDI-DRAIN Floral Design in Greige
Shelf: Schluter®-SHELF-E Pentagonal Shower Shelf, Floral Design in Greige
Decorative fireplace surround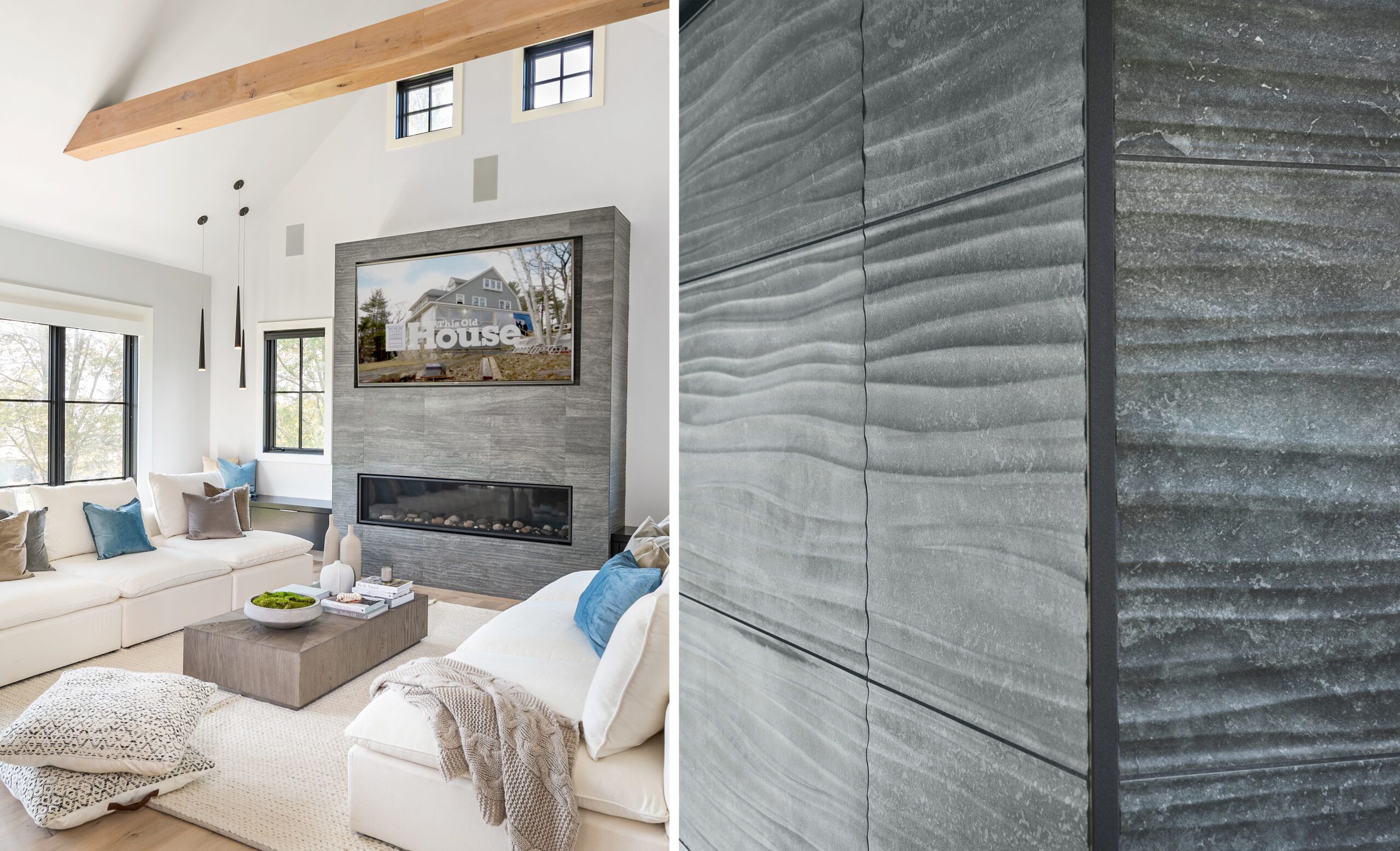 On the ground floor, a massive textured porcelain fireplace and media wall is the centerpiece of the great room. Edging profile on the outside corners provides a sleek, decorative finish and protects tile edges.
Edging Profile: Schluter®-JOLLY Edging Profile in Black
Warm and welcoming mudroom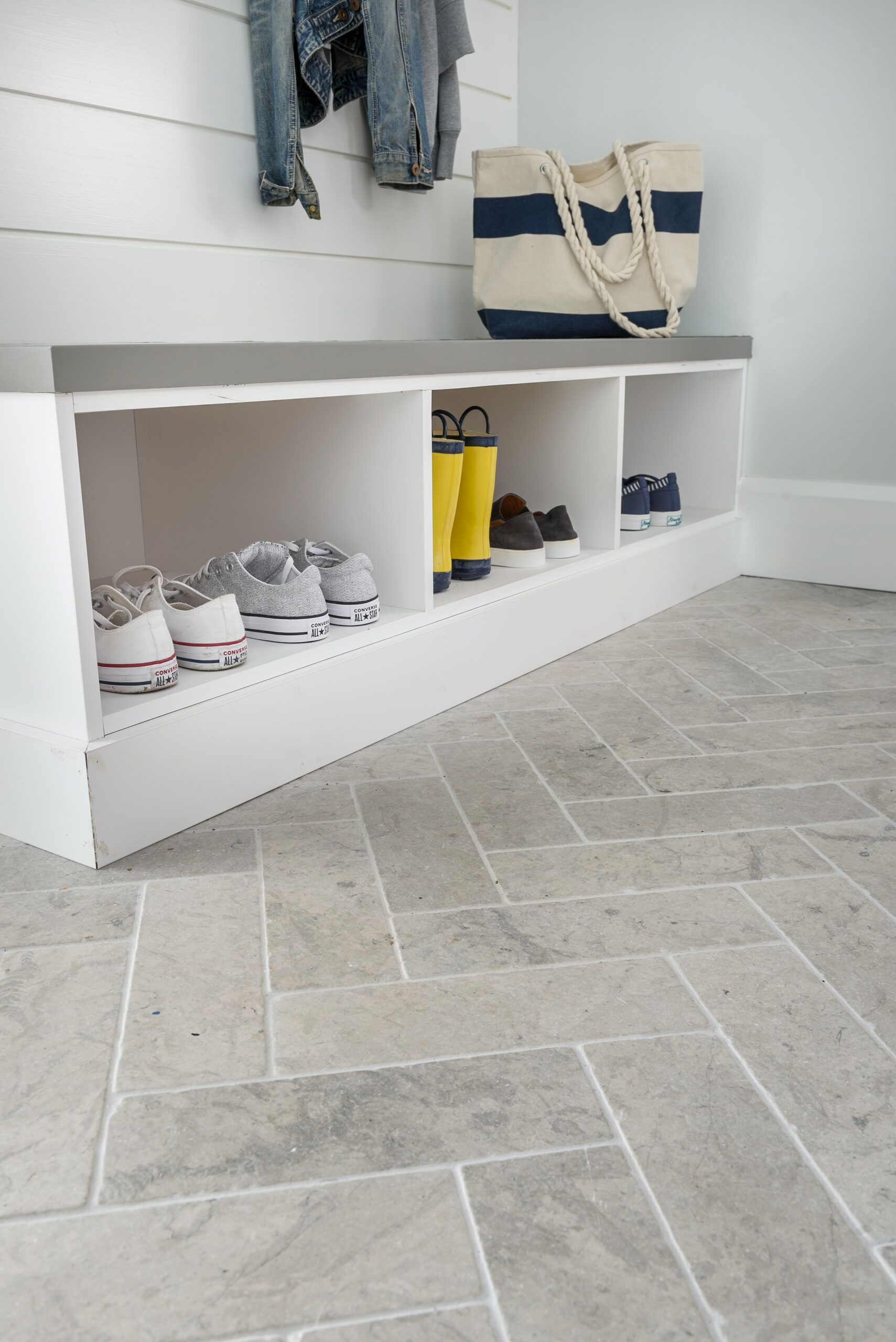 Few things are as welcoming as a toasty mudroom floor. Here, Schluter's DITRA-HEAT system combines the flexibility of loose heating cables with the easy installation of mat systems. With DITRA-HEAT's unique uncoupling membrane, cables can be placed wherever heat is desired without creating height differences in the floor, significantly reducing installation time and effort.
Floor Warming: Schluter®-DITRA-HEAT Electric Floor Warming
Beautiful balcony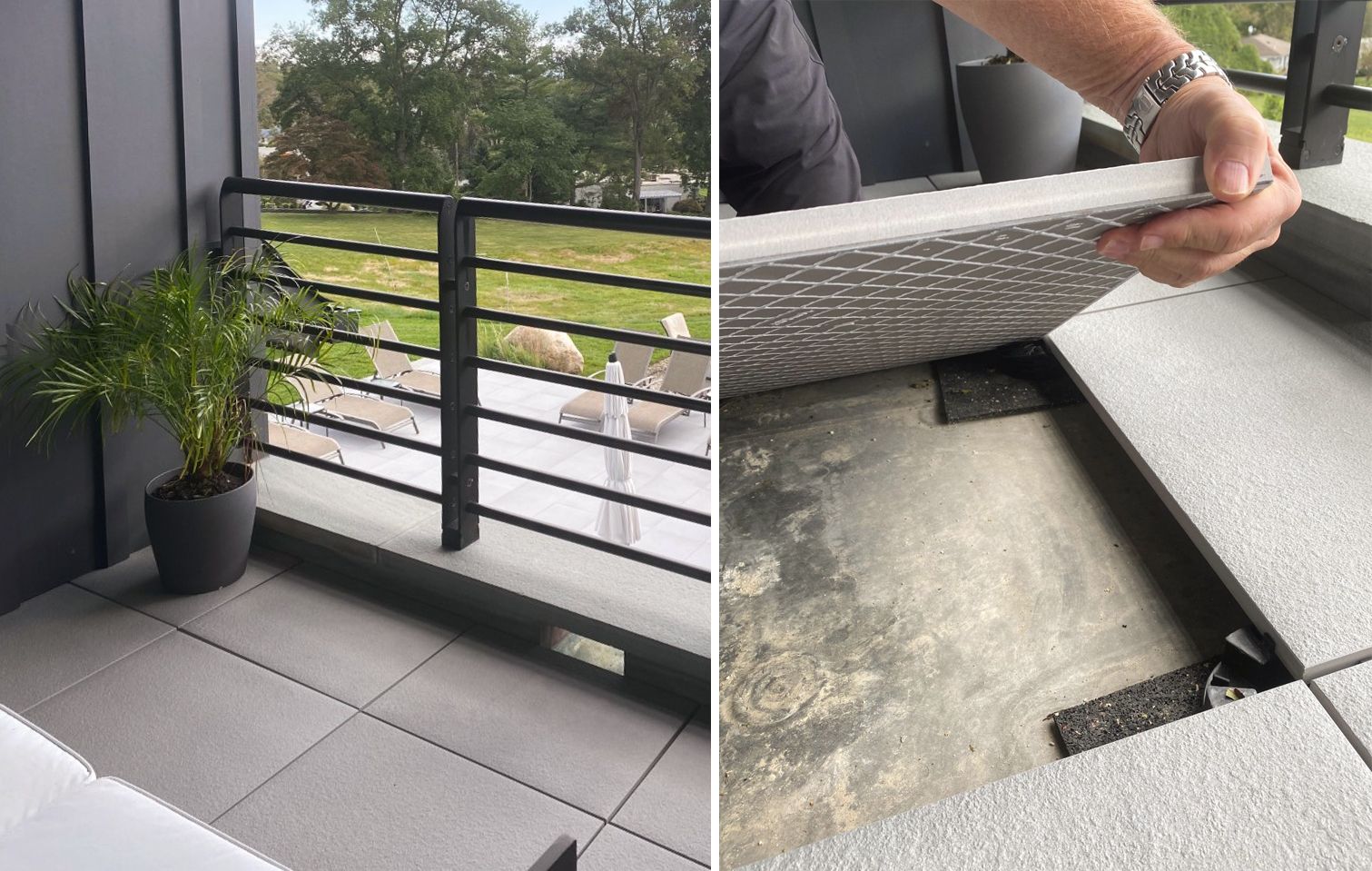 A small, private balcony provides a perfect place to enjoy a cup of coffee over the morning paper. Here, oversized pavers were installed easily and accurately thanks to the Schluter-TROBA-LEVEL paver support system. Shown right, TROBA-LEVEL's elevated assembly with open joints provides convenient access to the substrate, drainage, and ventilation, and makes repair of damaged pavers quick and easy. Paver supports level the corners of adjacent tile pavers, allowing for the flush installation of tile pavers with different thicknesses. See how TROBA-LEVEL works, here.
Paver Support System: Schluter®-TROBA-LEVEL Paver Support System
---
Visit Schluter.com to learn more about Schluter-Systems' innovative solutions for tile and stone installation.