"We tirelessly think through how to 'live' in our homes—what people's needs are based on location and demographics," says Sandy. In this house, those needs were more familiar than most; shortly after they started planning, Jerry and Sandy recognized that the house they were building was the house they needed for themselves. And that's why they packed the home with plenty of outdoor amenities.
Screened-in kitchen and dining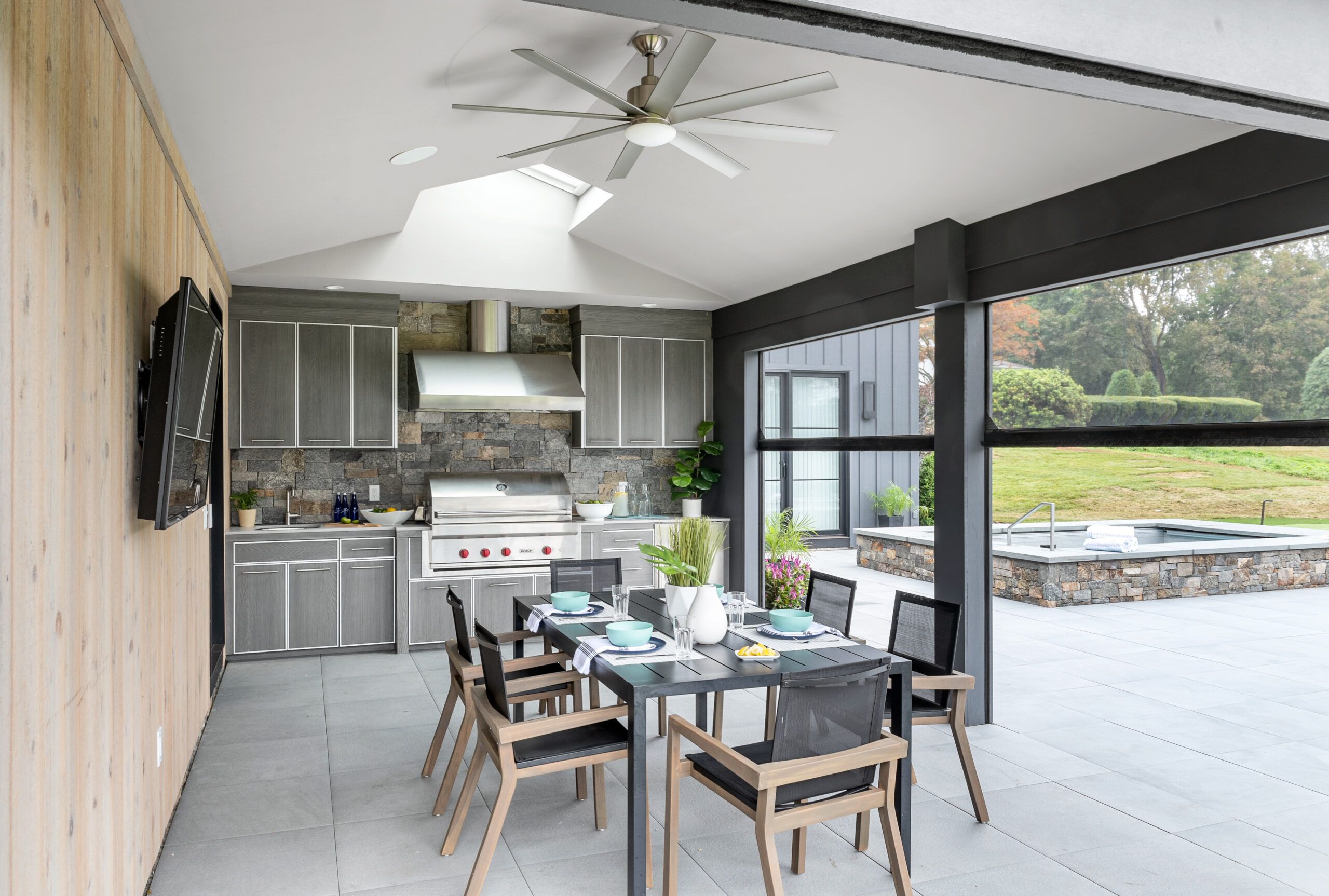 The spacious outdoor kitchen is perfect for cooking, dining, and hanging out, and it's full of surprise amenities. A solar-powered skylight allows in plenty of daylight and fresh air from above; it also features remote-controlled, room-darkening blinds that can block the sun on especially bright days.
A new, outdoor-appropriate quartz countertop is designed to withstand the sun's rays and extreme weather. A powerful ceiling fan circulates air to keep diners cool. An LED television is designed to be weather-resistant. And with the touch of a button, the space becomes a screened-in porch for bug-free dining thanks to motorized, retractable screens.
Skylights: VELUX*; Retractable screens: Phantom Screens; Outdoor kitchen cabinets: NatureKast; Sink, faucet: Kohler; Countertop: Caeserstone; Cabinet pulls: Emtek; Appliances: Sub-Zero/Wolf from Aitoro Appliance; Ceiling fan: House of Antique Hardware; Pavers: Landmark Ceramics
*These products procured via Ring's End
All-weather cabinetry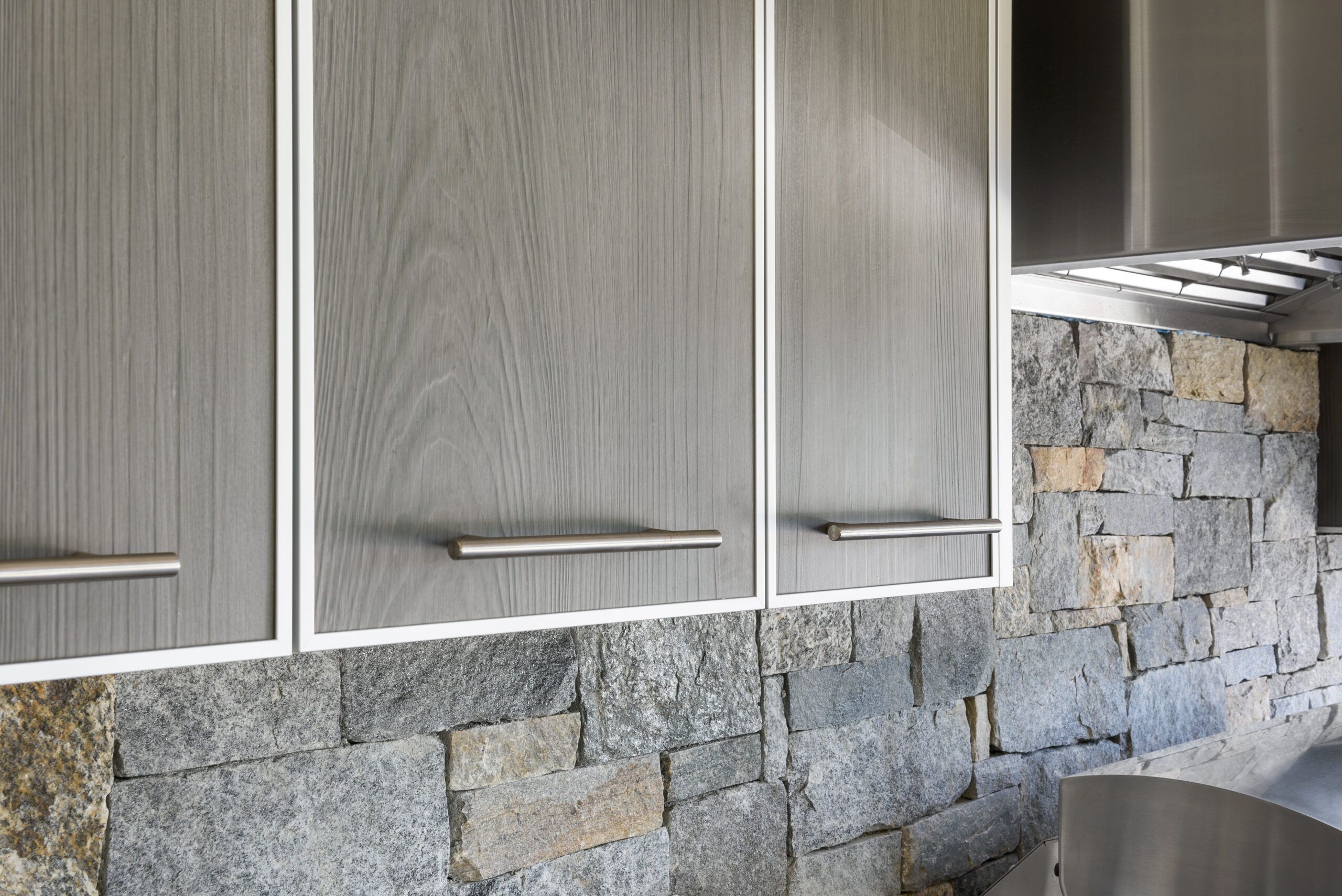 The kitchen's cabinets are completely weatherproof, thanks to PVC boxes and resin exterior panels. The resin surfaces are created in molds cast from real cypress to give them an authentically wood-like appearance. Stainless-steel cabinet pulls add a contemporary touch. A thin stone backsplash behind the grill matches the veneer used on the foundation.
Outdoor cabinetry: NatureKast; Cabinet pulls: Emtek
Unobstructed views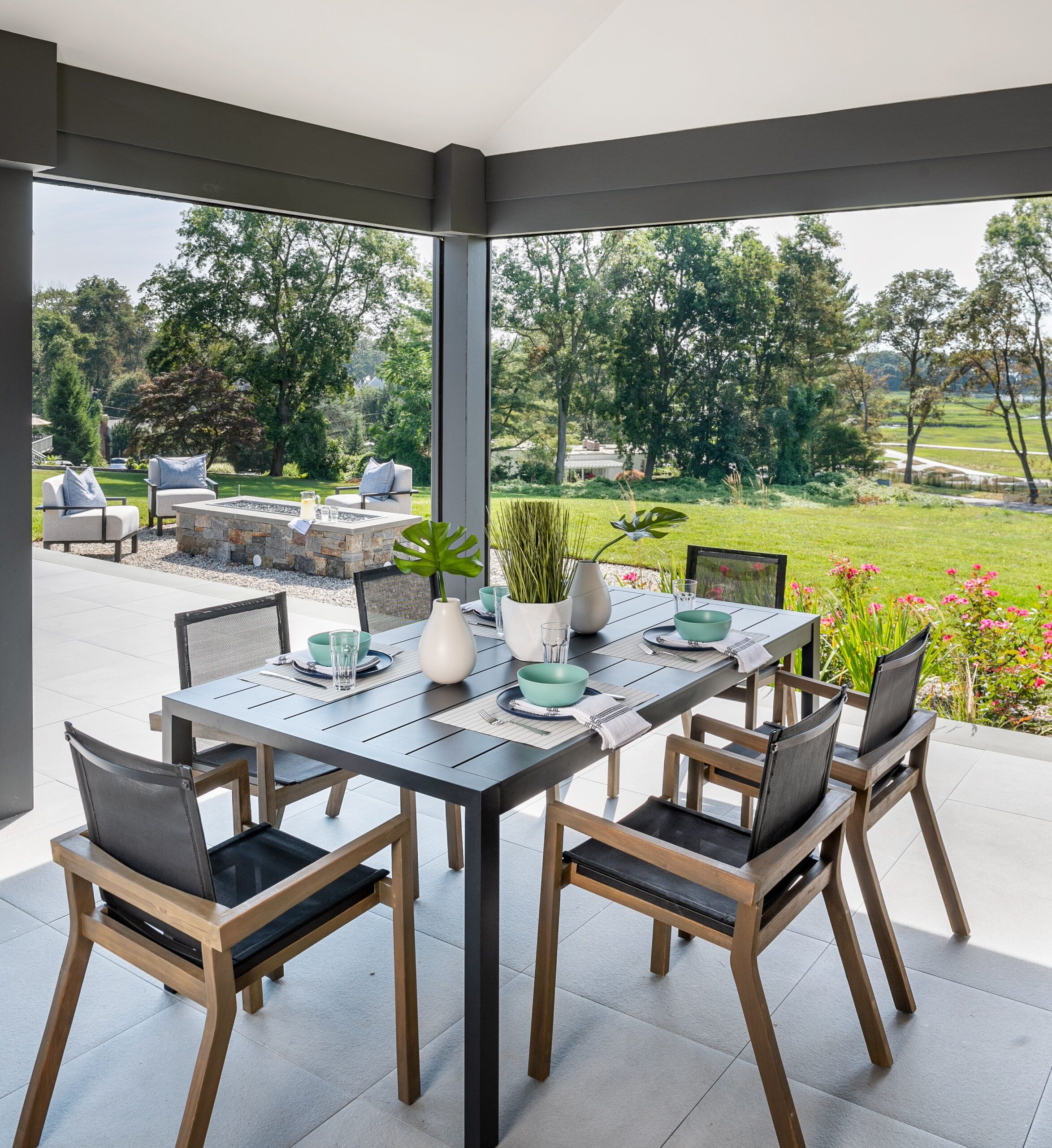 When the screens are retracted, diners sitting down to an alfresco meal have an unbroken view of Long Island Sound.
Retractable screens: Phantom Screens; Floor pavers: Landmark Ceramics; Room styling: Leia T. Ward, LTW Design
Spot to sun and soak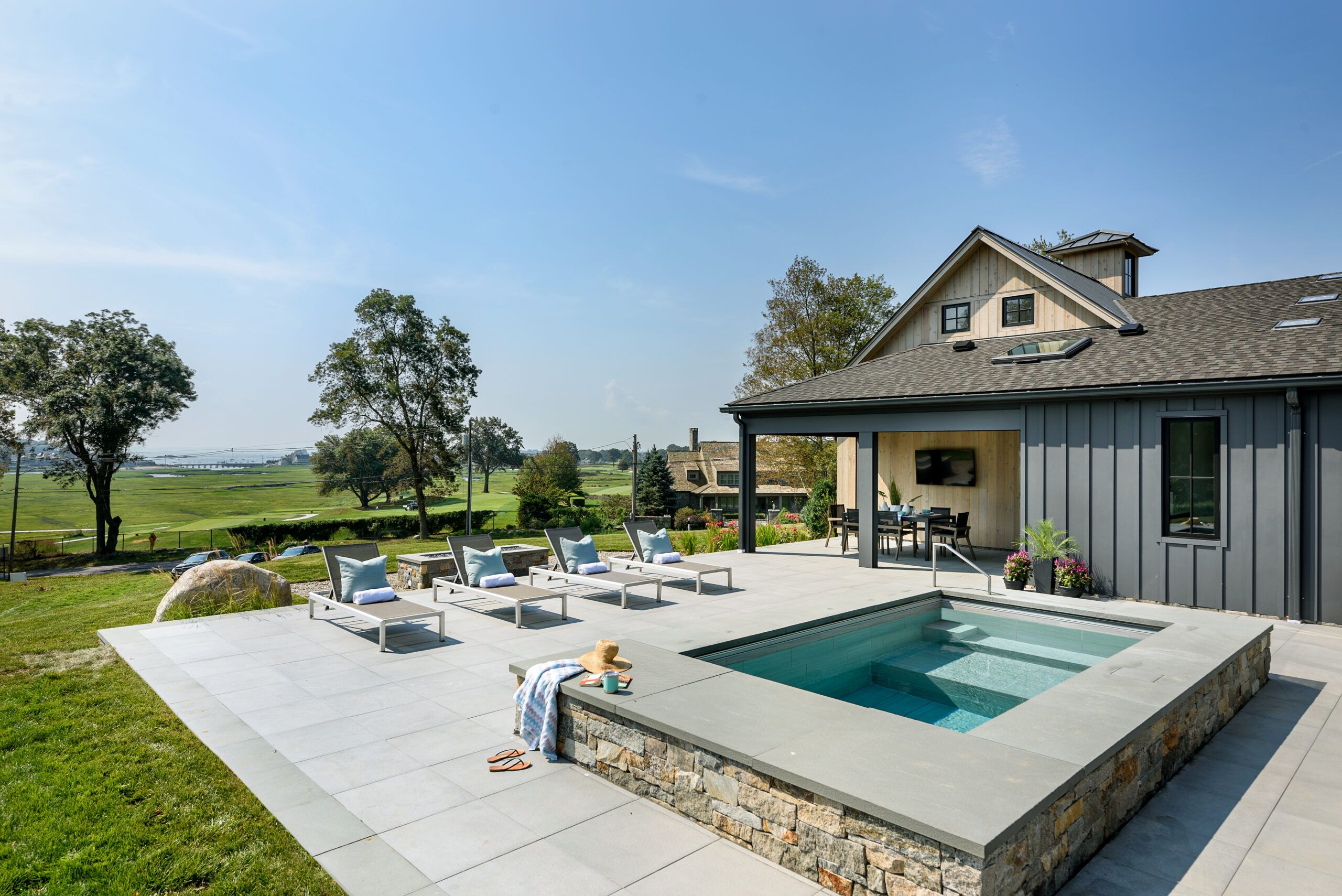 Cool in the summer and warm in the winter, this 5-foot-deep plunge pool offers the therapeutic health benefits of a cold water plunge pool and those of a hot tub for year-round enjoyment.
Keeping grandchildren in mind, the Effrens modified its depth to 3 feet at one end; an automated cover further ensures safety. Pervious pavers give the appearance of bluestone, but stay cool underfoot in the summer sun.
Plunge pool: Soake Pools; Pavers: Landmark Ceramics
Outdoor shower stall
Who doesn't love an outdoor shower? Scroll through to peek inside.
Shower hooks: House of Antique Hardware
Putting practice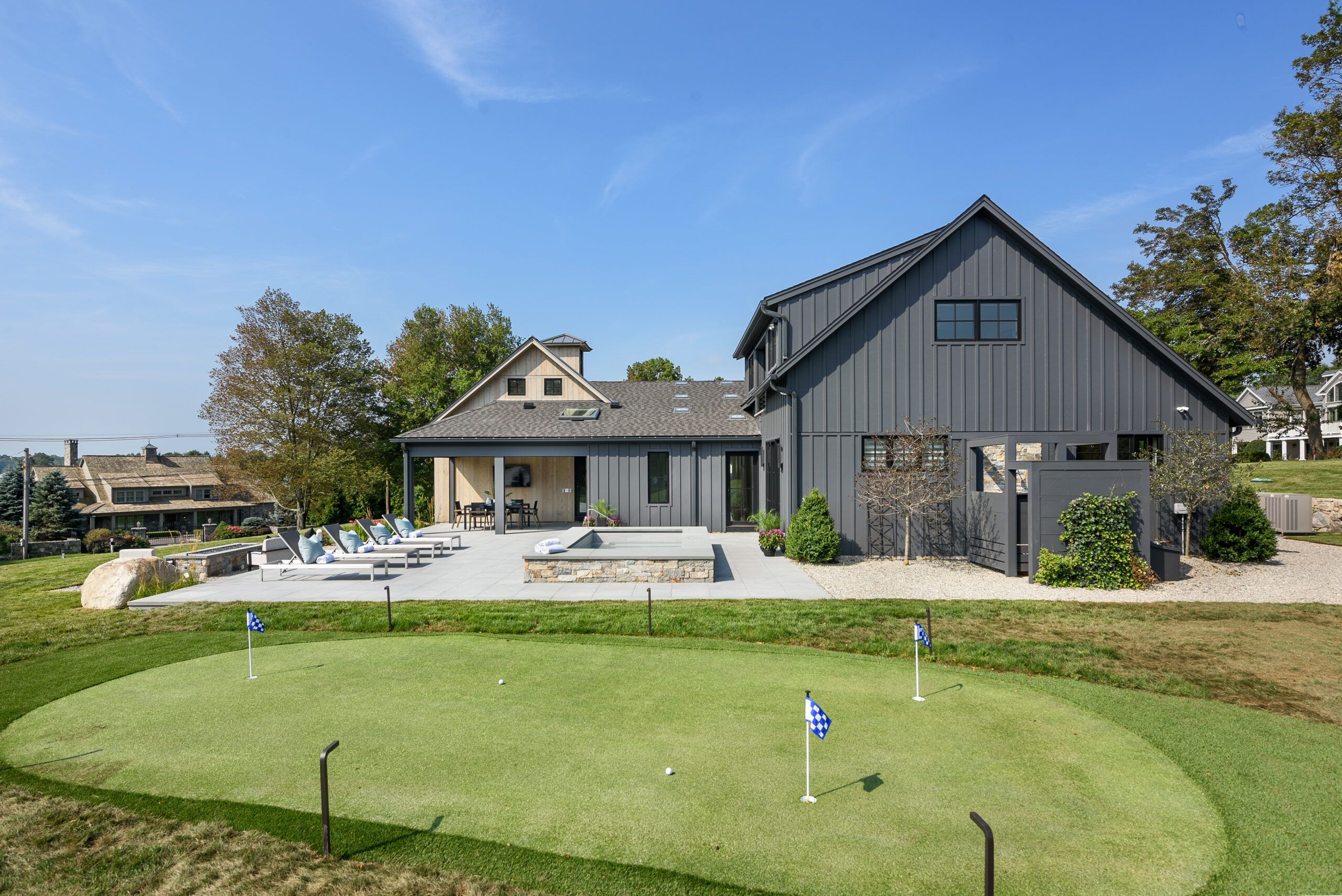 The whole family loves to golf, and this outdoor putting green overlooking the country-club course across the street is a perfect place to practice.
Siding: LP SmartSide*; Roof: GAF*; Synthetic Grass Turf: IntelliTurf
*These products procured via Ring's End
Balcony built for two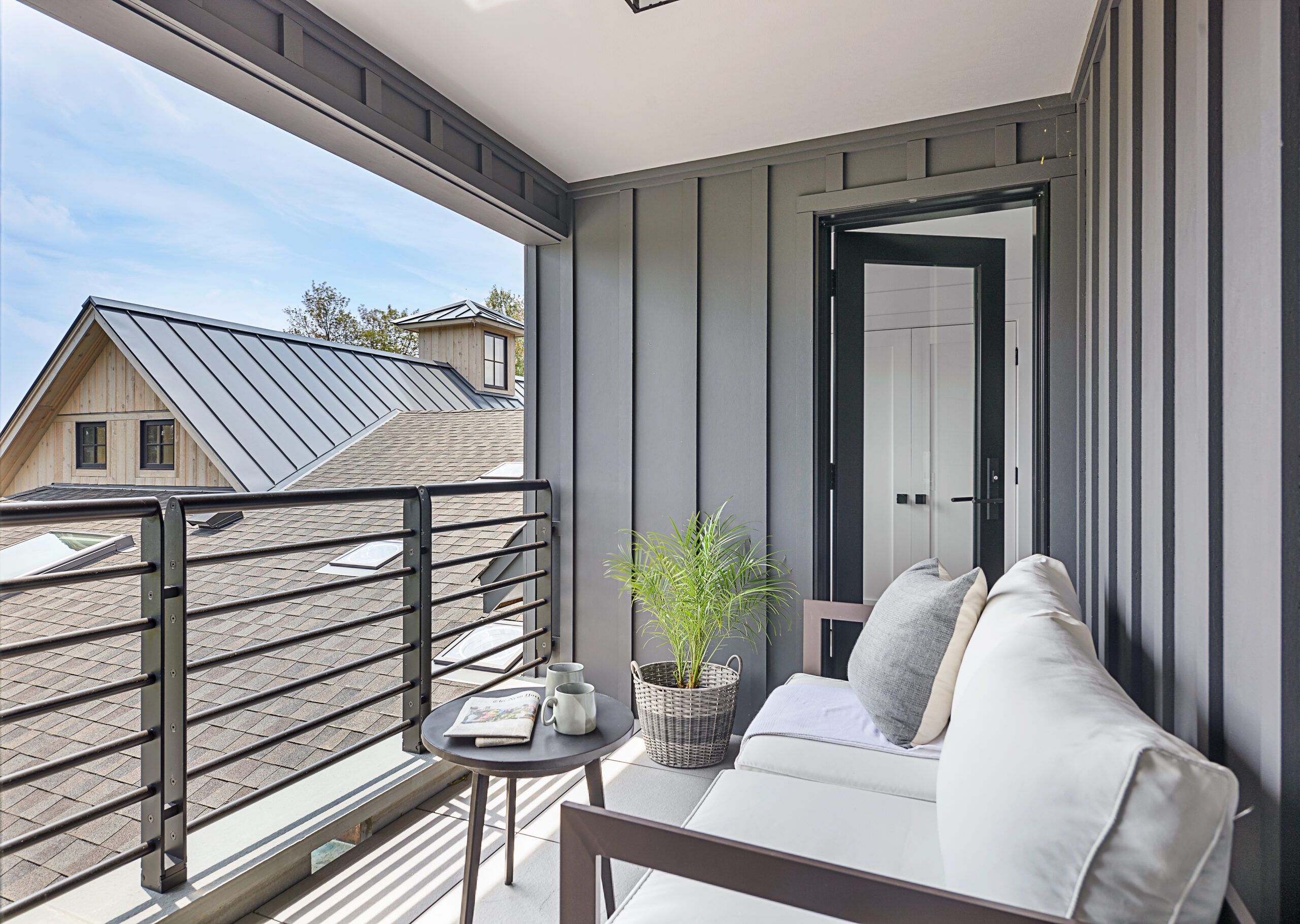 An intimate balcony is framed by contemporary aluminum railing, and looks out on a stunning view of the Long Island Sound.
Siding: LP SmartSide*; Railing: Green Oxen; Pavers: Landmark Ceramics; Paver support system: Schluter-Systems
*These products procured via Ring's End
Evening relaxation spot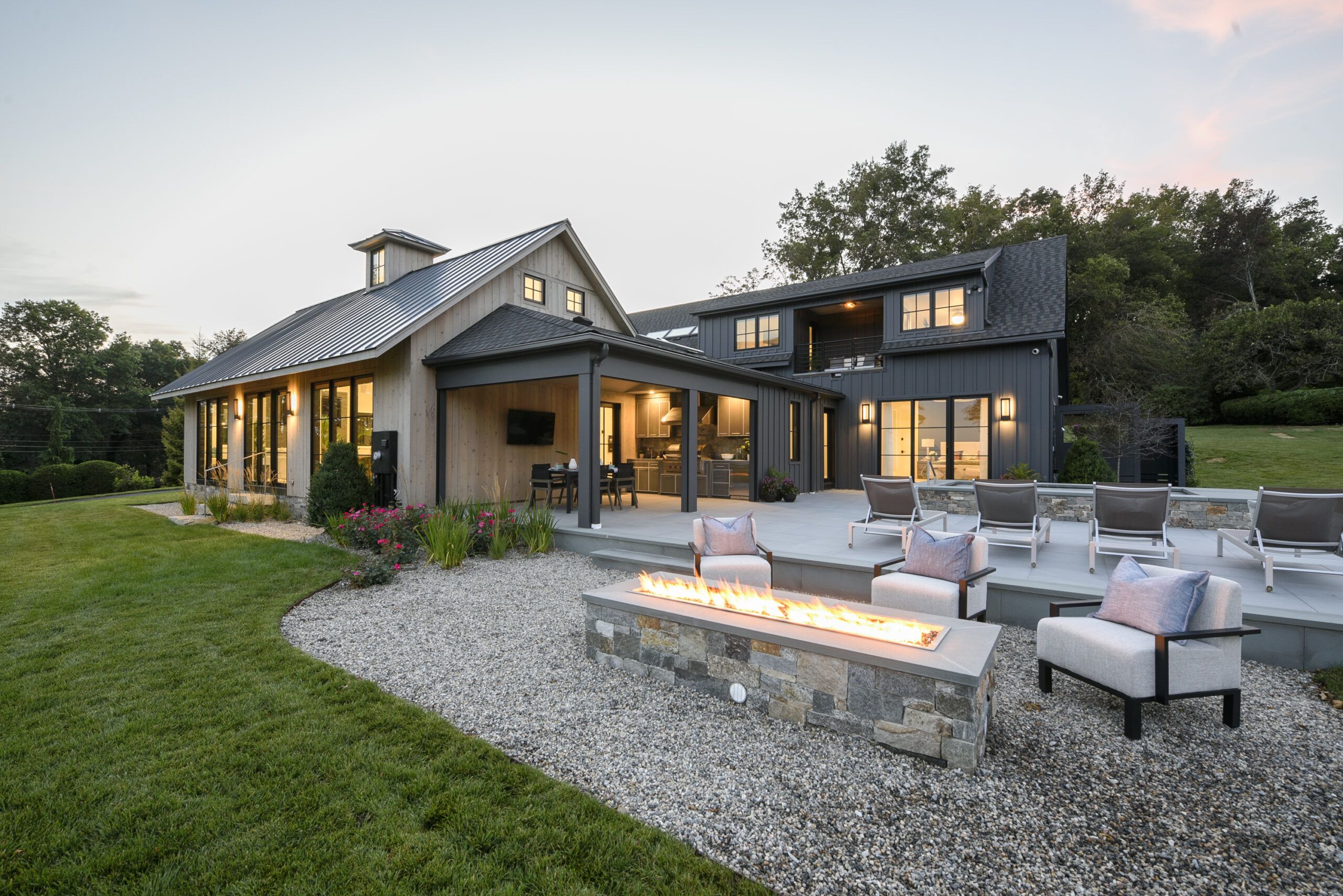 Comfy chairs around a propane-fueled firepit create the perfect place to watch the sun go down on crisp evenings.
Firepit: Custom built by Greyrock Homes; Main house siding: LP SmartSide*; Sod: Sodco
*These products procured via Ring's End