Greyrock Homes has built over 750 homes in Connecticut since 1979, ranging in size from 1,200 to 12,000 square feet. Principal Jerry Effren is always on the hunt for the latest innovations in building products that combine ease, low-maintenance, and efficiency. "A great benefit of working on the TOH Idea House is that I was introduced to a lot of amazing new products that I'd be proud to use on future projects." Here's a closer look at some of Effren's favorites.
Smart approach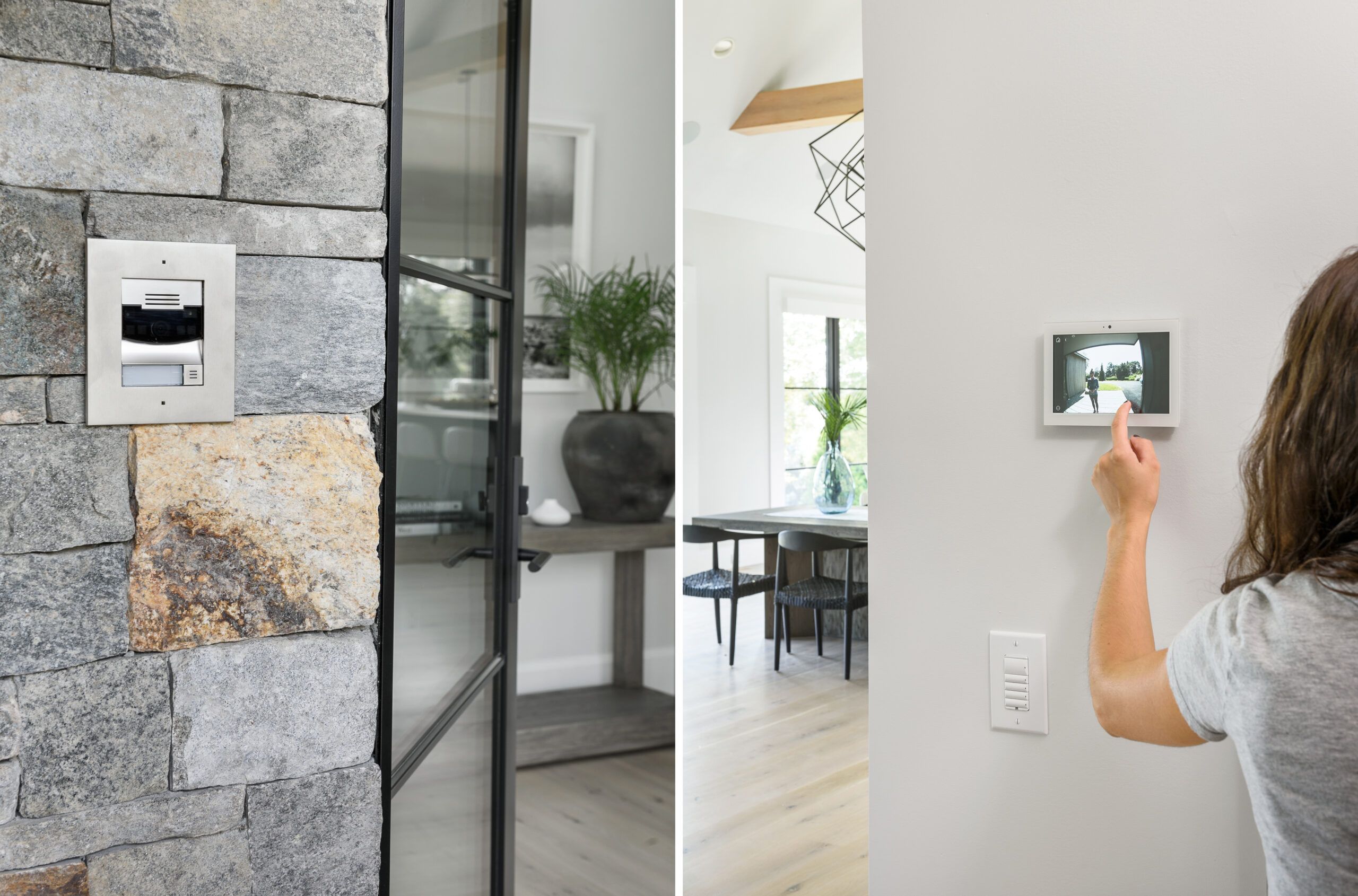 Rather than a simple piece of plastic, this door station features upscale, metal finishes that can be flush or surface-mounted, and delivers exceptional audio and high-definition video intercom to touch screens and mobile devices.
Doorbell intercom station: Control4
Whole-home comfort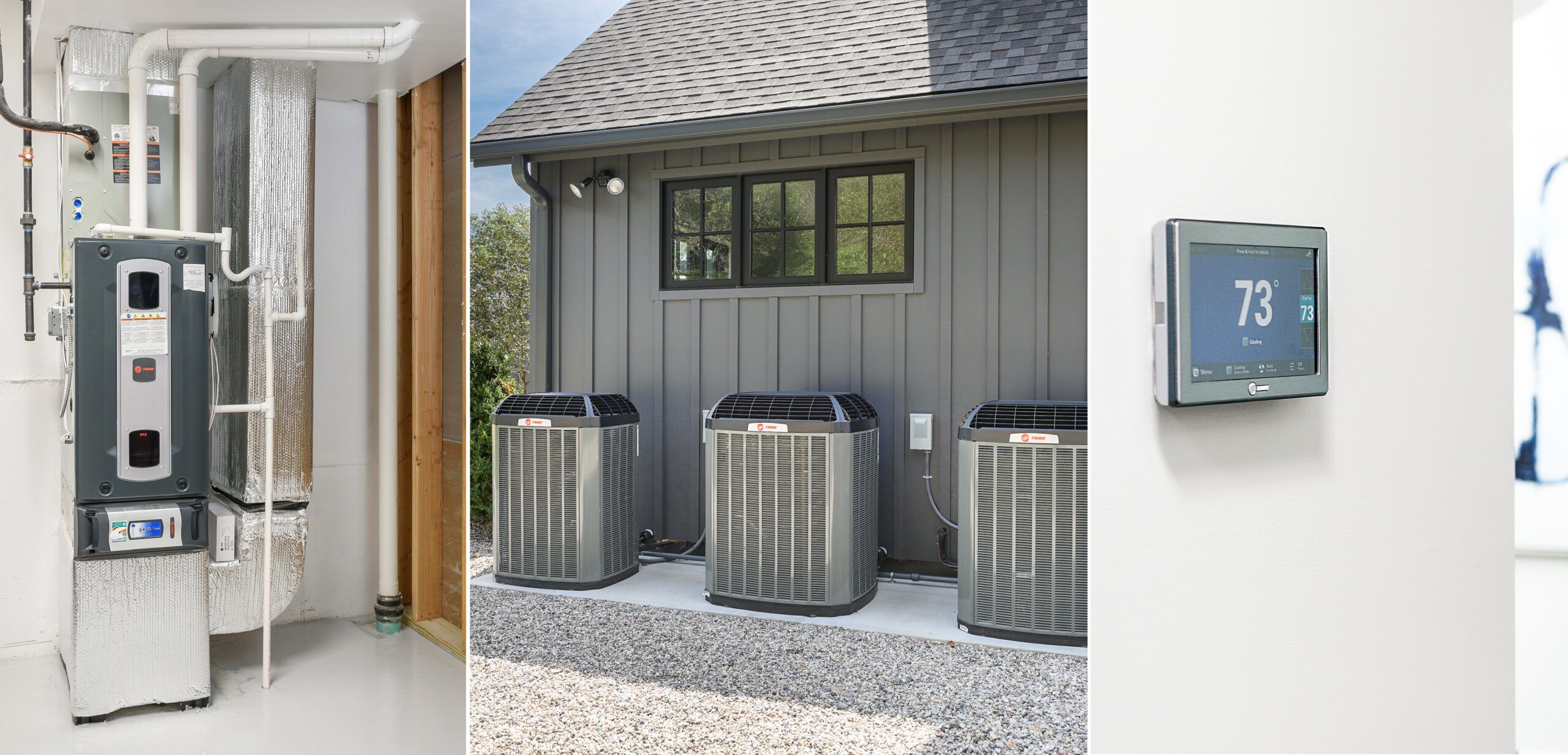 Effren incorporated a super efficient, customizable zoned heating and cooling system for tailored needs from room-to-room, so energy isn't wasted on spaces that aren't being used as often. A revolutionary air cleaner removes up to 99.98% of airborne particles—including those as small as .1 micron, making it 8 times more effective than even the best HEPA room filters and up to 100 times more effective than a standard 1-inch filter.
Connected thermostats integrate with other smart-home systems and learn over time how to most efficiently heat and cool your home. Learn more about this comprehensive system and how it works, here.
HVAC: Gas furnace, air cleaner, outdoor condensers, and thermostats by Trane
Low-profile ventilation fans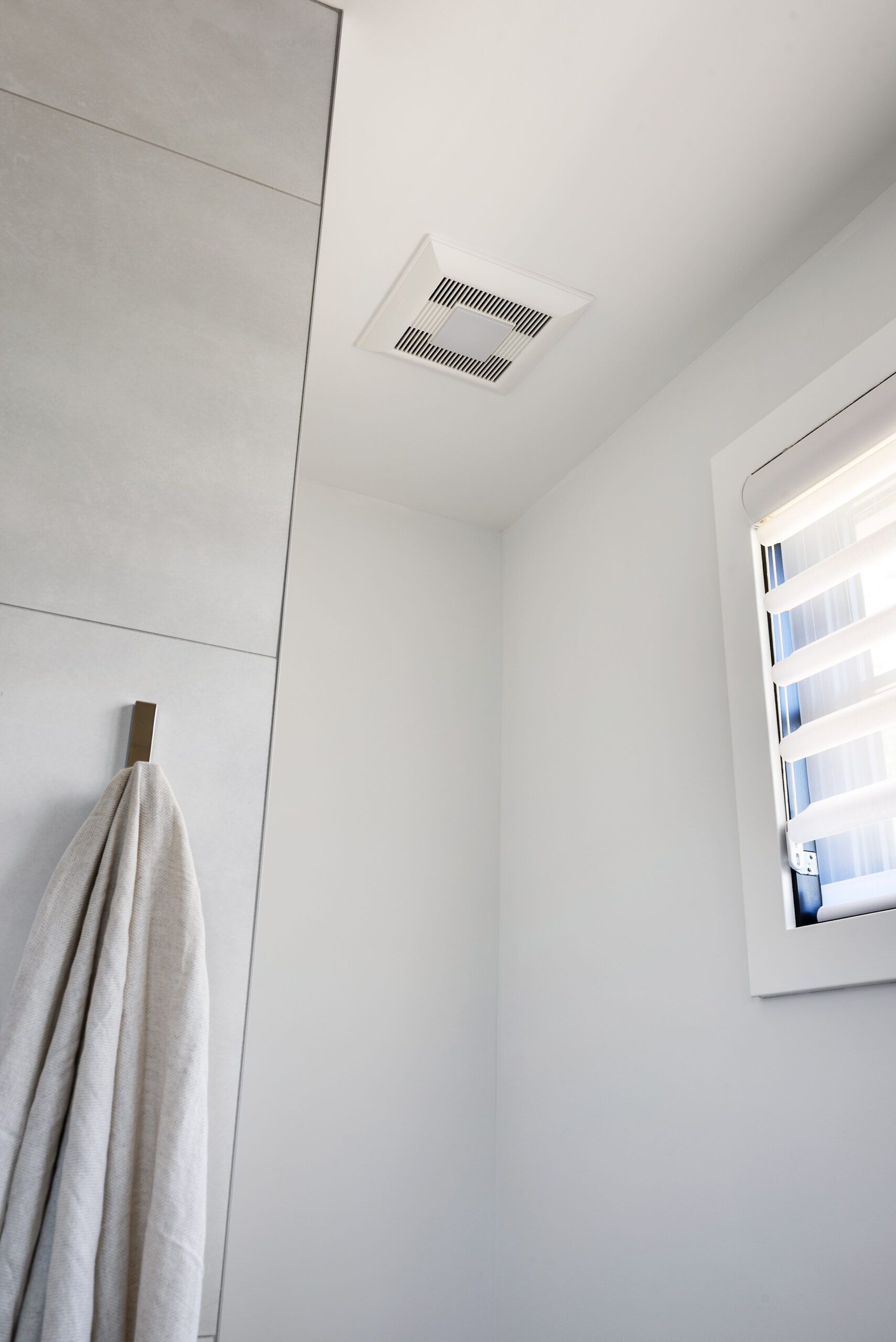 The lowest-profile ENERGY STAR® certified fan available, this combination LED light and ventilation fan featuring SmartFlow technology moves more air using less energy, so the fan is more energy efficient and lasts longer. A built-in airflow selector provides the unique ability to select your required airflow (80-100 CFM) with the simple flip of a switch.
Ventilation fan: Panasonic
Retractable ironing station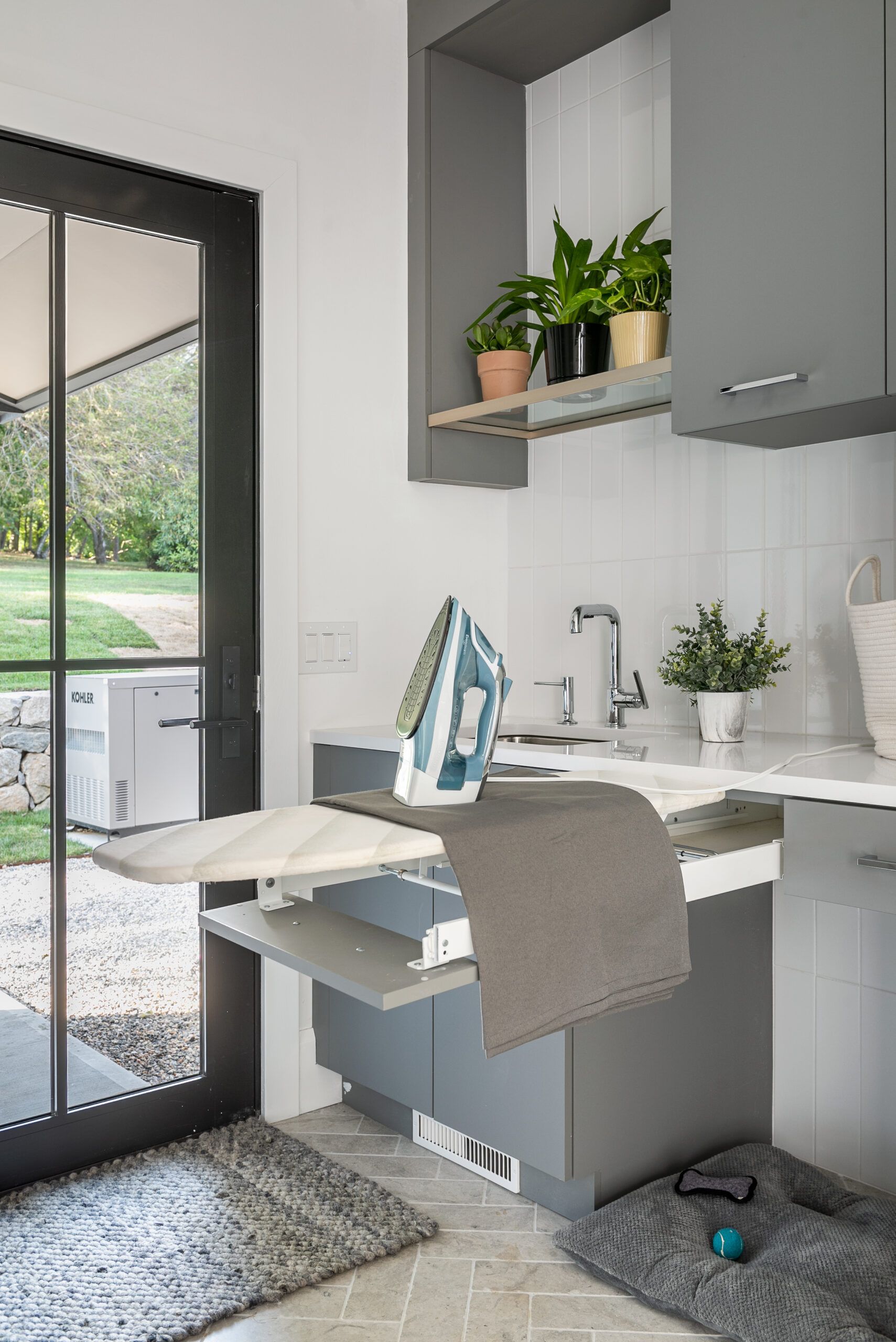 A pull-out ironing board saves on space in the mudroom/laundry area. Drawer fronts fold down to allow for easier ironing of shirts and trousers.
Ironing board: Häfele
Condensing tankless water heaters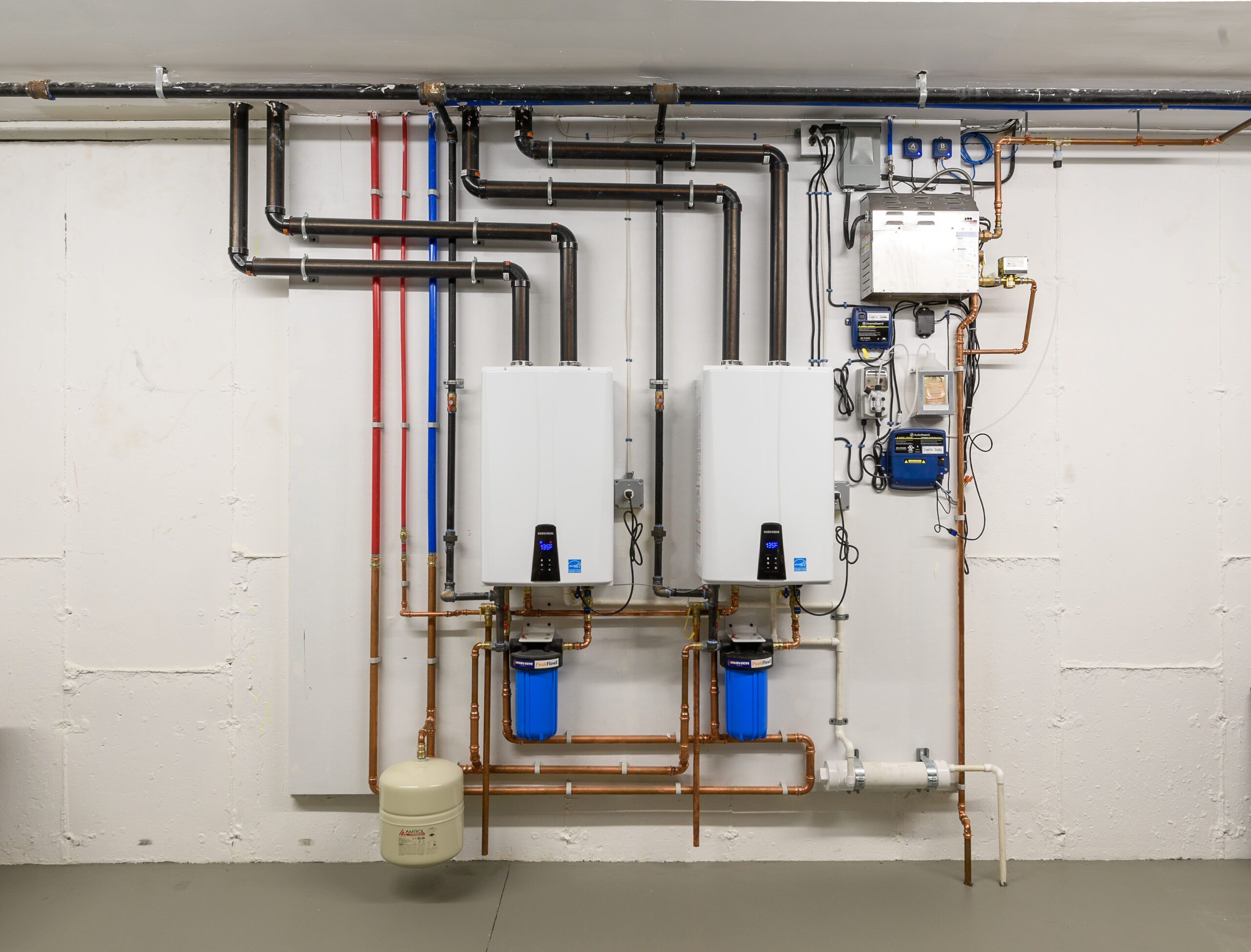 A pair of high-efficiency condensing tankless water heaters work the same as conventional heaters, but thanks to dual stainless-steel heat exchangers they consume significantly less energy and cost less to operate, with less CO2 and NOx emission.
Flue gasses are vented through pipe, fittings, and termination components that are manufactured from an engineered PVC compound that is fully certified to the rigorous requirements of the UL 1738 venting standard; the pipes and fittings are black in color which protects against UV degradation.
Water heaters: Navien; Flue gas venting: IPEX
Hot water on demand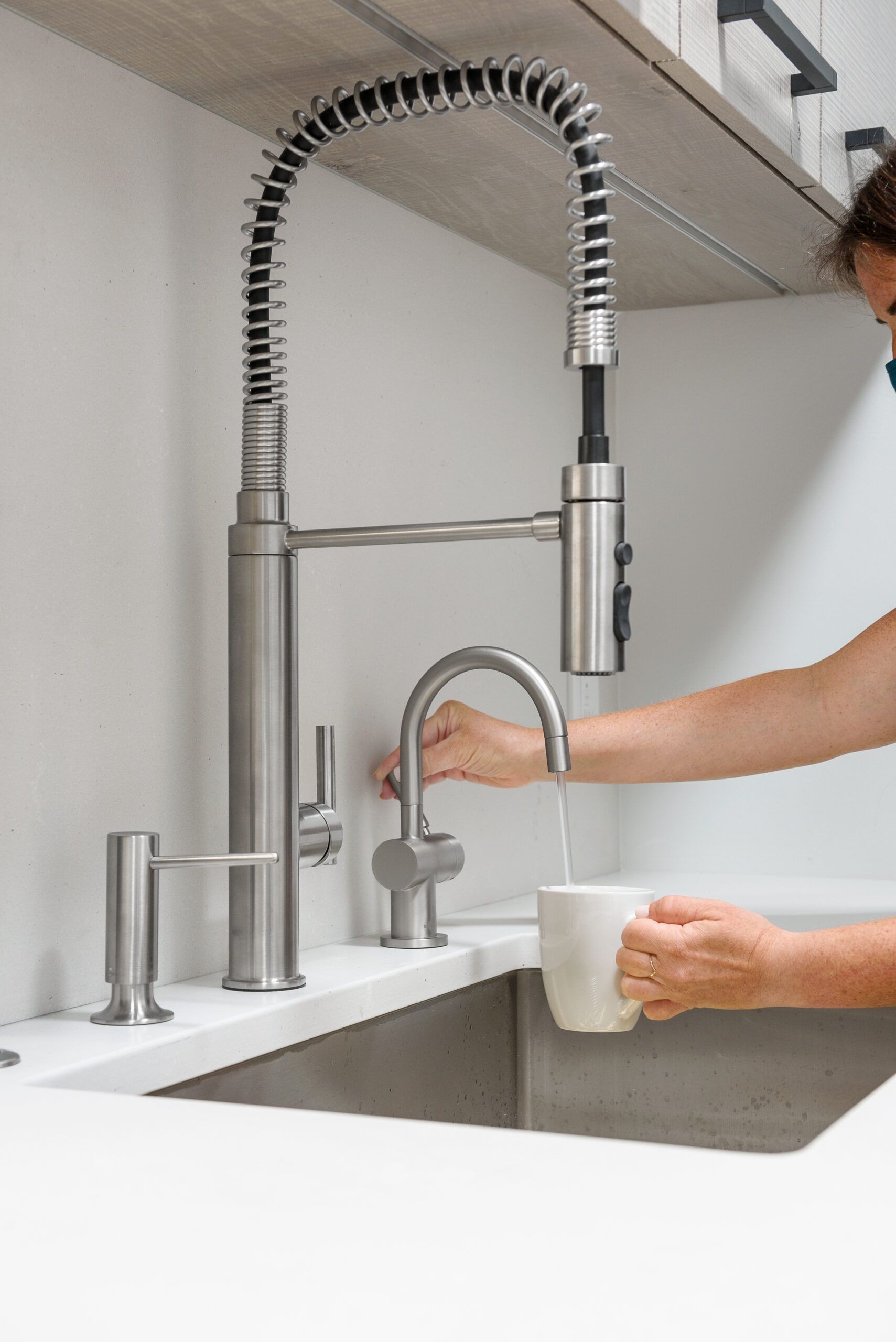 With a complete instant hot water system, it's fast and easy to have the convenience of near-boiling water at your sink: make hot beverages, kickstart boiling, quickly clean dishes, thaw frozen food, serve hot cereals, and clean without harsh chemicals. The graceful high-arching spout swivels for greater convenience and complements any decor.
Hot water dispenser: InSinkErator
Septic-safe disposal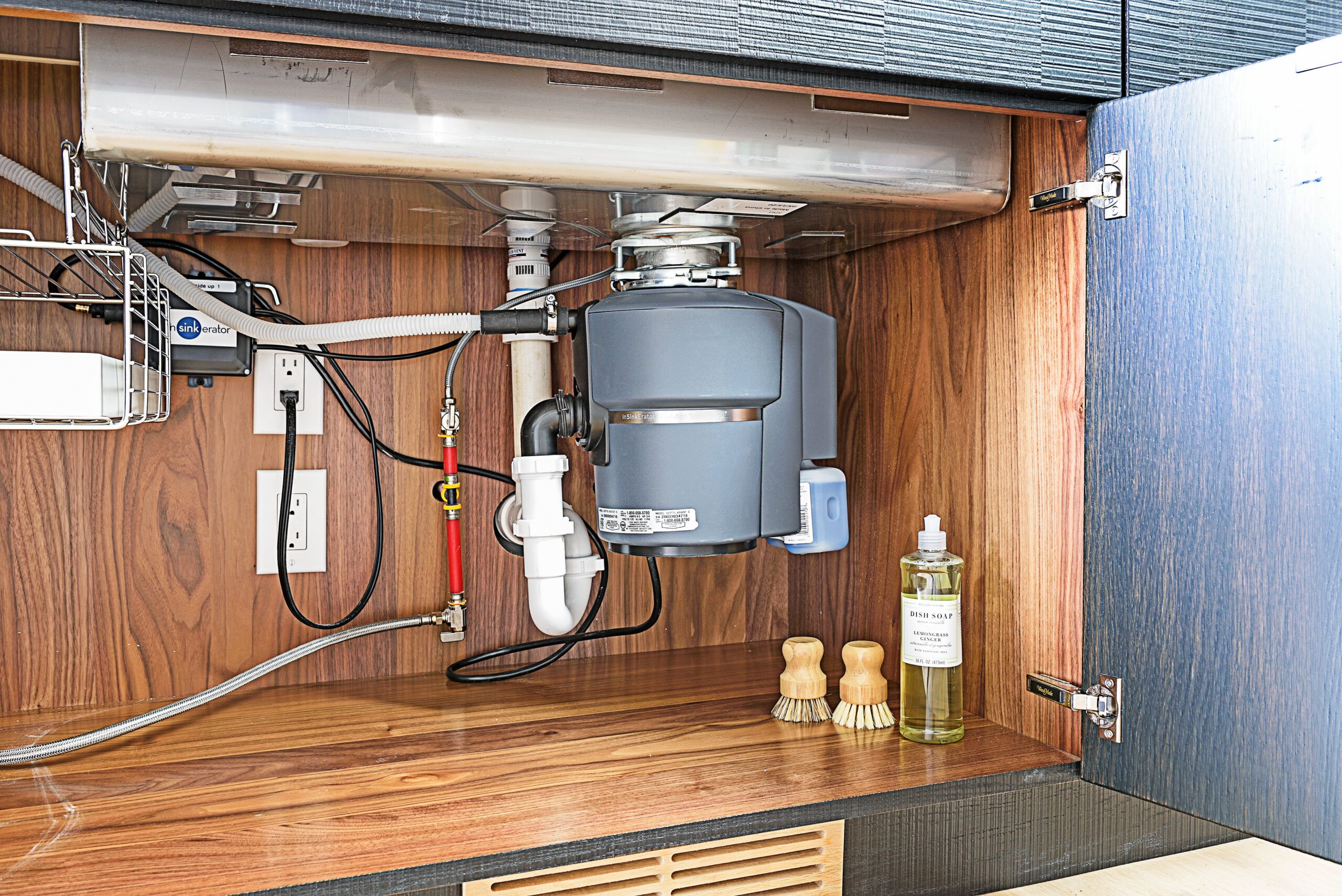 Tackle tough food scraps while being friendly to septic systems and the environment with a septic-safe garbage disposal. Installed on both the kitchen and pantry sinks, these surprisingly quiet and powerful disposals use a biochemical process that helps break down food waste.
Disposal: InSinkErator
Chilled, filtered water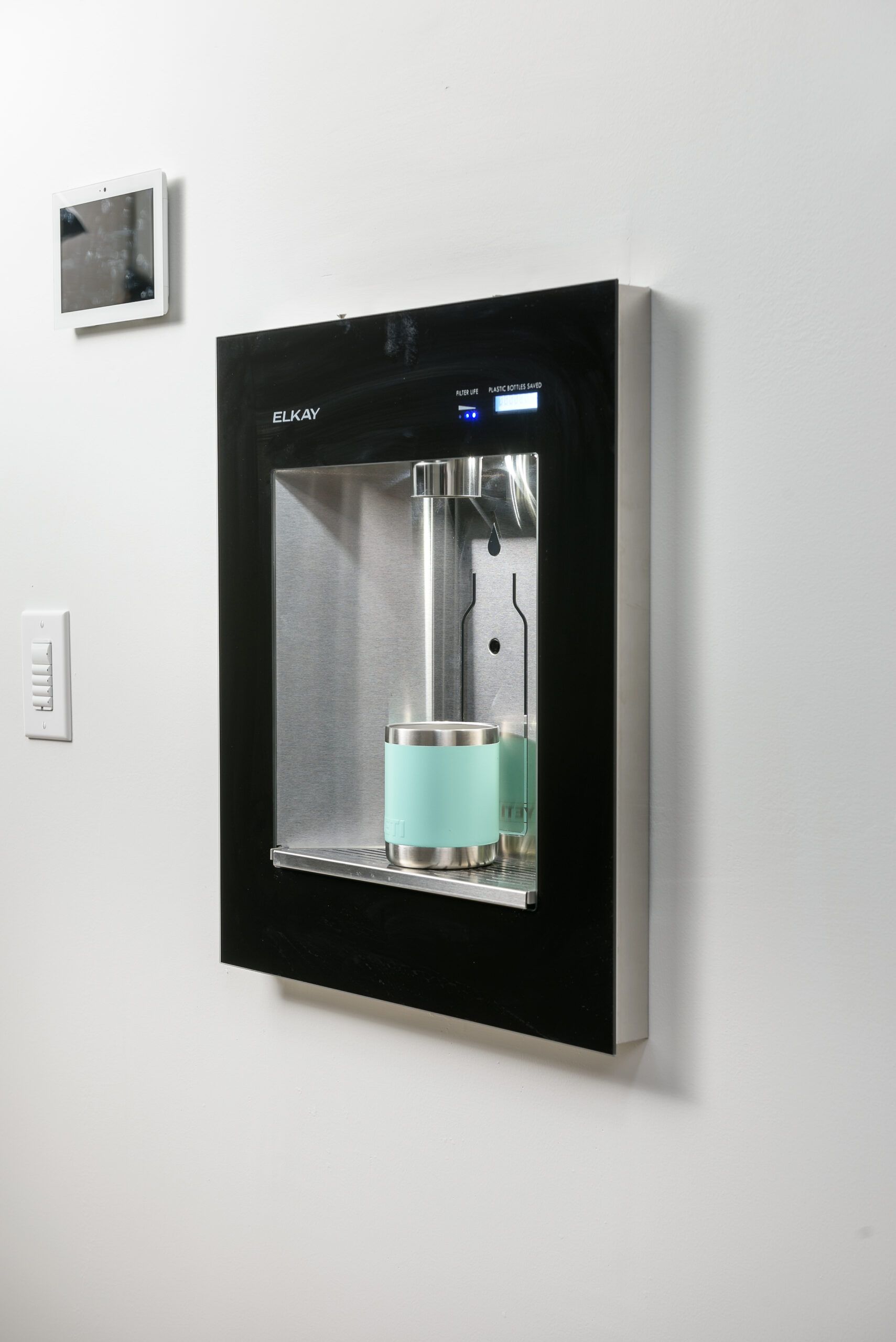 A built-in, hands-free water dispenser delivers fresh, filtered water—and contributes to a cleaner world by eliminating single-use plastic water bottles that can end up in waterways. A handy ticker counts just how many bottles you've avoided using.
Water dispenser: Elkay
Warm and toasty floors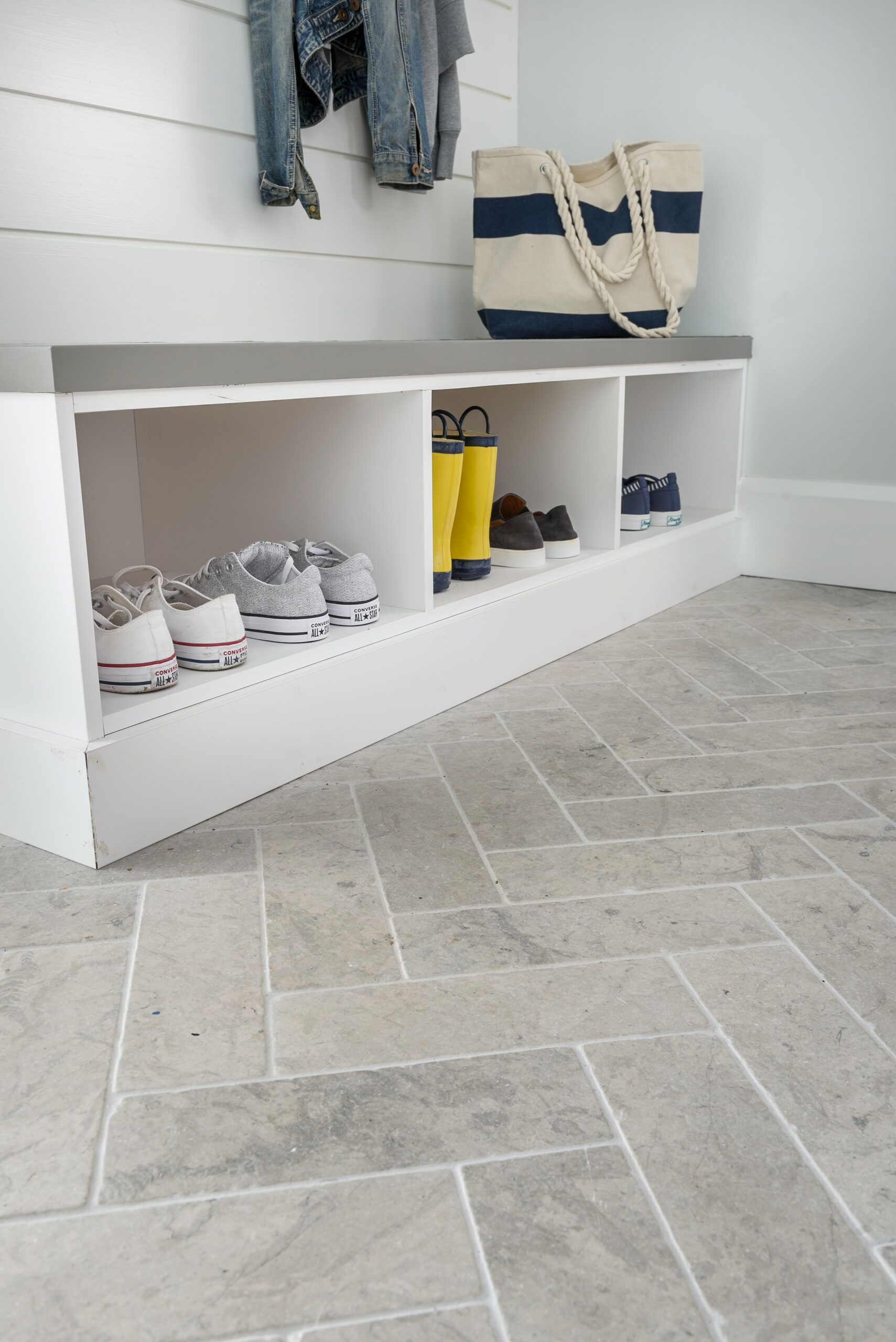 Effren incorporated the only electric floor-warming system that directly incorporates uncoupling technology to ensure that floors aren't susceptible to cracked tiles and grout. Cables can be placed wherever heat is desired for customized heating zones, and no leveling compounds are required, which makes for a quick and easy installation.
Floor warming: Schluter-Systems
Power on stand-by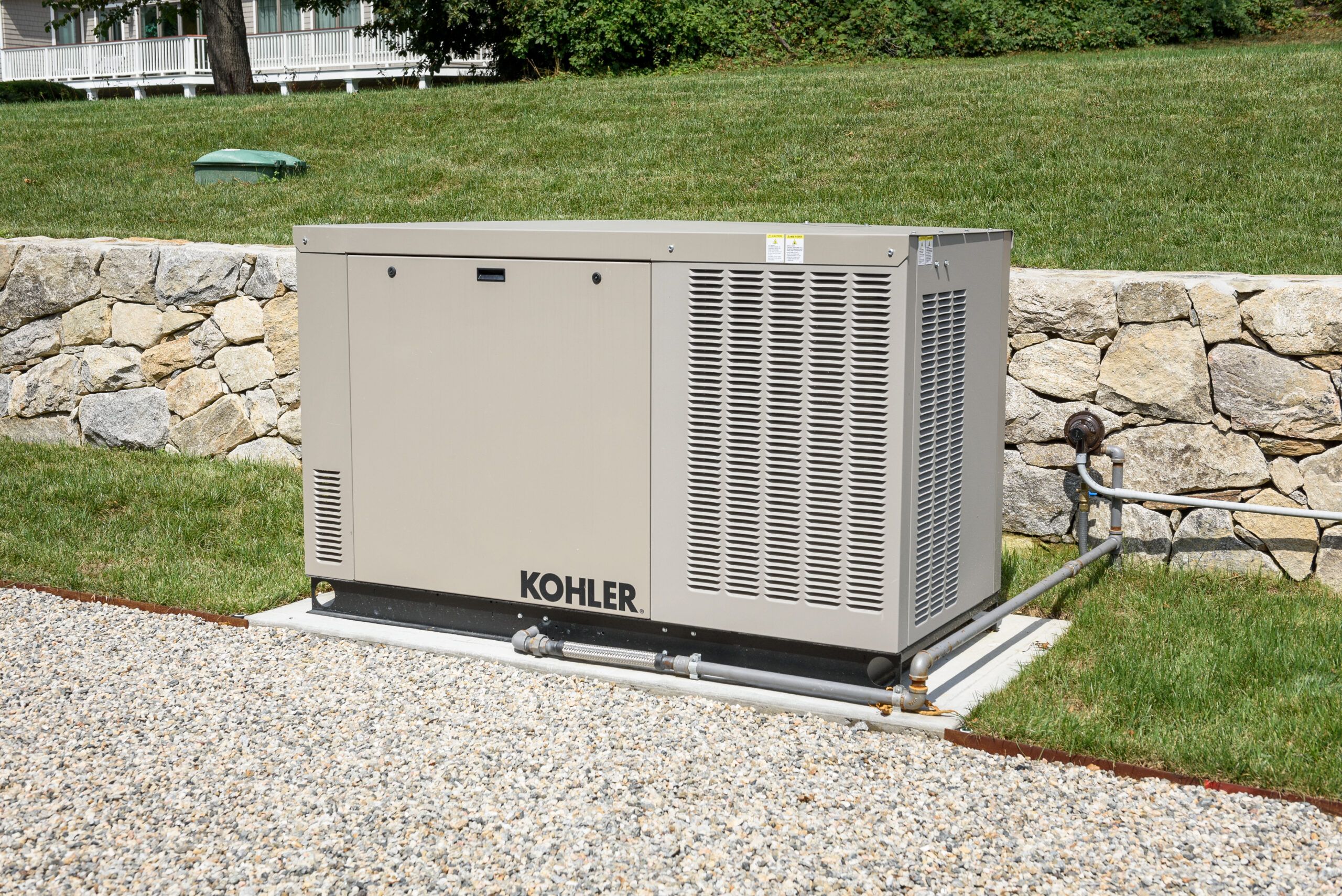 In just 10 seconds time, this 38 kw generator will automatically restore power in the event of an outage, keeping your essentials running smoothly and protecting your electronics from damage related to low-quality power sources.
Generator: Kohler
Super-sized windows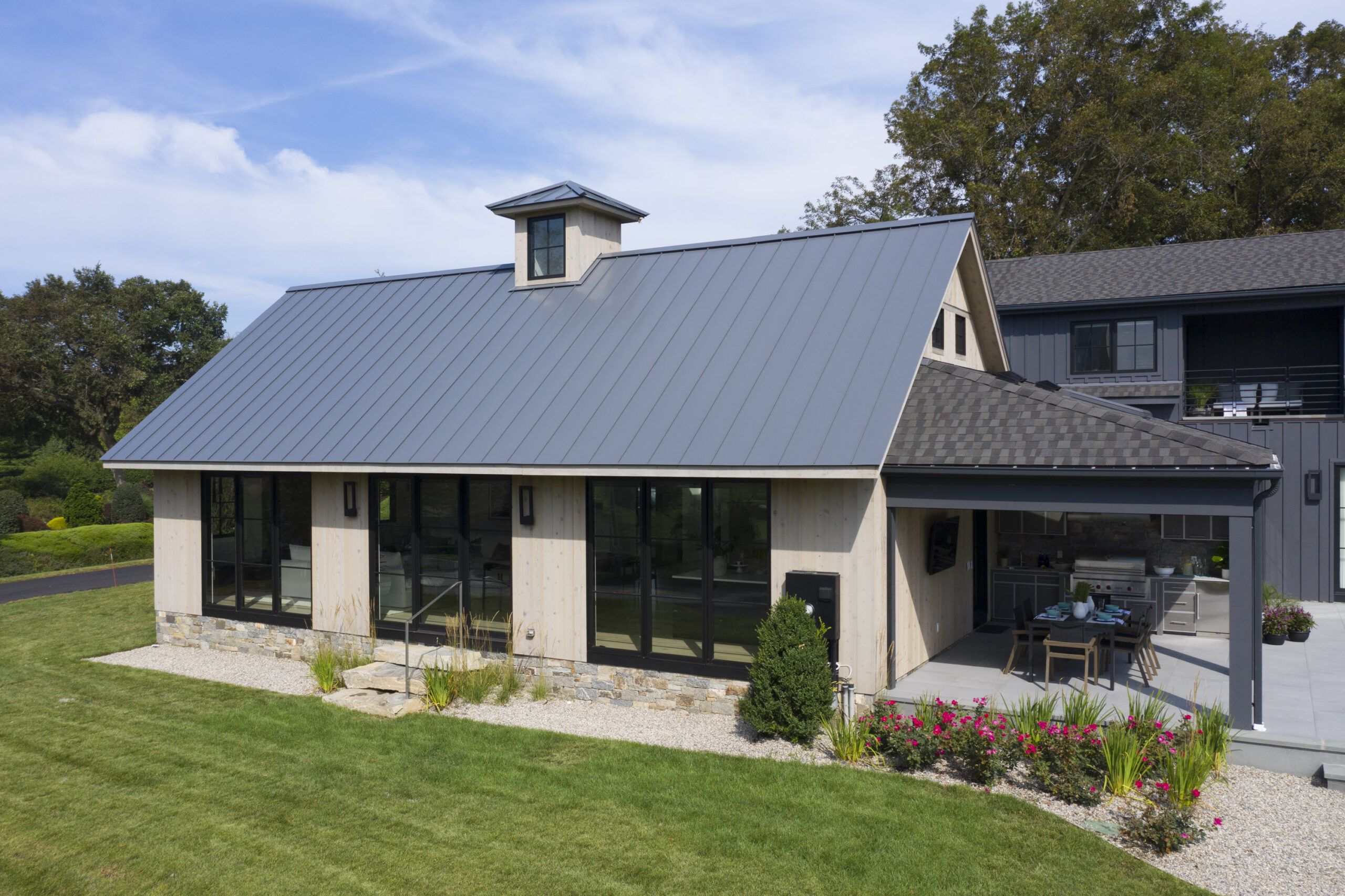 The barn portion of the house looks out on sweeping views of the Long Island Sound; window selection was key to taking full advantage of the scenery. These casement windows are offered in some of the largest sizes in the industry, with a secure multi-point lock, durable hardware that ensures smooth operation, and an exclusive wash mode for easy cleaning. A slider door in the center bay offers access to the outdoors, and matches perfectly with the floor-to-ceiling casements on either side to create a stunning wall of glass.
Windows, patio doors: Marvin
Engineered wood siding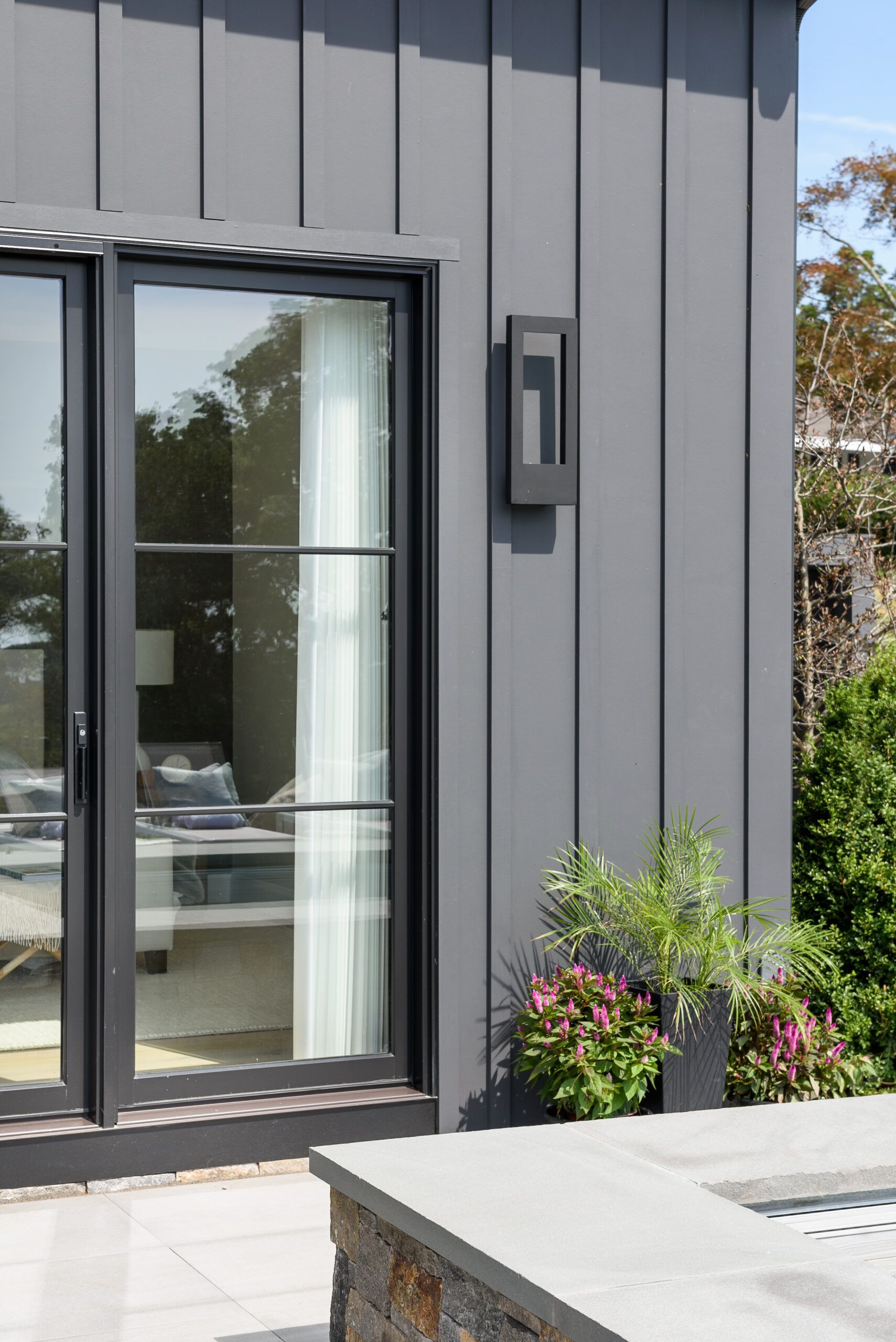 This innovative engineered wood siding features four components of protection; the process adds strength to help withstand impacts, freeze/thaw cycles, high humidity, fungal decay, and termites. This smooth finish siding comes in 16-foot lengths for faster installation and less jobsite waste, and fewer seams for a cleaner, more elegant look.
Siding: LP SmartSide*
*These products procured via Ring's End
Architectural roof shingles
These architectural roof shingles are engineered to withstand both wind and algae growth. Innovative technology powers the industry's widest nail zone for improved accuracy and faster installation, and advanced color application techniques result in an extra-dimensional look.
Roof shingles: GAF*
*These products procured via Ring's End
Insulated garage doors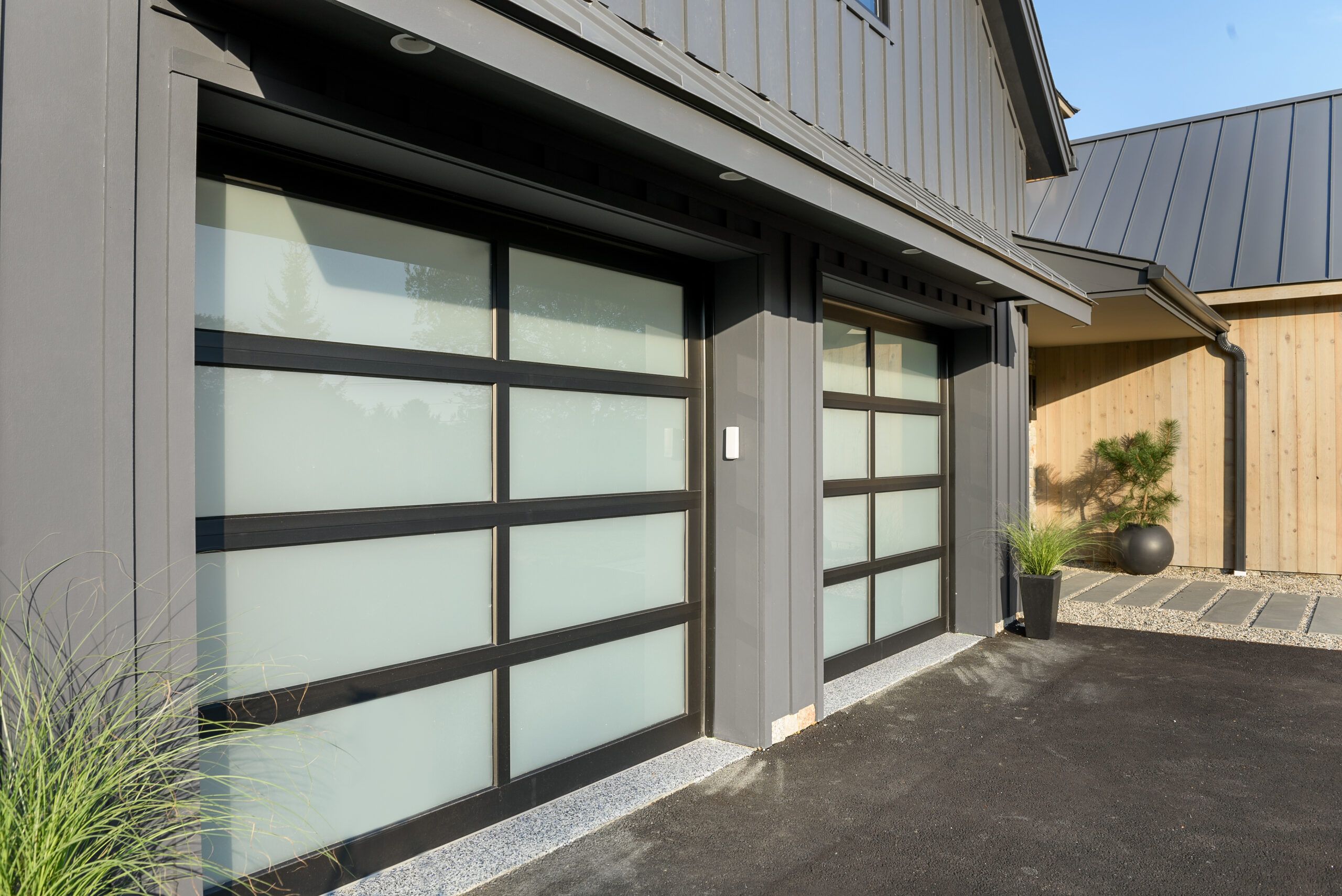 The translucent panels on the contemporary garage doors are set in an extruded aluminum frame for maintenance-free operation. Although they allow light to pass through, the doors are insulated against heat and cold.
Doors: Ed's Garage Doors
Showroom-finish floor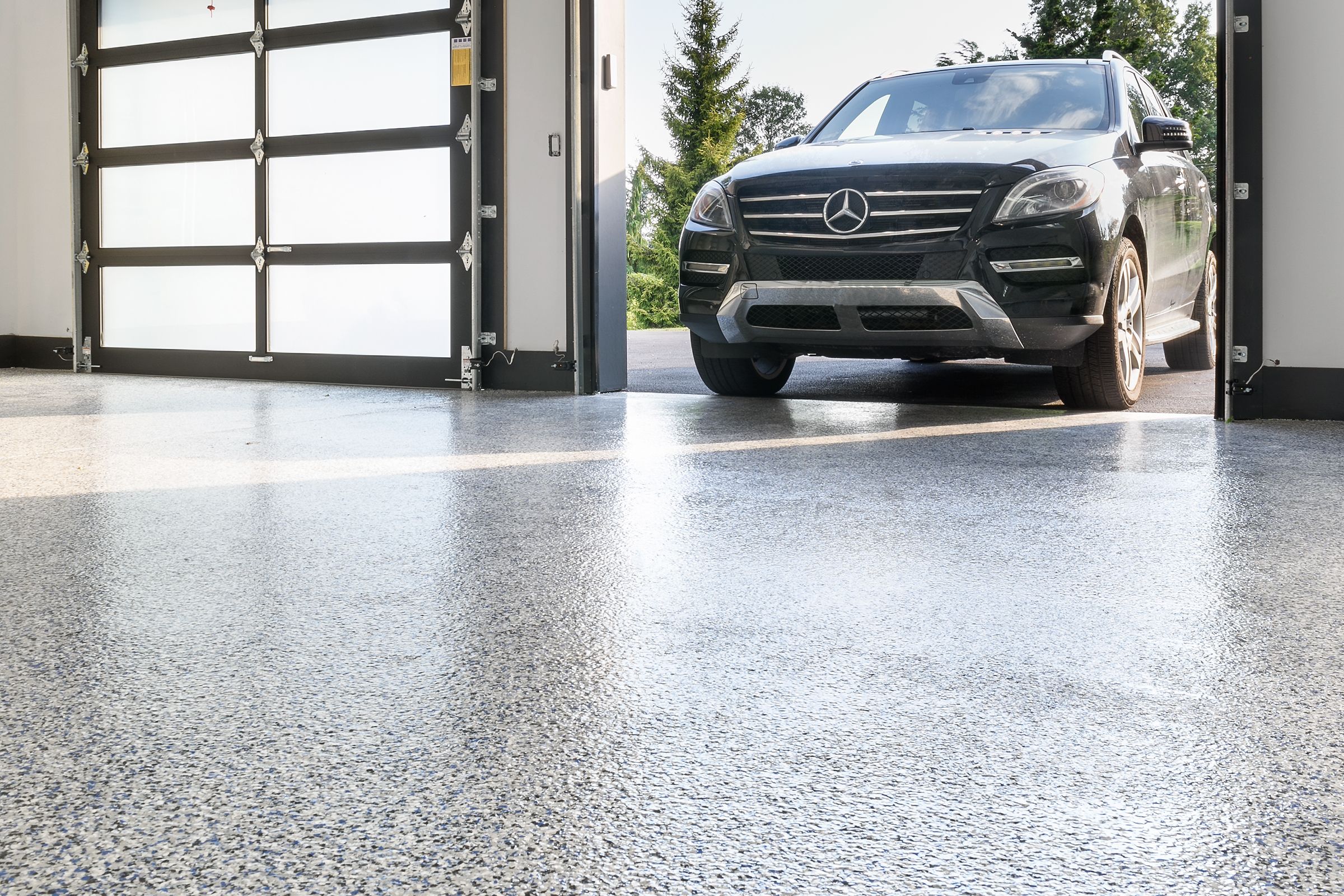 Designed to increase durability and longevity while offering a high-quality finish, this blended-chip floor coating provides consistent color and texture. Available in 8 standard blends and 24 made-to-order blends; Effren opted for midnight blue.
Floor coating: Laticrete
Slatted wall storage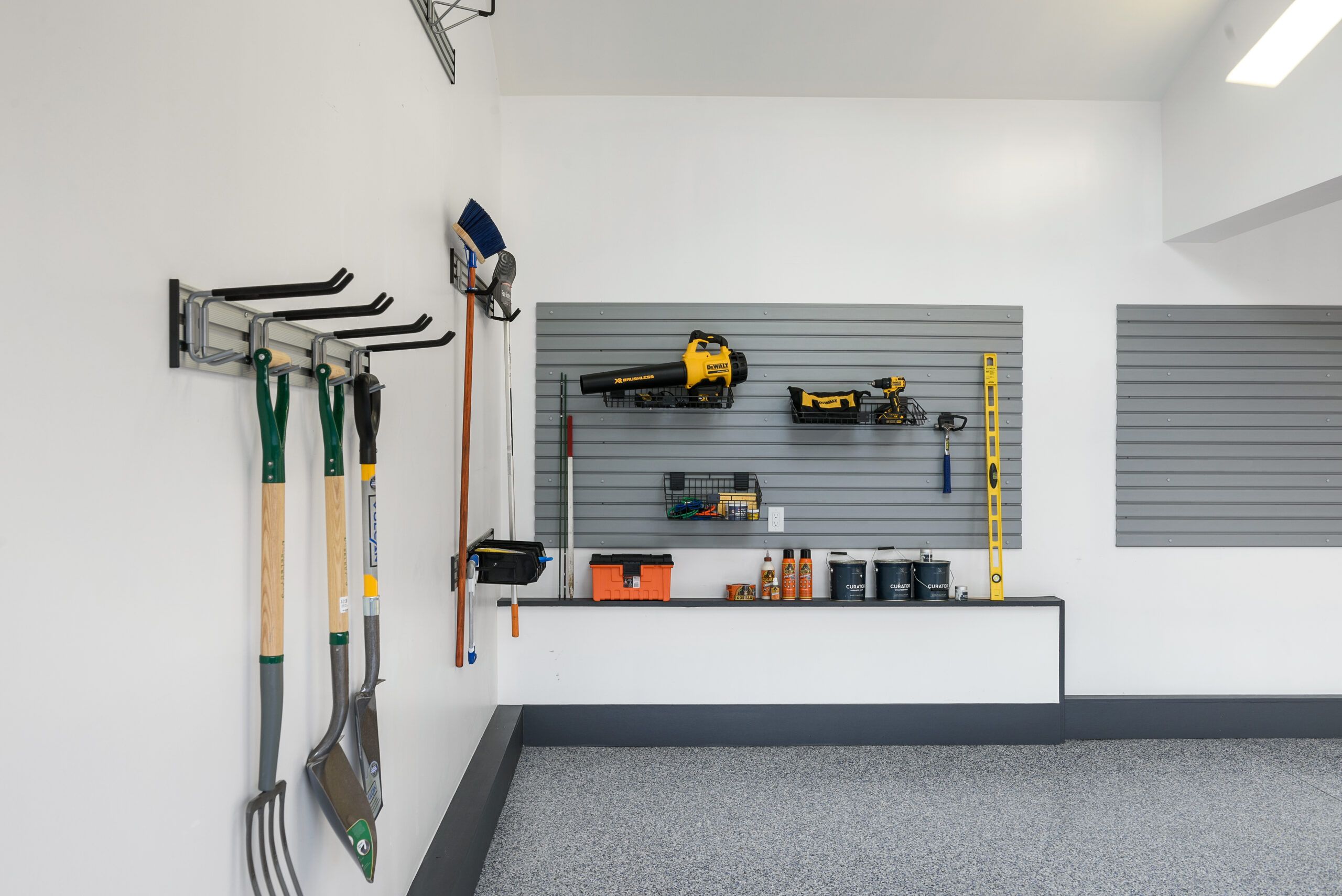 Wall systems create off-the-floor storage for gardening and sports equipment as well as heavy duty items like bikes, ladders, and shovels.
Track organization units: Häfele
All-purpose adhesives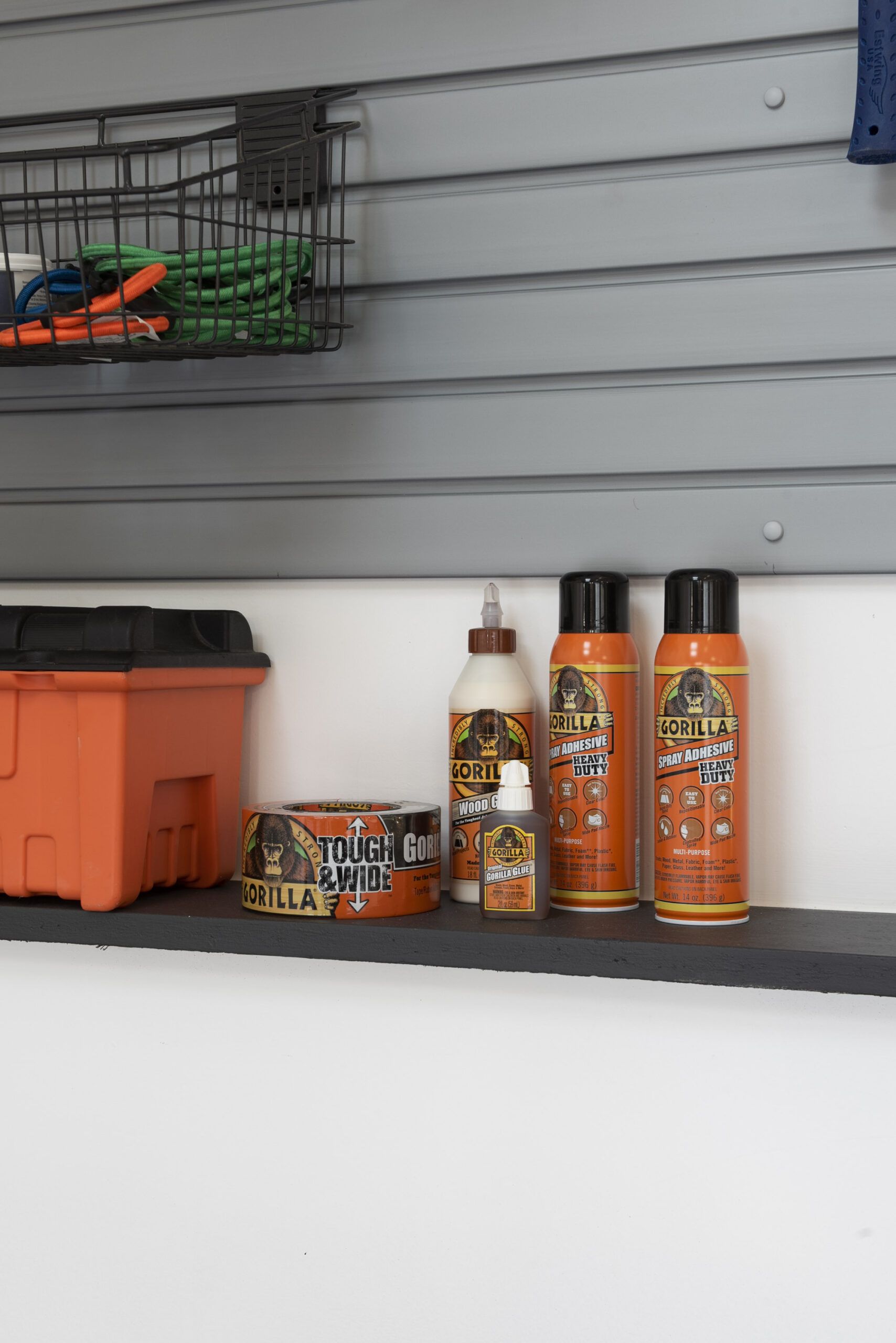 Effren employed a variety of adhesives around the project, from wood glues to construction adhesives, epoxies to tough tapes. Spray adhesive came in especially handy; with a clear, permanent bond that is moisture resistant, it can be used on a variety of projects both indoors and out.
Adhesives: Gorilla Glue
Solar-powered skylights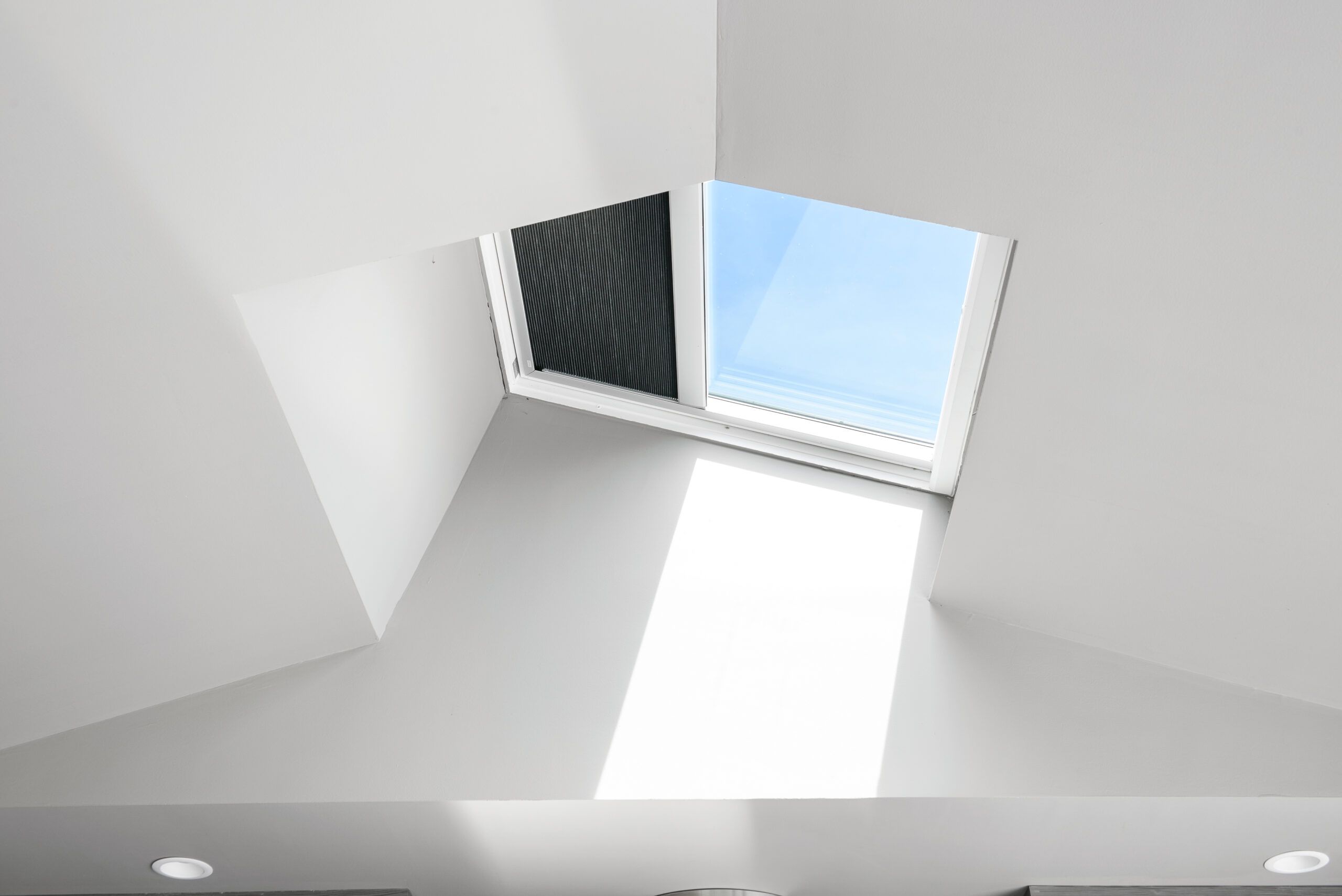 Let the sun shine in—or not—with these solar-powered skylights. A small solar panel on the exterior of the skylight captures available daylight to open and close the skylight while charging a small, concealed battery (even on cloudy days). Charcoal light-filtering blinds keep the room cool and reduce glare on especially bright days.
Skylights: VELUX*
*These products procured via Ring's End
Lighten up interior spaces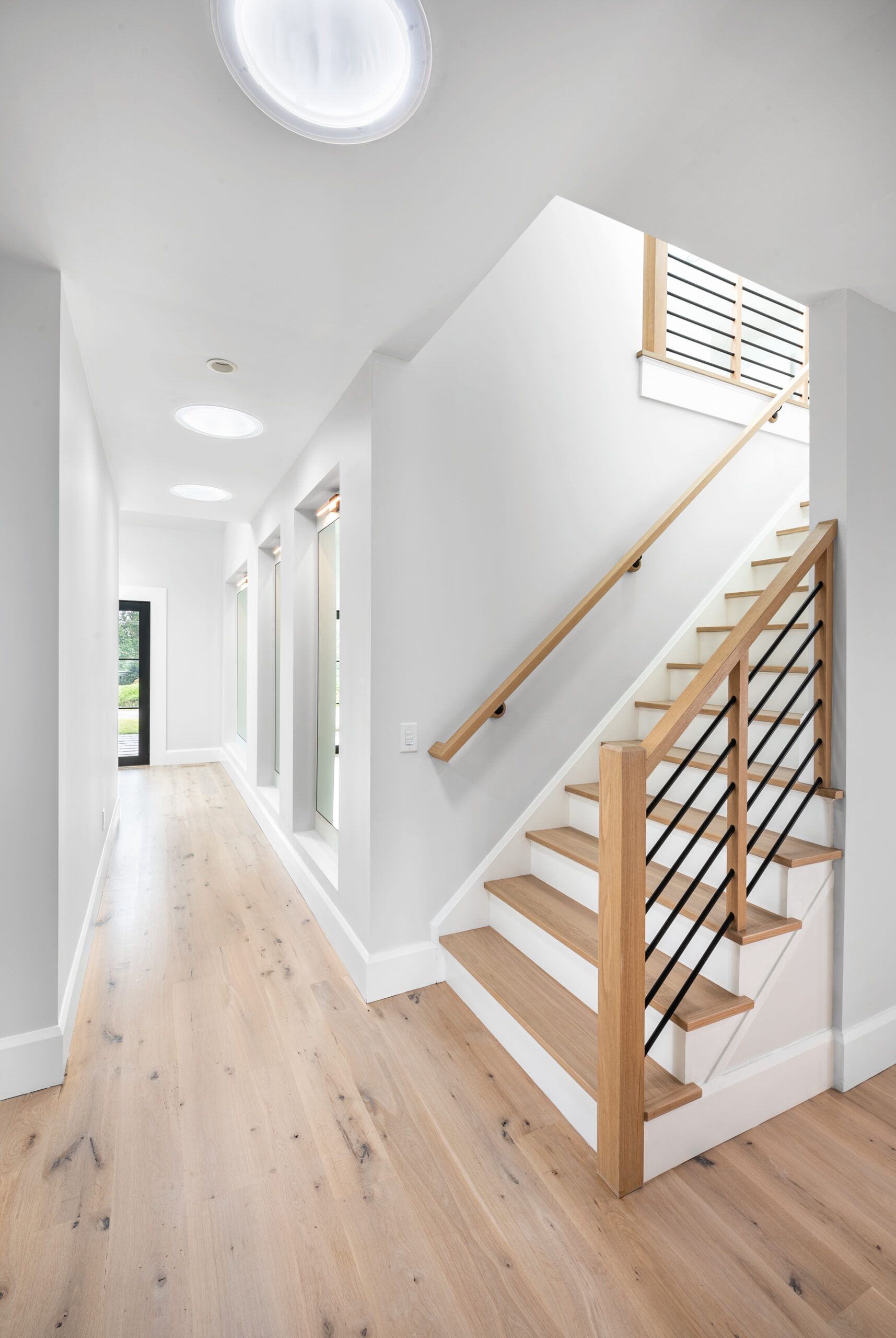 A dramatic bank of sun tunnel skylights brings an abundance of natural light streaming into the windowless hallway. How? A high-impact dome on the roof captures light and sends it through a highly reflective tunnel to brighten interior spaces.
Sun Tunnel Skylights: VELUX*
*These products procured via Ring's End
Easy access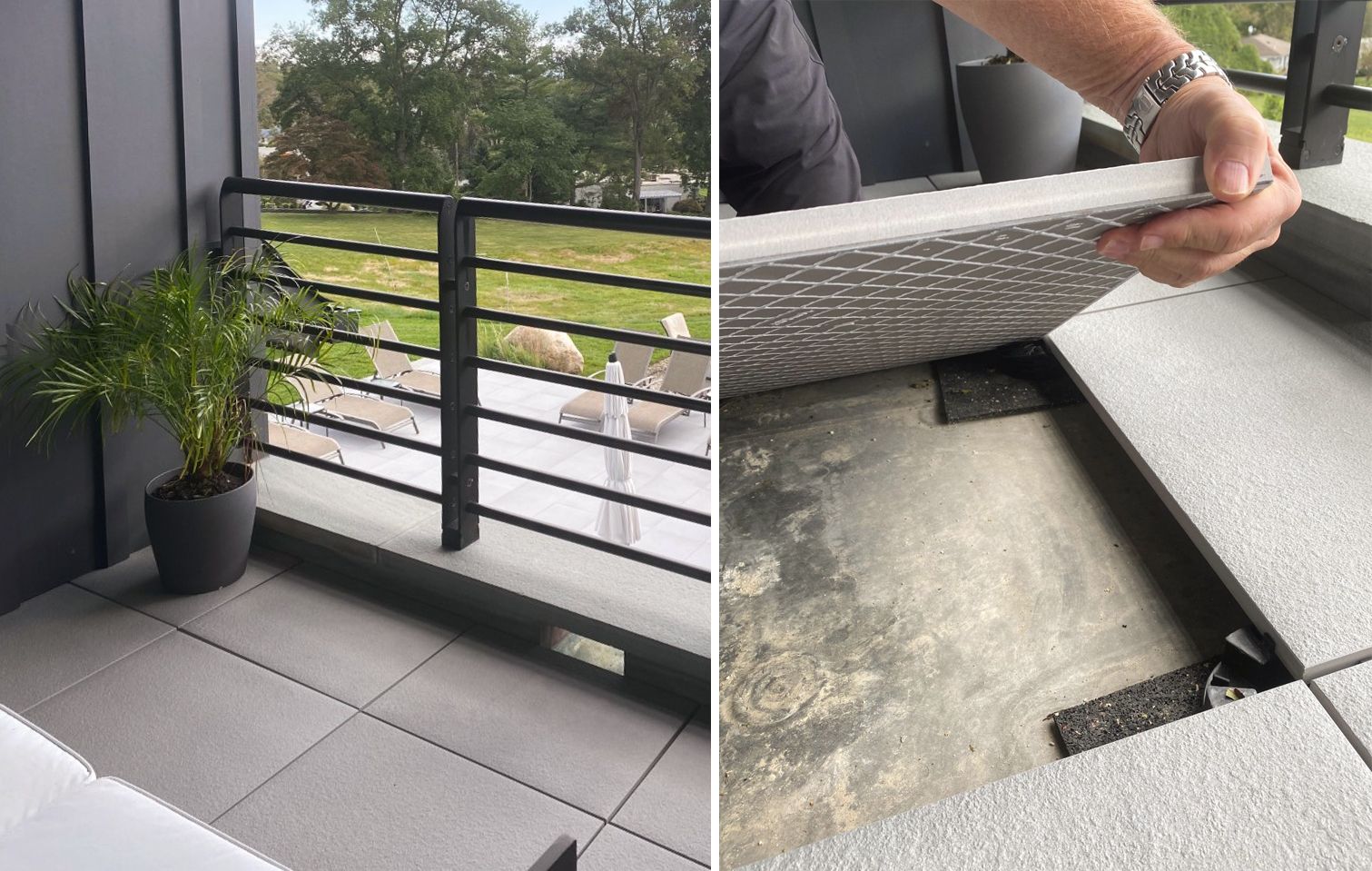 On the second floor balcony, paver supports feature an elevated assembly with open joints that provides convenient access to the substrate, drainage, and ventilation, and makes repair of damaged pavers quick and easy.
Paver Support System: Schluter®-Systems; Pavers: Landmark Ceramics
Retractable, motorized screens
Scroll through this gallery to see how our outdoor dining patio morphs into a fully screened-in porch at the touch of a button.
Retractable screens: Phantom Screens
Quick dip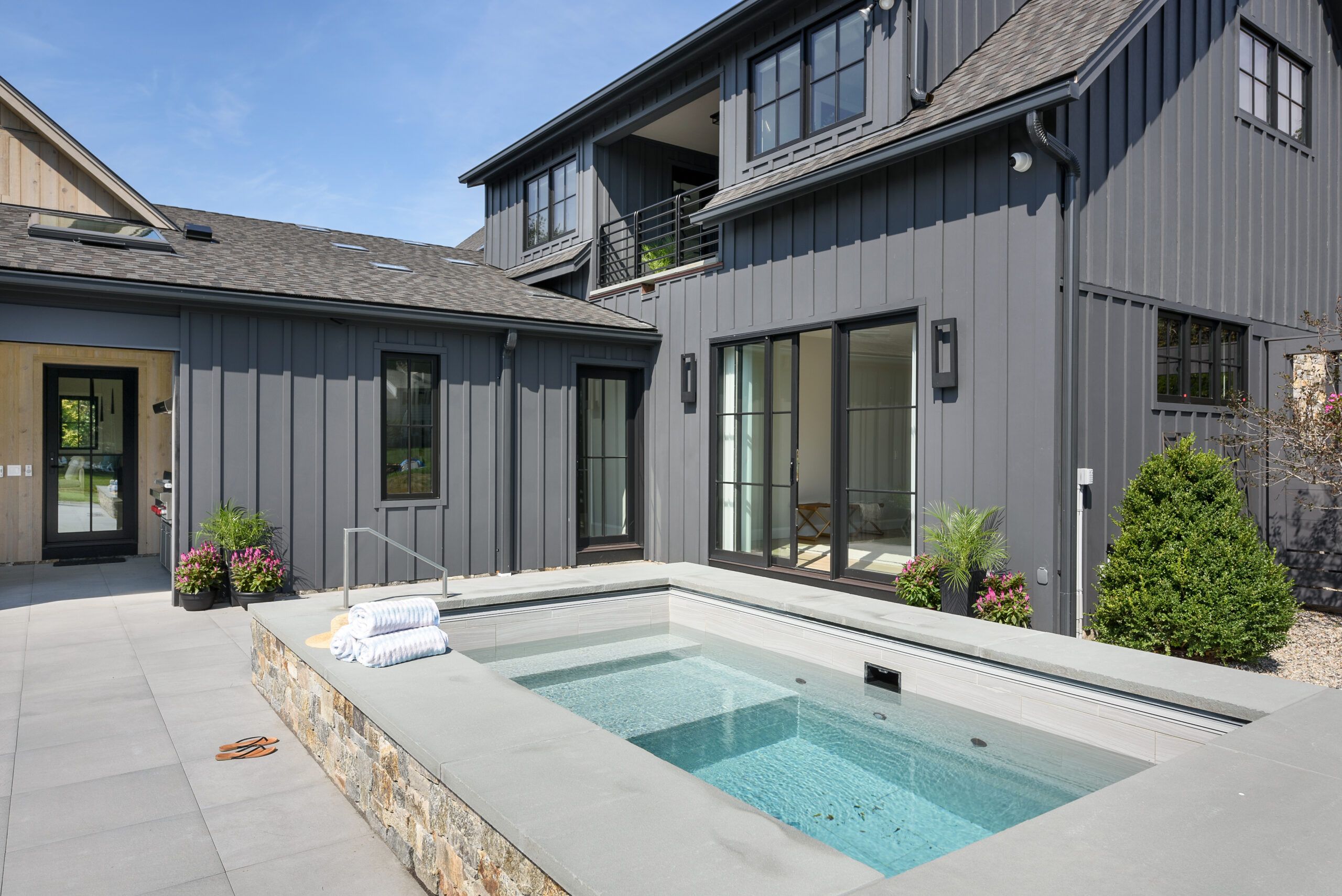 This space-saving plunge pool offers the best of a pool and a hot tub for year-round enjoyment, and it's installed in less than a weekend. With their grandchildren in mind, the Effrens modified its depth to 3 feet at one end; an automated cover further ensures safety.
Plunge pool: Soake Pools
Greener grass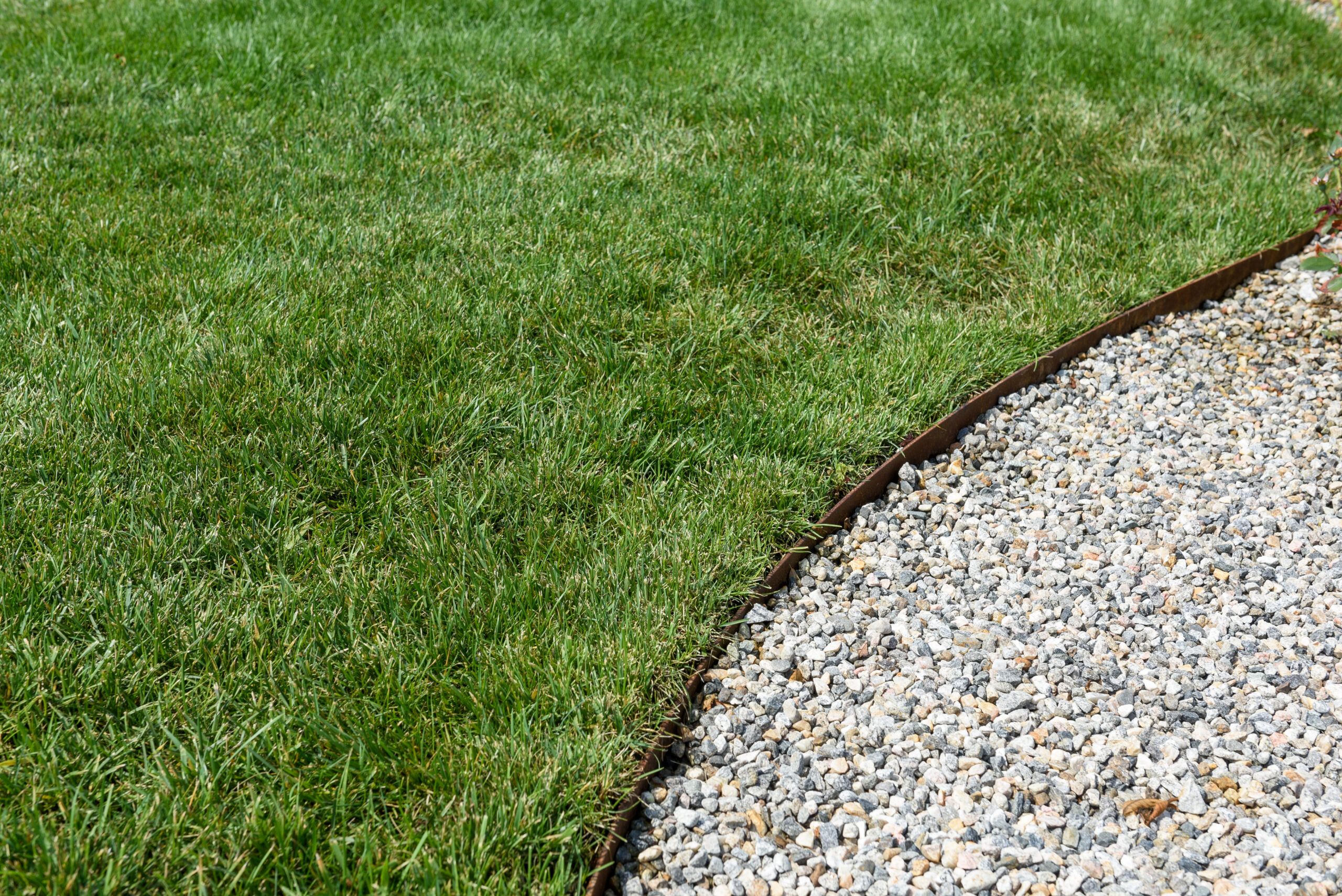 More drought-tolerant than other grasses, this Black Beauty Sod is also naturally insect-repellent and requires less water and fewer nutrients to thrive.
Sod: Sodco
---
There are plenty of amazing building products behind the walls, too. Be sure to check out our progress galleries Part One, Part Two, and Part Three, as well as our latest episodes of Idea House Build to learn more!