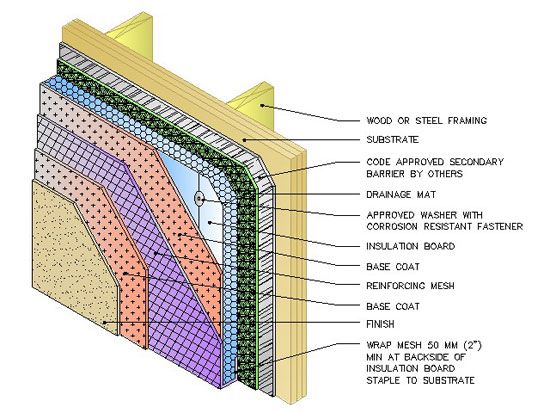 Our 2005 Cambridge, Massachusetts, house project put a spotlight on an exterior cladding material referred to as exterior insulation and finish systems. EIFS (pronounced "eefs") are flexible, synthetic stucco applied in five layers: adhesive, insulation board, a base coat embedded with a fiberglass reinforcing mesh, and a finish coat in the desired color. The finish can look like antique brick or stone, providing an old-home feel for about $4.50 to $7.50 per square foot. The bulk of the price is labor cost. The material resists cracking, the bane of stucco, and can be repainted, unlike vinyl siding. Cambridge homeowner George Mabry chose EIFS for those reasons and because it provides additional insulation. Yet EIFS has a controversial history.
Earlier versions were associated with moisture decay that caused significant structural damage to homes, particularly in wet regions. New developments, however, have alleviated that risk in properly applied cladding. And there are ways homeowners can protect their homes from damage if they have an older version or if a newer version was applied incorrectly. In the mid-1990s, in states like North Carolina, homeowners with the once-popular barrier-style EIFS began to report problems with moisture-related decay in studs and sheathing. That's because there were gaps between the EIFS and windows or doors that allowed water to seep behind the cladding. And then insufficient drainage trapped the water, resulting in rot. By 1996, EIFS makers began selling so-called water-managed EIFS, which places foam board weather barriers against the house, some of which have grooves that channel water from behind the finish. Many builders have accepted the new products and voice few worries that they will result in water damage. But to work, the system needs to be installed properly. Tom Kenney, VP of contract research and head of the applied engineering division at the National Association of Home Builders Research Center, recommends against jumping blind into EIFS.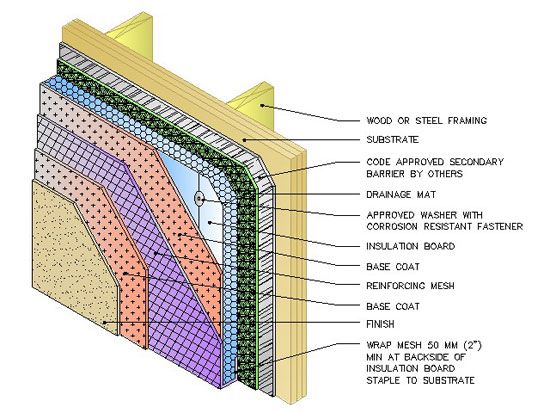 First, homeowners need to be assured that the staff of their installer has been trained and certified by the maker of the EIFS product to be installing. Vendors like Dryvit Systems Inc., which provided the EIFS for the Cambridge house, and Sto-ex Inc. have credentialing programs and will provide names of qualified installers. Without training, a project can go comically, if expensively, wrong. Kenney tells of the installer who "put (grooved foam board) in horizontally rather than vertically, so the water never drained. And sometimes contractors mix leftover materials by one manufacturer with materials from a second vendor. The many components are fairly generic, he says, but manufacturers design their products to work together as systems that differ slightly from those of their competitors'. "That's the way they protect the quality of their product and avoid the possibility that another manufacturer's product is failing on their system," Kenney says.
Mixing components can also lead to roadblocks should a homeowner need to file a warranty claim. Homeowners can help protect themselves by insisting their builder register the installation with the manufacturer, so that if there is a warranty claim, the manufacturer has all the home and installation information on file. The vendors, in turn, may ask the installer to sign a declaration that only the recommended components were used. Homeowners with a barrier EIFS can test for moisture damage. Press against the house in areas that most likely have damage, say, under a window. Too much give or a spongy feel may indicate rotted studs.
Further testing can be done by qualified inspector's non-invasive scanning meters that read changes in density behind foam. That won't tell the exact moisture content either, but it will identify areas in which some water may have seeped. There, inspectors can use a pin-probe meter that drills through cladding and sheathing. How deep the probe moves through the surface without resistance will tell how far the damage has progressed. It also has a water-content sensor. The Exterior Design Institute, a non-profit agency advocating integrity in EIFS installations, offers an online directory of qualified inspectors that can conduct such tests.
The inspectors also can examine the work throughout a new installation process to ensure that the EIFS is being applied in accordance with manufacturer's requirements during each phase of installation. Unfortunately, some homeowners with older EIFS cladding will find costly water damage. For those people, there are two remedies: Replace the entire exterior or do patch replacements of the affected areas. Full replacements are more expensive, but they may be easier. Patch replacements can create problems as builders try to create an exact visual match between older and repaired areas. For the most part, EIFS manufacturers have done well in alleviating the water damage issues found in older systems, and builders once again have confidence in the finish. Yet the psychological impact of water-damaged homes may linger in some communities, says Kenney. If local sentiment runs against the cladding, the value of homes with EIFS might suffer, even if Water managed EIFS are installed. Before having it installed, ask local Realtors what the general perception of the finish is in the area. Even so, the benefit of EIFS in terms of cost, aesthetic value and energy efficiency may outweigh any potential resistance from future home buyers.
Resources:
•The Exterior Design Institute offers a directory of qualified EIFS inspectors and moisture analysts to promote quality control within the EIFS industry.
•Read tips on how best to install drainage-type EIFS from the NAHB Research Center.
•Learn how to repair damaged EIFS and other types of exterior from the NAHB Research Center.
•The U.S. Department of Housing and Urban Development offers a lessons-learned report on EIFS innovation compiled in conjunction with manufacturers, building experts and builders.
•The Builders Resource Guide for Energy Efficiency offers a robust discussion of EIFS.