Salvaging Pieces of the Past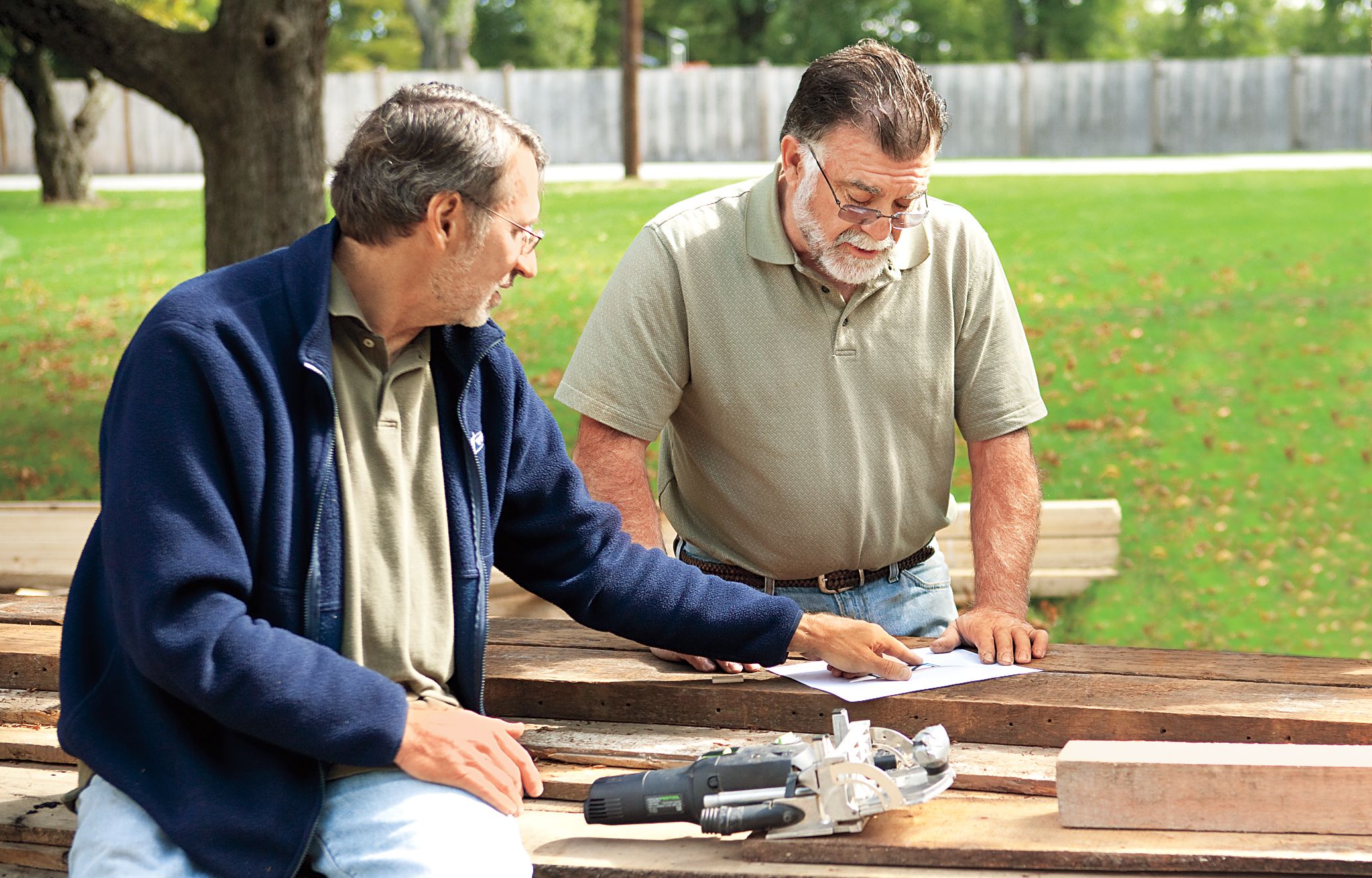 Joe and Becky Titlow are die-hard old-house devotees—thus their decision to buy a charming-but-needs-work Georgian built nearly 300 years ago. So when it came time to remodel it, as part of the TOH TV Bedford house project, they had a not-so-small request. "We asked the team to reuse as many original building materials as possible," says Becky.
Fortunately, this directive suited TOH general contractor Tom Silva just fine. "I'm Yankee and I'm cheap," jokes Tom. "If used parts are in good shape, I'd rather recycle them than buy new." So, after knocking out walls and tearing up floors, the TOH team was left with centuries-old wood and brick that might have been destined for the Dumpster at many job sites. Instead, they've been picking through the pile, spotting pieces with potential, then transforming these and other old house parts into finishes, details, and furnishings. These salvage projects will make even brand-new areas look perfectly at home next to existing rooms, and will also keep intact the house's historic character—the very thing the Titlows fell in love with. Read on to see what's in the works.
Shown: TOH master carpenter Norm Abram and furniture maker Stephen Staples review a trestle table design for the kitchen, which Staples hopes to build with reclaimed lumber from the house.
Kitchen Floorboards and Sheathing: Box Beams and Wainscoting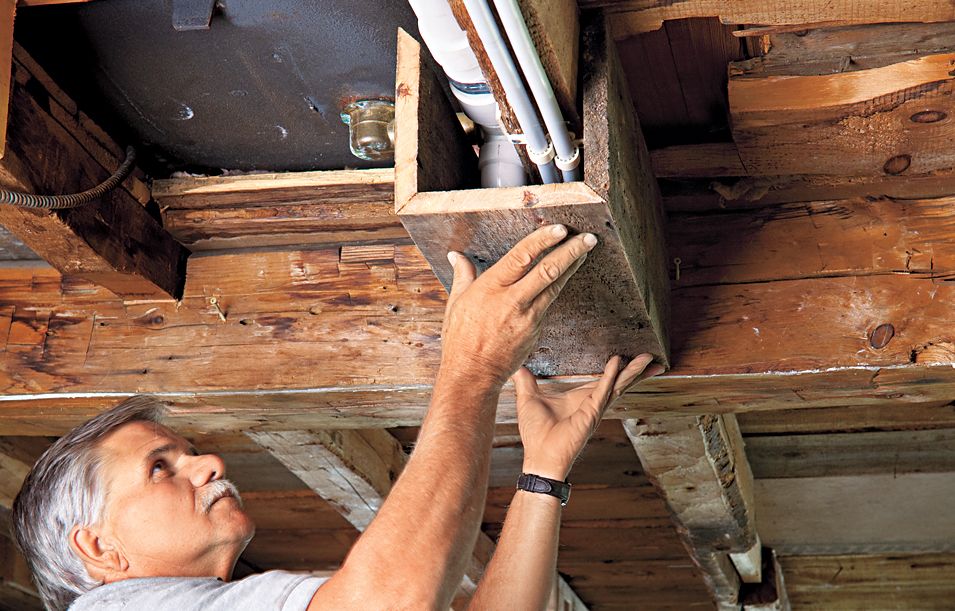 Most of the old kitchen floor was pulled up, and an exterior wall was taken down, resulting in a stack of pine floorboards, subflooring, and sheathing in various widths and lengths. Tom and his crew looked the pieces over for cracks, checking, and warping. The keepers were set aside so that nails can be removed and surface debris sloughed off with coarse sandpaper. "We want to retain a rustic look, so we won't go too far," says Tom. The material is finding its way into several projects.
Shown: To hide new pipes that run alongside an exposed beam in the kitchen ceiling, Tom proposed boxing them in with old wood. Joe and Becky liked the idea so much that he's now building faux box beams to install where the ceiling lacks them.
Salvaged Wainscoting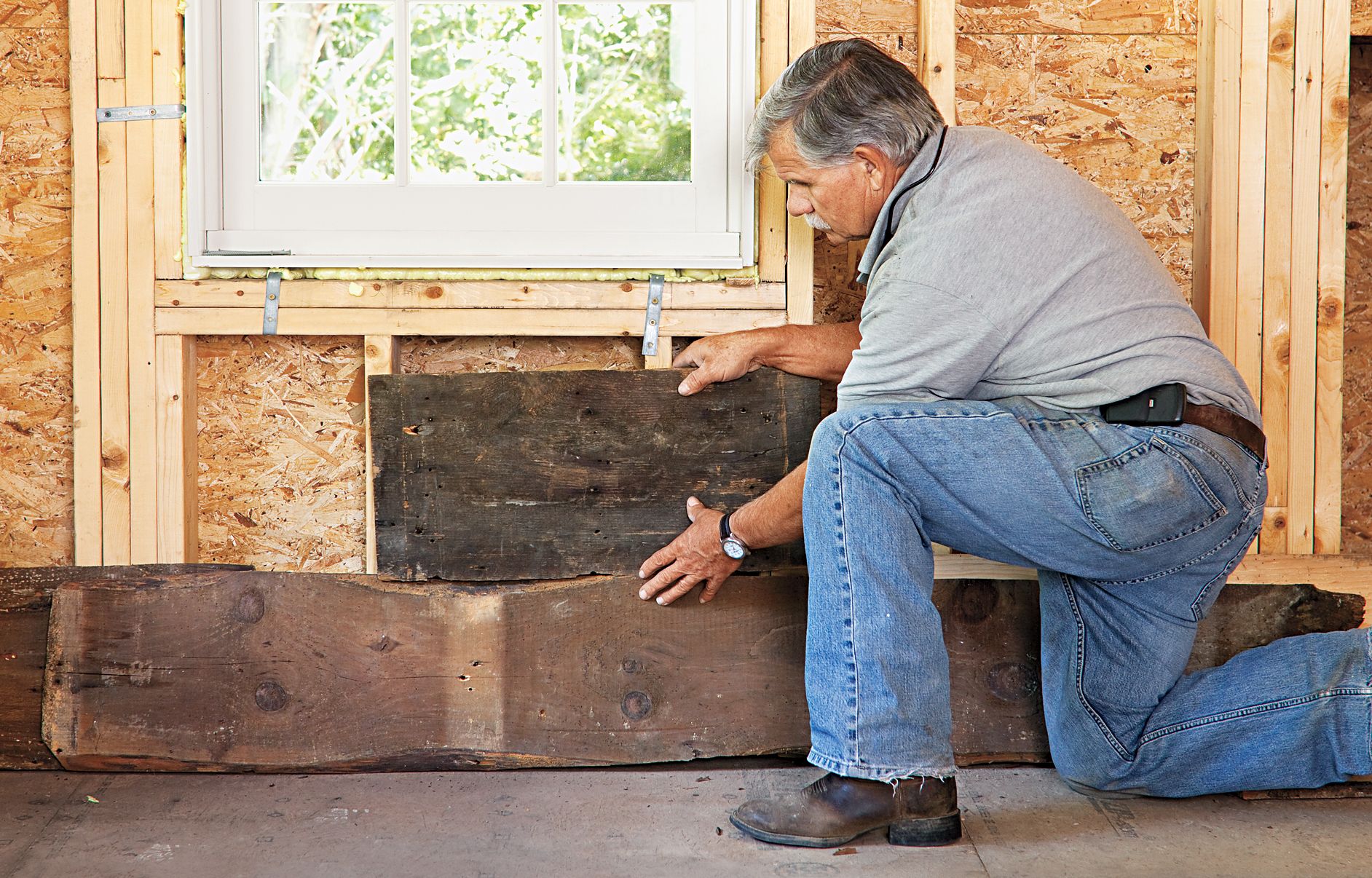 In the family room, Tom will build windowsill-high wainscoting from the salvaged wood. "The plan is still evolving, but we want to use boards of different widths, left unfinished," he says. The wood will go over the drywall, fastened to the studs.
Chimney Bricks and a Wood Post: New Fireplace Finishes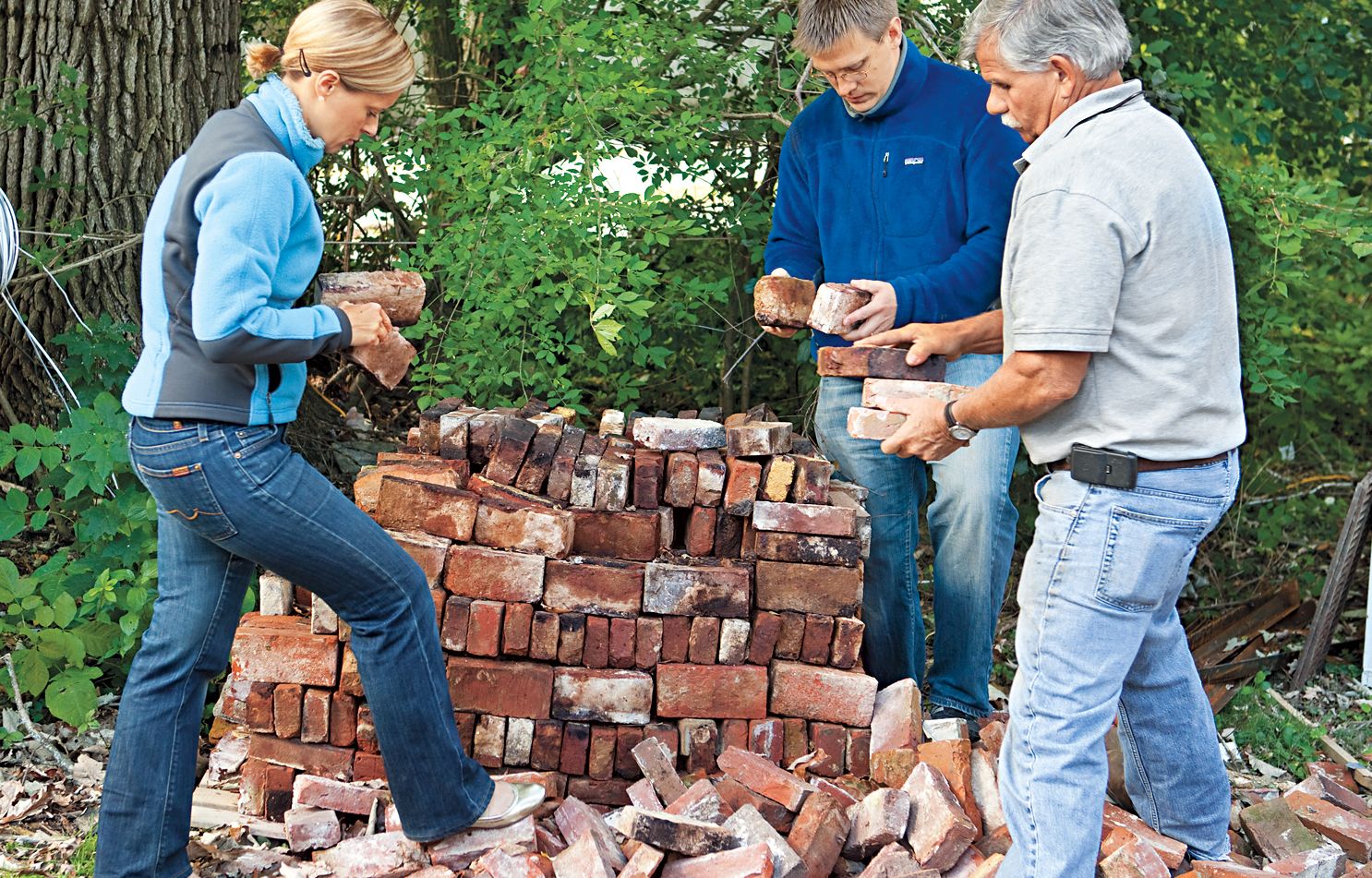 Becky and Joe wanted the family room's fireplace to look antique, not newly built. So Tom and his team will make a surround using brick from an 1800s chimney that was torn down in the kitchen, and use a wood post from a demolished wall for the mantel.
Shown: Becky, Joe, and Tom inspect the bricks, tossing away any that are crumbling or in poor shape. They'll sort the keepers by size and color as the surround is designed. Rather than lighten the creosote and mortar staining with power washing, they plan to keep the brick's worn-in character as is.
A Fireplace with History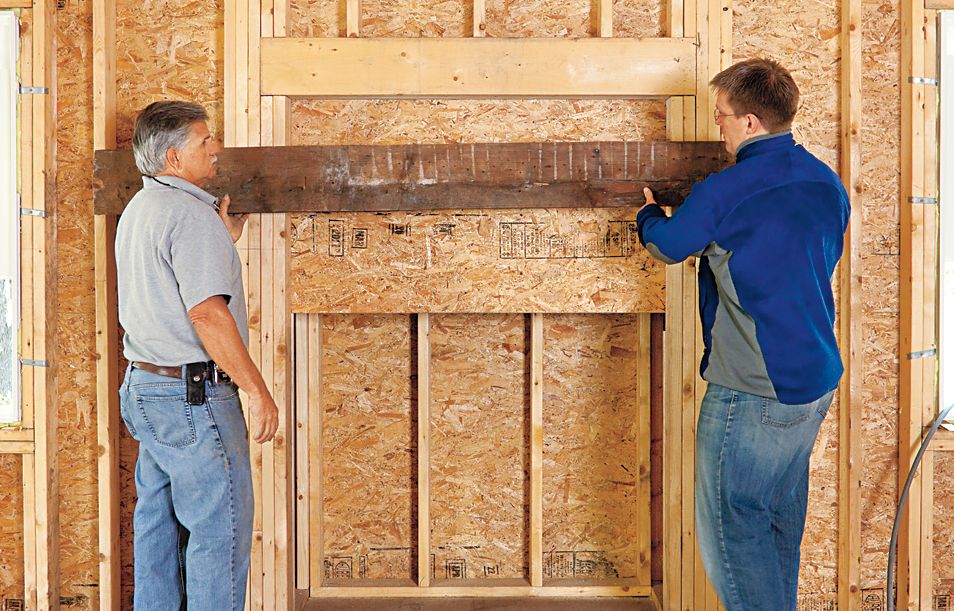 Tom and Joe lift the post against the fireplace wall to determine the correct height for the mantel. It will be installed on the flat.
Joe likes the mortar marks on the post that will become the mantel, so they won't be sanded off. "They speak to our house's history," he says.
Board-and-Batten Doors: Pantry Sliders
To add a vintage vibe to the new pantry off the kitchen, Joe and Becky are opting to enclose it with sliders made from old doors.
Shown: Several 17th-century board-and-batten hinged doors were removed from the first and second floors; there were even a few spares in the attic. Two in good condition that are the same size and similar in style will become the pantry sliders. A third door (not shown) will become a pocket door for the laundry room, also off the kitchen.
Stylish Sliders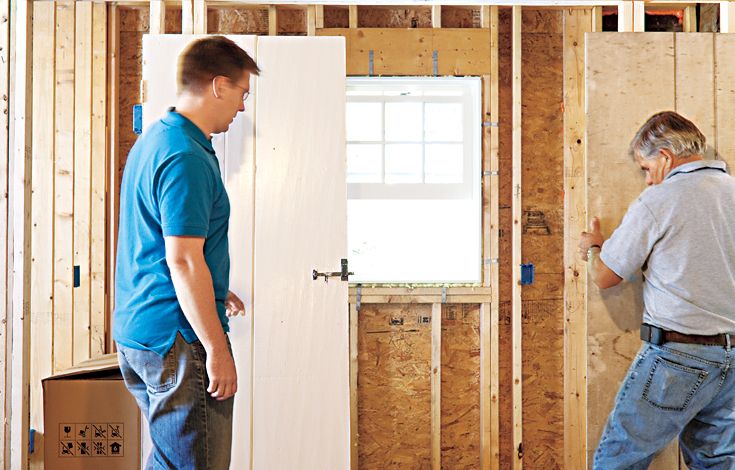 In the pantry's opening, Joe and Tom test the size of the doors. Before installation, Tom and his crew will remove old hardware, fill nail holes and seams, rough up the surface with coarse sandpaper, and prime and paint. For handles, Tom will either add vintage-look metal ones or make some from salvaged lumber.
Because of their age, the pantry sliders are slightly bowed, so they'll be mounted on an overhead track that will allow the bottom edges to move freely.
Aged Beams: Decorative Ceiling Elements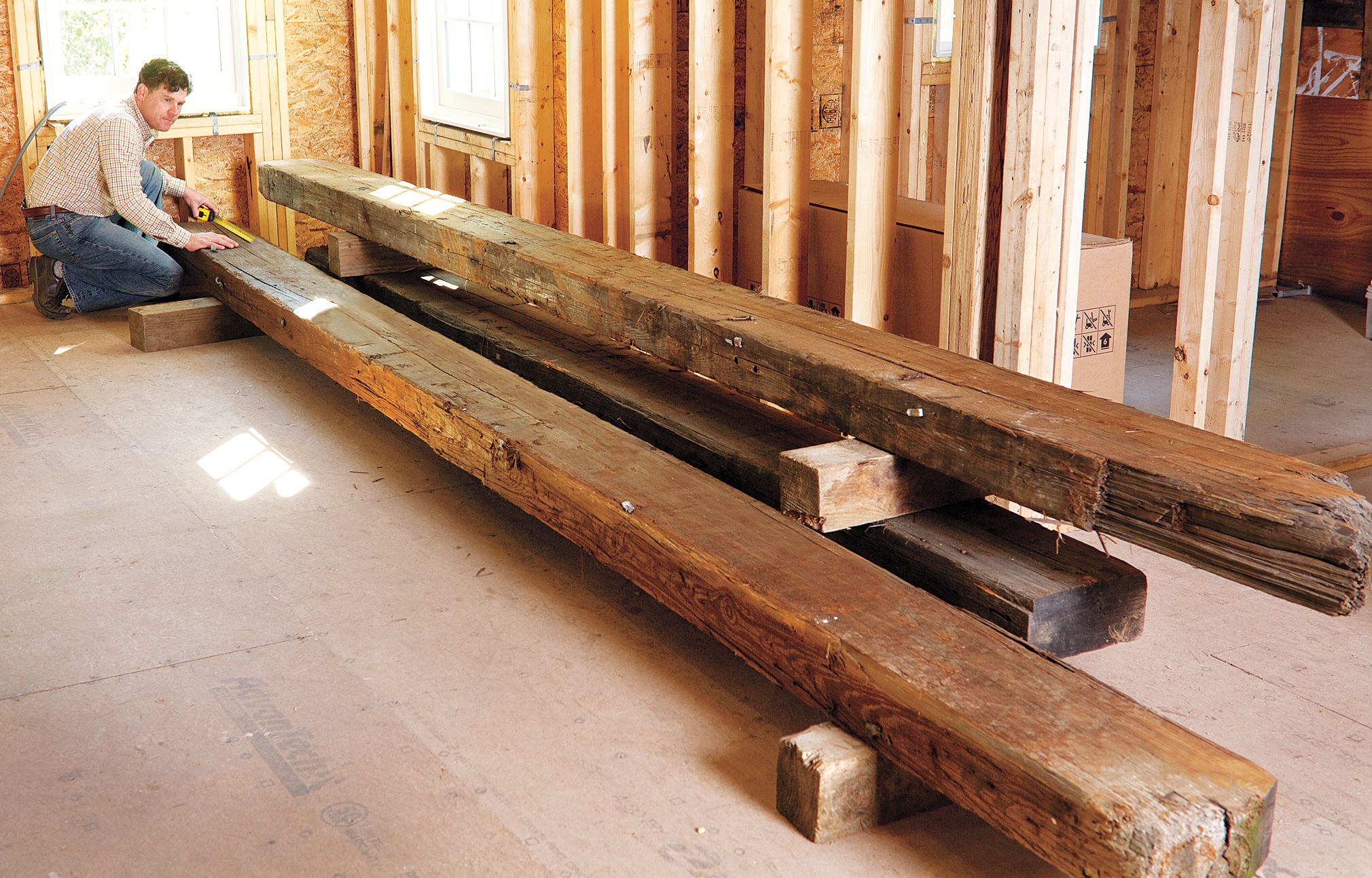 The headroom-challenged kitchen, with its exposed beams, will open onto a new family room with a double-height peaked ceiling. To connect the two spaces visually and bring down the scale of the taller addition, Tom will place decorative beams spanning the family room horizontally, like collar ties.
Shown: A local reclaimed-timber supplier helped the team find these 16-foot pine beams from a former train-whistle factory. Old structural timbers are usually compromised by warping, insect damage, or other factors, so while they're not suitable to carry loads, they can be installed in a way that makes them look as though they're doing the work.