Planning the Perfect Kitchen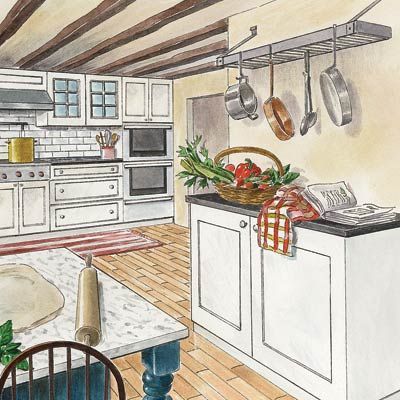 For many renovators, a gleaming pro-grade kitchen is the Holy Grail of home improvement, even if all the action it gets is reheating last night's takeout. But for Joe and Becky Titlow, the owners of The Bedford House, in Bedford, Massachusetts, such a showpiece would have been a waste of time and money. "We grow vegetables and herbs, we cook most of our meals at home, we freeze foods in bulk, and we compost food waste," explains Becky. "The last thing we need is a kitchen that looks good but doesn't function well."
In short, when it comes to cooking, the Titlows are following in the footsteps of their grandparents' generation. So it's not surprising that their kitchen has features, such as a separate pantry, that were common in houses of yesteryear. With help from kitchen designer Kathy Marshall, this energetic young family developed a space that works just as hard as they do, one that combines old-fashioned storage and prep areas with modern amenities for cooking from scratch. Keep reading for more on the space's noteworthy features.
Modern Function, Farmhouse Flair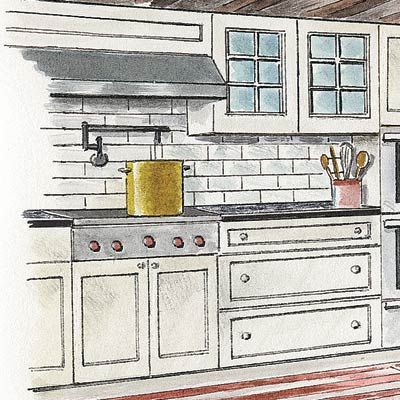 A six-burner rangetop will have lots of room for sauteing veggies and making sauce from homegrown tomatoes.
Double Convection Ovens
The Titlows love to bake homemade pizza; double convection wall ovens will give them space to fire up two at a time.
Pot Rack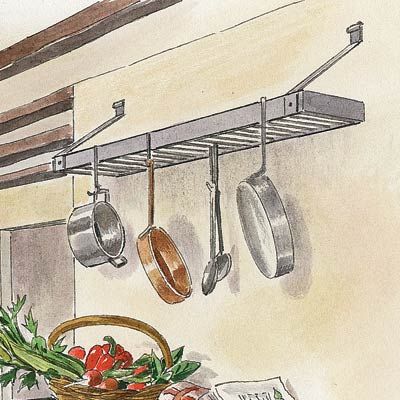 A pot rack keeps cookware within reach and lends the space a vintage vibe.
A Granite Landing Spot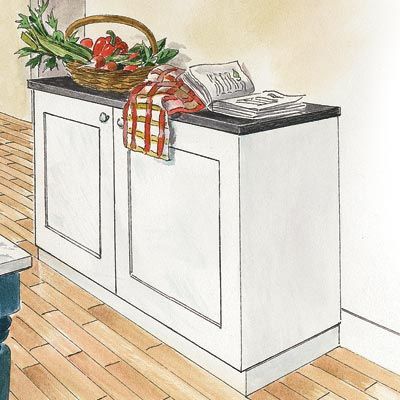 This granite-topped cabinet will act as a landing spot for garden-fresh produce and groceries.
The Island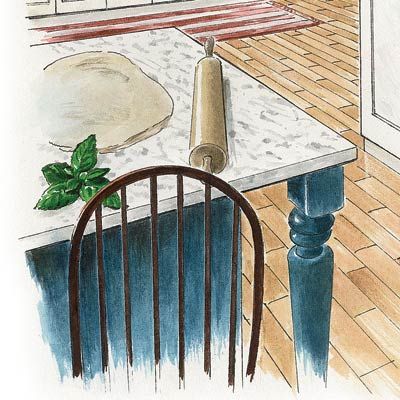 The island's turned furniture-style legs have a traditional air that marries well with wood floors and exposed ceiling timbers.
The Multitasking Island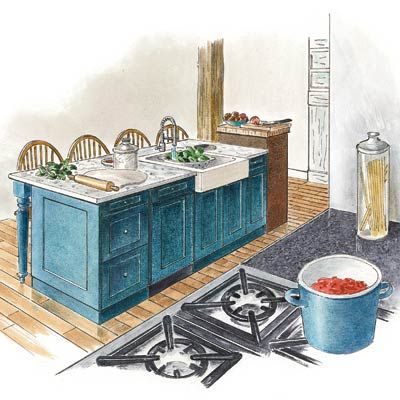 Joe and Becky's renovation makes perfect sense in light of recent trends. In the past few years, more Americans have been cooking at home out of economic necessity, the number of people who grow some of their own food and buy produce at farmers' markets has increased, and food shoppers have been saving by buying groceries in bulk. As we return to traditional habits for cooking and eating, kitchen design is changing too, albeit more slowly.
Other designers have noticed that old-school kitchen elements sell well these days. "I'm seeing a lot more demand for things like ventilated storage drawers for vegetables, separate pantries, and built-in bread boxes," says Cynthia Bennett, a designer based in South Pasadena, California. She has also noted a transition away from double sinks to larger, more functional farmhouse-style basins.
In their makeover, the Titlows plan to incorporate many of those features . Among their wish-list items for Marshall was having space for storing veggies from their garden, along with places to keep groceries and pantry staples. They also wanted a dedicated collection spot for food scraps for their compost heap.
Marble Counter Tops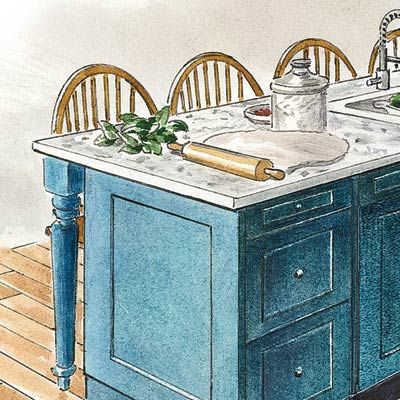 A traditional marble-slab counter tops the work island. Marble stays cooler than the surrounding air, so it will keep Joe's pizza dough at the perfect consistency for rolling.
Farmhouse Sink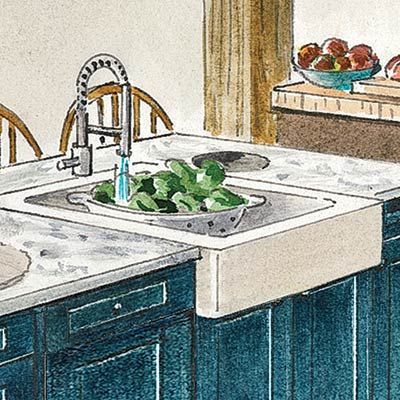 The generous farmhouse sink provides plenty of space for washing produce.
Countertop Cutout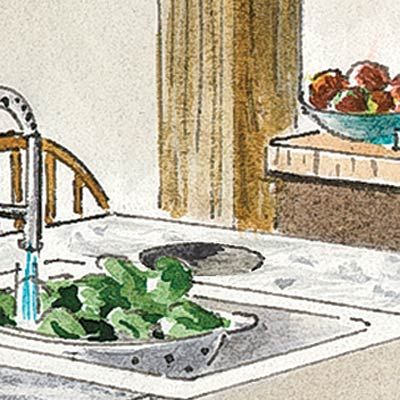 Food scraps will be swept into a countertop cutout and collected in a bin that can be removed so that the backyard compost pile can be fed.
Microwave Tuck-Away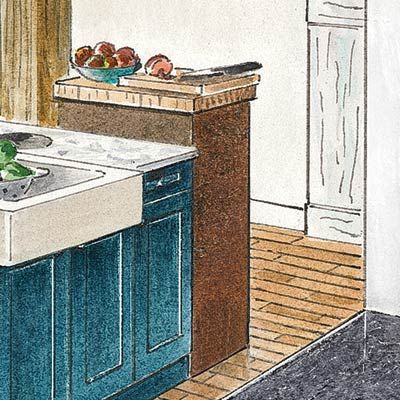 Even the most die-hard home cooks will use a microwave to heat up leftovers. Here, it will be tucked into a handsome dark-walnut end cabinet that's capped with butcher block for a bit of extra workspace.
Kitchen Island Seating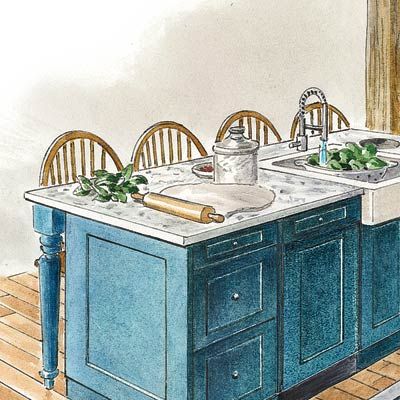 Seats provide a comfortable spot for guests who want to pitch in with food prep or simply watch the cooking action.
A Fully Loaded Pantry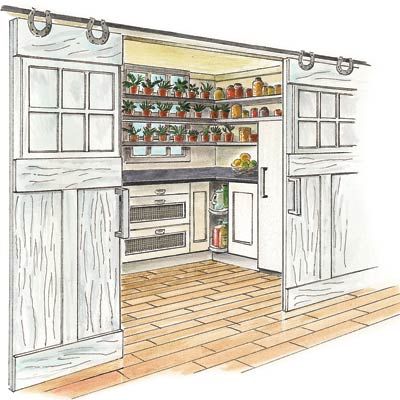 The Titlow family will also benefit from 21st-century conveniences that streamline food prep and cooking. The pantry, for example, will have a deep freezer for storing home-cooked soups, stews, and sauces, as well as bulk purchases from the grocery store. A warming drawer can keep meals at the right temperature until serving time. And, they can minimize food waste by using the deep freezer and a large refrigerator to keep and preserve fresh food at its peak.
Salvaged Pantry Doors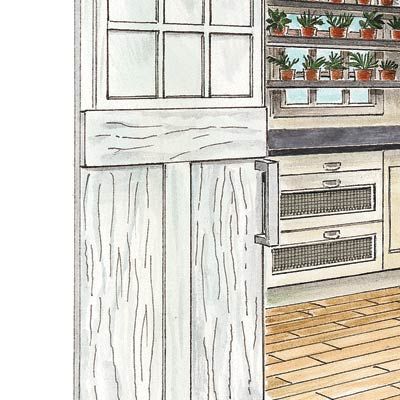 Two salvaged wood doors will be turned into sliders to close off the separate pantry.
Ventilated Drawers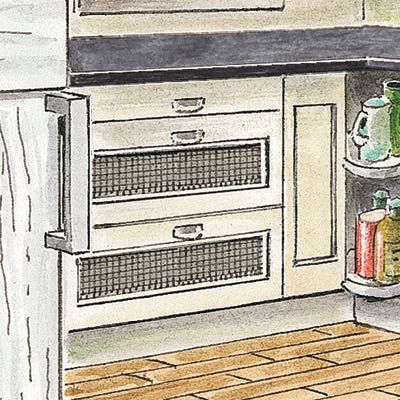 The Titlows are considering the use of ventilated drawers with mesh fronts to keep root vegetables in peak form by maintaining air circulation while shielding them from direct sunlight.
Corner Cabinets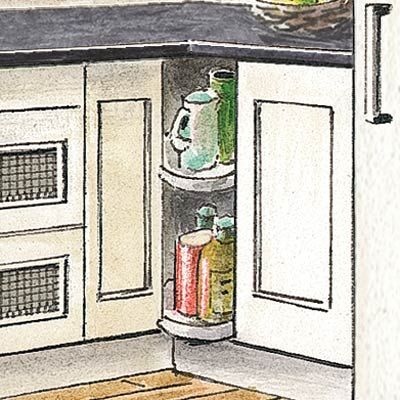 Covered lazy-Susan corner cabinets will organize canned goods and other pantry staples for easy access.
Open Shelves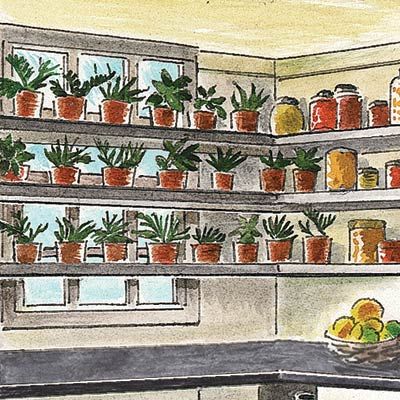 Open shelves in front of the window are the perfect spot for growing fresh herbs year-round.
Pantry Freezer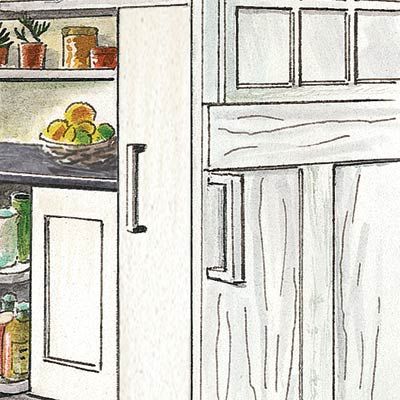 Becky will stash homemade soups and sauces in the deep freezer so that her family can enjoy them in the off-season.
A Work in Progress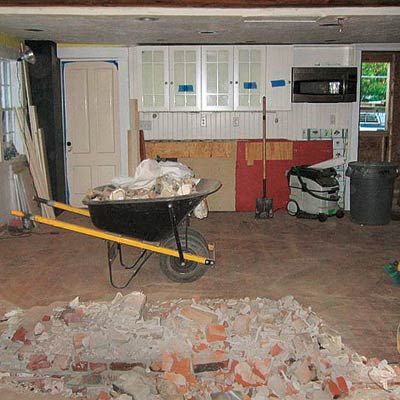 It'll be a while before these sketches are a reality for the Titlow family. As part of the process, a hulking old brick fireplace was torn down to open up the floor plan.
The Homesteader's Kitchen (and Pantry) Floor Plan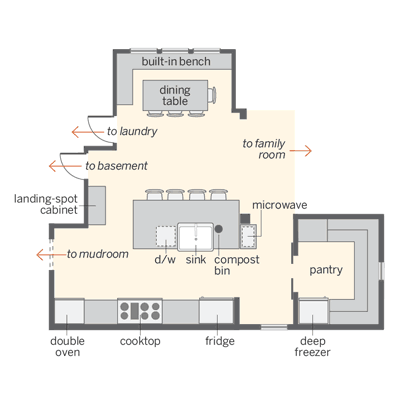 As they nail down myriad decisions for their new kitchen, Becky is even thinking of it as a sort of classroom for the couple's daughter. "I want her to see that we're growing onions in the backyard and that the onion skins are composted and put back into the garden to nourish the growth of even more vegetables," she says.
If this kind of overhaul is out of your reach at the moment, keep reading for easy and affordable food-storage ideas.
Shown: For now, this is the general plan for the new space, including a multi-tasking island with seating, a large pantry with deep freezer, and more.
Smarter Storage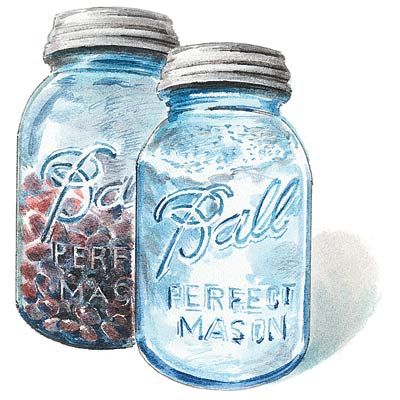 Here are some ways to keep fresh foods fresher, no kitchen overhaul required.
For dry goods keep flour, sugar, beans, and grains in 64-ounce mason jars.
To Keep Bread Fresh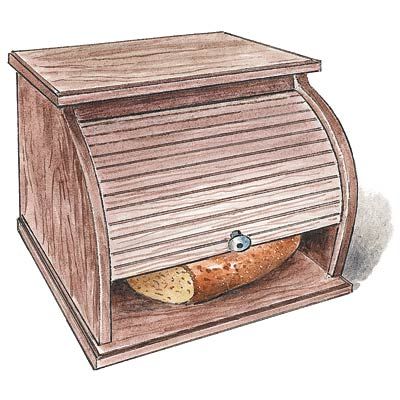 A charming rolltop oak bread box maintains an ideal humidity level.
For Root Veggies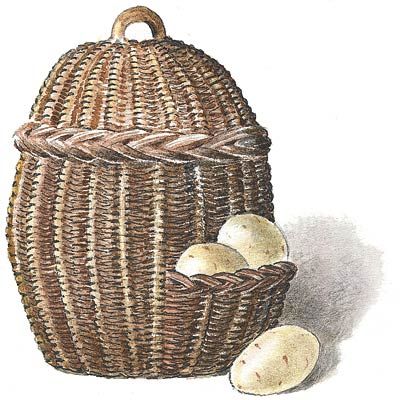 A wicker potato basket lets in air but keeps out light.
Freezer-to-Oven Storage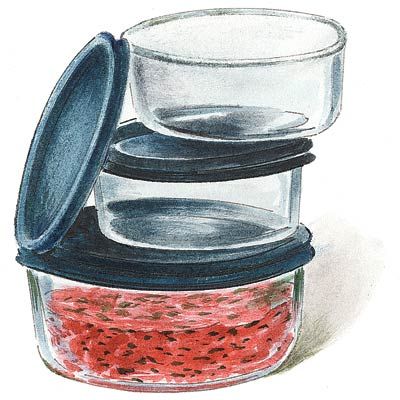 Glass bowls with BPA-free lids can withstand big temperature swings.