Mending a Mismatch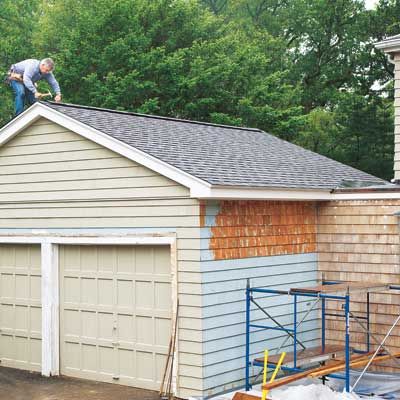 It's never good when the first thing you notice about a house is its garage. But that was precisely the case at the current This Old House TV project, a 1940s Colonial Revival in Auburndale, Massachusetts, owned by Raveen and Allison Sharma. TOH general contractor Tom Silva, shown here remodeling the structure, sums up the problem perfectly: "The attached garage is original to the house. But it looks like an afterthought."
Creative Fixes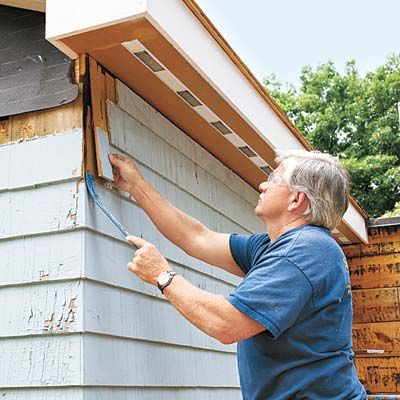 That's partly because the garage sits much closer to the street than the house does, probably because the yard behind it drops off steeply. But even more vexing to Tom and the TOH crew was the garage's flat roof—a curious departure from the style of the house, which has a far more attractive hipped roof. Taken together, these odd characteristics meant the TOH project team had to gin up some creative ways to better integrate the ugly-duckling structure with an otherwise lovely little house.
A Stunning Solution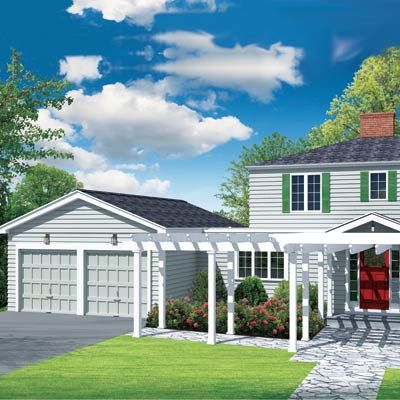 It's a situation that will ring familiar with many folks. Ever since attached, street-facing garages became the norm in the 1950s (before then, most garages were small, freestanding structures that were discreetly tucked away behind houses), homeowners and architects have faced a big challenge: how to make sure garages don't overshadow the houses themselves. For the TOH TV house, the solution will be a new "hat"—namely, a gabled roof that will match the one topping the new, bumped-out entryway. Unifying the entire facade will make the garage seem much less dominant. And a pergola, shown in the photo illustration below, will connect the garage to the entry structure, providing an extra dose of curb appeal.
The Sharmas also considered adding new carriage-style garage doors, but they proved too pricey for their budget. Instead, they'll give the existing doors a fresh coat of paint and add eye-catching oil-rubbed bronze sconces above each one.
Before: Awkward and Unattractive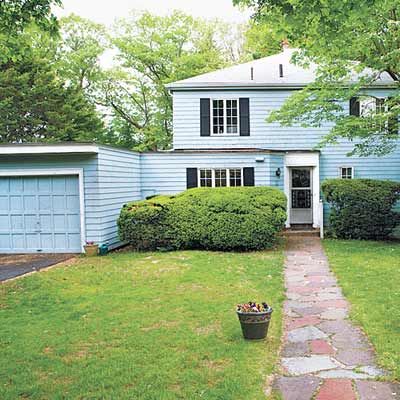 Even in today's iffy housing market, it's smart to tackle exterior projects like this one to help protect a home's value. If you're looking for ideas on how to make your garage more of a looker, check out the examples we've pulled together here.
Shown: Prominent placement and a flat roof make the garage stick out like a sore thumb.
Three Ways to Upgrade a Garage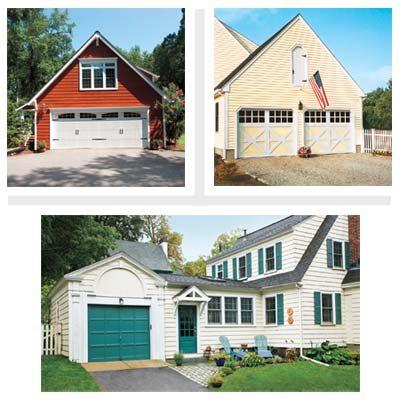 Don't let this spot become an afterthought. The remodels shown here reflect enhancements big and small made to this common but often overlooked structure.
Before: Boarded Up and Bland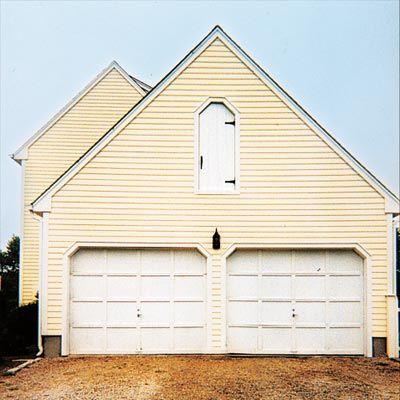 Let's face it: Many garage doors suffer from a serious image problem. In this case, a pair of windowless paneled doors made the entire garage structure of this house look more like a boarded-up building than part of a home-sweet-home.
1. Replace the Doors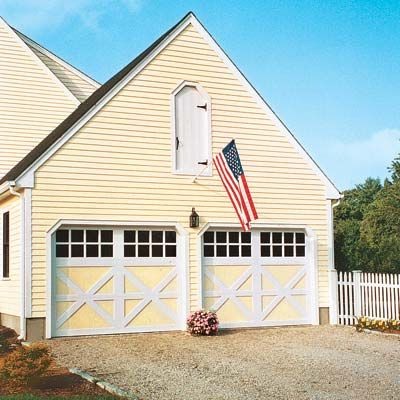 The simple addition of 16-light, two-toned barn-style doors gave this two-car garage much more visual appeal. The divided-light windows also break up the monotony of the facade, providing a new focal point.
Before: Plain and Outdated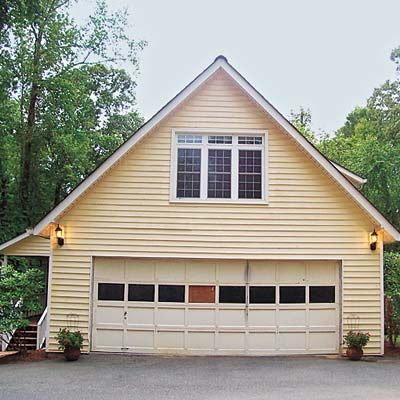 If you're planning to paint your house or add new siding, try to tackle other garage improvements at the same time—it's usually cheaper to do the work all at once than to make upgrades piecemeal. This house and its attached garage underwent a full makeover, including the replacement of vinyl siding with redwood-look shakes made of fiber cement.
2. Give It a Face-Lift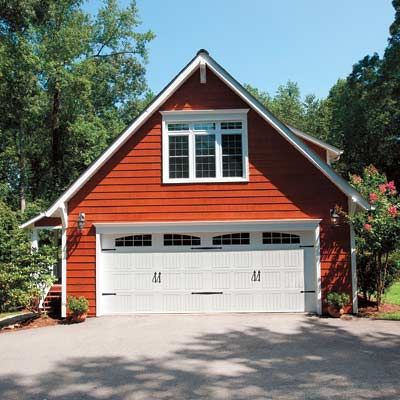 Working with designers at the Georgia-based remodeling company Exovations, the homeowners opted to replace the monolithic double-wide garage door with a decorative carriage-style model outfitted with Craftsman-inspired lights and strap hinges. Completing the look are new lanterns flanking the door, roof brackets supporting the eaves at the top and corners, and a pediment that dresses up an existing triple window.
Before: Drab and Disconnected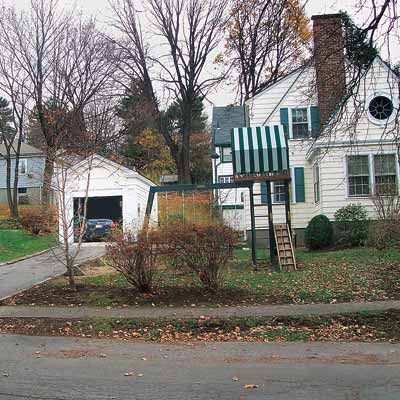 The garage itself got a boost from a fresh paint job and a new light fixture.
3. Connect It To The Main Structure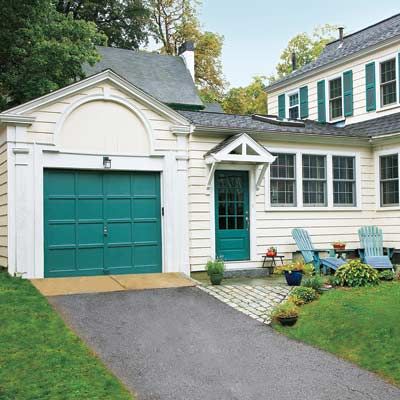 When a detached garage is located close enough to the house, it presents a prime opportunity for small-scale expansion. In this case, TOH TV's Auburndale project architect, Harriet Christina Chu, connected a gable-roofed single-car garage to the house with a hardworking addition that includes a spacious mudroom, as well as a small bathroom and breakfast nook.
Mudroom Bonus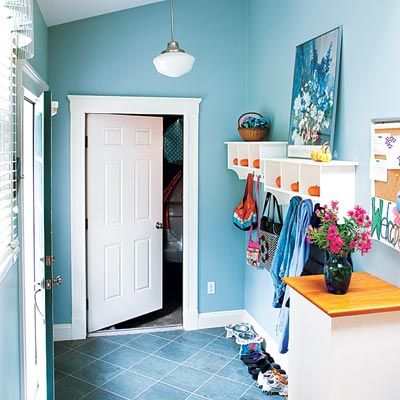 The family can walk directly from the car into the house during cold New England winters, and now have a perfect spot along the way to shed heavy coats and wet boots.