Room for Two
In a small house, every bit of space needs to work hard, as homeowners Samantha and Bryan Langdeau soon realized after buying their 1,200-square-foot Cape in Waterbury, Connecticut. Wanting to reserve the two bedrooms on the first floor for guests, they set their sights on the second-floor finished attic for their master suite.
Working nights and weekends for about two months while sleeping in a guest bedroom downstairs, the couple gutted much of the space, tore out closet walls, and added insulation throughout.
Work and Play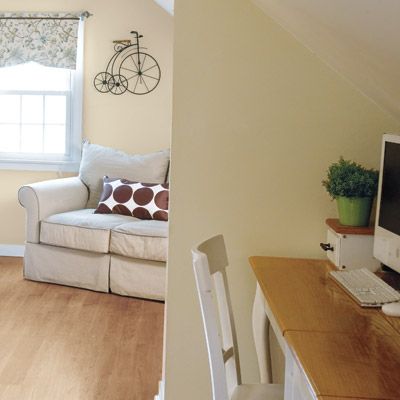 Raising the ceiling about a foot in the bedroom half of the area allowed for a ceiling fan, and adding a partition wall created a nook for a built-to-fit desk. With both windows unobstructed, natural light now flows from one end to the other, enhanced by pale neutral walls and fabrics. "We wanted to make it as light and bright as possible," says Bryan. With the transformation complete, the couple love waking up in their new, sun-filled master suite.
Before: Dark and Dysfunctional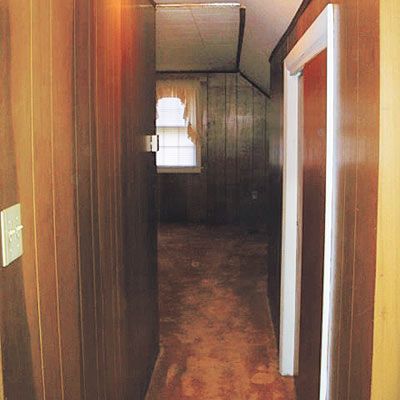 While a bath was already in place and indents in the carpet suggested there'd been a bed up there too, the space was far from restful. Dark wood paneling and space-hogging closets had turned it into a dim, depressing maze. "The hall was 20 inches wide. I don't know how anyone could have gotten a mattress up there," says Bryan.
Shown: Dark wood paneling, too many closets, and worn carpeting made the small space feel dated and claustrophobic.
Opening Up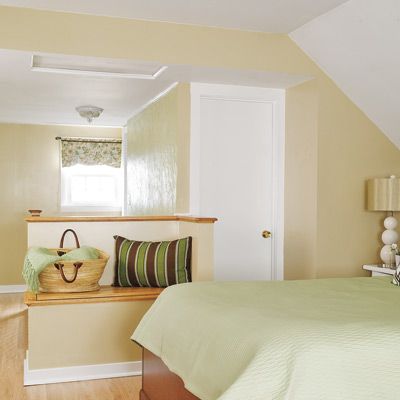 A half-wall behind the bedroom bench, plus a balustrade, replaced full walls that used to enclose the staircase. Now, end-to-end sight lines allow lots of sunlight to enter the space.
Smart Storage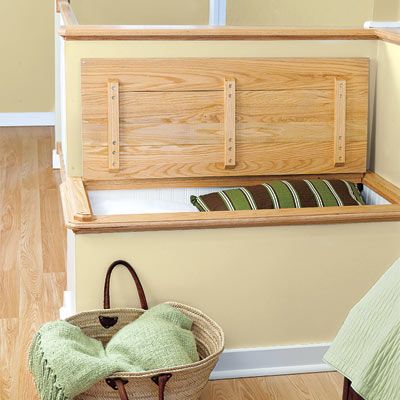 The built-in bench provides extra storage for linens. The painted base blends in with the walls, while the beadboard-lined interior ties in with the nearby bathroom.
Homeowner Tip
"Reuse materials wherever possible. I used 2x4s salvaged from the walls I demolished to frame the bench and covered it with leftover drywall." —Bryan Langdeau, Waterbury, Conn.
Master Bath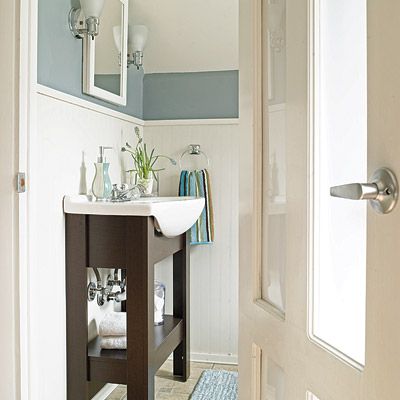 The updated bath was freshened up with paint and a new, space-saving vanity. A custom door built by the homeowner replaced a curtain. Its translucent, film-topped glass panels bring light into the small, windowless space while still maintaining privacy.
The Project Tally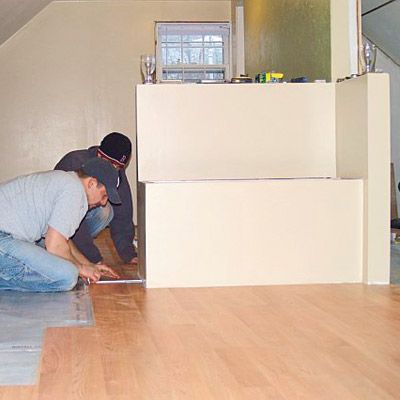 • Gutted the space of paneling, drywall, and carpet, $0
• Added insulation and raised half of the dropped ceiling, $200
• Updated the electrical and installed new light fixtures, $325
• Put up new drywall and added baseboard, window, and doorway trim, $400
• Replaced one stairwell wall with a balustrade, $165
• Laid an oak floating floor, $800
• Built a glass-panel pine door for the bath's narrow doorway, $120
• Installed a new bath vanity, $110
• Made an oak-topped half-wall and built-in storage bench, $250
• Brightened walls with 2 gallons of primer and 5 gallons of paint, $250
TOTAL: $2,620