Whether you envision your house's top floor as an away-from-it-all master suite, a quiet home office, or a hangout spot for the kids, read these 14 tips to help you finish your attic remodel:
Get a Quote from an Insulation Professional Near You
Get matched with an expert in less than 3 minutes
1. Account for Codes and Safety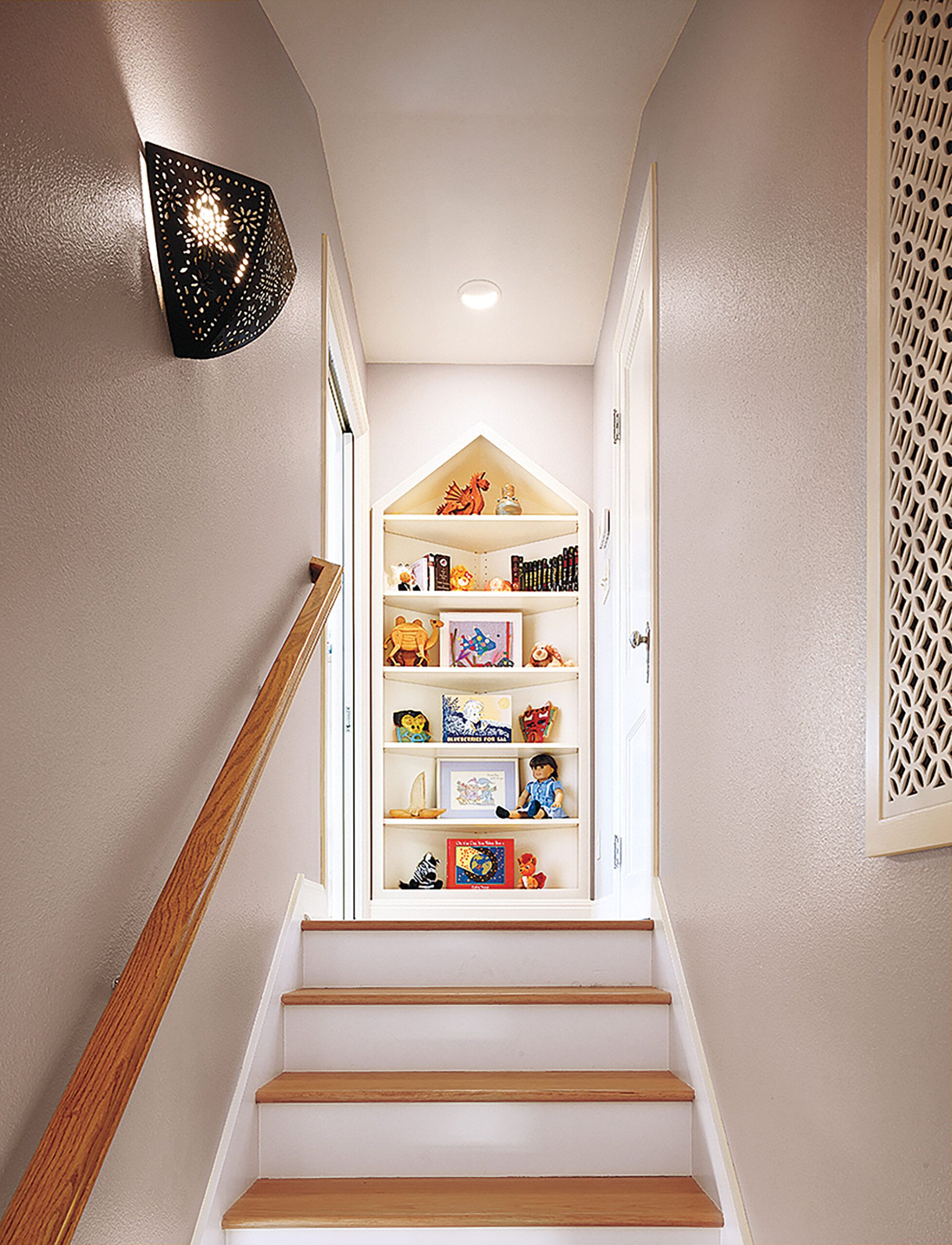 Every attic is different, but a few established norms and practices will guide your renovation.
Follow the "rule of 7s": Enforcement varies, but codes typically say that at least half of a finished attic must be at least 7 feet high, and that this area must be a minimum of 7 feet wide and 70 square feet. A contractor or a local building official can help you assess how the rule will apply to your attic and how modifications like dormers can resolve height shortcomings.
Have a pro check the structure: A finished attic weighs a lot more than boxes of off-season duds. Hire an engineer to inspect your house's foundation and framing to ensure they can carry the extra load. At a minimum, you may need to strengthen the attic's floor joists, which are often too shallow or spaced too far apart for the job.
Assess your access: If you're building a stair-case from scratch, consider a switchback layout. It needs more room than a straight run (roughly 45 to 50 square feet per floor versus 33), but its footprint is more squarish than linear, so it will often fit in spaces where a straight run can't go. Just make sure the landing is large enough to maneuver furniture upstairs.
Pictured: A focal point at the top of an attic stairway, like this peaked bookshelf, draws people up.
2. Add a Ceiling Finish
Consider one of these finishes for your attic ceiling.
"Wall" Frames
Paneling with applied moldings is an elegant touch for a traditional space.
Beadboard Panels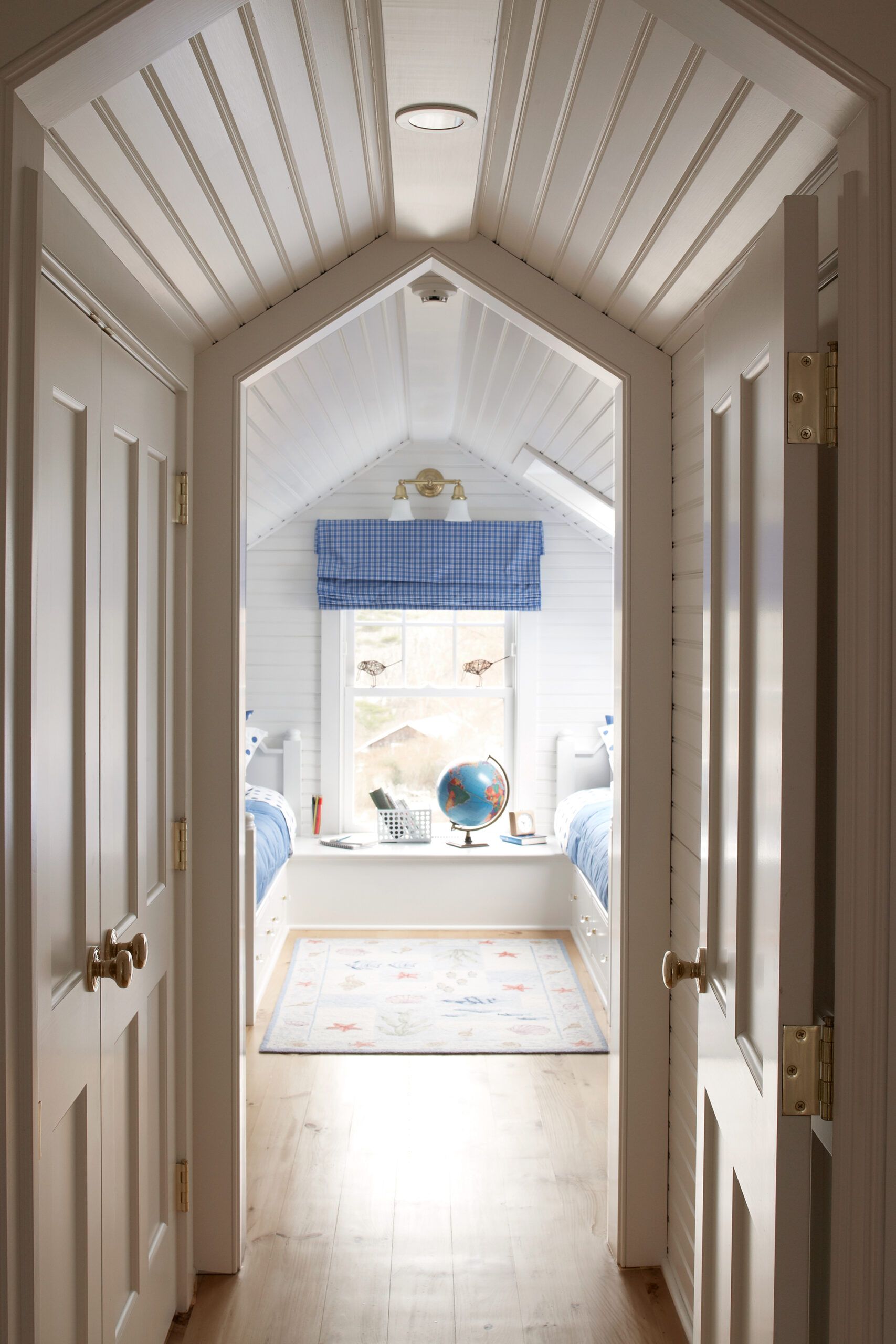 A timeless classic, these tongue-and-groove panels are easy to install and will protect the low ceiling from dings and dents.
V-groove Wood Paneling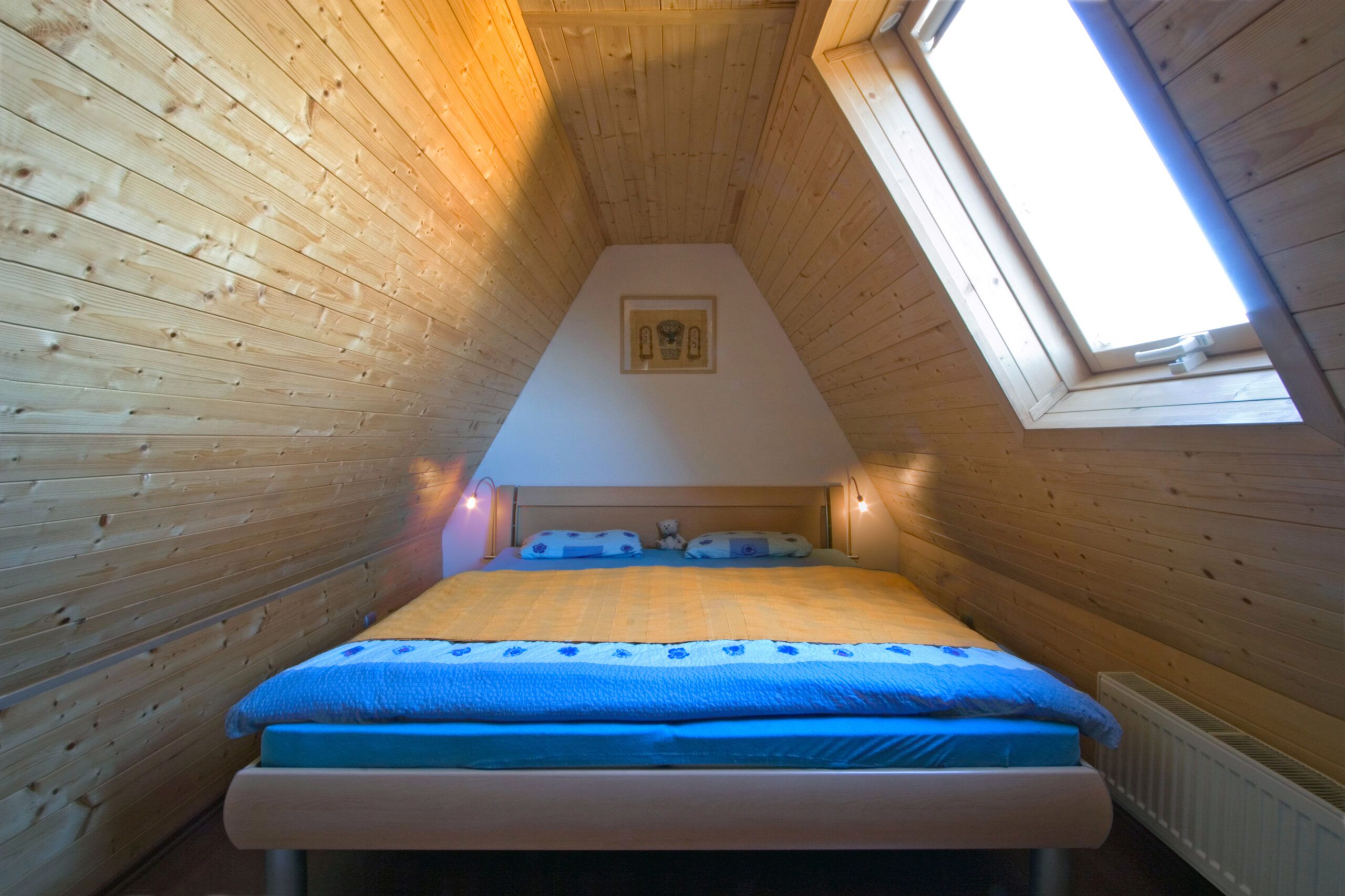 Stained or left bare, wood makes a low-ceilinged attic feel snug and cozy. You can vary the look by using boards of different widths.
3. Put in a Ceiling Fan for Better Climate Control
If you've got headroom, a fan will make a finished attic more comfortable in warmer months by giving you a cool breeze indoors. Flip the reverse switch in wintertime and it will push warmer air down to keep you cozy.
4. Select Attic Lighting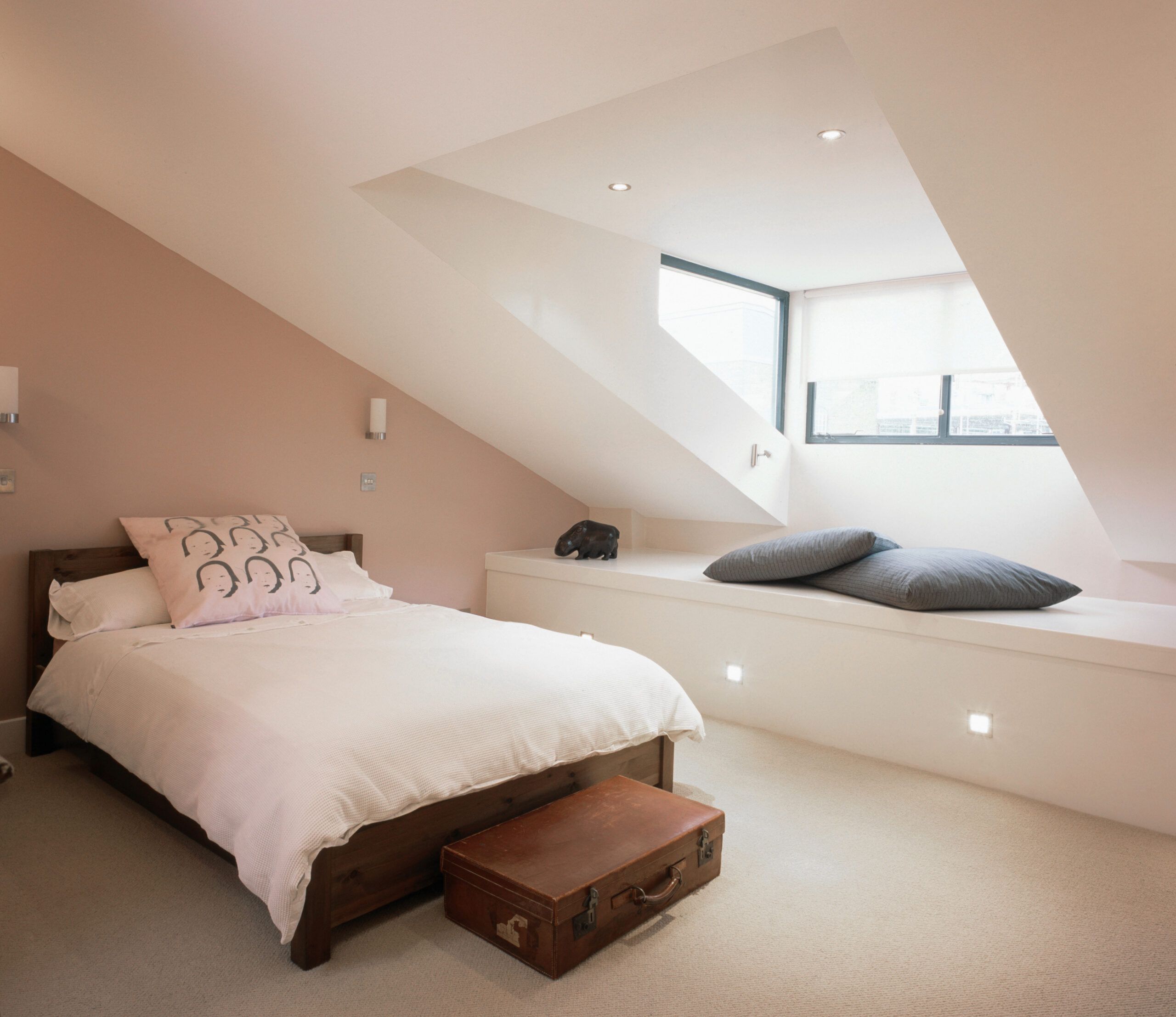 Recessed LED fixtures tuck completely out of the way, don't generate unwanted heat, and can have insulation installed snugly, and safely, around them.
5. Hush Up the Floors
Attic activity can cause a racket in the rooms below. Beefier floor joists will quiet things down, as will filling the bays with blown-in dense-pack insulation. And don't forget the low-tech fix: carpet or area rugs.
6. Use a Cohesive Color Scheme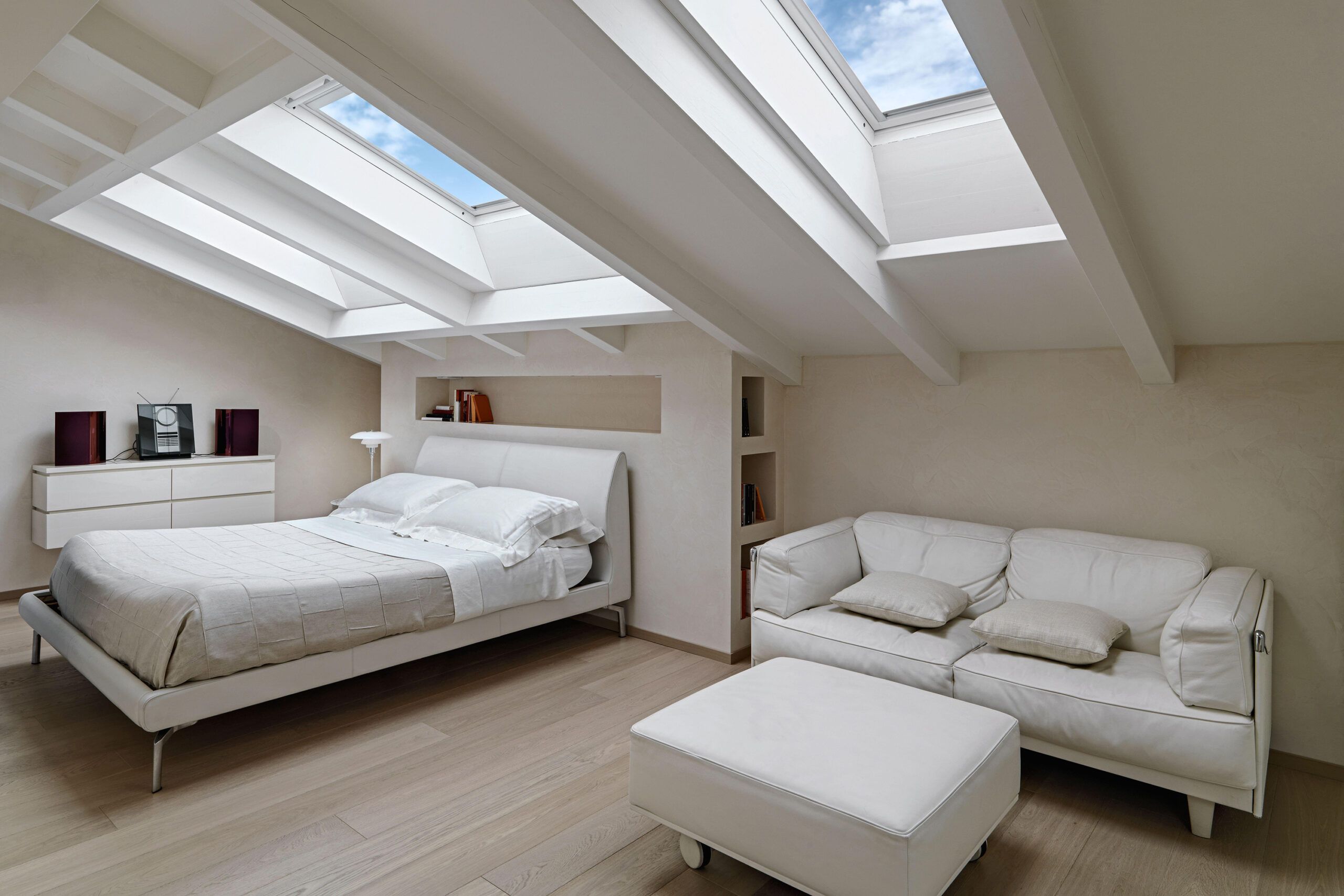 Painting walls, ceilings, floors, and even furnishings in a light hue ties together disparate materials, making even the tiniest attic feel larger and airier. You can't fail if you opt for warm whites, like ivory or cream, to avoid an antiseptic hospital look.
7. Splurge on Spray-Foam Roof Insulation
It costs two to three times more than fiberglass batt insulation. But the roof is a major pathway to heat loss—and gain—so it's worth shelling out the extra bucks for spray foam. It forms a much tighter air barrier, and you'll get the same R-value with fewer inches of the stuff, so you'll have extra room overhead.
8. "Zone" the Area Under a Dormer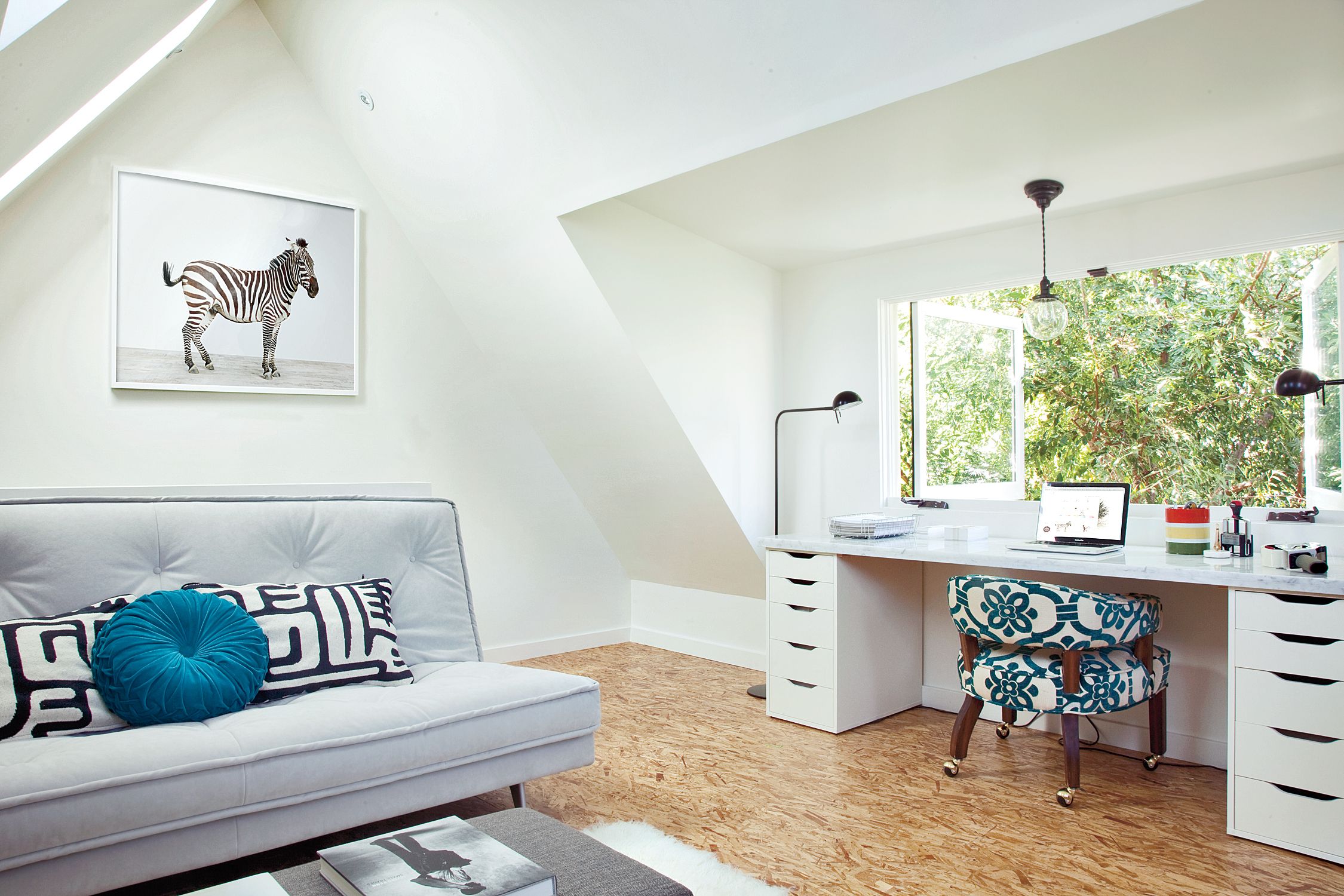 In addition to adding more headroom and bringing in natural light, a dormer can shelter a miniature room of its own within an open floor plan.
Add a desk and you've got a new home office; a pint-size table and chairs becomes the kids' craft area; or keep it simple with a comfy reading chair and footstool.
9. If You're Planning to Put in a Bathroom
These pointers will help you achieve a comfortable, restful retreat.
Sit it Above a Bath or Kitchen
Minimize the distance between new and existing plumbing to reduce costs and limit wall damage as pipes are installed. You can sometimes tie new pipes to old ones, but it's often preferable to run the attic's supply and drain lines all the way to the basement, for optimal water pressure and proper venting of sewer gases.
Opt for a Claw-Foot Tub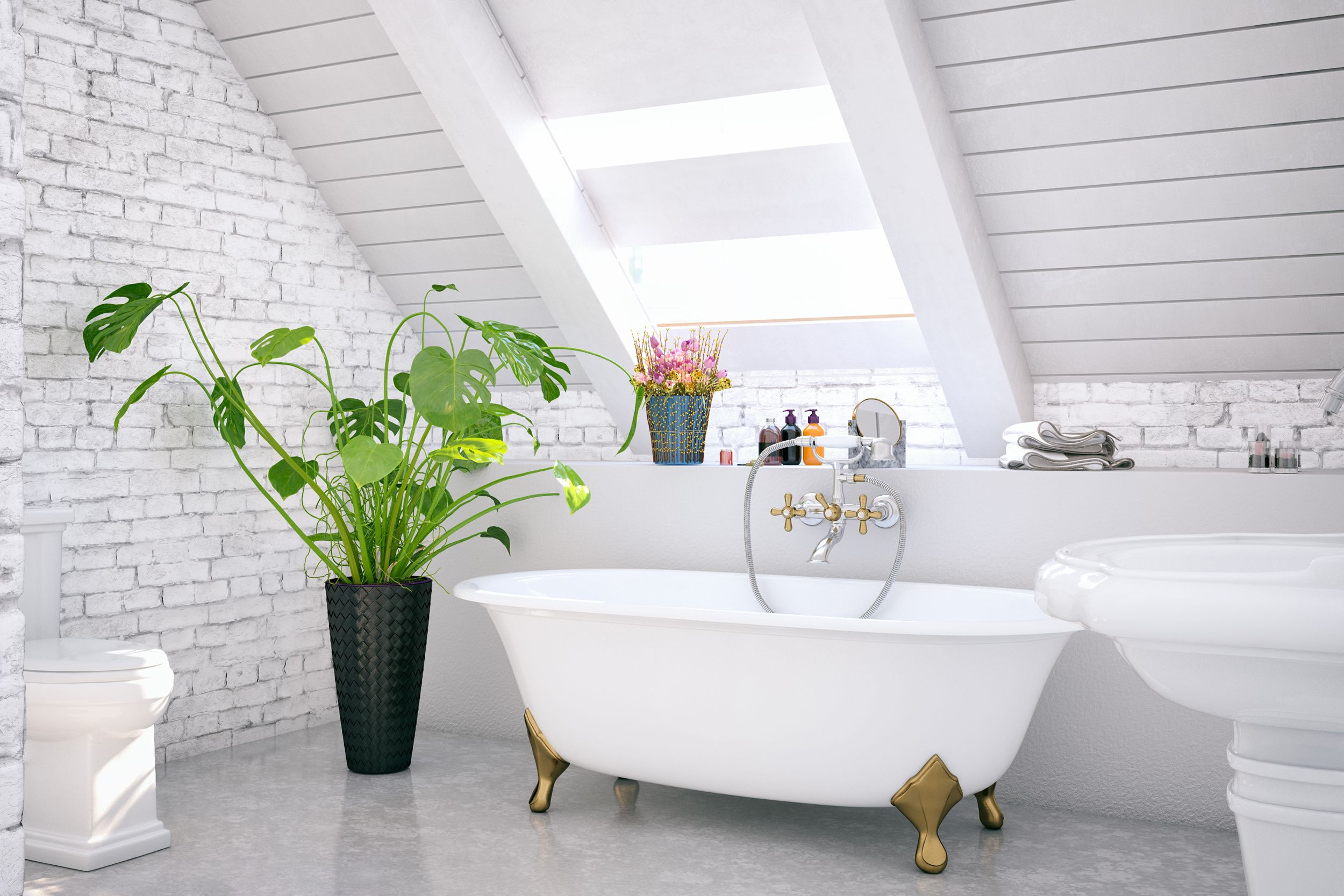 This low-profile, small-footprint soaker can be squeezed in just about anywhere. A fiberglass model is easier to hoist to the top floor than cast iron.
10. Gain Headroom with a Skylight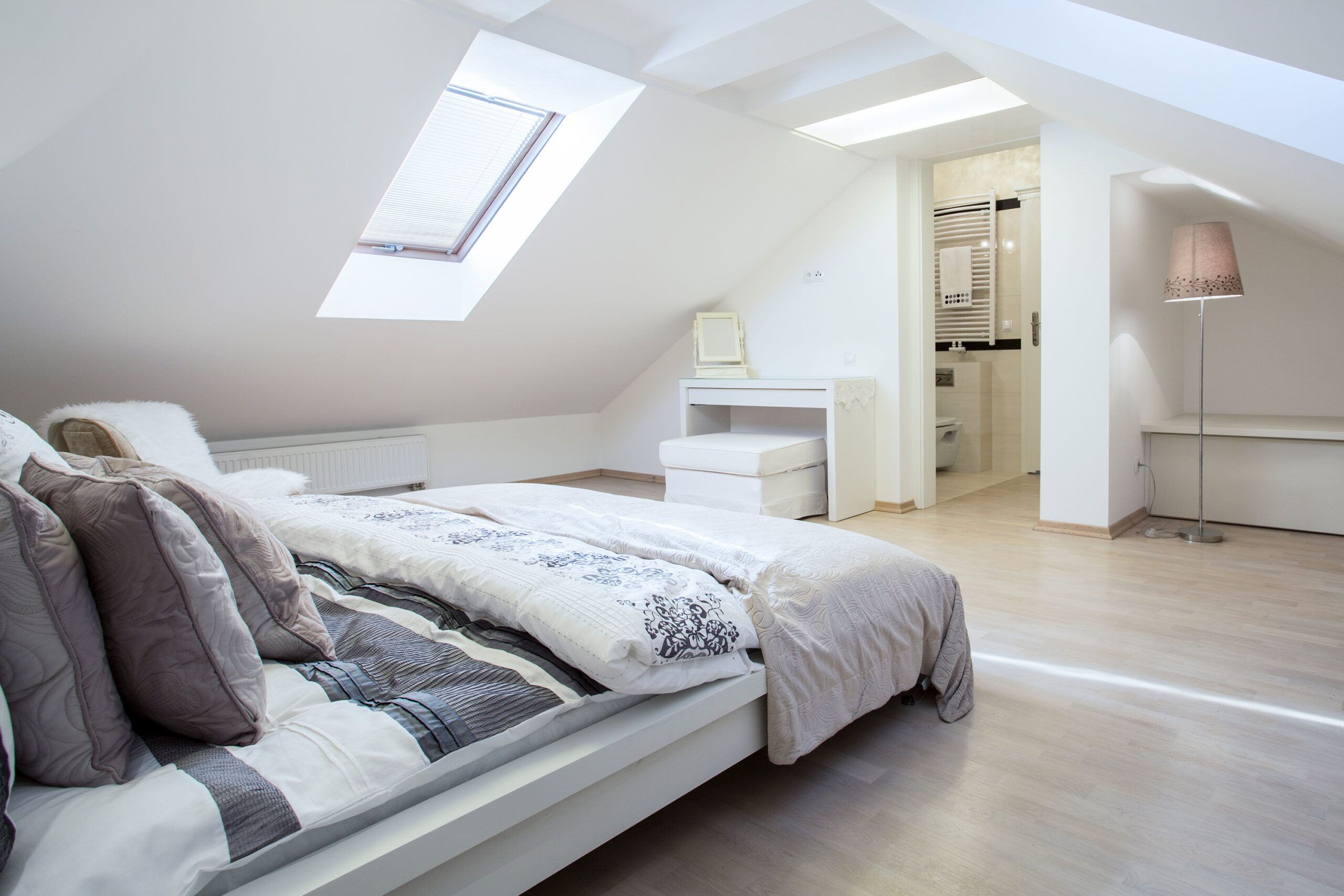 Because it's cut into the rafters, a skylight can provide a few much-needed inches above a sink or toilet that's tucked under the eaves, so you can use them without fear of bumping your noggin.
Order these upgrades with your skylights—they're worth it:
Remote-control operation to let you open and shut high skylights with the touch of a button.
Roll-up insect screens to keep out bugs and debris. The screens can be retracted for cleaning the glass.
Solar shades to prevent indoor temps from climbing too high. They're juiced by the power of the sun.
11. Use Storage Wisely
Recess it into Knee Walls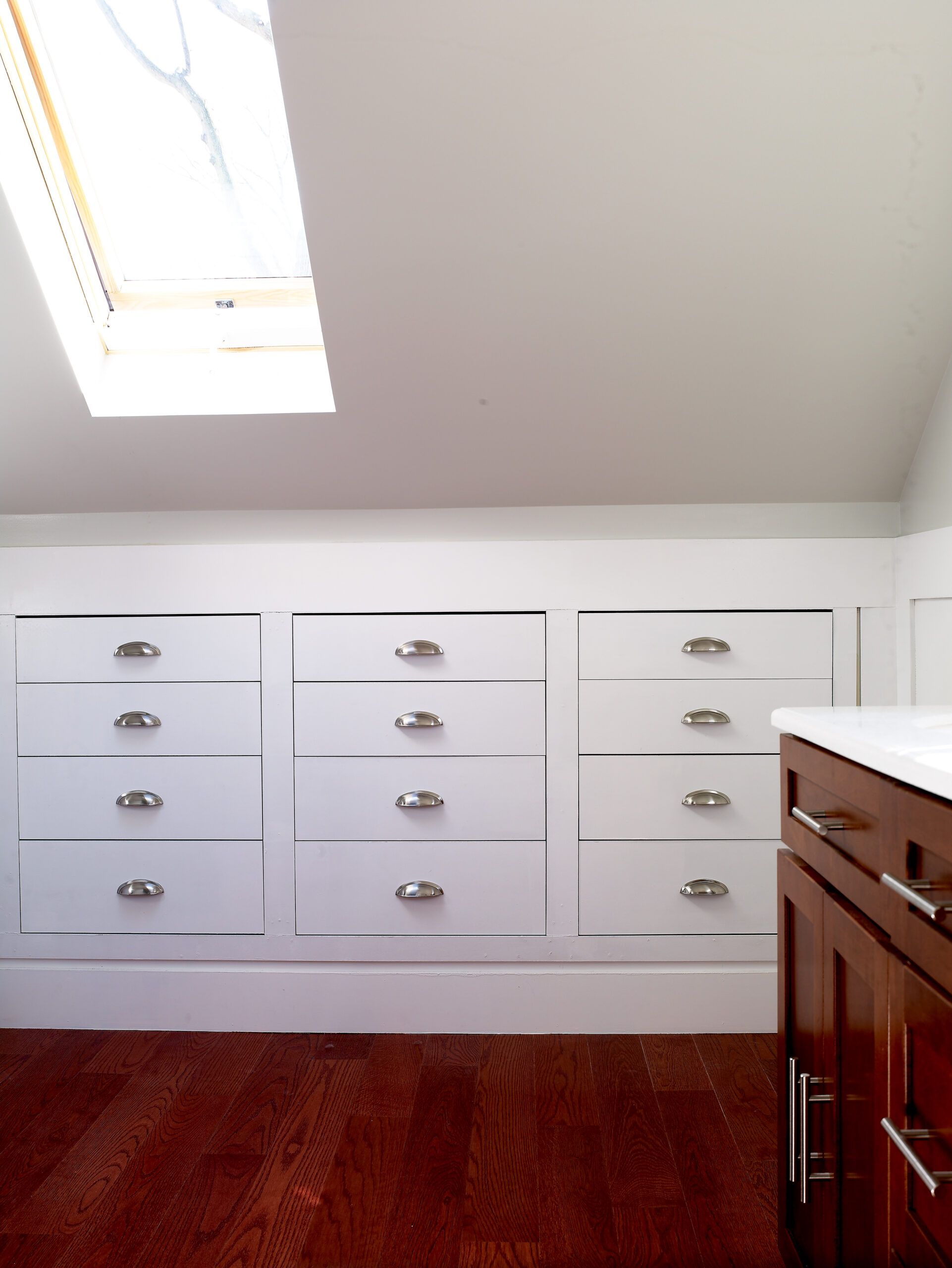 Perimeter drawers, cabinets, and cubbies save space. Get the how-to on recessing a chest of drawers.
Use Every Nook and Cranny
Even awkward niches—alongside chimneys and pipe chases, or near low walls—offer an opportunity for installing DIY open shelving..
Delineate Space With It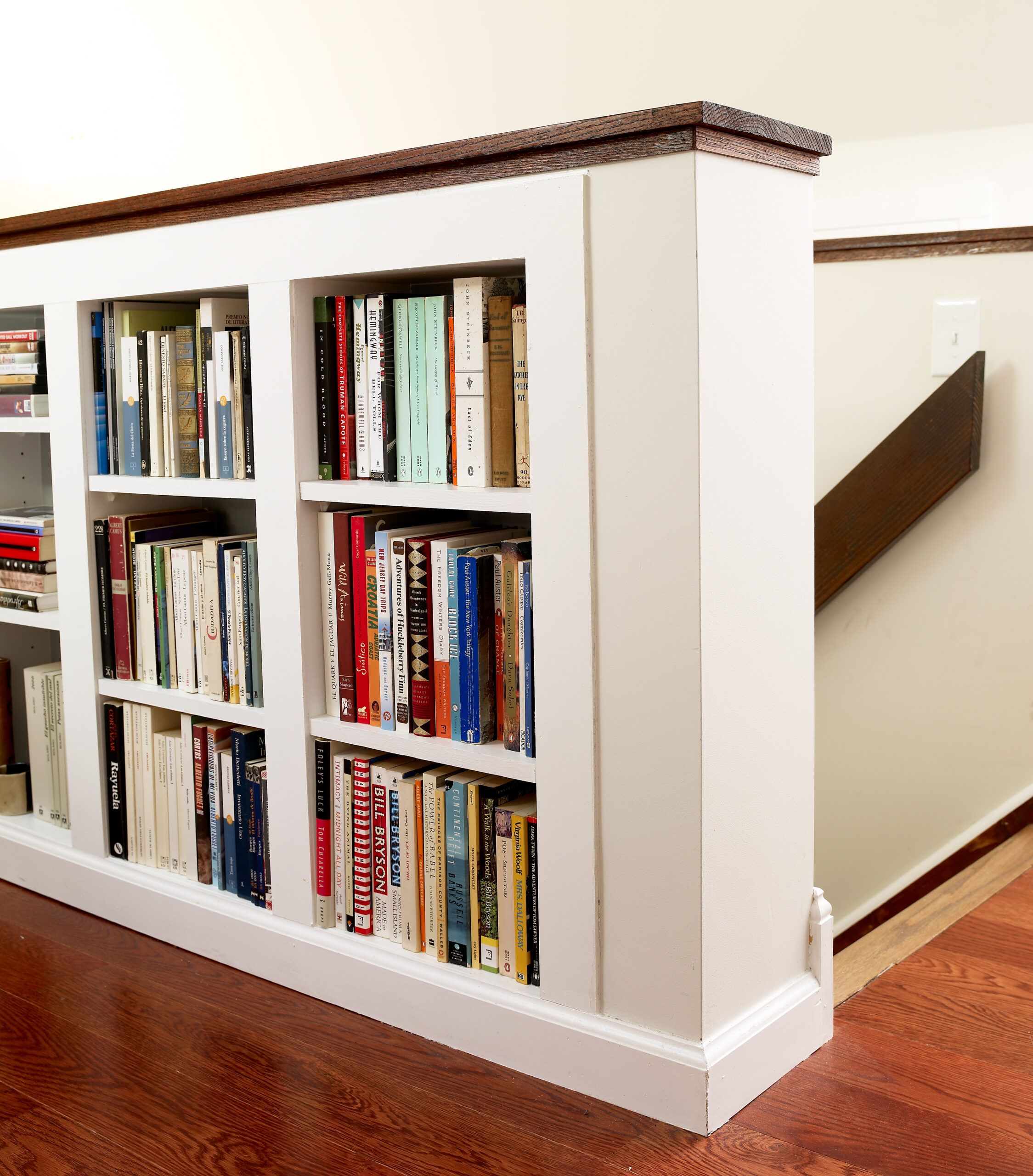 Look for ways to work storage into the room's interior. Here, a half-wall along a staircase doubles as a bookshelf next to a home office.
Consider Bumping In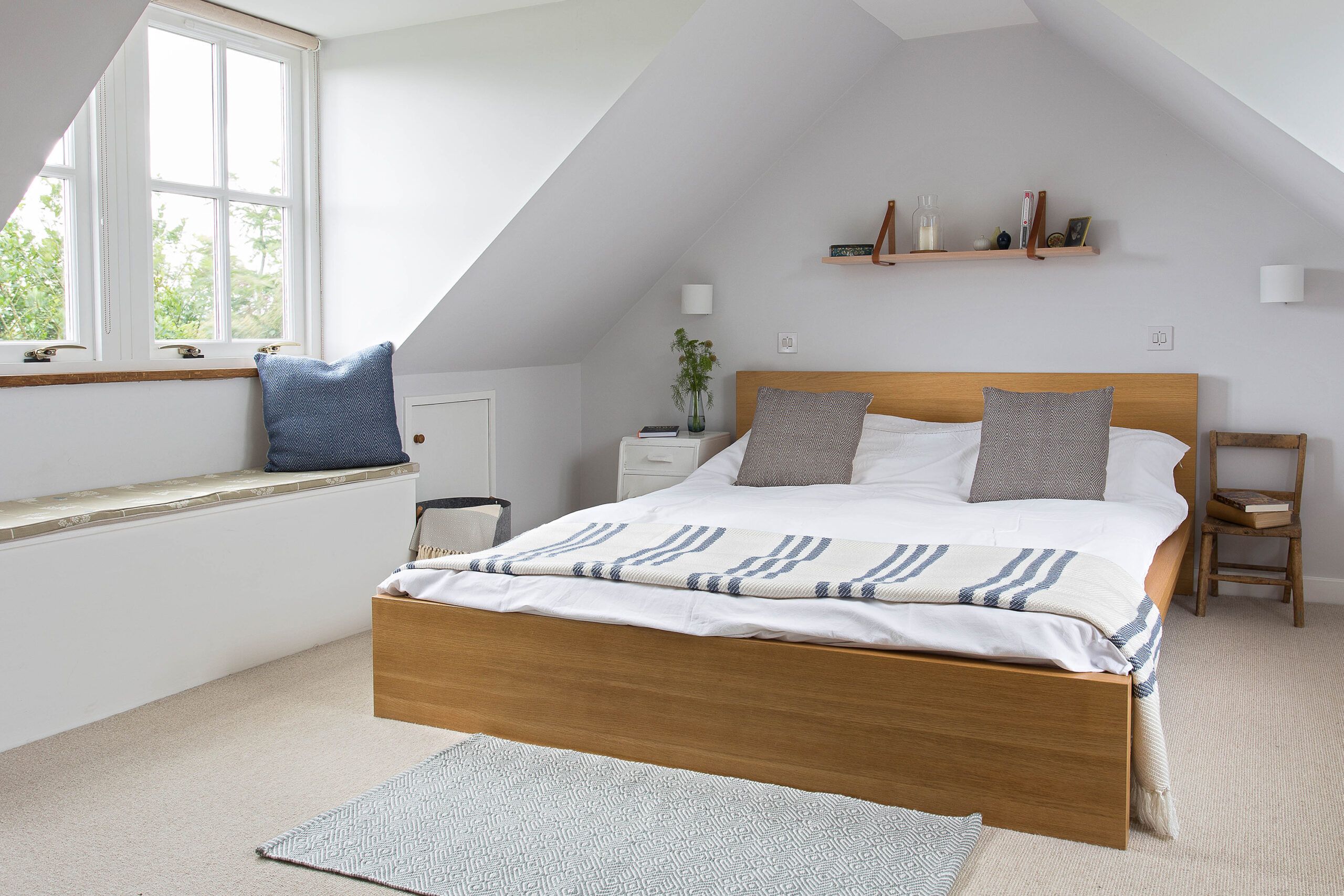 If there's no room for recessed storage, go the other way. Built-in cabinets with drawers or doors below make handy window seats.
12. Put Twin Beds Head-to-Head
Sure, you could place beds side by side under opposite eaves. But this fun arrangement will allow kids to giggle together before falling asleep. Plus, it frees up the other side of the attic for a different use.
13. Make Emergency Egress Easier
Required by code for bedrooms, and a good idea for any attic room, is a window that can be used for an escape in case of an emergency. An in-wall rope ladder installed beneath it, hidden by a cabinet door, will give you extra peace of mind. From about $300, egressescapewindows.com
14. Put It on Its Own Thermostat
Your attic has a climate of its own: warmer in both summer and winter, if it's well insulated. For maximum comfort, create a separate zone within your HVAC system for the finished space. There's a chance you'll need to enlarge the system if your attic wasn't heated or cooled previously, so call in a pro to make sure it's up to snuff.
Bonus: Two Handy Things to Have When It's Finished
A broom closet to house cleaning supplies you won't want to lug upstairs again and again, including a spare vacuum cleaner.
A wireless doorbell extender for your existing hard-wired doorbell. Hook it up and the two will ring in tandem, so you'll never miss an important delivery or guest again. About $35, smarthome.com