STAMFORD, CT., FEB. 11, 2021 – This Old House, the most trusted brand in home improvement, announced today the premiere issue of its new upgraded This Old House Magazine with additional content pages, a new, contemporary look, and more pro knowledge from its experts. The new, quarterly print edition is in homes starting February 16th, the tablet version is live now.
"Having reached the magazine's milestone 25th year in 2020, we looked to see how we could serve our readers even better," said Kathryn Keller, Editor-in-Chief, This Old House Magazine. "We heard from more than 12,500 of the subscribers we surveyed, who told us they wanted even more advice from This Old House's trusted experts, and more design ideas and tips. We heard them loud-and-clear and the result is a richer, upgraded magazine with a fresh, more contemporary design, a new content architecture, and an expanded mix of columns and features that leverages and expands upon our built-in expertise."
Highlights include:
Approximately 50% more editorial pages
A revamped design with a cleaner, bolder look featuring new fonts, a modernized color palette, and a heavier premium paper stock
An updated architecture that organizes the content into three sections to arm homeowners with the inspiration, information, and instruction they need to tackle and succeed with any project
Idea File: Inspiring spaces, design details, and finishing touches
Nuts & Bolts: Renovation guides, project advice, and building know-how to help homeowners get the job done right
Workshop: Noteworthy new products, skill-building how-to instructions, step-by-step DIY projects, and seasonal maintenance tips
New columns that leverage the pro knowledge of the This Old House team of experts and partner builders, architects, and renovation professionals
DIY projects, tips, and success stories from the magazine's engaged readers
Remodeling guides, seasonal maintenance fixes, and step-by-step projects
Stunning before and after photos of home improvement makeovers
Reviews and overviews of the newest tools and products to make projects easier
The premiere Spring 2021 issue — "The Do-It-Right Renovation Guide" — features 128 pages, highlighted by the gate-fold cover with the This Old House team of experts: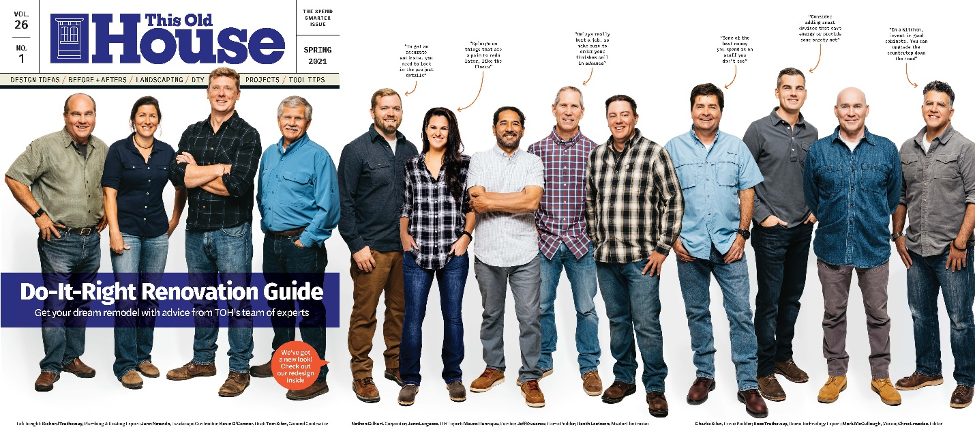 Content highlights of the premiere issue include:
How to Renovate Right — Every This Old House expert weighs in to help readers achieve the remodel of their dreams
Before & After: Bath — A shared bath gains major style and storage, without changes to the footprint or the plumbing plan
From the TOH Job Site: The Dorchester Project — As part of This Old House's 42nd season, the crew tackles the rebuilding of a fire-damaged "three-decker"
2021 Idea House: Modern Barnhouse — This Old House teams up with contractor and former TV host Amy Matthews on a modern-rustic house outside St. Paul, MN
Build It: Modern Platform Bench — TOH general contractor Tom Silva and host Kevin O'Connor use ipe decking to create a slatted bench inspired by a mid-century classic
Tool Lab — TOH editor Chris Ermides teaches the basics of using a sliding compound-miter saw, and how to choose the best one for your needs
The Reno Coach: Real estate agent and renovation coach Bruce Irving delves into how to balance personal needs with resale goals
Designer Q&A: Design pro and Clare founder Nicole Gibbons on how to choose the right finishes and furnishings for your home
Home Finances — Smart ways to cover renovation costs
Smart Home — Tips to make the most of connected conveniences without sacrificing your right to privacy
About This Old House Ventures, LLC
This Old House Ventures, LLC is the number one multi-platform home enthusiast brand, serving over 20 million house-proud consumers each month with trusted information and expert advice through its Emmy award-winning television shows This Old House and Ask This Old House, its highly regarded This Old House magazine and its inspiration and information-driven digital properties, including ThisOldHouse.com, streaming app, FAST channels, podcasts (Clearstory and Ask This Old House), social platforms, popular YouTube channel, and Insider subscription club. This Old House and Ask This Old House are produced by This Old House Ventures, LLC, and are presented on PBS by WETA Washington, DC. National underwriting for This Old House is provided by The Home Depot, GMC, Gorilla Glue, Marvin, HomeAdvisor, Schneider Electric, Kubota and Louisiana-Pacific Corporation.