Basin size, sink style, configuration, material, gauge—with so many options to choose from, buying a new sink can be daunting. MR Direct carries an amazing array of sinks, in a variety of prices, styles, and materials, so we've compiled some of our favorites to help you get started.
Complete Your Kitchen
Stainless Steel Apron Sink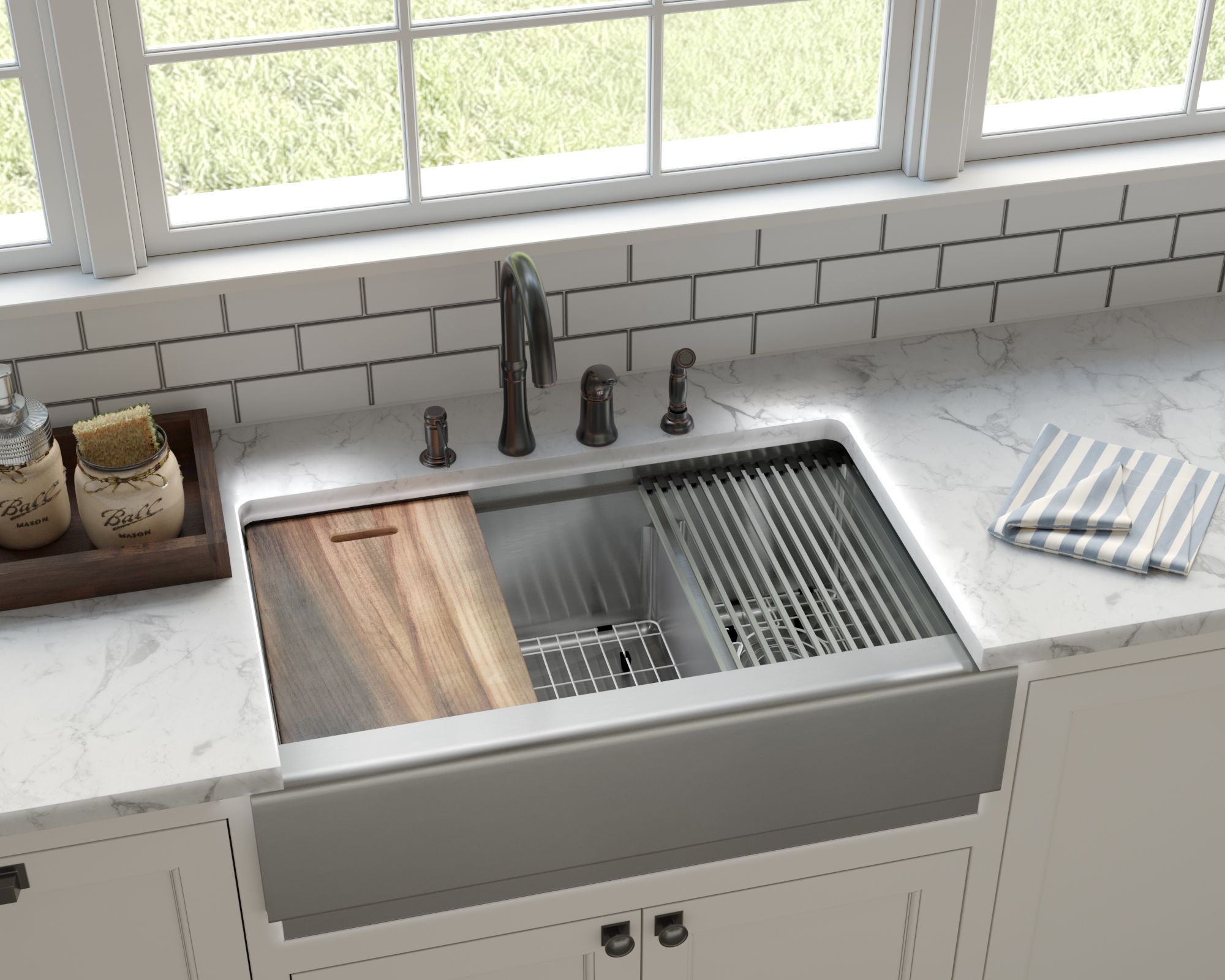 Why We Love It
Apron sinks are mounted either over or under the countertop, so that the front remains exposed and almost appears to be carved into the cabinetry. This apron-front workstation sink features two offset bowls and a sleek, brushed-satin finish for a contemporary look. It's designed with an integrated shelf at the top interior of the basin that supports handy prep accessories such as a stainless-steel rolling grid and an integrated cutting board (as shown). Made of premium T304-grade steel that's tough enough to stand up to stains and corrosion, this sink also features sound-dampening rubber pads that minimize the noise and vibration typical of steel sinks.
Materials Matter
One of the most popular sink materials, stainless steel is praised for its durability, stain resistance, low maintenance, and affordability. Stainless steel sinks come in a variety of gauges; the lower the gauge, the thicker the steel. A heavier-gauge sink can be slightly more resistant to dents and typically a bit less noisy than its lighter-gauge counterparts.
Buy it now: 407L Ledge Double-Bowl Stainless Sink via MR Direct
Fireclay Farmhouse Sink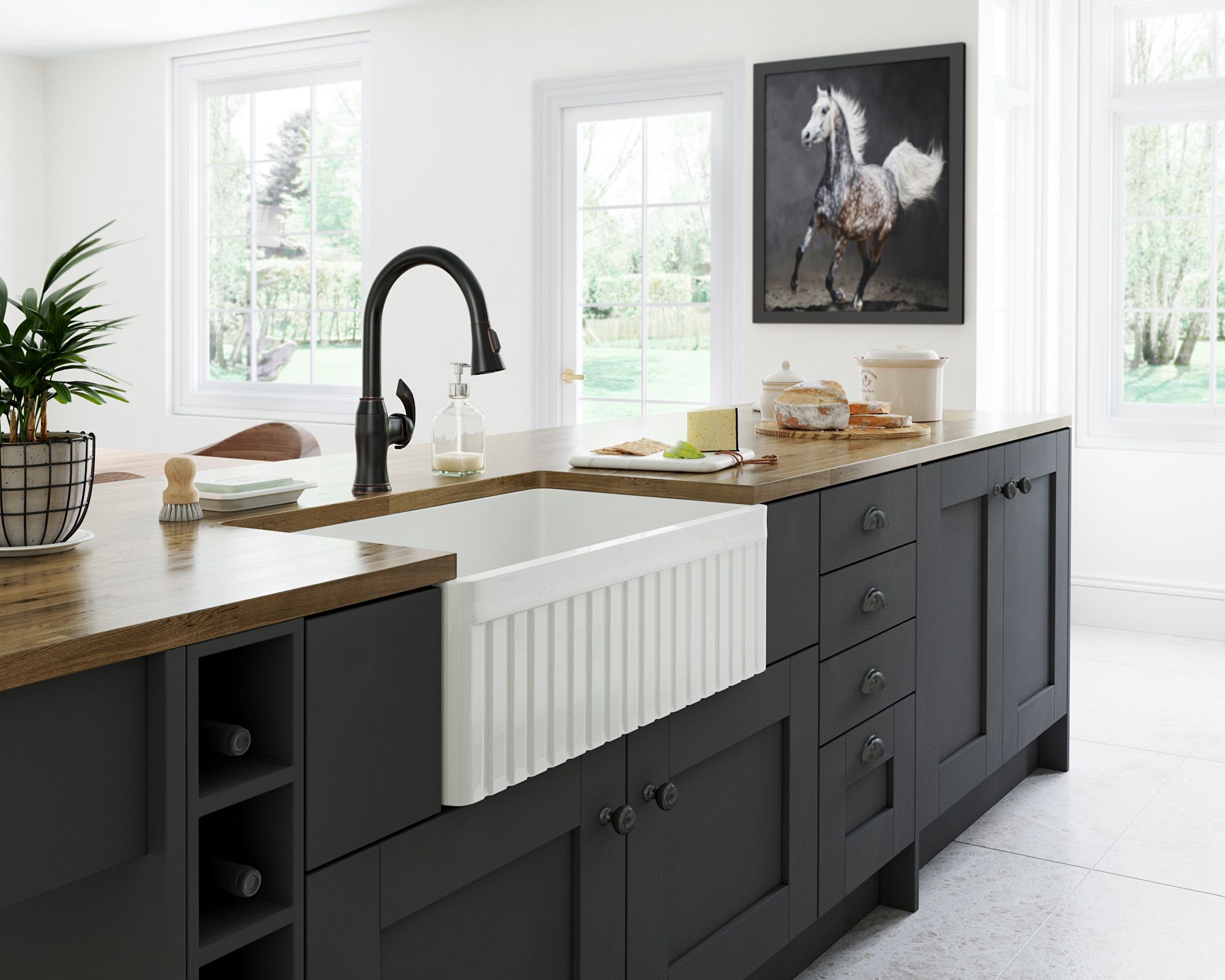 Why We Love It
Timeless yet vintage-inspired, this fireclay reversible farmhouse-style sink is fluted on one side (as shown here) and smooth on the other. With a generous 10-inch depth and a glossy, easy-to-clean surface, it's both functional and fashionable, and will complement traditional and modern kitchens alike. Also available in a double-bowl option.
Materials Matter
Denser and stronger than porcelain, fireclay sinks are molded from a mixture of clay and other materials, then glazed and kiln-fired at temperatures of over 2,000 degrees Fahrenheit to ensure a smooth body, durable base, and beautiful finish. Fireclay is made with durability in mind; its nonporous glaze will not absorb odors or stains and is practically impervious to scratches and cracks.
Buy it now: 412 Fireclay Single Bowl Sink, via MR Direct
Quartz-Granite Undermount Sink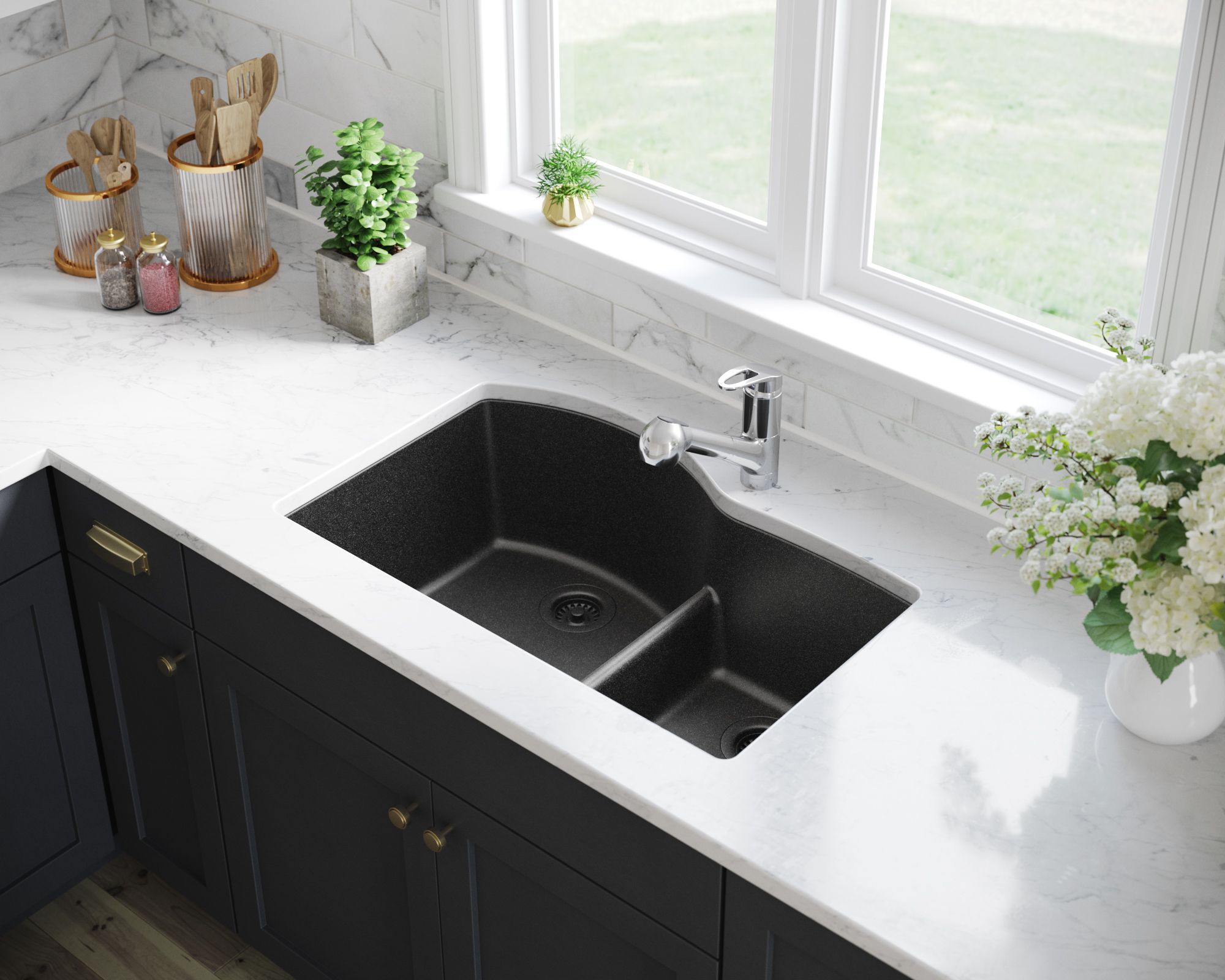 Why We Love It
Undermount sinks are aptly named as they sit below the countertop, without exposing the sink rim, for a clean, attractive look. You'll get a bit more counter space, and be able to swipe food and liquid messes right into the sink for easy cleanup. This offset-bowl sink is available in six colors to match any decor; the deep inky black shown here is decidedly modern and will never fade or lose color because the pigment is uniform throughout.
Materials Matter
Quartz is the hardest component of granite, and when combined with acrylic it provides exceptional durability and scratch resistance. This quartz-granite blend consists of 80% quartz and 20% acrylic, creating an impervious surface that is antibacterial, stain and scratch resistant, and can withstand heat up to 550 degrees Fahrenheit. And the acrylic acts as a natural sound dampener, eliminating the need for dampening pads.
Buy it now: 811 Black Offset Low-Divide Undermount Sink via MR Direct
Hammered Copper Apron Sink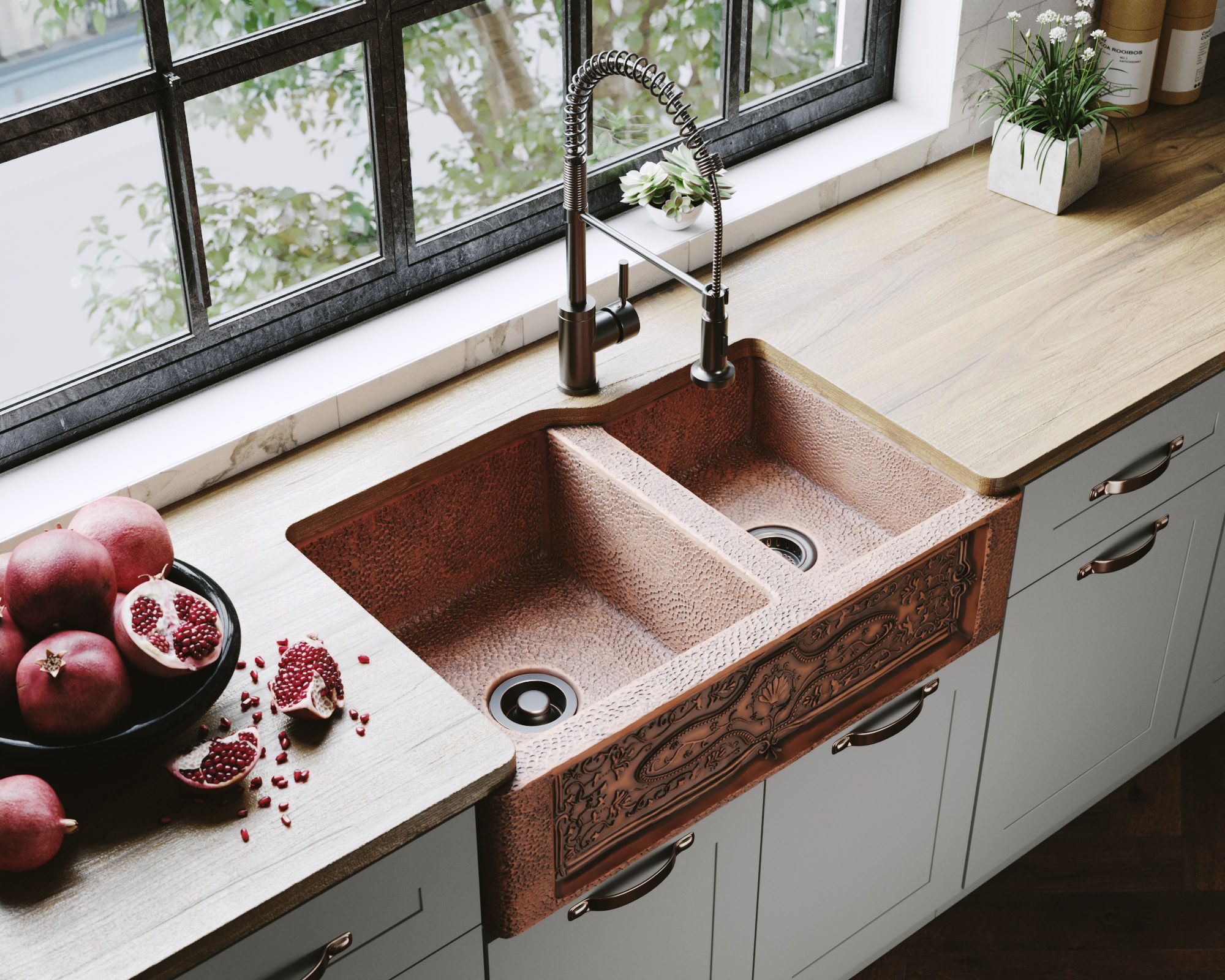 Why We Love It
This hand-crafted apron sink is made from 99% pure mined copper. The seamless design is formed from a single piece of metal, hand-hammered by artisans to achieve a one-of-a-kind textured basin that also effectively hides any blemishes or scratches that may appear over time. Available in undermount, dual-mount, and apron options, copper sinks are sure to add warmth and richness to any style kitchen.
Materials Matter
Since copper is naturally antibacterial and stain resistant, it's great for busy households that benefit from low-maintenance materials. Like a penny, over time the copper and oxygen react to create a rich patina, darkening the color and deepening the character.
Buy it now: 911 Offset Double Bowl Copper Apron Sink via MR Direct
Beautify Your Bathroom
Undermount Porcelain Sink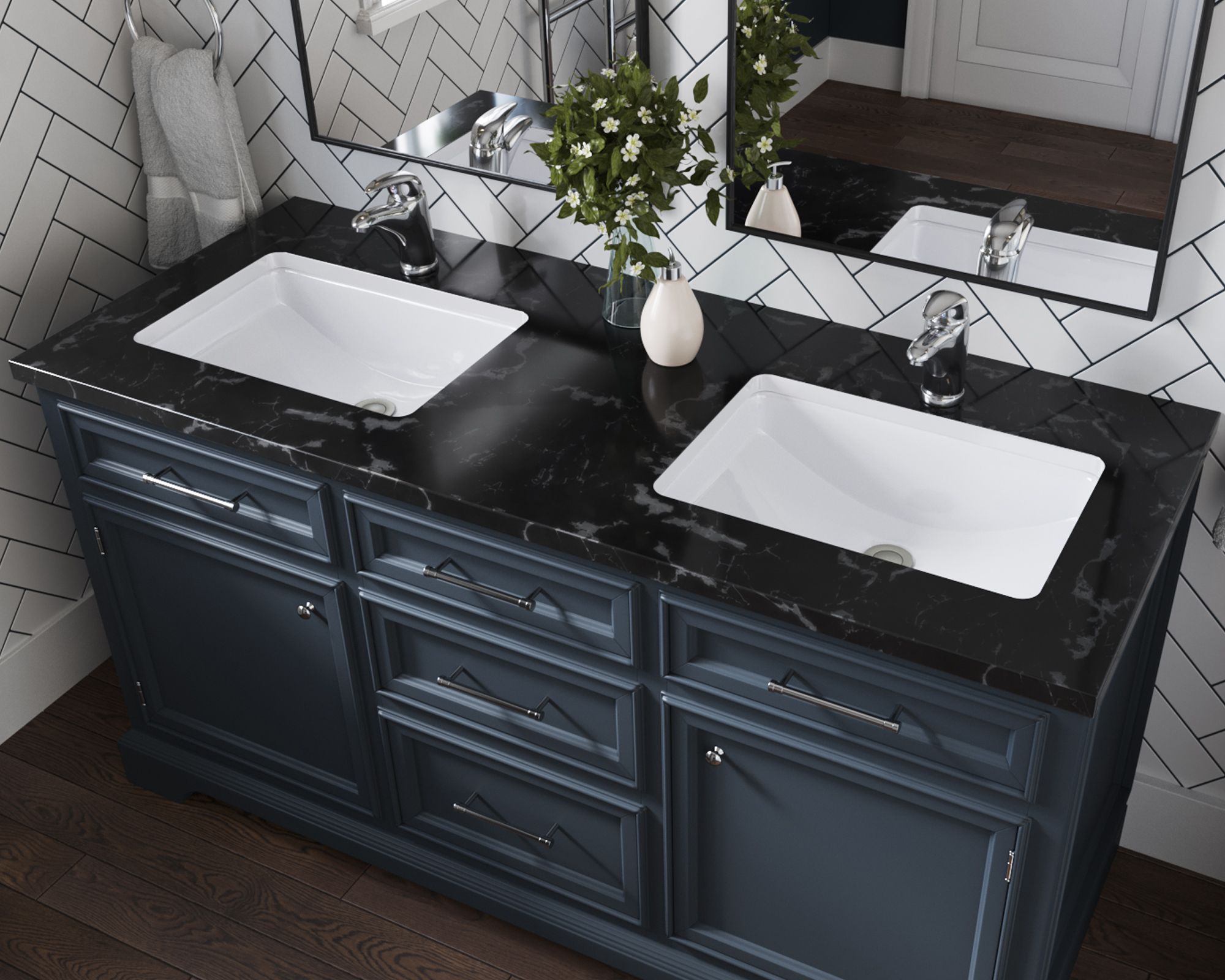 Why We Love It
This undermount porcelain sink made of true vitreous china is a simply designed classic, sure to complement any bathroom style. The rectangular shape of these matching basins offers ample depth for washing, and a more modern look.
Undermounting a bathroom sink creates a sleek look and maximizes space on the countertop—a welcome attribute in any bath, especially in smaller powder rooms. Undermount sinks are typically best suited for solid-surface countertops, like granite or soapstone. But if you have a laminate countertop, we've got good news for you: MR Direct has just introduced SinkLink, an innovative, key installation piece that allows their high-quality undermount stainless steel and porcelain sinks the ability to be installed in laminate countertops, for a cost-effective, flexible project solution.
Materials Matter
This highly durable sink is made of a mixture of clay and other minerals that is triple-glazed and triple-fired at about 2,000 degrees Fahrenheit. The result is a smooth porcelain surface known as vitreous china, which is denser, glossier, and far more durable than fine china. Nonporous, easy to clean, and affordable, porcelain is practical for everyday use, and won't stain or retain odors.
Buy it now: U1913-SLW Rectangular Porcelain Sink with White SinkLink via MR Direct
Matte Black Porcelain Vessel Sink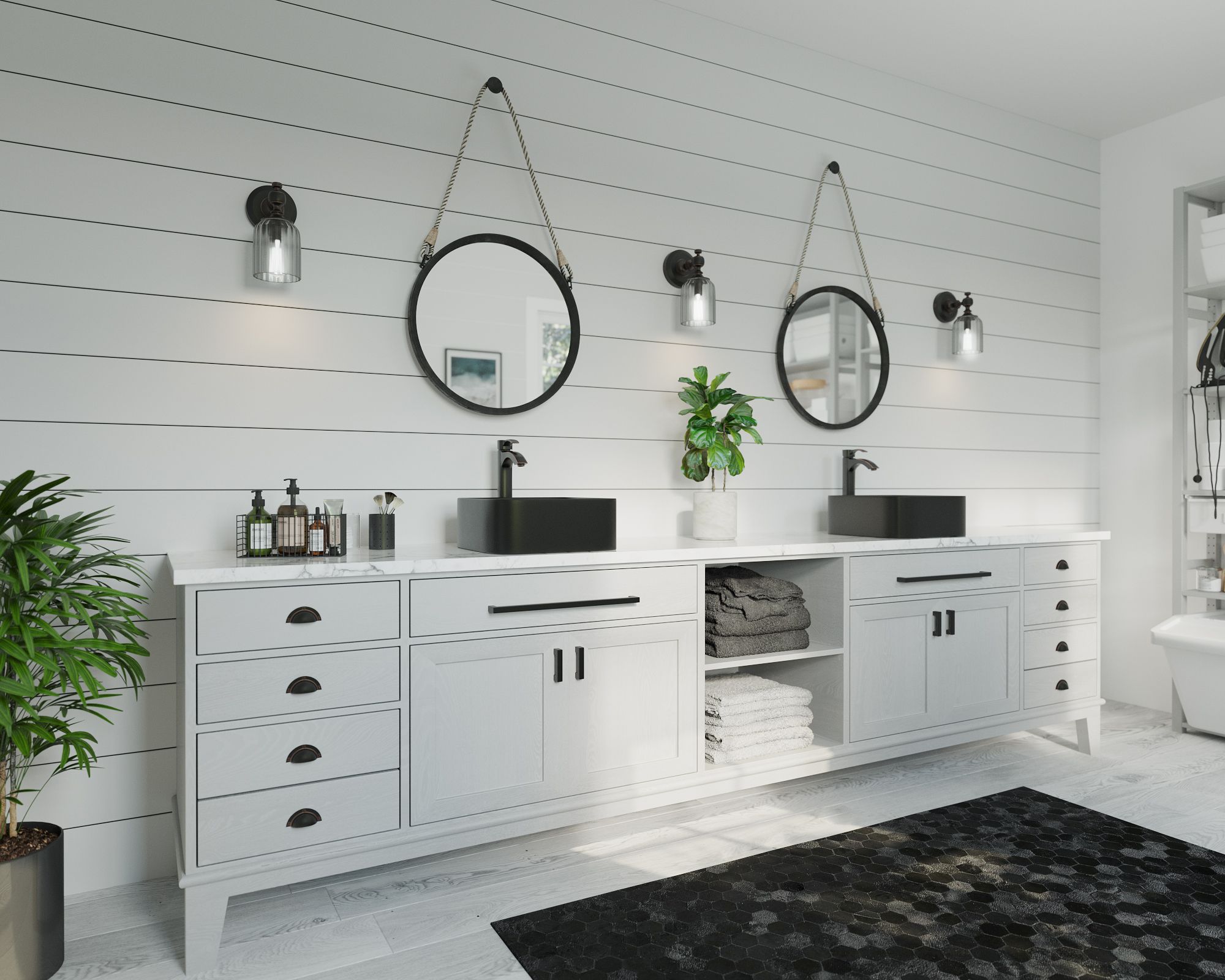 Why We Love It
Vessel sinks make a stunning style statement, and this one, with its squared edges and sophisticated matte black finish, would be right at home in a contemporary bath. As freestanding vessel sinks sit directly on the countertop, they do not require any special mounting hardware – just a simple hole drilled in the counter – making them a quick and easy upgrade for your bathroom.
Materials Matter
This vitreous china porcelain sink is fired in a special kiln at a lower temperature than standard porcelain, properly baking the matte glaze for a smooth, uniform finish. The result is a waterproof, nonporous and odor- and stain-resistant surface with exceptional durability.
Buy it now: V420 Matte Black Porcelain Vessel Sink via MR Direct
Polystone Vessel Sink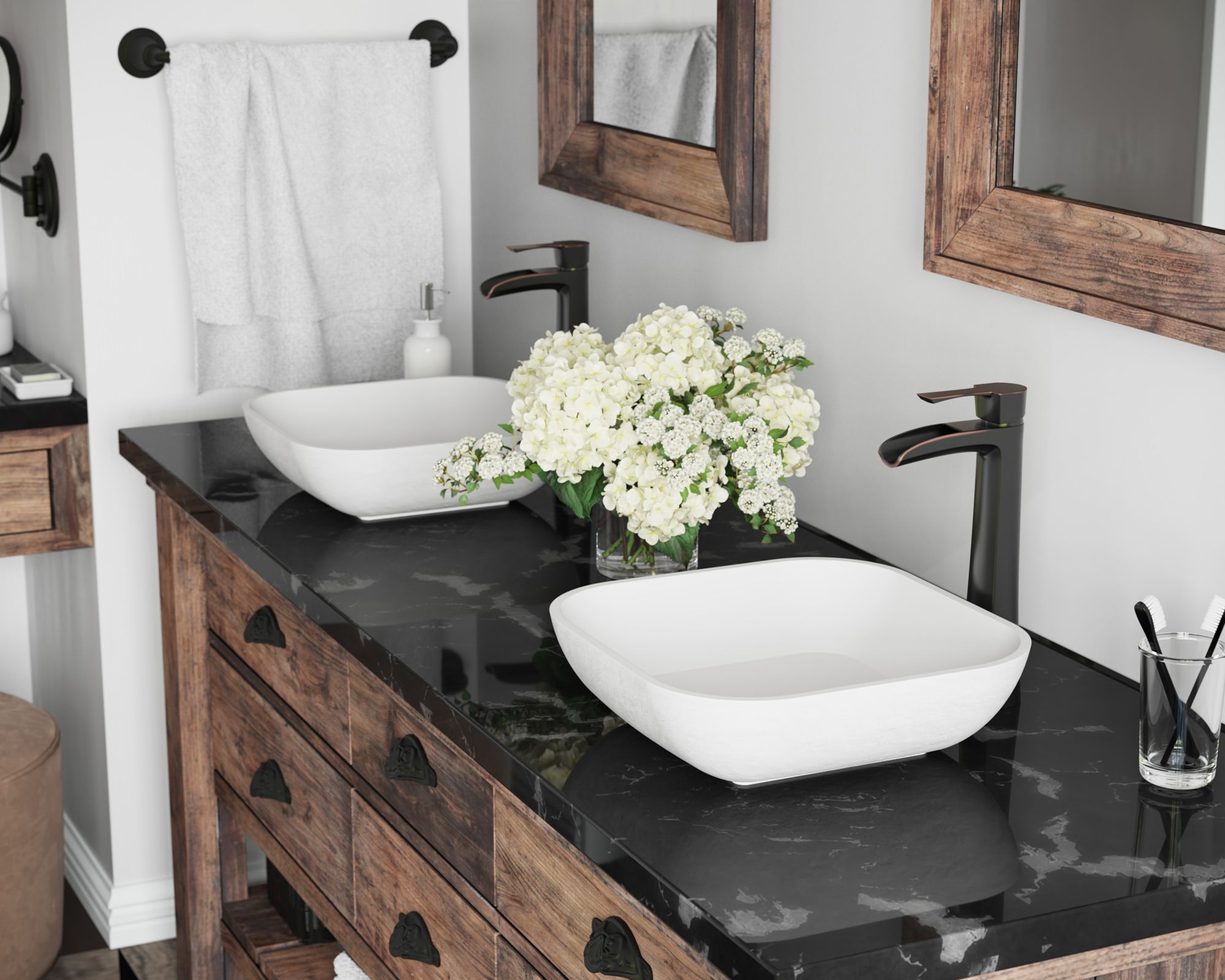 Why We Love It
Uniquely designed, beautifully crafted, this gently squared PolyStone sink offers a refined yet minimalist touch to any bathroom. Its smooth basin and textured exterior provide a subtle grace that complements both modern design and traditional decor. Available in a variety of bold colors exclusive to MR Direct—you're sure to find one that will speak to your personal space.
Materials Matter
PolyStone is a unique blend of polyurethane and natural mineral fillers, treated with a polyurethane-acrylic coating to provide unmatched strength, chemical resistance, and scratch and stain resistance, for long-lasting beauty and durability. And it's easy to clean, with mild soap and water.
Buy it now: AB310 PolyStone Square Vessel Sink via MR Direct
Tempered Glass Vessel Sink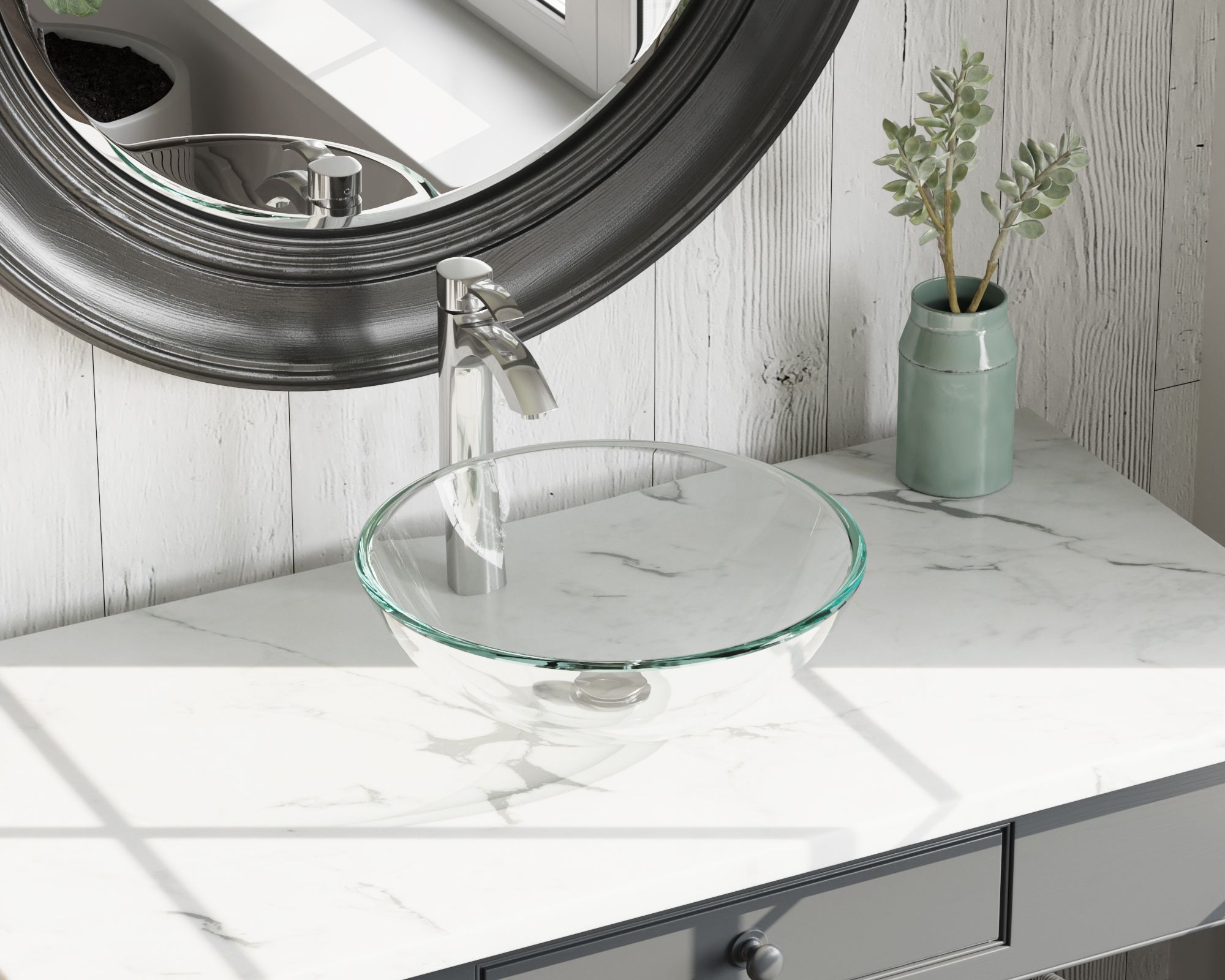 Why We Love It
This classic bowl-shaped vessel sink is crafted with tempered glass, available in an array of colors, from transparent to fully opaque. And MR Direct glass sinks are covered under a limited lifetime warranty for as long as you own the sink.
Materials Matter
Glass is more sanitary than other materials because it is nonporous, will not absorb stains or odors, and is easily cleaned with simple glass cleaner. This sink is crafted of fully-tempered glass, which can withstand high temperatures. And in the rare event of breakage, tempered glass is designed to crumble instead of producing sharp, jagged shards.
Buy it now: 601 Crystal Glass Vessel Sink via MR Direct
Natural Stone Vessel Sink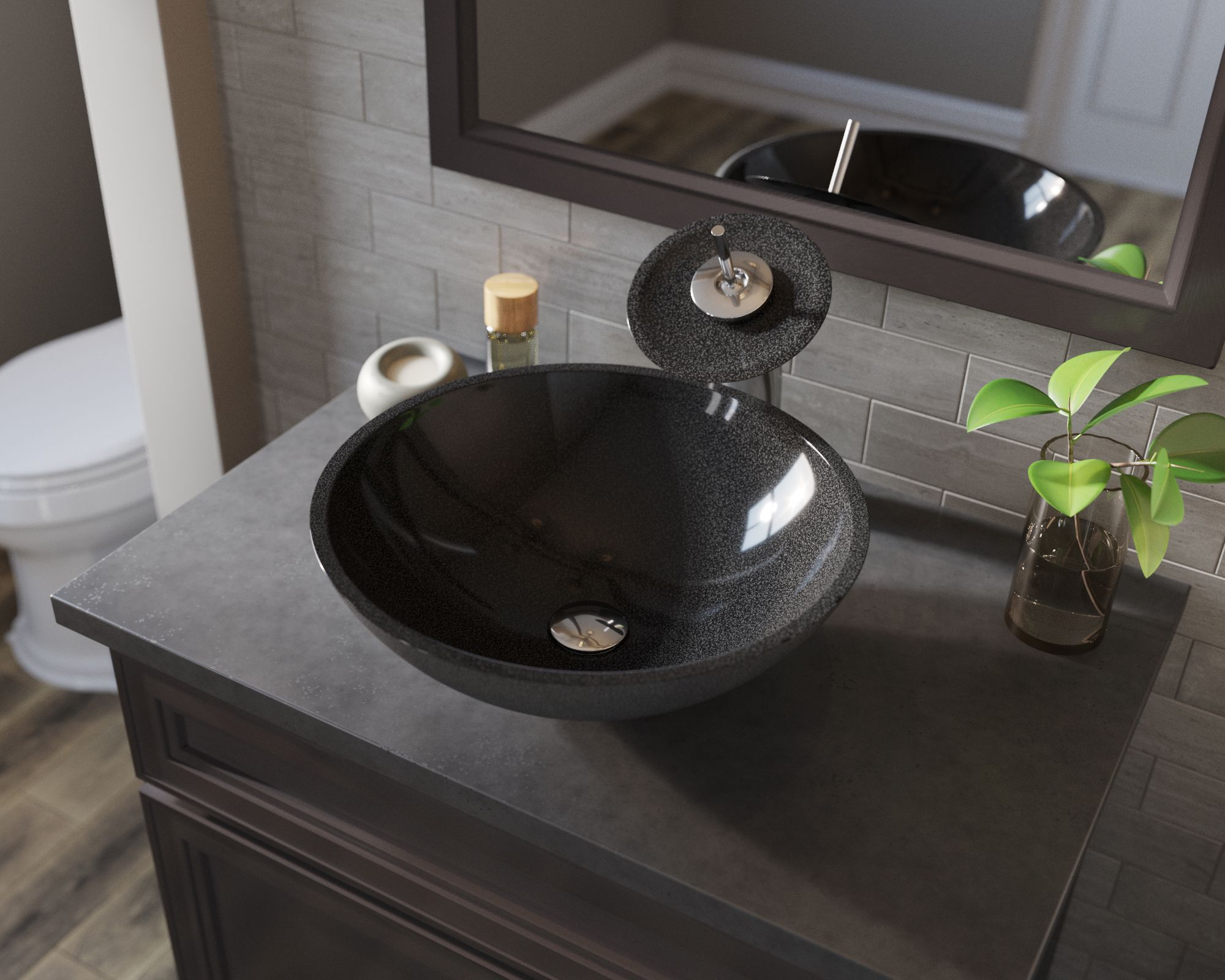 Why We Love It
This sink is carved from a large block of granite, then hand-polished for a smooth, easy-to- clean finish. Organic and striking, this vessel sink would suit a variety of bathroom styles, especially those with a spa-like, Zen aesthetic.
Materials Matter
Granite is durable, long-lasting, and hardworking. It's heat, scratch, and stain resistant, when properly sealed. And since granite is a natural stone, the details will vary in color and pattern from sink to sink, for a completely unique look. Just take note that natural granite does need to be sealed annually, as it is porous. To avoid damaging your sink, be sure to use a cleanser that is specially formulated for use on natural stone.
Buy it now: 850 Black Granite Vessel Sink via MR Direct
---
MR Direct offers over 500 kitchen and bath products, shipped directly from their warehouse to your front door to save you time and money. Shop the full collection now at mrdirectint.com.