When building a house, what you don't see matters. Our Fairfield County Farmhouse may look simple and rustic on the outside, but inside its walls and beneath its hardwood floors you'll find some of the most advanced engineered lumber products available. Structurally superior to standard lumber, these manufactured joists, studs and beams enable longer spans, firmer floors and straighter walls. Read on to learn more.
Engineered for Long-lasting Stability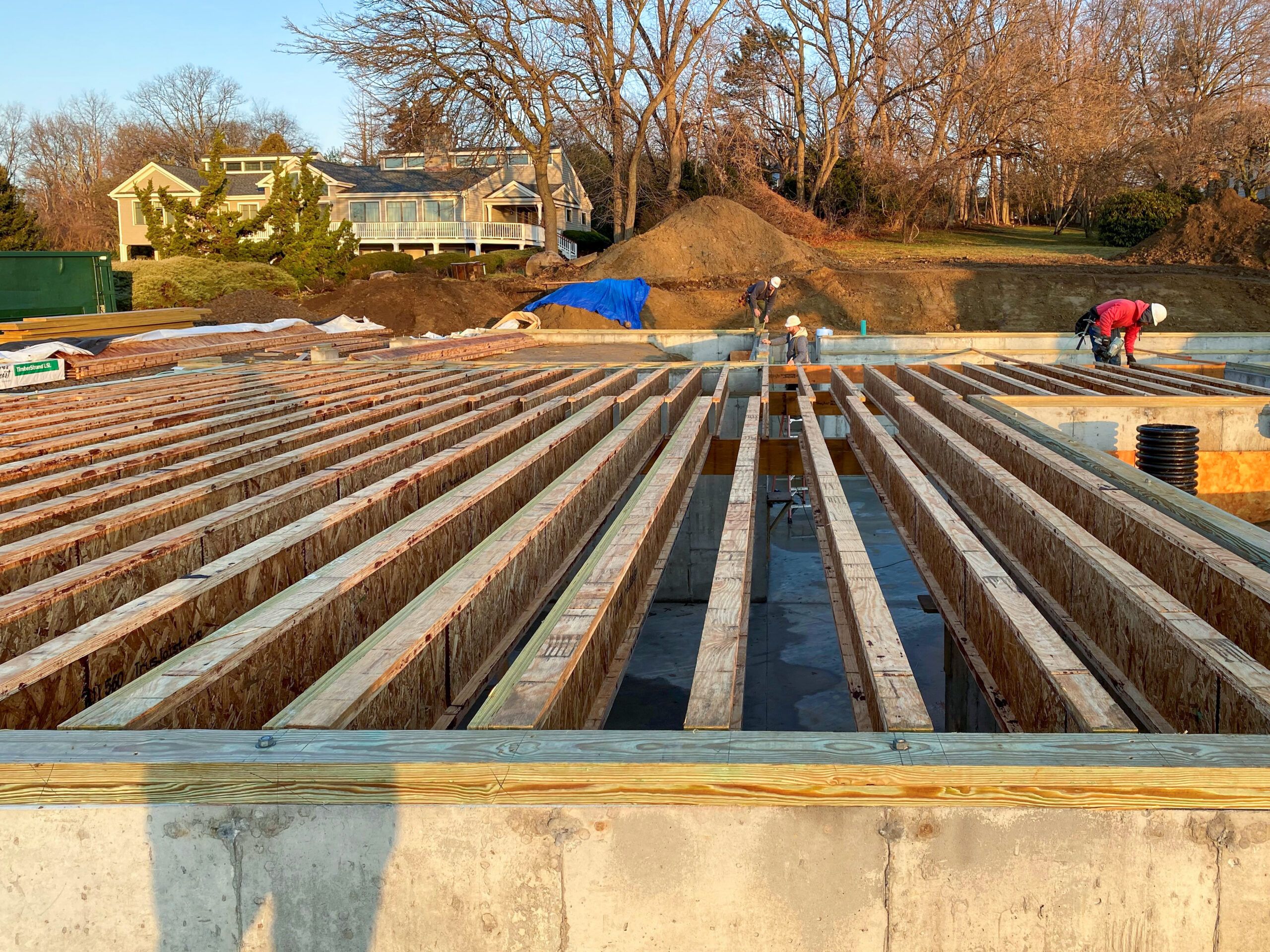 The Farmhouse floor framing uses Trus Joist® TJI® Joists manufactured by Weyerhaeuser. Strong and lightweight, they can handle longer spans than standard dimensional lumber and are less likely to warp, twist or shrink. It all adds up to faster installation and solid, squeak-free floors.
A Solid Subfloor that Stands Up to the Elements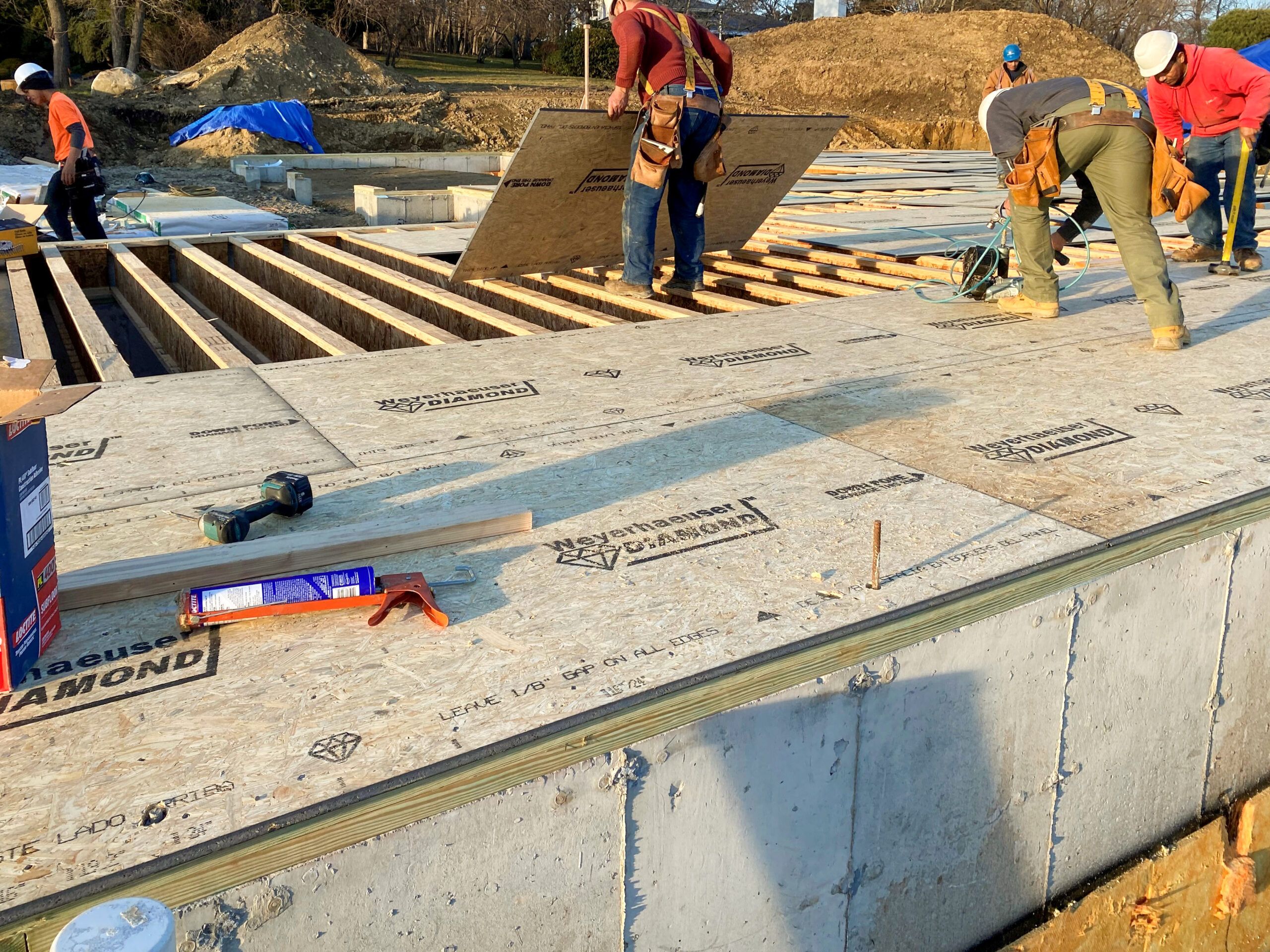 The Farmhouse pairs its Trus Joist® TJI® Joists with Weyerhaeuser's newest innovation in premium subfloor, Diamond™ OSB floor panels. Their tongue-and groove edges ensure quick, tight installation and their innovative self-draining design reduces rainwater collection on the jobsite – a big bonus on this build.
Keeping Tall Walls True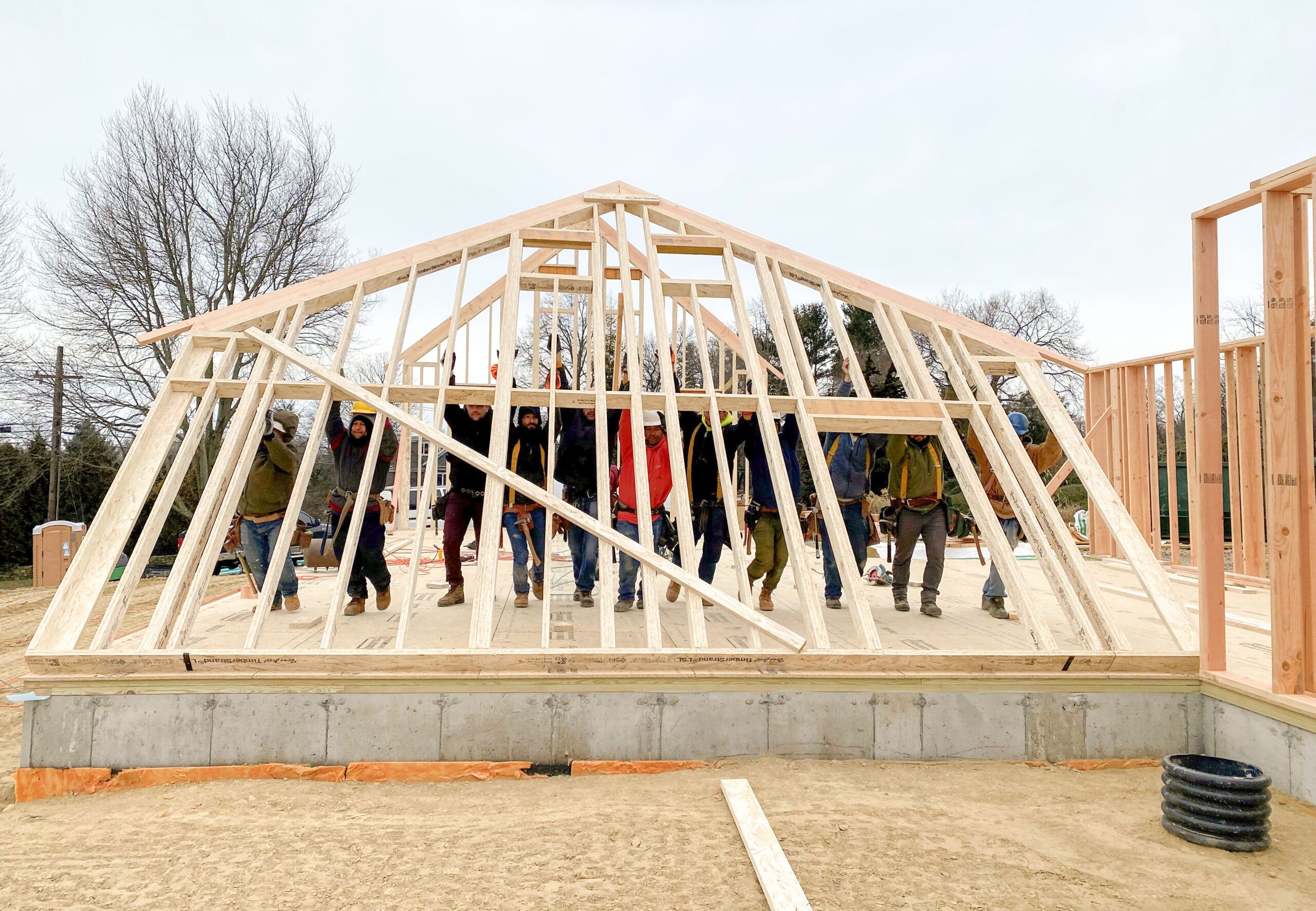 Super-straight and available in lengths up to 48 feet, TimberStrand® LSL (laminated strand lumber) is an exceptional choice for framing the tall gable ends of the barn-like great room. Engineered to resist twisting, shrinking and bowing, it also allows the builder to confidently frame flat and tilt the walls into place.
Engineered for Strength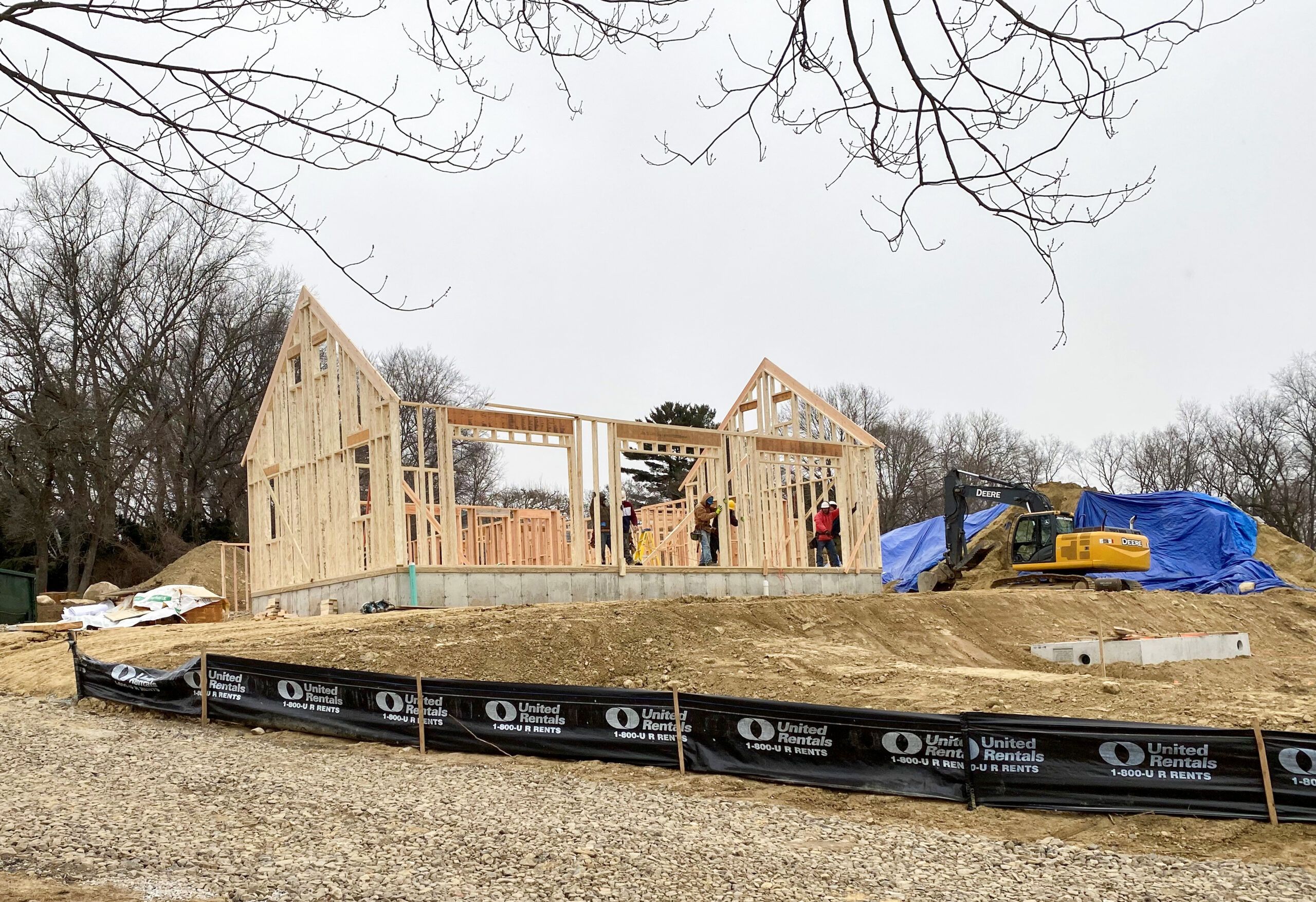 Complementing the TimberStrand® LSL wall framing, Trus Joist Microlam® LVL (laminated veneer lumber) headers were specified to ensure strong, stable openings for the wide window and door openings of the great room.
A Precise Pocket Door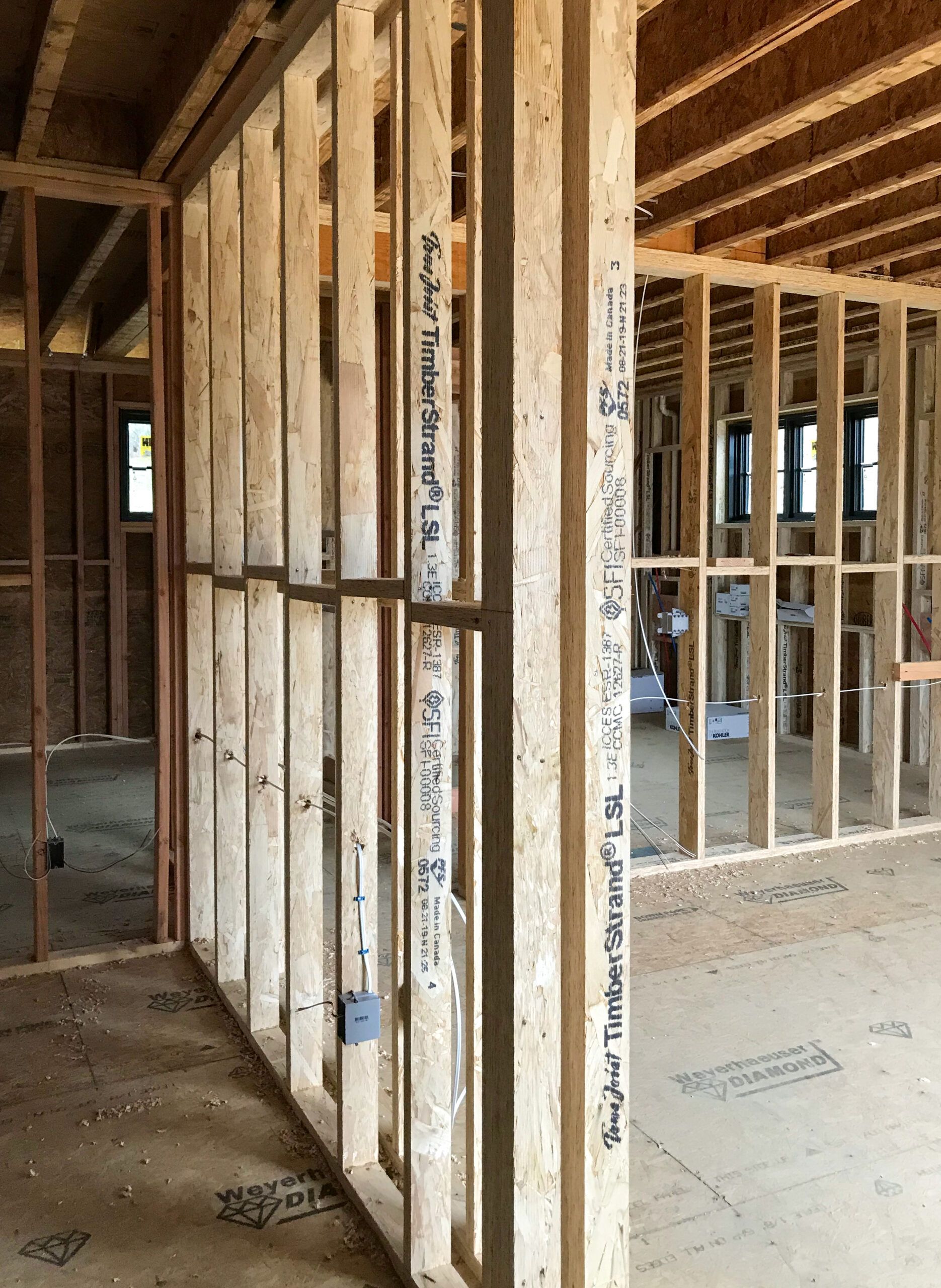 TimberStrand® LSL framing is also used for areas where exact dimensions are required — such as this framing for the master bedroom's pocket door. The engineered lumber installs straight and will remain straight, ensuring this door's smooth operation for years to come.
A Super Smooth Subfloor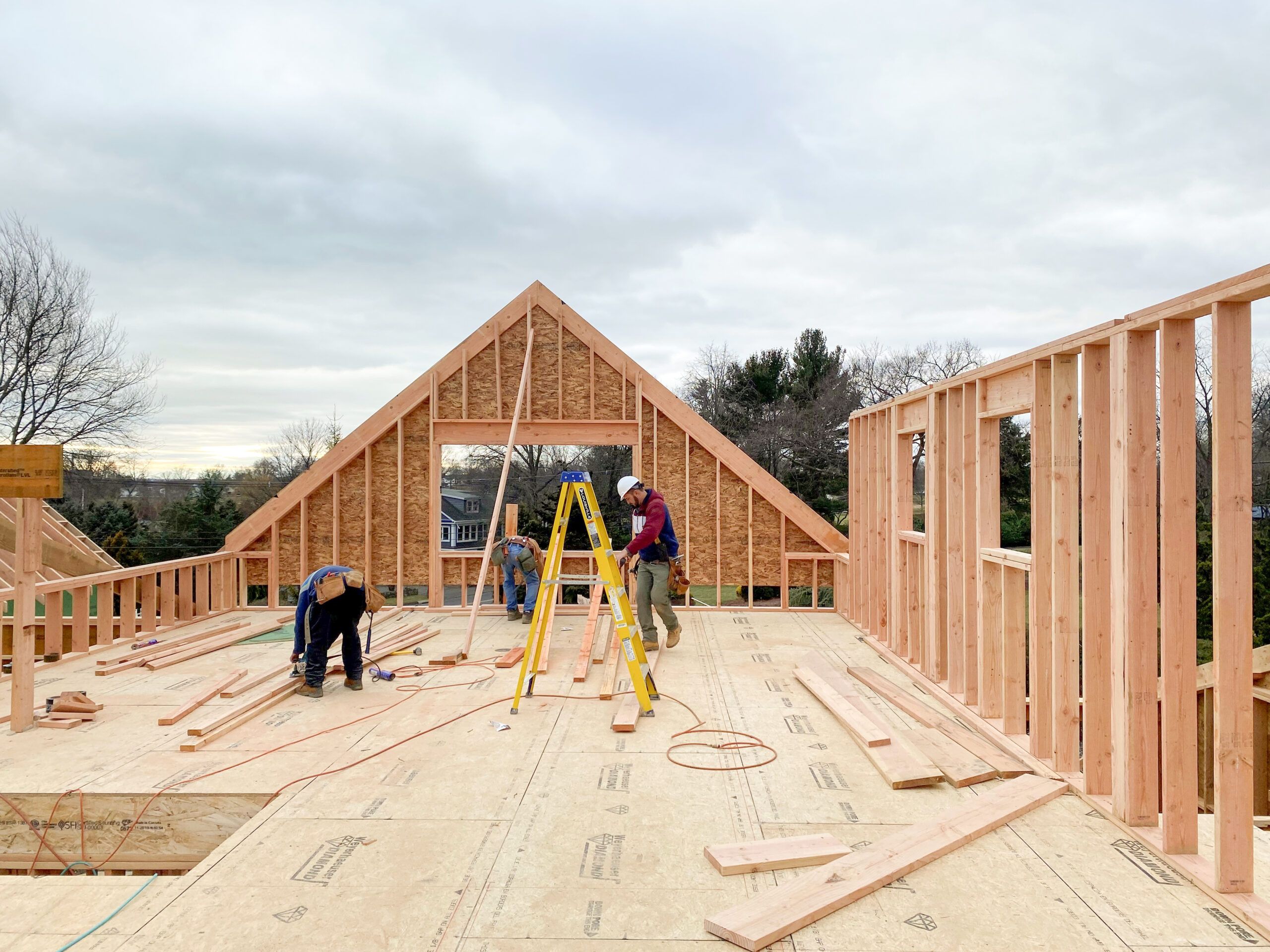 Diamond™ OSB Premium Flooring is used all on levels of the house to ensure a smooth, stable substrate for all types of flooring, whether it's tile in the bathrooms or premium hardwood in the living areas.
Framing Even a Plumber Can Love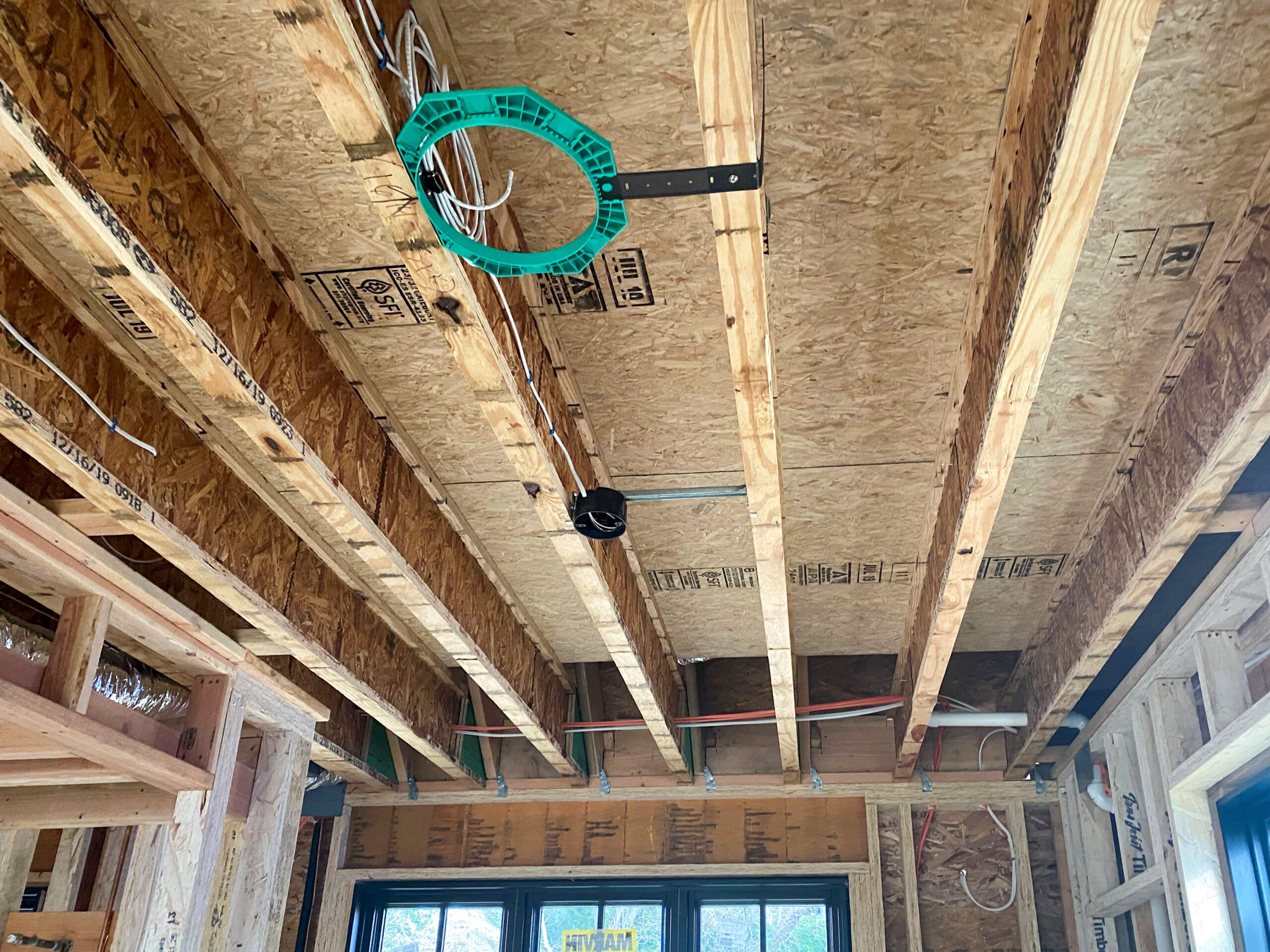 Because they're engineered, TJI® Joists can be drilled and cut to accommodate HVAC ductwork, plumbing lines and wiring without compromising their structural integrity. In some cases, builders may be able to have mechanical holes precut by their Trus Joist dealer, saving time and money on the jobsite.
No Shimming Required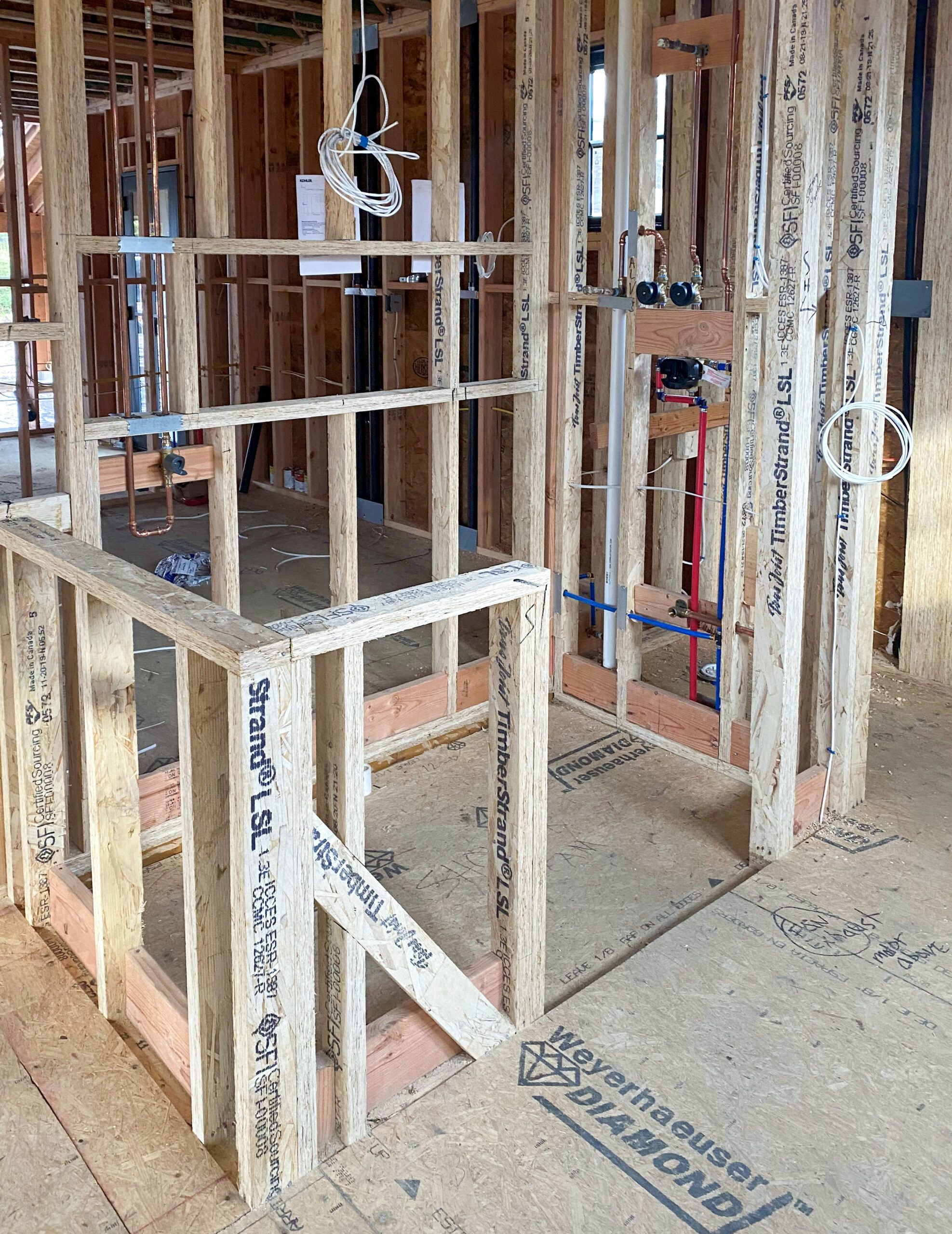 Framed with TimberStrand LSL, the half wall in the master bathroom's walk-in shower is perfectly straight, contributing to a no-fuss tile installation.
A Precisely Framed Double Wall
Look closely, and you'll see that the builder installed a double row of exterior walls in the master bathroom. This allows him to insulate behind the far outside wall, and place plumbing for two sinks and a tub within the near exterior wall, without fear of freezing pipes or loosing heat. Engineered framing ensures that each component of the double wall is straight and consistent, eliminating headaches for the plumbers and tilers.
Strength Where it Counts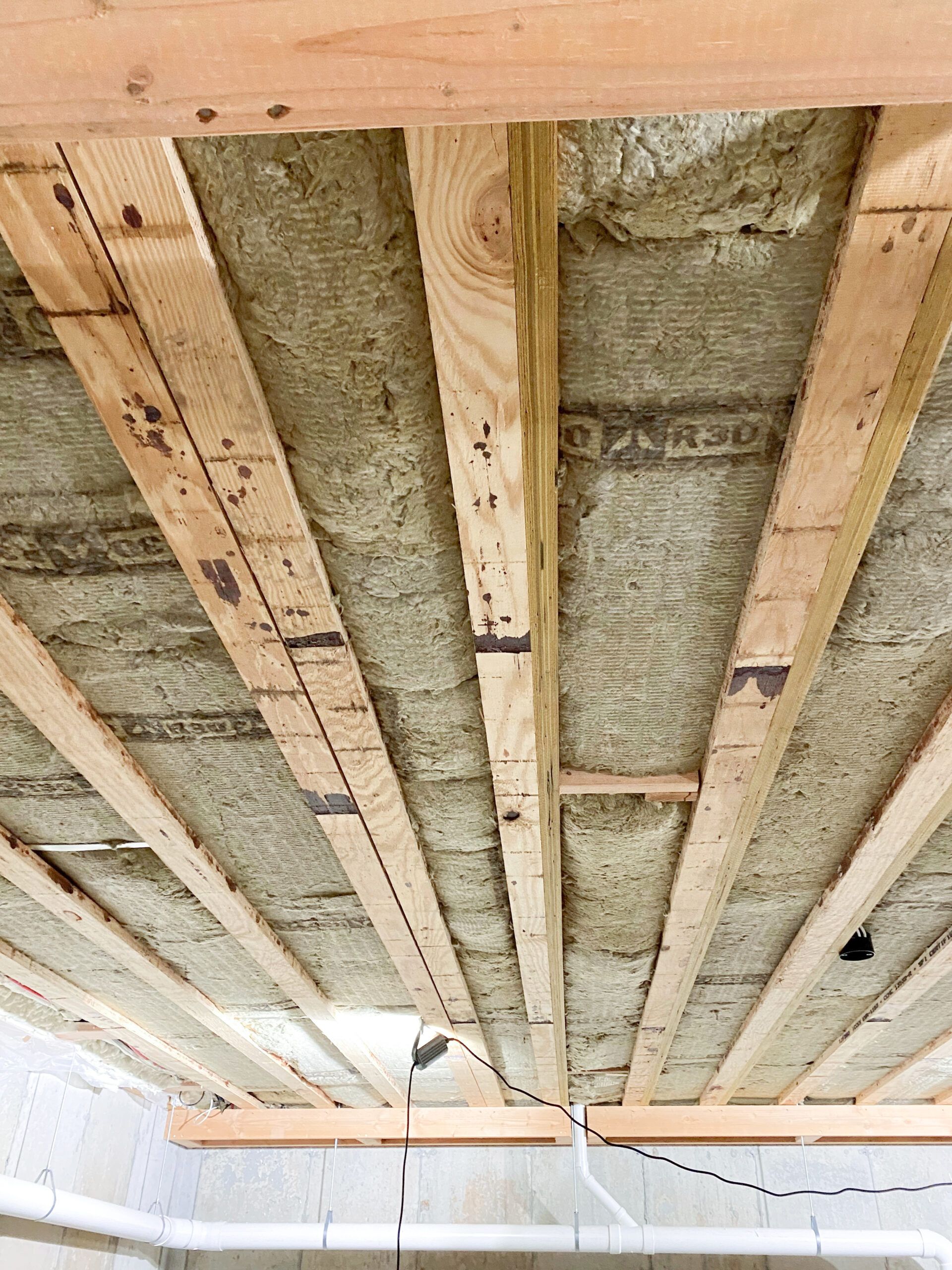 A Microllam LVL installed alongside double TJI joists ensures a strong, stable floor beneath what will soon be the kitchen area's 10-foot-long island.
A Bigger, Better Ridge Board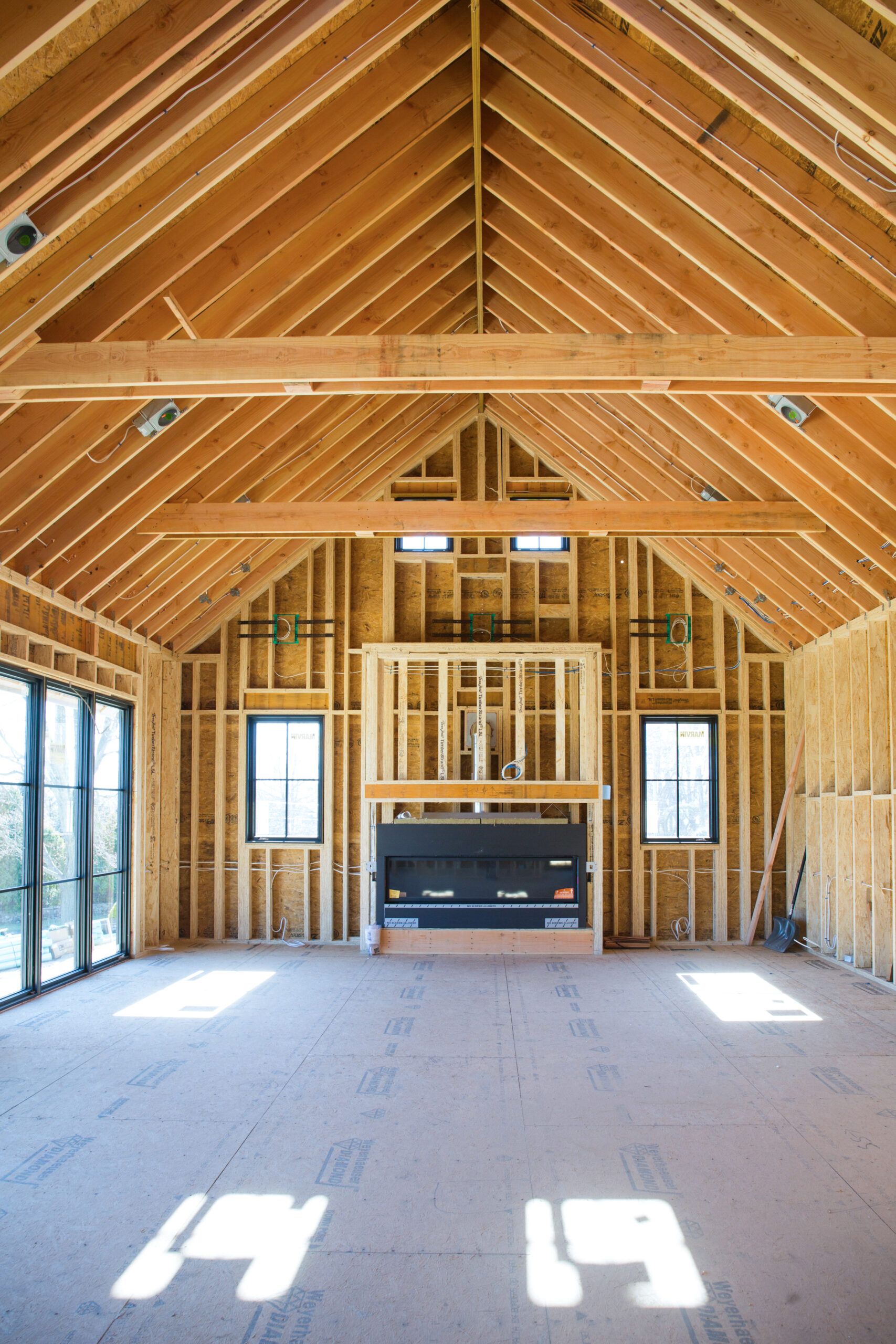 Call it peak performance: A single Microllam LVL ridgeboard serves as the backbone for a stunning cathedral ceiling in the great room. With one super strong engineered board, there's no need to splice multiple ridge boards together.
A Beam Without Parallel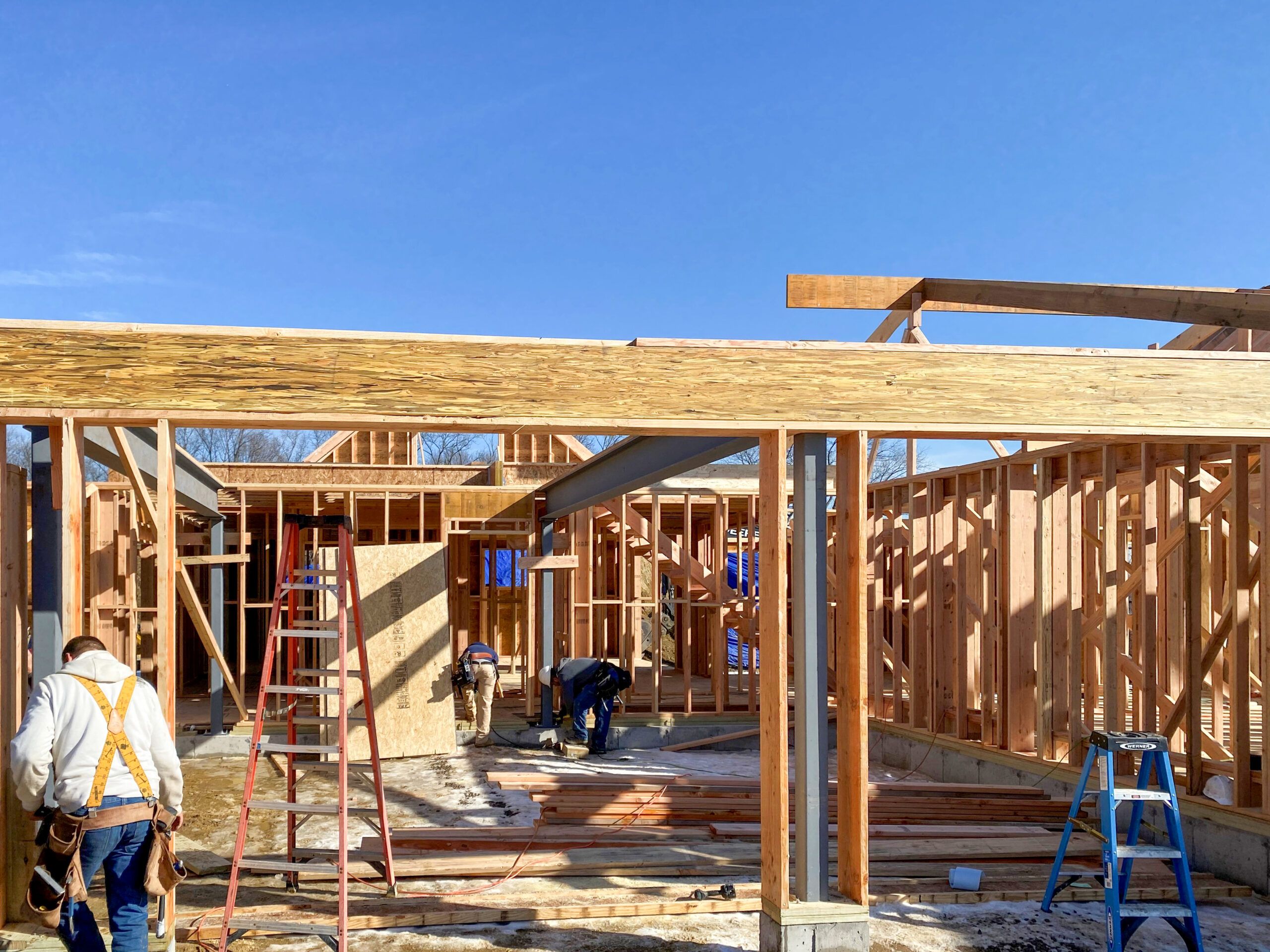 This single Parallam PSL (parallel strand lumber) beam is strong enough to span multiple garage door openings. Parallam beams provide some of the longest clear spans possible without the need for columns.
---
See Weyerhauser products in action at the TOH 2020 Farmhouse in Fairfield County.