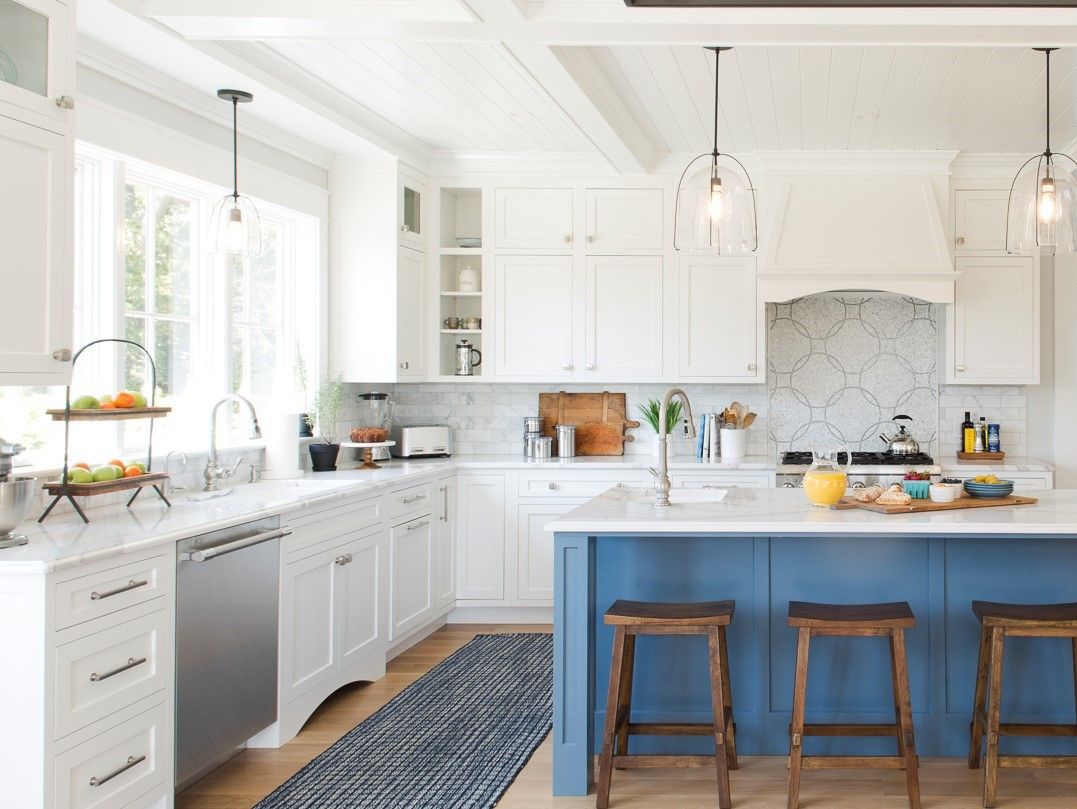 At the TOH TV Westerly Project House, the kitchen hadn't been updated in nearly 70 years. On the bright side, a complete gut renovation gave the homeowners the chance to carefully research and select products that would update the look—and increase the value—of their "new" old house.
For the kitchen, the homeowners wanted a modern space with the function and durability needed for a young family. At the top of their must-have list: countertops with the organic look of richly veined Calacatta marble that would be built to last, easy to care for, and safe for their family. They found their perfect match in surfaces from Cambria. Constructed here in the USA from quartz (one of the hardest minerals on Earth), Cambria surfaces provide the look of natural stone, but with incredible design flexibility, and easy-care convenience.
Read on as we share insights from Sweenor Builders architectural designer Lorine Foley and interior designer Kristen Martone about this incredible transformation (and keep reading for a few more of our favorite Cambria-enhanced spaces!).
Shown above: TOH TV Westerly Project House kitchen featuring Cambria BrittaniccaTM countertops
Blast from the Past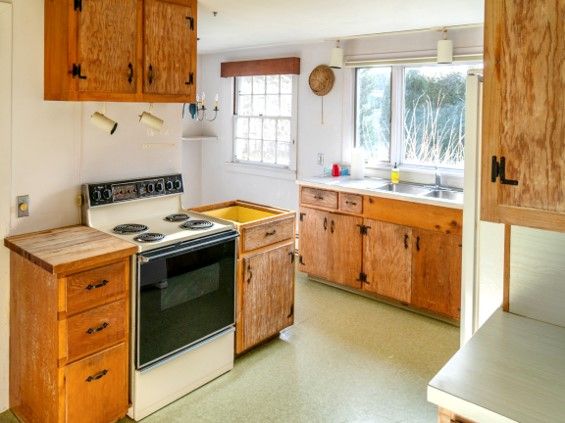 The original homeowner built these cabinets himself in 1949. So while they still had a certain rustic charm, they were definitely well past their prime.
Says architectural designer Lorine Foley, "The original kitchen layout was tight and disconnected from the rest of the home. It lacked counterspace, and the pine cabinets and laminate countertops were dated. The tiny breakfast nook was also difficult to access due to the room's awkward shape."
Wow Factor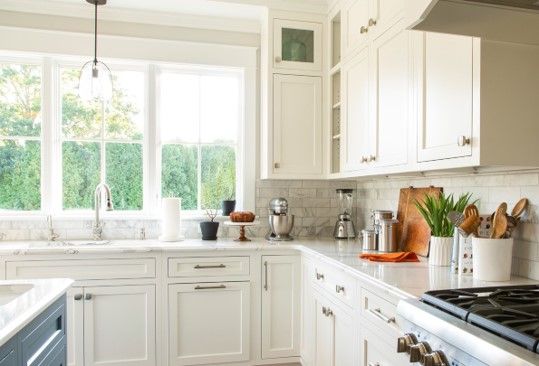 Previously outdated, cramped, and dysfunctional, the kitchen is now virtually unrecognizable. Foley says of the transformation, "The new kitchen cabinets are a timeless Shaker-style design. We chose white paint for the perimeter cabinetry to emphasize natural light and evoke a sense of openness. The upper cabinets intentionally extend up to the coffered ceiling to add more storage and maintain clean lines around the room. Cambria countertops were chosen to compliment the cabinets, with a crisp white background and simple, yet elegant, marble veining."
Shown: Cambria BrittaniccaTM
Perimeter Perfect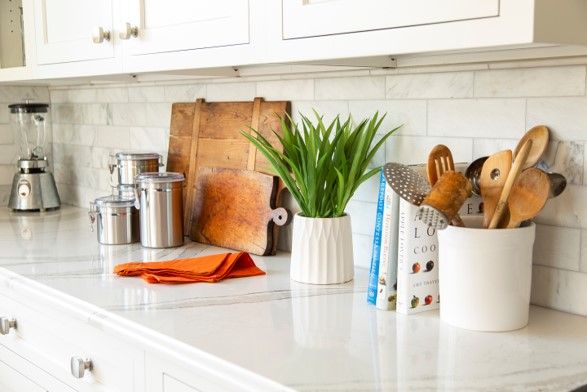 "The countertops were a key element dictating a lot of the design," says interior designer Kristen Martone. "Beyond the overall beauty and modern lines, our homeowners love to cook and entertain, and they specifically requested a surface that would resist wear and tear. Cambria is much harder than granite or marble making it more durable, and less likely to scratch or chip."
Shown: Cambria BrittaniccaTM
Eye-Catching Island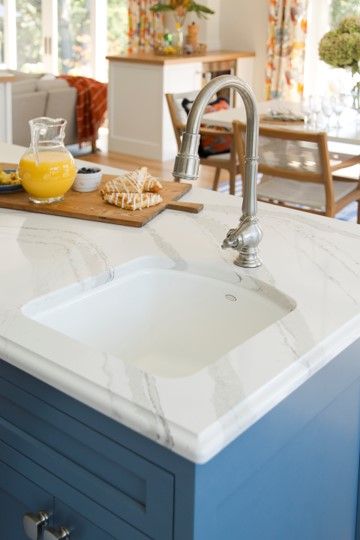 Says Foley, "We incorporated a spacious island with an undermount sink to create additional meal prep and serving space. We continued the same countertop surface on the island, but the selection of nautical blue paint serves as a striking counterpoint, making the island pop as an architectural feature while also creating a focal point in the room."
Care Tip: The maintenance-free quality of Cambria was an influential factor for the homeowners as parents of young children. Other natural stone surfaces, such as granite and marble, require regular sealing and polishing. With Cambria, all you need to do is wipe it down with a little warm water and mild soap, if desired.
Shown: Cambria BrittaniccaTM
The Healthier Choice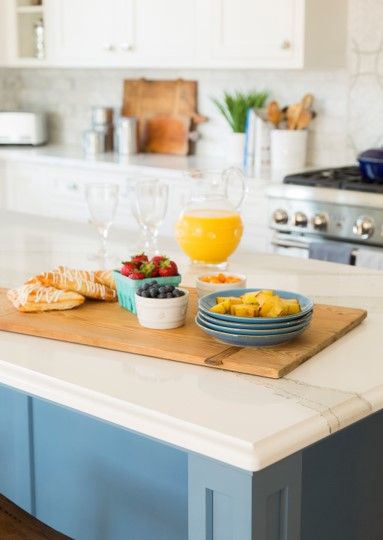 With small children at home, health and safety were a top priority for our homeowners. Cambria is NSF 51 certified as safe for use as a food preparation surface; because it's nonporous and nonabsorbent, it won't draw in moisture from raw or leftover food, which can harbor harmful bacteria. It's also resistant to stains, so that spilled red wine won't turn into a permanent eyesore.
Shown: Cambria BrittaniccaTM
Craving more quartz?
From elegant to eclectic, read on to get inspired by a few more of our favorite looks.
Bold and Beautiful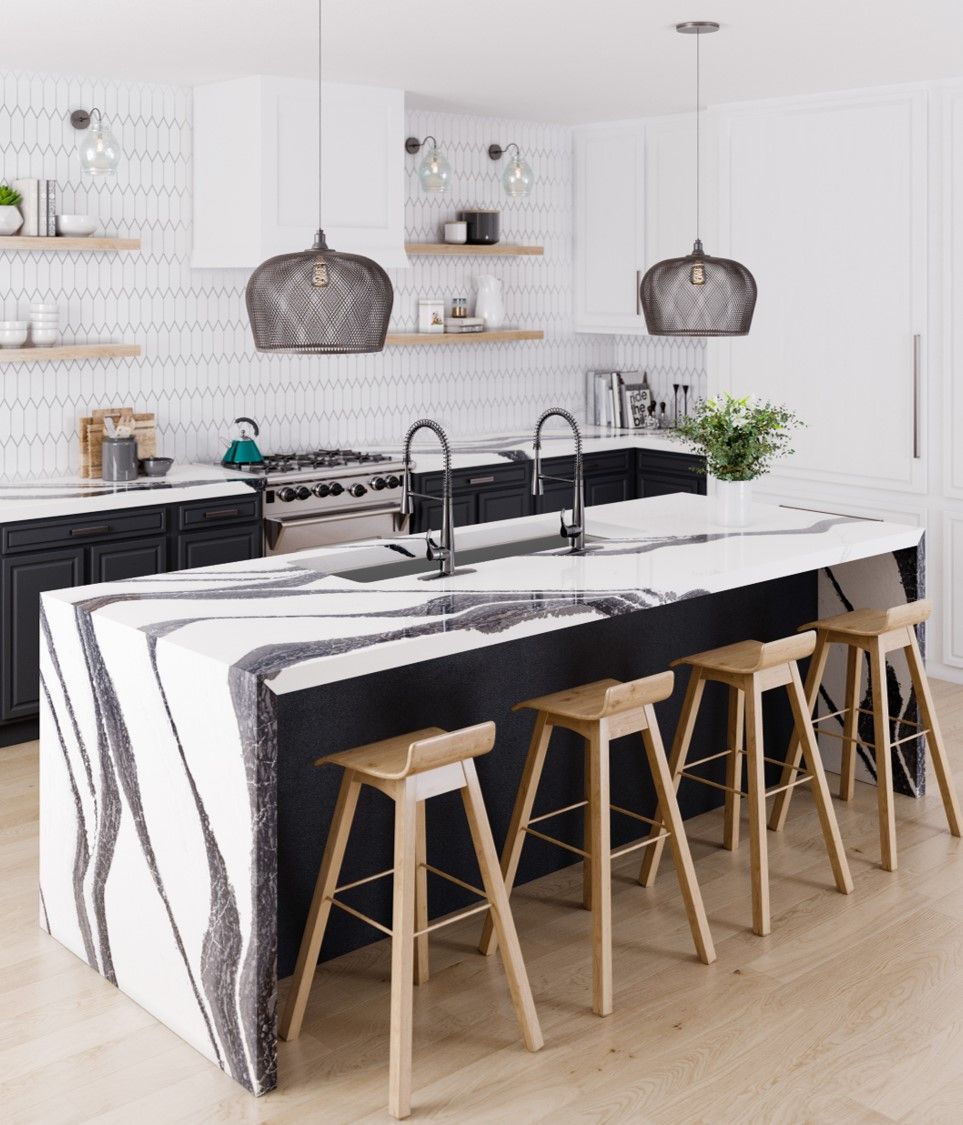 Cambria designs permeate the entire slab to create unmatched depth and clarity from top to bottom, making them an ideal choice for stylish waterfall islands like this one. Here, the sleek countertop's white background is intersected with bold, translucent black and charcoal veins with muted light gray spatters and cross veins dispersed throughout resulting in a sculptural work of art.
Shown: Cambria BentleyTM
Wondering how this might look in your kitchen? See Cambria designs on your own countertops, islands, and more with the Cambria Augmented Reality (AR) app. Use your device to scan the surface, then select the design you want and you'll instantly see it in your own space.
Showstopping Shower
If this pattern looks familiar, it's because you've seen it before: it's the same Cambria design as the Westerly Project House kitchen counters! In this stunning shower, the slabs of marbled cream offer a floor-to-ceiling stage on which gray islands and peninsulas meander among intertwining ashen veins.
Shown: Cambria BrittaniccaTM
Interested in more alternative applications? Click here to see Brittanicca beautify a fireplace surround.
Abstract Appeal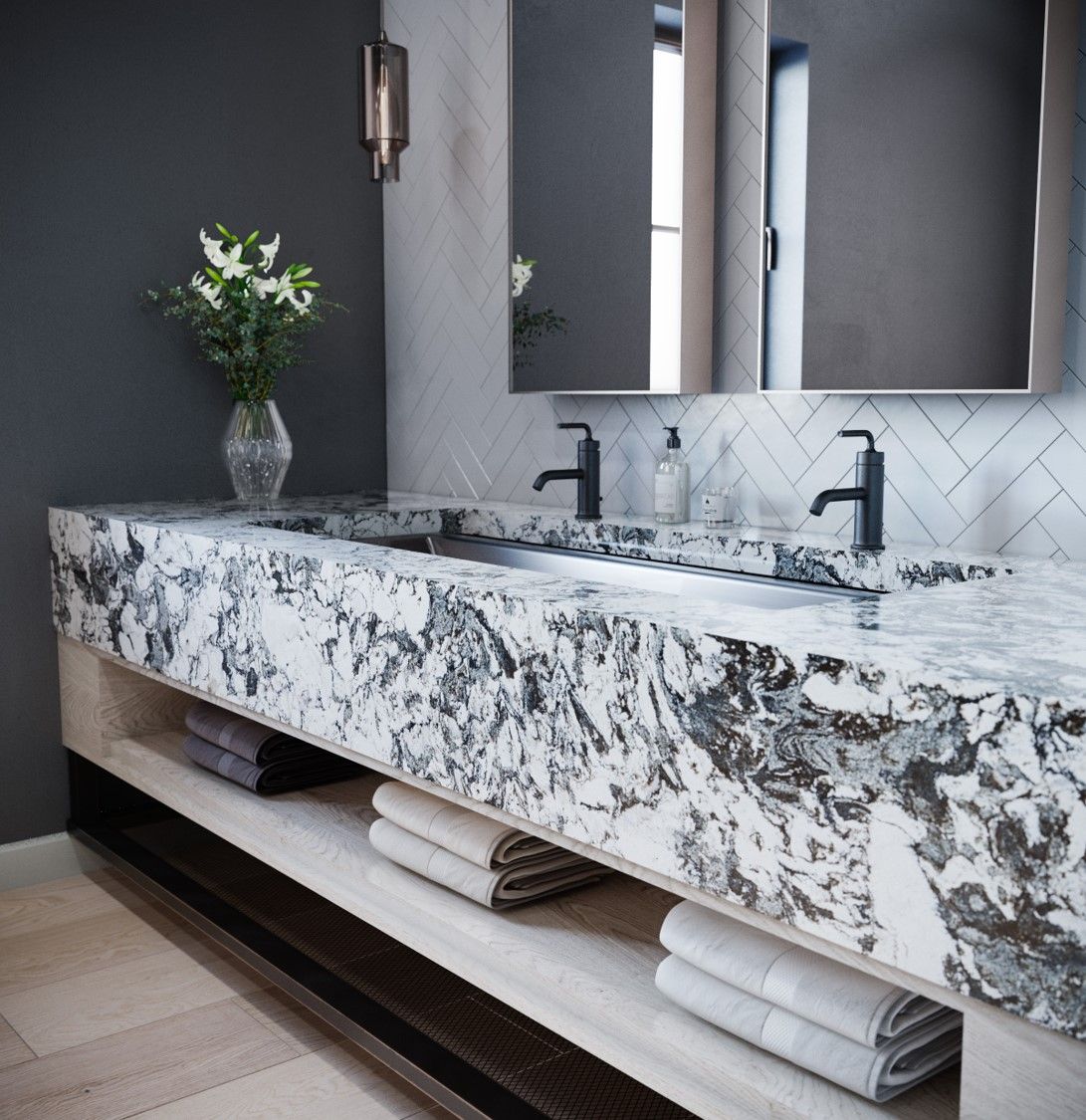 Anything but ordinary, this deep wash sink vanity easily asserts itself as the focal point in the room. This impressive slab features a creamy white base with scatterings of warm, walnut-brown accents and gradated gray splotches, creating an abstract composition that invites closer inspection.
Shown: Cambria HuntleyTM
Oak Inspired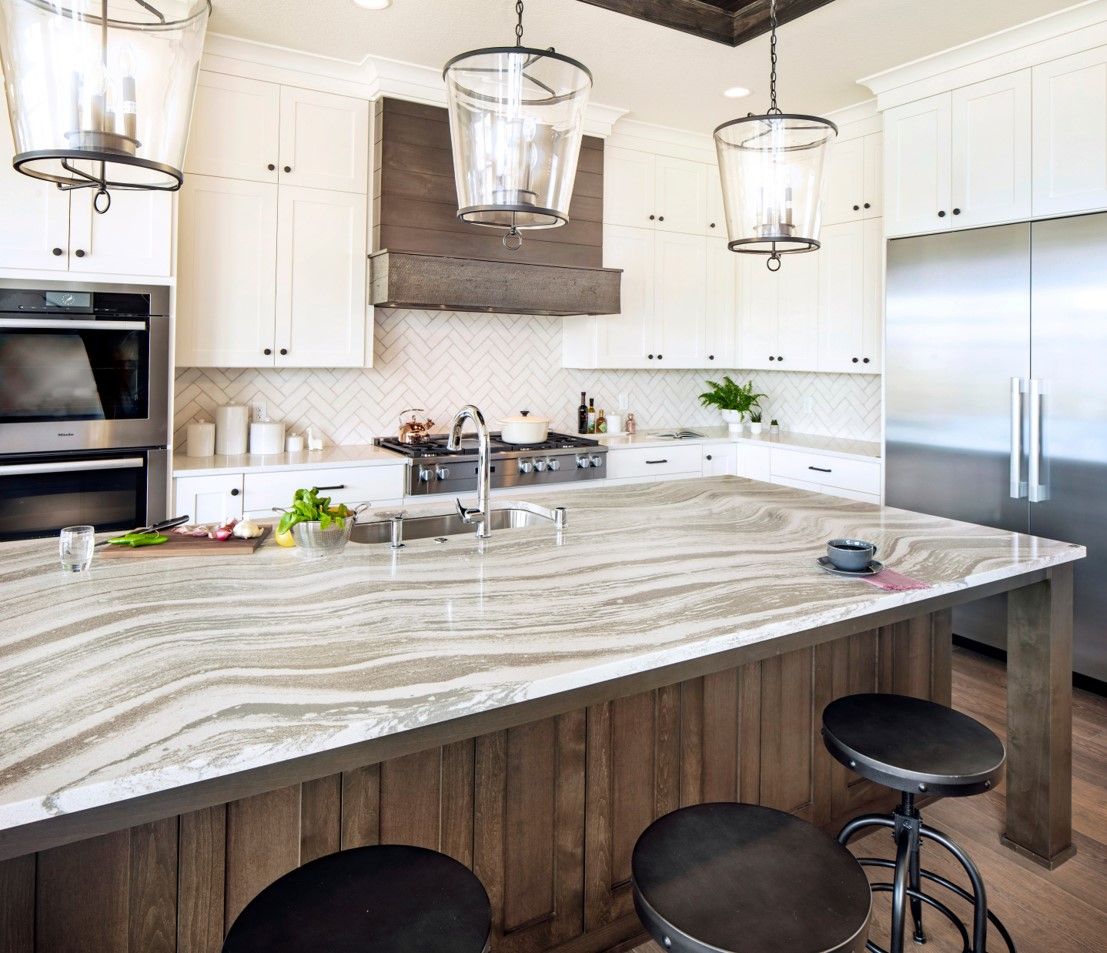 As the name implies, OakmoorTM captures muted tones of cream, tan, and copper drifting alongside linear waves of graduated grays, reminiscent of stately wood aged to perfection. It's a gorgeous accompaniment to modern farmhouse or rustic-inspired kitchens.
Shown: Cambria Oakmoor
Brilliant Blues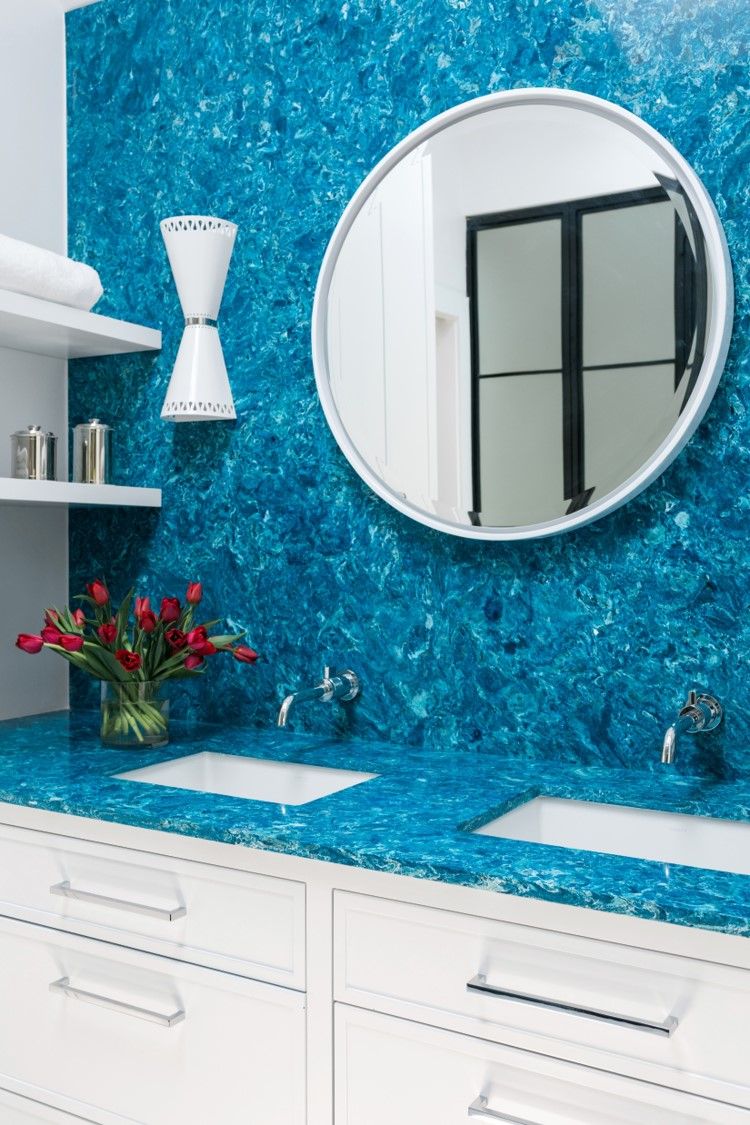 Make a splash in a small space with a bold burst of color. This blend of vibrant blues, greens, and grays dances with white veins that mimic the white caps found off the rugged shores of Skye. Twisting and turning with intense, multidimensional patterns, this dynamic design presents an unprecedented reflection of nature in all its glory.
Shown: Cambria SkyeTM
For more daring design choices, check out the Cambria Inspiration Gallery, here.
Simple, Yet Sophisticated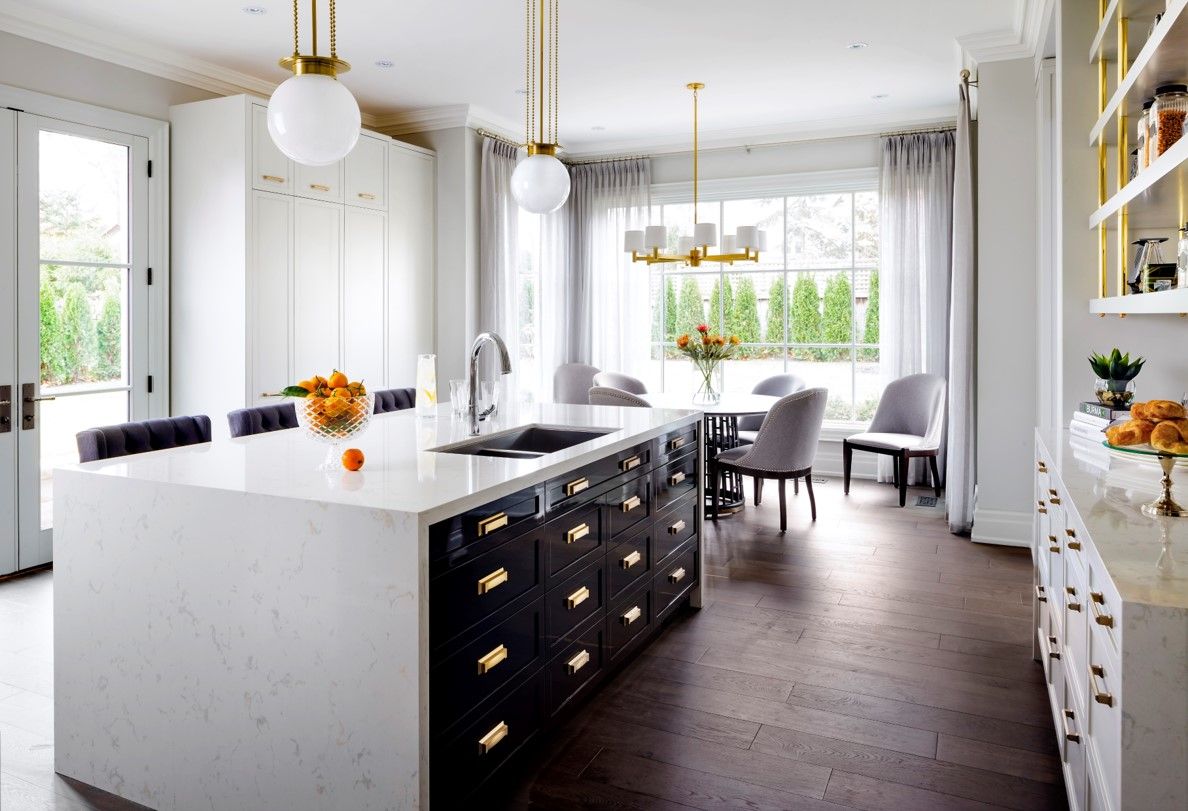 An instant classic, Torquay™ offers an elegant marble-like appearance that's both posh and continental, much like its namesake English Riviera town.
Shown: Cambria Torquay
Every Cambria surface comes with a transferable Full Lifetime Warranty for quality you can count on. For more information and inspiration, visit Cambria.