Spooky Halloween Home Decor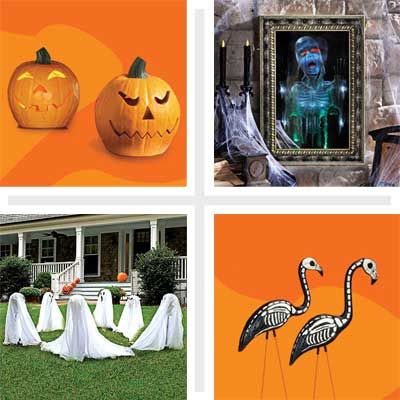 Sure candy and costumes are fun, but Halloween just isn't complete until you trick out your house with some truly frightening decorations. But where to find 6-foot spiders or a lawn full of ghosts? Don't fret, little ghouls. This Old House has scoured the shops to bring you 19 truly terrifying decorations that'll make your Halloween haunt the scariest on the block.
Welcome Mat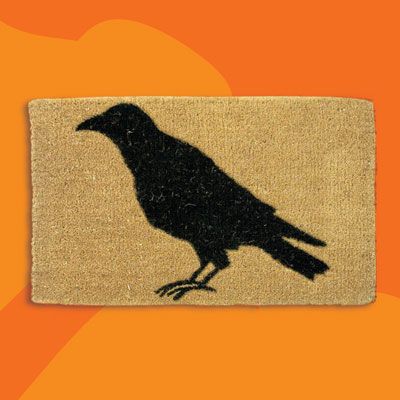 This spooky-chic mat will welcome guests with a haunting hint of Halloween. It's subtle, so you can leave it out all year long and it won't frighten off trick-or-treaters. More importantly, durable coir is naturally resistant to mildew and fungus, so the entry upgrade won't frighten you, either.
Black Crow Coir Mat, about $36; Amazon
Zombie Garden Statue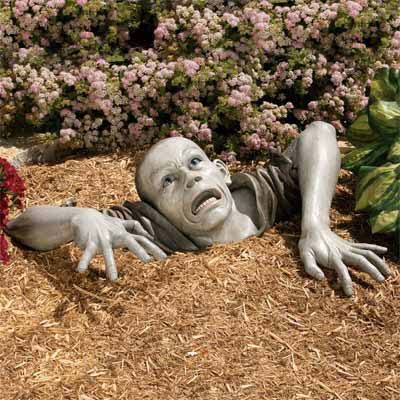 This lifelike, gray-toned corpse sculpture—inspired by Montclair Moors, New Jersey—a place infamous for its zombie sightings—is realistic enough to startle the biggest skeptics and killjoys. It'll also complement your fall mums nicely.
About $100; Design Toscano
Skeleton Yard Flamingos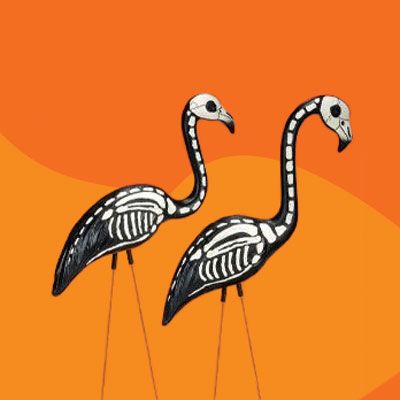 And you thought ordinary plastic pink flamingos were scary! These molded black Skel-A-Mingos are sure to get you a few double-takes this Halloween.
About $24/pair; Amazon
Scary Skeleton Bathroom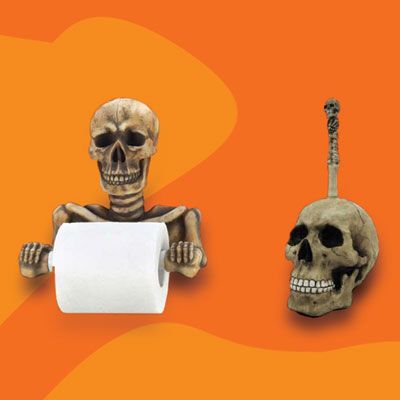 Don't forget to decorate the bathroom for the big Halloween party! This polyresin smirking skeleton can distribute toilet paper, while a coordinating skull-head toilet brush stands watch nearby.
About $19 for the toilet paper holder; Amazon
About $37 for the toilet brush holder; Amazon
Creepy Kitchen Brushes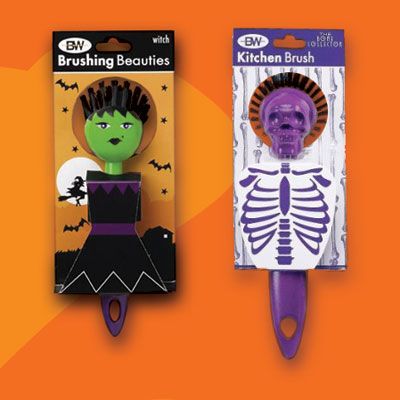 Even the mundane chore of dishwashing deserves a ghoulish touch when the spirits are out. Clean up after your Halloween party with one of these festive helpers—which are both cute and durable enough to last long after All Hallow's Eve.
Both about $8; Boston Warehouse (witch) and Amazon (skull)
Boo-throom Door Cover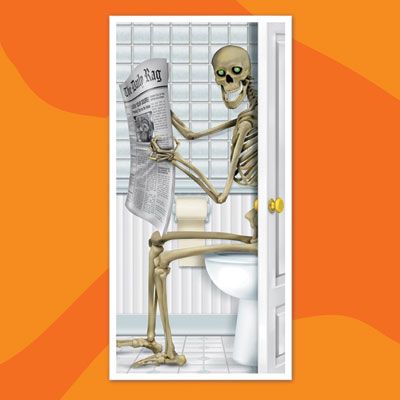 Keep party guests from rummaging through the skeletons in your closets as they search for the washroom. This humorous hanging will mark the right spot loud and clear.
About $8; Amazon
Floating Hand Wall Hangings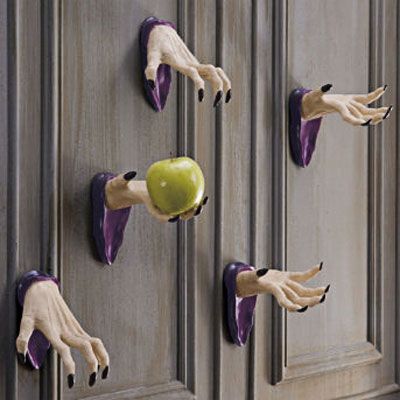 Halloween decorations can lend a hand, too. These wall-mounted witch's hands can serve as extra coat hangers.
About $29/pair; Grandin Road
Morphing Jack-O'-Lantern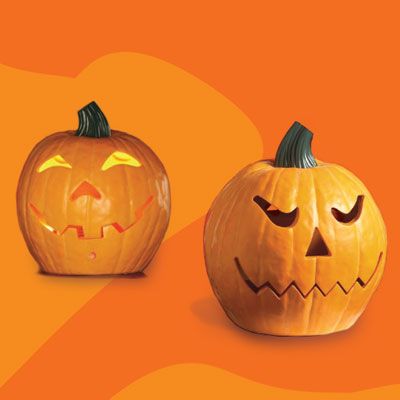 Approach this two-faced, trickster and you'll be sorry! The pumpkin goes from friendly to ferocious with a shell that morphs before your eyes. A hidden sensor starts the show with menacing laughter that will startle unsuspecting trick-or-treaters.
About $49; Grandin Road
Spiderweb Tread Covers and Door Mat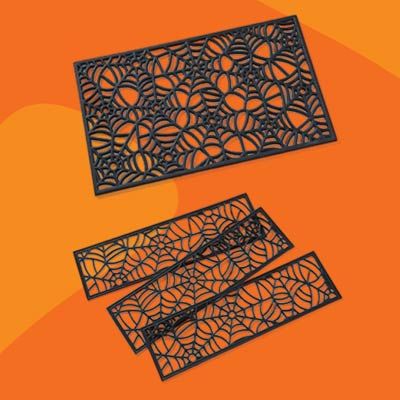 Boost safety and keep party guests from tracking in dirt with this handsome themed mat set, including durable rubber stair covers to add traction to slick steps.
About $12 for the mat;
About $15/4 tread covers; Collections Etc.
Haunted Magic Mirror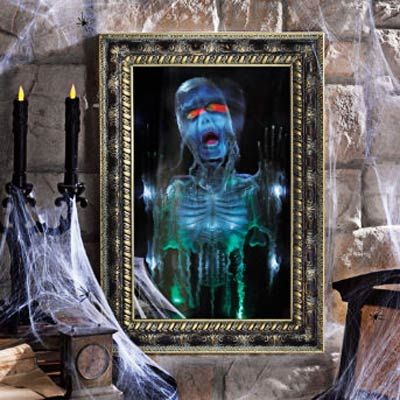 Mirror, mirror on the wall, who's the scariest ghoul of all? At first glance, this wall-hung mirror may seem ordinary. But take a look into it and a frightening apparition appears, begging you to let him out.
About $99; Grandin Road
The Play-Anything Doorbell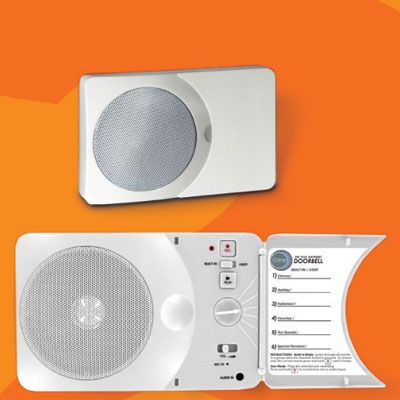 This fun system features a record function that allows you to change the sound prompted by the push of your doorbell button. This Halloween, you can play "The Monster Mash"—or a recording of piercing shrieks to give party guests a start.
About $90; iChime
Shadow Shower Curtain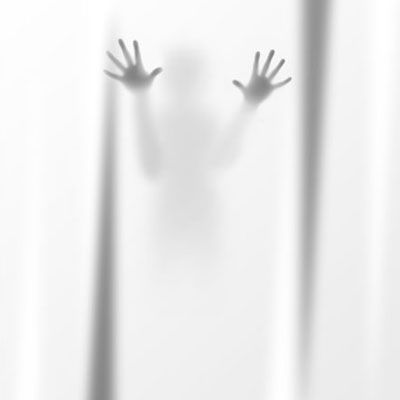 You'll never feel completely alone in the bathroom again with this eerie shower curtain that makes it look like Janet Leigh is about to get the knife right next to you.
About $25; Perpetual Kid
Hanging Cocoon Man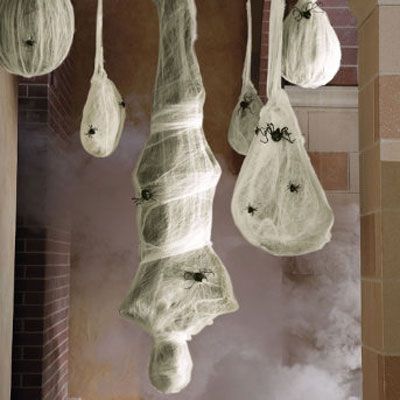 Create a disturbing, cobweb-covered display on your front porch with this gauze-wrapped figure. Complete the look with spider-larva balls (sold separately).
About $49 for the Cocoon Man and $39/set of 3 Spider Larva Balls; Grandin Road
Oversized Spiders and Web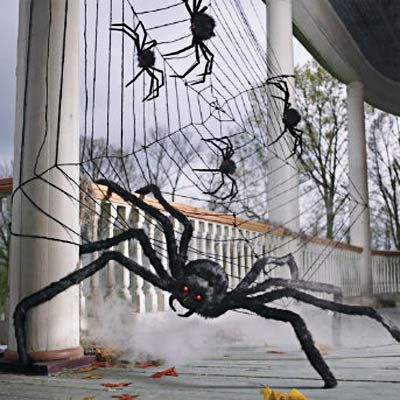 Like something out of a horror film, this massive 10-foot spider web and gargantuan spiders will induce arachnophobia! Fuzzy faux spiders are realistically revolting.
About $29/pair of spiders and about $29 for the web; Grandin Road
Scream-Worthy Window Screens and Panels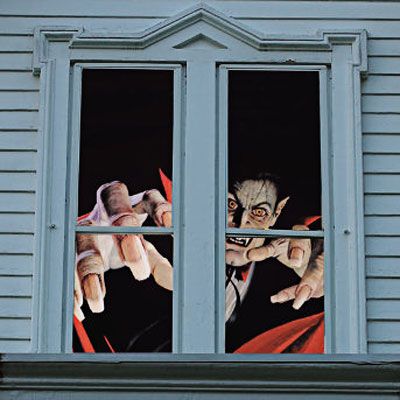 Let this menacing vampire peer out of your window, scare trick-or-treaters from afar. The reusable, hi-def window is easy enough to put up and lights up after dark with help from your interior lamps. If you want to decorate your panes without compromising visibility, try mesh window-screen replacements, printed with haunting scenes that are only visible from the curb.
About $12 for panels; Grandin Road
About $60 for standard windows (contact company for custom quotes); Scream It Again
Haunted Portraits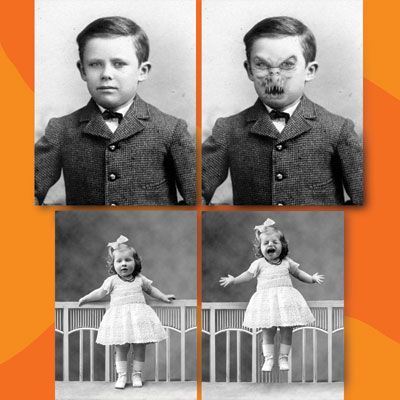 Frame and hang one or more of these unnerving photographs by artist Norm Lanier in your haunted house. The pictures change from charming portraits to spine-tingling scenes as you walk past. "Heidi" and "Benjamin" (shown here) are among the most dramatic.
About $20-$140, depending on size of print; Haunted Portraits
Jack-O'-Lantern Fog Accessory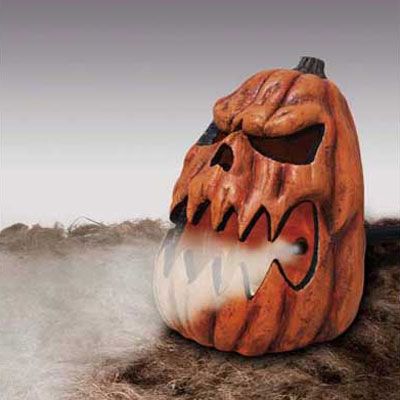 There's no better signal of terror than foreboding fog. Create the effect easily with a fog machine hidden inside a light-up jack-o'-lantern.
About $30; Spirit Halloween
Zombie Shadow Cast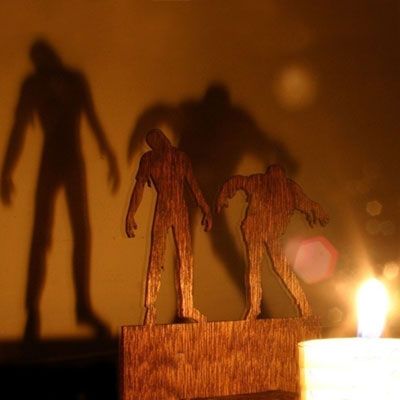 Create a hair-raising scene with a tiny tea light candle, which is all you need to cast a looming shadow of these two ghastly figures made from laser-cut mahogany plywood.
About $20; Neatoshop
Dead Wreath and Garland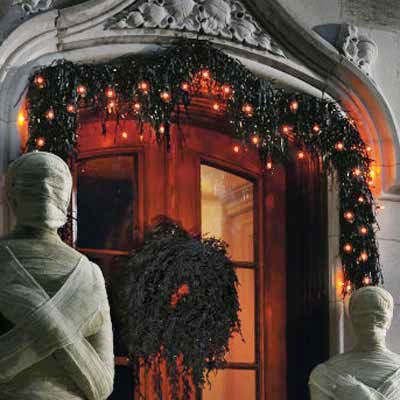 This faux-black cedar wreath, once used as a sign of a house in mourning, is frightfully sophisticated and will last for years to come. But this upscale entryway display is only complete with a pre-lit Drippy Halloween Garland and life-size Halloween Mummies in this entry display are also available.
About $35 each for wreath and garland; Grandin Road
About $100/mummy; Grandin Road