Award-Winning Creations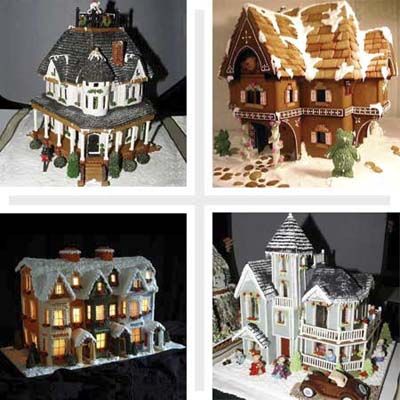 Building a gingerbread house this Christmas? Get inspired by these award-winning and spectacular masterpieces. One ambitious gingerbread house-builder created a lighted replica of his home, while another created an eight-foot sugar castle. Whether you go all out or keep it simple, you're sure to find ideas for your own edible construction here.
Gingerbread House: Queen Anne
Like many DIYers, Rita and Monte Adams of Ringgold, Georgia, like experimenting with power tools. Their Skil bandsaw is one of their favorites. In fact, it recently gave Monte the perfect edges and corners while he was shaping his latest project: an award-winning, Queen Anne-style gingerbread house. This entry into the National Gingerbread Competition at the Grove Park Inn Resort and Spa in Asheville, North Carolina, is a replica of the Carson mansion in Eureka, California. This—the Adams' first attempt at edible construction—took two months to create. Royal icing is used as mortar and for detail work. The car in the driveway and the figures around the house were sculpted with fondant. The house windows are transparent, created out of carefully molded gelatin so that onlookers can view the edible furniture inside.
Gingerbread Castle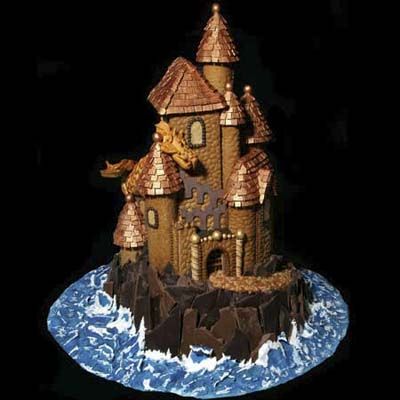 Donna Rorabaugh of Rochester Hills, Michigan, likes to think outside the baker's toolbox when creating her National Gingerbread House competition entries: She uses everything from a X-Acto knife for detailing to sandpaper for smoothing. Every year she takes a week off from work to complete her edible construction project. This fantastical castle incorporates not only gingerbread, but also rice crispy treats and pieces of breakaway chocolate. To finish the piece, Rorabaugh used a wood rasp for beveling corners to allow for a snug fit.
Ice Castle
Donna Rorabaugh is also an avid This Old House reader who often uses magazine pages for inspiration. Rorabaugh asked for a Dremel last Christmas and decided it would be the perfect tool for the detail work on this ice castle. The icicles and iceberg featured here were all carved using the rotary tool. She uses smoothing Dremel bits to finish her masterpieces. "The Dremel is great for any corrections, and royal icing covers any mistakes the tool misses," she says.
Victorian Rowhouse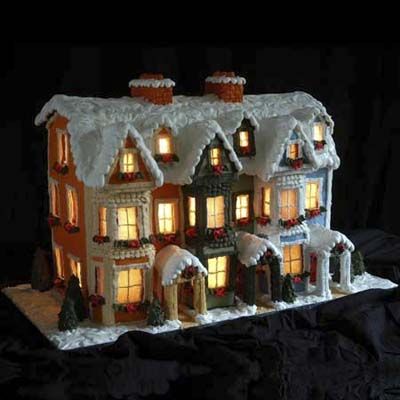 Barry C. Parsons has been creating edible reproductions of homes in his neighborhood in Newfoundland for the past two decades, including these Victorian-era rowhouses. His creations take about 50 to 60 hours to complete and have been auctioned off at local school fundraisers. Parsons uses a wood rasp to fit the gingerbread molds together and then pipes the icing shingles onto the roof using a ruler and toothpick. The windows are glazed with caramelized sugar panes.
Swiss Chalet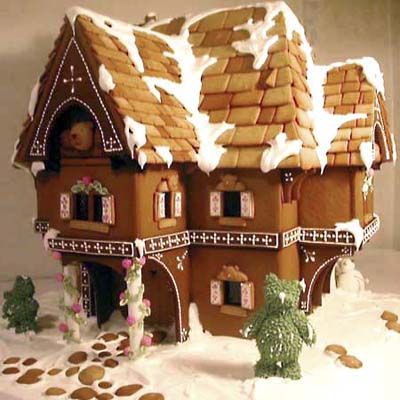 Rebecca Russell, of Wedding Cake Toppers and Gingerbread, created her Swiss-chalet-style Bear House in less than a week using a variety of techniques and tools. In addition to traditional baking tools, Russell also used utility knives to cut roof shingles before baking to give the overall piece a more rustic appearance. Wood rasps and X-Acto knives were used to shave away distortion that takes place during baking. Russell uses a sturdy foam base and recommends protecting gingerbread houses from humidity by placing them in plastic bags and cardboard boxes when not on display.
Shingle-Style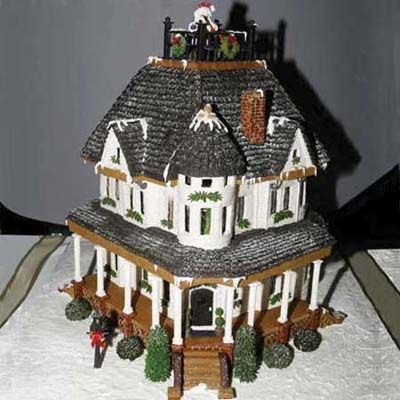 Ann Bailey of Cary, North Carolina, never baked a day in her life until she decided to enter the National Gingerbread Contest. Bailey's inspiration came from a Shingle-style home in New Bern, North Carolina. Bailey used royal icing, marzipan, and gum paste to create this scene in a little over two months. A Dremel junior tool attachment, which resembles a sander, enabled this chef to sand out all the windows and doorframes. The shingles were laid using a ruler and a paring knife, to ensure that they were all about the same size. The topiaries and Santa figure were created with gum paste.
Sugar Castle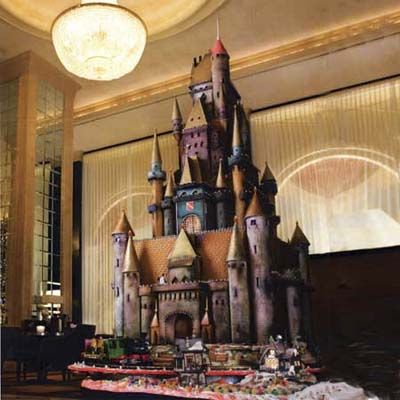 The Sugar Castle, displayed in the historic Westin St. Francis hotel in San Francisco, took over 400 hours to create. Executive Pastry Chef Jean-Francios Houdre was inspired by European architecture and used a variety of tools for this construction, including X-Acto knives, glue guns, and rulers. The piece features a motorized base which allows the castle to slowly rotate. A hole in the base accommodates wires for the lights in the pulled-sugar-paned windows. Houdre recommends that you overbake your gingerbread for about 20 minutes, then leave it to cool in an open oven for about 45 minutes for a sturdier structure.