In some neighborhoods, creating the perfect holiday yard display is serious business—the stuff holiday movies are made of. Whether you live in such a place, or just want to give guests a preview of the festive fun to be had inside, here are our top 9 do-it-yourself outdoor Christmas woodworking pattern and kit picks for a memorable holiday yard.
Stock up on pattern-transfer paper, plywood, and paint, get your jigsaw ready, and keep reading to find the project that'll put your DIY skills—and holiday spirit—on display.
11 Wooden Christmas Yard Decorations
1. White Reindeer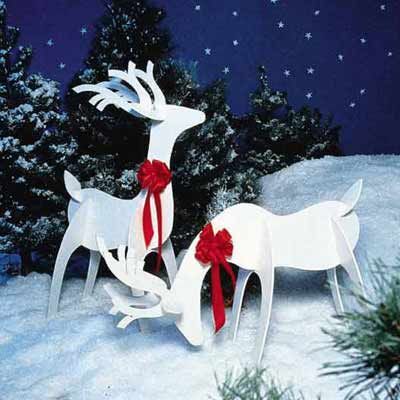 Sure, there are hundreds of wooden reindeer patterns out there. But, this one is a classic. Punctuate your display with these simple white reindeer, which can be easily disassembled and stored flat for use year after year. An extensive selection of Santas and sleighs and other holiday patterns are also available.
About $15 for plans; WoodStore.net
2. Mrs. Snow and Child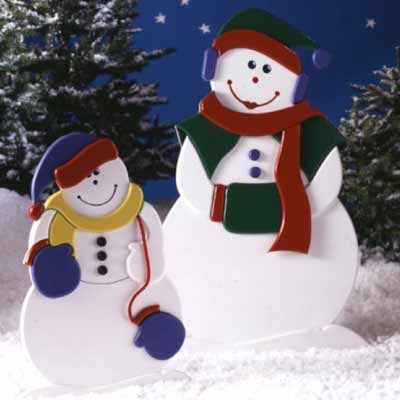 Forget Frosty! Make it a white Christmas no matter the weather with this cute duo in your yard. And, worry not Frosty fans: outdoor Christmas woodworking patterns for a 45-inch high snowman and a 30-inch high snowman are also available.
About $15 for plans, WoodStore.net
3. Wooden Sleigh
Transform your yard into Santa's parking space with this beautiful piece. The kit includes an outdoor Christmas woodworking pattern and all the wood and metal you need to make your own authentic sleigh. The finished product stands 3-feet tall. Once you're done, all you'll need are presents to fill it with.
About $100 for the kit, Rockler.com
4. Easy-Rider Clauses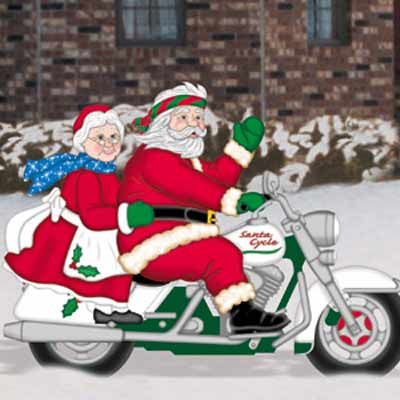 Sleigh not your style? Check out this pattern for an update on Santa's vehicle. The finished piece is 54 inches by 73 inches. Mrs. Claus is a separate piece that can be perched on the back of the bike, so you have the option of letting Santa ride solo.
About $20 for plans, TheWinfieldCollection.com
5. Christmas Moose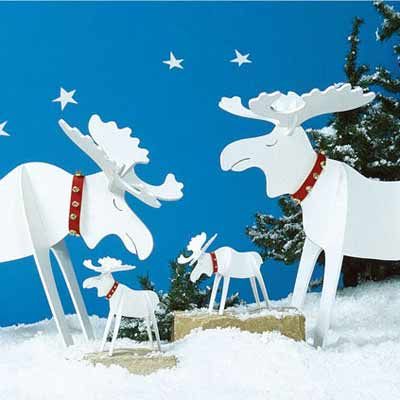 Welcome the cousins of the reindeer to your yard display. Standing 28 inches high—less than half the height of their living counterparts—this moose pair also comes with mini-moose that are only 10 inches tall. Add white paint and a bell collar as shown, and these moose are a striking addition to your holiday yard.
About $15 for plans, Woodcraft.com
6. Ginormas White Reindeer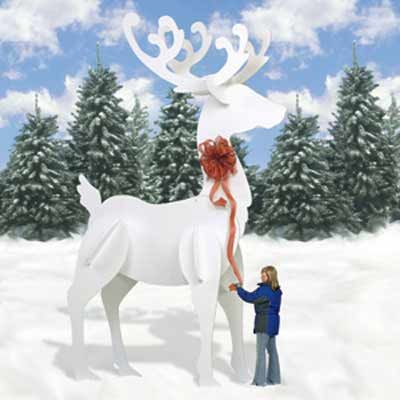 This wood pattern is larger than life—literally. The aptly named Ginormas Reindeer stands more than 15-feet high and requires 5½ sheets of plywood. When the pattern designers put their reindeer out, it caused quite a stir—passersby even stopped to pose for pictures with the colossal caribou.
About $25 for plans and about $3 for necessary hardware (including carriage bolts, washers and nuts), TheWinfieldCollection.com
7. Candy Cane Lantern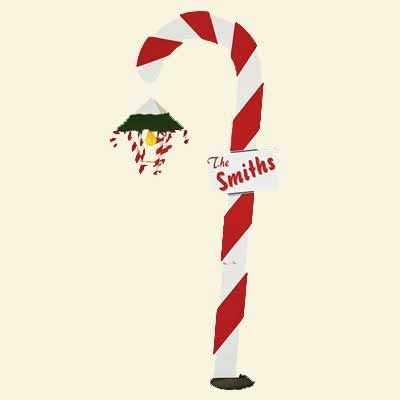 Line your driveway with these working candy cane lanterns, and guests will feel as though they're driving up to Santa's workshop. The pattern includes woodworking instructions, a painting guide and complete wiring instructions. The finished striped candy cane stands 78 inches tall.
About $15 for plans, WoodcraftPlans.com
8. Penguins on Parade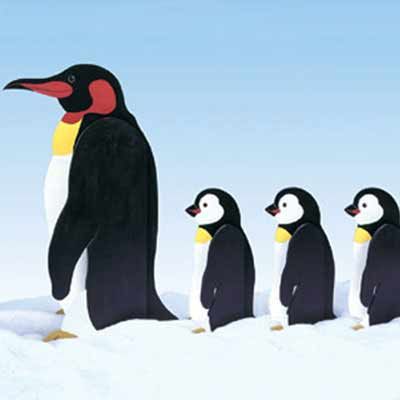 For a winter decoration that can go up before Christmas and stay up 'til the end of the season, try this pattern. At three feet tall, these wooden penguins are the perfect complement to a yard full of winter snow and ice.
About $10 for plans; TheWinfieldCollection.com
9. Gingerbread Manor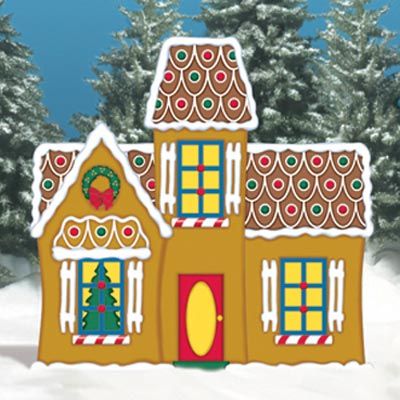 This stately manor makes a good substitute, if you are not baking a traditional cookie-based gingerbread house. The full size plan will create a 46-inch tall by 47-inch wide house.
About $15 for plans, TheWinfieldCollection.com
10. Gingerbread Junction Dancers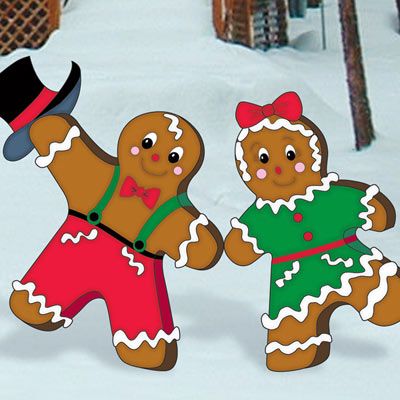 Let the neighborhood know the fun holiday party is inside. This dancing gingerbread boy and girl will keep your spirits lifted throughout the season.
About $15 for plans, HousePlansandMore.com
11. Santa, Sleigh, and Reindeer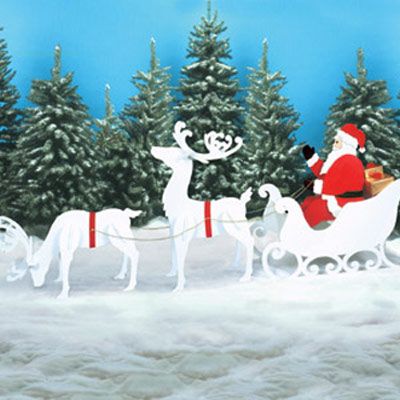 Your kids will think the big-man himself has landed on your front lawn. The set includes separate plans for each.
About $40 for plans, TheWinfieldCollection.com