Thanksgiving Table Settings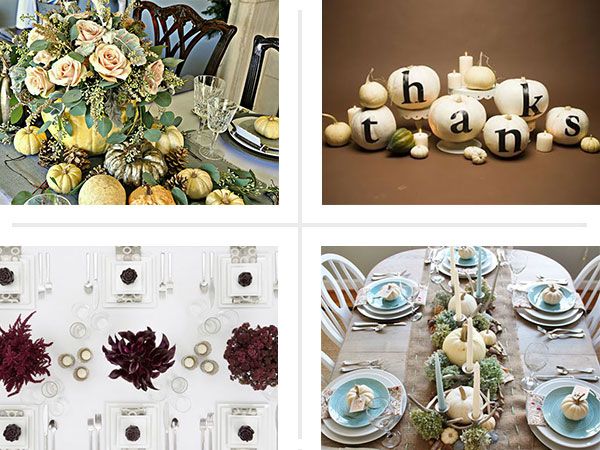 Before you pull out your old Thanksgiving table settings—you know, the wicker cornucopia brimming with plastic pumpkins, green squash, and red leaves—consider these easy-to-achieve, elegant design ideas that will turn your dining ambience into a five-star family affair.
Chalkboard Runner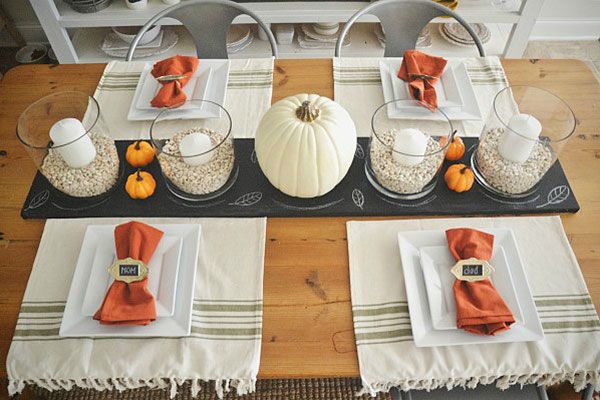 Embellish your setting with this wood table runner painted with chalkboard paint. This DIY centerpiece allows lots of room for artistic expression and personalized messages. You could duplicate the look by adding pillar candles settled in a bed of white lima beans with miniature pumpkin accents, or come up with your own spin—the possibilities are endless. See how Liz Marie pulled this look together at Today's Creative Life blog.
Romantic Pastels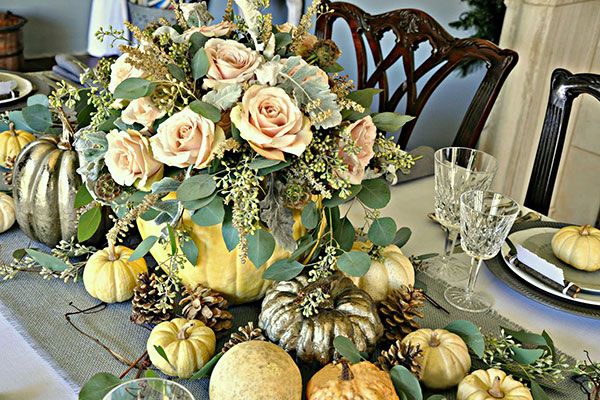 Repurposing Halloween pumpkins is a grand idea. Blogger Kimberly gave hers new life by creating a Thanksgiving centerpiece with the uncarved pumpkins. She painted a large white gourd a light shade of yellow, hollowed it out, and set a glass vase inside. The vase was then filled with beautiful peach roses, dusty miller, seeded eucalyptus, scabiosa seedpods, and white sage flowers. Smaller pumpkins spray-painted in metallic gold, grapevines, and pinecones finish off the rustic look. Kimberly describes how she put this design together at Serendipity Refined.
Spell It Out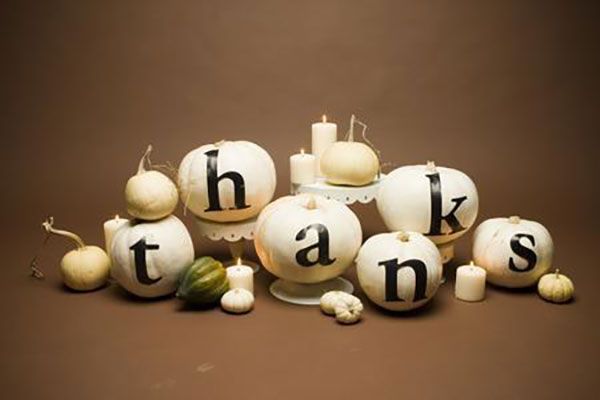 When gratitude is the main theme for the evening, there is no better way to reinforce the message than with a visually compelling reminder. Simply stated in white and black, the reason for the season is neatly stenciled—one letter per pumpkin. It would take just a few more pumpkins to spell out T-H-A-N-K-F-U-L or B-L-E-S-S-E-D to adorn a larger table. Whatever message you choose, don't forget to punctuate it with cake stands, gourds, and candles. Find more great centerpiece ideas at Shelterness.
Woodsy Couture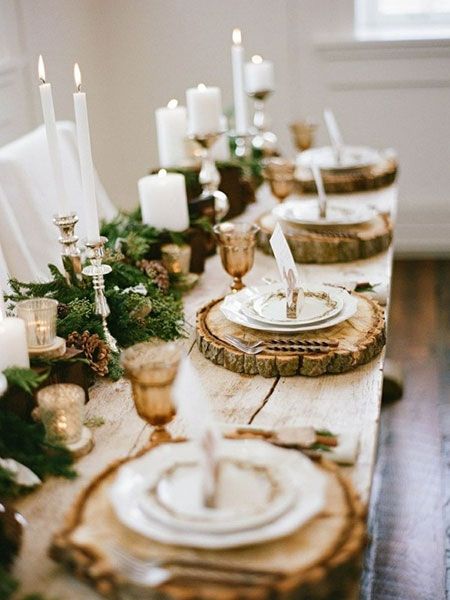 A demure string of evergreen garland, pinecones, and candles of varying sizes take a backseat to the scene-stealing wood chargers on this table. While they're not quite a centerpiece, the contrast of 1-inch-thick tree trunk under fine china will nonetheless become the center of your guests' attention. You can reproduce this look, from Wedding Party, by sealing cut wood rounds with clear shellac or another protective finish. Be sure to air-dry for at least 20 minutes. These woodsy pieces are perfect for a formal dinner with a playful twist.
The Great Pumpkin Makeover
It certainly isn't Autumn without pumpkins, but where is it written they have to remain their natural color in order to be part of Fall's festivities? For a regal touch, paint a golden faux-bois design on your gourd. You'll need a white pumpkin, a peel-and-stick wood-grain stencil, gold metallic craft paint, and a sponge dabber. Display the result alongside a few solid-white or solid-gold pumpkins, of various sizes, on a golden platter. White leaves and plastic berries finish the look. Go to Sand & Sisal for a step-by-step on how Kim Wilson created this gilded faux-bois pumpkin.
Down by the Sea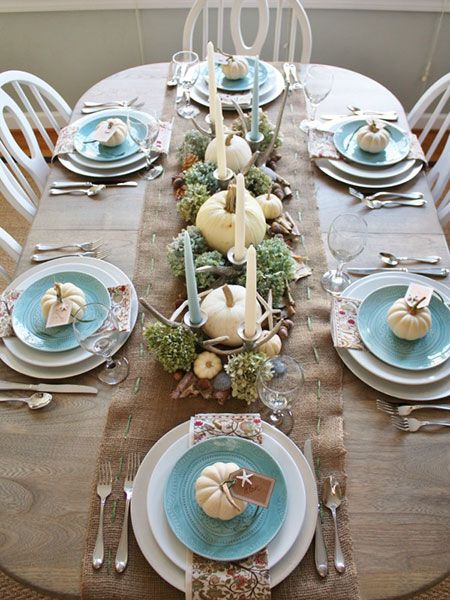 Although the temperature may be dropping and the leaves may be changing color in many places, somewhere in the country, the beach beckons. White and Tiffany-blue plates and candles help set the scene for this coastal Thanksgiving table setting, but perhaps not as much as the centerpiece of white pumpkins, starfish, and clam and scallop shells. Birch bark, acorns, dried hydrangeas, and silver antler candelabras give an extra nod to the wonders of nature. Kim Wilson shares her design secrets at her Sand & Sisal blog.
Graphic Details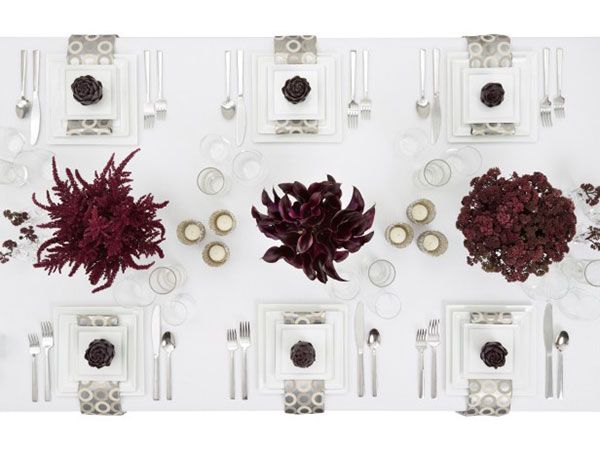 It's amazing how a few flowers can set the mood. Trade in the bright colors of a sunflower, gerbera daisy, and chrysanthemum fall-harvest bouquet for a more formal floral arrangement with black, purple, and burgundy hues. Vases of black calla lilies, sedum 'Purple Emperor,' and Amaranthus cruentus, set against a backdrop of white linen and metallic silver, are key to achieving this modern look. Mercury-glass votives replace the usual tapered candles, and napkins, ladened with silvery geometric shapes, become more than just somewhere to wipe your hands. For details on how to achieve this look, go to Cooking Channel TV.