DIY Halloween Party Decorations: Salvage-Style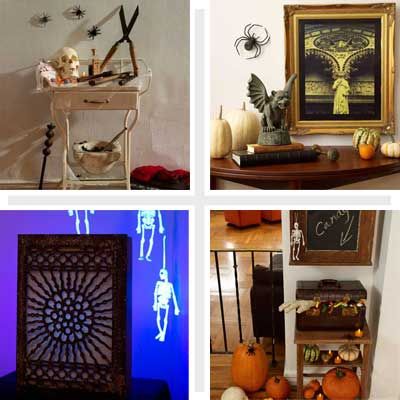 Freddy Krueger was freaky in the movies, but the melty-faced, striped-sweater-wearing dummy from the Halloween store is just lame—and expensive. Plus, it smells weird, like charred rubber and mothballs. Armed with a few key props, such as fake cobwebs and a handful of plastic spiders, you can make your own fright-worthy decorations out of salvage-yard and thrift-store finds, even the junk collecting dust in your attic.
To inspire you, This Old House Salvage-Style Projects author Amy R. Hughes shares nine spooky creations. Make one or make them all, and start scaring up some friends for a crafty and thrifty party this October 31.
Candlelit Seance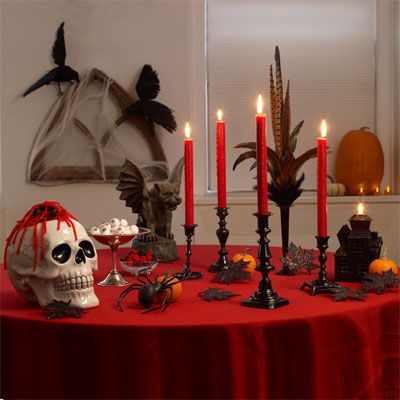 A dramatic centerpiece of mismatched $3 thrift-store candlesticks spray-painted gloss black invites guests to gather 'round and summon spirits. And because all that paranormal activity can make you hungry, candy spills from a skull-shaped cookie jar like brain matter. The jar was another thrift-store find and cost just $4 because it was missing its top.
Grim Gothic Window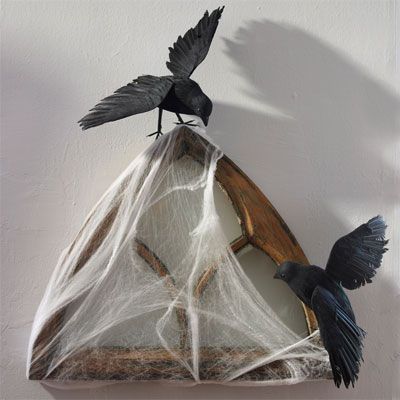 Even without the cobwebs and peck-your-eyes-out ravens perched on top, this arched Gothic Revival window, a $50 salvage-yard gem, evokes the macabre: decayed ruins of medieval architecture.
Handy Candy Table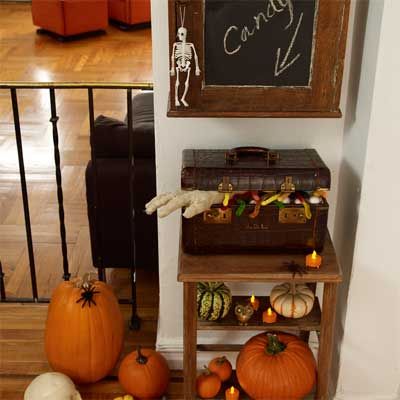 Grab a treat at your own risk! A motion-sensing mummy hand pokes out of a $25 vintage-leather travel case filled with gooey gummy worms and eyeball gumballs. Lift the lid and the mummy's fingers start to twitch. The table the case rests on is actually an old wood step stool with a hinged top, scavenged at a junk shop for $40. Pumpkins and gourds of different shapes, colors, and sizes make an artful arrangement on its rungs. The blackboard hung on the wall above is the front of an antique oak medicine cabinet that's been reworked to organize entryway clutter (there are key hooks and mail cubbies inside) and, in this case, tempt party guests to grab a little candy.
Find the step-by-step to make this blackboard cabinet in This Old House Salvage-Style Projects.
Chop Shop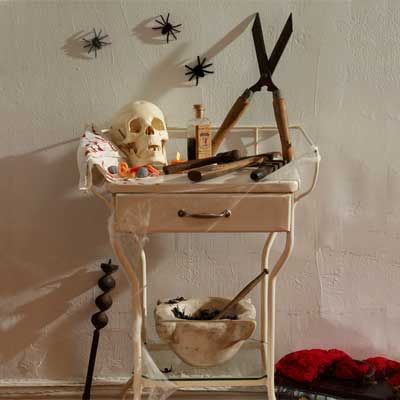 Dr. Frankenstein might have had a workstation like this. Rusty garden shears, a wrench, hammer, and giant awl (for brain surgery, of course) gathered from the shed seem just the tools for assembling a monster or scaring the bejeezus out of your physician-phobic friends. Find medical tables like this at antiques shops, starting at about $35 each.
Shoot 'em Up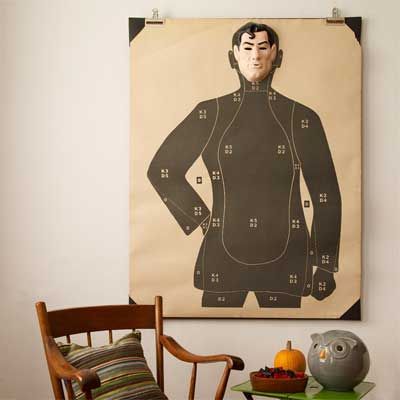 A vintage target-practice poster nabbed at a flea market for $8 is an ominous backdrop for a Halloween party. The figure's familiar face comes courtesy of a $3 Superman mask found in the bargain bin at a costume shop. Even some of our most beloved superheroes can fall from grace.
Skeleton-Key Garland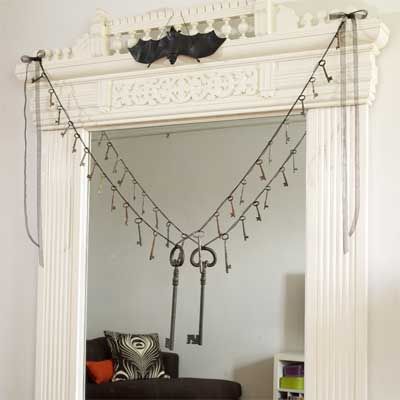 Strung on black ribbon, antique keys found at Olde Good Things become an elegant garland. Expect to pay about $1 apiece at salvage yards. Draped over a large mirror framed with 1880s door casing, the display has creepy, yet classy Victorian Gothic appeal.
Find the step-by-step to make this mirror in This Old House Salvage-Style Projects or watch the how-to video.
Haunted Library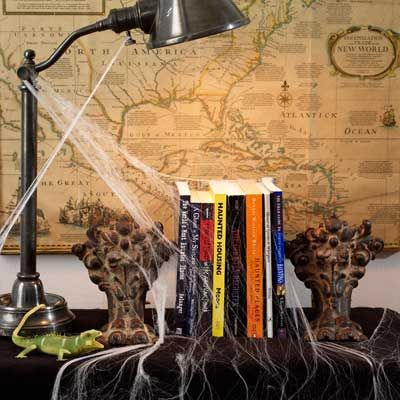 Rusty lion claw-feet that once supported a late-19th-century soaker tub now prop up a mini library stocked with haunted-house books, including a national directory of ghostly manses to explore.
Get similarly gorgeous and marginally threatening tub feet like these at salvage yards for about $50 a pair.
Black-light Box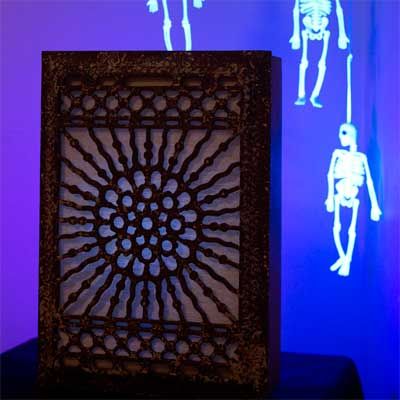 Swinging skeletons bask in the glow of an energy-wise CFL black-light bulb screwed into a DIY sconce made from a Victorian-era cast-iron heat register cover. Similar covers can be found at salvage yards for as little as $20 each. See the step-by-step for this sconce.
Eerie Photo in a Street-score Frame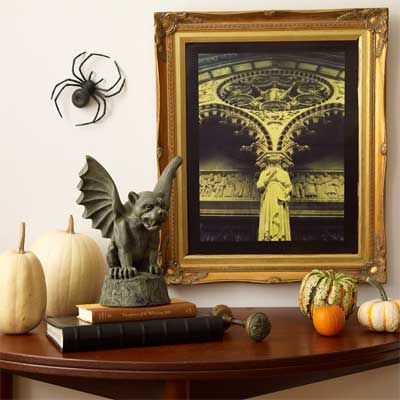 Enlarged, and spookified in Photoshop, this smartphone snap of the Cathedral Church of Saint John the Divine in New York City becomes the centerpiece of an architectural-themed display when treated as fine art in a gilded frame scavenged off the street.