Get Luxe for Less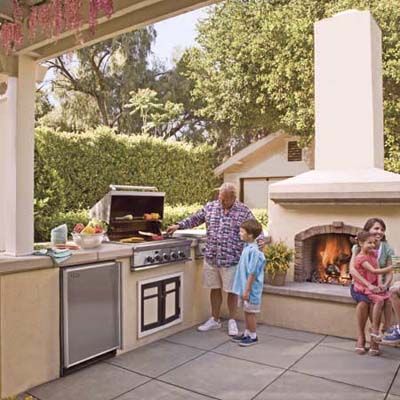 Few things rival the appeal of a backyard barbecue on a summer night. Here's another notion that's sure to please: Upgrade your barbecue area to an outdoor kitchen, and any money you spend on it will increase your home's value. "In any market a home with an outdoor kitchen would help buyers choose it over another without one," says Karen Schwartz of ERA Real Estate. The homeowners of the Pasadena, California, kitchen pictured here heartily agree. "When we first looked at this house," says the wife, "the outdoor kitchen was a huge bonus." Although fairly simple in style, the kitchen's 120 square feet of space includes all the amenities: a built-in gas grill, separate side burners, refrigerator, sink, fireplace, and large seating bar. And while such a wealth of features would push a similar kitchen to a hefty $25,000, estimates Pasadena landscape architect Mark Berry (who designed this one), you can get just as much function on a much lower budget. Read on to learn how.
Essential: Grill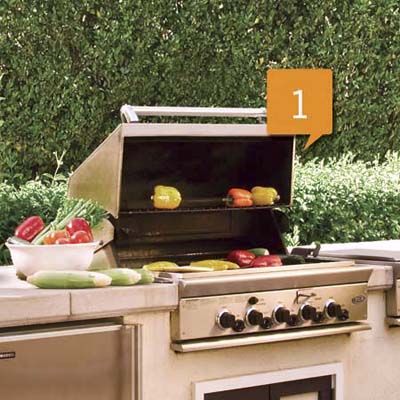 1. "You can get all you really need with a simple grill island," says Berry. But he adds: "Don't skimp on the grill itself, because that's what you'll use the most." As for equipment, be realistic about your needs. "Guys get excited about all the bells and whistles, like side burners," says Kevin Cunningham, owner of Ultimate Outdoor Kitchens in Geneva, Illinois. "But a 36-inch grill is perfect for most families." Cunningham likes grills with built-in infrared burners for searing and suggests springing for an electric rotisserie. Today even moderately priced freestanding grills offer infrared technology (Char-Broil's 42-inch model starts at $270). Add-on rotisserie kits run from $50 to $200 at most home centers—just keep in mind you'll need a GFCI outlet nearby.
Bottom Line: A 36-inch grill set in a cart or island will do the job handily.
Essential: Counter Space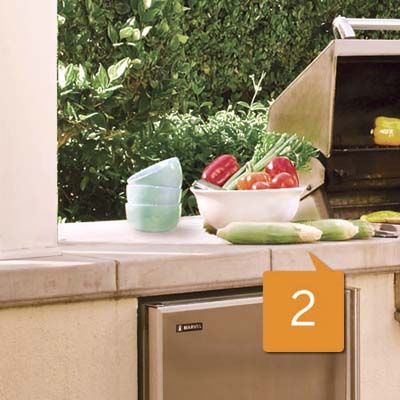 2. In general, designers suggest at least 12 inches of food prep and landing space on either side of the cooking surface. The most popular countertop materials are ceramic tile, natural stone, and concrete. Concrete counters, like those shown at right, must be sealed annually, and a hot pot or utensil can scorch them. Landscape architect J'Nell Bryson of Charlotte, North Carolina, solves the latter problem by having the fabricator lay stainless-steel bars in the surface next to the grill for a built-in trivet. Ceramic tile will save you money, but, says Cunningham, be sure to use a latex grout formulated to expand and contract. "Otherwise, in a cold climate, the freeze-thaw cycle will have those tiles popping off after a few seasons."
Bottom Line: Plan on at least 2 feet of countertop by the grill.
Essential: Room to Move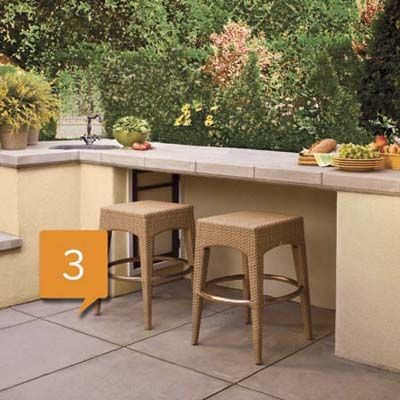 3. "Outdoor kitchens are one place where bigger really is better," says Sacramento, California, landscape designer Michael Glassman. "You'll never be sorry you allowed for extra counter space, because inside or out, everyone crowds around the cook. Plus, you'll be able to cook better if you give your guests somewhere to sit, or lean, or work." Cast a critical eye on an existing deck or patio; you may already have space for a generously sized outdoor cooking area. Just be sure to check local zoning laws regarding size and location of your kitchen setup (these regulate, among other things, the safe clearance between open flames and combustible surfaces). For a relatively small investment, you can add a high bar with seating off the prep station.
An all-weather folding bar can be had for $300, with mahogany stools for $100 each Grandin Road.
Bottom Line: Don't skimp on space, but comply with local codes.
Essential: Lighting and Shelter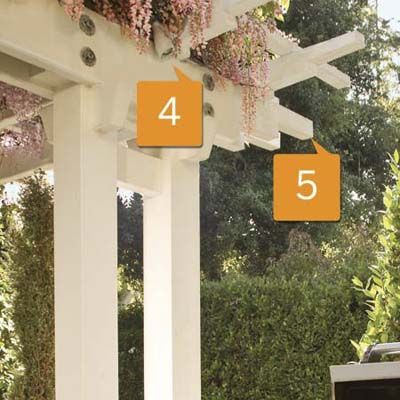 4 & 5. Two features home‑ owners frequently overlook are among the most essential, says Glassman: task lighting and overhead shelter. "All it takes is a $25 clip-on grill light to give you direct illumination on the cooking surface," he says. A freestanding umbrella set into the countertop or on a stand will provide shade at high noon. "Of course, if you can build a pergola or set the kitchen under an overhang off the house, even better," adds Glassman. "That way you can install more extensive lighting as well as fans to help keep insects away from the cooking area." (If the grill is under a roof overhang, however, you may also need to install a vent hood for safety.) Spotlights affixed to the pergola roof brighten this California backyard kitchen at night.
Bottom Line: At least shine light on the grill and put up an umbrella.
Extra: Sink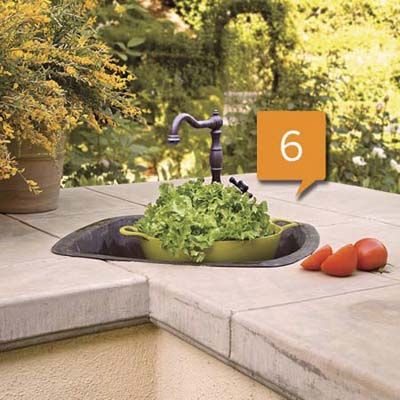 6. Plumbing for an outdoor sink can add $1,000 to $2,000 to your project, Cunningham estimates. But a sink may not be warranted. Designers generally recommend situating your outdoor cooking area close enough to the indoor kitchen that you can comfortably carry a heavy tray between the two. Follow that guideline and the indoor sink should suffice.
Extra: Refrigerator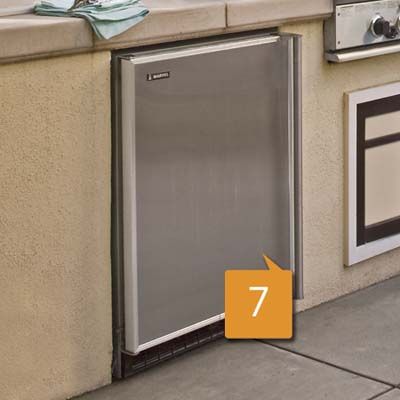 7. Your money may be better spent on an undercounter beverage fridge that's UL-approved for exterior use—and the outdoor GFCI to power it—so that you can keep cold drinks at the ready. Models from Marvel, GE, and Dacor run about $1,800 to $2,300. Still set on a sink? Save with one that hooks to a hose, such as No-Crank's Outdoor Sink Station ($170).
Bottom Line: Maybe splurge on the fridge—and skip the sink.
Extra: Cabinet Storage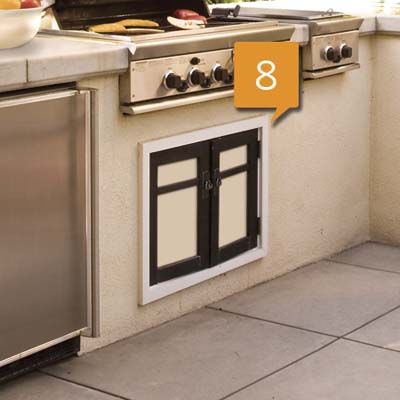 8. While it's nice to hide the propane, built-in cabinets are generally optional—unless the grill is a long trek from the indoor kitchen. In that case, go for durable, weatherproof cabinets in stainless steel or a marine-grade polymer. In the kitchen shown here, painted teak doors below the grill and sink access the propane and plumbing, plus BBQ supplies. Add freestanding storage for less with a weatherproof cart on wheels.
Bottom Line: Finish the void under a built-in grill with doors to hide the propane tank and some grill supplies. Or just add a cart.
Extra: Cozy Hearth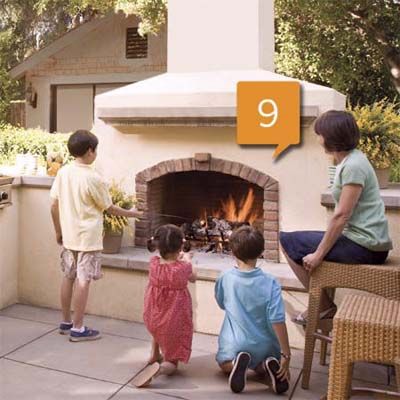 9. Focal points like a fireplace or pizza oven do extend the season, and the overall appeal, of an outdoor kitchen. A fireplace starts about $8,000. A basic pizza-oven kit starts at $3,000, with the custom surround adding several thousand dollars more to the project. Mark Berry built his own for about $2,000, using plans from a book. "It really is great for entertaining," he says. "It creates a lot of ambience." As for the happy owners of this kitchen, while they love the convenience of their gas grill, it's the wood-burning fireplace that's the star. "It adds so much warmth," says the wife. And, of course, "it's perfect for roasting marshmallows."
Bottom Line: Short on cash? You can fire up a firepit for about $100.