Rustic treehouses have always been great playrooms for the kids, but the old scrap-lumber-platform construction just won't do for adults. When it comes to grown-up getaways, it has to be luxe. Running water, fairytale views, and Swiss Family Robinson architecture are practically required.
To show you what we mean, This Old House has assembled a few outdoor escapes that prove that when your home among the limbs is this fancy, climbing up a tree doesn't have to mean roughing it.
Cozy Shingled Escape — Washington State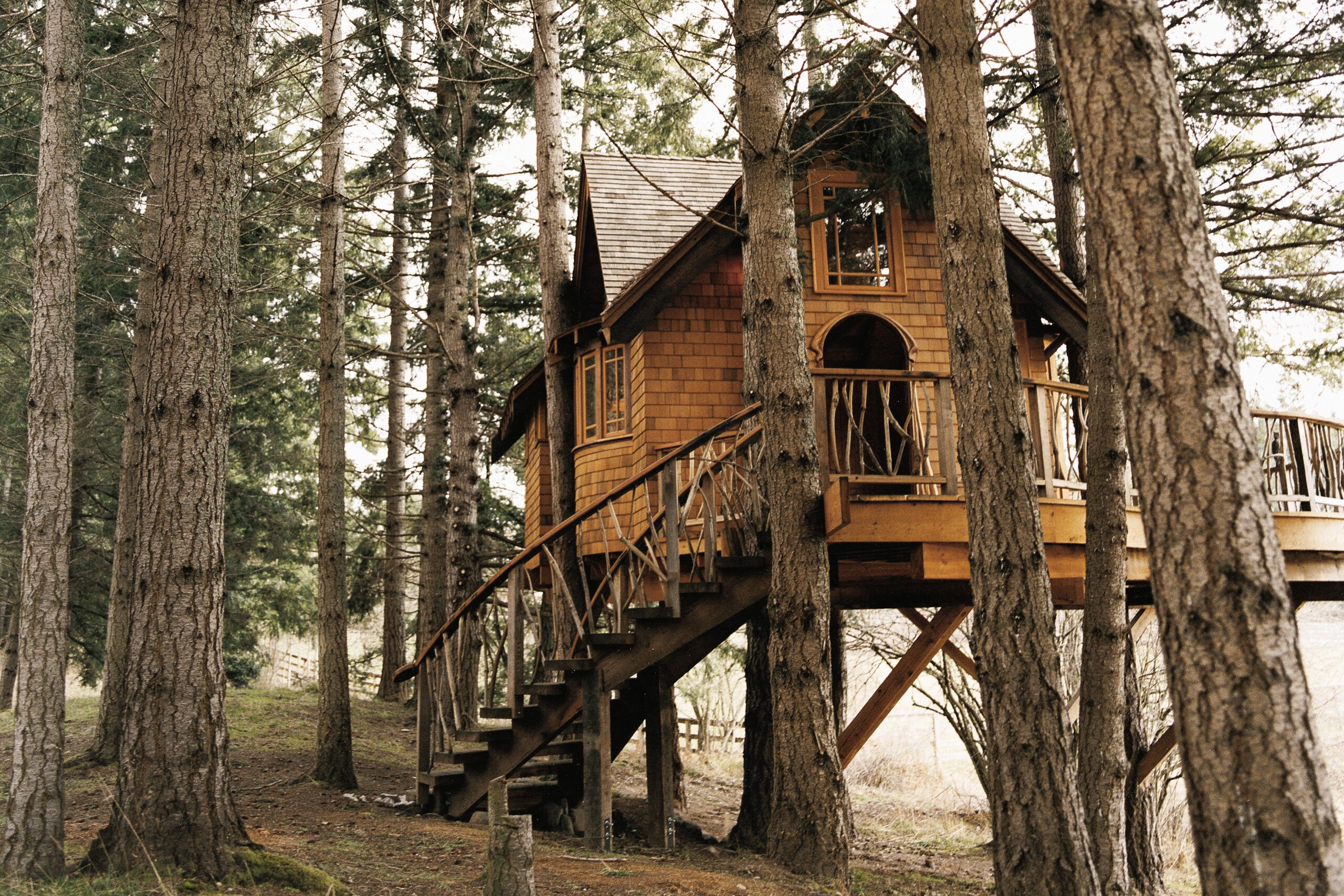 No need to worry about yard work when a grove of Douglas firs hugs your home. Kick back 15 feet above the forest floor and admire the storybook Washington state view instead. Of course, some compromises are necessary, like using an incinerating toilet to accommodate the lack of running water. But a stroll through this light-filled wood cottage will almost make you forget its missing amenities.
The Treehouse a Duchess Built — Alnwick, United Kingdom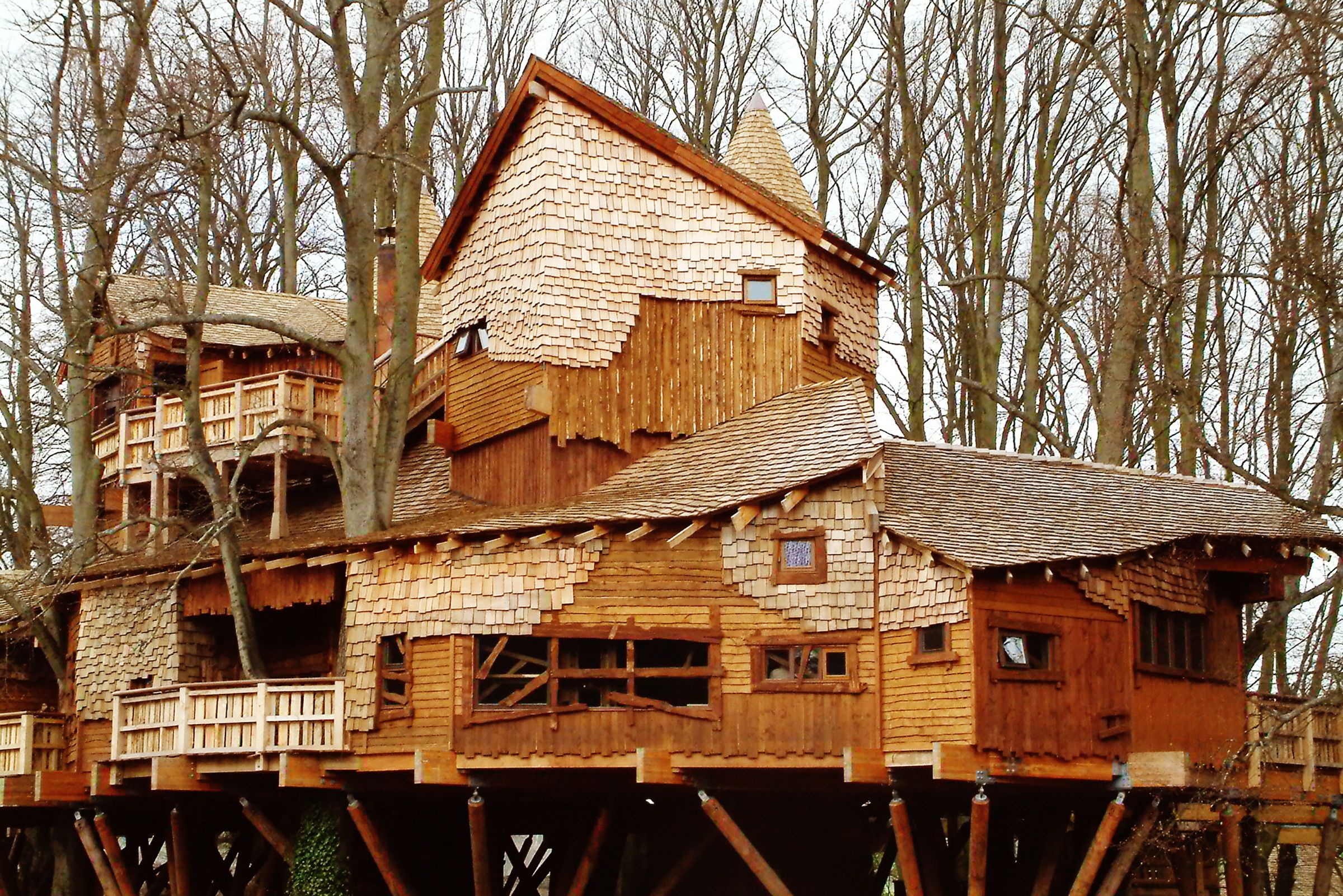 A run-of-the-mill treehouse simply won't do when you possess an English title. The Duchess of Northumberland commissioned this wonky structure, which opened in 2004, as a place for all the kids out there who "aren't allowed to climb trees."
One of the world's largest treehouses, the elevated structure houses educational facilities, rope bridges, lots of walkways, and even a restaurant, and is made from sustainable resources. The design's whimsical angles and patchwork of materials is reminiscent of the world of Harry Potter—apropos, as the duchess's home, Alnwick Castle, was used as the location for Hogwarts School of Witchcraft and Wizardry in the first two films.
To The Next Level — Kingston, Tennessee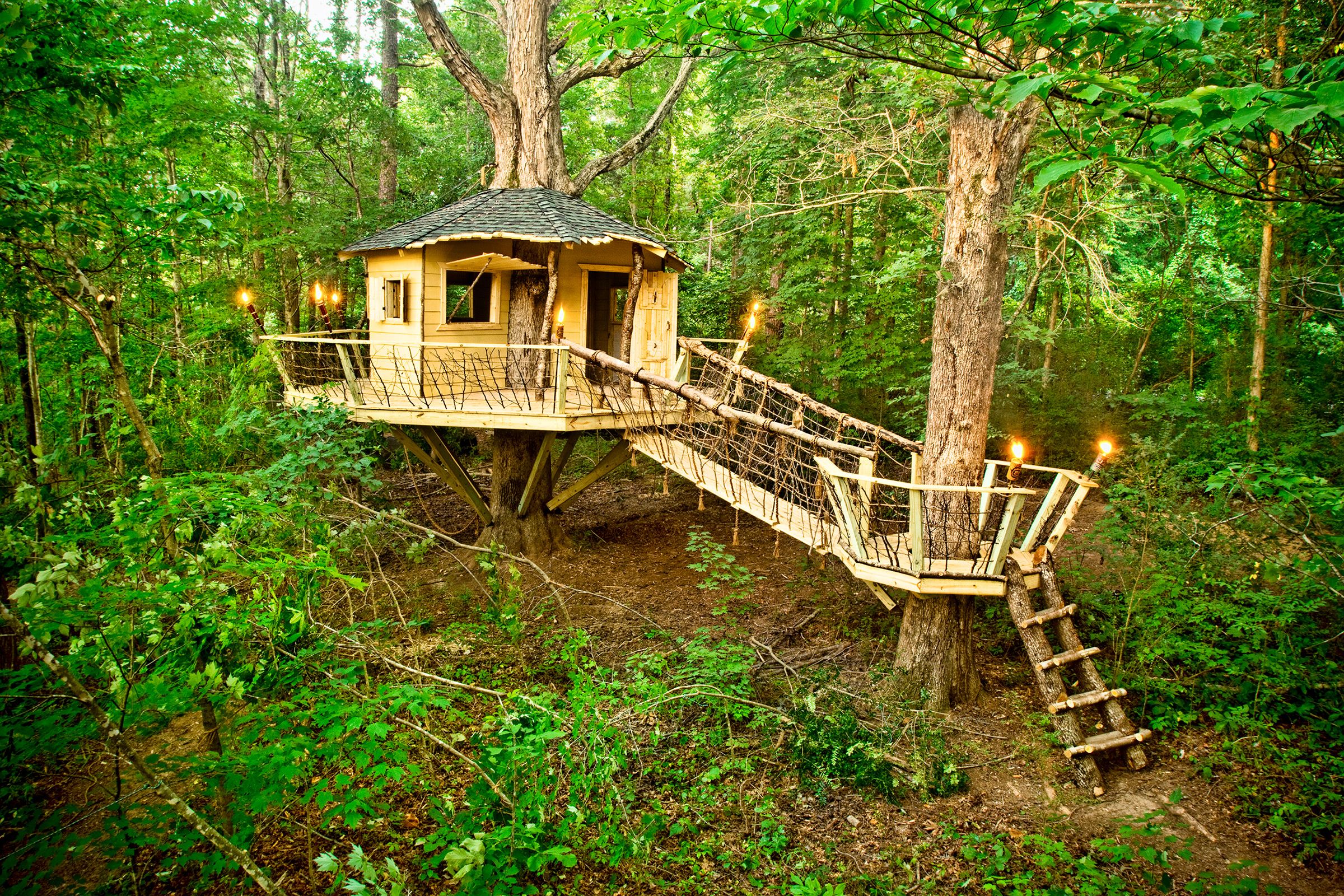 The only thing that could make having a treehouse even better is getting to build it with your dad, like TOH reader Matt Pavel did here. This multi-level treehouse makes climbing up into the outdoor hangout feel a little like an Indiana Jones movie, without the life-threatening boulders.
Extreme Nesting — Village of Hardas, Sweden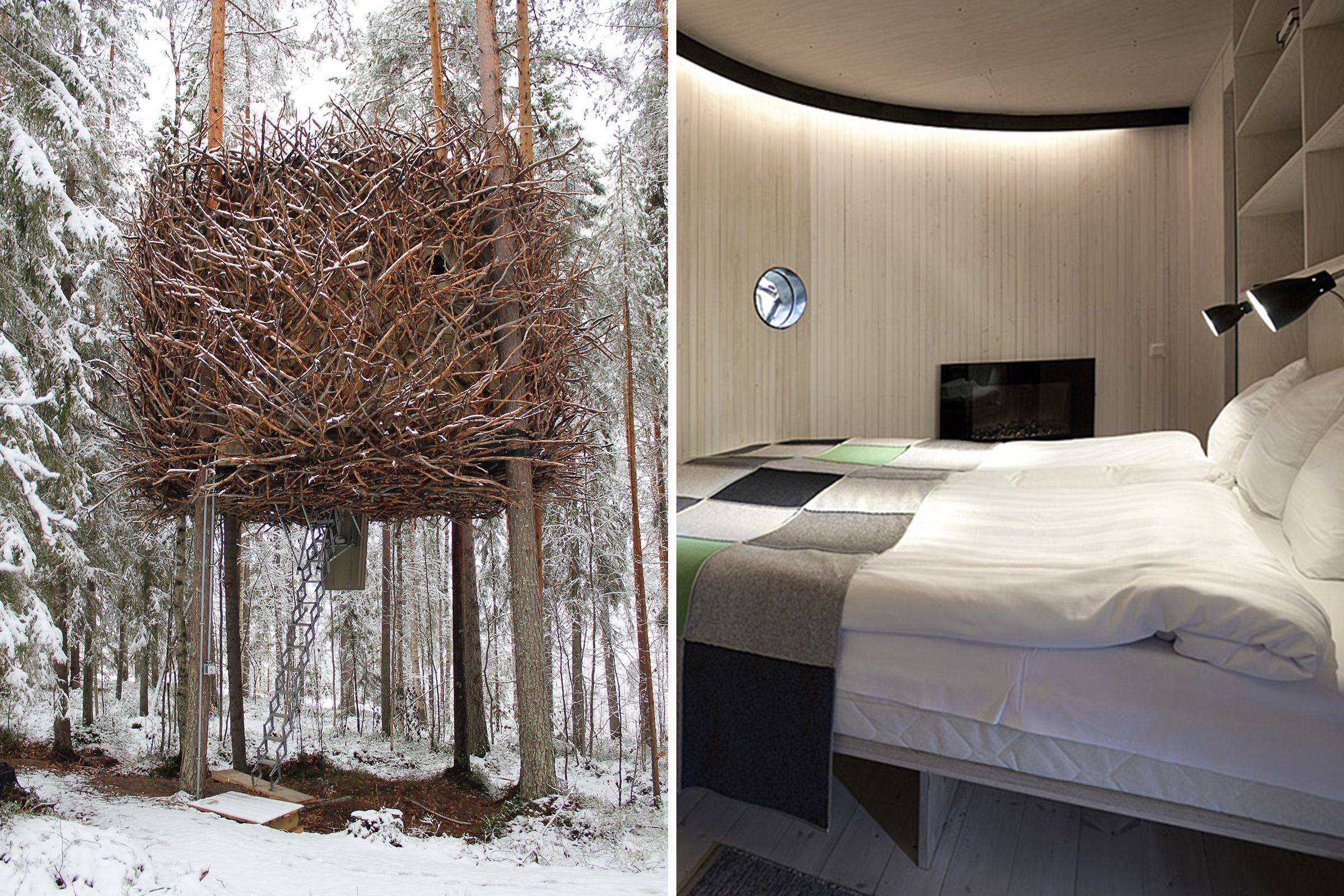 Disappearing into your getaway is easy with the disguised windows and retractable staircase of this bird's nest-inspired treehouse, designed by architect Bertil Harstrom. The space, part of accommodations known as Treehotel, can be booked for 3,300 Swedish Kronar (about $590) a night.
Unidentified Flying Treehouse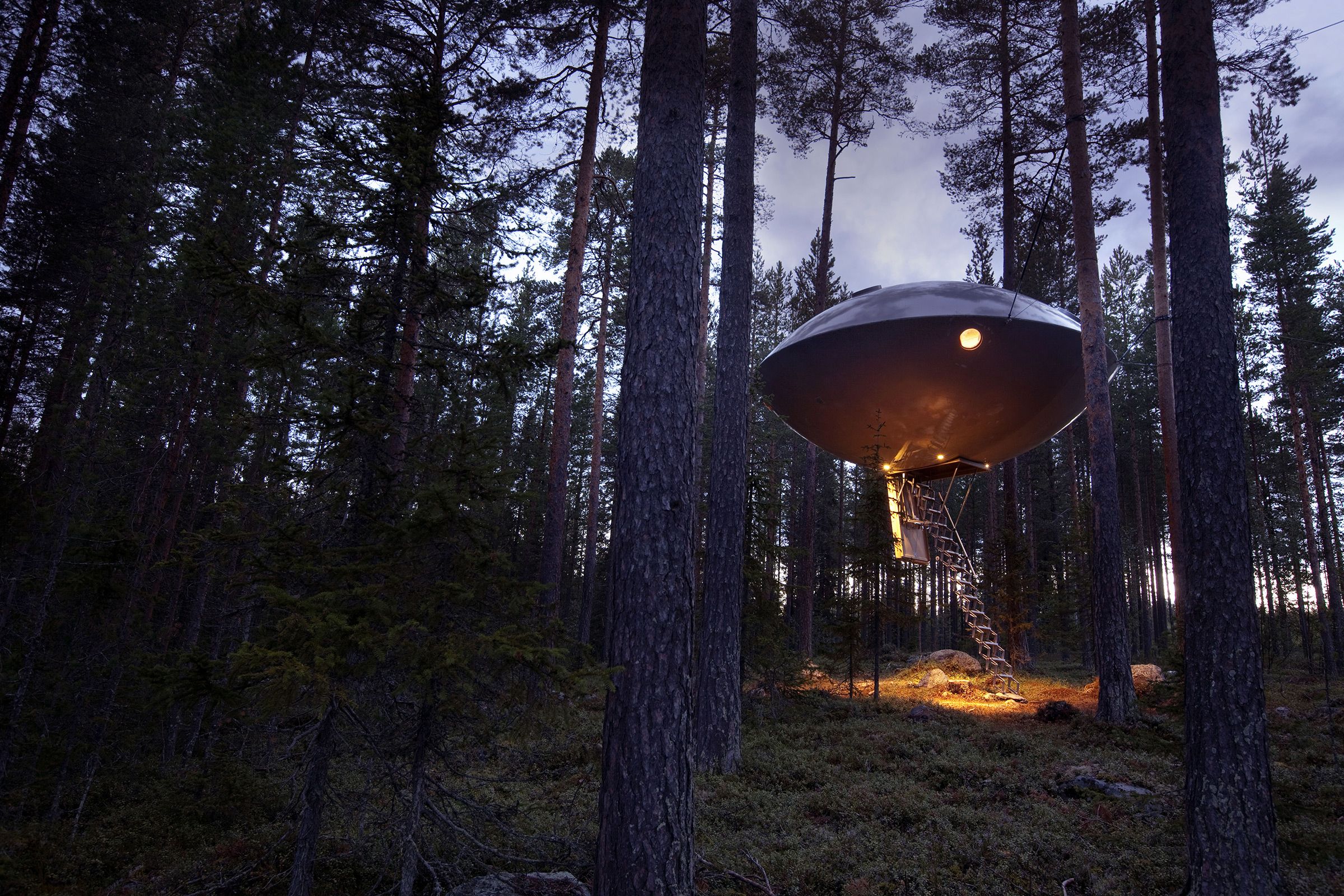 The idea for this UFO treehouse, another getaway in the Treehotel family, was born during the Bird's Nest design process. While the nest was designed to fit in with its environment, this otherworldly orb was built to look, well, alien. Spend a night roaming the two floors within the structure's sustainable composite walls for just 3,300 Swedish Kronar.
Eye in the Sky — Qualicum Beach, BC, Canada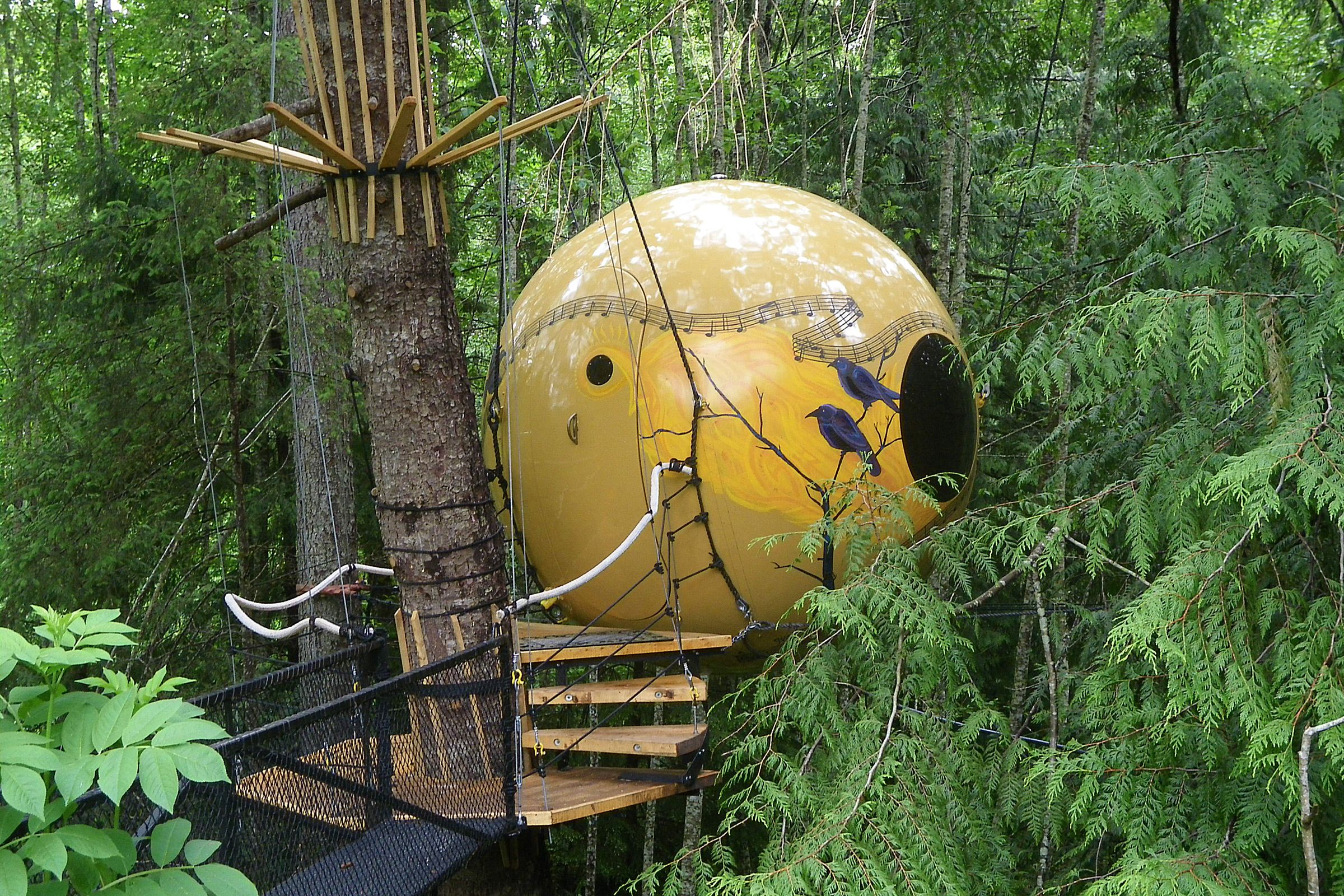 Find yourself three sturdy trees, and shell out $45,000 (for fiberglass or $150,000 for wood) if you'd like to call one of these Free Spirit Spheres your own treehouse. (Worth noting: The pricier wood version is equipped with plumbing and heating.) Or, book one for a night or two at a Treesort starting at $145 (Canadian) a night.
Divine Blueprints — Crossville, Tennessee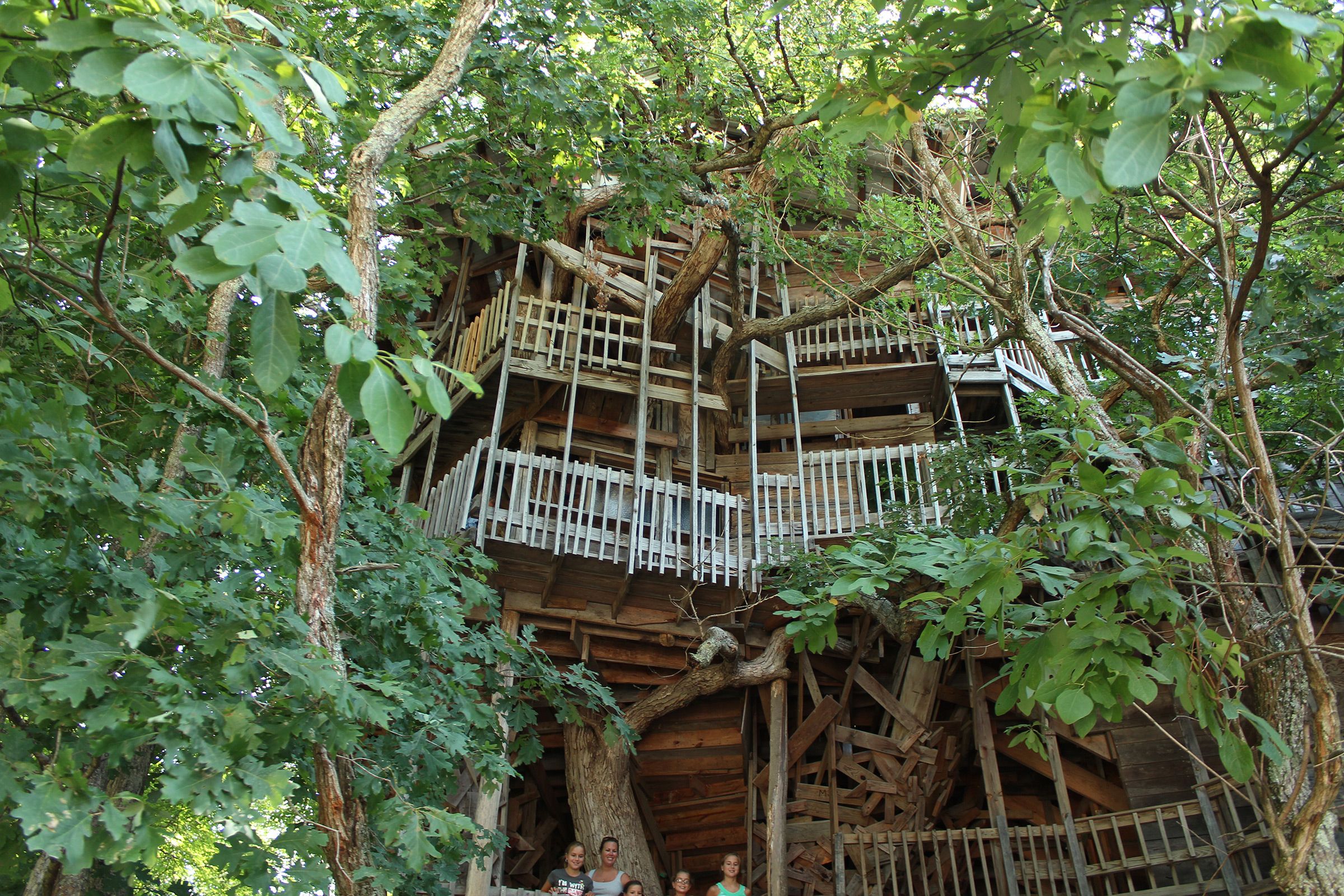 Everyone has his or her calling. Landscape architect and self-taught carpenter Horace Burgess's came from on high. He began this elaborate structure after "receiving a revelation from God." The 100-foot-tall, ten-story treehouse—complete with a third-story sanctuary/basketball court—won the Guinness World Record for largest treehouse in 2012.
78 Birds and One Human — Komoro City, Nagano Prefecture, Japan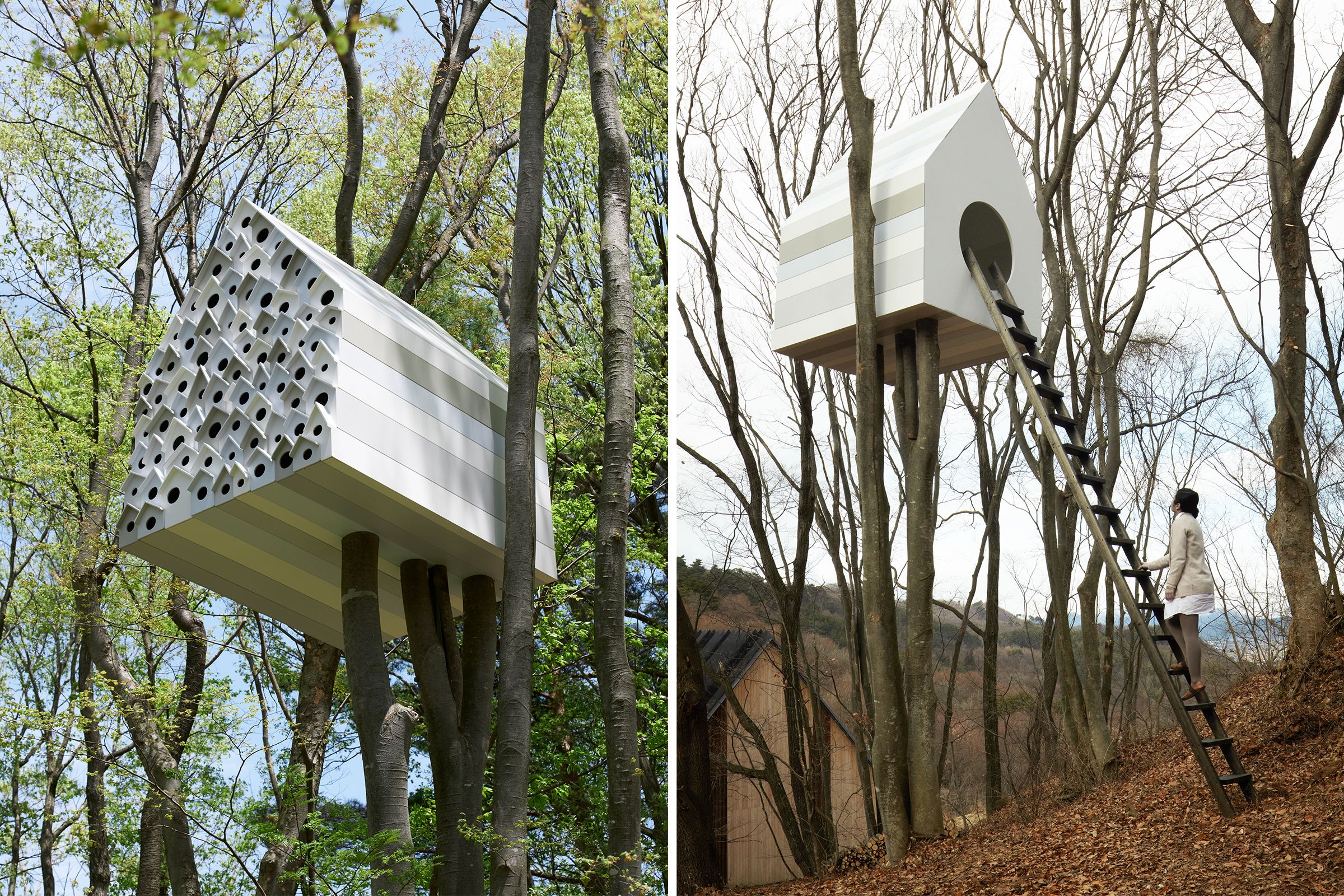 Happily coexist with 78 of your close, personal, fine-feathered friends in this Nendo-designed tree-top abode at Japan's Ando Momofuku Center. Peepholes along a wall separating man from birds encourage nest spying, an attempt to uphold the center's goal of promoting access to nature.
Completely Ecological — Pedra Salgadas, Portugal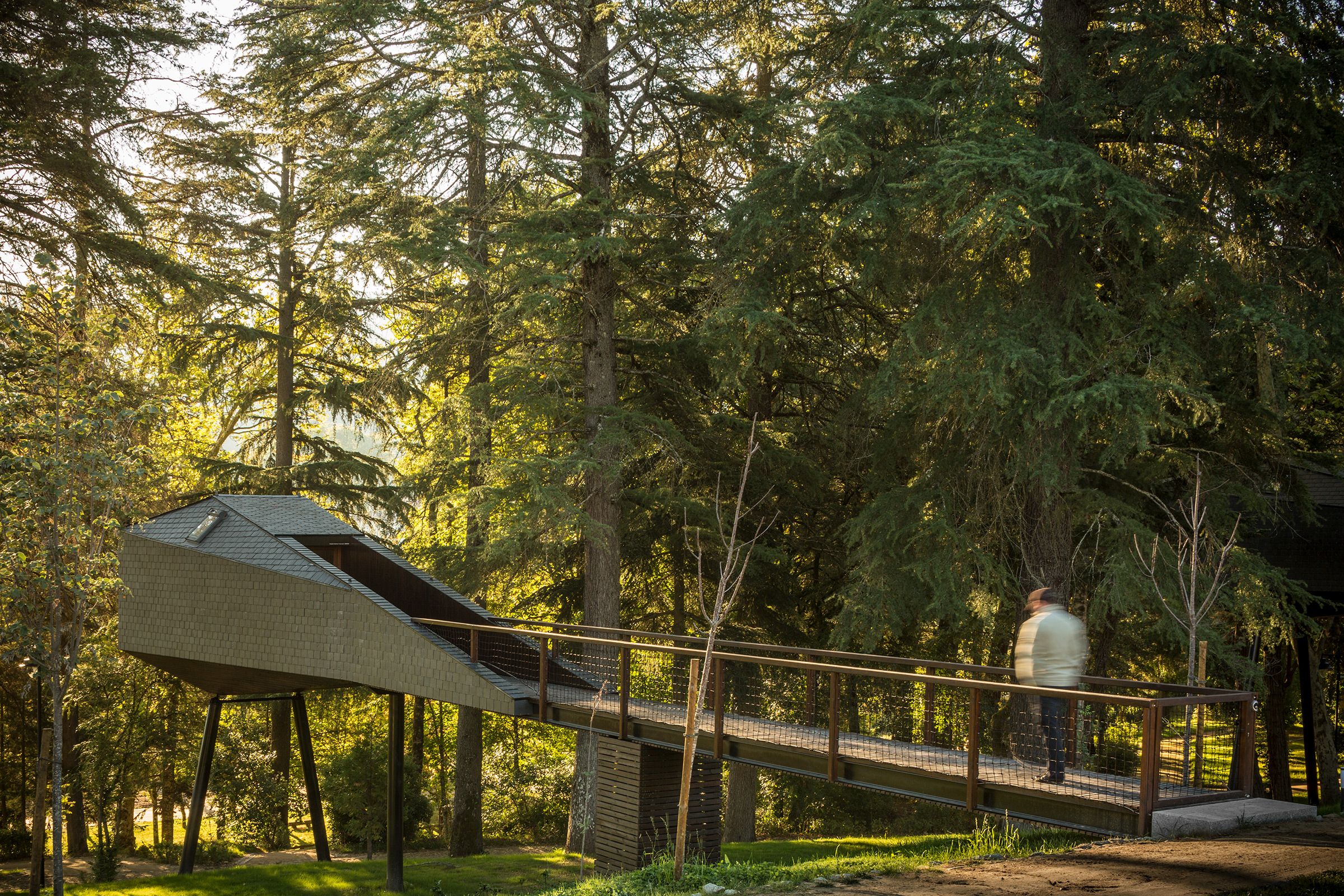 The Tree Snake Houses got their name from their long ramps, not because they're poised to reach out and bite you. In fact, just the opposite: The prefab structures, assembled offsite with local, natural materials, are decidedly low on environmental impact. The structures' creators, Luis and Tiago Rebelo de Andrade, are working on adapting their design to other environments, such as river banks, mountains, and urban centers.
Deck-to-Garden Pinecone — Menomonee Falls, Wisconsin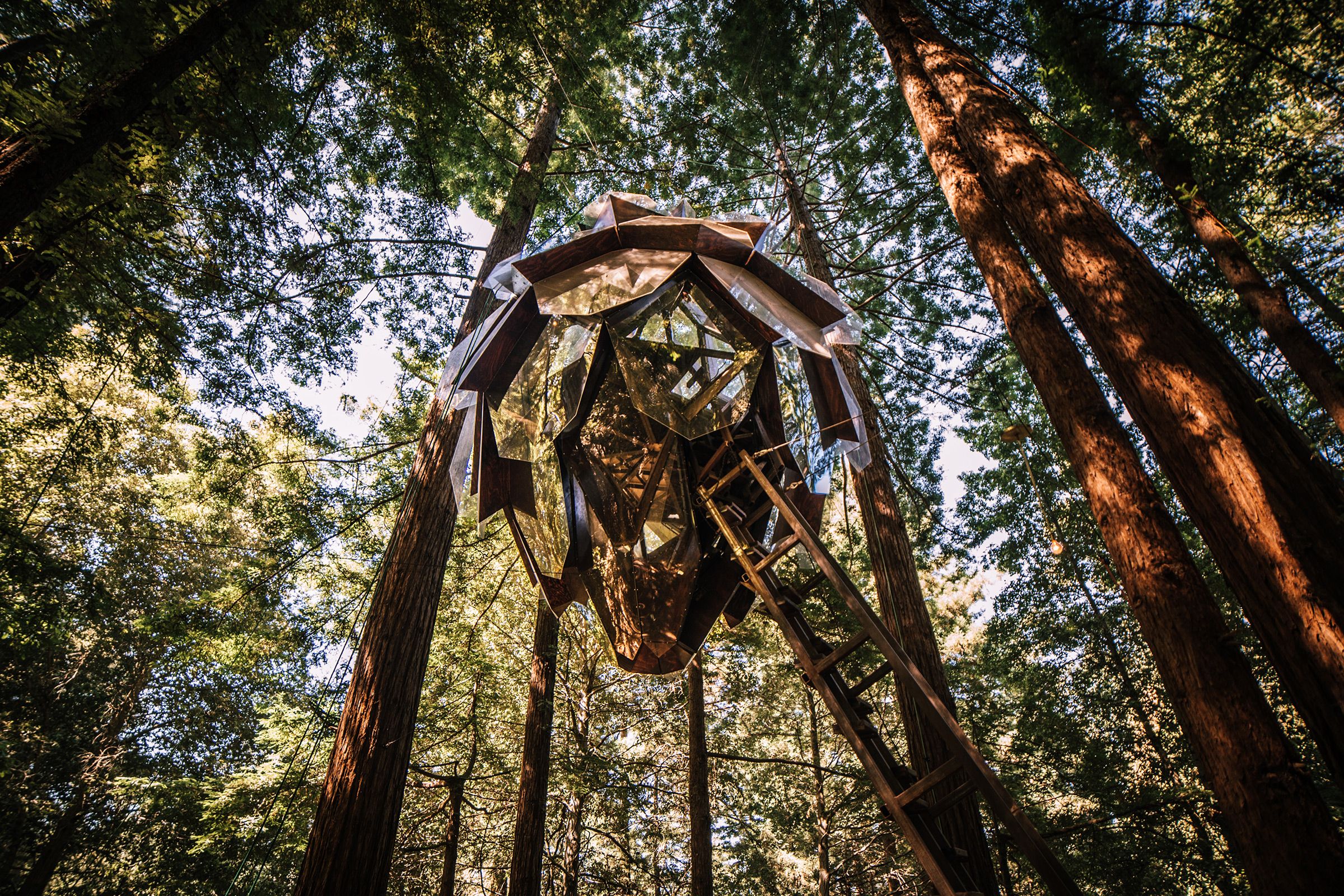 Few things look more "one with nature" than a pinecone treehouse. Blending the structure into their clients' densely wooded backyard was top priority for 02 Treehouse, whose designers transformed one of their prefab geodesic models with custom steel awnings for the pinecone effect.
Elevated Tea House — Chino City, Nagano Prefecture, Japan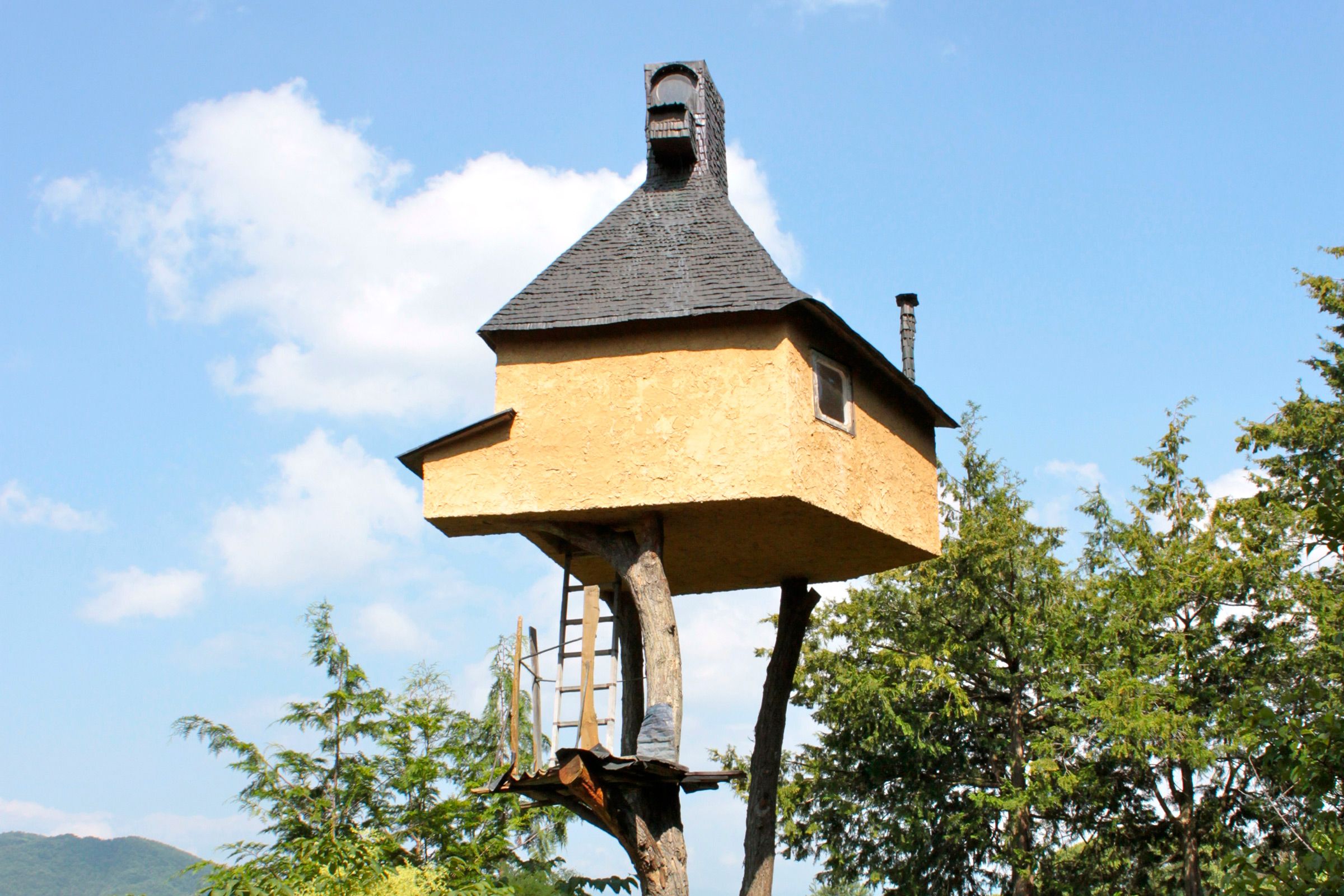 Like a lot of homeowners we know, tea masters typically rein over the building of their teahouses with intense passion. Architect Terunobu Fujimori built himself a treehouse he called Takasugi-an, which translates from Japanese to "a tea house [built] too high." Ternunobu's treehouse is more exclusive than most nightclubs: Access is gained via two movable ladders propped against a supporting tree.
Keep-it-Local Treehouse — Chester County, Pennsylvania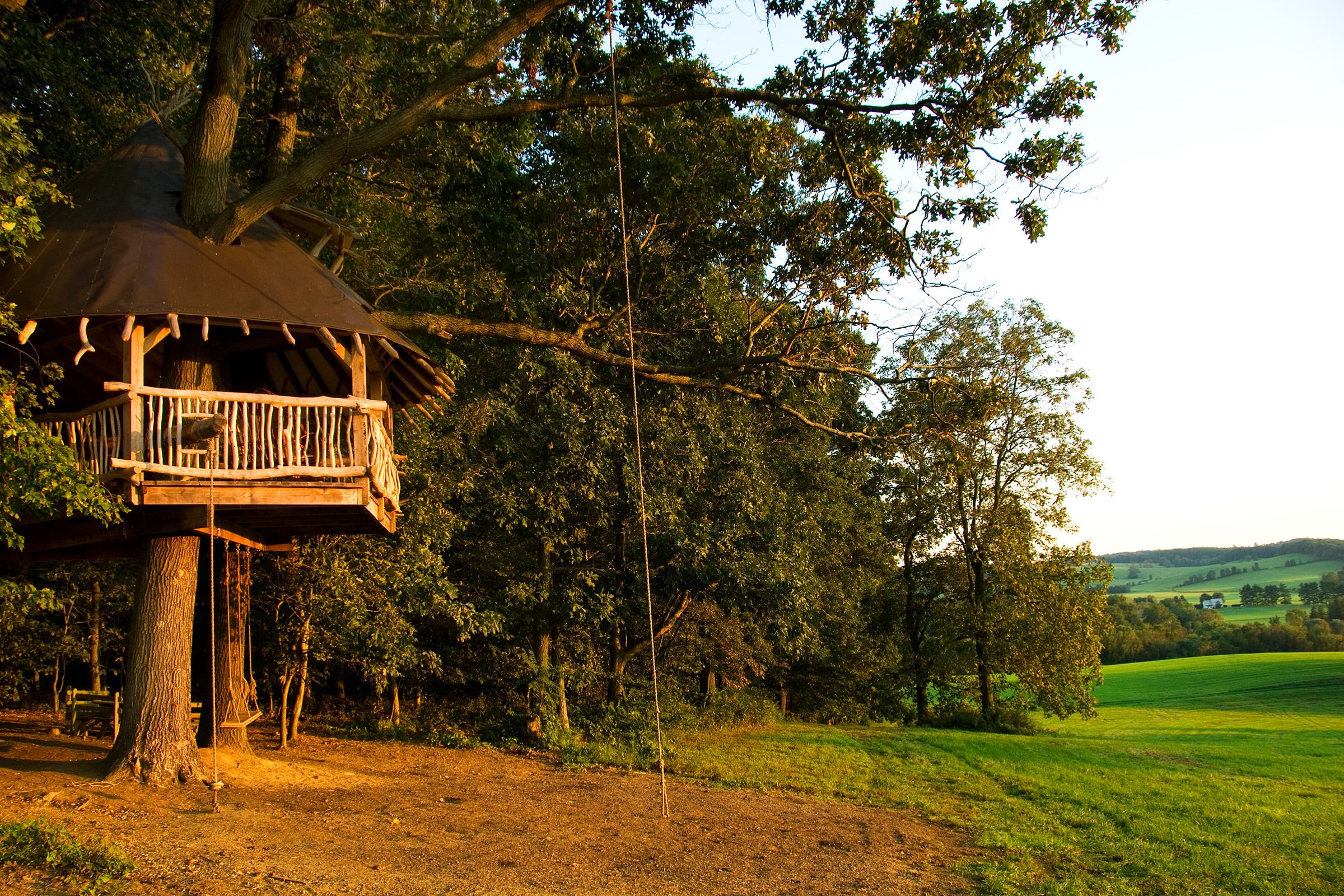 Rustic, irregular handrails and balusters may cause you to think that this structure was transported from a distant rainforest. However, Hugh Lofting Timber Framing sourced the railing wood for this Swiss Family Robinson-style abode from the surrounding landscape.
Salvaged materials like rafters and deck boards cut down on the project's price tag. A slotted stainless-steel plate secures the structure to the trees.
Welcome Garden for a Multilevel Treehouse — United Kingdom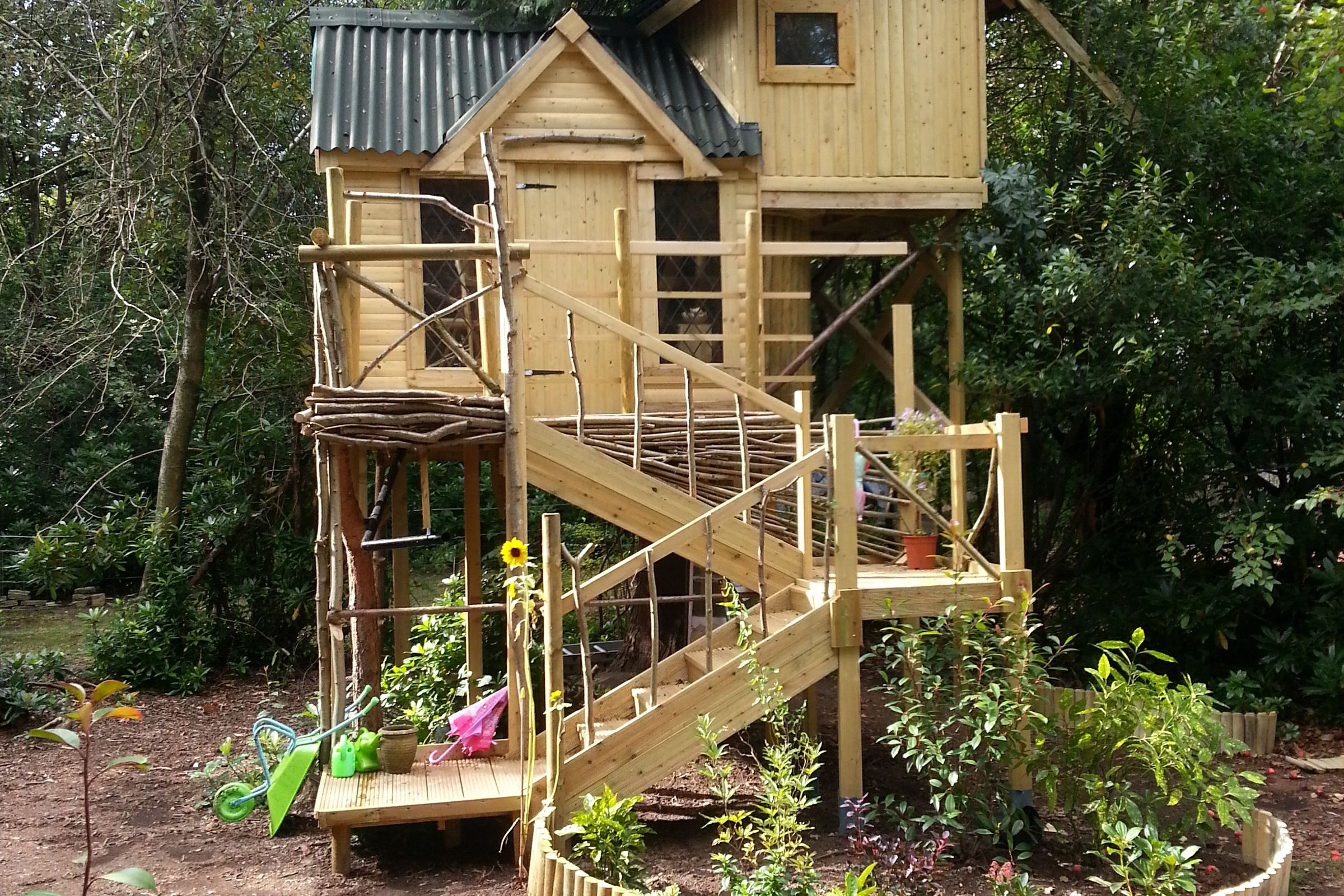 This charming little treehouse designed by Harrison Barnes Limited packs a lot into its small footprint, including a rustic metal roof and a garden plot that adds some mini curb appeal. It also serves as a secret space where the homeowner can get away from it all.
Subtly Luxurious Treehouse — North Devon, United Kingdom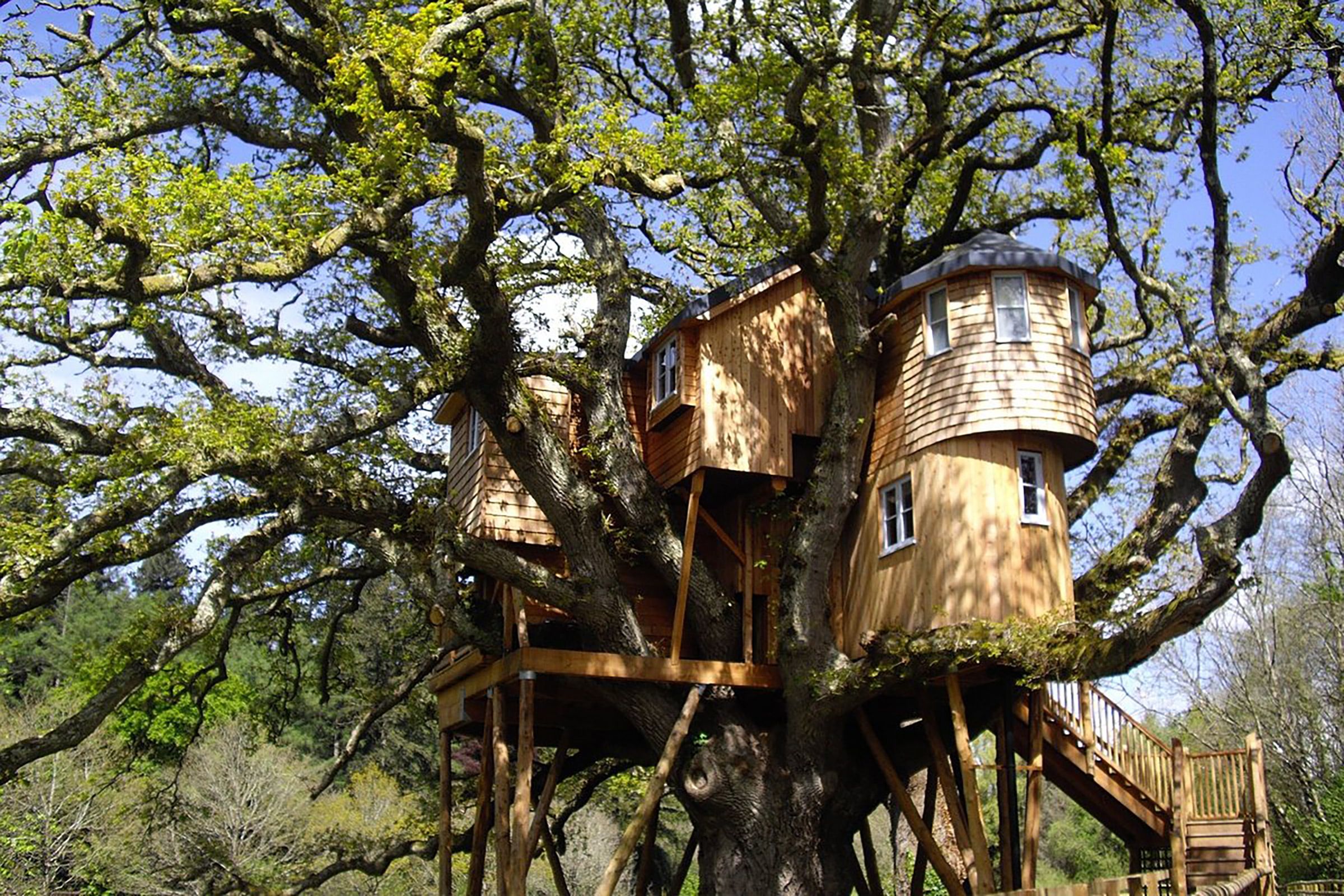 Roughing it in the woods has never been as romantic as in the Treetops Treehouse on the grounds of the Fox & Hounds Country Hotel. The Bower House Construction-built structure, decked out in multi-material siding and shingles, contains as much space as many single-family homes, with a master bedroom, a bathroom, a spare bedroom, a kitchen, and a living room.
A copper soaker in the bathroom is perfect for lazy immersions while gazing through the Douglas firs treetops and down on a nearby lake. If the solitude becomes wearisome, the hotel's bar and spa are just below the canopy accommodations.
Sleepy Hollow-Inspired Treehouse — Surrey, United Kingdom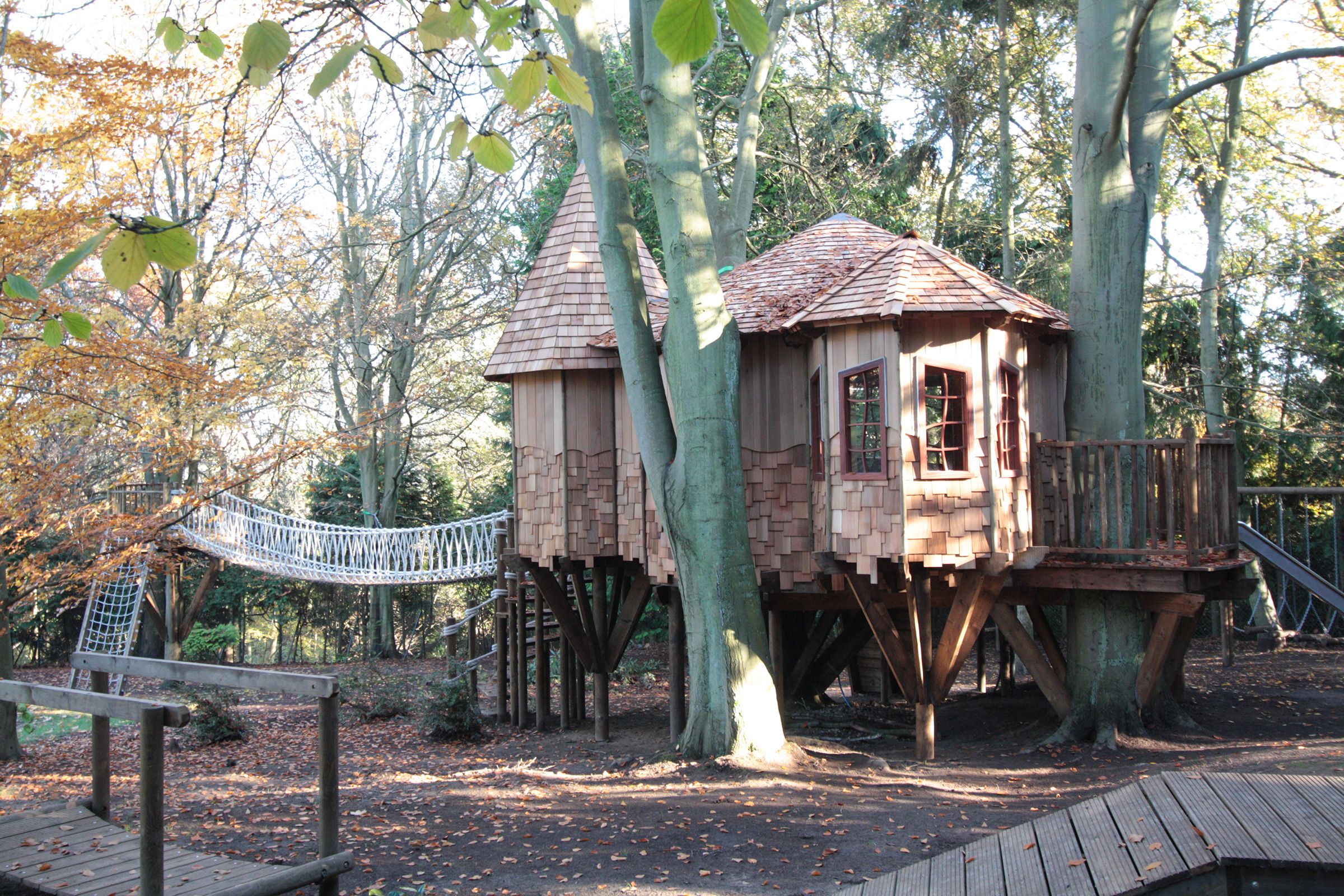 This gothic English dwelling is the treehouse incarnation of the classic American tale, The Legend of Sleepy Hollow. The house's mixed-material siding and amazing balancing act atop poles and stumps create an off-kilter effect not unlike the Tim Burton film adaptation. Three roof shapes, designed by Blue Forest, add whimsy to the haunting style.
The outdoor play area can distract kids while adults relax inside, where the playful aesthetic continues with elements like windows.