Home Sweet Home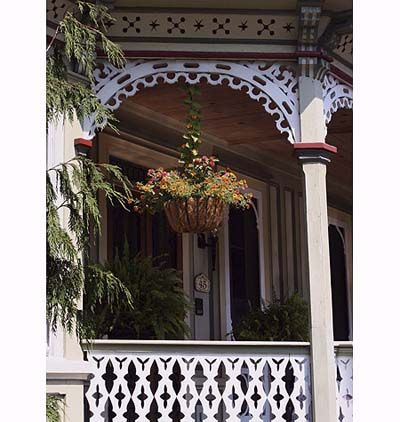 Victorian builders used "gingerbread trim"—fancifully cut and pierced frieze boards, scrolled brackets, sawn balusters, and braced arches—to transform simple frame cottages into one-of-a-kind homes.
Carpenter Gothic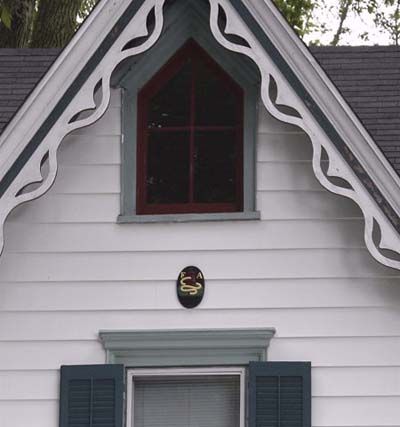 North America's romance with gingerbread trim dates to the 1830s and '40s, when builders began to interpret the masonry details of Europe's Gothic Revival architecture in wood. Things started out simply, with a steeply pitched roofline here, decoratively carved gable trim there.
Picturesque House Parts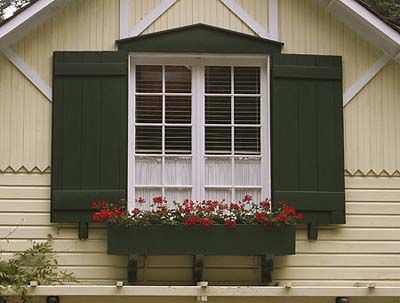 Other popular early-Victorian exterior embellishments included vertical sawtooth siding, "stickwork" trim reminiscent of exposed timber-frame construction, board-and-batten shutters, and pronounced pediments. Still, things were just getting started.
Scroll-Sawn Details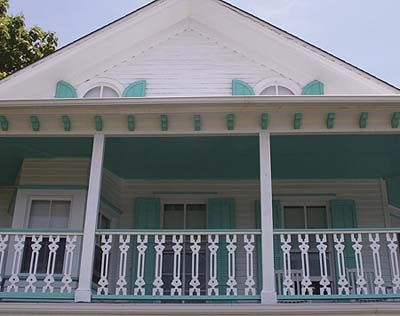 With the invention of the scroll saw and the development of steam-powered mass-production facilities, architectural elements once made by hand—like this Italianate dwelling's scroll-cut cornice brackets and pierced balusters—could be made more quickly and affordably by machine.
A Flourishing Craft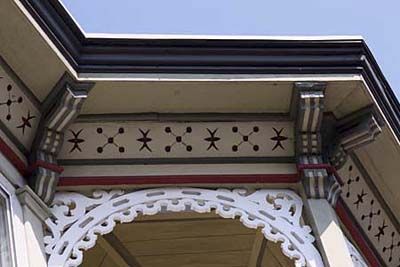 Victorian millworks employed the scroll saw—today used mainly by furniture makers—to create this porch's pierced frieze board, heavy cornice brackets, and braced arches.
Dormer Details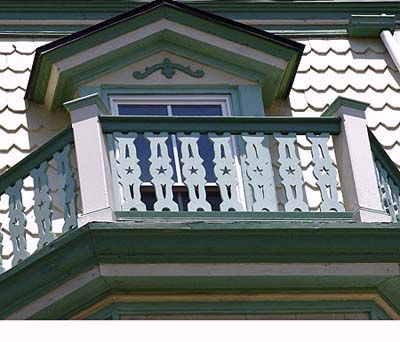 A scroll saw shaped this dormer's graceful gable plaque as well as its astral balcony balusters.
Gable Trim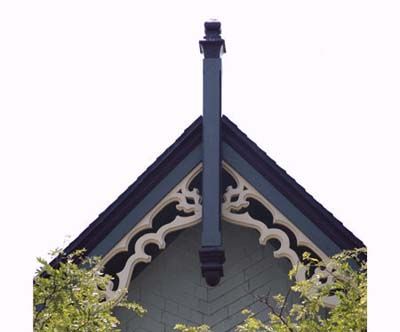 A pinnacle punctuates a Gothic Revival villa's steep-pitched roof and beveled bargeboard (also known as a vergeboard).
Multiple Gables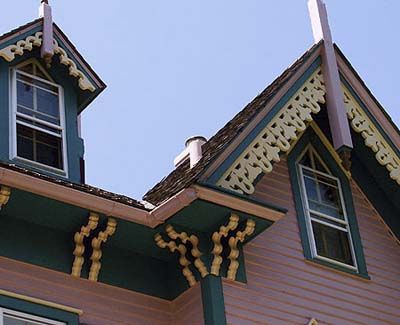 Each gable of this Gothic Revival villa bears a pinnacle and scroll-cut cornice trim.
Curb Appeal Circa 1880
Scroll-sawn brackets and balusters team with this porch's beveled posts to create a decorative frame for the structure's floor-to-ceiling windows.
Cornice Trim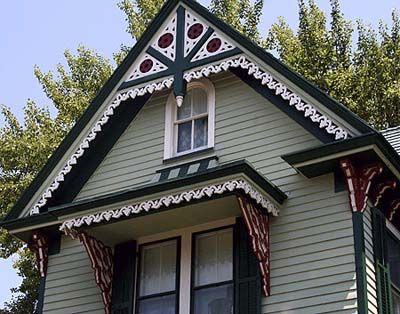 Snow-white cornice trim stands out against this Italianate's cutwork bargeboard and tin window hood, which is painted to suggest awning stripes.
Pierced Wood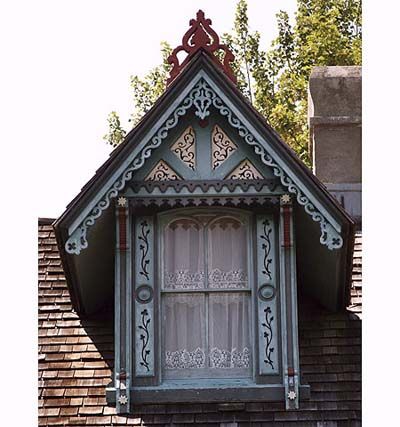 Subtle colors and skillful carving give this dormer's pinnacle, bargeboard, cornice trim, and incised window panels an authentic Bavarian flavor.
Second Empire Scrollwork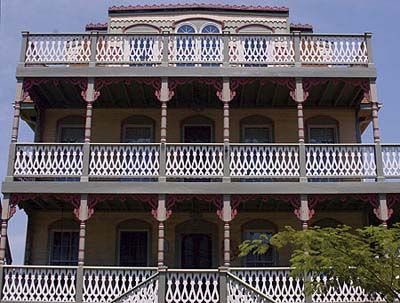 Scroll-sawn spandrels serve as ornamental "valances" between the lathe-turned porch posts. Above, scroll-sawn cresting delineates the mansard roofline—a period embellishment more familiar in cast iron.
Puzzlelike Parts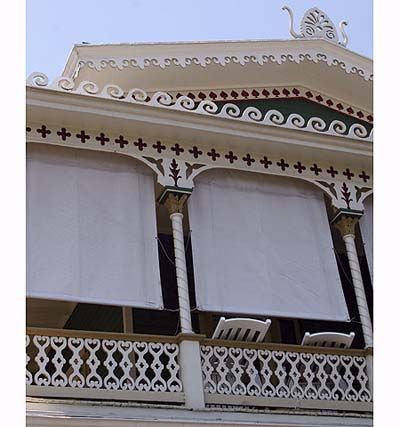 This playful exterior features a wide variety of scroll-sawn parts, including a pierced shell gable finial; fleurs-de-lys bargeboard; wave-motif porch-roof cresting, and a lacy balustrade. Corinthian capitals top slender spiral-striped posts carved on a lathe.
A Scroll-Sawn Tour de Force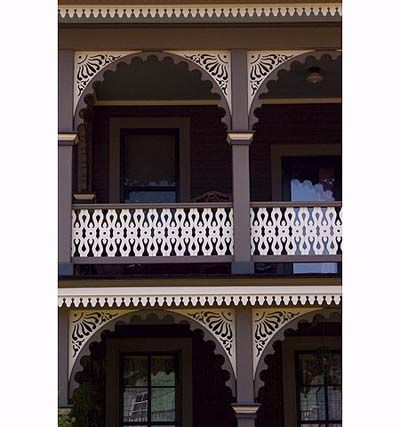 Contrasting paint colors define this two-story veranda's masterful combination of scroll-sawn details, including cornice trim, pierced brackets, sawtooth arches, and a shapely balustrade.
Layer It On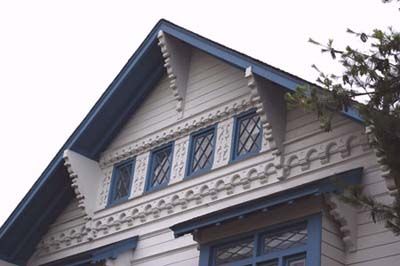 Scrolled gable brackets, lattice windows, hooded oriel windows, and intricately carved and incised moldings turn this circa-1900 white clapboard house into a lacy confection.
Texture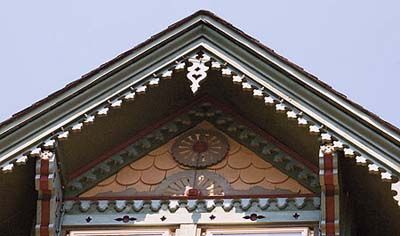 Half-circle butts, painted a warm orange, contribute an extra layer of texture to a shingled gable trimmed in scroll-sawn ornaments.
East Meets West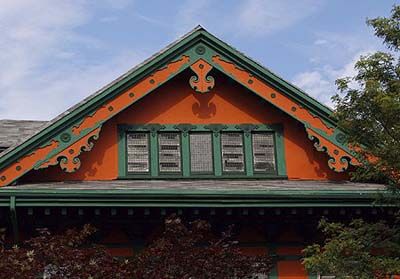 Upturned projecting eaves lend pagoda-like drama to this half-timbered cottage with scroll-sawn bargeboard, carved rosettes, scrolled brackets, and a pendulum-like gable pendant.
Ball and Stick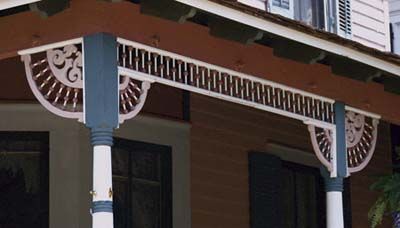 Beaded spindles and scroll-sawn cutouts are partnered in this porch's late-19th-century fretwork.
On The Roof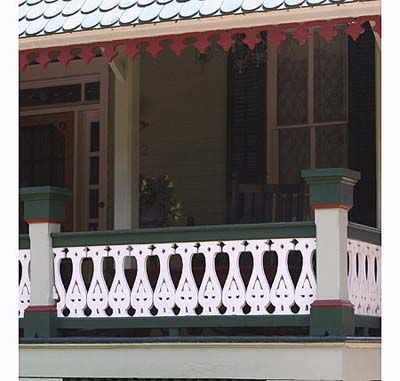 Decorative roofing materials played a major role in gingerbread-cottage construction. Here, the porch's red-painted cornice trim lures attention to its shed roof's fish-scale shingles.
Paint Preserves History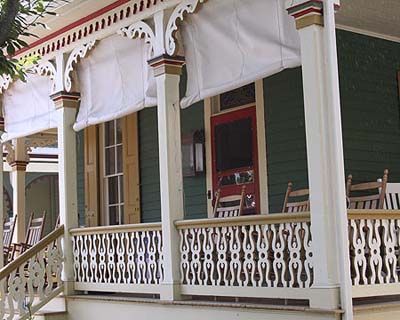 A subdued palette calls attention to this home's distinctive lines as it protects the wood from insect and weather damage. Wood's inherent vulnerabilities make diligent maintenance essential to preserving the character of the gingerbread-trimmed dwelling.