A new Wolverine survey revealed that only nine percent of young people had any plans of entering the skilled trades, a reality that could slow the construction of America's homes, roads, and buildings, and ultimately impact the country's infrastructure for a growing population. With more than six million unfilled U.S. jobs and so few young people joining the trades, America is facing a "skills gap" where there are more skilled jobs available than qualified people to fill them.
Wolverine (known for making durable work boots for more than 135 years) has joined forces with mikeroweWORKS and TOH's Generation NEXT in efforts to raise awareness for the trades as an attractive career path. While originally visiting jobs sites and apprentice schools to thank those committed to the trades, this year Wolverine's Project Bootstrap signed three up-and-coming trade workers from across the country to "Team Wolverine."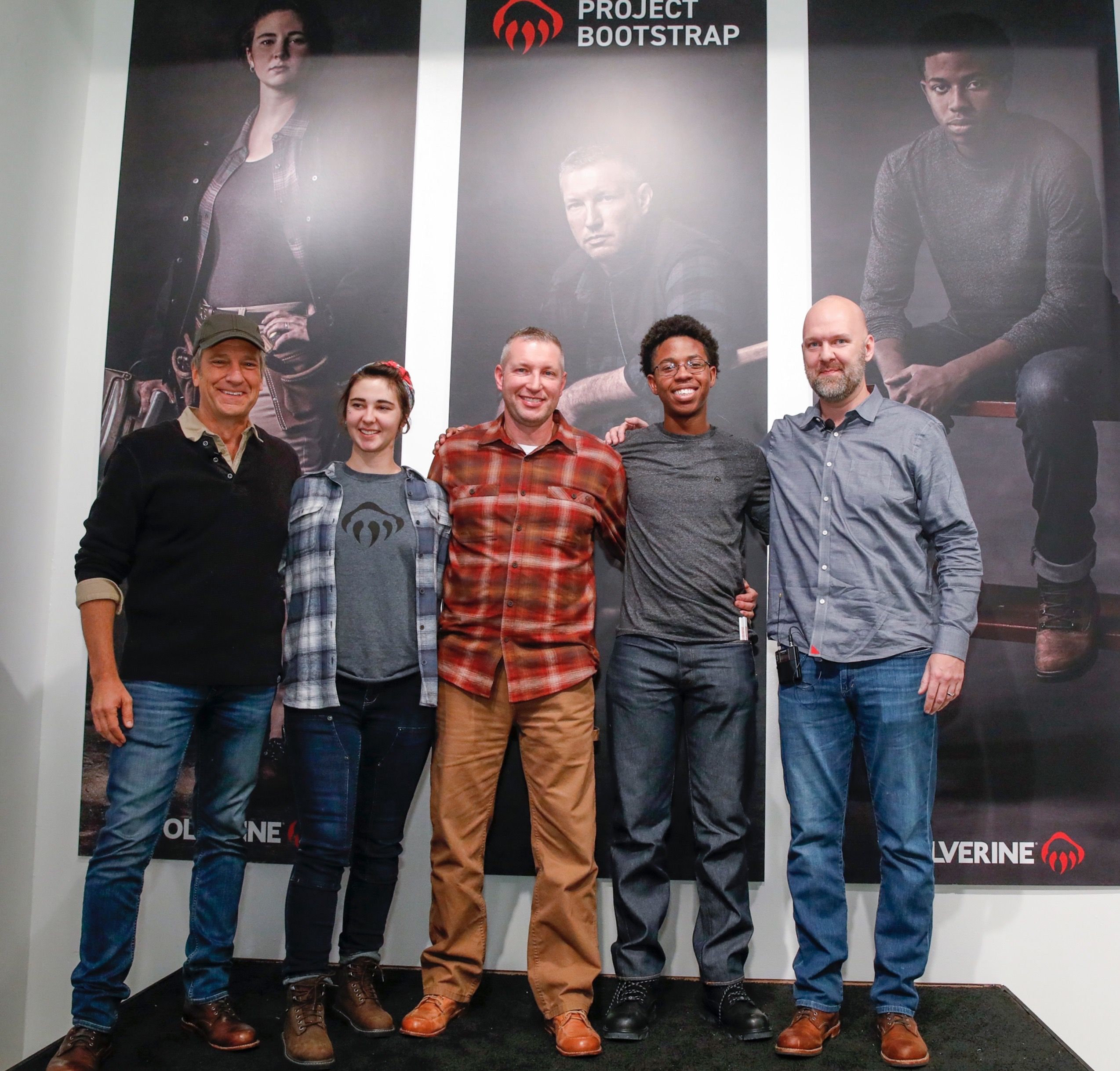 Meet Team Wolverine
Nolee Anderson from Nashville, Tennessee is a trim carpenter and has received a mikeroweWORKS scholarship to work toward her goal of a career in the trades. Nolee is also the founder of GRIT! (Girls Representing in Trades), a program that mentors young girls interested in the trades.
Hunter Allums of New Orleans, Louisiana is an apprentice electrician whose interest in the trades began when he was introduced to unCommon Construction, a New Orleans non-profit that helps high school students learn real-world technical skills. Hunter is 19, and the youngest Team Wolverine inductee.
Andrew Lacy of Charleston, South Carolina is a Veteran and former military contractor with a lifelong passion for the building arts. Andrew, originally from midwestern Ohio, went back to school to attend the American College of Building Arts to become a timber framer.
"Supporting the skilled trades has always been important to us. Nolee, Andrew and Hunter represent the drive, grit and work ethic of those in the trades," said Andrew Shripka, vice president of marketing for Wolverine. "We are committed to championing Team Wolverine this year and hope to inspire others to join them in 2019."
Mike Rowe, best known as the executive producer and host of Dirty Jobs and CEO of the mikeroweWORKS Foundation, attended and spoke at the event about society's dysfunctional relationship with work and the belief that a four-year degree is the only path for most people.
"We know that America is facing a shortage of skilled trade workers—an issue that will only continue to grow if we don't correct the misperceptions about life in the trades," said Rowe. "Initiatives like Wolverine's Project Bootstrap help show young people that the career values they want are readily available through the trades."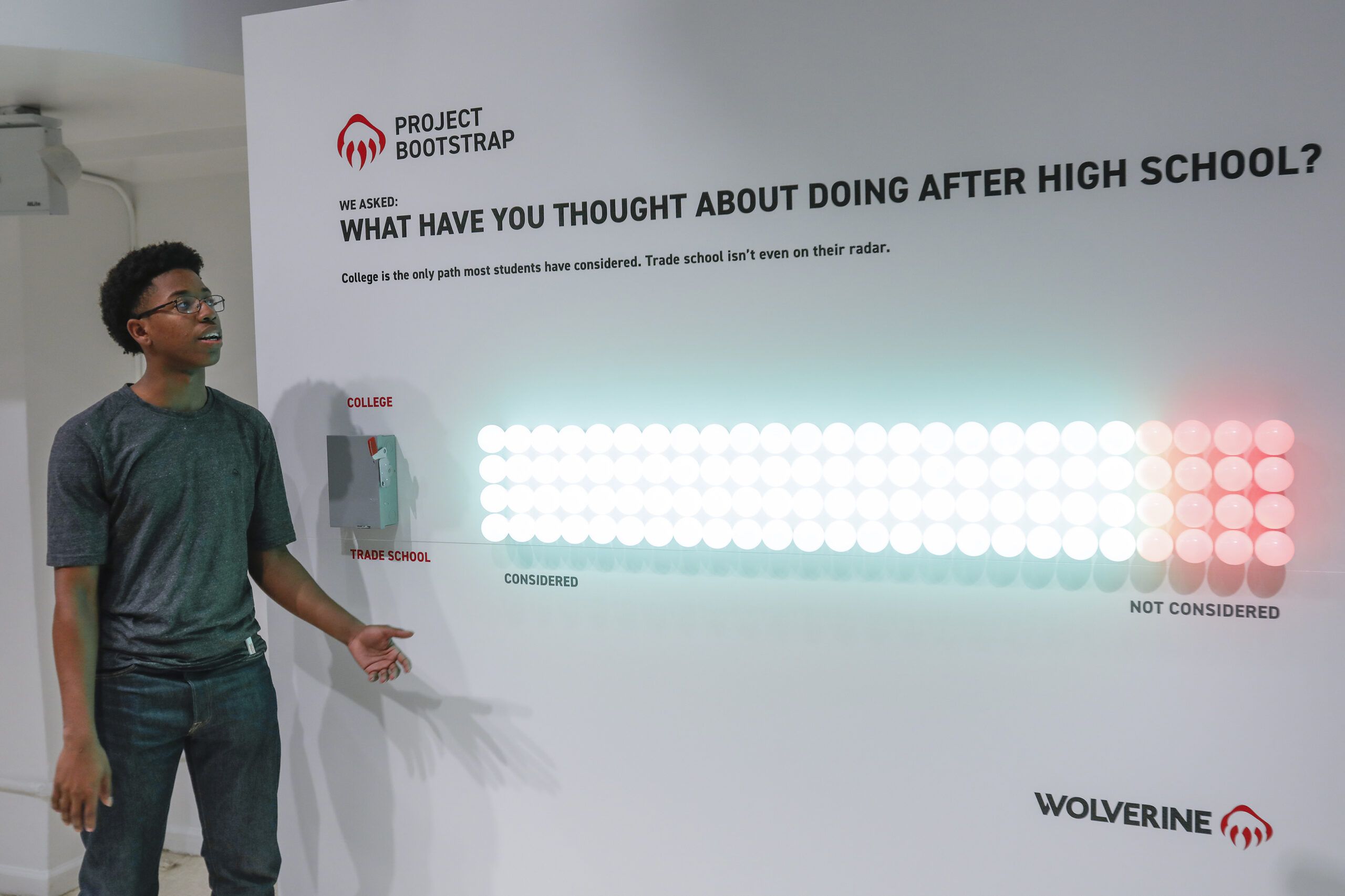 Skills-gap statistics that Wolverine hopes to highlight with help from Team Wolverine:
69 percent of the high school students surveyed indicated that they are not familiar with careers in the skilled trades. Among those who were familiar, only 7 percent are very familiar.
When asked why high school students haven't considered the trades more strongly, 45 percent said they just don't know enough about it.
81 percent of students said they feel some level of pressure to attend college, which comes from a variety of sources including parents and teachers.
When it comes to job qualities they want, students indicated things like feeling independent, not sitting in a desk all day, and having job security—many of which align with what a job in the trades can provide.
Wolverine's Project Boostrap will continue to build Team Wolverine and will join mikeroweWORKS and TOH's Generation NEXT to continue to advocate for the trades in 2019. To learn more about current team members and how you can join Team Wolverine, visit wolverine.com/projectbootstrap.
You can also learn more about The mikeroweWORKS Foundation and TOH's Generation NEXT to explore even more about the skills gap in America. Maybe you'll rethink your career after learning about the many available opportunities in the trades.