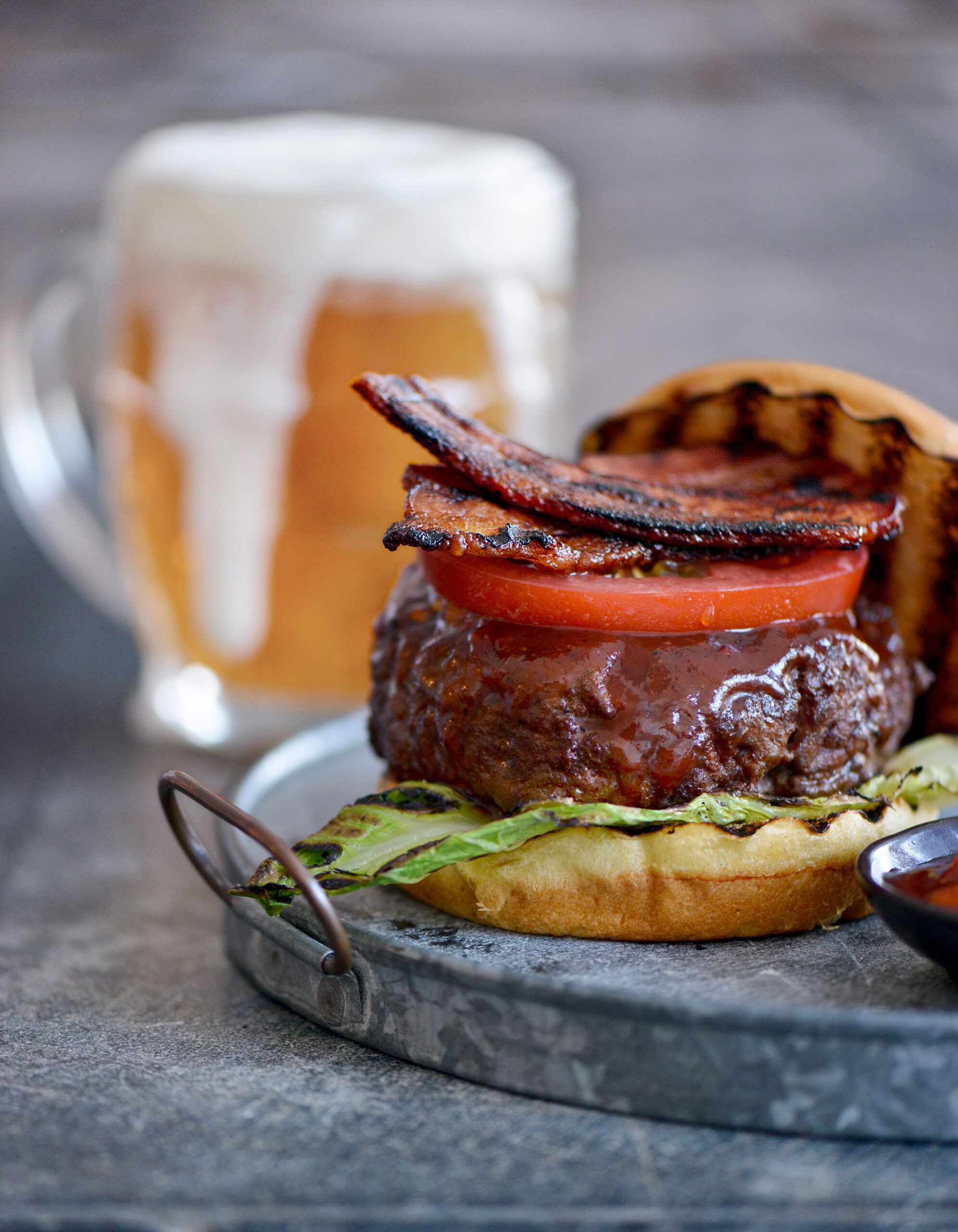 SERVES 4
2 pounds ground beef (preferably a mixture of ground chuck and sirloin, about 18 percent fat)
2 to 3 tablespoons Kansas City Sweet and Smoky Rub, or your favorite barbecue rub
4 romaine lettuce leaves (from near the center)
3 tablespoons extra-virgin olive oil
4 onion rolls or hamburger buns, sliced almost in half through the side
4 thick strips bacon
4 thick slices of ripe red tomato
6 tablespoons Smoke Wrangler's Bacon Bourbon Barbecue Sauce, or your favorite barbecue sauce
YOU'LL ALSO NEED
1 1⁄2 cups hardwood chips, soaked in water, then drained
1. Form the ground beef into 4 patties, each about 3 nches across and inch thick. Make a slight depression in the center (burgers rise more in the center than on the periphery, so the slight indentation helps give you an even thickness). Generously season the burgers on both sides with the Kansas City Sweet and Smoky Rub; let marinate in the refrigerator while you light your grill.
2. Set up the grill for direct grilling, and preheat to high. Add the soaked wood chips. Brush and oil the grill grate.
3. Lightly brush the romaine lettuce leaves on both sides with olive oil (about 1 tablespoon). Brush the cut sides of the rolls or buns with the remaining oil.
4. Arrange bacon strips on the grill grate, and grill until browned, 3 to 4 minutes per side. (Move as needed to avoid flare-ups.)
5. Grill the burgers until cooked to taste, about 4 minutes per side for medium.
6. Grill the lettuce leaves over the hot fire until lightly browned, 30 seconds per side. Toast the rolls or buns, cut sides down.
7. To assemble, place a grilled romaine leaf on the bottom half of each roll or bun. Top with a burger, barbecue sauce, a tomato slice, bacon, and more barbecue sauce. Place the other half of the roll or bun on top.
KANSAS CITY SWEET AND SMOKY RUB
MAKES ABOUT 2 1⁄2 CUPS
2⁄3 cup granulated sugar
2⁄3 cup packed light-brown sugar
1⁄2 cup sweet or smoked paprika
1⁄4 cup seasoned salt
1⁄4 cup smoked salt
1⁄4 cup onion salt
1⁄4 cup celery salt
2 tablespoons freshly ground black pepper
2 tablespoons pure chile powder (not a chili blend)
2 teaspoons mustard powder
1 teaspoon poultry seasoning
1 teaspoon ground ginger
1⁄2 teaspoon ground allspice
1⁄2 teaspoon ground cayenne pepper
Combine all the ingredients in a bowl; stir or whisk to mix. If making ahead, transfer to a jar, cover, and store away from heat and light; the rub will keep for several weeks.
SMOKE WRANGLER'S BACON BOURBON BARBECUE SAUCE
MAKES 4 CUPS
2 strips bacon, finely diced
1 1⁄2 cups cider vinegar
2 1⁄2 cups ketchup
3⁄4 cup packed light-brown sugar
1⁄4 cup granulated sugar
2 tablespoons freshly ground black pepper
2 tablespoons red pepper flakes
1⁄2 cup bourbon
Coarse kosher or sea salt, to taste
1. Place the bacon in a heavy nonreactive saucepan. Cook over medium heat until the bacon is browned, 3 minutes, stirring with a wooden spoon.
2. Stir in the vinegar and bring to a boil. Then stir in the ketchup, sugars, black pepper, pepper flakes, and bourbon; gradually bring to a boil. Reduce the heat and simmer, uncovered, until thick and richly flavored 15 to 20 minutes. Stir in the salt—you'll need quite a lot to offset the acidity of the vinegar. If not using right away, transfer to clean jars, cool to room temperature, cover, and refrigerate; the sauce will keep for several weeks.