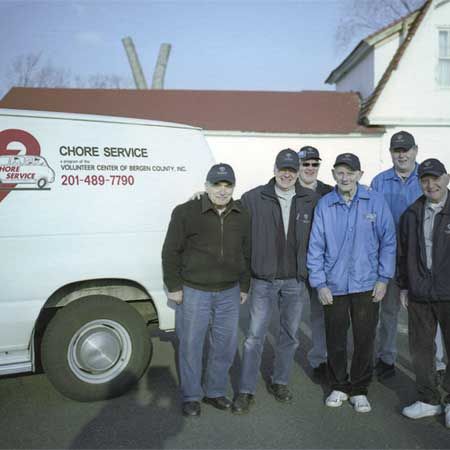 Many people who enjoy tinkering with their houses put their skills to work for ­others: parents, friends, even perfect strangers. That's the case for handy retirees like Jack Gardner, George Strauss, and Edward Morandi of Bergen County, New Jersey, who ­volunteer for Chore Service, a county-sponsored program that recruits local ­community members to perform minor household repairs for the elderly and ­disabled. Clients pay only for materials. "We have a high proportion of elderly residents, so the service is very much needed here," says program director ­Maureen McCormick.
None of the Chore volunteers are ­building pros. "They're basically handy people who are ­comfortable working with tools," McCormick says. "And because
we send out crews during the week, most of our ­volunteers are retired—they have the time to help out."
And the enthusiasm. Chore Service has more than 30 volunteers, who seem as grateful for the work as those they assist. "Even if you're just ­replacing lightbulbs, people gush over us. What's better than that?" says Strauss, 71, a former ­printer. "Volunteering gives you a camaraderie that you lose when you stop working." Morandi, also 71, puts it a different way: "Home improvement keeps me young."
Coast to coast, hundreds of organizations perform minor home repairs and landscape work for the elderly and disabled. They come in the form of government services, faith-based initiatives, or simply groups of handy people with time, toolboxes, and a do-gooder spirit. The list below is alphabetical by state.
1. Community Home Repair Projects of Arizona, Tucson, AZ: 520-745-2055
2. Area Agency on Aging, various cities, AR: 870-234-7410
3. Emergency Home Repair Grant Program, Oroville, CA: 530-538-2495
4. Brothers Redevelopment Inc., various cities, CO: 303-202-6340
5. Community Care for the Elderly, various cities, FL: 800-963-5337
6. Cross Lines Cooperative Council Inc., Kansas City, KS: 913-281-3388
7. Repairs on Wheels for the Elderly, greater New Orleans, LA: 985.612.1067
8. Rebuilding Together (Anne Arundel County, MD): 410-923-9992
9. Connections Handyman Service (Springfield, MO): 417-862-3586 ext. 239;
10. Chore Service, Bergen County, New Jersey; 201-489-9454
11. New York Foundation for Senior Citizens (various cities, NY): 212-962-7559
12. Unlimited Choices (Portland, OR): 503-234-6167
13. Rebuilding Together Pittsburgh (Allegheny County, PA): 412-922-0953
14. Home Repair Program, Dallas, TX: 214-670-3644
15. Fort Bend Corps, Sugar Land, TX: 281-617-7416
16. Habitat for Humanity of Utah County, various cities, UT: 801-344-8527
17. Fairfax County Home Repair for the Elderly Program, Fairfax County, VA: 703-246-5154
18. Senior Services Home Repair, Seattle, WA: 206-448-5751
19. ADVOCAP, various locations, WI: 920-922-7760
Want to create your own volunteer repair group? Here are some tips on starting one up, as well as advice from experienced pros on how to manage the services you offer.
1. Identify a community in need. It could be your neighborhood, your children's school district, or your place of worship.
2. Sign up volunteers. You'll need people handy with tools, along with someone to field requests and organize work teams.
3. Look into local resources. Check with your city or county government to see if they have funded assistance programs for the elderly or disabled. (Keep in mind that you may have to apply for a grant to get financial support from such programs.) Chore Service is supported in part by Bergen County's volunteer center, and in part by private donations.
4. Get the word out. Use flyers, e-mail lists, announcements or ads in local newspapers—anywhere your community will see them.
5. Start small. Don't take on more projects you can complete within a relatively short time period; a long waiting list is discouraging.
6. Don't overpromise. Be specific about what types of repairs your group offers. "You don't want to set up an expectation that volunteers can perform work that requires a high degree of expertise," says Maureen McCormick, program director for Chore Service.
7. Don't go it alone. For safety's sake and to put clients at ease, Chore Service volunteers work in teams of at least two, says McCormick. More people may be needed depending on the scope of repairs they perform.
8. Be prepared to pitch in. Starting these groups is a lot of work. But volunteer Jack Gardner says, "The people we help are always so thankful. That's the best sort of pay."