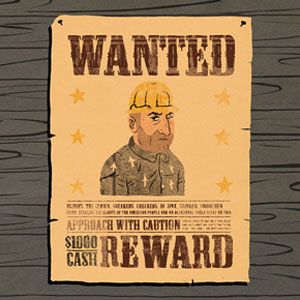 As we've all seen in news reports, natural disasters attract predators en masse. Of particular concern are phony contractors, who knock on the doors of distraught homeowners and offer to repair damaged roofs or remove fallen trees. They take a hefty deposit, but never return to do the work. Of course, these fraudsters don't just come round after bad weather. The following tips from This Old House general contractor Tom Silva and the National Association of Home Builders will help you spot a crook
under any conditions.
Beware of a contractor who:
+ Refuses to give you a copy of his license and certificate of insurance, which should include liability and worker's compensation.
+ Has popped up out of nowhere, literally. You can't verify any of her references or that she even has a fixed business address.
+ Rubs you the wrong way. "Trust your instincts," says Tom. "If something doesn't feel right about the person, then it probably isn't."
+ Is so eager to get things started that technicalities get brushed away—but not the fee. He'll say you don't need to sign a contract and try to get you to pay for the project up front.
+ Asks you to write a check directly to him for products, such as cabinets and windows, instead of to the company supplying the items.
+ Offers a bargain in exchange for using your home as an example of her work or tempts you with a low price that's only on the table if you sign that day.
+ Tries to get you to buy stuff you already have. Don't get talked into paying to install a new HVAC system if you like the one you have.
+ Asks you to pay for work that hasn't been done yet or for materials that haven't arrived. "If you don't see it, don't pay for it," says Tom.
+ Uses scare tactics to get you to sign off on extras. Your walls won't crumble because you didn't get that ultra-expensive siding.