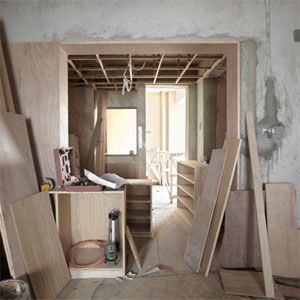 Saws sawing, hammers hammering… big remodeling projects are inherently noisy (not to mention messy, with all the dust they can stir up). If it's financially and physically possible to get away from the racket with a short-term stay elsewhere, do. Here are a few rentals to consider when bunking with friends or family just won't cut it.
Serial renovators flock to this 682-location hotel brand, which has locations in 45 states. Included in the average $60 daily rate: a fully equipped kitchen (full-size fridge, stovetop, microwave, and cookware), free Wi-Fi, a flat-screen TV, and on-site laundry facilities. Did we mention breakfast is complimentary—often including things like oatmeal, muffins, and apples and oranges, in addition to hot coffee—and that many locations have on-site gyms and pools? You may never go back home.
Hallmarks of this extended stay brand: reclining chairs in your guestroom, dishwashers in your kitchen, a shared grilling area with BBQ-utensils at-the-ready, and an on-site mini-mart of sorts where you can stock up on the essentials.
At Staybridge, "The Longer You Stay, The Less You Pay"—which may be easier to do in their kushy two-bedroom, two-bath units. Other amenities that feel downright homey: complimentary hot breakfasts (eggs! Fruit! Buttery toast!); gratis wine, beer, and snacks in a happy hour of sorts Tuesday to Thursday; and on-site fitness rooms and laundry facilities (the washers and driers are free, but you'll have to pop for detergent).
If you'd rather trade your old house for another, Airbnb might be the way to do it. In over 34,000 cities worldwide—with more than 600 literal castles for rent—you'll likely be able to find a spot that works for you, from a former gold rush cabin in Big Bear, California to an 18-foot teepee in upstate New York.