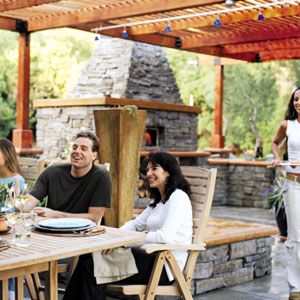 Nothing makes dining outside easier than a fully equipped kitchen just steps from the house.
More than a basic barbecue grill, an outdoor kitchen may have a sink, refrigerator, wet bar, even a fireplace or pizza oven. And while a grill is still central to an outdoor cooking space, it's likely to come fitted out with side burners, a warming shelf, and a roasting spit or smoker.
"The outdoor kitchen has become an extension of the home's living space," says Paula Blanchfield, a landscape architect in San Mateo, California. "Today, homeowners want the same kinds of amenities outdoors as they're used to indoors."
A custom design by an architect or landscape professional with the works—deluxe appliances plus weather-resistent cabinetry, stone countertops, lighting and plumbing—can run as high as $60,000. On a more modest scale, new prefabricated units combine grill, accessories, and storage in one.
DESIGN BASICS
Outdoor kitchens are typically built onto existing patios, decks, and pool areas, for two reasons: to provide easy access to the house for ferrying food and supplies back and forth and to tie into existing utilities. Tapping into the house's gas, electrical, and plumbing lines is most practical when the kitchen is situated alongside the house or attached to a back wall (otherwise, the cost of running new lines may be prohibitive). Here are common features to consider:
1. Lighting
Here, halogen track lights illuminate the kitchen area and the adjacent dining area. Lighting should be designed to brighten key activity areas; for safety, add low-to-the-ground lights on pathways to and from the kitchen. All fixtures should be approved by the Underwriters Laboratories for outdoor use.
2. Shelter
A pergola like this one creates dappled shade in a sunny setting without blocking breezes. In rainy or colder climates, a pergola topped with Plexiglas panels or a solid roof supported by columns provides added protection from the elements. Retractable awnings and patio umbrellas offer simpler, less expensive overhead shelter for dining areas.
3. Countertops
This U-shaped kitchen features three distinct prep and serving surfaces, totaling 33 linear feet. Two areas for chopping vegetables and rolling out dough flank the pizza oven and round the corner to the grill. A third counter (opposite the pizza oven) doubles as a serving station or a spot for casual dining. In a smaller kitchen setup, a couple of feet of countertop could suffice.
4. Hearth
An 8 ½-foot-wide-by-6-foot-deep wood-fired pizza oven is the focal point of this kitchen. Custom-designed around a prefabricated oven kit from Fogazzo (www.fogazzo.com), the wall has built-in storage spaces for firewood, a holding shelf for hot pies, and a chimney vent at the top. A masonry fireplace or a portable fire pit are other hearth options.
5. Appliances
The workhorse of this kitchen is a 53-inch stainless steel gas grill with a rotisserie, a smoker box for wood chips, and storage below. Adjacent to the grill is an undercounter refrigerator. Other popular appliances include wine coolers, ice makers, and warming drawers. Make sure they are UL-approved and that they plug into GFCI (ground-fault circuit interrupter) outlets.
6. Materials
This kitchen is built of all-weather materials that can be hosed down for easy cleanup. The floor is concrete slab; the countertops are poured concrete stained a rich terra-cotta; the walls are concrete block with faux stone veneers. Surface materials must withstand the weather as well as heat from a grill. Good choices: granite, slate, stainless steel, brick, stucco, tile, and stone. In dry climates, rot-resistant woods like teak and cedar may be used for cabinetry.
7. Layout
Any good kitchen plan is configured to let the cook move effortlessly within the work triangle: in the kitchen shown (see Image #2), from fridge to grill to pizza oven. (Many outdoor kitchens, like this one, don't have sinks due to the added expense of extending water and waste lines from the house.) This design also creates a path for transporting food from the work area to the dining table. In planning an outdoor kitchen, be sure to check local building and fire safety codes. Zoning laws may restrict size and location, and fire codes dictate clearance requirements between an open flame and a combustible surface.