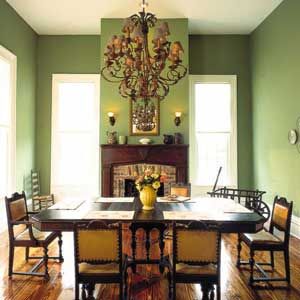 Architects and remodeling contractors are the folks to call for structural planning, while interior designers work out optimal room size, traffic flow and lighting. When it comes to choosing and coordinating the color schemes, paint finishes, cabinet styles and light fixtures that go into that room, that's where an interior decorator comes in.
A good interior decorator will save you months of hunting down product samples and other research, and prevent some potentially messy missteps. What's more, the decorator can do everything from simply acting as a sounding board for your ideas to undertaking more involved work, like buying paint and fabric, scheduling an installation and even supervising the job.
Your contractor and interior decorator must work closely together. So begin by choosing a decorator your contractor likes, preferably someone with experience on your type of project. A pro who specializes in new construction or commercial space might not be equipped to integrate an addition with the rest of your house. Here are some other essentials for getting?and working with a first-class decorator.
Billing Basics
Do some prescreening by looking for members of the American Society of Interior Designers (ASID), which educates and tests interior decorators. Then look at which of the three billing methods each uses: free, flat-fee and hourly.
While getting something for nothing might sound irresistible, a decorator who offers free services is really a manufacturer's rep who pushes certain products. Besides narrowing your options, you may pay more in the long run. A flat-fee decorator also looks like a bargain. Unfortunately, this pro often insists on acting as your exclusive buying agent, and may steer you toward products she marks up or for which she receives a commission. Take the case of one decorator who charged $26 per yard for carpet that retailed for only $18—an extra $200 for a 15X15-ft. room. That's why you should always check prices you get from your decorator against retail.
Your safest bet is an independent decorator who charges by the hour. You'll usually pay from $30 to $75 per hour depending on the level of service. But the per-hour arrangement lets you sever your relationship at any time. With a flat-fee decorator, you pay for the entire job, even if you part ways early on.
Bring Them In
Once you've gathered a few names, spend lots of time walking prospective decorators through your home so they know your taste. Express your likes and dislikes. And determine which ones are good listeners—essential for giving you what you want.
Then be sure you hire a decorator before building plans are drawn. Things work out best when the decorator is brought in at the inception of the project. That's when the decorator's input—how much wall space a window treatment needs or the window height required for a certain couch, for example—is essential. Otherwise, a decorator can create cost overruns by adding or removing a window, changing the distance between doors and windows and adding recessed lights that weren't wired behind the walls. All of these are costly alterations that often involve structural changes. You can always choose wall and carpet colors later. But your architect and contractor must know early on about design elements that affect the structure.
What Your Money Buys
Hourly billing starts with the decorator's first consultation. A decorator might charge you to shop for samples (paint chips, plumbing fixtures, fabric samples, carpet squares) or do research. But she should be able to tell you how specific products performed for past clients in terms of durability, ease of cleaning and warranty coverage, and how responsive the manufacturer was to complaints. She should also warn you off bad practices, such as using absorbent carpet or cloth wallpaper in a bathroom, unwashable flat paint in a kid's room or glossy ceiling paint in a small room, which makes the space look even smaller.
Then, as choices or changes are made, the decorator must immediately communicate with the contractor on the construction implications of each choice. If, for example, you finally settle on laminate floors but the contractor bid and designed for hardwood floors, the height—and cost—of the slab or joists may change. The contractor needs to know this. Design changes also have an impact on cost and schedule. For instance, perhaps you changed the molding planned for the bedroom because the original choice didn't complement the final choice of curtains. Or maybe you picked a new color for the border tile in the kitchen since the initial pattern you selected would have clashed with the final choice in fixtures.
To streamline communication, set up a meeting early with the decorator, contractor or architect, designer and yourself. Draw clear lines of responsibility for who chooses and buys which products, when choices are made and who arranges for delivery. For instance, will the decorator order the carpet and floor covering and oversee installation, or will she simply communicate your choices to the contractor? Will the decorator or contractor arrange for custom molding samples? These are the details to work out ahead of time.
As the job progresses, the decorator should talk with the contractor at least once a week or in regularly scheduled meetings to share and update information. These talks often occur on a daily basis at the start of a job. Some contractors even keep a "daybook" on site in which the contractor and decorator make notes to each other in case they haven't had a chance to touch base.
Defusing Tension
Ultimately, the decorator's job is to make a remodeling job easier by expediting your design decisions and keeping the contractor informed in a clear, timely way. But with a homeowner, designer, contractor or architect, and decorator all making decisions, there can be some real tension among the different players involved in the project.
A classic example is when a homeowner sees a decorator as an ally in a job that's running late—a common trap that's easy to fall into because the decorator isn't handling the physical work. The result is that some homeowners entrust the decorator with overall quality inspection and other extra duties, causing her to be seen as a pushy interloper who is eventually frozen out by the other pros on the job.
That's why it's so essential for all the people working on a project to stick to the jobs, duties and deadlines assigned at the early meetings. Be sure that tasks and responsibilities are clear, and that lines separating each profession's responsibilities are respected.
Your Requests: It's How You Ask
Changes are inevitable once a job gets under way. That means your contractor and interior decorator must have a system for sharing and acknowledging your requests.
•Be sure anything you ask for is written on a change-order request form that's dated and signed by you and the interior decorator. If the contractor doesn't have official forms, print out some simple homemade ones on your computer.
•When the contractor gets one of these forms, he knows it's OK to make a change in the original plans and bill you for the work. He also knows he won't be caught in the middle later when everyone has a different story about how your request for a 30-in.-high countertop never got through, and why he should pay for the redo—which he thinks is the decorator's responsibility.