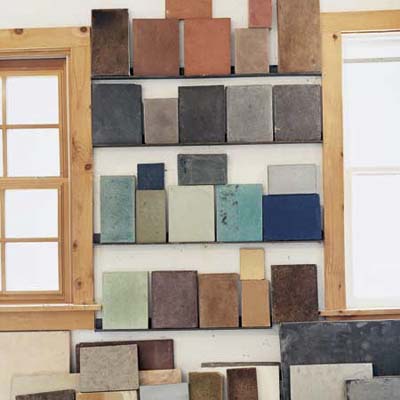 »
The New Face of Concrete
Hear the words "concrete countertop," and the image that likely comes to mind is of a cold, modern Soho loft inhabited by a nihilist artist or an avant-garde architect. Well, shove that picture right out of your head. "A lot of people associate concrete countertops with a dull, industrial look," says Christian Lincoln, owner of
Counter Culture Concrete
in Saugerties, New York. "But half of my clients these days are putting them in older houses."

Since just about any pigment can be added to the mix, the possibilities are endless. In addition to limitless color choices, it can be poured into just about any shape, troweled to any texture, and given any edge profile, so it looks at home in a wide variety of spaces. And because each countertop is handcrafted, it has an artisanal quality that other manufactured materials lack. 

Growing popularity has assured that you can find pros who make and install concrete countertops nearly anywhere. Expect to pay $75 to $150 per square foot, about on par with granite. See how Lincoln transformed the counters of one New Jersey homeowner...



Contribute to This Story Below