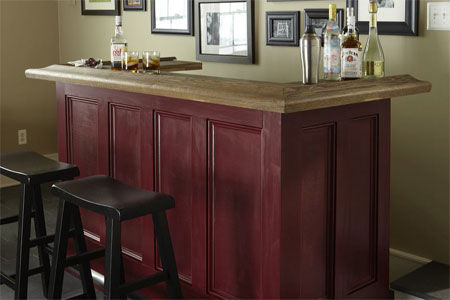 If the notion of building a bar conjures fond and fuzzy memories of hammering 2x4s into some makeshift cup stand back in college, terrific. But that experience won't help you much here. This is a real piece of furniture, as you can see from the trimmed panels, sturdy oak bar-rail molding, and stainless-steel foot rail. Follow along as
This Old House
senior technical editor Mark Powers and colleague Douglas Adams build this handsome rec-room centerpiece. And if you want to break out the toga when it's finished, well, that's entirely your call.
Paint:
Valspar's Royal Garnet.
Stain:
Minwax's Jacobean.
Bar-rail molding: Bar-rail profile #375;
Dykes Lumber.
Foot-rail assembly: Brushed stainless-steel foot-rail tubing, brackets, and caps;
KegWorks.
Download
the cut list
for this project.
See the
video
See all the
Hammer It Out
projects.