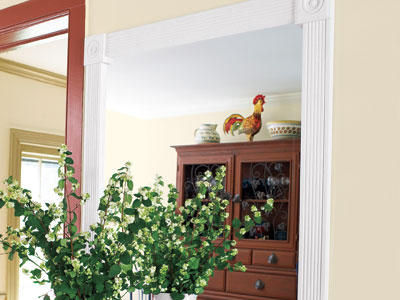 Designers and decorators often use mirrors and reflective surfaces to add depth to narrow and small areas. A strategically placed mirror in a hallway or on the far wall of a cozy office can visually open the room, but the style and size of the mirror itself are just as important as where it goes. Unfortunately, a large molding-framed mirror can set you back hundreds or even thousands of dollars. It doesn't have to, though. To show you how to create a fresh yet traditional-looking mirror that won't shatter your budget, This Old House general contractor Tom Silva pulled corner blocks and fluted casing, a precut mirror, and some sturdy mounting materials from the aisles of a home center. (Scaling up the design wouldn't cost you much more.) Read on to see how he converts off-the-shelf items into a savvy addition to tight spaces.
Contribute to This Story Below
More in Molding & Carpentry
Circular saw

Hammer

Clamps
½

-inch plywood
Get a full sheet
¼

-inch hardboard
Get a 4x4 sheet
3-by-4 foot mirror3-inch fluted door casing
Get two 8-foot pieces.
3

½

-inch corner block
Get four.
3d finishing nailsWood glueMirror adhesive caulk