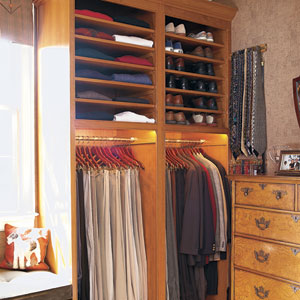 Just like all household appliances, closets these days come loaded with bells and whistles. Whether it's simply a place to store clothes or, as is increasingly the case, your closet needs to do double duty as a dressing room or sitting room, it must be adaptable, durable, and convenient to use. Here are a handful of ideas that can improve the function of any closet, regardless of its size or what items you stow in it. Before you get started, here are some questions to ask yourself about how you'll use the space:

•Do you want a place to sit?
A chair is convenient for putting on socks and shoes. Under-window seating works especially well because you can't use that space for hanging storage anyway.

•Do you want to be able to look at yourself in the mirror?
Try to get at least three feet away from the mirror, and make sure it's in a place that can't be blocked, such as on the back of a door.

•Do you plan to iron where your clothes are?
A flip-down ironing board saves space.

•Do you want to watch TV while you get dressed?
If you do, plan your storage around it, because unless it's at eye level the TV becomes a radio.

•Do you want to admire the view?
Remember that if you can see out, others can see in, so keep the windowsill at 3 feet 6 inches or higher.