Walk-In Closet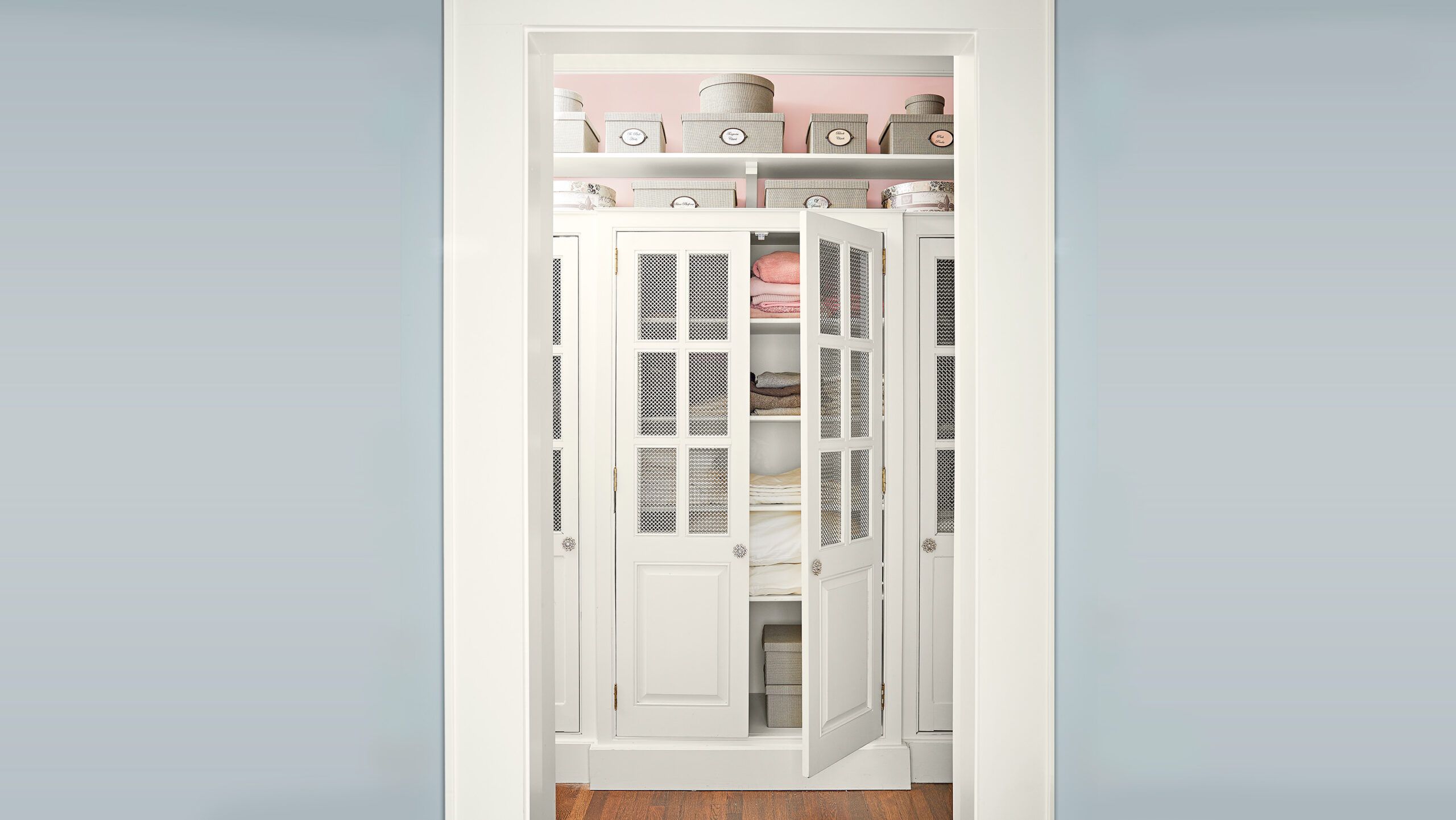 Great for sharing, these roomy closets have enough space to hold everything at once—so you can avoid the hassle of switching out clothing seasonally—but they need to be organized or you risk winding up with a new clutter zone.
• MAKING SPACE To add a walk-in closet, homeowners often annex an extra bedroom, or part of it. To create the one at left, DIYers Michelle and Erik Dagenhart of Charlotte, North Carolina, converted an existing bedroom in their 1922 Craftsman into a master bath and walk-in closet, with a small hallway between the two. The his-and-hers closet, which is 19½ feet long and 6½ feet deep, features the cabinet at left at its center, on display through the cased opening. Michelle's side holds four sections of four drawers, topped with a counter and open shelves, and 10 feet of hanging space; Erik's side holds half as much.
• BUILT-IN LOOK That focal-point cabinet was salvaged during a friend's renovation; Erik customized it with metal screening left over from their own kitchen reno, and built two smaller side cabinets to match. The screened "windows" let them see at a glance what's where, while the closed doors keep things feeling neat and contained. Labeled linen-covered boxes up top house Michelle's dress shoes and special-occasion gear.
• SEPARATE PEACE Sharing obviously doesn't have to mean dividing the space equally. Take stock of each partner's possessions first: folded items (T-shirts and sweaters, no more than five to a stack), long hanging clothing (dresses, coats, long skirts), and short hanging (jackets, skirts, trousers folded in half). Designate a drawer for any item you have a lot of, such as tank tops or jeans. In addition, pro organizer Barbara Reich likes to set up a "Marriage Saver" drawer or cabinet, in which husband or wife has permission to be messy (picture crumpled receipts, loose change, pocket tools, and other flotsam that might clutter the top of a dresser). "Make it small and something that closes, so you don't have to look at it," she says. "Then you've put a limit on how much is appropriate to store."
• START FRESH If you're moving into a home with an existing walk-in closet, start organizing your closet as you unpack. Our moving experts at moveBuddha also said, "After you've closed on your new home and paid for moving costs, the last thing you want to hear is spending more money. But we've worked with thousands of new homeowners and the ones who opted to work with a professional organizer as soon as they moved in were the most pleased with their move."
Dressing Room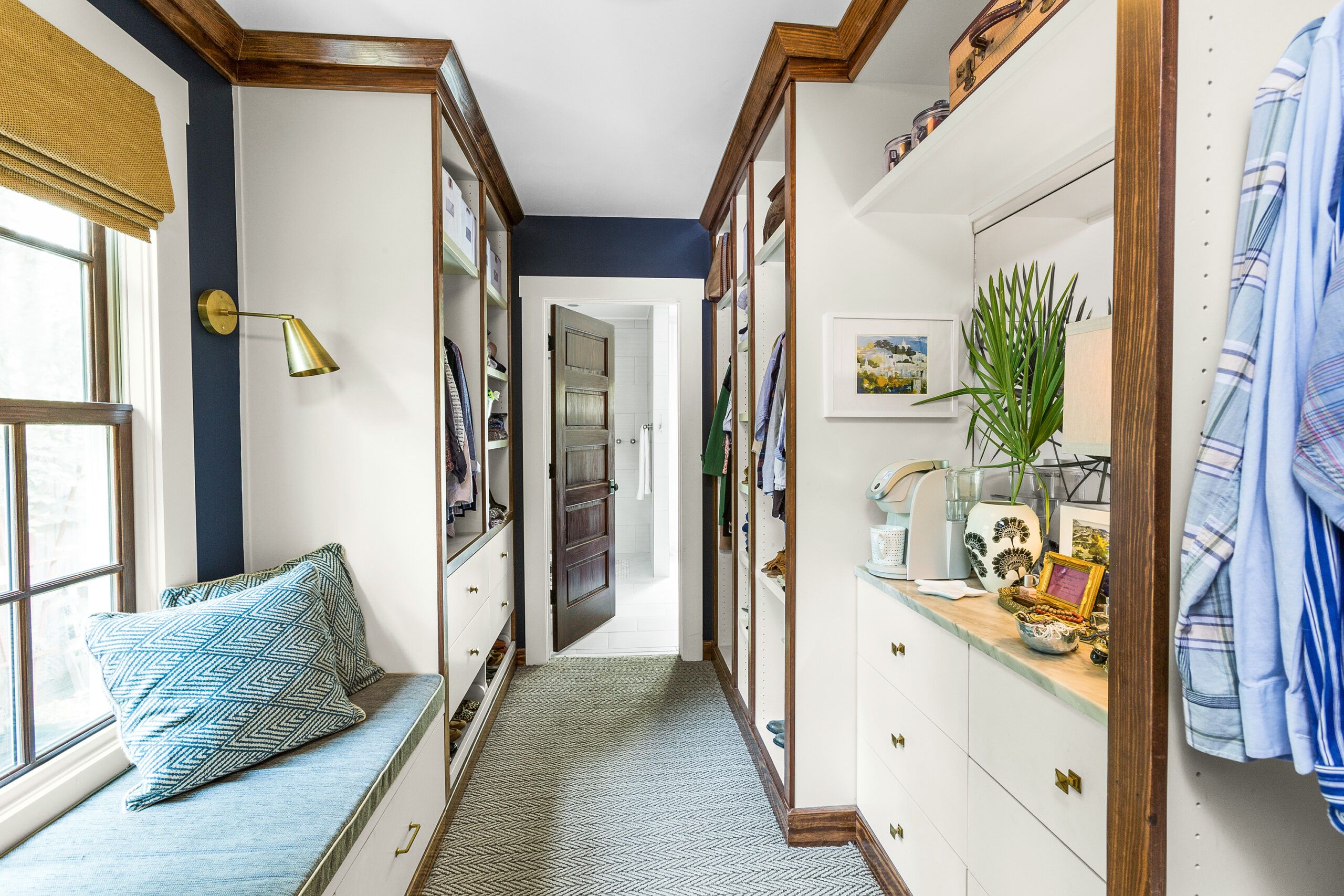 For those who like to take their time getting ready, a dressing closet with seating and a dresser is ideal. Joe and Shelley Pelliccione of Savannah created the closet above—14 feet long and 7 feet 8 inches wide—between their bedroom and bathroom, as part of a first-floor expansion.
• FIT AND TRIM Joe, a contractor, had the closet built in sections, which were bridged with 2½-inch-wide stained-wood trim that matches what's in the rest of their 1943 cottage. It's an idea anyone can borrow using off-the-shelf closet components from stores like The Home Depot and IKEA. "The trim makes it look a lot more expensive than it is," Shelley says.
• TAKE A SEAT The center of this dressing room is geared for lounging. "It's designed with space to let me relax," says Shelley. The 5-foot-long window seat has become a favorite spot for her to enjoy morning coffee. As a practical plus, its large drawers hold totes, beach towels, and yoga mats.
• ADD A DRESSER A chest of drawers makes a closet feel fully furnished and offers a chance to give it some style. The dresser above—4 feet wide and only 16 inches deep—was salvaged from a store Shelley owned; Joe built it in and topped it with a piece of salvaged marble, installing a mirror and a shelf above it. It even has a countertop spot sectioned off for Shelley's coffeemaker. In closets where space is limited, a lingerie chest works well.
• SPECIALTY STORAGE Set up a tower for whatever item you have in multiples. "My husband is a prolific T-shirt collector," says Shelley. "And if I can't get rid of them, at least I can make them look pretty." Their clothing storage bays—4½ to 5 feet wide and 2 feet deep on both sides of the window seat and dresser—include a pair of tall, narrow shelving units amid the mix of hanging space, wider shelves, and drawers. His is filled with T-shirts; hers holds purses, dress shoes, and accessories.
Open Wardrobe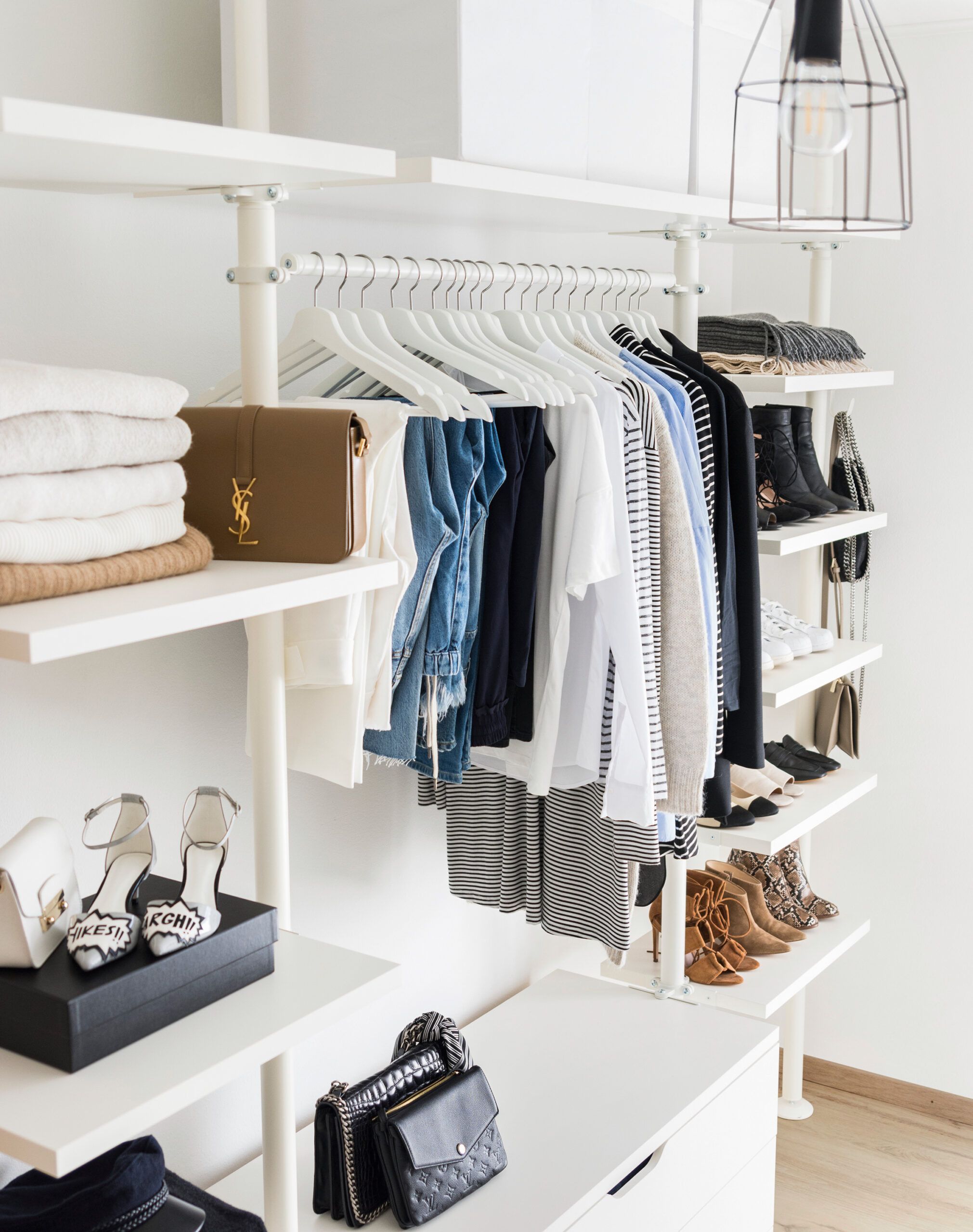 In older homes that are shy of closet space, open clothing storage along a bedroom wall or under a sloped ceiling can fill the bill.
• CLOTHES ENCOUNTER When everything's on display, you need a system that's attractive. The Elfa line (Container Store) offers modular pieces with wood-veneer shelves that suit a bedroom. Or imitate the one at right using pipes, shelves, and Speed-Rail fittings (Hollaender).
• TAKE COVER Stow out-of-season pieces in garment bags on rolling wardrobe racks in the attic or in under-the-bed boxes.
• SHOE SMARTS "Store shoes you wear often out in the open, where you can grab them," says Sarah Buckwalter of Organizing Boston. "Shoes you wear occasionally should go in clear plastic bins."
• SPACE SAVERS Short on hanging room? Put pants on .ORG Friction 4-Tier Swing Arm Trouser Racks (Bed, Bath & Beyond), which hold four pairs in the same vertical space as a single hanger. Clear-acrylic file sorters made for office use are perfect for storing small purses in a tidy, accessible way.
Double Reach-In Closet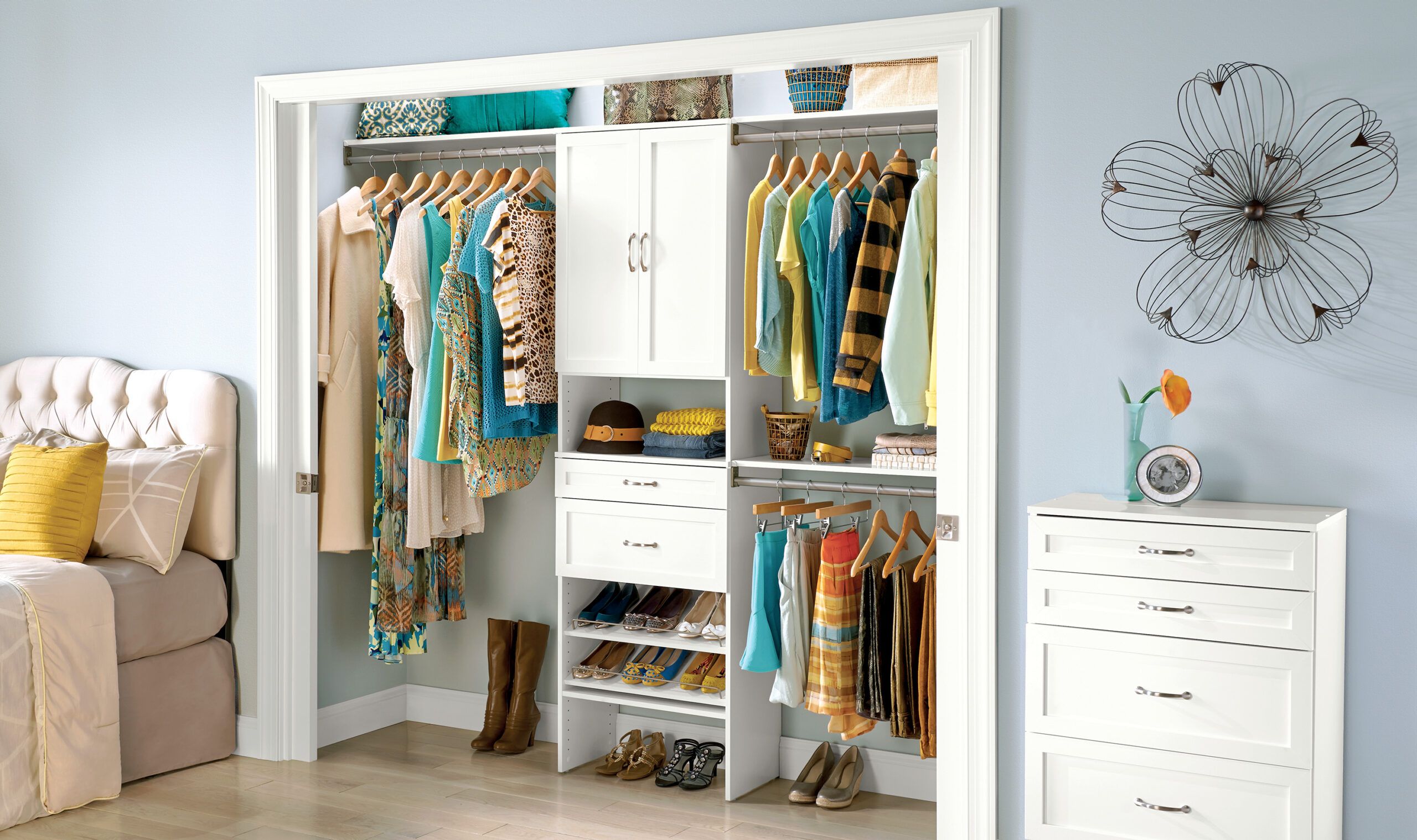 "Double-door reach-in closets give you access to everything, and that's an optimal closet to me," says Houston organizing pro Ellen Delap. Because they're just one hanger deep, nothing gets hidden in back. An ideal setup has shelves and drawers in the center, with long hanging clothes on one side and two rods for short hanging on the other.
• GO MODULAR Look for affordable closet components from companies such as ClosetMaid, which outfitted the closet at left. Be sure to account for baseboards and outlets in the final design.
• HANG TIME Use a single type of hanger to get rid of visual "noise." Slim velvet-covered hangers can take up 30 percent less space than other types.
• COMPARTMENTALIZE Use drawers to stash small items like lingerie, socks, and swimsuits. Corral them neatly with adjustable drawer dividers, and add visual appeal with stylish liner paper.
Craft Closet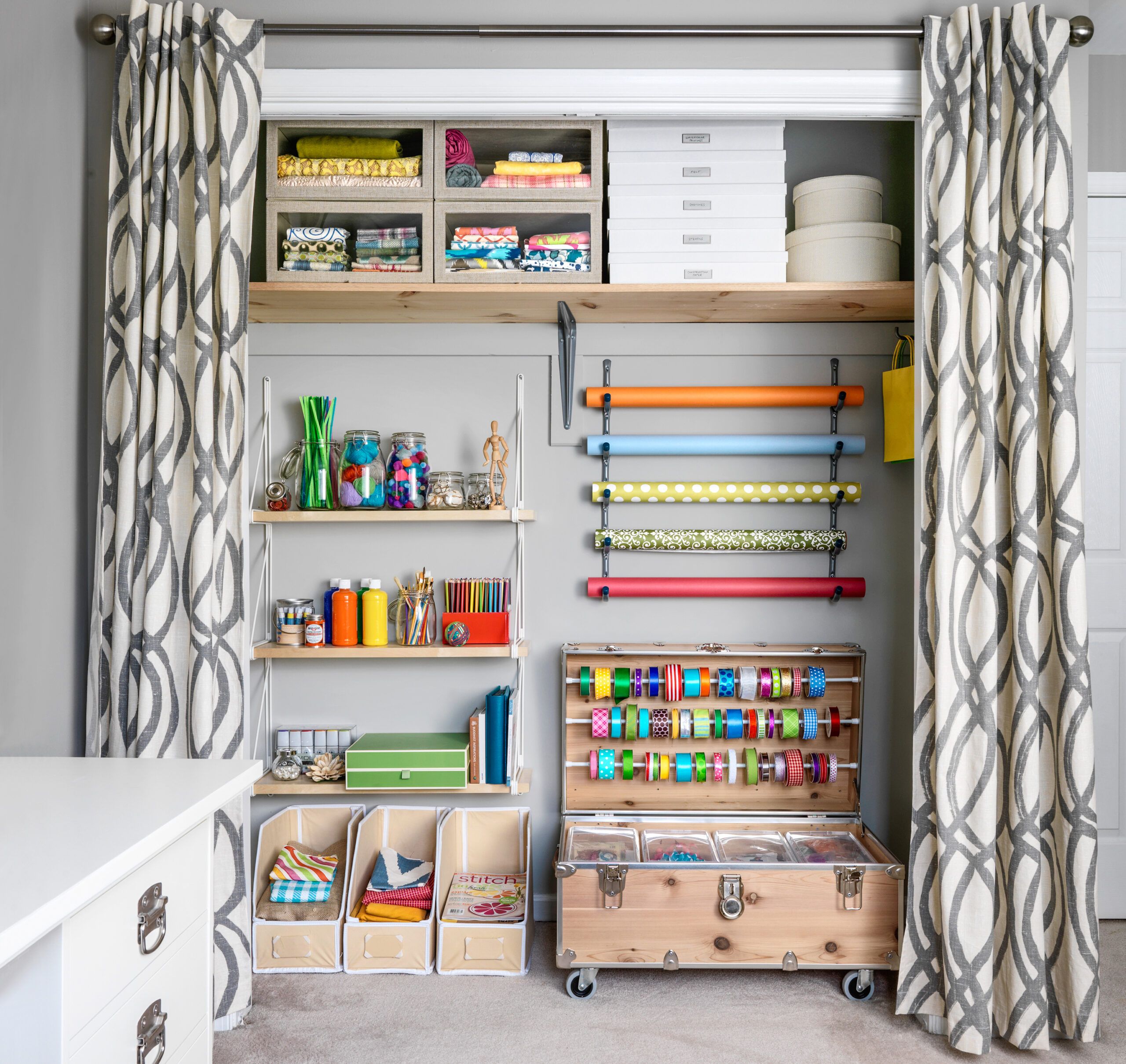 Many types of hobby closets require storage solutions for small parts and pieces.
• TIMES TWO Swing-out double doors let you view everything at once. Sarah Buckwalter likes clear containers and lots of narrow shelves for beads or paints. Ellen Delap suggests curtains to hide craft supplies: "It's a softer look, and they make it easy to get into the closet." They're also a good solution where bypass or bifold doors hinder full access.
• MOBILE SOLUTION The trunk-on-wheels above doubles as storage for rolls of ribbon—slid onto rods mounted inside the lid—and a movable workspace; magazine butlers hold stacks of fabric remnants. Pair a shallow closet like this one with a table or desk outside the closet for project work.
• THINK SMALL Pros love Rubbermaid's Bento Collection, with adjustable compartments, nesting containers, and flip-over tops that act as trays.
Utility Closet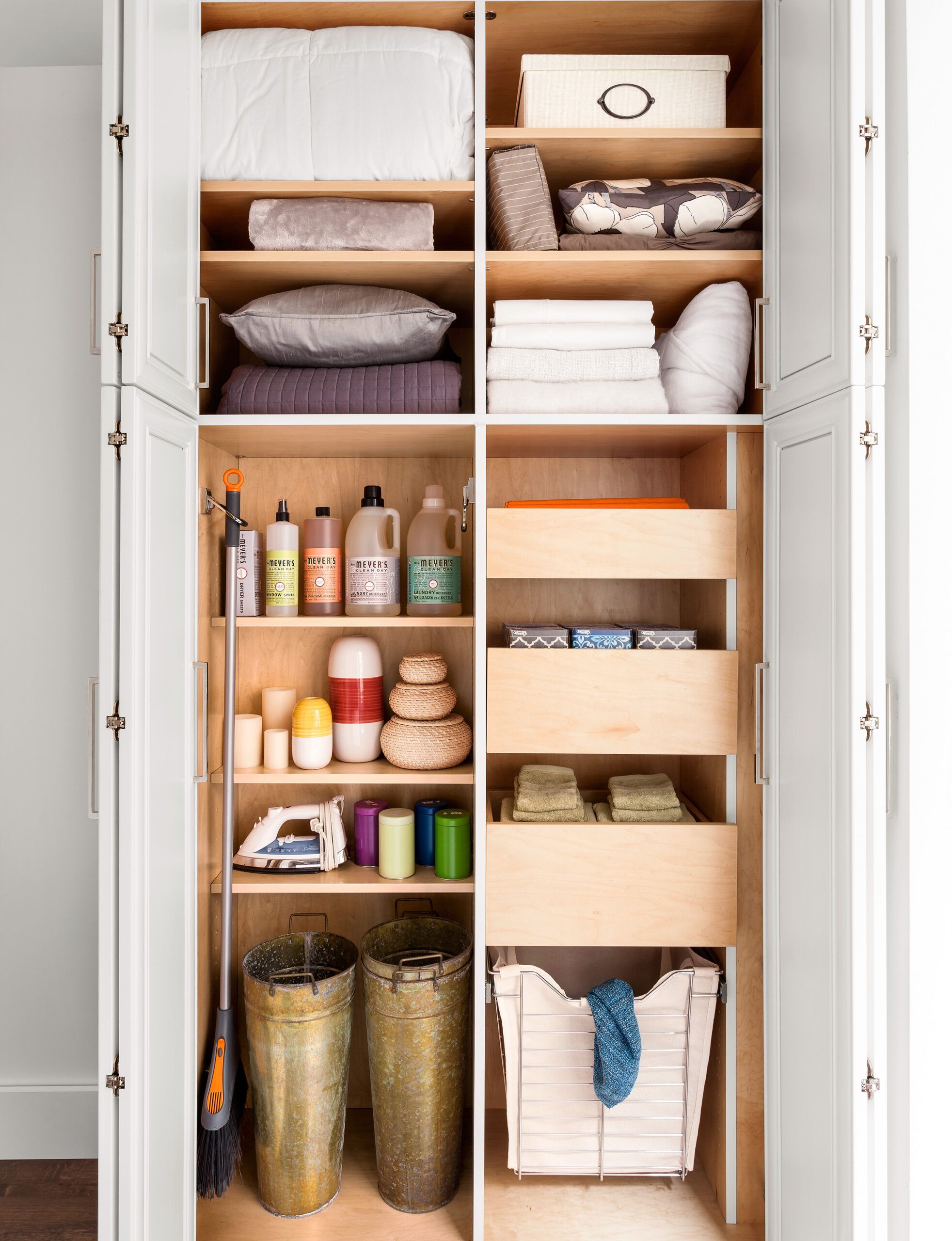 An everything-in-its-place approach to household and cleaning supplies can be a major time-saver. The tall, slim closet below was custom-built by TransFORM, but you can get similar functionality with a few additions to a more basic setup.
• ON A ROLL Consider adding some pull-out drawers on glides where shelves are deeper than 12 inches, so you can reach tall or heavy items near the back.
• GET HOOKED Hang up mops and brooms to get them out of the way; many pros like Casabella's The Grook Utility Holder, which stores multiple cleaning tools in a narrow space.
• HOLD EVERYTHING A sliding chrome basket can stash dirty dish towels and cleaning cloths until laundry time. Topmost shelves house extra towels, pillows, and other bulky items. Tuck in a folding step stool to make them easier to access.
Linen/Bathroom Closet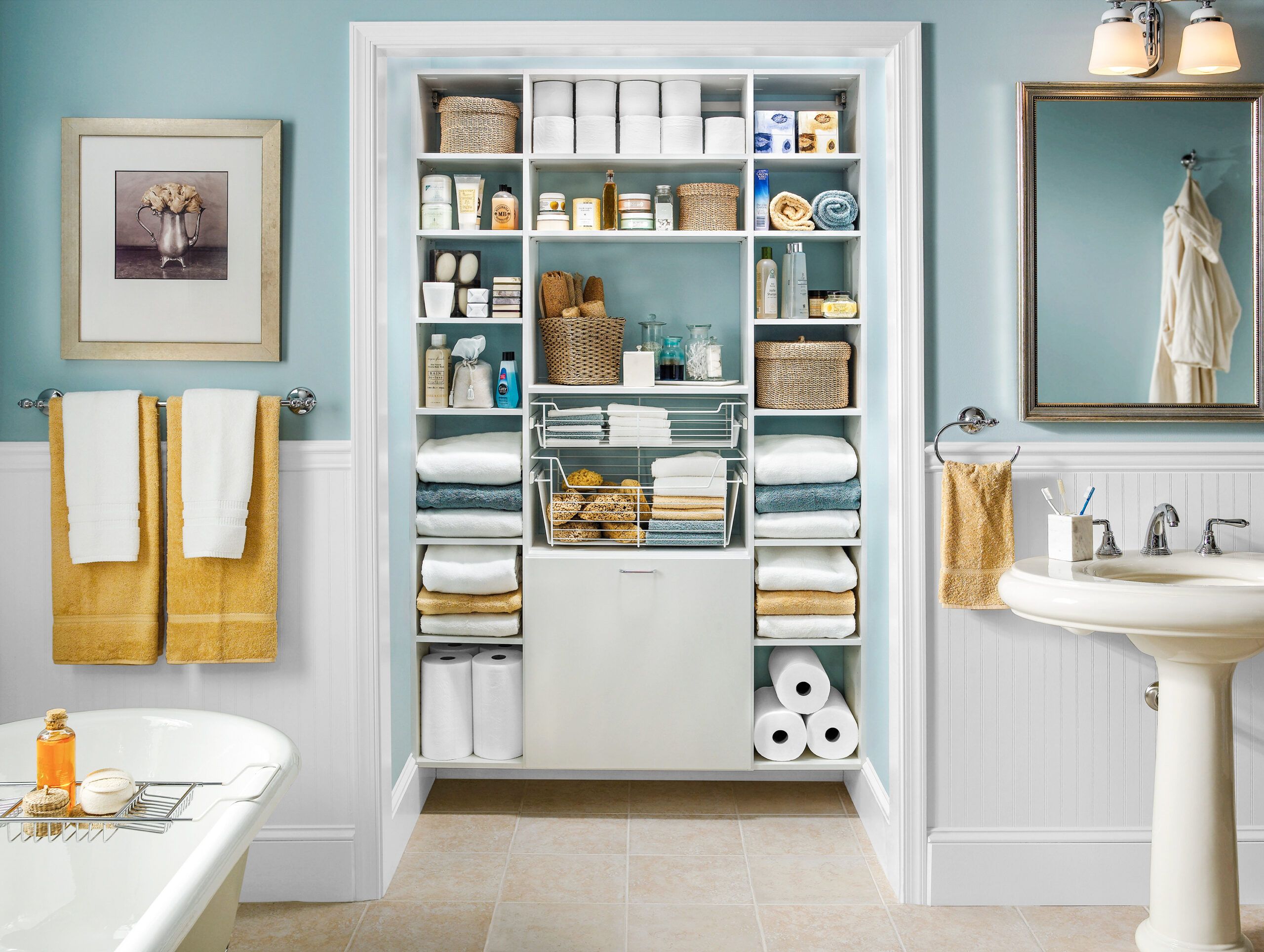 Depending on your home's layout, a linen closet may be used by all members of your family, which means it can get a lot messier a lot more quickly. Take stock of sheets, towels, and other items that need a home here; be sure you're not holding on to old "backup" towels and pillowcases that you never really use.
• GROUP LIKE ITEMS Allocate shelves for towels and bedding, grouping sheet sets by bed size, and, ideally, label each shelf category. Rolling towels makes them easier to grab without messing up the whole stack. Add a towel bar to the back of a swing-out door to hold an extra set at the ready.
• DIVIDE AND CONQUER (CLUTTER) If your linen closet has wide shelves, instead of divided ones like the closet above, add dividers such as those from dreamproducts.com to keep stacks upright. Or swap some for slide-out wire bins, as shown.
• BE STRATEGIC Put toiletries in baskets or clear boxes, and place them at eye level. High shelves are just the right perch for all those rolls of toilet paper and boxes of tissues you stock up on at the warehouse store. A tilt-out hamper below holds used towels until you have time to do the laundry.
• LABEL IT Let everyone know what's kept where. Be specific when grouping products, with labels such as Hair, Teeth, Soap, Lotion, and Sunblock. Stacked clear bins maximize storage space. Use a small lazy Susan to store little jars and bottles so they don't end up in a jumble.
Closets By the Numbers
Tricks of the Trade
Pro organizers and closet designers try every product out there. Here, four items they consider indispensable.
• Over-the-door shoe organizer In a coat or entry closet, use one with clear plastic pockets to hold sunscreen, bug repellent, mittens, and scarves. In a craft room, it's great for scrapbooking accessories and the like. In a small linen closet, it can hold shampoo and conditioner, body wash, a hair dryer, etc.
• Slat wall system Popular in garages, these panels work wonders in shallow closets, too. If you can only fit hanging space on one side of the closet, mount a slat wall on the other, and use hooks to hang purses, scarves, and jewelry. It's easy-to-see storage that takes up very little space.
• Drop-front shoe boxes The Container Store sells fabric-covered shoe boxes with a see-through end panel that drops down for easy access. The window lets you pinpoint the shoes you're after; opening the flap means you don't have to rearrange any boxes to remove them.
• Valet rod Attach one to a vertical support in your closet for instant extra hanging space. It's especially useful when packing for a trip, to hang dry cleaning still in the plastic, and to hold items waiting to be ironed.
Thanks to: Sarah Baldwin, Faire Evoluer; Sarah Buckwalter, Organizing Boston; Ellen Delap, certified professional organizer; Samantha Hochman, TransFORM; Barbara Reich, professional organizer and owner of Resourceful Consultants; Scott Davis, vice president of product development and marketing, ClosetMaid.