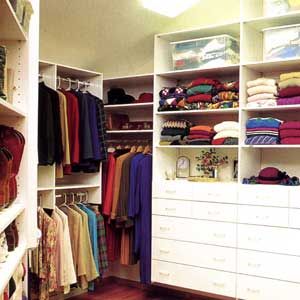 You've probably complained more than a few times that you don't have enough closet space in your house. But the fact is, most homes aren't closet poor — they simply have poorly organized closets.
The typical clothes closet, for example, includes a single pole for hanging items and an overhead shelf — hardly an efficient use of space. But there are some ways to make better use of the space you have.
"With a little planning and sorting, you can stretch the storage space in a typical closet by as much as 60 percent," says Pam Smith, director of product management for ClosetMaid, a leading manufacturer of do-it-yourself- storage systems in Ocala, Florida. As a result, everything you put in your closets will be neatly organized and easier to find when you need it.
Practically any closet, including those in your basement or under the stairs, can be improved. First, you have to decide what you want to store in the closet, develop a design to accommodate those items and then put in the components you'll need. Or, have a professional create the design and install the system for you. We'll concentrate on the clothes closets most of us use every day.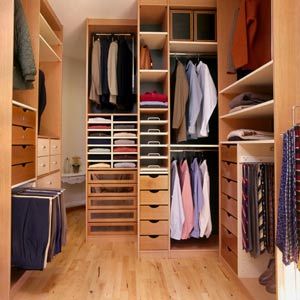 Closet Systems
A typical closet system consists of wardrobe rods for hanging, shelves and storage accessories. You'll find two broad categories: plastic-coated wire and solid shelving, which is made of particleboard covered with a laminate or solid wood. Wire is less expensive than solid shelving.
Wire-coated shelves also offer more options. Both ClosetMaid and Configurations by Rubbermaid produce shelving with or without a built-in wardrobe rod. Both also offer a variety of sizes for the openings in the wire mesh. Narrow openings are best where small items are stored, such as in pantries and linen closets. But you can use any size you want for storing clothing.
Systems available at retail stores contain dozens of parts that are all sold separately. For example, along with shelves, you'll need the wall brackets, end brackets and support brackets that hold the shelves in place. Solid shelves also need tracks that attach to the wall to hold the shelf supports — unless they're part of a cabinetlike system that includes sides and a top. Drawers and baskets require runners.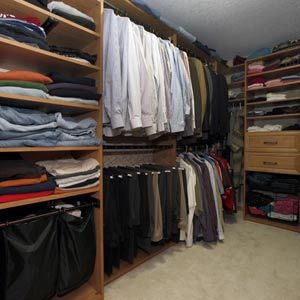 Sorting It All Out
If you're installing a closet system yourself, start by examining everything you want to store in the space. Limit items to what you use frequently, and plan on storing others elsewhere. Ask yourself the following: Do I wear suits to work? Which do I wear on a regular basis? What do I do with winter clothes during the summer?
Go through your day, including weekends, to determine which clothes (leisure wear, sports clothes, shoes, boots and accessories, such as ties and belts) you wear regularly.
Group like items together and measure them. You'll need to determine height and width requirements for hanging items. Place folded items either on shelves or in drawers.
What kind of clothing you have and how much will help determine your storage plan. Before putting pencil to paper, stop by the home center or retail outlet where you plan to shop. You'll probably come across products you've never heard of and get ideas for your own plan. You might also see sample closet plans or manufacturers' brochures or product sheets. Use both of these sources as a starting point for your own design.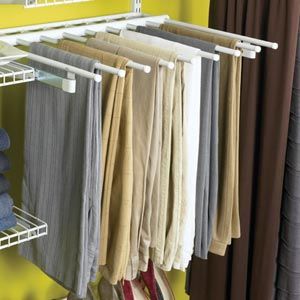 Customizing the Plan
All closet systems essentially are custom projects, because individual storage needs differ. But there are some elements that all closets have in common.
Hanging Items
Because short hanging items, such as shirts, blouses and pants folded over hangers, measure only 30 to 40 inches long, a typical closet can include two levels of hanging rods. As a rule, place the top rod 80 to 82 inches up from the floor, the bottom rod about 40 inches up. You should adjust the measurements to suit your clothing. For example, keep suits on the top rod, pants and shirts on the bottom. In a two-person closet, assign the top rod to the taller individual's clothes.
Long dresses and coats require as much as 50 to 60 inches of hanging space. But even here, you can place a shoe rack or low shelf under the hanging garments.
The same general rules apply to kids' closets. For young children who don't have a lot of hanging items, plan for one rod at 36 to 40 inches off the floor. That allows youngsters to reach the clothes and encourages them to put things away. Shelf Items
The growing use of shelving is one reason modern closet systems have become so popular. Shelves 12 to 16 inches deep provide adequate space for sweaters, shorts, and casual shirts. They also keep items neat and in plain view so there's no need to rummage through drawers or piles of clothing.
Shelves for clothing work best close together. For neatness, plan on stacking bulky items like sweaters two to four high. T-shirts and other thinner items can be stacked three to five high. And place shelves for the most frequently used items at a height between your waist and shoulders so you can reach them without stretching or bending. Put shelves for other items lower or higher. Accessories
Tie, belt, and shoe racks and corner shelves are a few of the conveniences you can add to your closet design. Two of the most popular are drawers and baskets. Drawers help make the storage system work like furniture by allowing you to put socks and underwear, for example, in the closet. Drawers also offer protection for stored items, and a column of them can divide a shared closet in two.
Think of wire baskets as casual drawers. They'll hold anything you don't mind having on view. They can also work either as a hamper or a spot for toys in a kid's closet.
When assigning space for clothes, include extra shelf and hanging space in your plan. Then keep the closet organized by removing items you no longer use. The planners at California Closets, a national franchise of professional closet designers based in San Francisco, recommend removing an old item when you buy something new and tossing anything you haven't worn in a year.
Use every available inch of space when developing your closet design. The back of the door can be used for shoes (as shown) or to keep belts, ties and scarves organized and handy. Keeping items off the floor makes cleaning easier.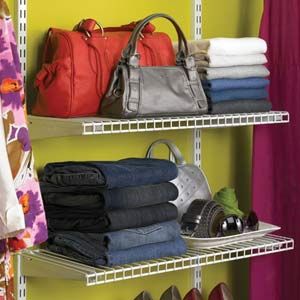 Putting It In
Closet systems are either attached to the wall or the floor. ClosetMaid's Shelftrack system consists of an aluminum track attached to the wall. Vertical supports and shelving hang from the track, making it easy to change the configuration when needed.
Follow the manufacturer's directions for attaching systems to the wall, especially when securing shelves to drywall between the studs. A tip from the pros: Before installing, paint the closet walls and ceiling. Painting won't take long, and it will make the finished project much more attractive.
Although closet systems are an easy do-it-yourself project, professionals bring qualifications you probably lack. For instance, pros have experience designing small spaces and access to materials you might have trouble finding. They also have teams of installers who can have a custom system in place in one day for most closets, including walk-ins.
Most of these companies work the same way: A designer comes to your house and does an inventory of everything you want to store in the closet. The designer also helps you weed out items that should be stored elsewhere. "I've had clients in their fifties who still had their bar mitzvah tie or first communion suit hanging with the clothes they wear everyday," says Vicki DiMedio, president of Closet Design Group, in Boca Raton, Florida.
There are a number of scenarios where it probably makes sense to hire a pro. Lack of time to do the job yourself tops the list. Although you'll still be involved, a pro will take charge and ensure the project is completed.
Or, call in an expert if you can't decide what to toss. Having an outsider go through your belongings and ask how you use them might seem odd, but it will help whittle away the excess.
Finally, don't do the work yourself if you think of closet storage as furniture. Storage systems can do much more than just organize and protect your belongings — they can display them. Involving a pro also makes sense if you invest in high-priced materials. You'll get the most use out of the space, and installation will be neat.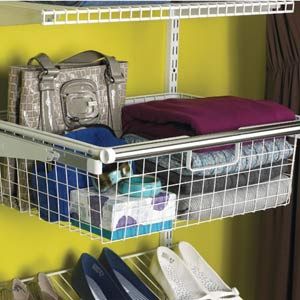 Measure for Measure
It's impossible to come up with exact figures for how much room your clothes will occupy. But there are some guidelines for the space required for hanging clothing. Measure your items from the top of the hanger to the bottom of the item.
Men
Suits/sports jackets: 38 to 40 inches
Dress shirts: 36 to 38 inches
Slacks (folded over hanger): 28 to 30 inches
Women
Suits/blazers: 28 to 34 inches
Blouses: 30 to 32 inches
Skirts: 38 to 40 inches
Dresses: 45 to 50 inches
Pants (folded over hanger): 28 to 30 inches