For James Korzekwa and Kyle Grunwald, the idea of building a custom house in the mountains held the promise of purpose-built spaces for work and play wrapped inside a stylish, energy-efficient home with expansive views. Having purchased a lot in Morrison, Colorado, just outside Denver, they sought out Revolve Design-Build's husband-and-wife team of Jared and Amber Phifer to create the house they envisioned. From design meetings to the final walk-through, that process stretched to 24 months and is captured in Idea House: Mountain Modern, a new television show from the producers of This Old House, now streaming on The Roku Channel.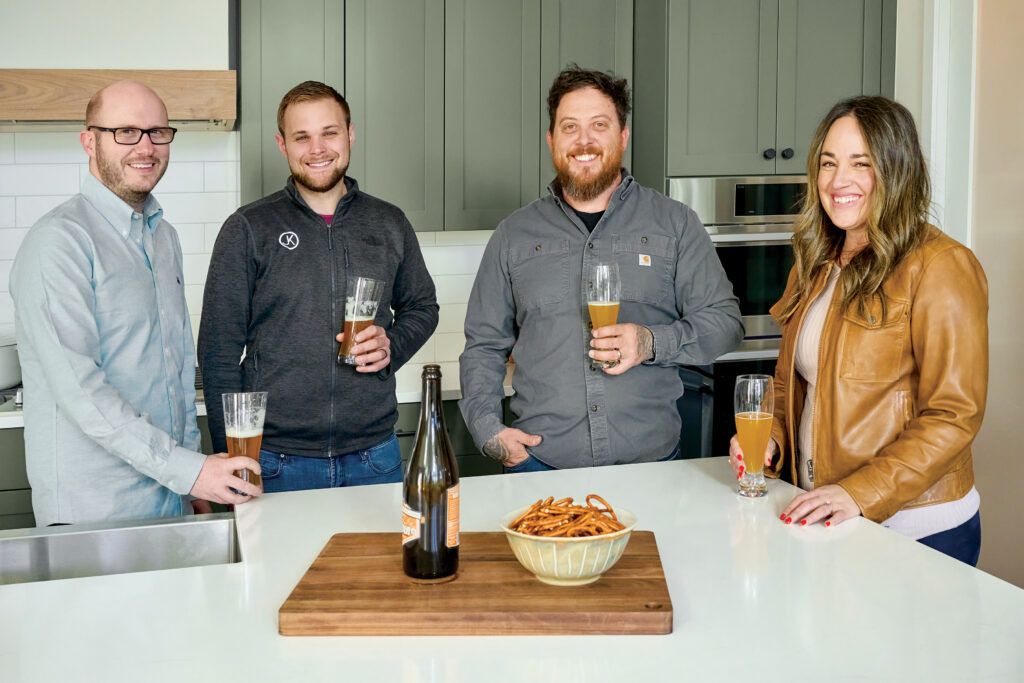 "We went into this with the goal of building something that fit us and our lifestyle," says James. In addition to an open-plan kitchen-living-dining area, their wish list included separate home offices—both he and Kyle are software engineers who work remotely—bedrooms for guests, and hobby spaces, with a woodworking shop for James and a beer-making area for Kyle. Smart-home controls throughout were another must for the tech-savvy pair.
Challenges arose from the start. While the steep, pine-covered 23/4-acre hillside lot offered exhilarating views of Mount Evans, it also complicated construction, especially during Colorado's long, snowy winters. Global supply-chain issues made material and design choices a moving target. Labor shortages meant that at one point, there was no crew to frame the house.
Still, the 4,500-square-foot house slowly emerged, showcasing Revolve's signature mountain-modern aesthetic, with steeply pitched rooflines, dramatic expanses of glass, and rustic wood and stone accents, plus generous spaces for outdoor living. "We always want the homes we design to blend into the environment," says Jared. The design-build firm is also known for its emphasis on energy efficiency; here, that meant a high-performance heat-pump HVAC system and electricity-generating solar roof shingles, in addition to a tight building envelope.
In the end, the long wait paid off, says Kyle: "When we decided to build in the mountains, this is exactly what we wanted."
Lofty and Light-filled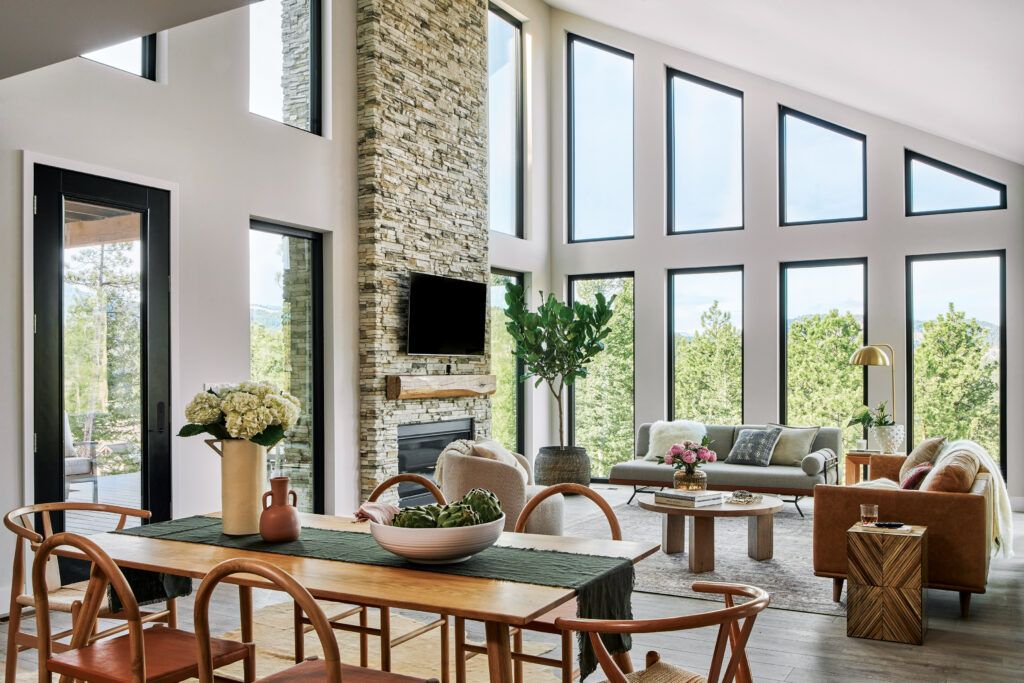 Climbing to 18 feet, the living-dining area's cathedral ceiling reflects the dramatic modern architecture of the house; floor-to-ceiling walls of glass invite in natural light and mountain views. Rustic features in the 23-by-17-foot space include the reclaimed walnut mantel and the drystack stone veneered fireplace chimney.
Peak Experience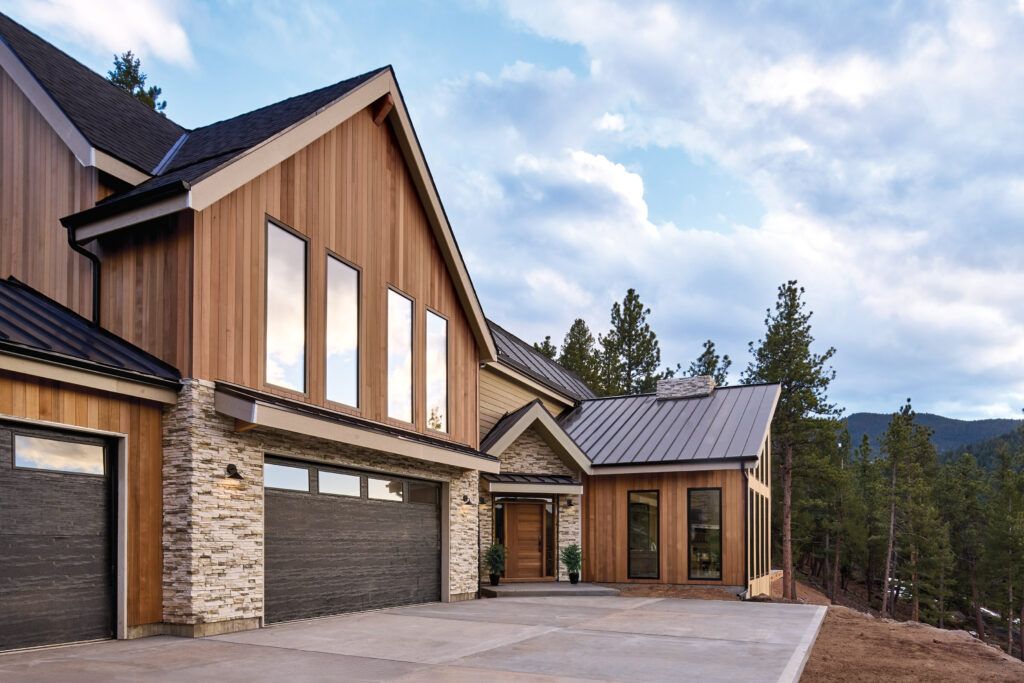 The exterior rooflines echo the mountain setting; the building materials also needed to meet code for wildfire protection: fire-resistant vertical ash, noncombustible fiber-cement clapboards, and fire-safe-finish enameled metal accent roofs.
Open Invitation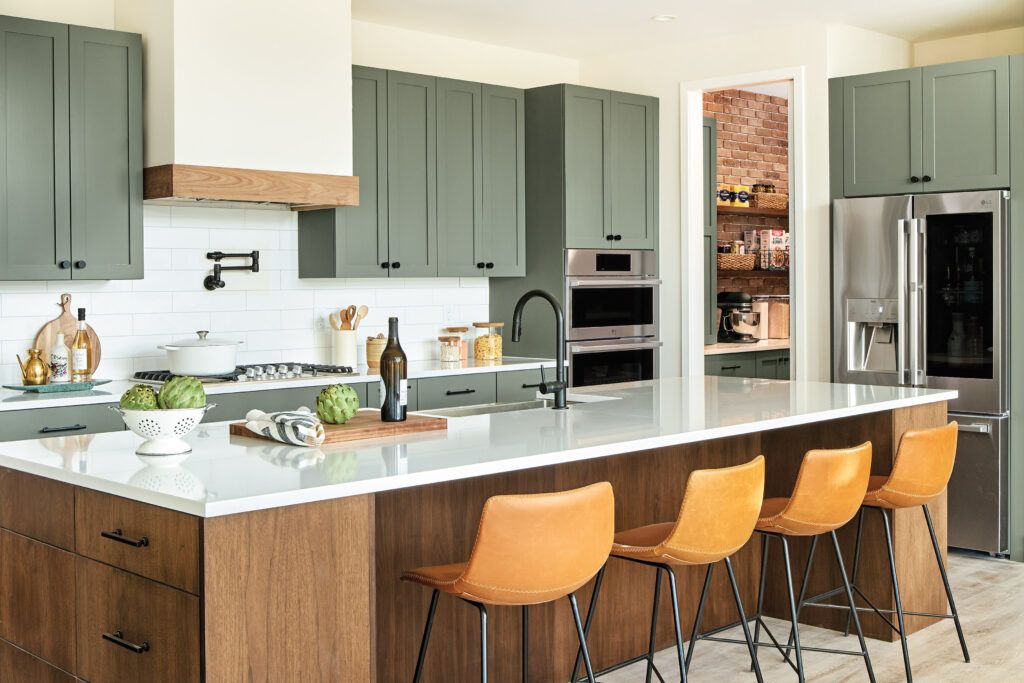 The kitchen combines Kyle's modern sensibility with James's inclination toward farmhouse style; the latter is reflected in the apron-front sink, natural-walnut island base, and brick pantry walls. The streamlined galley layout, stainless steel appliances, and sleek, angular vent hood have a modern feel. Gray Shaker-style perimeter cabinets keep the clean-lined look going. The neutral color palette continues throughout the house.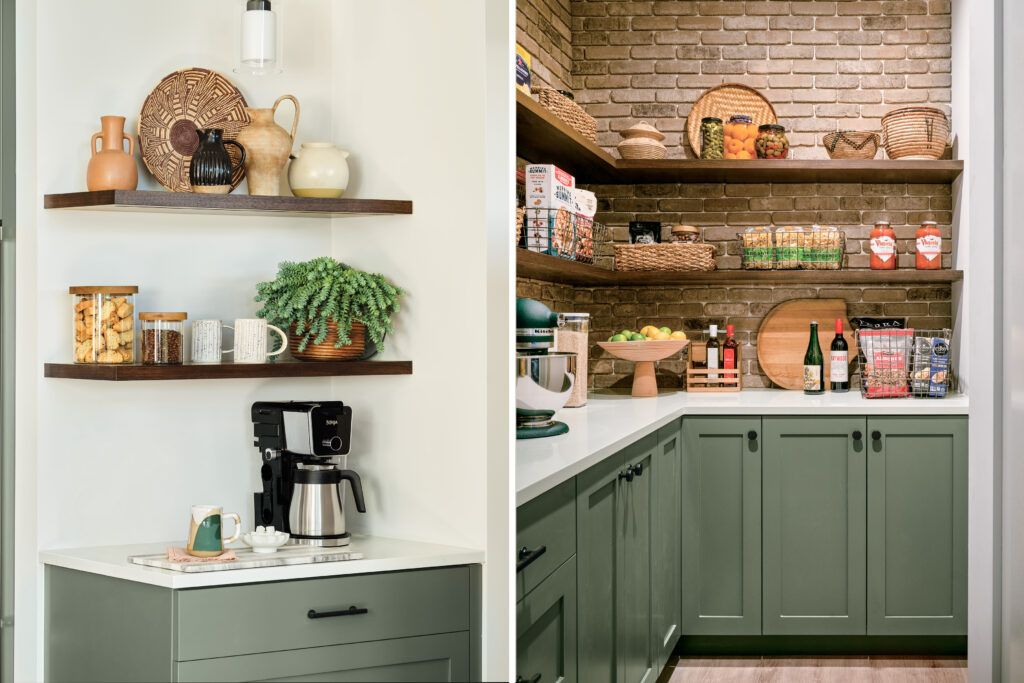 Spaces for Rest and Desk Duty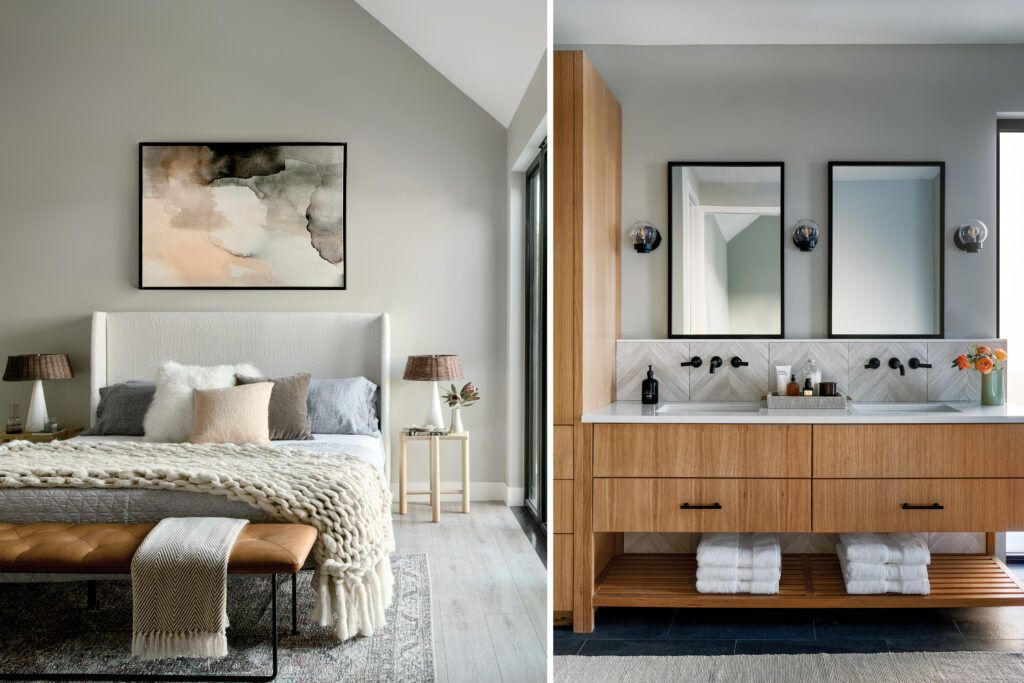 The primary bedroom on the second floor is a relaxing retreat, with an airy vaulted ceiling and patio doors that open to a private west-facing deck covered by a bumpout above, so it can be used even in winter. Inside, gray-washed wood floors and a stone-gray feature wall create a soothing, natural look. "The finishes and colors throughout the house really speak to the mountain-modern aesthetic," says Amber.
Clean, modern lines pair with natural wood in the primary bath. Double sinks set in a streamlined vanity and a tall storage cabinet alongside it have a spa-like simplicity. Matte-black faucets and cabinet hardware add subtle contrast.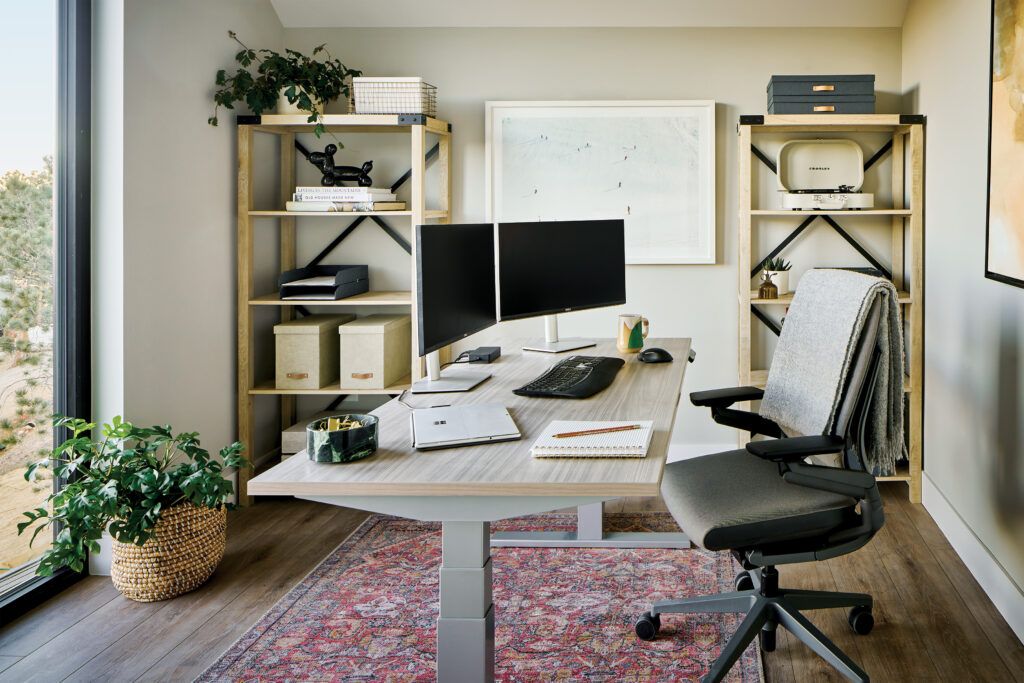 Kyle's upstairs home office features plenty of tech, including dual monitors, an adjustable-height desk, and unseen but all-important high-speed cable for Internet access. It is sited to take in mountain views through tall, floor-to-ceiling windows.
Downtime Destinations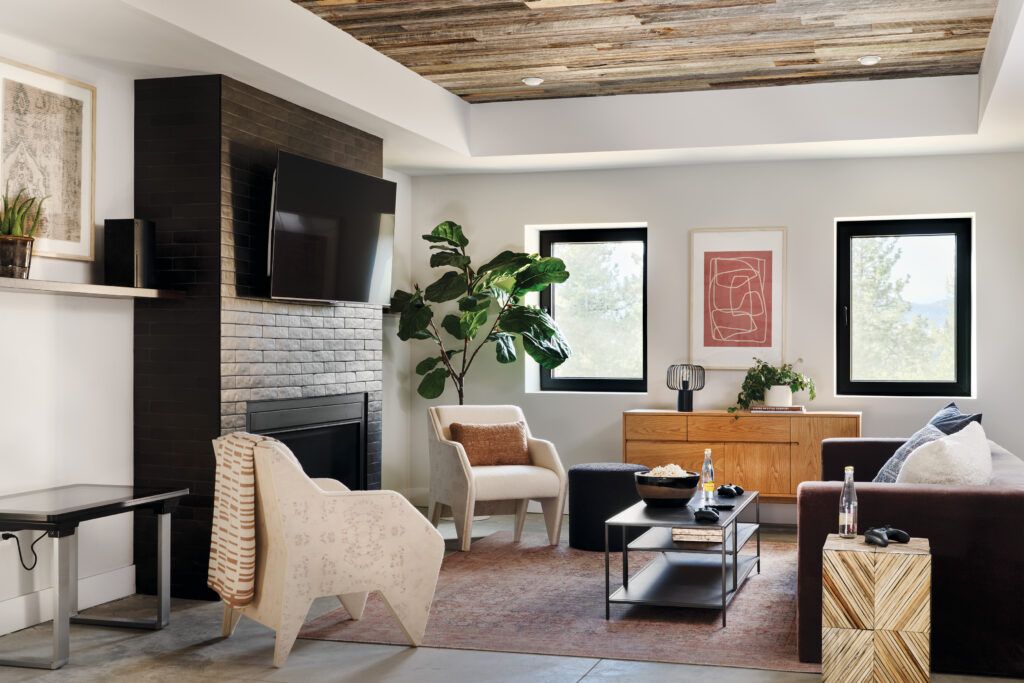 The basement rec room, which features a cozy gas-insert fireplace and a walk-out to an on-grade patio, provides the perfect spot for gaming, sampling Kyle's latest brew, or just hanging out. The raised ceiling is covered in reclaimed wood for a rustic touch; the floor is tinted concrete.
The smart lighting system produces synchronized hues to complement the colors of whatever's on-screen for an immersive, movie-theater effect.
Since they log lots of hours at their computers, these admitted homebodies wanted a convenient, in-house gym for unwinding and staying in shape. The latest treadmill and exercise equipment easily fit in this 8-by-15-foot space near the rec room.
Completing the rec room's party vibe is a handy built-in bar area—with a sink, an under-counter beverage fridge, a countertop icemaker, and plenty of storage for glassware. Here, white tile, quartz countertops, and natural-wood open shelves get a color boost from blue base cabinets.