Feature a focal point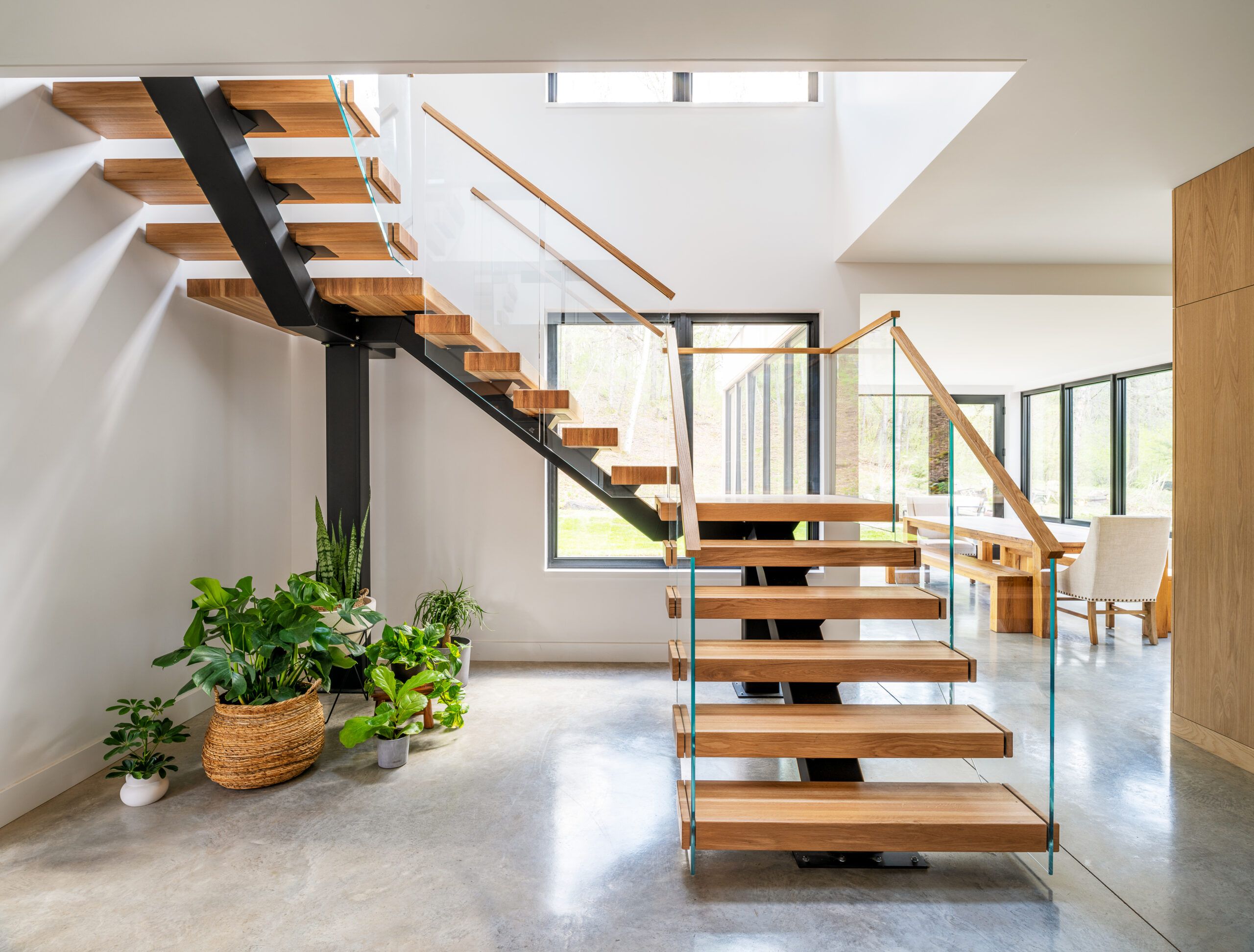 I want visitors to be wowed the moment they enter the house. And one of the most dramatic spaces is adjacent to the entryway where this staircase seems to float above the concrete floor, supported only by a center-steel beam and two posts. Thick oak treads match the flooring on the second story. Half-inch thick tempered glass railings add to the feeling of lightness and allow views through to the outdoors.
Floating stairs and glass railing: Viewrail
Customize your kitchen to your cooking style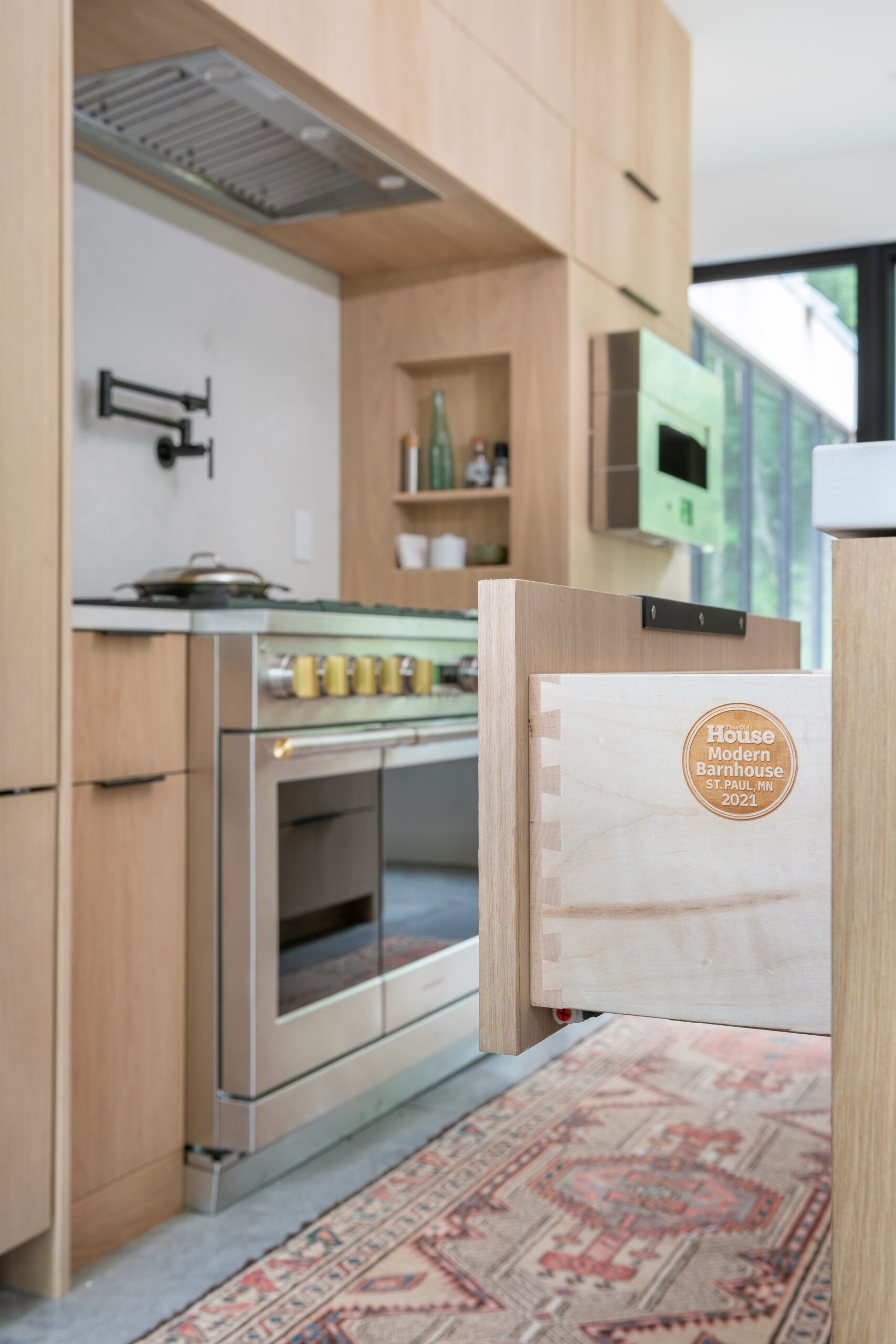 I chose white oak cabinets in a European overlay design and matched the vertical grain for a seamless look. Sizes and quantities of cookware, spices, and kitchen tools were all considered in order to make each cabinet and drawer truly custom. I love that my carpenter burnished the inside of the dovetail drawers with the This Old House Idea House logo!
White Oak cabinetry and floating shelves, custom designed by Amy Matthews, site-built by Terry Hempleman and Bill McCallum. Drawer boxes by Fleetwoods.
Turn your sink into a workhorse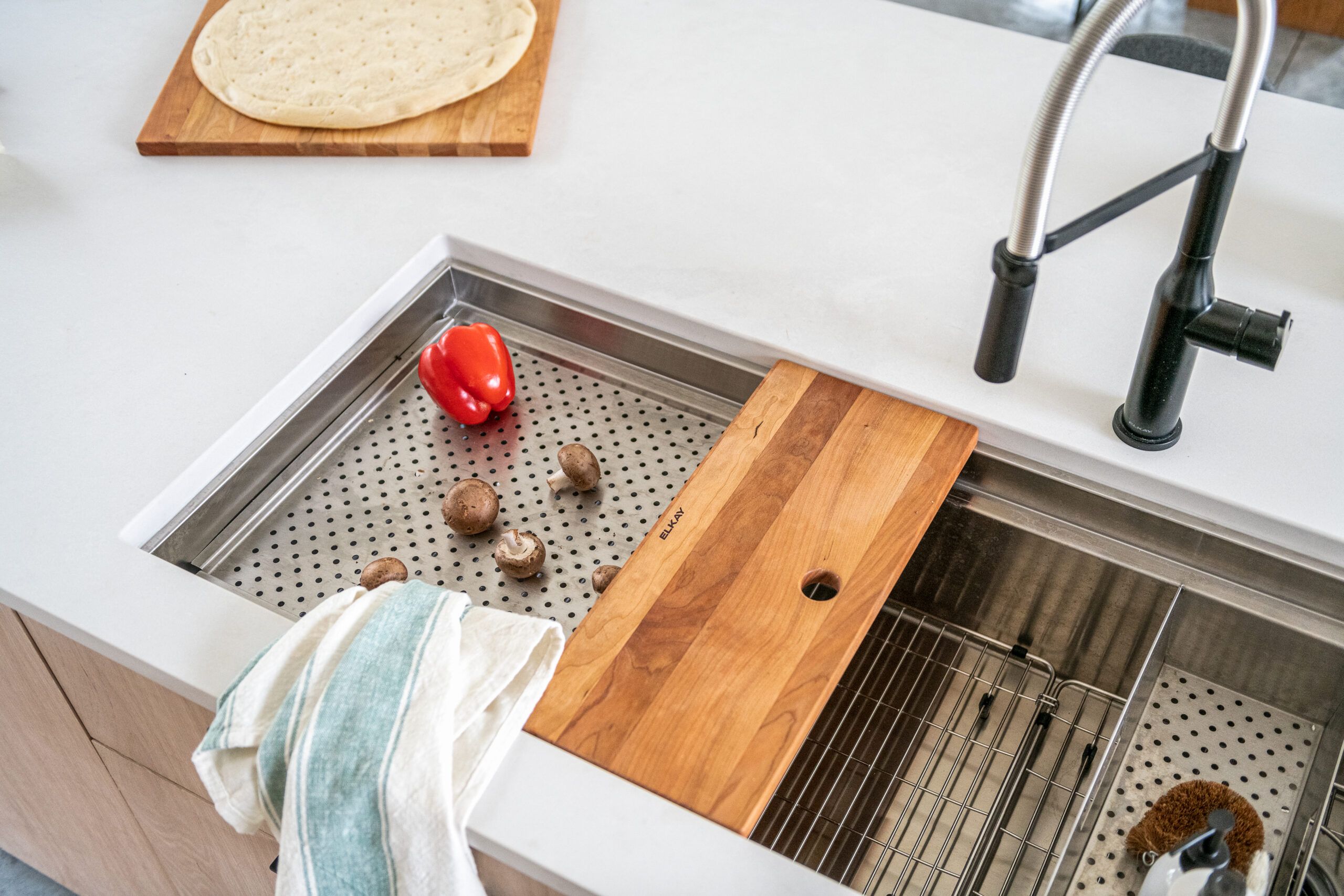 One of the hardest working fixtures in the house has to be the kitchen sink. Because it's in the island and visible to the living room, I wanted a big sink that could hide dishes before being put in the dishwasher. And also one that could do double-duty as a food washing, chopping, and straining station without cluttering the counter. A pull-down faucet in matte black and chrome is as functional as it is stylish.
Sink, faucet: Elkay
Keep it classic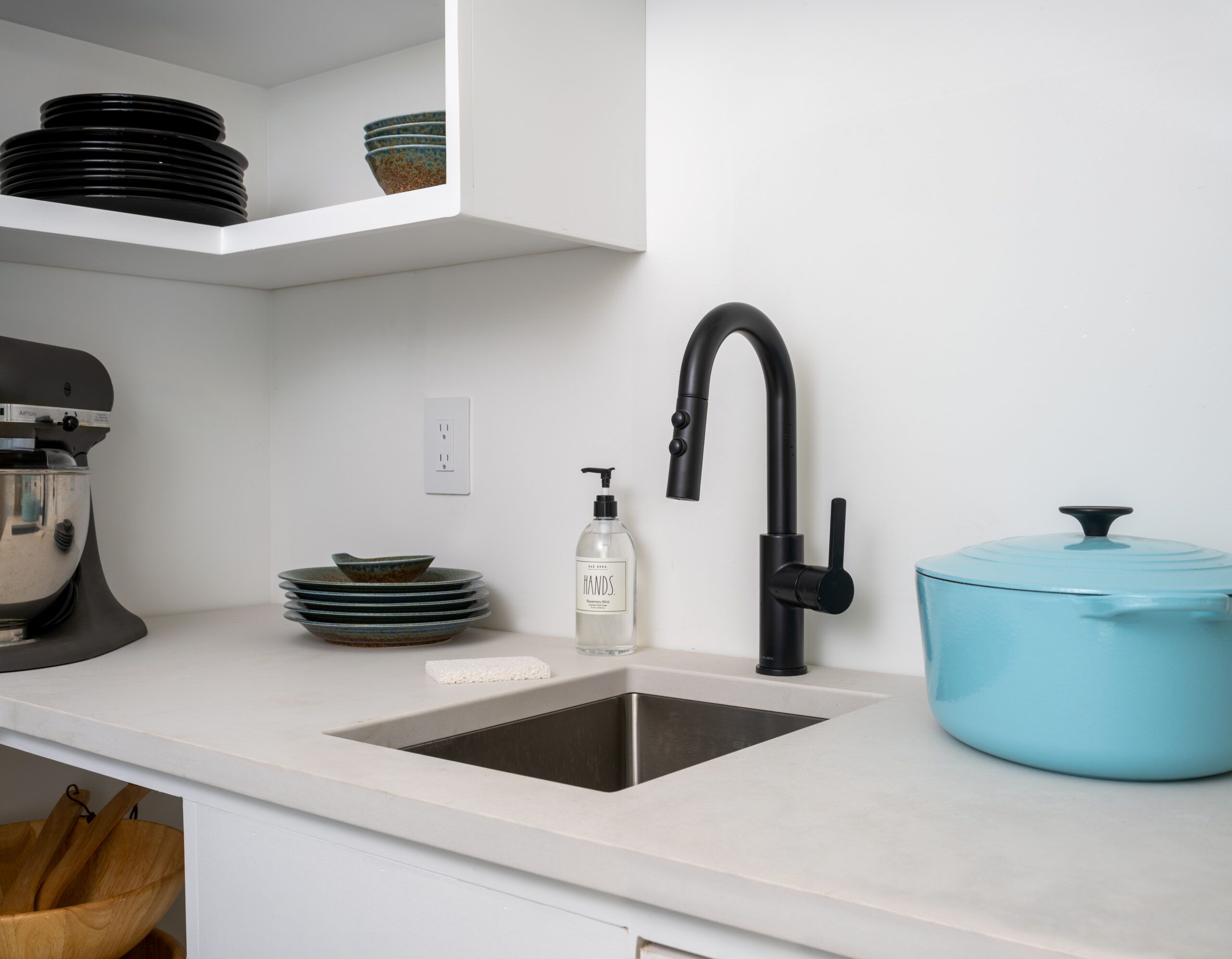 In the bathrooms and the kitchen, I opted for sturdy quartz countertops in subtle shades of white and gray that complement the cement floors downstairs. Countertops are a big commitment, and I always recommend that my clients go for classic looks that won't go out of style.
Countertop: Caesarstone; Sink, faucet: Elkay
Consider your vertical views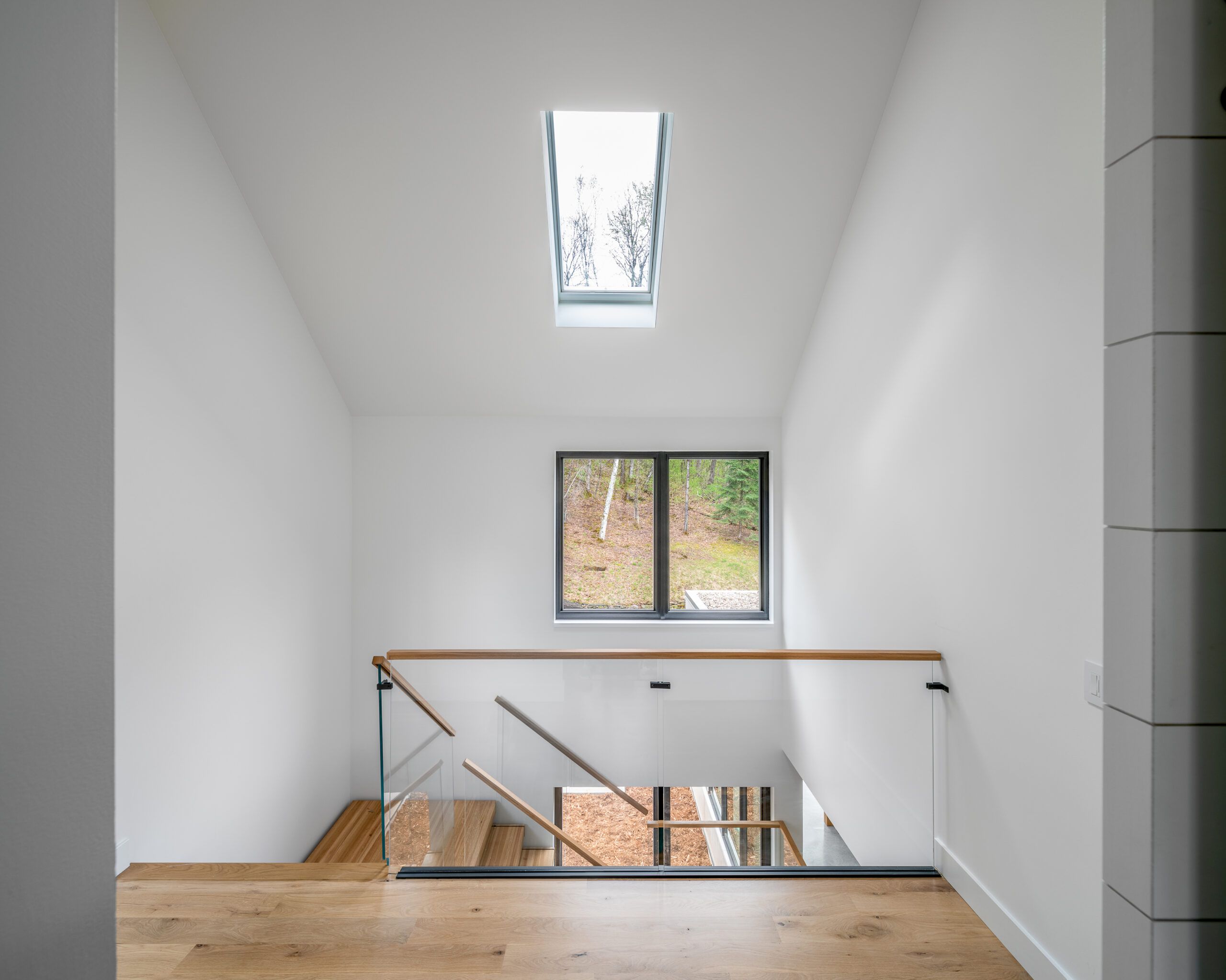 I added skylights in strategic places throughout the house to carry the sightlines all the way up to the top of the trees. These are solar-powered and remote-controlled so they also contribute to the air flow and temperature control in the house. The glass rail adds to the feeling of openness and light.
Skylight: VELUX; Glass railing: Viewrail
Add statement accessories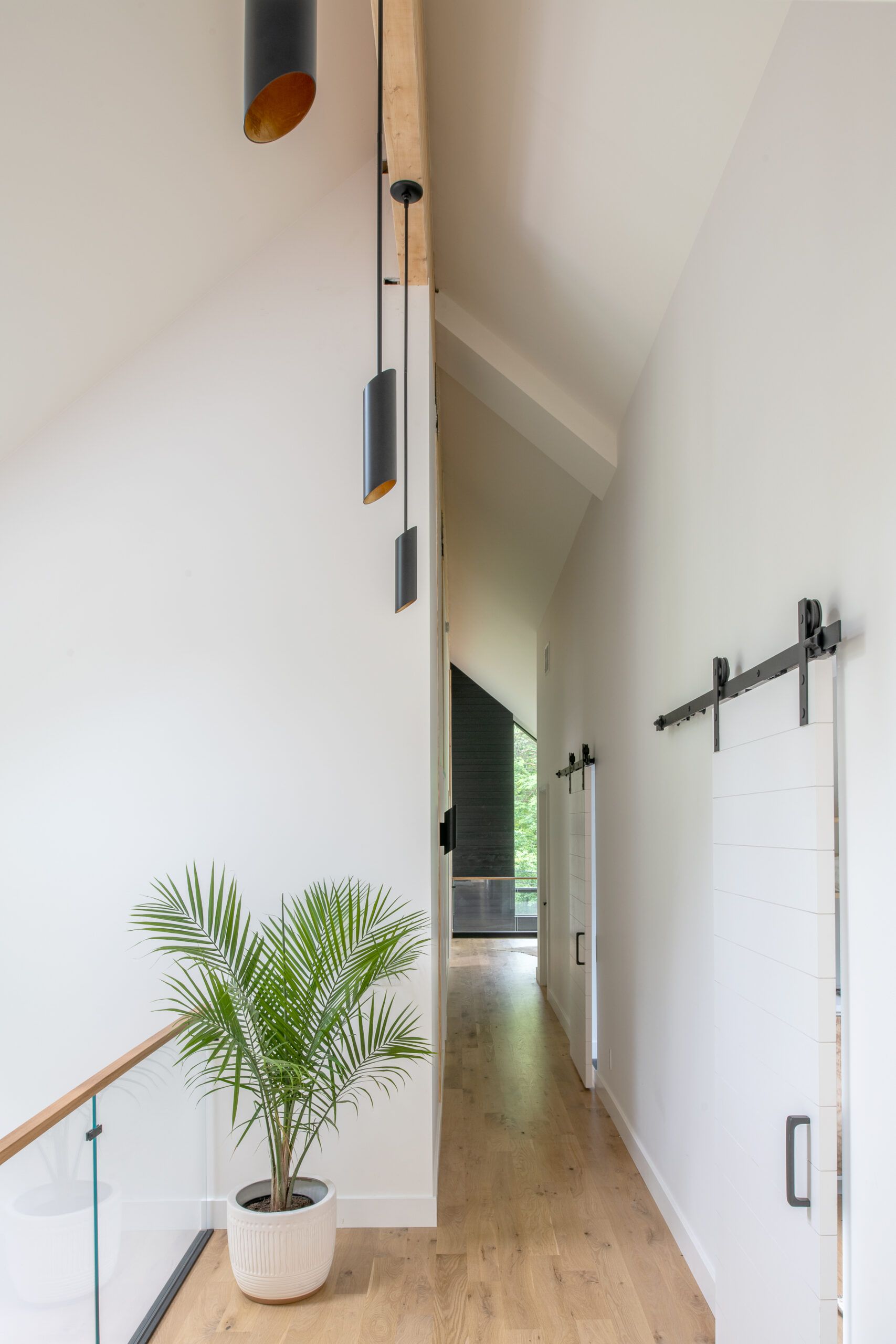 I wanted the lighting to add a luxe touch to the minimal and natural material palette. These pendants are matte black with a gold interior and cast a warm, candlelit-style glow throughout the hallway. I love the subtle, space-saving design of these barn doors and the way they break up the long, narrow hallway. The modern hardware was designed to standout and complement the pendants.
Lighting: Circa Lighting; Doors, floors: Baird Brothers Fine Hardwoods; Hardware: Emtek; Glass railing: Viewrail
Go for a grand entrance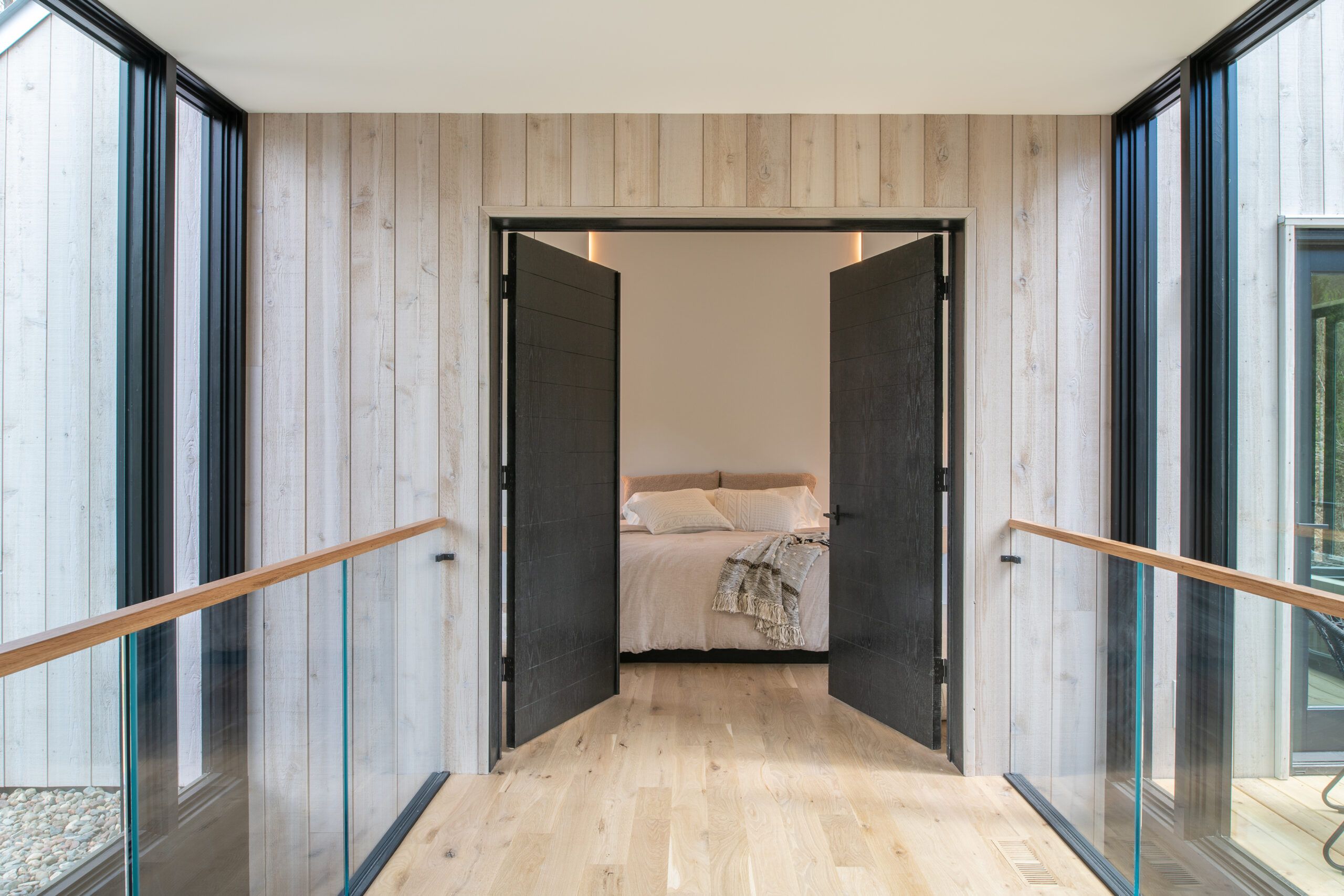 I ordered solid core flush doors for the entrance to the master bedroom. What makes them really special, I think, is that prior to staining, I had the trim carpenters cut horizontal kerf lines into the doors to mirror the look of the black horizontal cedar on the exterior.

Floors, doors: Baird Brothers Fine Hardwoods; Interior stain: Minwax
Splurge on your closet system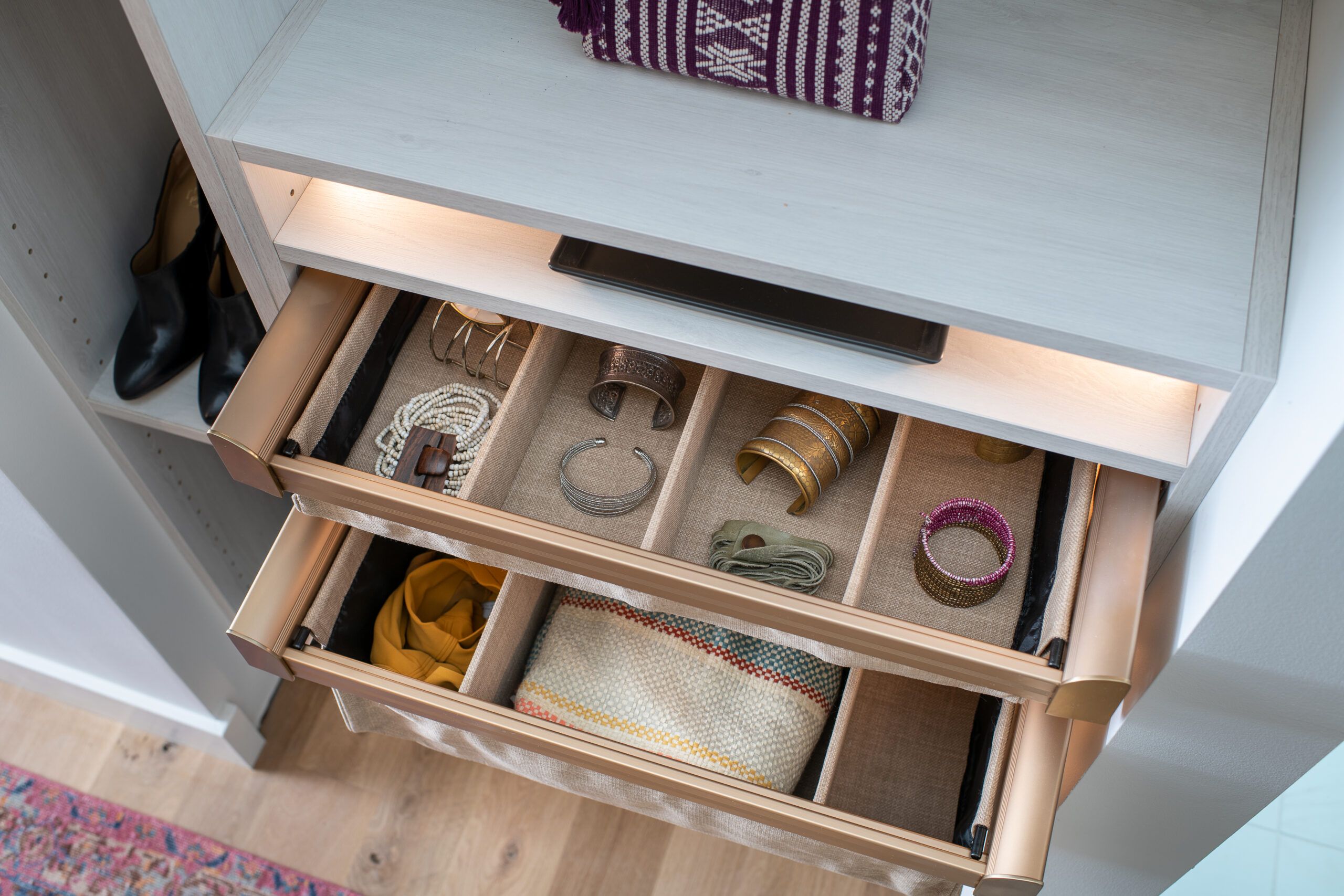 The closet glows from the inside and makes you feel like you want to keep everything neat and in its place because its place is so beautiful! The drawers and shelving are super functional, and the LED hanging rods light the contents of each bay and make a morning routine of dressing feel like you're in a boutique clothing store.
Closet system: Lifespan Closets
Think beyond brass and bronze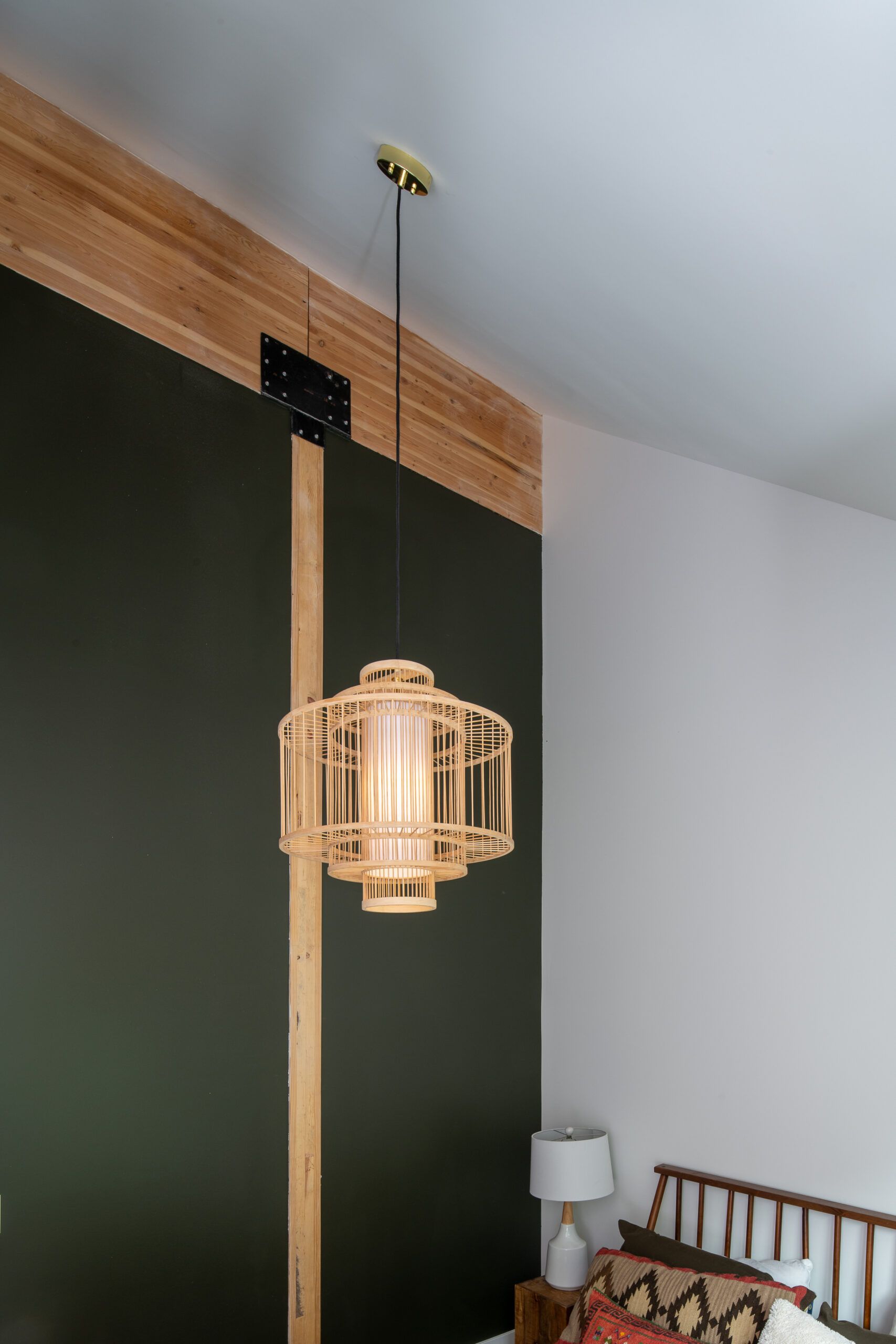 This modern Bohemian and Asian-inspired pendant is made of bamboo that picks up on the exposed beam that runs the full length of the house. It surrounds a frosted hurricane shade to give off a soft light—a central element of Scandinavian design and the practice of Hyyge.
Lighting: Circa Lighting
Dress it up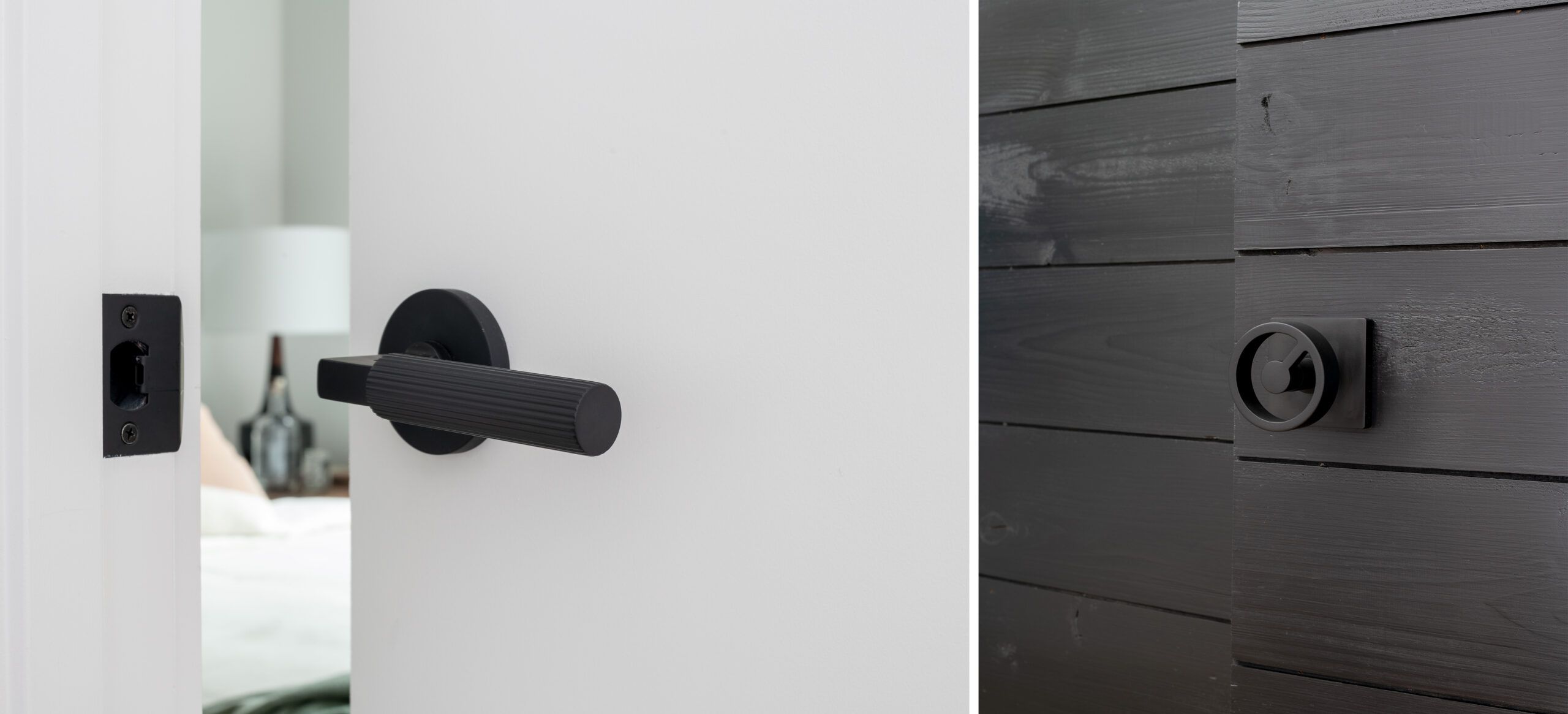 Hardware is the jewelry of a room. Good quality hardware offers a rich tactile experience. You can literally FEEL the quality in your hands.
Hardware: Emtek
Try contrasts
I used mostly black levers throughout the home, but added a few two-toned levers and gorgeous soft gold barn door pulls for interest.
Hardware: Emtek
Don't forget subtle details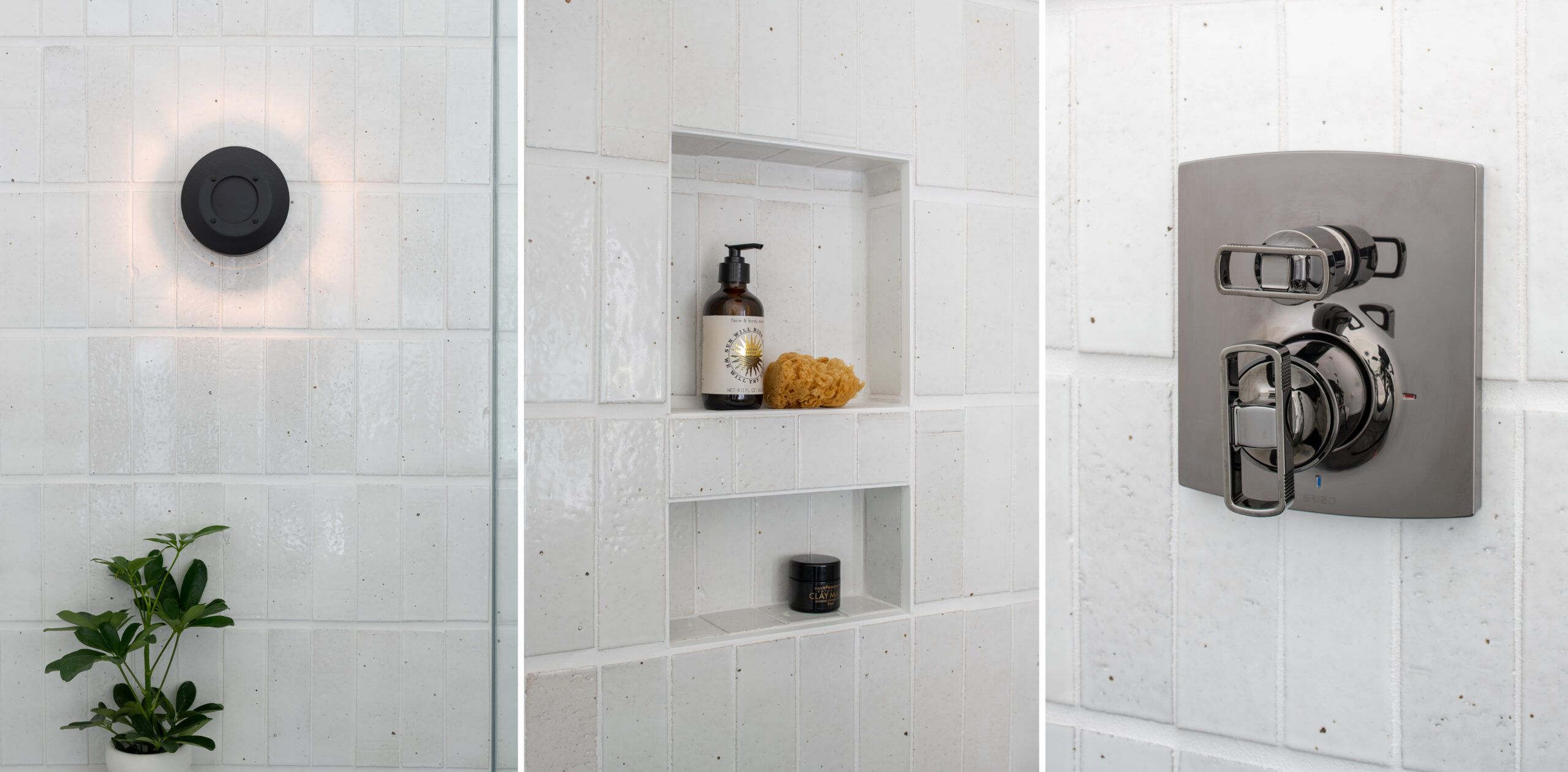 The shower in my son's bathroom features some of my favorite special touches. From left; This minimalist sconce reminded me of the modern simplicity of 1950s Scandinavian design. It has a nautical vibe and casts a subtle light pattern on the wall behind. The tile is a traditional subway shape, but it's got a hand-hewn finish with earthy speckles throughout. I stacked them vertically and used a wide grout line to give the room a modern spin, and added sleek niches for storage. The black onyx shower faucet was inspired by elegant Scandinavian minimalism and the Japanese philosophy of wabi sabi—precisely the two design influences that I've incorporated throughout the house.
Sconce: Rejuvenation; Tile: Clé Tile; Niches: Schluter-Systems; Fixture: Brizo
Treat yourself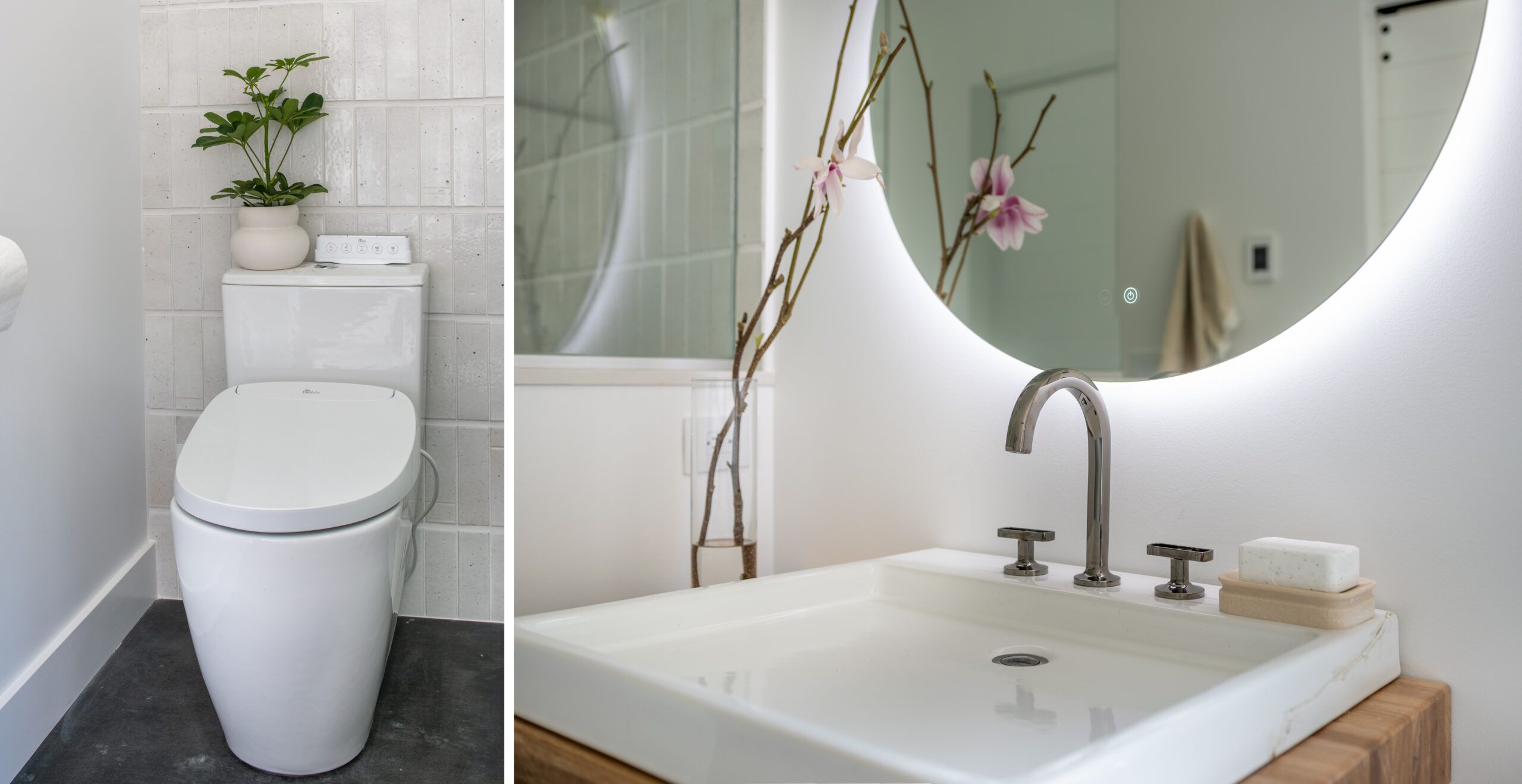 I outfitted this sleek toilet with a sweet seat that transforms it into a bidet complete with seat warming, adjustable temperature washing, and multi-speed air drying. It also has a built-in sanitizer and it automatically opens and closes. (If you haven't yet tried a bidet, I urge you to check it out!) And, as you'll see, I used a lot of LED back-lighting to give the whole house a warm glow. I wanted the same effect in the guest bathroom; this dimmable mirror was a relatively inexpensive online purchase that also features an anti-fog function and can double as a nightlight.
Toilet seat: BioBidet; Mirror: Keonjinn, via Amazon.com
Start with a signature piece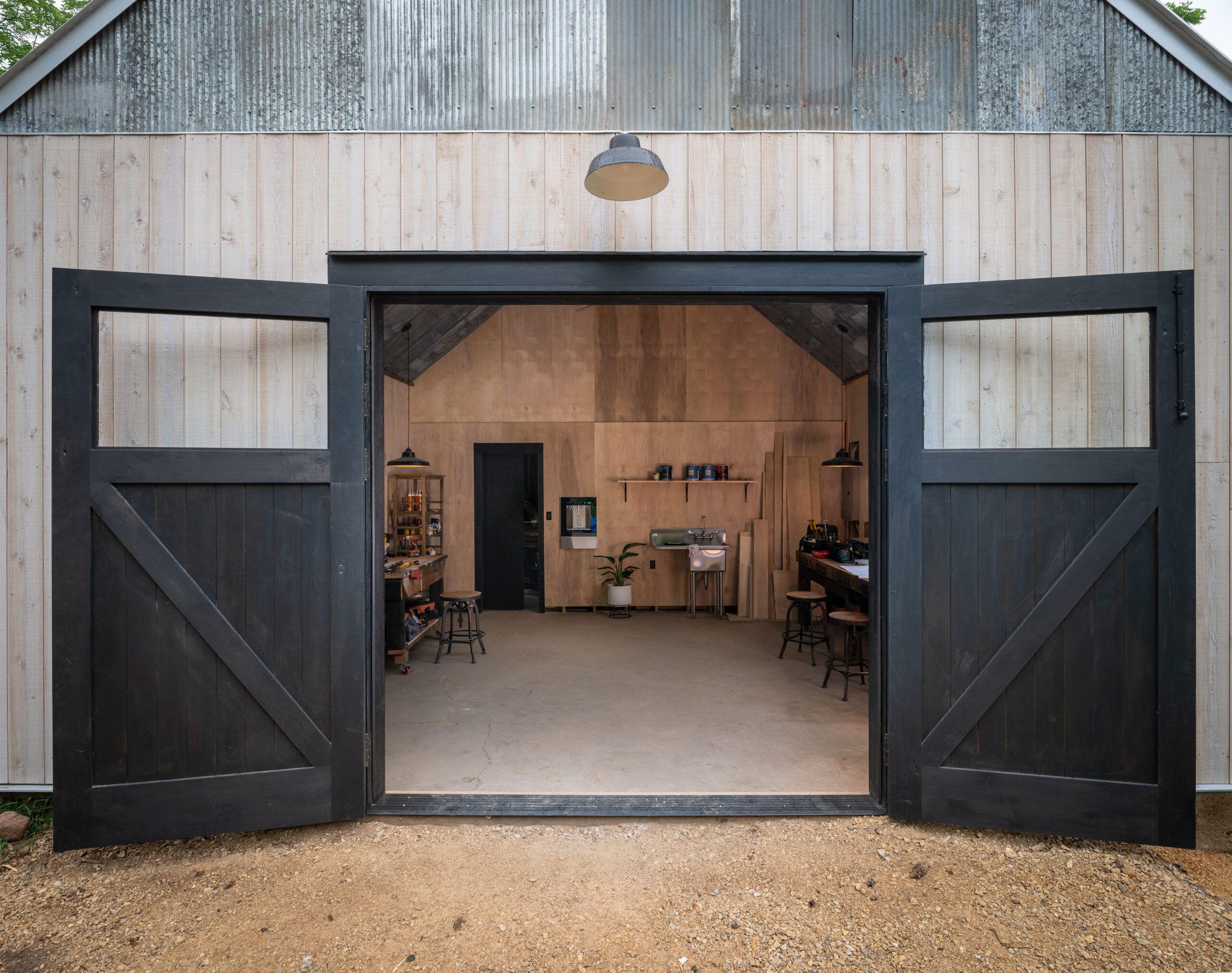 Right from the start, I knew I wanted to define the workshop with custom carriage doors. The classic feel of beautiful doors elevate the space, but also create an amazing opportunity to open the workshop to the outdoors when the season allows. The craftsmanship of these beauties can be seen but also felt.
Carriage house doors: RealCraft
Bring in light and texture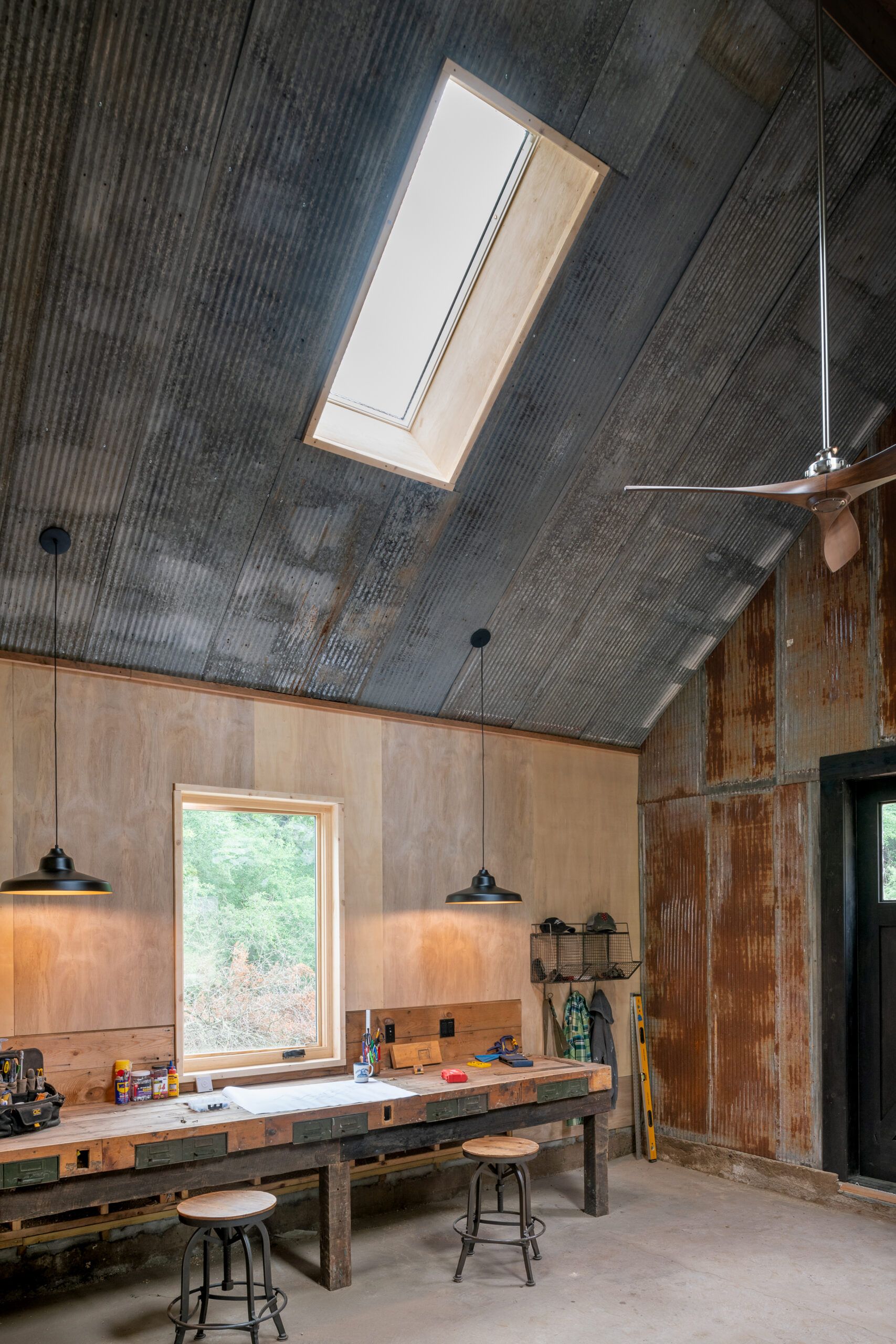 With a 10/12 pitch on the roof, it was important to me to bring in as much natural light as possible; skylights keep the space open and bright. We salvaged the metal roof from the old outbuilding to sheath the ceilings and gable ends of the workshop. We lined the walls with plywood—a smooth, simple, and affordable material used in many contemporary Nordic homes. A modern ceiling fan keeps the air moving. I love the way the space feels organic and open and welcoming while echoing the surrounding woods.
Skylight: VELUX; Ceiling fan: House of Antique Hardware

Buy this!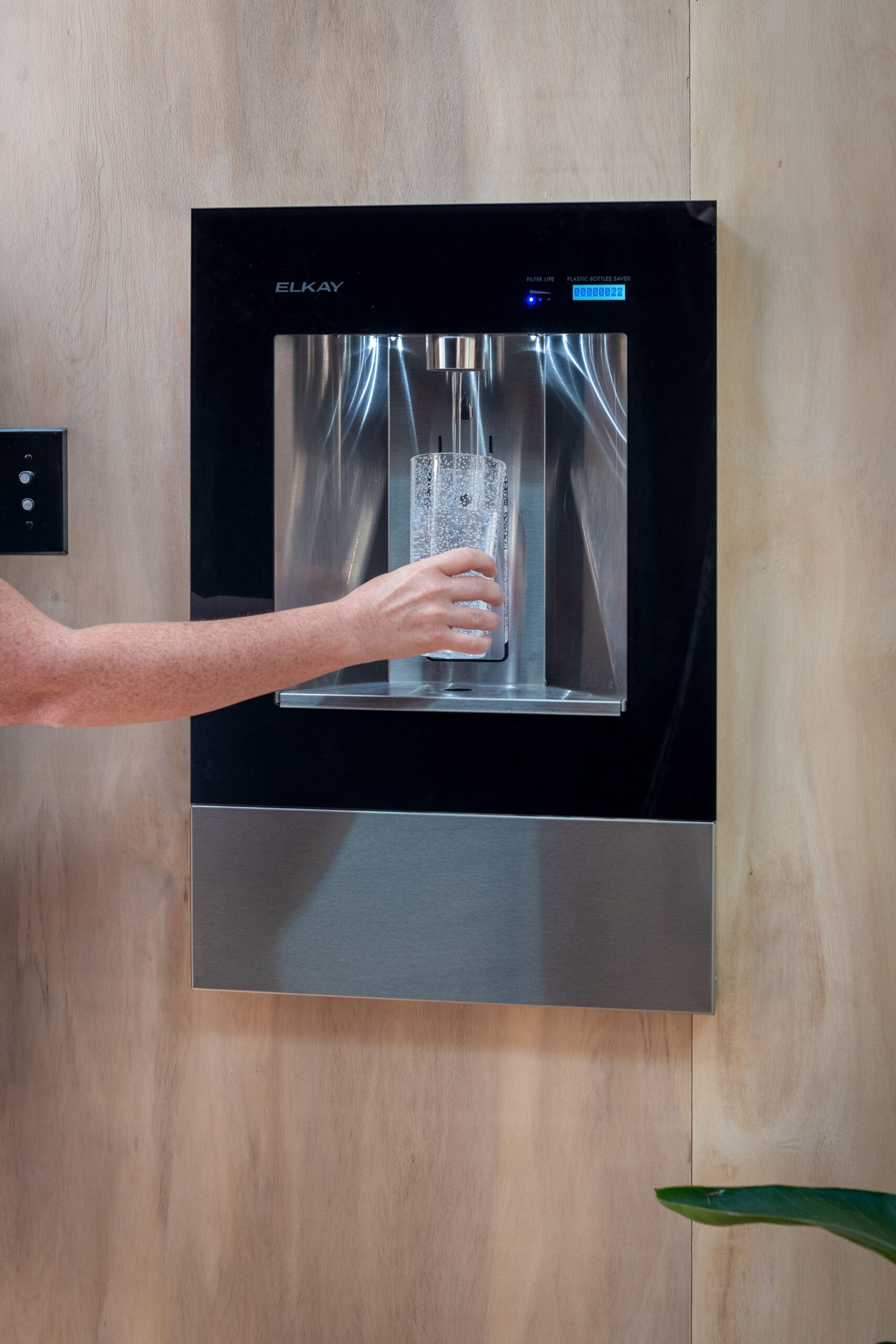 What can I say? I LOVE this water filler. Seriously! I'm obsessed, and so is everyone who comes into the workshop. It fits neatly between two stud walls, and serves up hands-free filtered, chilled water. It even counts the number of plastic bottles you'll save with each glass filled. Now I need to put one in the main house.
Built-in filtered drinking water dispenser: Elkay
Keep your workshop well-stocked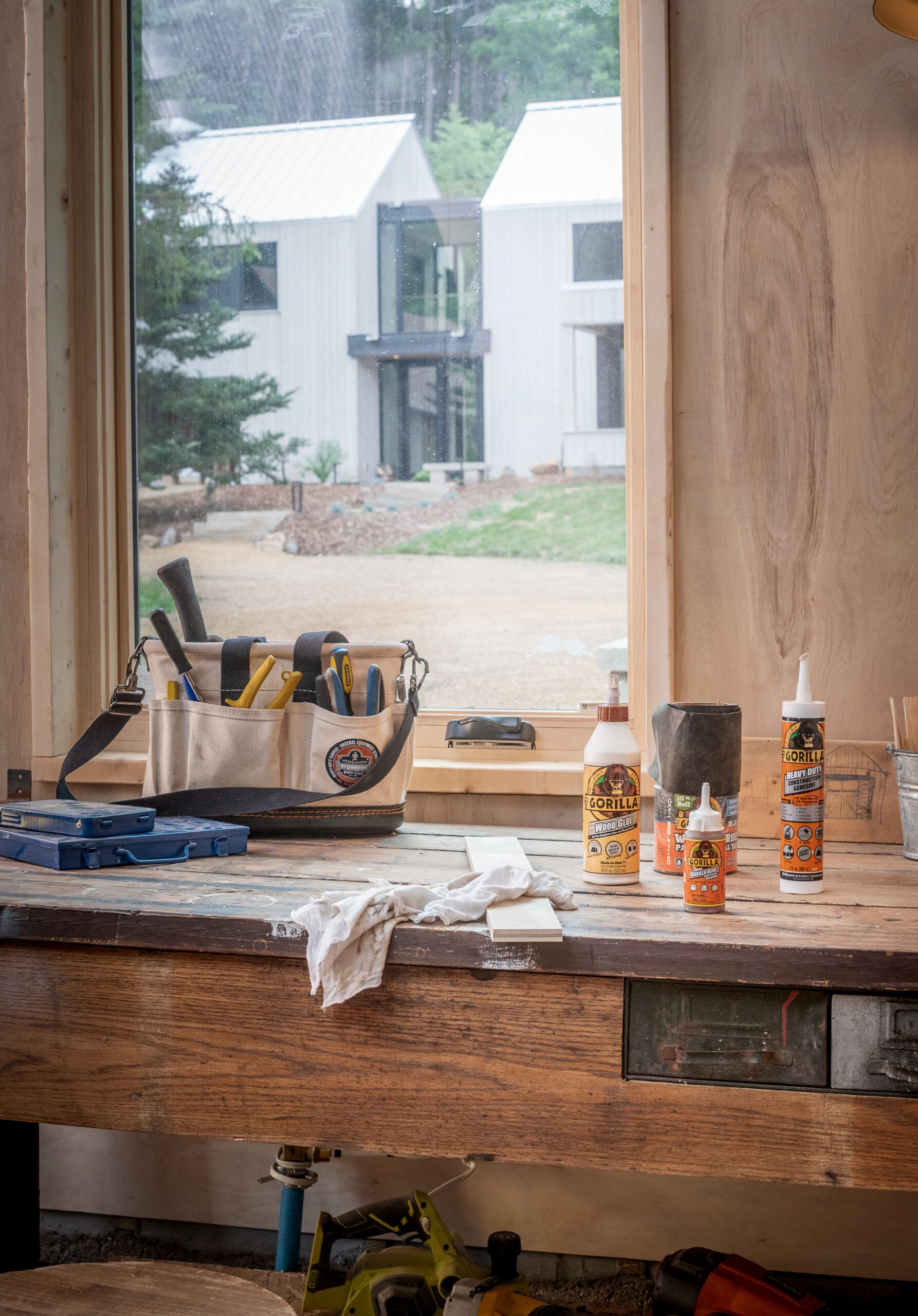 Here's a peek at the adhesives that quite literally hold this house together. I used clear epoxy to fill the natural knots in the hardwood floors (more on that, here), and a variety of wood glues in the construction of everything from cabinets to floating shelves. It will continue to be a staple in the workshop as we create custom wood pieces and rustic furnishings.
Adhesives: Gorilla Glue
Lean on friends and family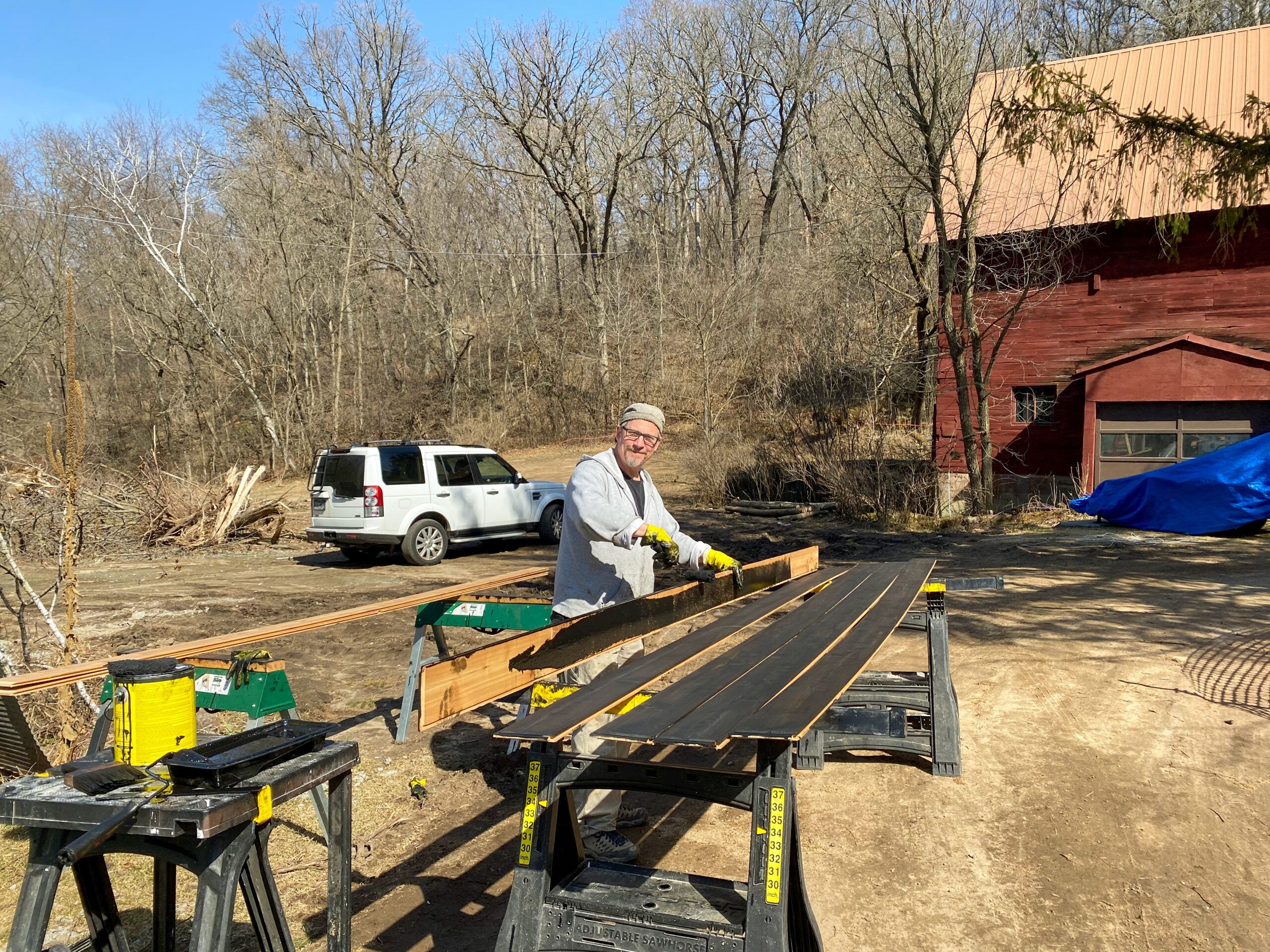 Hartman Homes built the main house. But I called upon a phalanx of friends and family to help me with a host of DIY projects like the staining of all the black cedar accents inside and outside of the house. And together we tore down and rebuilt the entire workshop. I am forever grateful to them. I always recommend involving pals in major projects because 1) it's just plain fun and 2) it gives them a shared sense of pride and connection.
Safe storage is key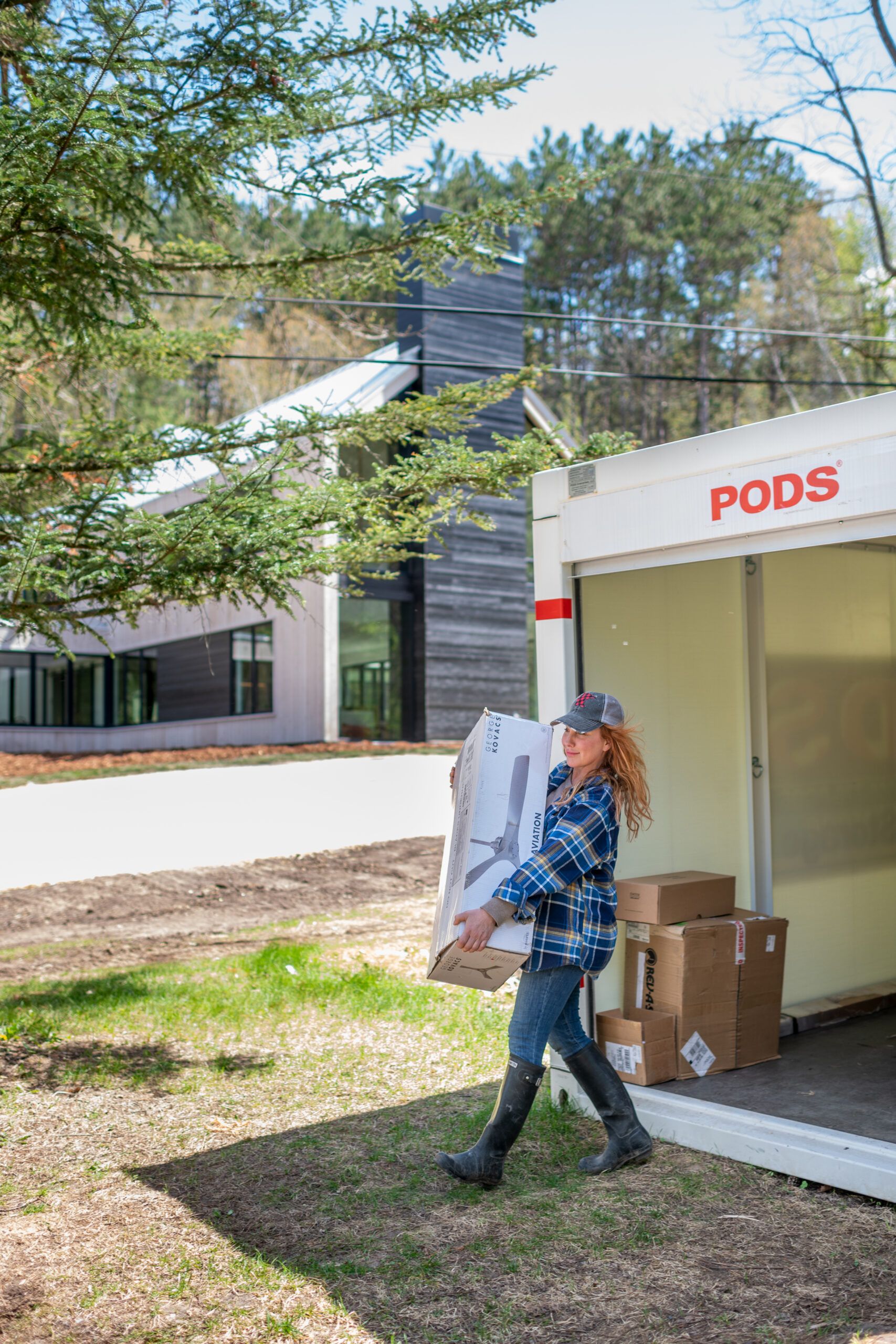 Building a home during a national pandemic posed some unique challenges. Supply chain issues and shipping delays meant that I often had to place orders far in advance and accept products as soon as they were available—whether I was ready for them or not—or else risk not getting them at all. This onsite storage container gave me a safe, secure, easily accessible place to keep track of incoming items and store them until showtime.
Onsite storage container: PODS